Shea butter has numerous benefits for skin, including protecting it from the sun, moisturizing the skin, and reducing inflammation. It's also a natural moisturizer for lips and hair! Adding it to your daily hair and skincare routine can keep hair and skin hydrated, protected, and clear of free radicals that can damage them.
We've reviewed dozens of shea butter products to identify the best of the best for your personal care regimen. Some of the features we considered when narrowing our list were the purpose of the product, its affordability, and the type of shea butter. We categorized our selections to make it easier for you to find the right shea butter for your needs.
Our top pick is Better Shea Butter Unrefined African Shea Butter, which stood out as the clear winner with its thousands of positive reviews, versatility as a hair and skincare product, and authenticity. This product comes as an unrefined, unaltered bar that you can use alone or as part of your DIY beauty products. 
The 5 Top-Rated Shea Butters
*Ratings are from Amazon at the time of publication and can change
Best Shea Butter Overall: Better Shea Butter Unrefined African Shea Butter
Better Shea Butter Unrefined African Shea Butter is our overall pick for best shea butter because you can use it for virtually any purpose for which you'd usually use shea butter. Because it's been unaltered into a lotion, cream, or mask, you can choose to use it how you want, such as a moisturizing ingredient for a DIY massage oil or as a moisturizing bar to clear up eczema patches on your skin.
This unrefined shea butter comes from Africa, making it pure and authentic shea butter. The bar comes loaded with everything you expect shea butter to have, including essential vitamins and natural antioxidants that can reduce the effects of aging on your skin. Use the product to get crafty making your own shea butter products, from whipped body balms to diaper rash cream. 
Several people who have bought this product from Better Shea Butter agree that, although the unrefined nature of this shea butter gives it a strong scent, there's no denying its authenticity. Many also mention that it does wonders for moisturizing their skin and hair.
Better Shea Butter Unrefined African Shea Butter Key Features:
100% pure and authentic shea butter
Non-comedogenic
No additives
In bar form for versatility
Filtered for cleanliness
Best Raw Shea Butter: Raw Apothecary All-Natural Ivory Shea Butter
When you're looking for the real deal in shea butter, you want to look for "raw" or "unrefined," which means that they haven't been overfiltered or manipulated. Raw Apothecary All-Natural Ivory Shea Butter is unrefined shea butter that comes in a resealable jar. Unlike some raw shea butter products that are difficult to spread, this one has a creamy texture that makes it almost lotion-like and convenient for use on skin, hair, or lips.
We also love that this shea butter has no additives, dyes, or anything else that might alter its efficacy. Because it's raw, it's perfect to use as a foundation for your favorite DIY skin or hair care recipes, such as BB cream or a moisturizer in self-tanners. Several positive reviews note that this shea butter by Raw Apothecary has an incredibly smooth texture for a raw shea butter that makes it perfect for eczema and dry skin sufferers.
Raw Apothecary All-Natural Ivory Shea Butter Key Features:
Convenient jar storage
No dyes or additives
Creamy texture
Easy to whip
Pleasant, light scent
Best Budget Shea Butter: Tree Hut Shea Body Butter
Shea butter can be pricey, especially when you're looking for pure butter that's as unaltered as possible. Tree Hut Shea Body Butter is an affordable, although somewhat altered, alternative to some pricier products that still offers an organic shea butter that's paraben-free. This product is perfect for use as a body butter because of its creamy consistency and infusion with safflower seed oil and cocoa seed butter.
Reviewers who have purchased this product mention its excellence as a sun protectant and daily hydration for rough, dry, and scaly skin. Many also state that they only need to use a small amount of this shea butter to last them all day, making it even more beneficial for those who want an effective product on a budget.
Tree Hut Shea Body Butter Key Features:
USA made
24-hour protection
Thick and creamy for lasting hydration
Includes certified shea butter
Small amount goes a long way
Best Shea Butter for Face: Dorion Renaud Buttah Shea Butter Facial Lotion
If you plan to use your shea butter mostly for your face, then it's best to look for one that you can spread with your fingertips and won't leave you feeling greasy. Dorion Renaud Buttah Shea Butter Facial Lotion does just that. This facial cream is made with 100% African organic shea butter, so it includes the fatty acids and vitamins that protect against skin damage and aging.
One of the best perks of this facial cream is that you only need a small dollop to apply to the face for all-day coverage. You can even apply it before you do your makeup to keep the shea butter doing its thing on your face without cosmetics interfering. And, it'll leave a nice, smooth base for your foundation.
Some reviews mention that Buttah isn't as creamy as some other facial lotions, especially if the product gets cold. This happens because of the natural and unrefined nature of shea butter. However, a few seconds in the microwave can make it easily spreadable again. 
Dorion Renaud Buttah Shea Butter Facial Lotion Key Features:
Resealable storage jar
Organic
Africa-sourced
Pleasant smell
Non-oily
Best Shea Butter for Hair: Sky Organics Raw and Unrefined Shea Butter
Sky Organics Raw and Unrefined Shea Butter is meant for use on skin or hair, but as a hair product, it really stands out. Those who suffer from dry, lackluster hair can use this unrefined shea butter as part of their regular hair care routine to boost shine and improve texture. Because it has no additives, it's especially good for people with sensitive hair or those who don't want to add a bunch of extra stuff to their strands.
Several positive reviews note that using this shea butter regularly on hair replenishes its oils and improves the look and feel of frayed strands. It's important to note, though, that a small amount goes a long way for hair; using too much of this might make your hair look and feel oily.
Sky Organics Raw and Unrefined Shea Butter Key Features:
100% raw
USDA Certified Organic
Large 16-oz. jar
Vegan and cruelty-free
Creamy texture
Who Should Buy Shea Butter
There are a few reasons why someone might want to buy shea butter. Most commonly, people with rough or dry skin who want to moisturize and smooth their skin enjoy the soothing effects of shea butter. Shea butter has several natural properties that support healthy skin, including reducing inflammation, helping scars heal, and blocking free radicals that cause the skin to wrinkle and show other signs of aging.
Some people also buy shea butter to use on their hair. As a hair product, shea butter can prevent and repair damage from heat, styling products, coloring, and other tasks or products that can strip away moisture. Shea butter may also reduce split ends and breakage, massage and soothe an itchy scalp, prevent hair loss, and stimulate new growth.
If you suffer from dry, damaged hair or skin conditions that cause itchy, dry, or scaly skin, then shea butter may be a product to consider purchasing.
Important Features to Consider
Shea butter should have a few important features. Here's what to consider when selecting a shea butter for your regular care routine:
Unrefined. Pure shea butter is different from a shea butter product. If you want 100% shea butter rather than a product that contains shea butter, it's best to look for one labeled as "unrefined" or "raw," which indicates that the shea butter doesn't contain additives or unnatural ingredients.
Natural color. Unrefined shea butter can vary a bit in color, but it usually ranges from light yellow to greenish-yellow. Shea butter that's very light in color, almost bordering on white, has probably gone through a refinement process.
Additives. Some shea butter contains dyes or chemical additives to improve its appearance, smell, or consistency. This isn't always a bad thing depending on your desired usage for shea butter. However, if you want natural shea butter to get the most out of its benefits, be sure to read the label to look for any fragrances, dyes, or other additives.
Form. Shea butter can come in various forms, like lotion, cream, bar, or bagged or jarred in its natural state. Lotions and creams can be excellent for use in hair and skincare but often contain additives to improve their consistency. If you're interested in making DIY recipes with shea butter, it's best to purchase it in its natural form.
Scent. Natural shea butter has a nutty aroma. If your shea butter smells fragrant or has a chemical-laden scent, then it's likely had fragrance added to it and isn't 100% natural. However, an added scent might be preferable if you're not a fan of the naturally earthy smell of shea butter.
Frequently Asked Questions
What is shea butter and what is it used for?
Shea butter comes from the nuts of African shea trees, making it have a naturally nutty and earthy smell. Shea butter is known for its many natural benefits for skin and hair care because of the many vitamins and minerals it contains, such as fatty acids and Vitamin E. Its anti-aging, moisturizing, anti-inflammatory, antioxidant properties make it a choice ingredient for skin lotions, hair shampoos and conditioners, and lip balms. It's also popular in its natural state for people who like to make do-it-yourself personal care products.
What color shea butter is best?
The color of shea butter can vary slightly depending on when it was harvested from shea nuts and the location of the trees. Most commonly, raw, unrefined shea butter is a rich yellowish-brown, but it can vary between slightly lighter brown to a greenish-yellow. Usually, the lighter the color, the more refined the shea butter.
What is the difference between refined and unrefined shea butter?
Unrefined shea butter is shea butter that has not been processed, filtered, or added to, making it the most natural form you'll find. It may also be referred to as raw shea butter. Unrefined or raw shea butter is best for use in DIY personal care products.
Some companies create refined shea butter, which means it's processed in some way. It may contain additives, like dyes or fragrances, or other ingredients to make it creamier. Through the refinement process, shea butter may lose some of its natural healing properties, vitamins, and minerals.
Can I apply shea butter on my face?
Yes, shea butter is commonly used on the face as a daily moisturizer and protectant. You can add it to your nightly skincare routine or apply it before starting your makeup routine. Pure shea butter can be difficult to apply on its own, though. You might consider adding a drop or two of honey or coconut oil to help you spread shea butter.
Other Shea Butters We Reviewed
We looked at 20 other shea butter products. Even though they didn't make our 5 best shea butter list, they're the best of the rest and each is still a great option for your care routine. The information you'll need to compare each one is included with the listing.
Shea Butter for Face
Advanced Clinicals Shea Butter Ultra Rich Softening Cream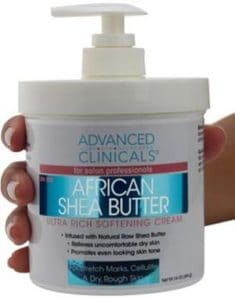 This shea butter softening cream is the perfect consistency for a face cream, and its convenient pump makes it easy to use.
Key Features:
100% satisfaction guarantee
Paraben-free
Large 16-oz. tub
Cost: $11
Sans Pareil Naturals Organic Shea Butter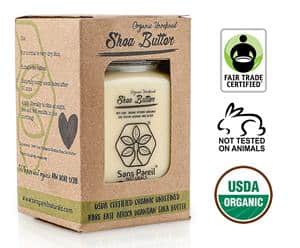 This organic shea butter offers the natural benefits of shea butter in a creamy formula that is excellent for facial use.
Key Features:
USDA Certified Organic
30-day guarantee
No additives or preservatives
Cost: $14
SheaMoisture Raw Shea Butter Facial Wash & Scrub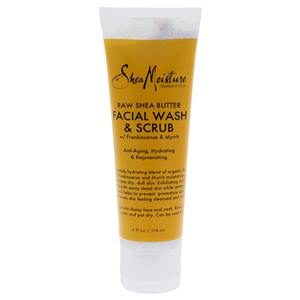 SheaMoisture transforms raw shea butter into a facial wash and exfoliating scrub to use daily for hydration.
Key Features:
Aids in removal of dead skin cells
Blended with Myrhh and Frankincense
Works well on almost any skin type
Cost: $9
Sun Potion's Shea Butter is unrefined, but it applies smoothly on the face. You'll only need to use a small amount to keep your facial skin soft and hydrated.
Key Features:
Glass bottle to improve shelf life
Chemical-free
Non-greasy formula
Cost: $23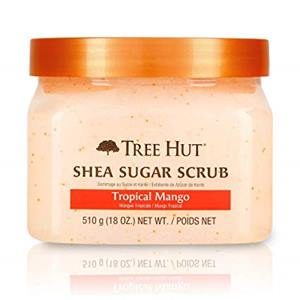 This cream from Tree Hut blends shea butter, avocado oil, orange oil, and other moisturizing ingredients to gently exfoliate, cleanse, and smooth the face.
Key Features:
USA-made
Fresh, crisp scent
Includes real sugar for exfoliation
Cost: $6
Shea Butter for Hair
Maui Moisture Heal & Hydrate + Shea Butter Hair Mask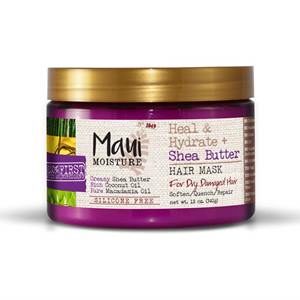 If you need a product that can repair hair damage and rehydrate your hair, reach for this shea butter hair mask.
Key Features:
Includes coconut and macadamia oil
May be used as a leave-in conditioner
Creamy texture
Cost: $7
Naturise Organic Unrefined African Shea Butter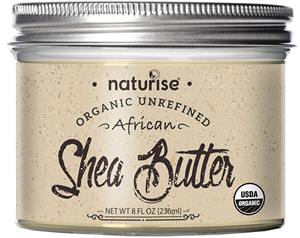 Need pure shea butter without adding other ingredients to your hair? This unrefined shea butter from Naturise should do the trick to heal and soften your hair.
Key Features:
60-day money-back guarantee
Organic
Smooth consistency
Cost: $11
OGX Shea Soft & Smooth Hair Butter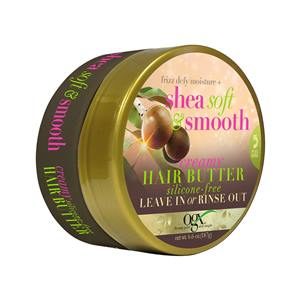 Frizzy, damaged hair should see the moisturizing benefits of this shea butter for hair after just one use.
Key Features:
Blended with agave nectar for extra hydration
Keeps flyaways under control
Silicone-free
Cost: $7
Rise 'N Shine African Shea Butter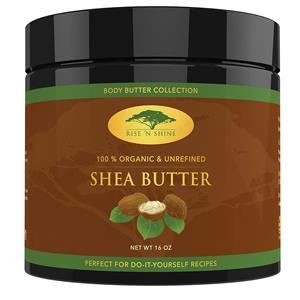 Get unrefined moisture and healing for your hair from this shea butter that comes straight from the shea trees of Africa.
Key Features:
Ghana-imported
Recyclable jar
Cruelty-free
Cost: $14
SheaMoisture Curl Enhancing Smoothie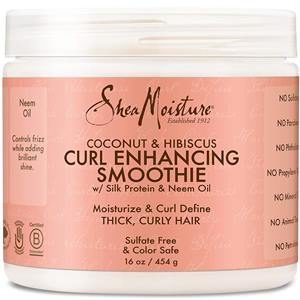 People with curly, thick locks can appreciate the hydrating benefits of this shea butter blend that smooths curls to keep the frizz away.
Key Features:
Contains neem oil
Safe for color-treated hair
Easy to spread
Cost: $14
Shea Butter Lotions
Alaffia Everyday Shea Body Lotion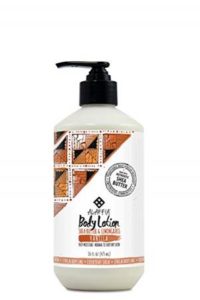 This shea butter lotion contains lemongrass and vanilla for a fresh, clean scent in addition to all-over moisture.
Key Features:
16 or 32-oz bottle
Convenient lotion pump
100% Certified Fair Trade ingredients
Cost: $10
Gold Bond Ultimate Softening Skin Therapy Lotion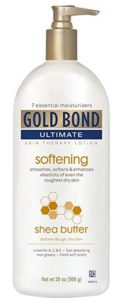 Gold Bond's shea butter lotion formula absorbs quickly into the skin to allow a speedy boost of moisture without leaving skin oily.
Key Features:
Blends 7 moisturizers
Light, pleasing scent
Thick consistency
Cost: $10
Jergens Shea Butter Deep Conditioning Moisturizer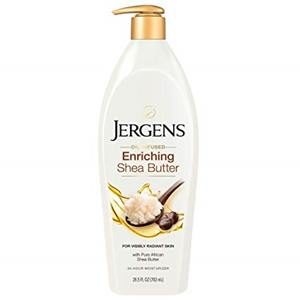 Your dry, rough, and dehydrated skin will thank you when you use this lotion from Jergens, which is enriched with shea butter, mineral oil, and other moisturizing ingredients.
Key Features:
Contains cocoa seed butter 
Absorbs quickly
Tested by dermatologists
Cost: $8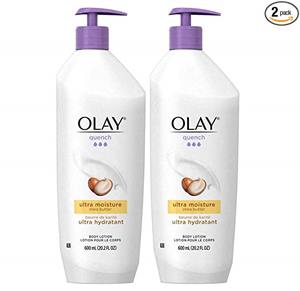 Olay's Quench lotion is gentle enough to use daily but moisturizing enough to hydrate even the dryest skin. 
Key Features:
Replenishes damaged skin
All-day moisture
Can work for sensitive skin
Cost: $14
SheaMoisture Raw Shea Butter Hydrating Body Lotion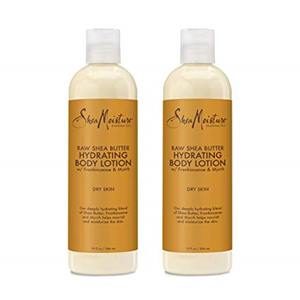 SheaMoisture's Hydrating Body Lotion combines Frankincense, Myrrh, and shea butter to create a protective and healing barrier for your skin.
Key Features:
Creamy texture
Pleasing scent
Anti-aging properties
Cost: $20
Whipped Shea Butter
afrikaimports Whipped African Shea Butter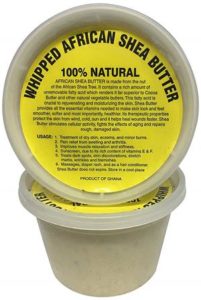 This whipped butter is just the right consistency to blend with your other favorite skincare ingredients for DIY personal care recipes.
Key Features:
African shea butter
Smooth consistency
Resealable tub
Cost: $16
Elongtress Whipped Shea Butter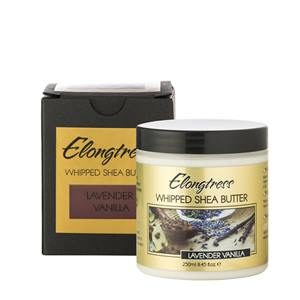 Blended with lavender and vanilla, this whipped shea butter releases a calming aroma while moisturizing your skin.
Key Features:
30-day money-back guarantee
Natural ingredients
No additives
Cost: $11
Luvyi Original Whipped Shea Butter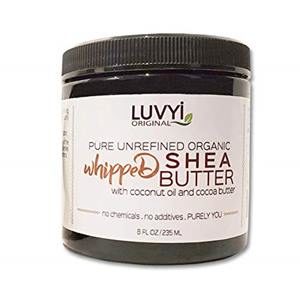 With its addition of coconut oil and cocoa butter, Luvyi Original's Whipped Shea Butter has some of the most hydrating ingredients on the plant to improve the look and feel of your skin or hair.
Key Features:
Unrefined shea butter
No artificial fragrance
Vegan
Cost: $23
Rise 'N Shine Whipped African Shea Butter Cream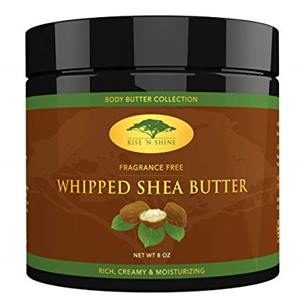 Rise 'N Shine's whipped version of its popular shea butter makes the ingredient even easier to apply or add to DIY care products. 
Key Features:
Unrefined
Includes an eBook download with tips
Organic
Cost: $17
Shea Radiance Whipped Shea Butter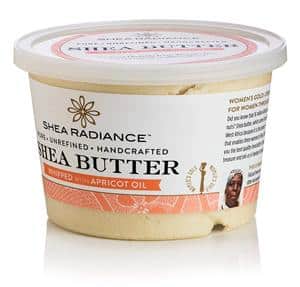 Apricot oil offers an invigorating and clean scent to this unrefined, whipped shea butter. 
Key Features:
Infused with lemon and rosemary oil
Dye-free
All-day moisture
Cost: $20