Even if the only strain you put your hair through is the regular brushing or combing maintenance, it will still lose and shed protein as it grows. Keeping your hair in optimal health is a constant battle of making sure the protein bonds on each strained of hair are protected or rebuilt. Keratin is one of the proteins that your hair loses over time and applying more onto your hair can help strengthen your hair and bring out a healthy shine and minimize frizz. If you plan on doing anything to your hair that can potentially damage it, like straightening or blow drying, for example, adding extra protein into your hair to minimize the effect is an absolute must. But what type of keratin treatment is best for you? Never fear; we've done the research for you. 
We reviewed dozens of keratin treatments to identify the best of the best. We looked for the keratin treatments that will repair severely damaged hair and those that will protect it from future damage. We found the treatments that are perfect for straightening and even those that will keep your curls smooth and bouncy. No matter your hair type or condition, we have the right keratin treatment for you listed below.
Right from the beginning of our research, the L'ANZA Keratin Healing Oil Hair Treatment stood out as the clear winner for our top pick. Not only will it treat your hair with keratin, it has other ingredients included to protect your hair as well. Your hair will be restored and protected all in one swoop.
The 5 Top-Rated Keratin Treatments
*Ratings are from Amazon at the time of publication and can change
Our Top Pick: L'ANZA Keratin Healing Oil Hair Treatment
The L'ANZA Keratin Healing Oil Hair Treatment will act to both heal and protect your hair. The keratin will replenish your hair's depleted keratin – no matter the cause – making it stronger and less likely to break or show damage. The overall feel of your hair will be all the more improved by the Phyto IV Complex that adds luster and softens hair with the blend of oils. The complex includes abyssinian flower oil, acai fruit oil, babassu kernel oil and coffee seed oil to add life and improve your hair all over.
You'll place this in your wet or damp hair and leave it in before any heat styling. It's intended for blow drying to set the keratin into your hair's follicles, but a flat iron or straightening brush will see the same type of benefit. After use, you'll notice an immediate improvement in appearance and while the style may be negated after your next wash, the change in texture and health will last well after.
With a more than a respectable overall rating of 4.7 stars on Amazon, you'll have plenty of reason to justify this purchase. And there is no small number of reviews backing this rating up; there are over 1400 customers who came back to review this hair treatment giving it primarily positive reviews.
L'ANZA Keratin Healing Oil Hair Treatment Key Features:
Cruelty-free; not tested on animals
Free of sulfates, parabens, gluten and sodium chloride
3.4 oz
Our Runner Up Pick: Awapuhi Wild Ginger Keratin Intensive Treatment
The Awapuhi Wild Ginger Keratin Intensive Treatment is a frequent treatment that will allow you to take your hair as far as you want down the smoothing path. That is to say, if you want to keep your curls, with this treatment, you can. You use it weekly to protect your hair and add in so much hydration that even without the keratin, it's still amazing for your hair's health. With the keratin, though, you'll see a big change in the way your hair responds to styling. It won't "fry" with exposure to heat the way it would and the frizz will all but disappear, and curls will soften.
This treatment includes an awaphui extract that will replenish your hair and intensely moisturize it for optimal shine. You will use this weekly, applying all over to your damp hair, letting it set for three to five minutes and then rinsing. It works great to both repair and protect, but is ideal for color-treated and damaged hair.
There are nearly 600 customer reviews for this treatment on Amazon, earning it an overall rating of 4.6 stars. Depending on your hair length and damage, you will likely get several weekly treatments out of each bottle, even the smallest of the three available sizes, and that means this purchase will last you a long time.
Awapuhi Wild Ginger Keratin Intensive Treatment Key Features:
Uses patented KeraTriplex; blend of keratin, and awaphui to repair, replenish and moisturize hair 
Form Jon Paul Mitchell
3 sizes available
Best Budget Pick: ArtNaturals Argan Oil Hair Mask
ArtNaturals Argan Oil Hair Mask is a keratin treatment that relies heavily on its other ingredients to protect your hair so that the keratin can do its job of replenishing your lost keratin without it bothering with more damage you keep piling onto your hair. That means that by applying this mask to your hair, the keratin will restore your hair and the mask will keep your harsh techniques from causing further damage. This tactic will help you build back your hair's shine and health over time. The longer you use this, the more of a difference you'll see in restoration.
The argan oil is the big seller for the additional ingredients list because, along with the oil's protective qualities, it will also stimulate your scalp to produce more hair. This effect makes the mask a wonderful candidate for those who want to add thickness or volume to their hair and for those who are experiencing hair loss or thinning. You'll simply apply the mask to wet or damp hair, leave it in for three to five minutes, and rinse.
This keratin treatment for your hair has a huge number of customer reviews on Amazon; well over 5,000. And they've all contributed to the overall rating of 4.3 stars – a solid rating. But the best part of this keratin treatment, by far, is the price tag; pick one up for right around $13.
ArtNaturals Argan Oil Hair Mask Key Features:
Complementing shampoo and conditioner also available
For use 2-3 times per week
8 oz 
Best Brazilian Keratin Treatment: Keratin Research Complex Brazilian Keratin Hair Blowout Treatment
The Keratin Research Complex Brazilian Keratin Hair Blowout Treatment includes both the keratin treatment and shampoo for use before the treatment is applied. The shampoo also includes keratin but is primarily a deep-cleansing pre-wash that will rid your hair of any oils that may interfere with the keratin or weigh your hair down. 
The treatment is formulated with argan oil for thermal protection, making this an ideal candidate for those of us who use heat to get our hair just as we like it. The extra hydration provided by the coconut oil will protect your hair from further damage and, once you've completed treatment, it should last up to three months.
There are an impressive number of customer reviews on Amazon for this keratin treatment, right around 2200. And when you take that number into account, you can certainly trust in the honesty of its overall rating of 4.1 stars.
Keratin Research Complex Brazilian Keratin Hair Blowout Treatment Key Features:
4 oz treatment, 4 oz shampoo
2-3 hours for application
Flat iron necessary to complete treatment
Best Keratin Straightening Treatment: It's a 10 Haircare Miracle Leave-In Plus Keratin
The It's a 10 Haircare Miracle Leave-In Plus Keratin is intended to replenish keratin as it's lost, so that means you'll use this treatment frequently as you will lose your hair's natural keratin daily. If you've had a professional keratin treatment from a salon, you know those can be incredibly pricey and anything that will extend the effect of one is a win. This product can definitely do that and even without the keratin treatment to start, this will help your hair during the strain of you straightening it with your heat styling methods. 
The name "It's a 10" does not only refer to its rating on a scale of one through ten but also to the ten different things this product does for your hair. It will maintain the keratin treatment, increase your hair's manageability, protect any hair type, replace lost protein, protect natural keratin in hair, protects hair from heat damage, restore hydration, detangle and defrizz, strengthen overall hair structure and seal the cuticles. If that's not enough for you, we can't imagine what would be!
With over 3800 customer reviews and an overall rating of 4.6 stars on Amazon, you're entirely justified in building confidence in this product before you even try it. But a quick perusal of those reviews will more than convince you that you'd also be one of the satisfied customers should you pick one up.
It's a 10 Haircare Miracle Leave-In Plus Keratin Key Features:
4 fl oz
Easy-to-use spray bottle
Includes a blend of keratin, aloe, camellia, and sunflower
Who Should Buy a Keratin Treatment
If you've noticed damage to your hair, then a keratin treatment may go a long way in bringing life back to your hair. You'll see the depletion of keratin in your hair over time and that shows itself through split ends, breaking, thinning, dull color, and fizziness. It's caused by practically everything you do to tame your hair: using a curling iron or hot hair rollers, blow drying, hair coloring, relaxing, perming, straightening, using hair spray or gel – the list goes on and on. If you use any of these styling methods, you should give some serious thought to treating your hair to repair the damage or even as a precaution to protect it from the future damage you may cause. 
No matter how good you are to your hair, though, nor how healthy it is, as you age, the amount of keratin in your hair will inevitably reduce. This is just yet another fact of aging. The keratin deficiency will show through a number of ways, not the least of which will be the frizz and a good keratin treatment a couple of times a year will go a long way to maintaining healthy locks, even if it's losing keratin like a sieve. So while you age, keratin treatments will become less of a "nice to do" task and more of a "need to do it" maintenance item.
While the keratin treatments will protect and replenish your hair all matter of hair sins, the primary use for keratin treatments is in conjunction with straightening. If you have curly hair and want it straight, a keratin treatment is the healthiest way to do that. You can use a straightening brush or flat iron or even a blow dryer and hair brush, but without a keratin treatment, it will not last and those methods absolutely will damage your hair. If you want healthy and long-lasting, smooth hair, a keratin treatment is a surefire way to do so.
Important Features to Consider
Keratin treatment should do several things well. Here's what to consider when selecting a keratin treatment for your hair:
Daily. While it may not be a single, traditional "treatment," per se, putting keratin into your hair daily (or at least every few days) will set you up for a lot healthier hair. Because your hair loses keratin every day, why wouldn't you add more back in every day? The daily treatments are perfect for your hair's health, which means they will make it shiny, less likely to break and may even smooth it some. But without the heating element (and the additional ingredients that contribute to the straightening), it won't be permanent. A daily treatment that you wash out will undoubtedly make your hair healthier … While it's in your hair. But without "fusing" it, it's a temporary fix. That's not to say it isn't good for your hair; in fact, it may be better for your hair overall – heating potentially means heat damage, after all. And if you put it in before you use the flat iron or blow dryer, you may see extended benefits, including protection from heat damage. But if you're wanting the full, long-lasting benefits of a keratin treatment, it will probably mean a more expensive, more in-depth treatment that you do once every few months, not daily.
Brazilian blowout. A Brazilian blowout and a keratin treatment have essentially the same result: both coat the outer layer of your hair with keratin to smooth and remove frizz. In fact, depending on who you talk to, a Brazilian blowout is often referred to as a type of keratin treatment. The difference is all in the intensity. A traditional keratin treatment usually goes a bit deeper in its efforts and is generally more intensive. It will be a more deep-conditioning treatment that tames the curls and minimizes more of the volume than a Brazilian Blowout. If you want to keep your curls, a Brazilian Blowout may be your best bet. The good news, though, is that if you're doing it at home, you get to pick how you're going to style it. You have a bit more control to try new things than you would at a salon so a keratin treatment can still let you keep your curls bu controlling your styling and sealing tactic.
Good other ingredients. Keratin is the ingredient that will rebuild your hair, so you'll want a treatment that has a lot of it. If there are other ingredients that are more "filler" you'll notice this by the ingredient list, sure, but often times you'll even see these other ingredients on the label. Argan and Moroccan oils, for example, are pretty well-known for hydrating and softening your hair and for hair that suffers dehydration, this is a quality addition to the keratin treatment. This brings us to another feature you'll want to consider, though.
Not-so-good other ingredients. For several hair products, you'll often find that more is better. That is not always the case with a keratin treatment, however. If you hear anything bad about other ingredients, it will undoubtedly be about the formaldehyde. Formaldehyde is the ingredient that will break down unruly behavior in your hair and smooth it out. It is incredibly effective but it's a probable carcinogen and that's obviously concerning. Even if the formaldehyde isn't listed in the ingredients, it can still be released by preservatives while heating.  (Some of those ingredients are: quaternium-15, DMDM hydantoin, imidazolidinyl urea, diazolidinyl urea, polyoxymethylene urea, sodium hydroxymethylglycinate, bromopol and glyoxal.) Formaldehyde is undoubtedly a dangerous ingredient and you will, of course, want to be careful with anything with it included. But there are alternatives and you can get treatments which expose you to less than others. Just be conscientious in your homework before purchase.
Overnight hair masks. As you may expect, a keratin hair mask is one that is used with the specific intent to protect your hair. Not only will they have the keratin to replenish your hair's protein, but they'll include hydration, yes, but also nutrients that will strengthen your hair and make it better able to withstand any torment you give during your regular styling. Often times masks will be intended for nighttime use and that means you don't need to worry about styling it with the mask wet or how to dry the mask on your hair or anything of the sort. It will dry in your hair overnight and you'll see a notable boost in your hair's appearance and the protection from the damage you do in the morning.
Higher concentrations. You may find there are some much more tempting keratin treatments that are more reasonably priced, but keep in mind that you will always get what you pay for with keratin treatments. If you're purchasing a keratin treatment that is priced well under what its competitors are, then you're very likely looking at a lower concentration of keratin. Of course, a keratin treatment that is only 2% keratin is less expensive than the one that is 50% keratin. You may have to dig a bit to find your percentages but once you do, you won't be surprised when you compare percentages to price tags. If, for what you need it for, you're okay with a lower percentage, don't spend more than you need. Get the product you need, not the one with the price you like. 
Frequently Asked Questions
What is a keratin treatment and how does it work?
A keratin treatment is a way for you to replenish your hair's naturally occurring keratin. It will come in a liquid, gel, or cream and you'll place it directly onto your hair and work evenly through each strand from root to tip. That, in itself, is good for your hair's sheen and overall health, but it will wash out if you stop there. If, however, you choose to apply heat to the product while it is in your hair, the keratin will become more permanent and fuse to each of your strands and will not come out as you wash or style. Most commonly, the keratin is fused in with a flat iron or a blow dryer (depending on how you want to style your hair). The additional keratin will then add to the shine and softness of your hair. It will also go a long way to smoothing the frizz and de-tangling.If you opt to use the keratin treatment in conjunction with heat, it will maintain the straight appearance for months, making your hair more manageable the whole time. If you choose not to use the heat and straightening methods, you'll need to keep treating your hair, but it will give you a lot more freedom.
Can keratin damage your hair?
Keratin is a hugely beneficial addition to your hair and will definitely not damage your hair. Keratin treatments can have formaldehyde in them, though so you'll want to make sure that you're either not getting the treatments frequent enough to allow the formaldehyde to damage your hair or you're finding a treatment that doesn't have any of these damaging ingredients contained within. The good news is that home treatments are much less likely to have such strong ingredients. (The bad news is that this means you may not get have the exact same results as you would from your salon.)
In addition to the potentially damaging components added into your keratin treatments, you will often be using your keratin treatment in conjunction with pretty intense styling methods. So while the keratin itself won't damage your hair, if you're using it to straighten your hair, then you will still have to contend a bit with the flat iron. Since the keratin is best fused to your hair with heat, you'll have to make allowances for the potential heat damage.
Is a keratin treatment good for hair growth?
Keratin will fill in the holes in your hair and strengthen it, which may make you think that of course it will make your hair grow. However, you may never actually see that difference in hair growth for a pretty simple reason. The harsh effects caused by the heat used in the treatment may be reducing the amount of keratin in your hair – and the treatment is simply replacing that which is lost, not building additional. Therefore, you should be careful with a traditional keratin treatment to make sure you're not just "breaking even" on the overall keratin in your hair. You can minimize further loss if you're losing your hair due to your harsh styling methods, but unless you stop the harsh treatment, you'll just be treading water, not gaining or losing anymore.
Keratin applied in ways other than a traditional treatment, however, will definitely make your hair thicker and more lush. The fewer breaks in your hair, obviously the longer it grows. If you want to put a daily treatment in your hair without adding the heat of straightening, there is a better chance of keeping your strong hair healthy and allowing it to grow.
How long does a keratin treatment last?
Your hair will keep a healthy shine for upwards of a few months after a keratin treatment. If you've used the treatment to straighten and smooth curly hair, then it may only last as little as six weeks. Some of the determination of length does depend on you; both your hair type and how you treat your hair. If your hair behaves well and you adhere to the rules your stylist provides, you have every reason to expect the keratin treatment to last between eight to twelve weeks.
If you're planning on a "daily" keratin treatment to manage your daily hair struggles, then you can typically expect it to last a few days between applications to maintain a healthy shine and smooth edges in your style. Even if it is called "daily," you will often use it only when you're styling or washing so that term will really mean "every few days."
Other Keratin Treatments We Reviewed
We looked at 20 other keratin treatments. Even though they didn't make our 5 best keratin treatment list, they're the best of the rest and each is still a great option for your hair. The information you'll need to compare each one is included with the listing. We've grouped them in the following categories:
Daily Keratin Treatment

This product is meant to be added to dry hair, left in, and then styled according to your preferences.
Key Features:
6 fl oz
Subscribe and Save eligible
Contains a blend of keratin, jojoba, silk and more
Cost: $30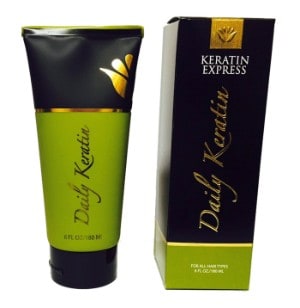 This keratin treatment for your hair is perfect to extend the effect of your keratin treatments for use in between shampooing.
Key Features:
6 fl oz
Compatible with all keratin treatments
Contains no formaldehyde
Cost: $40
La-Brasiliana Dieci All-In-One Instant Hair Treatment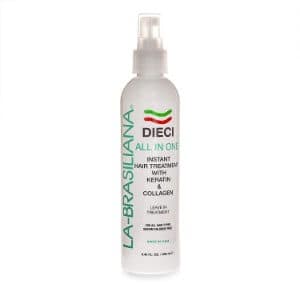 This all-in-one will protect, replenish, repair, de-frizz, and enhance your hair.
Key Features:
Includes blend of keratin and collagen
8.5 fl oz
Suitable for all hair types
Cost: $20
Silk18 Natural Hair Conditioner Argan Oil Sulfate Free Treatment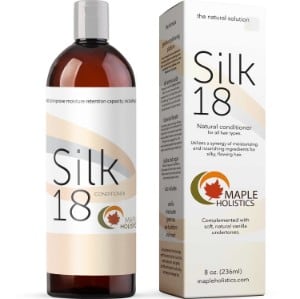 This blend of keratin, argan, and silk will condition your hair without adding any sulfates.
Key Features:
Subscribe and Save eligible
3 size options
Includes 18 amino acids derived from silk
Cost: $10
Simply Smooth Xtend Keratin Reparative Magic Potion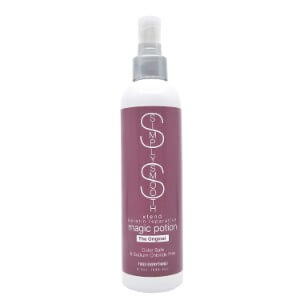 This blend of restorative and enhancing ingredients is part of an entire line of hair health products.
Key Features:
Infused with apple pulp, vanilin, keratin, and collagen
8.5 fl oz
Sulfate, sodium chloride, paraben, and gluten free
Cost: $30
TRESemmé Keratin Smooth Heat Activated Treatment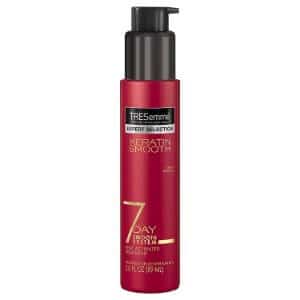 Following the instructions on this treatment will last through approximately seven days or three washes.
Key Features:
3 size options
Coordinating keratin shampoo available
Treatment lasts 7 days
Cost: $30
Keratin Treatment Mask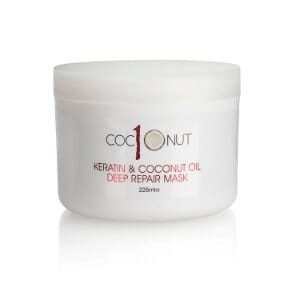 This deep moisturizing mask will add the keratin you're missing while protecting your hair from further protein depletion.
Key Features:
7.6 fl oz
Contains coconut, argan, and avocado oil
Money back guarantee
Cost: $15
Damila Hair Treatment/Repair Mask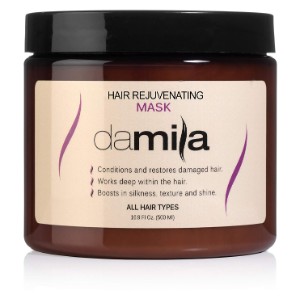 You'll protect and condition your hair with this rejuvenating hair mask.
Key Features:
Includes a blend of keratin, wheat protein, and collagen
2 size options
Suitable for all hair types
Cost: $30
Schwarzkopf Professional – Blondme Keratin Restore Blonde Mask Treatment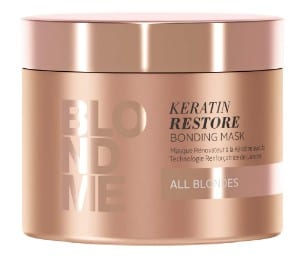 This hair mask is part of a replenishment line of products meant to lighten your hair color and contribute to its overall health.
Key Features:
Ideal for blondes or lightening hair
5.3 fl oz
Includes blend of keratin and hydrolyzed silk
Cost: $15
Vitamins Hair Cosmetics Keratin Infused Protein Hair Serum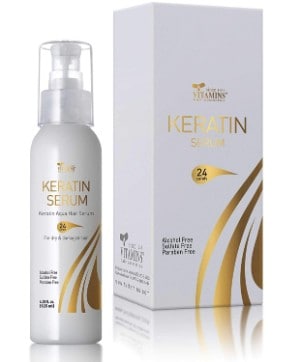 This leave-in hair protection mask will nourish and rejuvenate your dry and damaged hair, restoring the keratin loss.
Key Features:
Includes blend of keratin, Moroccan argan oil, wheat germ, and vitamin E
Suitable for all hair types
Alcohol, sulfate, and paraben free
Cost: $20
Intensive Keratin Hair Treatment
Agi Max Brazilian Keratin Hair Treatment Kit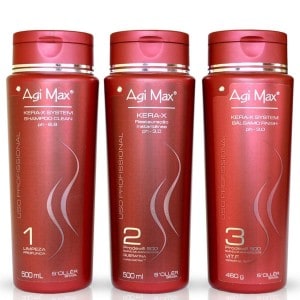 This three step keratin treatment will leave your hair smooth and frizz-free.
Key Features:
17 fl oz for treatment and shampoo; 16.2 oz for finish
Ideal for straightening
Up to 10 applications per kit
Cost: $90
ApHogee Intensive 2 Minute Keratin Reconstructor

This treatment will reconstruct your hair's keratin protein in just two minutes.
Key Features:
16 fl oz
Includes an anti-oxidant green tea to protect hair
Buy more and save
Cost: $15
BioNaza ChocoHair Brazilian Keratin Treatment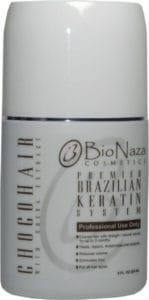 This keratin treatment will let you see the results in your hair for up to three months.
Key Features:
Chocolate fragrance
8 fl oz
Ideal for colored hair
Cost: $100
COCOCHOCO Original Brazilian Keratin Hair Treatment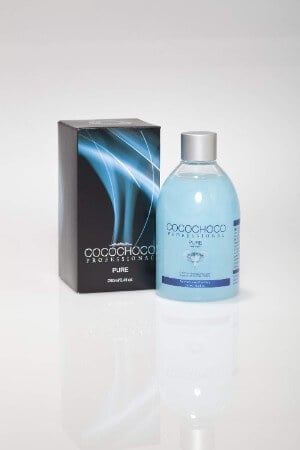 This is a Brazilian keratin treatment that will allow you to do your own Brazilian blowout with salon quality.
Key Features:
8.4 fl oz
Alcohol, paraben, formaldehyde, ammonia, and sulfate free
Ideal for straightening curly hair
Cost: $40
G. Hair Perfect Blond Keratin Hair Straightening Smoothing System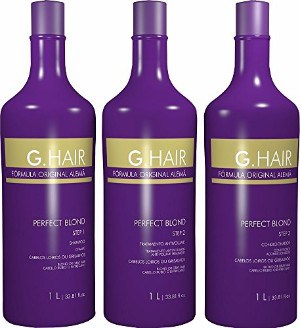 The shampoo, treatment, and finishing bottle will make this kit perfect for sealing your cuticles and reducing the frizz in your hair for months.
Key Features:
3-step treatment, 3L kit
Contains blend of keratin and wheat germ oil
Intended for blonde hair
Cost: $140
KCP 3.5 Clinic Keration Silk Hair Treatment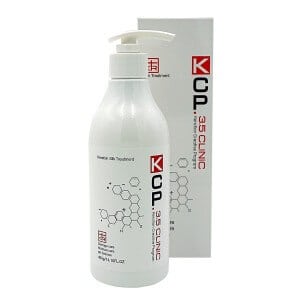 This is a one step keratin treatment that will leave your hair feeling softer and looking healthier.
Key Features:
14.1 fl oz
Intended for extremely damaged hair
Includes blend of keratin and silk
Cost: $40
Keratin Complex Infusion Therapy

This treatment will, as you can probably guess based on the name, infuse your hair will additional keratin that you naturally lose throughout your life.
Key Features:
Use in conjunction with blow drying
Includes blend of proteins: keratin, soy, and wheat
2 size options
Cost: $20
Mai Hair Complex Brazilian Keratin Hair Treatment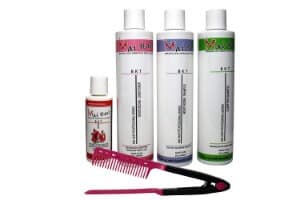 This keratin treatment for your hair includes all you'll need to straighten and smooth your hair.
Key Features:
Includes shampoo, 2 types of conditioner, treatment, and straightening comb
2 sizes for treatment available
Treatment lasts from 4-6 months
Cost: $60
Rejuvenol 24 Hours Keratin Treatment with Collagen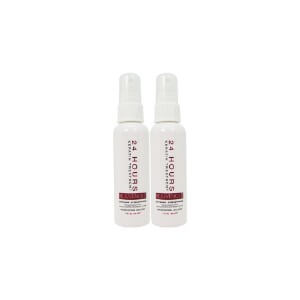 You will apply this keratin treatment directly to your clean and dry hair, then blow it dry again, fusing the keratin to your hair.
Key Features:
2-pack
Includes blend of keratin and collagen
Treatment lasts at least 24-hours
Cost: $30
Remilia Keratin Hair Treatment
This treatment comes with 30 capsules which equate to roughly 30 treatments.
Key Features:
Includes blend of keratin, vitamin B5, and silk protein
Twist capsule open and apply serum directly to hair 
Subscribe and Save available
Cost: $25