Today's flat irons are different than the ones that existed 10 years ago. Back then when you bought a flat iron you expected it to take your already dry hair to the next level of straightness. These days, flat irons can do so much more. You can eliminate frizz with the help of infrared sensors or even use your straightener to create beachy waves. All of these advancements in technology are great for your hair, but they give you a lot more to consider before deciding which one is the best for you.
We reviewed dozens of flat irons of all shapes and styles to bring you the perfect options for whatever you are looking for, be it tamping out frizz or taming your wild curls into a pin straight tresses. Before deciding which straighteners were the best of the best, we considered things like the differences between ceramic and tourmaline plates, applied technologies (seriously, there is a flat iron that uses infrared on this list!) and even whether or not they could be used on damp hair. In the end we chose 25 of the best flat irons that can give you that salon fresh style from the comfort of your own home.
The HSI Professional Ceramic Tourmaline Ionic Flat Iron has it all: specially designed plates that create a sleek and shiny finish, adjustable temperature settings to put you in control of the amount of heat you use and tens of thousands of happy customers who also agree that this is the best straightener out there.
The 5 Top-Rated Flat Irons
*Ratings are from Amazon at the time of publication and can change
Our Top Pick: HSI Professional Ceramic Tourmaline Ionic Flat Iron
The high-quality design and salon-grade technology make the HSI Professional Ceramic Tourmaline Ionic Flat Iron our top pick. Ceramic plates with tourmaline and crystal ions make the flat iron especially efficient, allowing you to straighten even the curliest of hair in 20 minutes.
The adjustable temperature settings put you in control. Allowing you to choose the right temperature from 140 to 450 degrees so you can pick the heat setting that works best on your curls. As an added bonus, the HSI Professional Glider can be used internationally, thanks to dual voltage settings.
Reviewers cannot say enough good things about this $49.99 product. With a 4.4 rating and 31,835 reviews, you can bet you will have something good to say after you try it, too!
HSI Professional Glider Key Features:
Straightens, flips and curls all hair types
Micro sensors prevent damage before it starts
Includes a 1-year warranty, style guide and a travel sized bottle of Argan oil
Our Runner Up Pick: BaByliss Pro Nano
The
BaByliss Pro Nano
is a titanium placed flat iron that uses a ceramic heating element to give you the best of both popular features. The BaByliss Pro Nano offers a rapid heat up, cutting down on the amount of time you need to wait for your straightener to be ready to use. The salon favorite flat iron leaves curly hair smooth and silky after just one pass.
The BaByliss Pro Nano is priced higher than the other flat irons on this list, but the salon quality product earns its price tag according to reviewers. It is light weight, which means you can hold it comfortably for longer than other heavier products. Great news for those of you with long or thick hair.
This flat iron is one of the few hair straighteners with multiple positive reviews from people who have color treated hair, making the higher price point on this product money well spent for those who frequently use hair dye. The flat iron has almost 1,000 reviews and a 4.0 rating. You can try it out for yourself for $129.99.
BaByliss Pro Nano Key Features:
Ultra light-weight
50 heat settings
5 inches of extended plate
Best Budget Pick: BaByliss Pro Nano Mini
The
BabyBliss Pro Nano Mini
gives you all of the power and features of the full size BaByliss straightening iron, at a fraction of the price. Thanks to the technology that makes the BaByliss so popular, the smaller sized nano only increases straightening time by a few minutes. Making it a smaller, more affordable straightener that packs a mighty punch.
The mini is also good for travel, since it will fit comfortably inside of a travel case (or purse for a quick after work touch up). Like its full size counterpart, the mini is lightweight, making it perfect for anyone who wants to ditch a heavier straightener.
Short hair bonus: the BaByliss Pro Nano Mini may actually be perfect for users with shorter hair or anyone looking to straighten their bangs. The smaller barrel lets you get closer to the scalp without the fear of burning your skin. The popular flat iron has over 1,600 reviews and a 4.0 rating. You can snatch up one of these flat irons for just $29.99.
BaByliss Pro Nano Mini Key Features:
1 inch plates
Convenient for traveling
Dual voltage for global usage
Best Ceramic Flat Iron: Infinitipro by Conair
Using tourmaline ceramic plates, the Infinitipro by Conair gives you salon quality hair at home. The flat iron comes with longer plates, which cut down the time it takes to straighten your hair. And the product can be used to create wavy curls as well, giving you two ways to style your hair with just one device.
A recessed off button means that you'll never accidentally turn off the straighter while you're styling, and the safety feature that shuts off the iron when it's been on too long means you'll never accidentally leave it on after you're done.
And the Infinitipro lets you get started in as soon as 15 seconds after you turn it on, thanks to a rapid heat up feature that quickly and thoroughly heats up the flat iron with virtually no wait time. Something that has helped the flat iron earn the 4.4 rating given by over 1,500 reviewers. Making this ceramic flat iron a steal at under $30.
Infinitipro by Conair Flat Iron Key Features:
1 inch plates for fast styling
15-second heat up
30 different heat settings
Best Titanium Flat Iron: Kipozi Pro Flat Iron
The
Kipozi Pro Flat Iron
is a 2-in-1 titanium device that delivers sleek and shiny hair, or can be used to create frizz-free waves, depending on your mood. The product offers a series of temperature settings so that you can be sure you are getting the right heat setting for your curl type. The results are soft and shiny, giving you manageable hair in half the time. And thanks to the safety shut off feature, you never have to wonder again if you remembered to turn off your flat iron before you left the house.
The Kipozi Pro Flat Iron keeps your hair frizz-free by releasing the negative ions that can lead to static and roughed up hair follicles.
The device has 3,521 reviews and a 4.6 star rating. Priced at just $39.06, this dual action iron is the perfect titanium flat iron.
Kipozi Pro Flat Iron Key Features:
Ultra high, steady heat
3-D floating plates that won't pull your hair
LCD screen with safety shut off
Who Should Buy a Flat Iron
If you have silky smooth, board straight hair already, you are in the wrong place. However if your hair is curly, kinky, or prone to frizz you may benefit from using a styling tool like a flat iron. While many other styling tools, like curling irons and hot rollers, can take your hair from straight to curly, only a flat iron can do the opposite.
Keep in mind that flat irons only offer a temporary change, and your hair will generally return to its natural state after the first wash. If you are seeking a permanent change to straight hair, consult a local salon professional about the services they offer. Until then, you can take the look for a test drive by using a flat iron in the comfort of you own home.
Important Features to Consider
A flat iron should have a few important features. Here's what to consider when selecting a flat iron:
Adjustable heat settings. Everybody's hair is different and will require a different heat setting in order to achieve silky smooth pin straight hair. Adjustable heat settings allow you to choose which temperature works best for your hair. For example, if your hair only has a slight wave, you will want a lower heat setting. However, if you have a tightly wound curly, your hair will require a little more heat to get it to relax enough to lie flat.
Barrel size. The size of the barrel will impact how long it takes you to straighten your hair in many cases. A smaller barrel (anything under an inch) will require far more passes than a larger barrel (anything over an inch). Smaller sized barrels are perfect for short hair, or hair that will straighten without too many passes. However if you have a thick head of hair that requires more than one pass on each section, a larger barrel will cut down on how much time it takes you to complete  your desired look.
Wet and dry settings. Not all flat irons are created equal. Some require that your hair already be completely dried before you begin while others will work just fine on damp or wet hair. Before purchasing a flat iron, consider whether or not you prefer working with already dried hair, or like to do it all at once with towel damp hair.
Frequently Asked Questions
What is a flat iron and how does it work?
A flat iron is a hair styling product that uses heat to straighten hair. The device has two plates at the end of a set of ton shaped arms. Once it has heated it to the desired temperature, you take a small section of hair and beginning at the top of your scalp, squeeze the plates together and run them down the length of your hair. Flat irons can straighten a variety of hair types. The type of flat iron you choose will depend on the type of curl type you have, and whether or not you want a flat iron that does anything other than straighten. For example, some flat irons can actually be used to give your hair curls as well.
On the flip side, there are no curling irons that can be used to straighten your hair. Making flat irons a two-in-one styling product (check out our top five list to see which of our recommendations pull double duty).
Of course, it never hurts to buy the two separate products. You will always achieve more optimal effects by using a tool that is specifically created for the look you are trying to create. You can check out our list of the best curling irons to get a good idea of what we consider the best the market has to offer.
What do you put on your hair before you flat iron it?
Before you put anything into your hair, you will want to make sure that it is designed to be used with heating elements (like flat irons, blow driers and curling irons). There are a variety of products you can use: solutions that protect against heat damage, products that are designed to add extra shine when activated by heat and oils that help trap your hair's natural minerals to keep it shiny and healthy.
Keep in mind that some products can only be applied to wet hair, which means if you have a flat iron that can only be used on dry hair, you'll need to apply it before you begin blow drying.
Can you use a flat iron on straight hair?
Absolutely! Many people with straight hair use flat irons to help with frizz and smooth down fly-aways. If you already have fairly straight hair you can get away with using a flat iron with a smaller barrel and a lower heat setting (which will save you time and money). Of course a larger flat iron with a range of heat settings will work as well and may help you get an even smoother and more uniform look.
Just beware that you aren't using too much heat. Excessive heat use can damage otherwise healthy hair, and no amount of flat ironing can hide badly damaged hair.
How do you keep your hair straight after using a flat iron?
After you have done all the work of straightening your hair, you'll want to make sure you're doing the right things to keep it looking its best. Use styling products designed for straight hair (things like mouse or gel are too heavy and too wet to achieve a straight glossy look). Also, you'll want to avoid getting it wet. If it's raining, consider wearing a hat, carrying an umbrella or donning a wrap. You can also get a little more wear out of your look by skipping a few shampoos. Instead, use a dry shampoo (which will soak up any excess oil produced by your scalp) and get a few more days out of your look.
As an added bonus, the less you use heat elements on your hair, the better your hair will look. So if you can manage to make a straightening session last a few days, your hair will thank you for it!
Other Flat Irons We Reviewed
We looked at 20 other flat irons. Even though they didn't make our 5 best flat irons list, they're the best of the rest and each is still a great option for straightening your hair. The information you'll need to compare each one is included with the listing.
Ceramic Flat Irons
CHI Original 1″ Flat Hair Straightening Ceramic Hair-styling Iron
The well known fan favorite uses ceramic plates to create a consistent and even heat that will eliminate frizz and tame curs in one pass.
Key Features:
 Reduces frizz and static electricity
Creates silky shiny hair instantly
Straightens, curls, flips and waves with the all-in-one ergonomic design
Cost: $80
Remington S-5500 1″ Anti-Static Flat Iron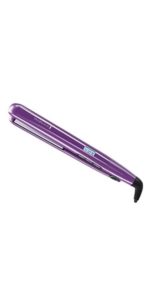 This purple flat iron offers a turbo button that allows you to boost your heat setting quickly in order to get through a long straightening session faster.
Key Features:
1 inch plates
Convenient for traveling
Dual voltage for global usage
Cost: $20
Remington S-9500 Pearl Pro Ceramic Flat Iron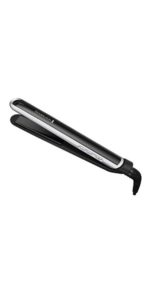 This flat iron has ceramic plates that are infused with real pearls to make for an extra smooth, extra luxurious salon quality experience in your own home.
Key Features:
1" floating plates for easy glide
Pearl ceramic technology
450°F salon high heat
30 second heat up
High grade salon performance
Cost: $27
Revlon Salon Straight Copper + Ceramic Smooth Flat Iron
The only flat iron we've seen that guarantees 24 hour frizz control, making this the longest lasting straightener out there.
Key Features:
Advanced Nano Copper for superior heat transfer
455 degree F smart heat memory system recalls the last heat setting
24 HR hair frizz control
10-second heat-up
Cost: $29
This ceramic flat iron releases negative ions in order to leave hair with a silky effect after straightening. The white straightener is sleek an stylish looking as well.
Key Features:
3D floating plates
360 degree swivel cord
Auto shut off feature
Cost: $22
Umickoo Flat Iron For Hair Styling
The plates on this flat iron will automatically adjust their strength to fit larger hair volume between them, giving you a more effective straightening experience.
Key Features:
Straightens and curls
3D floating ceramic tourmaline plates
12 adjustable temperature settings
Titanium Flat Irons
Croc Classic Nano-Titanium Flat Iron
Works well for both thick and fine hair. Gives a nice shiny finish and will not snag or pull on hair as you straighten.
Key Features:
Nano-silver technology that sterilizes and deodorizes
25 heat settings
60 percent faster thanks to ceramic heat
Titanium ion plates
Cost: $170
Furiden Hair Straightening And Curling Iron
Straighten with efficiency using this extra long hair straightener that has a quick heat up feature and memory settings to make getting ready a breeze.
Key Features:
Ergonomic design for comfort
4.7 inch long barrel for efficiency
Satisfaction guarantee
Heat settings from 265- 450 degrees
Cost: $47
Jinri Professional Hair Straightener
Get sleek flat hair, or shiny curls with this 2-in-1 hair straightener. Unlike many other straighteners on the market, you hair does not need to be completely dry to use this flat iron, saving you time and energy while getting ready!
Key Features:
3D titanium flat iron with ceramic heater
Memory function for heat settings
Safety switch
Cost: $47
Kipozi Professional Titanium Flat Iron Hair Straightener
A larger version of one of our top 5 choices, this product will allow you to access the same great features as the smaller version, but with a larger plate size.
Key Features:
Consistent heat delivery
1.75 inch plates
Safety switch off
Tourmaline Flat Irons
Infinitipro by Conair Tourmaline Ceramic Flat Iron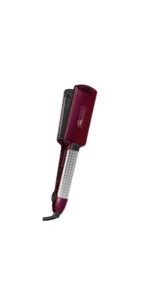 Save time by using this larger sized tourmaline flat iron. At 2 inches, these plates are some of the largest we reviewed which could conceivably cut your styling time in half! The blended tourmaline and ceramic plates create less frizz and leaves hair looking shinier than with other flat irons.
Key Features:
2 inch floating plates
Tourmaline ceramic creates less frizz
Ceramic heater
5 heat settings
Cost: $33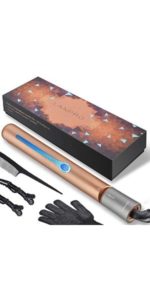 A 2-in-1 product that can help you go from curly hair, to straight, and then back again with a flick of your wrist.
Key Features:
6 different heat settings
No snagging, tugging, or frizz
Heats up in as little as 10 seconds
Cost: $70
Nition Professional Salon Hair Straightener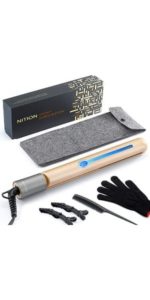 This 5-in-1 flat iron combines the best of tourmaline, ceramic and tourmaline for effortless shine and beauty when straightening your hair. It also works as a curling iron.
Key Features:
Accessory pack includes a glove, a comb, and more
4.1 inch heating plate
60 minute auto shut off safety feature
Other Flat Irons
CHI G2 Ceramic and Titanium Hair Styling Iron
This second generation version of the original contains upgraded technology and added durability. The combination of materials used in the plates offers a smoother glide than the original as well.
Key Features:
Plates are a ceramic and titanium blend
1.25 inch heating plate
2 year warranty
Cost: $130
HTG Professional Flat Iron with Infrared and Ionic Hair Straightener
Use this flat iron and feel like your doing your hair in the future. Using infrared technology, this flat iron can quickly and consistently provide heat to all hair strands as you work, leaving your hair silkier and less likely to frizz.
Key Features:
Ion booster uses 1,000 percent more negative ion technology
Infrared technology and heat strip
1 inch floating ceramic plates
Cost: $33
Infinitipro by Conair Wet/Dry Hot Air Brush Styler
Although this product is less of a flat iron and more of a air brush, it deserves a spot on our list for taking curly wet hair and turning it into silky smooth straight hair. This is another product that can save you a step by allowing you to use it while your hair is still damp from washing.
Key Features:
Straightens, shines and control frizz
Uses tourmaline ceramic technology
Includes a cool down function to lock in style
Cost: $40
InStyler Max Wet to Dry 2-Way Rotating Tourmaline Ceramic Straightening & Styling Iron
Instead of a traditional plate, this flat iron has a plate and a barrel to give you more versatility with styling. You can straighten, curl or simply add more body to wet or damp hair using this iron.
Key Features:
No blow dryer needed
Uses tourmaline ceramic plates
1.25 inch rotating barrel
Cost: $97
Magicfly Professional Salon Ceramic Tourmaline Flat Iron with Vapor
This flat iron uses vapor to protect your hair while using ceramic plates to straighten it. Comes with an accessory pack to help you complete your look.
Key Features:
Vapor smooths hair while styling
Ceramic heating plate
5 different temperature settings
Cost: $35
Remington Wet2Straight Flat Iron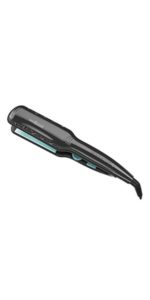 Save a step during styling and use this wet to straight flat iron that lets you begin straightening your hair while it's still damp. Vents along the sides of the wand turn the water into steam as it works.
Key Features:
1.75 inch ceramic and titanium plates
Dries and styles 3 times faster
30 different temperature settings
Cost: $35
Xtava Steam Flat Iron Hair Straightener
Using the steam feature is as easy as adding water to the reservoir and voila, you have a straighter that works to add moisture back into your hair while you style.
Key Features:
Ceramic and tourmaline plates are perfect for thick and course hair
Steam feature can be deactivated
2 year warranty and satisfaction guarantee
Cost: $38