Getting a gel nail mani at your go-to nail salon is something many of us look forward to. However, a monthly visit can quickly add up—especially considering you not only have to pay for your nails to get done, but also removed. Moreover, it can also be time-consuming to find the time to schedule in an appointment.
So what's a woman who loves to keep her nails looking pristine meant to do? Try doing your own gel nails at home. Before you balk at the idea, it's really not as difficult as you think! There are now no shortage of DIY gel nail brands on the market that you can use to give yourself a professional gel mani in the comfort of your home. You'll not only save a ton of money and time, it's also far more convenient and fun to go this DIY route.
We reviewed dozens of gel nail brand on the market to identify the best of the best. We looked at factors such as the ease of application, colors and effects available, quality of ingredients used, price, and Amazon reviews.
Modelones Gel Nail Polish
If you're looking for a glamorous gel nail polish that's high-quality enough to even be used at nail salons, this product is it.
After conducting our review, we selected Modelones Gel Nail Polish as our top pick. The brand is committed to offering high-quality, long-lasting, and shiny gel nail polish in an ample number of shades. Keep reading to learn more about this brand and the all the other ones that made our top 25 gel nail polish brands.
The 5 Top-Rated Gel Nail Polish Brands
*Ratings are from Amazon at the time of publication and can change
Best Gel Nail Polish Brand Overall: Modelones Gel Nail Polish
There are many reasons why Modelones Gel Nail Polish is our top recommendation for a trusty gel nail polish brand. First of all, the brand offers an extensive range of original and standard shades that are sure to catch your eye. With around 100 shades to select from, you'll have no trouble finding some that part of your signature look. In fact, most of Modelones Gel Nail Polish comes in sets of 5, 6, or 7 shades, so you'll be able to have fun experimenting with a handful of different ones with every purchase.
The brand's offerings are made from non-toxic, low-odor, and low-irritation ingredients. What separates Modelones from most other brands on the market is that what you see is what you get. The nail polish shades come out precisely as the pictures show, so you won't be let down when you try them for yourself. If you need further proof of this, take a look at the glowing reviews customers have left. You'll see no shortage of comments such as "Unbelievably shiny and beautiful" and "Lovely bright colors!"
We particularly love this brand's line of sophisticated pink and grey shades, which are perfect for transitioning your look from day and night. We're also big fans of their special effects gel nail polishes, that are designed to take your nail art to the next level. For example, their Blooming Gel Nail Polish line will allow you to create a stunning marble effect, while their Glitter Gel Nail Polish line will make your nails sparkle like a diamond.
Modelones Gel Nail Polish Key Features:
Around 100 shades available
Smooth brush
Low-odor
Non-toxic ingredients
Best Glitter/Shimmer Gel Nail Polish Brand: Beetles Boujee Gel Nail Polish
Finding a glitter/shimmer gel polish brand is hard work. Many brands claim that their gel nail polish will give you the sparkle you crave, but when you try it out, the results tend to be lackluster. The sparkles are either dull or lacking something you can't quite put your finger on. Fortunately, you won't have that problem with Beetles Boujee Gel Nail Polish. There are 6 absolutely stunning glitter/shimmer gel nail polishes included in the collection, including an iridescent silver, gold, baby pink, fuchsia, purple, and turquoise. Beetles' polish is so well-made it'll stay on your nails for 3 weeks or more.
Beyond this, the reason we rate Beetles so highly in our roundup is that they're a brand that's 100% committed to making gel nail polishes that meet the highest safety standards. As we explain later in the "Important Features to Consider" section of this guide, the quality of ingredients should be a key consideration you keep in your mind when you're buying gel nail polishes.
Beetles' polishes are all 9-free, which is a relatively rare feat in the world of gel nail polish brands. This term is used to describe nail polishes that are free of 9 potent toxic ingredients, namely: formaldehyde, toluene, DBP, formaldehyde resin, camphor, ethyl tosylamide, xylene, parabens, and acetone.
Beetles Gel Polish Key Features:
Brilliant sparkle effect
Free of 9 potent toxins
Lasts 21+ days
Low-odor
Best Budget Gel Nail Polish Brand: Candy Lover Gel Nail Polish
Candy Lover Gel Nail Polish
You'll be in disbelief that you can purchase a high-quality gel nail polish brand like Candy Lover for just pocket change.
With most of their 120+ natural resin gel nail polishes priced at only around $2-3 a bottle, Candy Lover Gel Nail Polish is our pick for the most budget-friendly gel nail polish brand around. We could have just as easily awarded it the "Best Gel Nail Polish Brand With Vivid Colors" given how eye-catching all of the brand's shades are! But we wanted to shine a light on just how affordable it is for any bargain hunters out there.
Gel nail polishes are usually priced higher than regular nail polish, given the additional features they offer. This can be off-putting to anyone who's used to paying only a few dollars per bottle. Well, now that you're in on the secret about what a bargain brand Candy Lover is, so you can finally give gel nails a whirl for yourself!
However, there are many more reasons why this brand is worth using apart from its enticing price. Not only are Candy Lover's polishes super easy to apply, odor-free, and made with non-toxic ingredients, they're also formulated to last more than 21 days. Not too shabby for a couple of dollars, right?
Candy Lover Gel Nail Polish Key Features:
Made from natural resin
Vivid colors
Easy to apply
Very affordable price
Best Chrome/Metallic Gel Nail Polish Brand: Mobray 3D Gel Nail Polish
Mobray 3D Gel Nail Polish
For a metallic nail polish with a touch of sparkle, Mobray's formaldehyde-free 3D collection will make heads turn.
Have you been on the hunt for a metallic nail polish brand that gives you professional-looking metallic nails from the comfort of your own home? There's no better choice than Mobray 3D Gel Nail Polish, which is formulated to last up to 40 days. Mobray offers two metallic nail kits to choose from, each with 6 shades. The first kit contains 2 shades of green, 2 of purple, and 2 of blue. The second kit is equally eye-grabbing, with blue, red, yellow, green, bronze, and silver polishes.
To let Mobray's 3D linework its metallic magic, you'll need to use a cat-eye magnet to create your desired nail design. Fortunately, the brand throws in a free one with every metallic nail kit purchase. If you're new to metallic gel nails, keep in mind that it will take a bit of trial and error to get the hang of. But in our opinion, that's all part of the fun!
The nail polish is notably free from formaldehyde, which is a toxin that has been linked to numerous health problems. The American Cancer Society highlights that it may cause coughing, wheezing, nausea, and skin irritation—and has even been linked to cancer. So like we did for Beetles, we gave Mobray some extra points for excluding this harmful toxin from their formulas.
Mobray UV Gel 3D Nail Polish Key Features:
Free from formaldehyde
Lasts up to 40 days
6 color set
Cat-eye magnet included
Best Matte Gel Nail Polish Brand: FairyGlo Matte Top Coat Gel Nail Polish
If you've ever tried to achieve perfectly matte gel nails, you'll know that the brand of matte topcoat you choose will make all the difference. Any mistakes you make or using a poor-quality product will show far more clearly on matte nails. That's why it pays to find one that has the nod of approval from thousands of gel nail polish aficionados. We're talking, of course, about FairyGlo Matte Top Coat Gel Nail Polish.
FairyGlo makes transforming your nails from glossy to matte a super simple process with their easy-to-use matte topcoat. All you have to do is apply and cure one or two layers of your regular gel nail polish, and then apply and cure a coat of their amazing product.
Customers have commented on how impressed they are by the "immaculate" and "super-matte" look just one coat of it achieves. We're equally taken aback by how effectively it works, so aren't surprised at all by the hoards of converts the brand has. In addition to making your nails look absolutely fabulous, the brand also works to make them last even longer.
FairyGlo Matte Top Coat Gel Nail Polish Key Features:
Lasts at least 14 days
Works with every shade
Lacquer color resistant
15mL
Who Should Buy Gel Nail Polish
Anyone who wants to save the money, time, and energy that it takes to go to a nail salon to get their gel nails done should seriously consider buying their own set of gel nail polishes (and of course, a suitable UV or LED light too!). If you haven't tried gel nails before but love sporting manicured nails, there's a good chance you'll love them. Gel nails make your nails look absolutely stunning, in turn adding a boost of glamour to your overall look. They also last for at least 3 times longer than regular nail polish and won't damage your nails like some other types of nail polish do.
Modelones Gel Nail Polish
If you're looking for a glamorous gel nail polish that's high-quality enough to even be used at nail salons, this product is it.
Important Features to Consider
Quality of ingredients. The quality of ingredients will vary from product to product, which is why you should carefully look at the ingredients list. High-quality gel nail brands will be free of toxic ingredients that may harm your nails and skin. Fortunately, many nail polish brands will explicitly state when they're free of these harmful toxic ingredients. Look for products that are 3-free (free of dibutyl phthalate (DBP), formaldehyde, and toluene), 5-free (free of the 3-free chemicals plus formaldehyde resin and camphor), 7-free (free of the 5-free chemicals plus ethyl tosylamide and andxylene), or 9-free (free of the 7-free chemicals plus contains no parabens and acetone).
The shade. The shade of gel nail polish you choose should perfectly match your tastes. After all, you won't want to sport one that you can't stand the sight of! As such, make sure to look carefully at the colors available and select one that matches what you're looking for. If you want to stay on-trend, you can look up popular nail color trends and use them as a guide when shopping around.
How long it will last. The amount of time your gel nail polish will last will depend on a number of factors, including the way you use your hands. However, it will also depend on how long the specific gel nail polish is formulated to last. Some brands will give an indication of how long their product will typically last, so be sure to note this down when choosing between products.
The finish. Beyond color, the finish a gel nail polish leaves will be the most important aesthetic factor to consider. While some brands will leave a shiny finish, other ones will leave a more matte one. Needless to say, you'll way to steer clear of any that leave a streaky or clumpy finish!
Frequently Asked Questions
What is gel nail polish and how does it work?
Gel nail polish is a type of nail polish made from a semi-permanent gel. It is applied on top of your natural nails and then set using a UV or LED light in a process known as "curing." A UV light will take 5-45 seconds to cure, whereas an LED light will take 2 minutes.
The ingredients in gel nail polishes are far more durable and long-lasting than regular nail polish, therein allowing you to achieve perfectly coated, glossy, and glamorous nails each and every time. They are able to withstand chipping far more effectively too.
Some people mistake gel nails for acrylics due to the fact that they look so flawless. However, there are some notable differences between these two types of nail polish. Gel nail polishes are made from acrylic monomers and oligomers which can only be painted over the top of your existing nails. This means that you cannot use them to change the length or shape of your nails. In contrast, acrylics are made with powder and liquid monomer mixture. This mixture malleable enough to be shaped onto your nail, meaning you can use them to give you the specific length and shape you desire. You can learn more about their differences here.
How long is gel nail polish supposed to last?
Gel nail polish typically lasts around two to three weeks. Considering that regular nail polish usually only lasts a couple of days, gel nail is the clear winner when it comes to keeping your nails intact for longer.
Can you use gel nail polish without the UV light?
No, you cannot use gel nail polish without the UV light. The UV light or LED lamp allows the gel nail polish to dry and ultimately, to set. Trying to air dry them won't work because oxygen prevents the unique gel molecules from bonding together and hardening.
If you see any gel nail polishes that don't require a UV light or LED lamp, beware as you may be getting duped by clever marketing. Any nail polish that falls into this category may give your nails a "gel nail effect", but they aren't the real deal.
How do you remove gel polish at home?
Removing gel nail polish takes a bit of time to do yourself (around 30 minutes all up), but once you've done it a few times you'll quickly get the hang of it. It's the same process as removing it in the salon—only it'll be you doing it instead of your nail technician! Here's a straightforward rundown of the steps you need to take, based off of advice from the beauty gurus at Allure:
File down the first layer of your gel nail polish using a coarse nail file. The point is to remove the shine from your nails, so don't file too aggressively.
Use cuticle oil or thick cream to coat the skin surrounding your nails and fingertips.
You'll next need to soak your fingertips in acetone. To do this, either fill a small bowl with it (making sure to add a few drops of cuticle oil) or saturate cotton balls in it.
Place an acetone cotton ball on top of each nail and wrap aluminum foil around each fingertip. Prepare by tearing the foil into 3×3 inch squares. Be sure to start with your non-dominant hand.
Wait for 10-15 minutes before you check your progress. If the gel polish looks like it's falling off the nail and can be easily removed, it should be ready. If it's still securely attached, soak your nails for 5 minutes more and try again.
Remove the foil and apply a bit of pressure to each nail with the cotton ball to remove the polish. If there are still little spots here and there, use a nail stick to lift them off.
Finally, give your nails some relief and moisture by soaking them in coconut oil for 5-7 minutes and then applying cuticle oil.
Remember: Always remove your gel nail polish properly! Don't give in to the temptation to pick at, bite, or rip your gel nails off using your fingers. Doing so can seriously damage your nail beds. You also shouldn't use nail polish remover as it will be ineffective on gel nails.
Other Gel Nail Polishes We Reviewed
Modelones Gel Nail Polish
If you're looking for a glamorous gel nail polish that's high-quality enough to even be used at nail salons, this product is it.
We looked at 20 other options for high-quality gel nail polishes. Even though they didn't make our top 5, they're the best of the rest and each is still a great option if you're wanting a fabulous DIY gel nail mani. The information you'll need to compare each one is included with the listing.
Glitter/Shimmer Gel Nail Polish Brand
Glitter Sexy Gel Nail Polish Set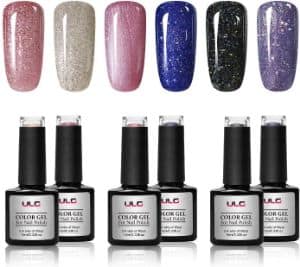 ULG may not be a household gel nail polish brand for glitter/shimmer polishes, but we think they're on their way to being one given the mounting number of fans they have. Most customers who have bought their line of glitter nail polishes agree that it will last the promised 2 weeks without chipping and that the sparkles are true to life.
Key Features:
3 light shades and 3 dark ones
Chip-free for 2 weeks
10mL bottles
Cost: $18
OneDor Mermaid Gel Polish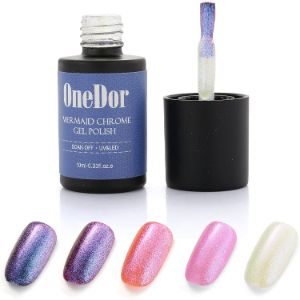 With a 4.3 out of 5-star rating, OneDor is brand that's making moves in the glitter gel nail market. Their dreamy Mermaid Gel Polish comes in two shades (Ocean and Galaxy), both of which will keep your fingertips shimmering for a good 3-4 weeks.
Key Features:
Available in 2 shades
1x 10mL bottle
Lasts 3-4 weeks
Cost: $10
MEMEDA Glitter Gel Nail Polish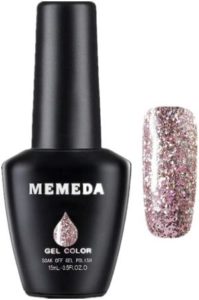 MEDMEDA delivers 4 attention-grabbing glittery shades to choose from that you're sure to adore. Notably, each bottle is 15mL rather than the standard 10mL—meaning you'll get 50% more formula than usual!
Key Features:
4 shades to choose from
Lasts more than 2 weeks
Each bottle is 15mL
Cost: $9
Modelones 9D Galaxy Cat Eye Gel Polish Set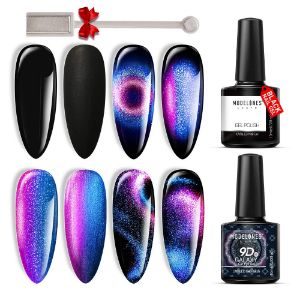 If you're looking to make an impact with your gel nails, there are few better ways to do so than with Modelones 9D Galaxy Cat Eye Gel Polish Set. The set comes with everything you need to achieve hypnotizing holographic nails, such as black gel nail polish, the brand's 9D Galaxy Cat Eye Gel Polish, and a cat-eye magnet to boot!
Key Features:
Holographic effect
Gentle on your nails
Black gel nail polish and a cat-eye magnet included
Cost: $14
Arte Clavo Sparkling Gel Nail Polish Set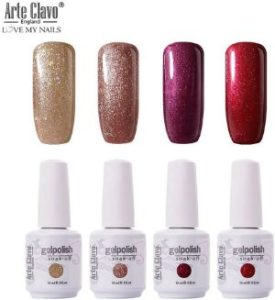 The first thought we had when we saw this non-toxic glitter gel nail polish set of 4 polishes from Arte Clavo was how about the sheer elegance of the shades available. The gold, light pink, deep purple, and ruby red are sure to command attention whenever you're wearing them, especially if you're also donning an equally sophisticated outfit.
Key Features:
Made with non-toxic resin
4 polishes included
Lasts 15-20 days
Cost: $14
Sexy Mix Glitter Gel Nail Polish Set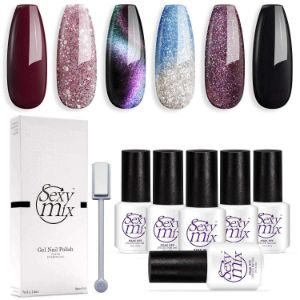 If you've been dreaming about setting up a DIY gel nail salon, Sexy Mix will give you a strong start with their formidable glitter gel nail kit. They offer a choice of two sets, each of which boasts a black gel nail polish, 4 glam glitter gel polishes, and a solid shade. Did we mention that you'll get a double-headed magnet as well?
Key Features:
2 sets of 6 polishes to choose from
Slightly thicker formula
Double-headed magnet included
Cost: $9
Perfect Summer Glitter Red Gel Nail Polish Series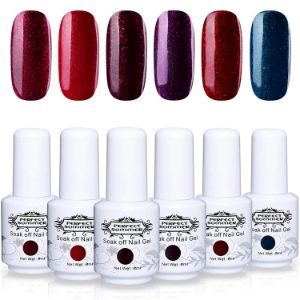 Shades of sparkling red are the star of the show in this collection of 6 color-resistant, long-lasting gel nail polishes. But don't look past the deep blue and purple bottles that are included—once you see the sparkle they emit, you'll agree that they should have a secure place in your collection.
Key Features:
6 gel polishes included
Color-resistant
Gentle on your skin
Cost: $14
FANZEST Diamond Purple Gel Nail Polish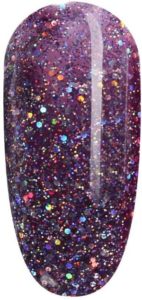 FANZEST has really pulled out all the stops with their Diamond Purple Gel Nail Polish. It's long-wearing, easy to apply and remove, and gives a mirror-shine finish. If you're happy with the results, consider looking into the other 80+ shades of color gel polish FANZEST offers.
Key Features:
Simple application
Mirror-shine finish
Lasts 15+ days
Cost: $8
ab gel Glitter Gel Nail Polish Set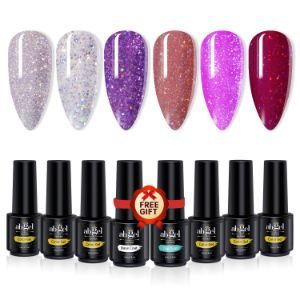 If you're after a cost-effective set of glitter nail polishes, it's hard to beat this offering from ab gel. It not only includes 6 stunning chip-free glitter shades that are 9-free, you'll also receive a bonus top coat and base coat with your purchase. Just be mindful that the bottles are on the smaller side, at a modest 5mL each.
Key Features:
6 shades and free topcoat and base coat
9-free
Won't chip
Cost: $17
UR SUGAR 9D Cat Eye Gel Nail Polish Set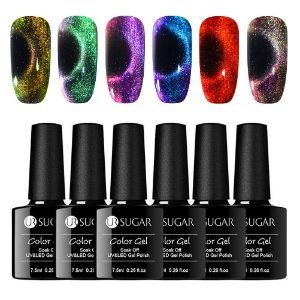 If you want to instantly boost your collection of shimmering gel nail polishes, this collection featuring 6 glimmering nail polishes from UR SUGAR is well worth considering. The gold, green, purple, blue, red, and multicolored shades all offer straightforward application and removal. Be sure to note that a cat eye magnet is not included with the set.
Key Features:
Set of 6 polishes
7.5mL each
Easy to apply
Cost: $23
Chrome/Metallic Gel Nail Polish Brand
Joya Mia Aluminix Chrome Gel Nail Polish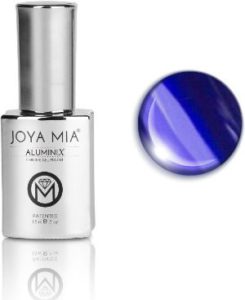 Are you looking for a premium brand that's the real deal when it comes to chrome nail polishes? Joya Mia Aluminix Chrome Gel Nail Polish is it. The brand offers 24 chrome shades across the color spectrum and only uses the highest-quality ingredients to make each 15mL bottle of their patented gel nail polish.
Key Features:
24 shades to choose from
No-mess
Patented formula
Cost: $12
Born Pretty Thermal Cat Eye UV Gel Polish Set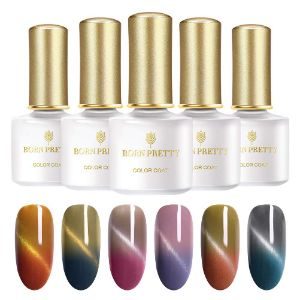 Each of the 6 high-quality cat eye gel polishes by Born Pretty features a brilliant mix of 3 colors, meaning that in the set you'll be able to experiment with a total of 18 colors.  Just keep in mind that you'll need to buy a cat eye magnet separately.
Key Features:
6 cat eye gel polishes
Easy to apply
No-fuss removal
Cost:  $19
FairyGlo Pearl Gel Nail Polish Set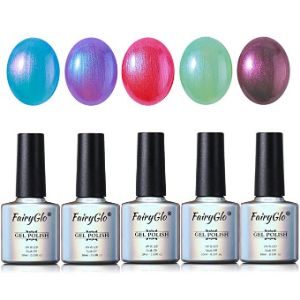 If there's one thing FairyGlo particularly excels in as a gel nail polish brand, it's that they've formulated every bottle to bring some fairy-like magic to your nails. We're more than a bit obsessed with the whimsical blue, purple, red, green, and burgundy polishes included in this set of 6 pearl gel nail polishes. We know you will be too once you give them a go!
Key Features:
5x 10mL bottles
Low-odor
Lasts 14 to 21 days
Cost: $14
Matte Gel Nail Polish Brands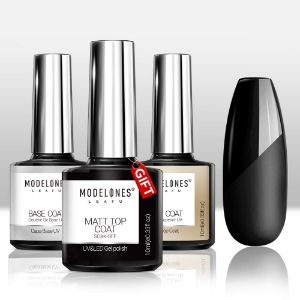 A 3-in-1 set starring a matte topcoat that will exceed your expectations. Not only is it non-toxic and long-lasting, but you also won't have any trouble removing it when it comes time to do so.
Key Features:
1x matte topcoat, 1x high-gloss topcoat, 1x base coat
10mL each
Easy to remove
Cost: $14
TOMICCA Soak Off Gel Matte Top Coat Set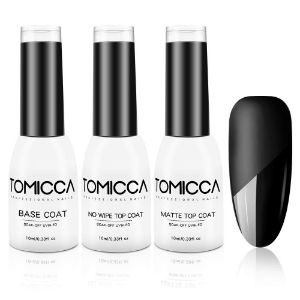 Another excellent 3-in-1 option is this offering from TOMICCA, which features a matte topcoat, as well as a no-wipe top coat and base coat. The matte topcoat is designed to increase the longevity of your mani, so you can rock your matte look for longer.
Key Features:
1x matte topcoat, 1x no-wipe topcoat, 1x base coat
10mL each
Prevents nails from abrasion
Cost: $14
Gellen No Wipe Matte Top Coat and High Gloss Shiny Top Coat for Gel Nail Polish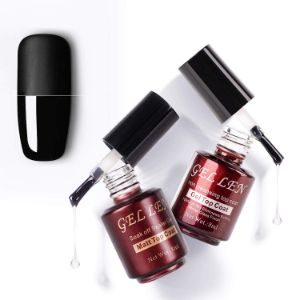 Psst…Gellen has a fantastic pair of topcoats that are a steal for $10. You'll not only receive a bottle of fast-working matte topcoat, but you'll also snag a high gloss shiny topcoat. Use them separately or try your hand at polishing a part matte part glossy set of nails.
Key Features:
1x matte topcoat and 1x gloss topcoat
Non-cleansing
8mL each
Cost: $10
Beetles No Wipe Matte Gel Top Coat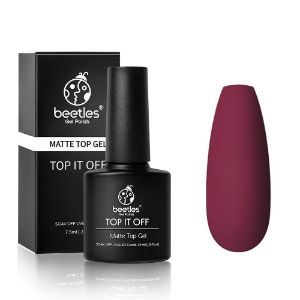 Do away with harmful toxins when mattifying your gel nails with Beetles No Wipe Gel Matte Top Coat's innovative 9-toxin free formula that works to mattify your nails while sealing in color.
Key Features:
Seals in color
Natural resin
9-toxin free
Cost: $9
Gelish Soak Matte Top It Off Sealer Gel Nail Polish

While this matte nail polish option is on the pricier side, you'll get what you pay for. Gelish is a brand famous for its soak-off technology, which expertly fast-tracks the process of removing your gel nails. Case in point: you can remove this matte topcoat in only 15 minutes!
Key Features:
Soaks off in 15 minutes
Prevents chipping
Minimizes peeling
Cost: $20
While this matte topcoat from Elite99 doesn't have all the bells and whistles offered by other options on the market, it mattifies your nails without a fuss.
Key Features:
10mL
Can also be used on top of non-gel nail polishes
Slightly thicker formula
Cost: $8