Ever dreamed of having big, beautiful curls? Or even simply adding some texture to otherwise poker-straight hair? Hot hair rollers can help you achieve these looks, and many more. Hot rollers (or "hairsetters," as they're sometimes called) can aid you in perfecting those vintages waved or curled styles, can add curls and texture to straight hair, or can help smooth otherwise unruly curly hair.
We reviewed dozens of hot hair rollers on our mission to identify the best of the best. We considered a wide range of features, including the roller material, speed of heating, overall effectiveness, price, and average customer reviews. 
Following plenty of consideration, we picked Conair Compact Multi-Size Hot Rollers as our favorite hot hair rollers. They're perfect for any hair type or lenghth, and will help you achieve beautiful curls. These hot rollers are an extremely popular and well-regarded option.
The 5 Top-Rated Hot Hair Rollers
*Ratings are from Amazon at the time of publication and can change
Our Top Pick: Conair Compact Multi-Size Hot Rollers
When it comes to the world of hot hair rollers, the Conair Compact Multi-Size Hot Rollers are some of the best on the market, and have made it to the top of our list. Featuring 20 multi sized rollers are tangle free rollers and come with 6 large (1 inch), 6 medium (3/4 inch) and 8 small rollers (1/2 inch), this versatile set can tackle a wide range of wavy and curly hair styles.
The starter strip on rollers grips onto hair and the stainless steel clips keep the rollers in place nicely.
We love how simple these hot rollers are to use. Simply plug in the base (with the rollers on top) and they're heated to the proper temperature. Then you just have to out them in your hair and leave them until your locks have reached your desired level of curliness. While to do love how straightforward the Conair Compact Multi-Size Hot Rollers are to use, some people would prefer to have two heat settings.
At $25, these hot rollers do cost a little more than some, but the vast majority of buyers are pleased with the results they get, and therefore consider it money well spent.
Conair Compact Multi-Size Hot Rollers Key Features: 
Features 20 multi sized rollers
Ready to use and quick
Comes with storage/travel case
Our Runner Up: Caruso Professional Steam Hairsetter
If you often experiment with different styles and need a variety of roller sizes, the Caruso Professional Steam Hairsetter is an excellent option. It contains 14 rollers in total; sizes include two petite, three small, four medium, three large, and two jumbo, as well as comb clips and styling guide.
This set uses steam, rather than just heat, to warm the rollers, which gives excellent results. In fact, uses three times more steam than other steam hairsetters, which means the rollers heat faster and your curls will set more quickly. While the base only holds one roller at a time, each one only takes 15 seconds to heat up, so the next roller will be ready to go by the time you've fixed the previous one in place.
The Caruso Professional Steam Hairsetter uses ionized steam to give exceptionally smooth, shiny results. It's also safe to use on synthetic wigs and hair extensions. Depending on your hair type, it can take as little as five minutes with the rollers in for your curls to set, and these curls should last all day, although some users report their curls falling out after just a few hours.
With a few different settings to choose from, it's not as easy to use as our top pick, but it's still pretty intuitive, and shouldn't cause a problem for most users. Although it costs around $30, we consider it great value, considering the quality of the curls and the fact you get 14 rollers of different sizes included.
Caruso Professional Steam Hairsetter Key Features: 
Contains 14 rollers of different sizes
Dual voltage for overseas use
Storage case included
Our Budget Pick: Remington Compact Ceramic Worldwide Voltage Hair Setter
Want some simple hot hair rollers at an affordable price? The Remington Compact Ceramic Worldwide Voltage Hair Setter is the perfect choice. The do what they're meant to do without any bells and whistles, and costing under $15, you can't really go wrong.
The set contains 10 hot rollers, five 1-inch and five 1.35-inch, and a heating unit that doubles as a case. The smaller number of rollers makes the set more compact, which is a bonus to those who want to save space, but it's not ideal for anyone who needs more than 10 rollers to achieve their desired hair style. The rollers heat up in 90 seconds, so you won't have to wait long to get started with your styling.
With a combination of ceramic rollers and ionic technology, you'll get less frizz and more shine. Each roller fixes in place with a "J-clip," which holds the roller effectively, but produces less creasing than most other types of clips, giving your curls a more natural look.
Remington Compact Ceramic Worldwide Voltage Hair Setter Key Features: 
Worldwide voltage makes them great for travel
Two roller sizes
Cool-touch ends
Best Travel Hot Rollers: BaBylissPRO Nano Titanium Roller 10 Piece Travel Hairsetter
Just because you need a compact, practical set of hot hair rollers to take on holiday or on business trips, it doesn't mean you hair to sacrifice quality. The BaBylissPRO Nano Titanium Roller 10 Piece Travel Hairsetter comes from a brand you can trust and provides exceptional quality, no matter where you are.
The travel pouch keeps the rollers and the heated base together, and is even designed so that you don't have to take the unit out of its case to switch it on, which avoids tedious packing and unpacking. The dual voltage system means it's safe to use in countries where power outlets provide 240 volts, rather than the 120 volts that North American outlets put out.
The set contains 10 velvet-flocked rollers with a titanium core. Thanks to the flocking, these have plenty of grip, which helps avoid your hair slipping out of them, even if you have very smooth, straight tresses. The titanium cores heat the rollers up quickly and evenly, giving you smooth waves or curls.
With a price tag of around $40, you can find cheaper options for travel, but few will give you better results.
BaBylissPRO Nano Titanium Roller 10 Piece Travel Hairsetter Key Features: 
Compact and lightweight design
Dual voltage
Packs into travel case
Best Hair Rods: Conair Hot Sticks Hairsetter
Using rods, or sticks, instead of traditional rollers, the Conair Hot Sticks Hairsetter provides a different way to curl your hair. Using hot rods instead of regular rollers is more gentle on your hair, but might not allow you to create more dramatic styles.
Included with this set are 14 hot sticks of two different sizes, allowing you some different options over curl size and style. The long rods work well on most kinds of hair, including very long hair, but some people with very short styles have reported having trouble getting the desired results.
Because the sticks feature interlocking ends, they're very easy to use with no need for any kinds of clips to hold them in place. The cool-touch end rings help you to avoid scalding your fingers while setting your hair. Costing just a little over $30, this set provides reasonable value for money.
Conair Hot Sticks Hairsetter Key Features: 
Ready to use in less than five minutes
Versatile
Simple self-locking system
Who Should Buy Hot Hair Rollers?
So, who should buy hot hair rollers and do you really need some? Anyone who wants curly or wavy hair, but doesn't have it naturally, can achieve their desired style using hot rollers. Even if your hair is already curly or wavy, but is too frizzy for your liking, hot rollers can help get it smoother without spending a lot of money on hair products that often don't give consistent results.
Hot hair rollers are a gentler alternative to curling irons that are capable of giving subtle results, as well as big, dramatic curls.
Important Features to Consider
A set of hot hair rollers should have a few important features. Here's what to consider when selecting hot rollers:
Size. The size of your hot rollers will make a difference to the results you get. Large-diameter rollers are good for making loose waves or large, loose curls in long hair. Small-diameter rollers are good for creating tight corkscrew or ringlet style curls.
Heating time. If you need to get ready quickly in the morning, the quicker your hot rollers heat up, the better!
Portability. Plan on traveling with your hot rollers? Not only will you want a compact set that comes with a case, you'll also need it to feature dual voltage, if you want to use your rollers overseas.
Material. Some of the more advanced materials are worth the extra cash and aren't just marketing gimmicks. Nano titanium options use infrared heat to avoid hair damage and set your curls so well that you won't need to use hairspray. Ceramic hot rollers give you an exceptionally smooth and shiny finish.
Number of rollers. The number of rollers you'll need will depend on the thickness of your hair and the type of style you're trying to achieve. Make sure your chosen set contains enough rollers to fit your requirements.
Heat settings. Some hot rollers have a lower heat setting, which is ideal for damaged or fine hair.
Frequently Asked Questions
What are hot hair rollers and how do they work?
Hot hair rollers are beauty tools designed to put curls or waves in your hair. They come with a heated base that warms up the core of each roller. You roll your hair around the roller, starting at the bottom and working up the the top, and fix it in place. The heat from the roller sets your hair into the curled position, so that when you unroll it, the curls will stay in place for up to 24 hours.
Can you use hot rollers on wet hair?
No, you should always start with completely dry hair when using hot rollers. Wet hair won't hold a curl.
How long do you leave hot rollers in your hair?
You should leave the hot rollers in your hair until they've completely cooled down, which generally takes around 20 minutes. However, you can find some hot rollers designed to curl hair more quickly, sometimes in as little as five minutes.
Will hot rollers damage my hair?
Although all kinds of heat styling can cause some damage to your hair, hot rollers are gentler on your hair than curling irons. This is because they use less heat over a longer period of time, rather than quickly curling your hair with a very high heat. That's not to say that hot rollers are good for your hair, however, so we wouldn't recommend using them daily.
Other Hot Hair Rollers We Reviewed
We looked at 20 other hot hair rollers. Even though they didn't make our 5 best hot rollers list, they're the best of the rest and each is still a great option for achieving gorgeous waves and curls. The information you'll need to compare each one is included with the listing.
Ceramic Hot Hair Rollers
Conair Pro Instant Heat Ceramic Hair Curler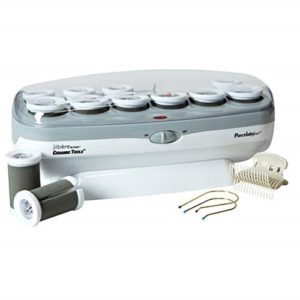 Featuring six large and six jumbo ceramic injected rollers, this set is ideal for creating large, loose curls and waves that stay smooth and shiny all day.
Key Features: 
Three-minute heat up time
Comes with metal clips and butterfly clips
Ionic technology
Cost: $45
Infiniti Pro by Conair Instant Heat 20 Ceramic Flocked Rollers
With a ceramic core and flocked outers, these rollers give excellent results while getting a good purchase on smooth hair that other rollers slip out of.
Key Features: 
20 rollers in four sizes
Heats up in 85 seconds
Comes with bonus argan oil treatment
Cost: $35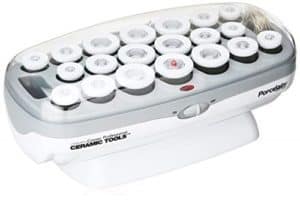 These high-end hot rollers come with a hefty price tag, but give incredible results and will last for many years, if taken care of.
Key Features: 
Comes with both metal clips and butterfly clips
Infrared heat from ceramic core eliminates frizz
20 rollers of various sizes included
Cost: $100
Remington H9000 Pearl Ceramic Heated Clip Hair Rollers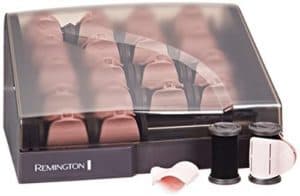 The pearl ceramic technology smooths hair, gets rid or frizz, and increases shine, while the velvety flocked outers give a better grip on your hair.
Key Features: 
90-second heat up time
Includes 20 rollers: 8 medium and 12 large
Curls set in five minutes
Cost: $45
Remington Pro Series Thermaluxe Ceramic Hair Setter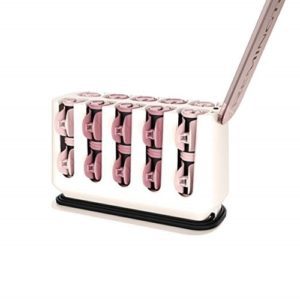 The 20 ceramic-coated Thermaluxe rollers help minimize hair damage and avoid frizz, while making the curling process quick and easy.
Key Features: 
20 hot rollers and 20 butterfly clips included
Space-saving vertical design
Heats in 90 seconds
Jumbo Hot Hair Rollers
BaBylissPRO Nano Titanium Roller 5 Piece Jumbo Hairsetter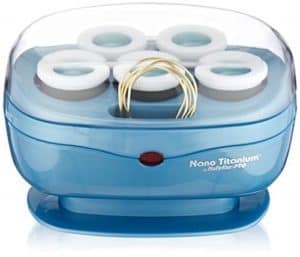 Containing five jumbo 1.5-inch hot rollers, this easy-to-use hairsetter is perfect for achieving large curls or messy waves.
Key Features: 
Nano-titanium core
Dual voltage
Comes with metal clips and butterfly clips
Cost: $35
Conair Xtreme Big Curls Hairsetter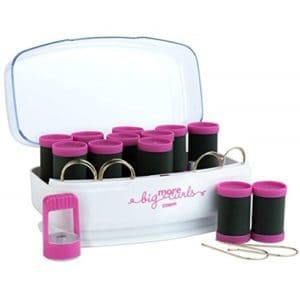 These 12 jumbo 1.5-inch rollers are designed to give you big-bouncy curls. The tangle-free rollers are ideal for long hair that's prone to tangling around standard rollers.
Key Features: 
Steam reservoir adds moisture for less frizz
Double the average amount of flocking
Metal clips avoid creasing
Cost: $40
Conair Xtreme Instant Heat Jumbo And Super Jumbo Hot Rollers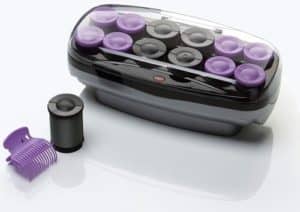 With a combination of eight 1.5-inch jumbo rollers and four 1.75 super jumbo rollers, you'll have no trouble getting big hair with this hot roller set.
Key Features: 
Heats up in 85 seconds
Comes with "super clips" for exceptional hold
More flocking equals better heat protection
Cost: $30
John Frieda Body & Shine Smooth Waves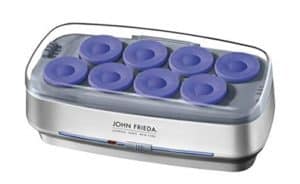 With a 2-inch diameter, these jumbo rollers are even bigger than most competitors, making them ideal for smooth waves and huge curls.
Key Features: 
Ionic conditioning
Flocked in titanium ceramic
Two-minute heating time
Cost: $40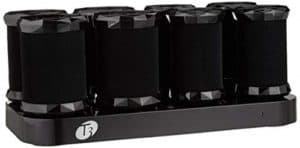 They might cost a lot, but these high-tech hot rollers perform like no other. The ceramic PTC heater in each roller self-regulates it's wattage for perfectly even results.
Key Features: 
Includes four 1.5-inch and four 2-inch rollers
Heats to 250°F in 3 minutes
Tourmaline technology gives long-lasting results
Travel Hot Hair Rollers
Caruso Traveler 14 Molecular Steam Hairsetter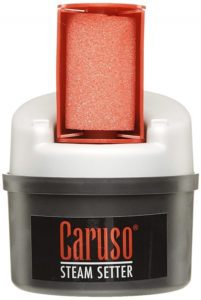 This compact hot roller set won't take up much room in your luggage and offers dual voltage options for overseas use.
Key Features: 
14 rollers in five sizes
Each roller heats in 15 seconds
You can blow dry these rollers to achieve curls in 30 seconds
Cost: $30
Conair Travel Smart Instant Hair Setter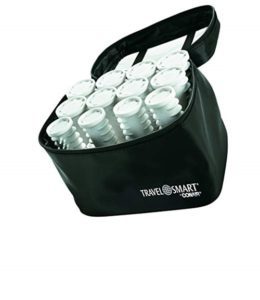 With worldwide dual voltage and its own handy travel case, this set of hot hair rollers is ideal for use on-the-go or on vacation.
Key Features: 
Contains eight large and four medium rollers
Ionic technology
Starter strip grips to hold hair in place
Cost: $35
Conair Instant Heat Travel Hot Rollers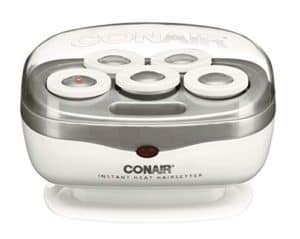 Want large curls on the go? These five jumbo 1.5-inch hot rollers come in a compact package, small enough to fit in your carry-on.
Key Features: 
Dual voltage
Heats in two minutes
Velvety flocked exterior
Cost: $20
Revlon Curls-to-Go 10 Piece Travel Hot Rollers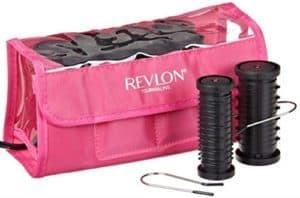 These easy-wrap rollers come in their own travel pouch and will help you achieve waves and loose curls wherever you are.
Key Features: 
Dual voltage
Tourmaline ionic technology
Indicator light shows when rollers are ready to use
Cost: $25
Studio 35 Beauty 10 Piece Travel Curlers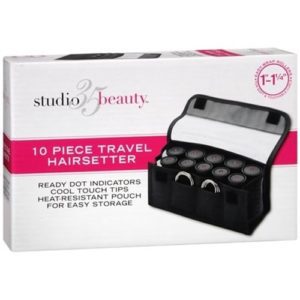 These might not be the most high-end hot rollers out there, but they're an affordable option for occasional travel use, if you already have a decent set for regular home use.
Key Features: 
10 rollers of two sizes included
Cool-touch ends
Simple metal clips avoid creasing
Other Hot Hair Rollers
BaBylissPRO Nano Titanium Roller 20 Piece Hairsetter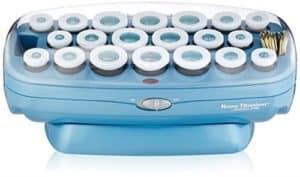 Sporting 20 hot rollers, in a mixture of small, medium, and large sizes, with high-quality nano-titanium cores, this hair setter is an excellent, versatile choice.
Key Features: 
Heats quickly
Nano-titanium core minimizes heat damage
Handy pin storage compartment
Cost: $65
Caruso Professional Molecular Steam Hair Rollers with Shields
This six pack of hot rollers is suitable for someone who already has a Caruso Molecular Steam Hairsetter, but needs some extra rollers.
Key Features: 
Six large hot rollers included
Patented design allows for faster evaporation and tighter curls
Gentle heat from steam gives smooth results
Cost: $10
Conair Compact Multi-Size Hot Rollers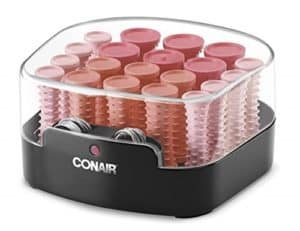 This plastic hot roller set isn't exactly high-tech but it's affordable and gets the job done, with a variety of roller sizes included.
Key Features: 
Contains 20 hot rollers in small, medium, and large sizes
Tangle-free roller design
Suitable for all hair types and lengths
Cost: $20
INFINITIPRO BY Conair Flocked Hot Rollers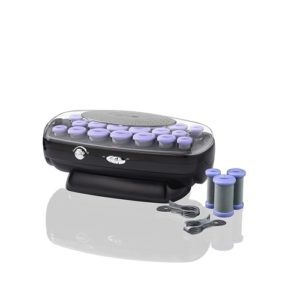 If you need more heat control, look no further. With 12 heat settings, you can finetune these hot rollers to suit the requirements of your hair.
Key Features: 
Includes six small, six medium, and eight large rollers
Ion generator gets rid of static and reduces frizz
Two-minute heating time
Cost: $50
Remington Ionic Conditioning Hair Setter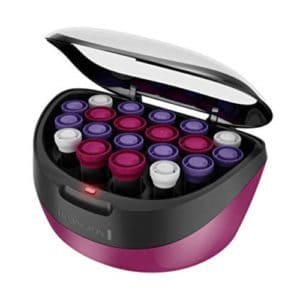 Thanks to their thermal wax core, these hot hair rollers produce longer-lasting curls. Plus, the ionic conditioning feature improves shine and reduces frizz.
Key Features: 
Metal J-clips give excellent hold without creasing
20 rollers included, in small, medium, and large sizes
Velvet flocking increases grip
Cost: $20