Are you prone to frequent acne breakouts that you can't seem to get under control? Your doctor or dermatologist can prescribe acne medication in situations where over-the-counter products might not work. However, many acne breakouts can clear up with non-prescription gels, creams, and treatment kits that target even the most stubborn acne.
We reviewed dozens of acne medications to identify the best of the best. In our search, we looked for acne medications that are effective yet gentle for daily use, contain acne-fighting ingredients like salicylic acid and benzoyl peroxide, and help to nourish and tone the skin after clearing up breakouts. We also checked customer reviews to see what real users of these acne medications think of them.
Differin Gel
Differin Gel is a stand-out prescription-strength acne medication that clears pores to produce clearer, acne-free skin.
Our top pick is Differin Gel, an acne treatment that contains adapalene gel, the same ingredient that's often used in prescription acne medications. Unlike other medications that treat acne at the surface, Differin Gel works deep into the pores to clear up oil and gunk that causes breakouts.
The 5 Top-Rated Acne Medications
*Ratings are from Amazon at the time of publication and can change
Best Acne Medication Overall: Differin Gel
Differin Gel is trusted by dermatologists and is a commonly recommended product for over-the-counter acne treatment. If you have acne-prone skin that other medications aren't taking care of, you might want to try Differin Gel. This gel uses adapalene gel – the same ingredient many prescription medications use – to clean pores and treat acne. It even works to keep the pores free of oil to prevent future breakouts from happening.
You can use Differin Gel as a spot treatment for single pimples or small areas or spread a small amount on larger breakouts. This product comes with a 0.1% strength of adapalene gel, which is all you'll usually need to fight acne. The water-based and alcohol-free formula is gentle on skin, leaving it feeling fresh and clean instead of bogged down and dried out. Several customers who have used Differin Gel note that it might take a few days to see visible results, but it is effective in clearing the skin over time.
Differin Gel Key Features:
FDA approved
Fragrance-free
Reduces and prevents inflammation
Developed by dermatologists
Prescription-strength adapalene gel
Best Acne Treatment System: Acne Free 3 Step 24 Hour Acne Treatment Kit
Sometimes, just a spot treatment or an acne medication cream alone won't do. When a full treatment plan for stubborn acne becomes necessary, you might consider trying the Acne Free 3 Step 24 Hour Acne Treatment Kit. This kit comes with a cleanser, toner, and lotion as part of its three-step treatment to clear acne and smooth over your skin, leaving it looking even, healthy, and clear.
The active ingredient in the cleanser is benzoyl peroxide with a 2.5% concentration to clean the pores and prepare your skin to fight acne. Next, you'll use the toner formulated with witch hazel and glycolic acid to remove oil and buildup from your face for the treatment to go to work effectively. Finally, the lotion will prevent your skin from drying out while adding a higher concentration of benzoyl peroxide to keep acne under control.
Acne Free 3 Step 24 Hour Acne Treatment Kit Key Features:
Best results in eight weeks
Full treatment, from preparation to moisturizing
60-day supply
Aloe vera in toner for extra hydration
Safe for daily use
Best Budget Acne Medication: Acne Free Terminator 10
It's hard to believe the acne-fighting prowess a bottle of Acne Free Terminator 10 contains for its low price compared to similar acne medications. This one-fluid-ounce bottle has the same amount as many other products that are double the price or more. What's even better is that the 10% concentration of benzoyl peroxide is more than double what you'll find in many other acne medications with the same active ingredient.
That means that it's a great buy for someone who is prone to excessive acne breakouts but can't afford to pay high prices for premium products or prescriptions. Try this first and you might be pleasantly surprised. The addition of ginger and chamomile makes the formula soothing for the skin, leaving it feeling fresh and hydrated after applying.
Acne Free Terminator 10 Key Features:
Soothing ingredients
Lightweight formula
Only a small amount needed
Can be used as an overnight cream
Cleans deep into pores
Best Acne Spot Treatment: Neutrogena Rapid Clear
Neutrogena Rapid Clear
Neutrogena Rapid Clear is a spot treatment that starts shrinking pimples in as little as two hours.
When you have a few stubborn pimples that just won't go away, Neutrogena Rapid Clear might do the trick. A spot treatment like this product is perfect for clearing up random pimples that appear without needing to use a full-face cleanser or cream. This formula uses a high concentration of benzoyl peroxide – 10% – to shrink pimples and reduce their redness within two hours of applying it. Put it on in the morning and by lunchtime, you might already notice a difference! 
One point several customers make is that this acne spot treatment can dry out your face quickly if you use too much of it. Remember that this is a strong concentration of the active ingredient, so use it sparingly. Neutrogena suggests starting with just once-daily application and moving to two or three times each day if your skin accepts it well. Many customers mention they love how fast Neutrogena Rapid Clear works when used correctly.
Neutrogena Rapid Clear Key Features:
Can be used up to three times a day
Quick-acting formula
Creamy texture
High strength
Reduces redness
Best Acne Supplement: Acnetame
Acnetame
If your skin needs more than a cream or gel, try Acnetame, a supplement designed to fight acne.
Is your skin sensitive to most acne medications? Or, do you feel like you need an extra boost of acne-fighting ingredients? Acnetame is a supplement that targets the oil production in your skin to help reduce your breakouts. Natural ingredients like Vitamin A and Vitamin B5 work to slow oil production and fight acne at its source while leaving your skin looking fresh, smooth, and healthy.
This bottle comes with 60 tablets, which is enough for a two-month supply. There's no sugar or gluten in the tablets, making them safe for many diets. In addition to clearing up breakouts over time, some customers note that they've also seen their acne scars lighten up and their pores shrink as a result of taking Acnetame.
Acnetame Key Features:
Reduces oily skin
Amino acids for skin health
Two-month supply
Excellent for hormonal acne
Natural ingredients
Who Should Buy Acne Medication
Acne medication can be a helpful product to add to your skincare regimen along with other skin-cleaning products, like facial cleansers and blackhead removal tools. People with oily skin that's prone to breakouts, especially, can benefit from keeping a trusted acne medication in stock to keep their skin clear and get rid of breakouts fast. 
Acne medication that's meant for daily use can keep your pores clear to eliminate or lessen the severity of acne breakouts. An acne medication designed for spot treatment can also help clear breakouts once they happen. However, you should clear all acne medications with your dermatologist, just to make sure it's the right choice for you. 
Differin Gel
Differin Gel is a stand-out prescription-strength acne medication that clears pores to produce clearer, acne-free skin.
Important Features to Consider
Acne medication should have a few important features. Here's what to consider when selecting an acne medication to keep your skin clear and healthy:
Type of product. Acne medications come in a wide range of forms, from tea tree oil creams to hyaluronic serums. You'll also find cleansing washes and pads, medicated creams and lotions, and serums or creams for spot treatment. If you have light acne and infrequent breakouts, a wash or cleansing pads might be your best choice. But for more frequent and stubborn breakouts, a medicated cream or serum could be the better option.
Active ingredient. The most common active ingredients in acne medication are salicylic acid and benzoyl peroxide. You'll want to look for either one when choosing a medication. You can also look for adapalene gel as the active ingredient if you want a prescription-strength product.
Strength. The active ingredient in acne medications is available in various strengths. Higher-price products generally have a more potent strength of the active ingredient, but not always. A common strength for salicylic acid is 2%, while benzoyl peroxide typically ranges between 2% and 10%. 
Skin type. Some products are designed for specific skin types, like oily skin or sensitive skin. Be sure to choose one that matches your skin type for the best results. 
Limited ingredients. Try to avoid products that are stuffed with unnecessary ingredients, like artificial dyes or fragrances. The additives could dry out the sensitive skin on your face or even interfere with the effectiveness of the medication.
Price. During your search, you'll probably notice that acne medications fall within a wide range of prices. A higher price doesn't always equal a better product, but it can. Be sure to compare the size of products and their ingredients to determine the value you'll get from them.
Frequently Asked Questions
How does acne medication work?
Acne medications come with different ingredients – most commonly, salicylic acid or benzoyl peroxide – and, therefore, may work differently. However, the active ingredients in acne medication usually target oil production. Acne medications tend to lower the rate of oil production that can cause acne breakouts while simultaneously reducing inflammation that occurs from breakouts. 
How can I clear up acne fast?
To prevent or reduce acne breakouts, it's important to keep your skin clean with a facial wash designed for acne-prone skin. If you already have acne that you want to clear up, you'll need to use medicated products to get rid of it. A spot treatment designed to target acne usually works well, penetrating the skin to get rid of acne at the source.
How do you shrink cystic acne fast?
Cystic acne is a form of acne characterized by cysts underneath the skin. These can be more difficult and time-consuming than regular acne to clear. You may need to consult a dermatologist for the best course of action to treat your cystic acne, but you can sometimes make cystic pimples less noticeable by using a hot or cold compress on the affected area. Be sure not to pick them, which can result in acne scarring.
How do I stop hormonal acne?
Hormonal acne can happen with a variety of conditions, like thyroid issues, menstruation, or abnormal hormone balances. Usually, hormonal acne requires treatment of the underlying condition to stop happening, but you can still spot-treat hormonal acne like you would regular acne. Medicated gels, creams, and other acne products may help to reduce breakouts when they occur.
Other Acne Medications We Reviewed
Differin Gel
Differin Gel is a stand-out prescription-strength acne medication that clears pores to produce clearer, acne-free skin.
We looked at 20 other acne medications. Even though they didn't make our 5 best acne medications list, they're the best of the rest and each is still a great option for your skin. The information you'll need to compare each one is included with the listing.
Acne Medication Pads
Clearasil Ultra Rapid Action Facial Cleansing Pads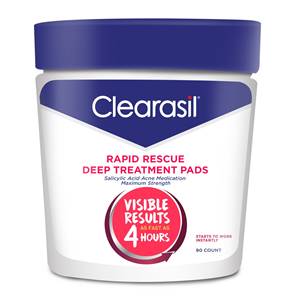 These medicated pads contain salicylic acid to reach into the pores, deep clean them and clear up your breakouts.
Key Features:
Gentle on skin
Can work in as little as four hours
Exfoliating texture
Cost: $ 11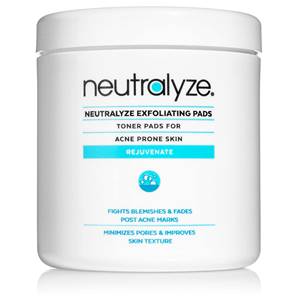 These exfoliating and toning pads from Neutralyze can help clean the skin from acne and inflammation.
Key Features:
Reduces redness
Textured pads for deep-cleaning
Money-back guarantee
Cost: $ 20
Neutrogena Rapid Clear Acne Face Pads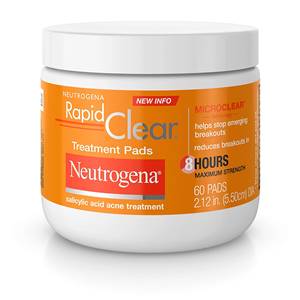 Use these salicylic pads from Neutrogena when your skin needs some deep cleaning to clear up breakouts.
Key Features:
Micro-Clear technology
Can reduce redness
Gentle on skin
Cost: $7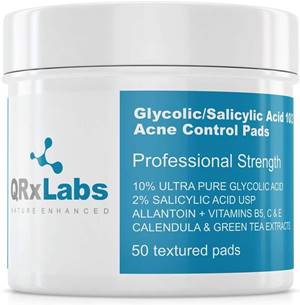 Try these pads if you're looking for a prescription-strength formula to target stubborn breakouts.
Key Features:
Salicylic and glycolic acid
Includes skin-clearing antioxidants
Finger notch for easy holding
Cost: $20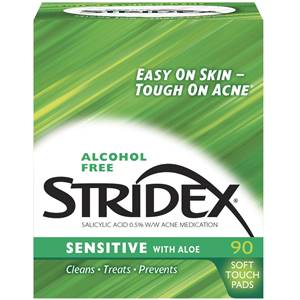 Have sensitive skin? Try these pads from Stridex with no alcohol and a touch of aloe to keep the skin from drying out.
Key Features:
Cleans pores while dissolving oil
Prevents breakouts
Alcohol-free
Cost: $12 
Acne Serum
Cosmedica Skincare Hyaluronic Acid Serum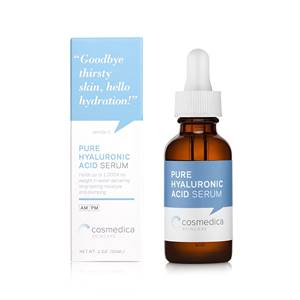 This hyaluronic acid serum works to moisturize the skin and may help reduce the appearance of acne and acne scarring.
Key Features:
Also targets anti-aging
High concentration of hyaluronic acid
Moisturizing
Cost: $11 
Dr. Wade's Organics Acne Treatment Serum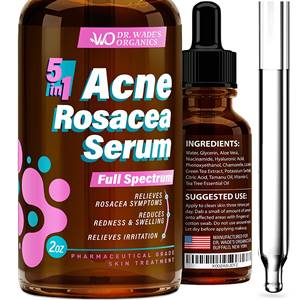 Try this acne serum if you want an effective spot treatment for stubborn acne that won't dry out the skin.
Key Features:
Reduces swelling from acne
Vitamin E for hydration
Protects skin against UV rays
Cost: $24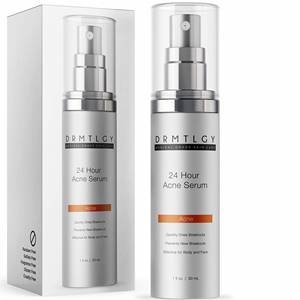 This serum is designed to fight acne breakouts within 24 hours of using it with a 5% concentration of benzoyl peroxide.
Key Features:
Sulfate-free
Safe for all skin types
Unclogs pores
Cost: $20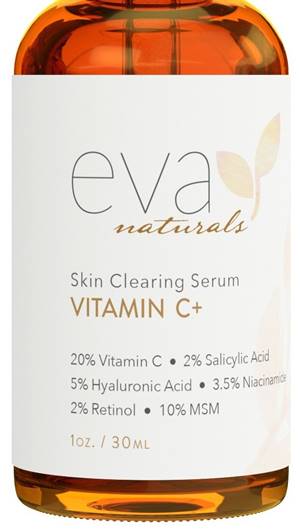 Vitamin C has properties that can clear skin and leave it looking radiant and healthy. This serum adds salicylic acid and hyaluronic acid to aid the clearing of breakouts and scarring.
Key Features:
Added retinol to cleanse pores
UV protection
Money-back guarantee
Cost: $15 
Meera's Beauty Vitamin C Serum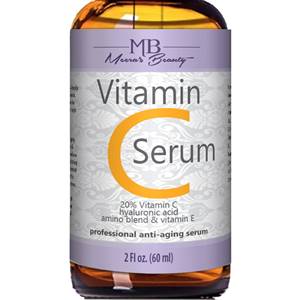 Harness the powers of Vitamin C, Vitamin E, and other skin-clearing ingredients to help clear up your face from acne breakouts.
Key Features:
Two fluid ounces
Amino blend for anti-aging
90-day guarantee
Cost: $14 
Prescription Strength Acne Gel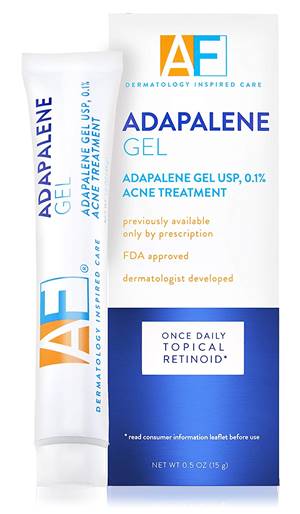 This adapalene gel formula was developed by dermatologists to be safe for use on most skin types once a day.
Key Features:
Oil-free
Approved by the FDA
Designed as an all-over formula
Cost: $10
La Roche-Posay Effaclar Adapalene Gel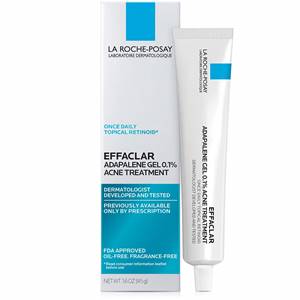 This cream from La Roche-Posay includes prescription-strength 0.1% concentration of adapalene gel for effective, long-term control of severe acne breakouts.
Key Features:
A small amount goes a long way
Creamy texture
Dermatologist-tested
Cost: $30 
ProactivMD is an adapalene gel prescription-strength treatment for stubborn acne sufferers. This formula is safe for both adults and teens.
Key Features:
May also treat blackheads, blemishes, and more
Non-greasy
FDA-approved
Cost: $36
Replenix Acne Solutions Benzoyl Peroxide Gel Spot Treatment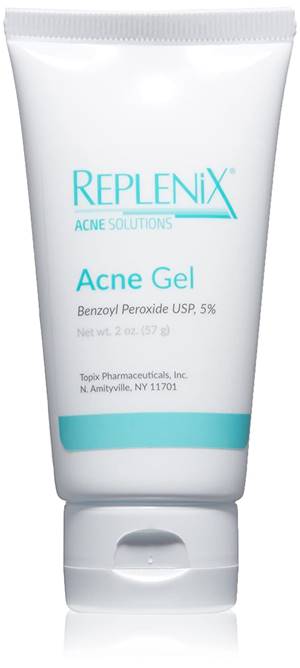 Replenix contains benzoyl peroxide rather than adapalene gel, but its high 5% concentration makes it more powerful than many other over-the-counter acne medications. 
Key Features:
Prevents future blemishes
Upside-down bottle for easy application
Smooth gel texture
Cost: $17 
Medicated Acne Face Cream
Acne Treatment, Inc. Acne Face Cream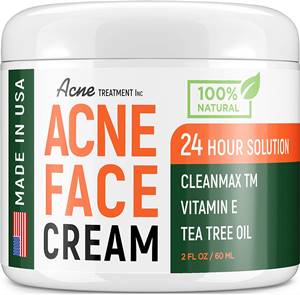 Try this natural-ingredient acne face cream to get the powerful and soothing benefits of tea tree oil, Vitamin E, aloe vera, and more, as it clears up breakouts.
Key Features:
Can reduce the appearance of pimples in 24 hours
Fragrance-free
Clears pores
Cost: $27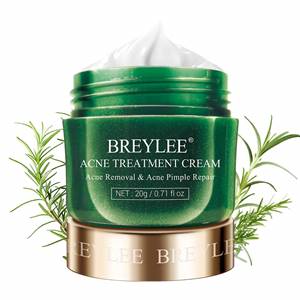 This acne cream uses the power of tea tree oil to control oil production, target acne, and reduce redness and inflammation caused by breakouts.
Key Features:
Creamy texture
Moisturizes skin
Best results in 3-4 weeks
Cost: $12
IMAGE Skincare Clear Cell Medicated Acne Lotion  

This medicated lotion uses 5% benzoyl peroxide as its active ingredient to wipe away acne while an antioxidant blend gets to work on improving your skin's appearance and health.
Key Features:
Non-drying
Can use up to twice a day
Formulated by physicians
Cost: $36 
Keeva Organics Acne Treatment Cream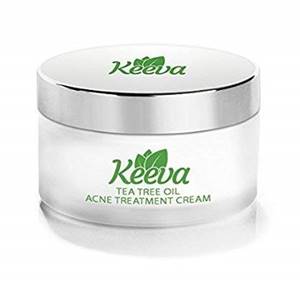 When your face needs both acne medication and hydration, grab the Keeve Organics Acne Treatment Cream, which combines tea tree oil with olive oil, rosehip seed oil, and other ingredients that keep skin soft.
Key Features:
Targets bacteria and pathogens
Sulfate and paraben-free
Works on body and facial acne
Cost: $25 
Neutrogena Hydro Boost Hydrating Gel Face Cream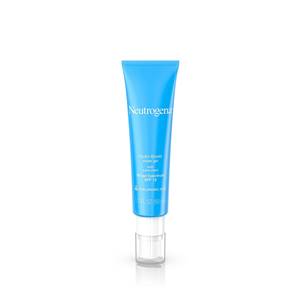 If your skin gets irritated in the sun after using acne medication, try this product from Neutrogena. It contains SPF 15 to protect sensitive skin against the sun's rays while hyaluronic acid gets to work on clearing your skin and preventing oil buildup.
Key Features:
Oil-free
Lightweight formula
Great for daily use
Cost: $15 
Thursday Plantation Tea Tree Face Cream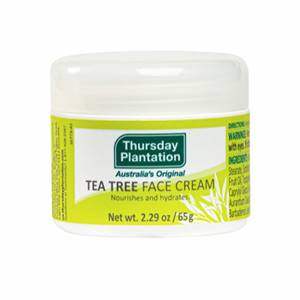 Thursday Plantation created this Tea Tree Face Cream for people who want a more natural approach to clearing acne with tea tree oil, shea butter, macadamia oil, and other natural ingredients.
Key Features:
100% pure tea tree oil
Natural moisturizers
Paraben-free
Cost: $10