If you're looking for a new product to add to your skincare routine, tea tree oil may be it, especially if you have acne-prone skin. Tea tree oil comes from Australian tea trees, and research shows that it may help combat acne with its natural anti-inflammatory properties. It also has antimicrobial properties that keep the skin and pores clean.
We reviewed dozens of tea tree oils for acne to identify the best of the best. Some of the features we considered in our search include potency of the tea tree oil, type of product, other added ingredients, and intended use. 
We chose TruSkin Naturals Tea Tree Clear Skin Serum as our top pick. You can use this tea tree serum as a spot treatment or all-over face serum to unclog pores and keep acne away. It also contains other healthy skin-boosting ingredients like Vitamin C and Retinol to keep your skin looking bright and toned.
The 5 Top-Rated Tea Tree Oils for Acne
*Ratings are from Amazon at the time of publication and can change
Best Tea Tree Oil for Acne Overall: TruSkin Naturals Tea Tree Clear Skin Serum
Our top pick for tea tree oil for acne is TruSkin Naturals Tea Tree Clear Skin Serum, mostly because this long-lasting serum has several ingredients meant to fight the toughest acne and improve the health and look of your skin. In addition to tea tree essential oil, your skin gets salicylic acid, an important ingredient that combats acne and is found in many acne-focused products, hyaluronic acid to treat acne scars and reduce their appearance, and Vitamin C, which is known for its anti-aging properties. Using this serum just a couple of times per week could lead you to the healthier, acne-free skin you've been looking for.
This serum is also a good option for those looking to fight signs of aging on their face. Vitamin A, also known as retinol, is another ingredient you'll find in this serum by TruSkin Naturals. Retinol is a popular ingredient in skincare products that can stimulate collagen production to minimize the appearance of fine lines and wrinkles. Combine retinol with the power of tea tree oil, hyaluronic acid, and other skin-boosting ingredients, and you get a powerful serum that could meet most of your face's skincare needs in one bottle.
TruSkin Naturals Tea Tree Clear Skin Serum Key Features:
Doubles as an anti-aging serum
Includes salicylic acid for acne fighting
90-day money-back guarantee
Only need to apply up to three times per week
Cruelty-free
Best Tea Tree Acne Spot Treatment: Advanced Clinicals Tea Tree Oil
The Advanced Clinicals Tea Tree Oil is a serum that may be your best option for spot-treating stubborn acne spots. This product is a beneficial pick for people who don't have large breakouts and other skin issues to treat on their face. If you just get a couple of pimples at a time, you can dab a drop or two of this tea tree oil onto your spots to clear them up. After several weeks of continuous use, you might also notice a reduced appearance of acne scarring or dark spots left behind.
This tea tree oil combines with Vitamin E oil, an important ingredient for keeping skin healthy. Vitamin E has natural properties that fight free radicals in the skin, which cause damage and premature skin aging. Its moisturizing benefits can also ensure that your facial skin stays smooth as you fight acne.
Advanced Clinicals Tea Tree Oil Key Features:
100% satisfaction guarantee
Includes witch hazel to soothe skin
Combats acne without drying skin
Paraben-free
Cruelty-free
Best Budget Tea Tree Oil for Acne: Maple Holistics 100% Pure Tea Tree Oil
Maple Holistics 100% Pure Tea Tree Oil
The budget-friendly Maple Holistics 100% Pure Tea Tree Oil has no additional ingredients, making it an excellent choice for those who want pure oi for full-on acne fighting.
You won't get anything other than tea tree oil when you buy Maple Holistics 100% Pure Tea Tree Oil, but that's a good thing if that's all you're looking for! Tea tree oil on its own may have the power to minimize the appearance of acne breakouts, so this 100% pure tea tree oil may do the trick. The oil in this bottle comes straight from the leaves of Australian tea trees through a steam distillation process to give you unaltered tea tree oil in its most natural and concentrated form.
You'll want to make sure you dilute this oil, though, because it's so concentrated. Doing a patch test on your skin with just a drop or two before applying it to your face is also a good safety measure to ensure that you won't have a reaction. Customers who have used this oil on their face to treat acne have diluted it with other acne-fighting products, facial moisturizers, or a carrier oil, like coconut oil.
Maple Holistics 100% Pure Tea Tree Oil Key Features:
Usable with other acne products
Money-back guarantee
Therapeutic grade
Amber bottle
Consistent use may help tone the skin
Best Tea Tree Oil Face Wash: The Body Shop Tea Tree Skin Clearing Facial Wash
A face wash with tea tree oil can be just the right alternative to using pure tea tree oil if you have light acne or just want to keep your skin clean and fresh each day to prevent acne. The Body Shop Tea Tree Skin Clearing Facial Wash offers just that with its refreshing facial wash infused with real tea tree oil that clears the skin and leaves it feeling hydrated, non-oily, and moisturized. Those who typically suffer from shiny, oily skin may find that this face wash keeps their face looking more matte during the day.
In addition to tea tree oil, this face wash comes with antioxidants, skin-conditioning seed oil, citric acid to adjust your skin's pH and leave it feeling toned, and lemon tea tree oil for a refreshing, invigorating scent. People who have purchased this face wash from The Body Shop note that its scent is pleasant rather than overpowering, it's helped to clear up breakouts over time, and it leaves their face feeling super clean after using. 
The Body Shop Tea Tree Skin Clearing Facial Wash Key Features:
Vegan formula
Can use twice daily
Pure leaf tea tree essential oil
Steam-distilled extraction process
Gel-based for long-lasting moisture
Best Tea Tree Oil for Back Acne: Botanic Hearth Tea Tree Body Wash
Botanic Hearth Tea Tree Body Wash
Botanic Hearth Tea Tree Body Wash has no artificial colors or chemicals and 100% tea tree oil to keep your skin healthy and assist in clearing up back breakouts.
Back acne can be challenging to get rid of, but Botanic Hearth Tea Tree Body Wash includes 100% tea tree oil to reduce acne on your body as you shower. In addition to tea tree oil, this wash contains peppermint oil to thoroughly clean and soothe the skin and sea buckthorn oil, which has natural properties that keep skin from getting dried out and may promote the healing of acne and acne scarring.
No one wants their body wash to smell like chemicals, which is why this one from Botanic Hearth smells just like the oils inside it. The blend of tea tree, peppermint, and sea buckthorn oils is satisfying, rejuvenating, and calming; most importantly, it smells all-natural. You'll also get the benefits of cocoa seed butter, which is an excellent natural skin moisturizer, and cranberry seed oil, which contains antioxidants that protect your skin from the elements throughout the day.
Botanic Hearth Tea Tree Body Wash Key Features:
Includes a moisturizing and health combination of oils
Natural scent
May also prevent skin irritation from jock itch, fungal infections, and other ailments
100% tea tree oil
Soothing cooling effect from peppermint oil
Who Should Buy Tea Tree Oil for Acne
People with oily skin and light acne problems may benefit from using tea tree oil daily to prevent and minimize acne. Tea tree oil tends not to be as effective as an acne treatment as some over the counter and prescription medications, so it may not be the best option for people with a lot of acne on their face or bodies.
Tea tree oil can also be a beneficial alternative for those who have sensitivities to acne-fighting products and medications, like those with salicylic acid, which may dry out some people's skin or cause rashes. Tea tree oil, when used according to the manufacturer's instructions, can potentially be a bit easier on skin with sensitivities to other products.
Important Features to Consider
Tea tree oil for acne should have a few important features. Here's what to consider when selecting a tea tree oil for acne for your regular skincare routine:
Intended use. Tea tree oil for acne can come in a variety of forms targeted for different uses. Serums, for example, can be great for acne spot treatment, while a facial cleanser with tea tree oil comes in a liquid or foaming formula to cleanse your face while keeping your skin smooth.
Additional ingredients. Tea tree oil for acne products often contain other essential oils or ingredients known for fighting acne. They may also contain lotions, fragrances, vitamins, and other ingredients to boost your skin's appearance and health. If you're looking for pure tea tree oil to fight acne, be sure to look at the ingredients list before purchasing.
Natural tea tree oil. Pure tea tree oil that hasn't been enhanced or processes in any way is best for preventing and ridding your skin of acne. Look for formulas that list tea tree oil as 100% pure or organic tea tree oil to get it in its purest form.
Cruelty-free. Cruelty-free products are not tested on animals before getting sold to people. You'll find that cruelty-free tea tree oil products usually have "Cruelty-Free" listed on the label.
Bottle size and price. You might find similar tea tree oil for acne products that are very different in price. Although one product can appear to be a better value, its bottle size could be much smaller. The best way to compare prices accurately is to divide the price by fluid ounces to find the price per ounce.
Frequently Asked Questions
What is tea tree oil and is it good for acne?
Tea tree oil comes from Australia's tea trees and is known for its many uses for skincare routines. Its anti-inflammatory and anti-microbial properties make it an excellent option for assisting the skin with clearing up fungal infections, rashes, bug bites, and even minor cuts and scrapes. Some people find that tea tree oil also helps clear up acne breakouts by unclogging the pores and cleaning the skin.
How long does it take for tea tree oil to get rid of acne?
How long tea tree oil takes to fight acne will differ for everyone based on their skin type and how severe their acne is. For some, a few days of facial cleansing with a tea tree oil cleaner can do the trick. For others, acne may not clear with tea tree oil alone without the support of an acne-focused cleansing product. Those with moderate to severe acne will likely need to wait a few weeks before noticing significant changes to their skin.
Can I leave tea tree oil on my face overnight?
Read the instructions for any tea tree oil you buy before leaving it on your face overnight. Most products are meant to be washed off within a few minutes to a couple of hours after application. Some products may contain diluted tea tree oil that is safer to use overnight, but pure tea tree oil could cause irritation on those with sensitive skin. It's always best when using any essential oil to try a drop or two on your skin for several minutes to see if you have an adverse reaction. This is known as a patch test.
How often should I apply tea tree oil for acne?
How often you apply tea tree oil for acne depends on the product and its intended use. After doing a patch test of the oil on your skin, read the product instructions. Many of them are safe to use daily up to twice a day, but if you have sensitive skin, you may want to scale back your use to just once a day or every other day.
Other Tea Tree Oil for Acne We Reviewed
We looked at 20 other tea tree oils for acne. Even though they didn't make our 5 best tea tree oils for acne list, they're the best of the rest and each is still a great option for your acne-fighting routine. The information you'll need to compare each one is included with the listing.
Tea Tree Oil Face Wash
Acne Treatment Inc Cystic Acne Treatment
Use this creamy facial cleanser daily to keep your pores clear and reduce breakouts while leaving your skin soft and smooth.
Key Features:
Includes alow extract
No artificial dyes or fragrance
Tones skin
Cost: $ 21  
Beauty America Tea Tree Facial Cleansing Wash
This facial cleanser combines the power of tea tree oil to clean the skin with jojoba beads to gently scrub away dirt and oil, leaving your face feeling fresh.
Key Features:
Hypoallergenic
Cruelty-free
Includes jojoba beads
Cost: $12  
Beauty by Earth Foaming Face Wash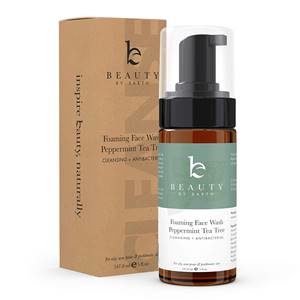 Foaming face wash can gently wash away dirt, bacteria, and impurities from your skin while keeping it soft. This one includes peppermint oil, too, to soothe the skin.
Key Features:
Peppermint-infused
30-day guarantee
Vegan formula
Cost: $  20 
Keeva Organics Bubbling Facial Cleanser
The bubbling formula of this Keeva face wash removes dirt from clogged pores and revitalizes your acne-prone skin.
Key Features:
Shea butter softens the skin
Creamy texture
Tightens skin after use
Cost: $ 25 
Thursday Plantation Tea Tree Face Wash Foam
This foaming face wash is gentle on skin but tough on dirt and bacteria that leaves your skin open to acne breakouts.
Key Features:
Prevents overdrying
100% tea tree oil
Chamomile soothes skin
Cost: $10
Tea Tree Oil for Back Acne
Tea tree oil is one of many skin-enhancing oils found in this body wash, which can target everything from back acne to rashes caused by sweat or bacteria.
Key Features:
Money-back guarantee
Gentle, antifungal formula
Several oils included for skin health
Cost: $ 14
Handcraft Blends Antifungal Tea Tree Oil Body Wash
Tea tree oil combines with peppermint and eucalyptus oils to create a skin-soothing body wash that leaves skin feeling refreshed and free of breakouts.
Key Features:
USA-made
5% tea tree oil concentration
Chemical-free
Cost: $15  
Keeva Organics Acne Treatment Cream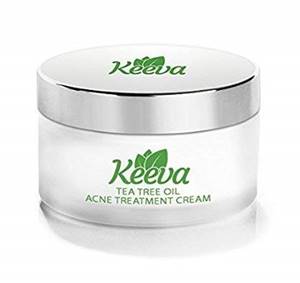 This cream can function as a body wash, providing your skin with a blend of tea tree and other oils to combat skin breakouts.
Key Features:
Also includes sesame seed and olive oils
Non-drying formula
Inflammation-reducing ingredients
Cost: $25   
Majestic Pure Tea Tree Body Wash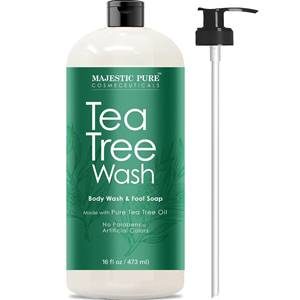 This soothing body wash has concentrated tea tree oil and other skin-soothing ingredients to both cleanse and soften your skin daily.
Key Features:
No artificial colors
Cruelty-free
Also contains coconut oil for extra nourishment
Cost: $15
Purely Northwest Antifungal Tea Tree Oil Body Wash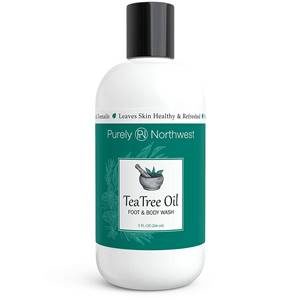 An antifungal body wash like this one from Purely Northwest has the power to remove dirt and other contaminants from your skin to prevent breakouts all over the body.
Key Features:
100% pure essential oil
Also includes peppermint and oregano oils
May relieve itching and burning associated with acne
Cost: $15
Truremedy Naturals Remedy Soap Tea Tree Oil Body Wash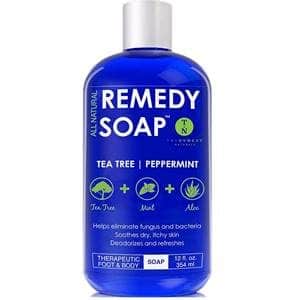 Truremedy Naturals created this mint, aloe, and tea tree oil blend body wash to combat bacteria on your skin, which could be helpful for those suffering from back acne.
Key Features:
Organic ingredients
Soothes dry and flaky skin
Creamy texture
Cost: $15
Tea Tree Acne Serum 
Baebody Tea Tree Oil Super Serum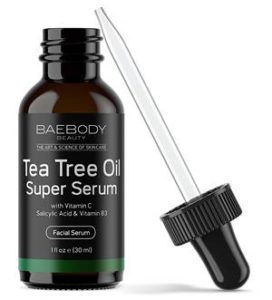 Use this tea tree oil serum that's infused with salicylic acid – a key ingredient for acne-fighting – to reduce breakouts and keep your skin clear and healthy.
Key Features:
Contains Vitamin C
Hyaluronic acid for healing
Paraben-free
Cost: $15  
This acne-fighting formula contains tea tree oil to combat inflammation while Camellia Sinensis leaf extract goes to work on cleansing the skin of bacteria.
Key Features:
Heals acne-prone skin
Can work as a spot treatment
Tightens pores
Cost: $8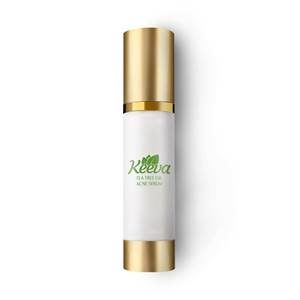 Try this serum as a spot treatment for pimples or as an all-over facial serum to improve your skin's appearance from breakouts.
Key Features:
Cruelty-free
Soothing chamomile
Infused with hyaluronic acid
Cost: $25
The Beauty Foundry Tea Tree Facial Oil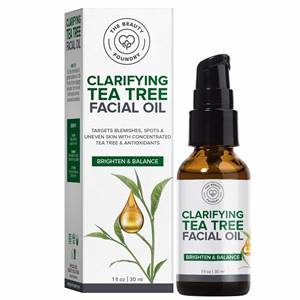 This serum from The Beauty Foundry comes with a convenient pump application to get just the right amount for spot treatment.
Key Features:
Tightens pores
Clarifies unhealthy looking skin
Includes sunflower oil
Cost: $13
The Body Shop Tea Tree Anti-Imperfection Daily Solution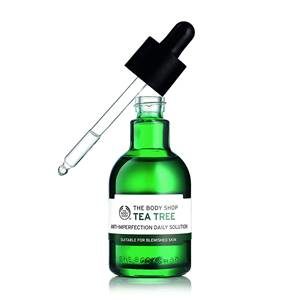 The Body Shop's serum for acne-prone skin is designed to cleanse, tone, and clarify your facial skin to keep it looking brighter and healthier overall.
Key Features:
Made to use daily
Small amount goes a long way
Mattifies oily skin
Cost: $22  
Tea Tree Acne Treatment Cream
Era Organics Tea Tree Oil Face Cream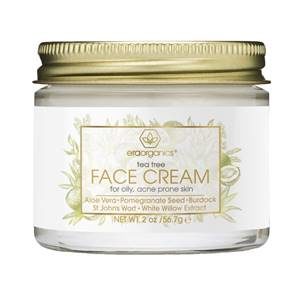 Your skin will feel soft and glowing with this tea tree oil cream by Era Organics, which also includes white willow extract and aloe vera to enhance the overall tone and feel of your skin.
Key Features:
Extra strength formula
Salicylic acid for acne-prone skin
60-day money-back guarantee
Cost: $18  
TreeActiv Acne Eliminating Face Cream
This cream is designed specifically for acne on your face. Its rich texture reaches deep into your pores but is lightweight enough to keep your skin feeling refreshed.
Key Features:
Infused with other essential oils and vitamins
Tightens pores
Long-lasting moisture
Cost: $20   
Majestic Pure Tea Tree Oil Face Cream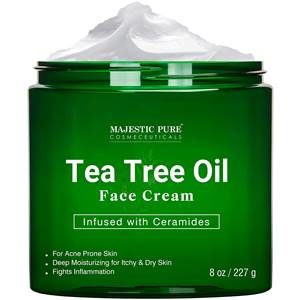 Use this cream daily on your face for deep moisturizing and cleansing for acne-prone skin.
Key Features:
5% tea tree oil concentration
Inflammation-fighting formula
Non-greasy
Cost: $16
Vie Naturelle Cystic Acne Spot Treatment Cream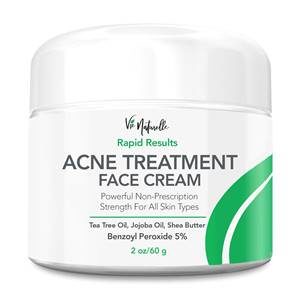 This cream is best for spot-treating acne, but you can use it daily as part of your skincare routine to clear your skin of breakouts and keep it looking healthy.
Key Features:
Works for all skin types
Third-party tested
Quick absorption
Cost: $20