In cosmetics, a foundation is the product you apply to your face to smooth out your complexion. Just like anything else when it comes to makeup, you reasons for using a foundation may vary, but must commonly people apply it to blend or conceal uneven skin tone or blemishes. For people with oily skin, this can create a tricky situation. How can you cover your skin in foundation without running the risk of creating more oil or else winding up with patchy coverage? The answer: choosing a foundation that works with your skin's natural oils instead of against them.
We reviewed dozens of foundations for oily skin to identify the best of the best. We considered the benefits of liquid foundations over powders, and whether or not a matte finish helped hide excessive oil or made it more noticeable. 
In the end, we discovered a clear winner. Maybelline Fit Me Matte + Poreless Liquid Foundation Makeup not only went on smoother and kept skin looking dry longer, but the users who purchase Maybelline's foundation swear by it. You can always feel confident while wearing the matte + poreless foundation because it offers full coverage without feeling heavy or increasing the oil production in your skin.
The 5 Top-Rated Foundations for Oily Skin
*Ratings are from Amazon at the time of publication and can change
Our Top Pick: Maybelline Fit Me Matte + Poreless Liquid Foundation Makeup
Part of what makes Maybelline Fit Me Matte + Poreless Liquid Foundation Makeup work so well with oily complexions is the oil free formula. Apply it by using a clean applicator to reduce the risk of introducing the oil from your fingertips to the product. Fans of the matte + poreless foundation love how smooth it goes on and how it doesn't show fine lines and wrinkles like some other matte foundations do.
A pro tip from fans of the foundation: don't worry if you cannot find the exact match for your complexion. Maybelline Fit Me Matte easily mixes with other shades
With over 3,222 reviews this foundation has 4.3 stars. You can purchase a bottle of this best loved foundation for just $6.

Maybelline Fit Me Matte + Poreless Liquid Foundation Makeup Key Features:
Comes in 40 shades, from Ivory to Mocha

Best for normal to oily skin; refines pores for a natural looking matte finish

Contains SPF 18

Comes off easily with micellar water
Our Runner Up Pick: Revlon ColorStay Liquid Foundation For Combination/oily Skin
Revlon ColorStay Liquid Foundation For Combination/Oily Skin is perfect for people with both oily and combination skin (meaning you'll want to snatch this product up if you have places on your face that are oily and some that are dry).  A cult-favorite, this matte finish product will give you seamless coverage even in your oiliest spots like the troublesome T-zone.
The 4.2 star product has 1,379 reviews. Fans of the $10 foundation love how lightweight it feels. The combination product provides full coverage without clogging pores.
Revlon ColorStay Liquid Foundation For Combination/Oily Skin Key Features:
Wears for up to 24 hours

Oil-free and fortified with SPF 15

Offered in 43 shades
Best Budget Pick: CoverGirl Clean Matte BB Cream For Oily Skin
You'll love CoverGirl Clean Matte BB Cream For Oily Skin because it goes on more like a tinted moisturizer than a heavy foundation. The water based formula keeps your skin covered while letting it breathe, preventing additional oil production.
You cannot beat the price. At $7 a bottle, you can get the 4.1 star rated product. Just beware when choosing your shade: many users find that the color has a yellow undertone that may not work on all skin tones.
CoverGirl Clean Matte BB Cream For Oily Skin Key Features: 
Oil-free matte BB cream hides blemishes, keeps you shine free and won't clog pores 

All-day hydration, improved elasticity and mattifying sheer coverage .

Cruelty-Free
Best Best Powder Foundation for Oily Skin: Maybelline New York Fit Me Matte + Poreless Pressed Powder
When it comes to powder foundations, Maybelline New York Fit Me Matte + Poreless Pressed Powder, takes the lead. This pressed powder is ideal for normal to oily skin. Say goodbye to shine when you apply (or reapply) a dusting to your skin.
The 4.3 star product has 1,419 reviews. Many fans say they love how the $6 foundation keeps even the oiliest parts of their face matte and looking pore free. Like other Maybelline products, if you have trouble finding an exact match for your skin tone, you can blend two different shades to achieve your desired look.
Maybelline New York Fit Me Matte + Poreless Pressed Powder Key Features:
Leaves a natural, poreless-looking finish 

Allergy tested, non-comedogenic

Skin tones vary from Ivory to Mocha.

Can be used as a setting powder or to control shine 

Use micellar water to remove makeup
Best Best Liquid Foundation for Oily Skin: L'Oréal Paris Infallible Pro-Matte Liquid Longwear Foundation Makeup
L'Oréal Paris Infallible Pro-Matte Liquid Longwear Foundation Makeup provides full coverage without leaving your skin with a "caked on" makeup look and feel. Users love this foundation because it dries to a matte finish, leaving your skin looking soft and dry instead of slick and oily.
Priced at only $8 a bottle, you can see why so many people love this product. With almost 1,500 reviews an a 4.2 star rating, we think you will probably love it too!
L'Oréal Paris Infallible Pro-Matte Liquid Longwear Foundation Makeup Key Features:
Lightweight and creamy, foundation goes on smooth with a semi-matte finish
Lasts up to 24 hours, hiding imperfections for a smooth, clear complexion
Apply with fingers, makeup sponge or foundation brush
Who Should Buy Foundation for Oily Skin
If you have ever thought your skin felt greasy or slick, even fresh out of the shower, you may have an oily or combination complexion. This is usually due to an increased production of oil in your skin. While there isn't much you can do to combat it naturally (although eating well and avoiding greasy foods won't hurt), you can make sure you are using the right skin products.
Using cleansers, toners and lotions that are designed for people with oily skin will help you combat any excess oil. Additionally, using the right makeup products – with formulas designed to soak up and cover oily patches – will not only make your makeup look better, but may also make you feel better about the way you look. You can find products designed for people with oily skin in everything from bronzers to lotions. 
Important Features to Consider
A foundation for oily skin should do several things. Here's what to consider when selecting a foundation for oily skin:
Give you long lasting coverage. While many foundations will allow you to reapply throughout the day (like powders), is that something you want to do? Or would you rather have all day coverage from the time you apply your makeup until you wash your face at the end of the day?
Application methods. If you have oily skin, you may benefit from applying your makeup with an applicator instead of a your fingers. Not all foundations work well with brushes, sponges or pads.
SPF included.

If your foundation does not have an SPF in it, you will be using two separate products for sun protection. If your skin is oily, this may create an extra layer of moisture for your foundation to deal with. 
Frequently Asked Questions
What is foundation and how does it work?
Foundation is a layer of makeup that should be a close match to your skin tone. You smooth it onto your face to help cover imperfections or differences in your skin's complexion, to give yourself an even skin tone. Some people use it to cover blemishes or blend uneven patches, but it also acts as a base coat when applying additional makeups like blush and contours.
Is powder or liquid foundation better for oily skin?
No two faces are alike, so there is not a black and white answer to that question. The product that is better for oily skin is the product that works best for your oily skin. For some people, that will be a liquid foundation that goes on evenly and offers full coverage. For others it will be a powder foundation that is applied directly to oily spots to reduce shine, but not on dry spots were flaky skin will be accented.
Is water-based foundation good for oily skin?
Keeping as much extra oil off of your face as you can is always beneficial, however some people do feel that oil based products go on smoother and offer better coverage. Again, no two faces are the same and what works for one person my not work for another.
Finding the right product for your specific complexion will require trial and error. But once you find what works for you, you will be able to find products within that formula that you love.
Is stick foundation good for oily skin?
Stick foundation offers you more control about where you apply, and how you blend, however if you have oilier skin you may find yourself having a hard time getting the product to go on evenly. Additionally, whenever you are using a firm applicator, you need to keep in mind that you are pulling and tugging on the delicate skin of your face which can increase irritation and help fine lines and wrinkles develop.
Other Foundations For Oily Skin We Reviewed
We looked at 20 other foundations for oily skin. Even though they didn't make our 5 best foundations for oily skin list, they're the best of the rest and each is still a great option for your skin. The information you'll need to compare each one is included with the listing.
Matte Foundations
CoverGirl Clean Matte Liquid Foundation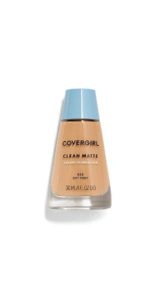 This unscented oil-free foundation won't clog pores.
Key Features:
Suitable for sensitive skin

Non-acnegenic

Dermatologically tested
Cost: $7
Covergirl Trublend Matte Made Liquid Foundation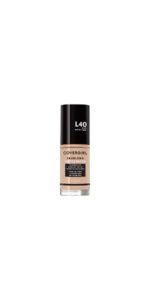 This foundation goes on matte and flawless!
Key Features:
Comes in a palette of 40 shades

Flexible and comfortable feel

Transfer-proof wear that blurs pores 
Cost: $8
Dermablend Cover Creme Full Coverage Foundation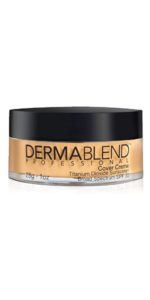 This is a full coverage foundation that gives you all-day coverage.
Key Features:
Contains mineral sunscreen broad spectrum SPF 30

All-day hydration

Flawless, natural finish that's never cakey or masky.
Cost: $39
Maybelline Dream Matte Mousse Foundation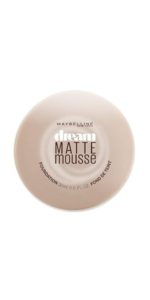 This drugstore favorite offers oily skin a dry, flat finish.
Key Features:
Exclusively ultra-mattifying powders and oxygen whipped into a mousse foundation formula

Brings air-light perfection to matte

Blends seamlessly for a flawless finish that doesn't look flat or chalky
Cost: $7
Maybelline Dream Velvet Soft-Matte Hydrating Foundation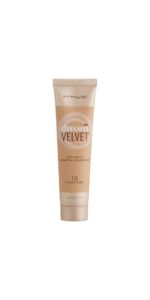 Unlike the Mabelline Dream Matte Mouse, this velvet soft-matte hydrating foundation offers a moisturizer as well.
Key Features:
Soft-matte hydrating foundation

Provides medium to full coverage

Gel-whipped foundation infused with water
Cost: $9
Sace Lady Matte Finish Liquid Foundation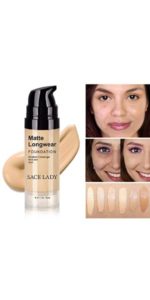 This is a weightless foundation with flawless medium to full coverage.
Key Features:
Offers 15 hours of wear fused into one weightless formula

Stay-true colour blends into skin to flatter your natural complexion

Great for all skin types and features, a wide range of shades to fit all skin tones.
Liquid Foundations
Clinique Anti-Blemish Solutions Liquid Makeup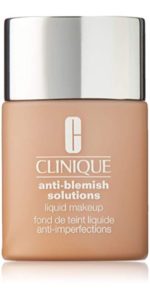 Great for combination skin, this foundation can handle both oily and dry.
Key Features:
Covers and prevents blemishes

Comes in a variety of shades

A name you know and love
Cost: $25
Dermablend Flawless Creator Multi-Use Liquid Foundation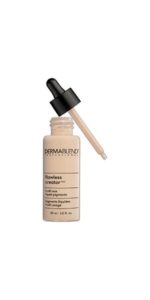 This is an O Magazine award winning foundation.
Key Features:
Water-free, Oil-free, Fragrance-free
Allergy-tested and formulated without Parabens
Non-comedogenic, vegan formula
Cost: $40
Maybelline Super Stay Full Coverage Liquid Foundation Makeup
This drugstore foundation remains a fan favorite for a reason!
Key Features: 
Up to 24-hour coverage

Goes on smooth & stays put no matter what comes your way.

Use micellar water to remove
Cost: $7
Neutrogena Skinclearing Makeup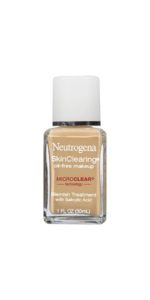 This liquid foundation contains acne medicine, giving you a 2-in-1 product.
Key Features:
Natural, breathable coverage for acne-prone skin

Controls shine and helps treat and prevent acne breakouts

First and only liquid foundation with Micro-Clear technology

Micro-Clear technology quickly unclogs pores
Cost: $14
Touch In Sol Advanced Real Moisture Liquid Foundation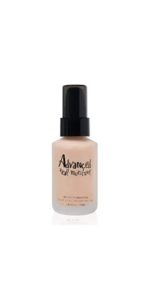 This is a lightweight foundation that offers hydration while helping to keep down shine.
Key Features:
Provides buildable coverage to conceal blemishes, color-correct redness and uneven patches and leave you with truly flawless skin in one swipe

Highly recommended by makeup artists and beauty editors

Apply the proper amount of product and spread evenly over the face and finish by dabbing
Cost: $20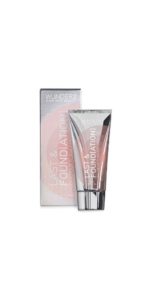 This long-lasting foundation offers a 24-hour transformation after each application.
Key Features:
Long-wear, waterproof liquid formula from WUNDER2

Ultra-comfortable and flexible on the skin, ensuring your base stays fresh & nourished all day

Guaranteed to give you that flawless 'lit from within' look
Other Foundations
Beauty Basics Mineral Liquid Powder Foundation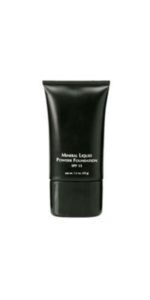 Using new technologies, this liquid to powder foundation gives your skin a fresh and youthful look.
Key Features:
Practical and effective on all skin type's and colors

Makes for a quick, complete and flawless application

Protects skin from UV damage
Cost: $13
Bellezza Secreto Premium Foundation Makeup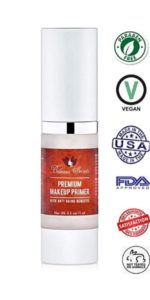 This is a gel formula foundation that helps all your other makeup stay fresh on even the oiliest skin.
Key Features:
Lasts up to 8 to 12 hours

Safe to use every day; it won't clog pores which can cause acne

Light weight and easy to apply
Cost: $19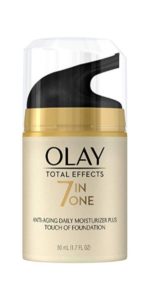 This moisturizer contains a hint of foundation to give you multipurpose coverage.
Key Features: 
Combines Total Effects anti-aging benefits with just enough foundation to give your skin a flawless-looking glow

Gives your skin an instant, healthy-looking radiance

Formula is dermatologist tested and oil-free
Cost: $19
You can apply this full-coverage product before foundation or for stand alone coverage.
Key Features:
Ingredients: cyclopentasiloxane, dimethicone, vinyl dimethicone/methicone silsesquioxane crosspolymer, dimethicone/vinyl dimethicone crosspolymer, HDI/trimethylol hexyllactone crosspolymer, olea europaea (olive) fruit oil, silica

Can also be used on hands and neck

Used by professional makeup artists worldwide
Cost: $23
La Roche-Posay Effaclar BB Blur with SPF 20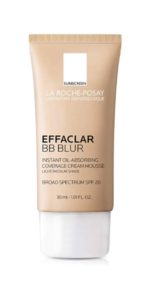 This foundation is a BB blur cream makeup designed for people with oily skin.
Key Features:
Visibly blurs the look of pores and helps cover blemishes
With Mineral Sunscreen SPF 20
Tested on sensitive skin
Cost: $30
Maybelline Super Stay Foundation Stick For Normal to Oily Skin
An all-in-one stick this foundation is one that conceals, contours, and highlights.
Key Features:
Long-lasting foundation stick delivers effortless all-over coverage

Precise concealing, and skin accentuating contouring and highlighting

Cream-to-matte foundation; precision pointed blender sponge
Cost: $10
Neutrogena Skinclearing Blemish Concealer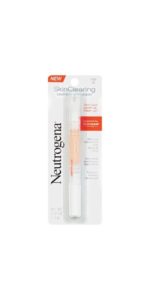 This concealer with acne medicine helps cover oily and combination skin alike.
Key Features: 
Natural coverage for blemishes

Treats and eliminates acne

Micro-Clear technology treats and helps prevent breakouts

Contains salicylic acid acne medicine
Cost: $7
Temptu S/B Foundation: Natural Long Lasting Airbrush Foundation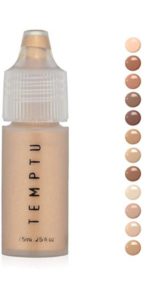 A favorite with makeup professionals, this airbrush foundation is great for oily skin.
Key Features:
Dewy, natural-looking, glowing skin-like finish
Long-lasting for all-day wear
Oil and paraben-free
Cost: $10