If you have teeth, you inevitably need to clean them. Even if you're very conscientious on what you eat, avoiding gummy bears and acidic foods can only go so far. If you want to maintain a healthy oral hygiene, you'll need to brush thoroughly and regularly. An electric toothbrush is a shortcut that can keep your teeth from building up the tartar and decay over time, even if you tend to miss spots. And if you've ever caught your child playing with a toothbrush rather than brushing properly, then you know your kids need all the extra help they can get.
We reviewed dozens of electric toothbrushes to identify the best of the best. We looked at rotary brushes and vibrating heads as well as kid's electric toothbrushes. We found brushes that are simple and to the point as well as those that will operate with different modes and attachments to accomplish multiple oral hygiene tasks. No matter what you want your electric toothbrush to do, we found the best option for you.
Early in our research, the AquaSonic Black Series Ultra Whitening Toothbrush stood out as the obvious choice for our top pick. With its multiple modes and handy travel case you'll be able to take it anywhere you go and you'll be prepared for efficient dental health no matter where you take it.
The 5 Top-Rated Electric Toothbrushes
*Ratings are from Amazon at the time of publication and can change
Our Top Pick: AquaSonic Black Series Ultra Whitening Toothbrush
The manufacturer of the AquaSonic Black Series Ultra Whitening Toothbrush claims that this electric toothbrush will get ten times more plaque along the gum line than your manual toothbrush and three times more than that of your traditional rotary brush. That certainly makes it tempting and to add on to that temptation are the eight replacement bristle heads that come with this. So not only will you be more efficiently cleaning your teeth, you'll be set to do it for a couple of years with just this one purchase.
You can use one of the four modes to make sure you get a deep clean and are taking optimal care of your mouth.  You can use this on soft if your teeth are sensitive and a higher intensity for whitening mode. There is even a massage setting that will keep your gums clean and stimulated, too.
The reviews and ratings on Amazon for this toothbrush are undeniably convincing. With over 1,200 customer reviews, it's earned an overall rating of 4.7 stars. If that's not enough to sway you, it also comes with a 1-year warranty.
AquaSonic Black Series Ultra Whitening Toothbrush Key Features:
40,000 vibrations per minute (vpm)
4 mode operation
Includes 8 replacement heads and travel case
Our Runner Up Pick: Gloridea Electric Toothbrush
Gloridea Electric Toothbrush
If you're interested in an electric toothbrush that will do all you need, take a look at the Gloridea Electric Toothbrush,
The Gloridea Electric Toothbrush is a vibrating toothbrush that will give approximately 40,000 strokes per minute, making sure those teeth are debris and stain-free. That much vibration will ensure you are getting as much tartar and plaque cleared from your teeth as a brush is able, with less effort on your part than ever before.
But it isn't just your teeth this brush will take care of; your gums will also benefit from the gentle massage mode that will clean and stimulate to make sure your entire mouth is in optimal health. Along with the 4 other modes this toothbrush offer, you'll have all you need to keep your mouth healthy and your dental check-ups pain-free.
With over 1,000 customer reviews on Amazon and an overall rating of 4.6 stars, there's every reason to expect you'll be among the vast majority of satisfied customers who buy this toothbrush.
Gloridea Electric Toothbrush Key Features:
5 modes: strongest, medium, gentle, whitening, and massage
2-minute timer with 30-second intervals
3 color choices
Best Budget Pick: Wovida Sonic Electric Toothbrush
The Wovida Sonic Electric Toothbrush is an excellent option for anyone who forgets to charge their toothbrush nightly. In fact, the battery is so long lasting you'll be able to use it on a single charge for up to 30 days! And when it comes time to charge, you can use the included USB charger and plug it into virtually any of your electronic devices with a USB port.
The polish mode, along with the massage mode, will invert the frequency to make sure you're getting a more thorough polish (and massage) and not just scrubbing the surface clean as with the other modes. While the comparison isn't perfect, consider if you polish your car because you care of appearance, why wouldn't you polish your teeth? You certainly show your teeth more than your car.
The numbers don't lie, and you're sure to appreciate this electric toothbrush's numbers on Amazon. It has over 250 customer reviews and an overall rating of 4.6 stars, but the best number yet is the cost. You can pick up one of these toothbrushes for right around $20.
Wovida Sonic Electric Toothbrush Key Features:
5 modes: strong, medium, gentle, polish, and massage
40,000 vibration strokes per minute
3 colors available
Best Kids' Electric Toothbrush: Oral-B Kids Battery Power Toothbrush
The Oral-B Kids Battery Power Toothbrush makes for a perfect first electric toothbrush for your little one. Not only will it make sure that all little teeth are clean, but it has a fun print that your child is sure to get excited about. This particular one is a Disney Princess theme but there are loads more available for boys and girls.
While you can't replace the head of this toothbrush, it's unlikely you'd get to that point anyway with how tough kids are on toothbrushes. And with a price tag of only $5, you won't feel too terribly just tossing it and replacing when the time comes. (If you're lucky, probably once every 4 months.) And after a few of these, your child may (sadly) be over the child prints and ready to move to a more "grown-up" toothbrush.
This toothbrush has almost 600 customer reviews on Amazon and they've all come back to give it an average overall rating of 4.2 stars. That's a lot of people vouching for the quality of this product.
Oral-B Kids Battery Power Toothbrush Key Features:
Rotating head
2 AA Batteries required (not included)
Recommended age 3 years or older
Best Electric Toothbrush and Water Pick Combo: Waterpik Complete Care Water Flosser and Sonic Toothbrush
The Waterpik Complete Care Water Flosser and Sonic Toothbrush is ideal for those who want to get more out of their dental hygiene and make it just a tiny bit easier. Yes, even easier than just an electric toothbrush. Because an electric toothbrush can get in some places you would get while flossing does not mean you can skip flossing altogether and the Waterpik will allow you to do that. And how nice will it be to not have to bother with floss ever again?
The combo set only requires one outlet and both the electric toothbrush charger and the water reserve and flosser itself are together on one base, saving both outlet and counter space. The reserve will hold enough water for up to 90 seconds of a constant water stream, which is more than enough for your brushing throughout the day.
There are an impressive amount of customer reviews for this electric toothbrush, well over 6,000, but that's not the most impressive part. The best part is that even with all these reviews, the product still has a more than respectable overall rating of 4.2 stars.
Waterpik Complete Care Water Flosser and Sonic Toothbrush Key Features:
2-minute automatic timer with 30-second intervals
5 water flossing tips included
2 toothbrush heads and travel case included
Who Should Buy an Electric Toothbrush
If you are concerned that, despite your best efforts, you're not getting your teeth as clean as you'd like, then an electric toothbrush may be just the ticket for you. Whether you have the time to brush, floss, and use mouthwash after each meal or not, an electric toothbrush can help you mitigate those necessities with its efficiency. Whether you're prone to cavities or you've never had one in your life, an electric toothbrush is one way to make sure you're doing all you can to maintain a healthy mouth.
Because an electric toothbrush requires less pressure and strength from you, it may also be a huge help for anyone with hand or wrist pain or weaknesses, like arthritis, for example. As we get older, we may even notice an overall decrease in strength that has nothing to do with any particular condition, just that your body gets tired easier. That being the case, you may want to consider how using an electric toothbrush can reserve your energy for other tasks.
When your child outgrows the need for your supervision during brush time but isn't quite trustworthy enough to get all the nooks and crannies of his mouth, an electric toothbrush can be a bit of help for you. Rather than fight with your school-aged child, you can just let an electric toothbrush with an automatic timer do the work for you. Until that toothbrush's vibrating head stops, that toothbrush has to stay in your little one's mouth. It takes all the guesswork away and may prevent a nightly disagreement.
Important Features to Consider
An electric toothbrush should have a few important features. Here's what to consider when selecting an electric toothbrush for your teeth:
Multi-mode. Of course the more a toothbrush can do the more useful it is. It doesn't mean that it will make you use all those functions, but having the option is certainly nice. You can get a toothbrush that will alter the vibrations to create a massage for your gums or a more gentle vibration for sensitive teeth. Some electric toothbrushes will even come with additional heads to make sure you're getting the most of your handheld oral hygiene genie. Keep in mind that the more bells and whistles, the more opportunity to break, but a quick look at the reviews will very likely have you finding a multi-mode electric toothbrush perfect for you.
Vibrating head. Another name you may see rather than "vibrating head" is a "Sonic" toothbrush. You can get up to 24,000 brush strokes per minute with the sonic toothbrush, but really, you can only get your teeth so clean and it turns out anything above the rotary's 8,000 isn't going to show any difference on your teeth. The vibrations, however, are significantly quieter than the oscillating motor and considering you'll be putting this in your head daily, you have every reason to weigh that con heavily.
Rotary head. A rotary head is controlled with a motor that will rotate the circular brush to clean a round pattern and you will move the bristles all over your teeth. It will maintain a constant back in forth, scrubbing all that it touches. It will give you up to 8,000 brush strokes each minute, so one minute with this is the equivalent to roughly 24 minutes of manual brushing. This is the first type of electric toothbrush and you may see them also called "oscillating brush." It's still preferable to many people to have that classic turning head so even though neither are explicitly better at cleaning you may need to just determine by which feels better.
Orthodontist approved. For braces or other orthodontic gear, you may require an electric toothbrush to really get all the build up off your teeth. They add so many complications and groves that a manual brush simply may not do the trick. And what's the point of having straight teeth if they're riddled with cavities? You will want to keep in mind that the vibration and power behind an electric toothbrush can be more intense than the fixtures can withstand. Make sure before purchasing a new electric toothbrush you're checking with your orthodontist or searching for one that states a specific intent to be used for orthodontic apparatuses. For braces, you may want to look into a Waterpik and toothbrush combination set that will let you get in between the wires and teeth rather than need special flossing devices.
Automatic timer. An automatic timer is just one more way an electric toothbrush transforms an already simple task into one that is amazingly effortless. You don't even need to worry if you've been brushing long enough with this feature. Some will just automatically shut off after the recommended two minutes, and others make it even simpler by pausing the vibration every 30 seconds and then shutting off entirely after four 30 second blocks. This way you know you're dividing your brushing time up evenly. Each 30-second interval is a side of your mouth, top right, top lefts, bottom right, bottom left and then the brush stops. It leaves absolutely no room for questioning.
Replaceable heads. This is such a valuable feature that most electric toothbrushes include it. You'll be harder pressed to find an electric toothbrush without a replaceable head than one without. They do exist, but they are generally considered "disposable" and while they're also relatively inexpensive (you can get one for less than $10 usually), many people consider them to be a waste. To make a disposable electric toothbrush desirable for the consumer, it needs to keep you from feeling like you're throwing money away. So to keep their costs down, they skip all the fancy parts of most electric toothbrushes. No multi-modes, no automatic timers, and very probably, no charging stations. When the battery dies, you either replace it or toss it. They're not excellent for your everyday toothbrush, but if you have a little one who's hard on their toothbrushes or forget your regular toothbrush for vacation, a $10 basic will get you by just fine.
Frequently Asked Questions
What is an electric toothbrush and what does it do?
An electric toothbrush has an automatically controlled head that will quickly move its bristles independently and without the traditional scrubbing done by you with a manual toothbrush. You use this to provide a more thorough clean for your teeth. Oscillating toothbrushes are controlled by a motor (which is powered by a battery) and sonic toothbrushes operate using piezoelectricity to cause vibration (also powered by a battery). The additional pressure from the either will go deeper, faster than you can by hand (or at least deeper and faster than you will consistently get). During the rapid movement, the bristles will get deep within the grooves of your teeth and in between tightly pressed teeth to remove tartar and build up. Because of this, you may be less likely to develop cavities or stains. You may even notice those long-time stains lifting over time.
Several electric toothbrushes operate on an automatic timer. Combined with the fact that you will only need to make very small adjustments to the head to allow it to get all of your teeth and you won't even need to apply pressure to scrub, it's no wonder why we use an electric toothbrush as an "easy" button for dental hygiene. It's even more essential than your makeup kit.
Is an electric toothbrush really better?
Electric toothbrushes do tend to have the universal seal of approval of dental professionals everywhere. You can, in theory, get your teeth just as clean without an electric toothbrush, but the truth is simply: you won't. Because an electric toothbrush does the work for you and all you really need do is hold it in your mouth, changing positions every so often, it won't matter if you're brushing half awake or after your wake-up shower. If left to your manual brush, those "Me need coffee" mornings won't leave you with teeth as clean as your "I've already packed the whole family lunches by 6 am" mornings. Not only is an electric toothbrush better for consistency, but you're going to have a lot more power behind your clean, too. And that means there's a higher likelihood of getting hard-hitting stains up off your teeth, as well as maintaining your daily oral hygiene.
Do electric toothbrushes make teeth whiter?
The short answer is that yes, an electric toothbrush can make your teeth whiter. But the real question is "whiter than what?" That answer is they can make your teeth appear whiter than a manual toothbrush can. An electric toothbrush isn't going to give you the same effect of a whitening treatment, though, so if that's what you're wanting, you'll be sorely disappointed. However, when compared to regular use of a manual toothbrush, there will be more stains removed by an electric toothbrush. But at best, this will only remove stains, and not lighten the appearance of your teeth's natural color. And since most teeth are not naturally stark white, all the stain removal in the world won't get them so. You may not notice any change in your tooth color no matter how long and effectively you use your electric toothbrush. But they can certainly expect them to remove more stains than a manual.
How long should you keep an electric toothbrush?
How often you replace your electric toothbrush depends on your type and frequency of use. If you have a disposable electric toothbrush or one that doesn't have a replaceable head, then you'll need to replace the entire thing once the bristles show signs of wear. For a child who is especially hard on their toothbrush, the brush may only last a month or two. For an adult who doesn't chew on it, it can last three to four months. If you have an electric toothbrush that has a replaceable head, then you can keep the actual toothbrush and just toss the head. Those should be replaced the same as a disposable: when you see wear. Mostly you'll notice bristles fraying or not reforming their normal shape after use, but sometimes there will be a colored bunch of bristles among the white to show when you need to replace it. When the blue or green bristles are stripped of their color, it's time to replace. This is particularly helpful for frequent and conscientious brushers.
If you're wondering how often you should replace the motorized brush and not just the head of an electric toothbrush, the answer is slightly varied, as well. The obvious answer is when the motor stops working, but that may be decades – if ever. And while replacing the head will rid your brush of the majority of bacteria built up over time, the handle can still accumulate particles you don't want to touch or put in or near your mouth. You may still want to replace the toothbrush every few years just to be safe.
Other Electric Toothbrushes We Reviewed
We looked at 20 other electric toothbrushes. Even though they didn't make our 5 best electric toothbrushes list, they're the best of the rest and each is still a great option for your teeth. The information you'll need to compare each one is included with the listing. We've broken them into the following categories for your convenience:
Kids' Electric Toothbrushes
Brush-Baby BabySonic Electric Toothbrush for 0-36 Months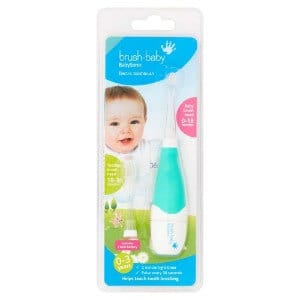 This is the perfect toothbrush for your baby and toddler as it has a chunky handle that will help with their clumsy grips.
Key Features:
Recommended 0-3 years
Includes the required 1 AAA battery
2-minute automatic timer
Cost: $15
Brusheez Kid's Electric Toothbrush Set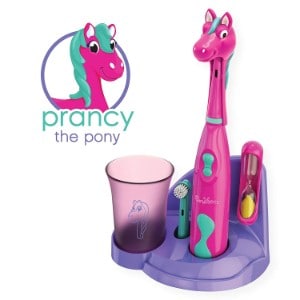 This electric toothbrush set has everything your little one needs (except the toothpaste) and is perfect for kids 3 and up.
Key Features:
Includes storage station, cup, timer, extra head, and brush cover
Nonslip grip
Includes a checklist for brushing
Cost: $20
Fairywill Kids Battery Powered with Smart Timer Toddler Toothbrush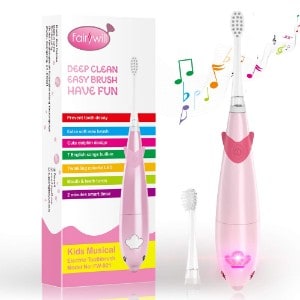 Not only does this electric kids toothbrush come with a timer, but it plays music to drown out the vibration and distract the child into longer cleaning.
Key Features:
Twinkle LED light on dolphins head
2 color choices
Includes 2 AAA batteries
Cost: $15
Oral-B Kids Electric Rechargeable Power Toothbrush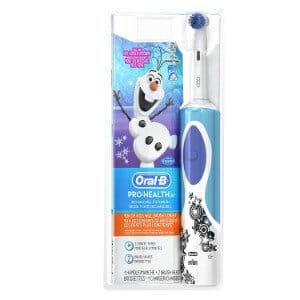 This listing is a one-stop shop, as it also lists replacement heads and toothpaste available for purchase with this electric toothbrush with a fun Frozen design.
Key Features:
Waterproof handle
Rechargeable (includes charger)
Recommended age 3 years
Cost: $25
Philips Sonicare for Kids Bluetooth Connected Rechargeable Electric Toothbrush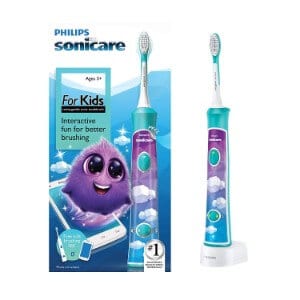 This electric toothbrush comes with a free app that you can download onto your phone or tablet that will educate your child and get them excited for brushing.
Key Features:
Rechargeable with charging base
8 customization stickers
2 bonus sheets of stickers
Vibrating Head Electric Toothbrushes
AquaSonic DUO – Dual Handle Ultra Whitening Rechargeable Electric ToothBrush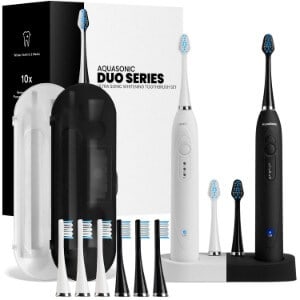 For the couple that brushes together, this set will allow you to coordinate your matching toothbrushes while also saving a bit of space by pairing the charging bases, as well.
Key Features:
3 mode: clean, whiten, and massage
Automatic timer
10 replacement heads included
Cost: $50
Dnsly Sonic Rechargeable Electric Toothbrush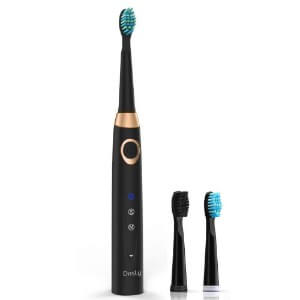 This electric toothbrush comes with three replacements heads to have you set for up to a year of brushing.
Key Features:
3 modes: clean, sensitive, and massage
USB charging
Waterproof
Cost: $25
Fairywill Sonic Electric Toothbrush
This electric toothbrush set comes with three replacement brushing heads and a massaging head for your gums.
Key Features:
USB charger included
30-day battery life
5 modes: strong, medium, gentle, polish, and massage
Cost: $25
Hanasco Sonic Electric Toothbrush
There are four modes on this toothbrush to make sure you're getting the very best to clean, whiten, and polish your teeth as well as care for your gums.
Key Features:
3 replacement heads
Wireless charging base included
2 color options
Cost: $40
Liberex Sonic Electric Toothbrush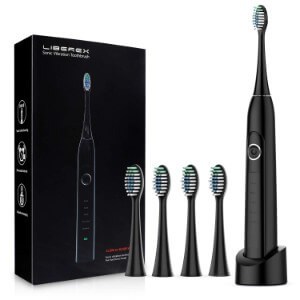 This waterproof toothbrush is entirely submersible to make sure that you can get all the residue and toothpaste removed from it each time you brush.
Key Features:
2-minute smart timer
5 replacement heads included
wireless base charging
Cost: $30
Mueller Sonic Rechargeable Electric Toothbrush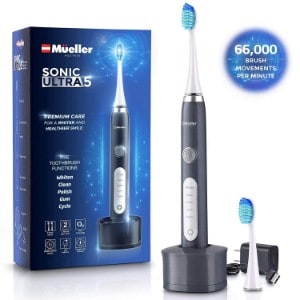 This manufacturer boasts that you'll see up to 100% stain removal in as little as three days.
Key Features:
Charging base included
2 replacement heads included
5 modes: whiten, clean, polish, gum, cycle
Cost: $40
Philips Sonicare 2 Series Plaque Control Rechargeable Electric Toothbrush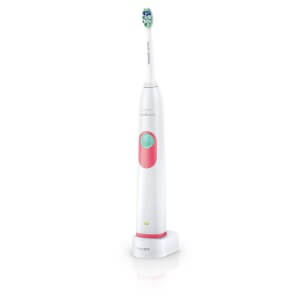 The easy-start feature of this toothbrush will ease you into its use by starting with less power and gradually building up to full power after 14 uses.
Key Features:
7 colors available
Charging base included
2-week battery life
Cost: $40
Philips Sonicare Essence Sonic Electric Rechargeable Toothbrush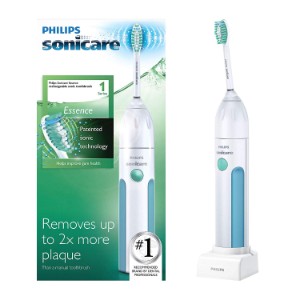 The battery life on this claims to be two solid weeks, but based on reviews you'll very likely get more out of it between charging.
Key Features:
Reminder bristles fade to indicate head replacement
2-minute automatic timer
Soft handle grip for comfortable use
Cost: $25
Philips Sonicare Rechargeable electric toothbrush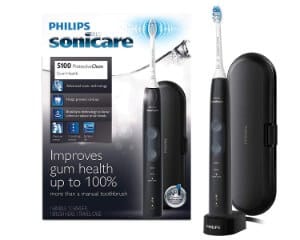 With the three modes on this electric toothbrush, you'll easily be able to use it to clean, whiten and care for your gums.
Key Features:
2 color choices
Travel case included
Wireless charging base
Rotary Electric Toothbrushes
Oral-B 7000 SmartSeries Rechargeable Power Electric Toothbrush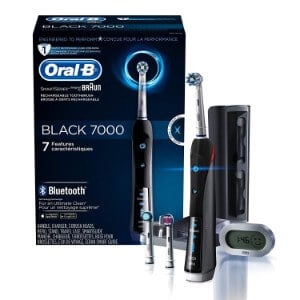 With a visible sensor that lets you know what kind of pressure you're putting on your mouth, you'll better be able to protect your gums and maintain good brushing practices.
Key Features:
Free app to monitor and track brushing
3 replacement heads included
6 brushing modes: Tongue cleaning, daily cleaning, sensitive, gum, whitening and pro-clean
Cost: $130
Oral-B Pro 1000 Power Rechargeable Electric Toothbrush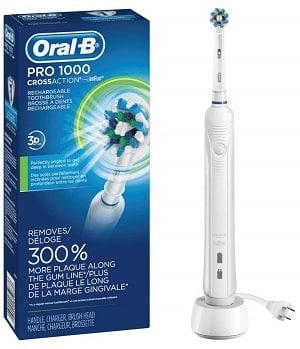 This electric toothbrush is compatible with all Oral-B toothbrush heads so you can be as picky as you'd like for your replacements.
Key Features:
Pressure alerts for brushing too hard
Charging base included
2-year warranty
Cost: $50
Oral-B Vitality FlossAction Rechargeable Battery Electric Toothbrush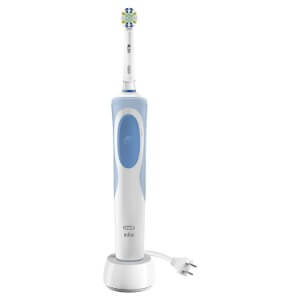 This rotary electric toothbrush has a classic and simple design that will oscillate back and forth cleaning your teeth 10x better than a manual brush.
Key Features:
2-minute automatic timer
2-year warranty
Charging base included
Cost: $25
Rotary Electric Toothbrush for Adults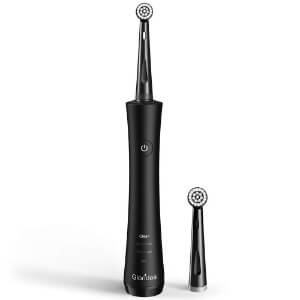 The battery on this electric toothbrush is so long-lasting that it will last up to 30 days between charges.
Key Features:
3 color options
5 modes: strongest, medium, gentle, whitening, and massage
2-minute automatic timer w30-secondcond intervals
Water Floss and Electric Toothbrush Combination
Homitt Water Flosser Dental Oral Irrigator
With this set, you can achieve practically all types of oral hygiene with the aide of water and the eight included heads.
Key Features:
Storage for tips located in the lid
5 sizes available
8 tips included
Cost: $35
KUOAS Oral Irrigator Water Flosser for Braces
The water reserve on this water flosser and toothbrush set holds enough for 90-seconds of continuous use.
Key Features:
7 tips included
10 levels of water pressure
Storage contained within the lid
Cost: $35