Good oral health does more than give you a brilliant smile. Gingivitis, for example, leads to gum disease, which contributes to diabetes, heart disease, and stroke, among other conditions. Water flossers, also known as oral irrigators, are another way, in addition to daily brushing and manual flossing, to clean your teeth and gums. They reach between the teeth and, in some cases, areas that a toothbrush or floss might miss.
We reviewed dozens of water flossers in our search for the best of the best. We looked at models with large reservoirs, portable models, and those that attach to a shower head or faucet. We also considered the water pressure or PSI, on-handle controls, and how many tips/nozzles came with the flosser since every family member will probably want to use it. With new models emerging every day, it wasn't easy to narrow down our top picks. However, there are obvious winners when it comes to reliability, cleaning ability, and approval by the American Dental Association (ADA).
Waterpik dominates the water flosser market. When you look at their Aquarius Water Flosser, it's not hard to see why. A pressure range of 10 to 100 PSI and seven tips give you plenty of options whether you have braces, gingivitis, or simply want to step up your oral hygiene. It also includes a timer with a 30-second pacer (alert) to make sure you reach every region of your mouth.
The 5 Top-Rated Water Flossers
*Ratings are from Amazon at the time of publication and can change
Best Water Flosser Overall: Waterpik AquariusWater Flosser
Waterpik leads the way to brighter, whiter, healthier teeth and gums with the Aquarius Water Flosser. This model sets the standard for at-home and professional water flossing. The handle offers excellent control with 360-degree tip rotation. That allows you to reach around and through all the odd angles of the mouth. The handle also has an on/off switch, allowing you to control the water flow one-handed.
The ten pressure settings run from 10 to 100 PSI for a customized water flossing experience. You can use those settings within two modes—floss and massage, which provides options to find a comfortable way to clean your teeth. It includes a 1-minute timer with a 30-second pacer. Like electric toothbrushes with their two-minute timers, the Aquarius' timer makes sure you spend adequate time taking care of your teeth.
This model has a 22-ounce reservoir, which is enough water for 90 seconds of flossing. You can add your favorite mouthwash for a refreshing boost. Plus, the reservoir can be washed in the top rack of a dishwasher. The Aquarius also comes with five tips—three classic, one orthodontic, one plaque seeker, one pik pocket, and one toothbrush tip. You can store two additional tips on the back of the reservoir. For most individuals and families, the Aquarius has everything you need (plus a few extras) for hygienic water flossing.
Waterpik Aquarius Water Flosser Key Features;
22-ounce dishwasher-safe reservoir
Includes the seven (7) tips—three (3) classic, one (1) orthodontic, one (1) plaque, one (1) pik pocket, and one (1) toothbrush tip
Ten (10) pressure settings, ranging from 10 to 100 PSI
Two (2) modes—floss and massage
1-minute timer with a 30-second pacer
Best Cordless Water Flosser: MOSPRO Portable Oral Irrigator
The MOSPRO Portable Oral Irrigator has all the benefits of a full-size water flosser in a compact, portable package. Water tanks or reservoirs can sometimes be difficult to clean, which leads to a buildup of limescale or dental plaque. The MOSPRO's detachable 300 mL tank makes cleaning fast and easy.
This model may be small and portable, but it comes with three modes—normal, gentle, and pulse—and four jet tips. The tips attach to a nozzle that rotates a full 360 degrees, so you can be sure to get the right angle for any area of the mouth. The MOSPRO also comes with a rechargeable lithium battery that, when fully charged, can last for 7 to 10 days. The included USB cord allows you to charge the flosser with a laptop, portable battery charger, or adapter.
The MOSPRO has an IPX7 waterproof design that protects both the internal and external components. This high waterproof rating means you can safely use the flosser in the shower.
MOSPRO Portable Oral Irrigator Key Features:
Detachable 300 mL tank
Includes a USB cord for recharging
Lithium battery holds a charge for 7 to 10 days
360-degree nozzle rotation
Four (4) tips
Best Budget Water Flosser: VOYOR WF200 Portable Oral Irrigator
The VOYOR WF200 Portable Oral Irrigator comes at an affordable price but still offers many of the perks of more expensive models, starting with a two-minute timer. Many people don't brush or floss long enough, but with a timer, you know you've gotten spent the time to reach every tooth and crevice.
A lightweight 200 mL tank holds enough water to get you through a two-minute flossing session. The three modes—normal, soft, and pulse—provide options for both standard flossing and flossing sensitive gums and teeth. The VOYOR's rechargeable lithium battery lasts four hours, which gives you about a week's worth of water flossing. It also comes with four tips so you can use it for your whole family.
A feature that's nearly indispensable with water flossers is a rotating nozzle. This model allows 360-degrees of rotation to reach your mouth's every angle. The VOYOR also has an IPX7 rating, which protects both the internal and external components from water damage. You can use it in the shower and keep the mess of water flossing from covering your bathroom countertop and mirror.
VOYOR WF200 Portable Oral Irrigator Key Features:
200 mL water tank
Three (3) modes—normal, soft, and pulse
Rechargeable battery
Four (4) tips
360-degree rotating nozzle
Best Water Flosser for Braces: Homgeek 320ML Oral Irrigator
Homgeek 320ML Oral Irrigator
Braces and other orthodontia may require odd angles and take squeezes to remove plaque and debris. This water flosser provides the tip options and power to clean hard-to-reach areas.
The Homgeek 320ML Oral Irrigator offers a wide range of water pressure and tip options, creating a versatility that people with braces need. You can customize the water pressure with ten pressure settings that range from 25 to 110 PSI. That's a wide enough range for sensitive teeth and gums, as well as those who need a little extra pressure to deep clean their teeth.
This model comes with four tips—three jet clean, one tongue cleaner, one orthodontic tip, one dental plaque tip, and one periodontal tip. That many tips will work for an entire family, including a specialty tip for someone with braces. All tips can rotate 360 degrees, which is exactly what you need to reach around and under braces.
A large 320 mL reservoir holds enough water for 100 seconds of flossing. Some water flossers are prone to leaks but not this model. Double-sealing rings add an extra leak barrier. It even has the water base connected to the flosser to prevent potential points of leakage.
Homgeek 320ML Oral Irrigator Key Features:
320 mL reservoir
Ten (10) water pressure settings between 25 to 110 PSI
360-degree head rotation
Best Professional Water Flosser: H2OFloss Dental Water Flosser
H2OFloss Dental Water Flosser
A quiet design with all the extras make this water flosser one for those who want to get serious about their oral health.
The H2OFloss Dental Water Flosser has an incredibly quiet design and unique on-handle features that make it a pleasure to use. The six pressure settings range in power from 5 to 110 PSI, a range that works for those with the most sensitive of gums and teeth. It comes with an impressive 12 tips,  including jet tips for standard cleaning, tongue cleaners, orthodontic tips for braces, periodontal tips, and moisturizing mist spray tips, too. Families will be able to find a tip that works for everyone. And, don't worry about storing all of those tips. The H2O includes enough onboard storage for seven tips. The extras can be stored in a linen closet and cupboard until they're needed.
A high-volume, 800 mL reservoir, provides up to 150 seconds of water. That's plenty of time to clean every tooth and massage the gums. However, our favorite feature with this model is the handle. It includes on-handle pressure control and a pause button. One-handed control makes it easier to control mid-floss pressure changes and lets you turn off the flosser if things get messy.
A feature unique to the H2OFLoss is the automatic overheating protection that turns off the power if the power unit starts to overheat. The chances of overheating are incredibly small, but there's peace of mind knowing that overheating won't be an issue.
H2OFloss Dental Water Flosser Key Features:
800 mL reservoir
Twelve (12) tips— four (4) jet tips, two (2) tongue cleaners, two (2) periodontal tips, two (2) orthodontic tips, and two (2) moisturizing mist spray tips
On-handle pressure control and pause button
Onboard tip storage
Six (6) pressure settings, ranging from 5 to 110 PSI
Who Should Buy a Water Flosser
Good oral healthcare is important for everyone. If you have teeth, a water flosser can benefit you. That isn't to say there aren't some people who will benefit more than others. For example, for people with braces, flossing can be a time-consuming task, and it's difficult to reach around every bracket and wire. Water flossers do much of the work for you and make it easier to reach those tough angles and crowded back teeth.
Water flossers can also benefit those with implants, tooth infections, and other dental issues that require careful cleaning and monitoring. Water can irrigate areas that are difficult to reach with a toothbrush and normal floss. They're also a great option if you just want to make sure your mouth gets as clean as possible.
Important Features to Consider
A water flosser should have a few important features. Here's what you need to keep in mind when selecting your water flosser:
Water flosser type. There are three basic types of water flossers—cordless or portable, countertop, and those that attach to a faucet or shower head. Cordless/portable water flossers have a rechargeable battery, small water tank, and may come with two to four tips. They don't take up as much space on the bathroom counter and, of course, are portable for travel. Many are waterproof for use in the shower. Countertop models have a large water reservoir that may hold 600 to 800mL of water versus a portable model's 200 to 300 mL. A countertop water flosser's tip is attached to a handle that connects to the reservoir via a hose. These models come with anywhere from 5 to 12 or more tips. They're a great option for families, but they do require extra counter space. Water flossers that attach to the bathroom faucet or a shower head don't usually have as many extra features as portable or countertop models. However, there's no need to refill a reservoir or tank, and the mess they create gets washed away in the shower.
Automatic timers and alerts. Water flossers with automatic timers give you a definitive goal for your flossing and make sure you spend plenty of time irrigating your pearly whites. Timers that also have pacers (30-second alerts) are helpful because they provide a reminder to move through every region of your mouth.
On-handle controls. On-handle controls allow you to make one-handed adjustments while you floss. These types of controls can also cut down on the mess created by water flossing. Otherwise, you have to hold the flosser with one hand while the other hand adjusts the pressure on the power unit. If your hand slips, you could be spraying your bathroom rather than your mouth.
Tip options. Most people like to have more than one flossing tip because you can sanitize one while using another one. And, families, for example, will need one tip for each family member. There are also specialty tips for braces, tongue cleaning, and tooth brushing. Before buying, check out the types of tips included with the water flosser as well as any extra tips the manufacturer offers for separate purchase.
Frequently Asked Questions
What is a water flosser, and how does it work?
Water flossers, also known as oral irrigators, use pressure and water to blast plaque and food from your teeth. You can adjust the pressure so the flosser feels comfortable while it works. Many models have different modes like pulse or massage, too. The water comes out through a tip that compresses the water into a stream. Different tip types affect the width of the stream so you can target orthodontia or tongue cleaning, for example.
Is a water flosser as good as flossing?
Water flossers are equivalent to flossing in many ways. However, they can't fully replace it, especially if your teeth are tightly spaced, or you have orthodontia. The pressurized water can't always penetrate the tight spaces between the teeth, which means you still need to pull out the regular floss once in a while. They also don't remove the film that brushing and flossing do, which means you'll still need to brush and floss regularly.
Do dentists recommend water flossers?
Dentists recommend water flossers in certain cases.  Water flossers are helpful for people with braces and certain dental issues like an infected tooth, crown, or area that needs regular irrigation to stay clean. Any device that helps keep your teeth clean benefits your oral health. However, dentists still recommend regular brushing and flossing.
Is it better to floss first or brush first?
First, let's start by saying that no matter the order if you're brushing and flossing, you're doing great. However, a 2018 study found that flossing first actually removed more plaque and helped fluoride reach all areas of the tooth better than brushing first and flossing second.
Other Water Flossers We Reviewed
We looked at the 20 other water flossers. Even though they didn't make our 5 best water flossers list, there are still some impressive models worth considering. We gathered the information you'll need to compare each one in our listing.
Cordless Water Flossers
Akunbem Professional Cordless Water Flosser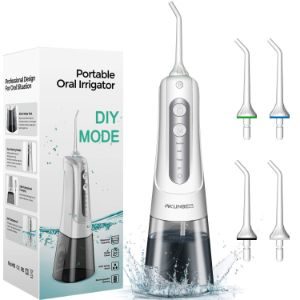 The Akunbem allows you to fully customize the water pressure for comfortable cleaning.
Key Features:
Customizable, variable pressure control
Two-minute timer
USB charging cord
Cost: $43
Anjou Professional Water Flosser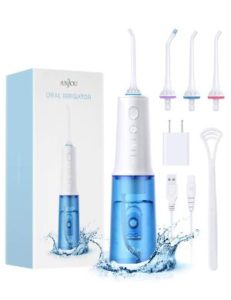 Four modes and a waterproof design let you use this water flosser in the shower.
Key Features:
IPX7 waterproof rating
Four (4) tips
Removable 320 mL water tank
Cost: $40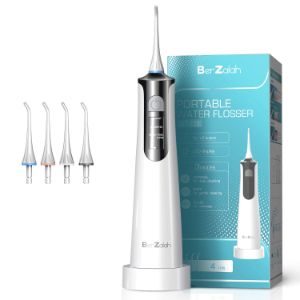 A crystal clear LCD display shows the BerZalah's mode, PSI, and voltage. With this model, you'll easily find the perfect settings.
Key Features:
IPX7 waterproof (shower safe)
Four (4) tips
LCD display shows water pressure, speed, and voltage
Cost: $40
 B. WEISS Portable Oral Irrigator
The USB charger lets you keep this flosser ready to go from almost anywhere.
Key Features:
Includes four (4) tips
Three (3) pressure settings
300 mL water tank
Cost: $35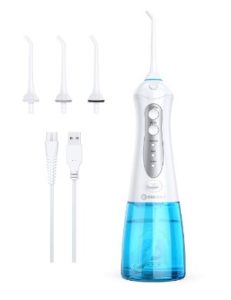 The CREMAX's IPX7 waterproof rating allows you to use it in the shower or get it wet without damaging the internal or external components.
Key Features:
Three (3) flossing modes
Four (4) included tips
300 mL water tank
Cost: $34
HANASCO Cordless Water Flosser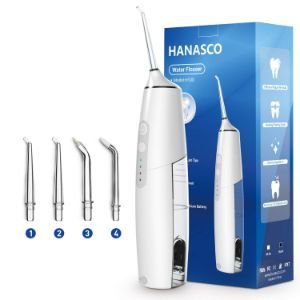 Three pressure settings and a detachable water tank make this portable model easy to use at home or while traveling.
Key Features:
Three (3) pressure settings
Detachable water tank
Includes four (4) tips
Cost: $30
Liberex Portable Oral Irrigator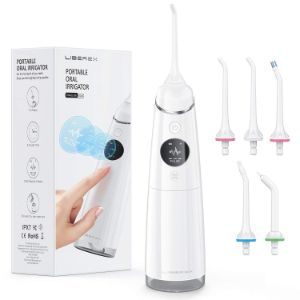 Five tips and four flossing modes provide enough variety for the whole family.
Key Features:
Two-minute timer
Easy-to-read OLED display
Memory mode remembers last setting
Cost: $42
Panasonic Cordless Water Flosser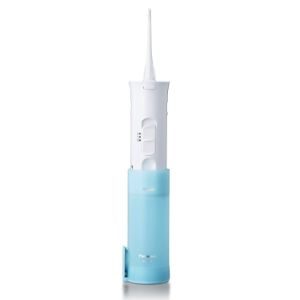 This model's collapsible design makes it incredibly compact for travel.
Key Features:
Two (2) water pressure settings
5.5-ounce reservoir
Easy-to-wash waterproof design
Cost: $35
Waterpik Cordless Water Flosser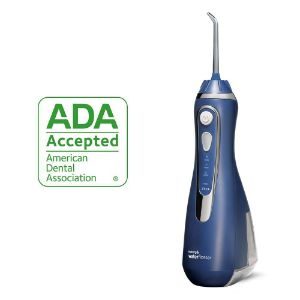 This ADA-approved water flosser can go with you almost anywhere, and it comes in six fun colors.
Key Features:
Three (3) pressure settings
Four (4) hour magnetic charging
Includes travel bag and four (4) tips
Cost: $85
Zerhunt Professional Water Flosser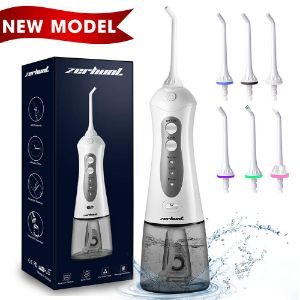 The six included tips are enough for a family on the go.
Key Features:
IPX7 rating for in-shower use
Three (3) flossing modes
Four (4) hour recharge time
Water Flossers for Braces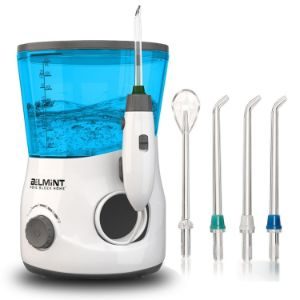 A variety of tips and ten pressure settings make this a great option for people with braces.
Key Features:
Ten (10) pressure settings, ranging from 0 to 90 PSI
20.28-ounce reservoir
Two-minute timer with a 30-second pacer
Cost: $33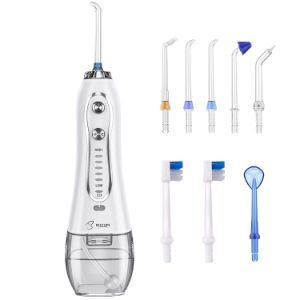 An impressive six tips provide plenty of options for families and people with braces.
Key Features:
300 mL detachable water tank
Five (5) pressure adjustments and cleaning modes
Six (6) tips and two (2) toothbrush heads
Cost: $37
iTeknic Cordless Water Flosser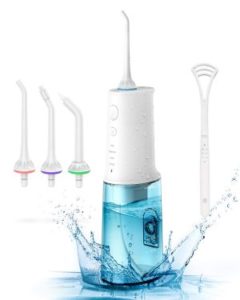 This flosser provides the maneuverability you need to reach around, under, and over braces.
Key Features:
IPX7 waterproof (shower safe)
Four (4) tips
USB charging cord
Cost: $30
Petpo Professional Portable Water Flosser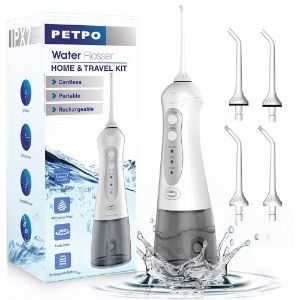 This cordless model has a setting designed specifically for braces.
Key Features:
IPX7 waterproof rating
360-degree tip rotation
Detachable water tank
Professional Water Flossers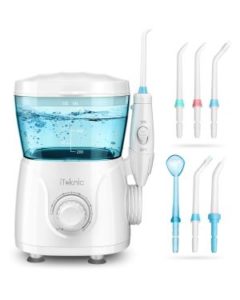 Ten pressure settings that vary from 10 to 125 PSI provide the variability for braces, sensitive gums, and any other dental issues.
Key Features:
Seven (7) tips
FDA-approved
On-handle on/off control
Cost: $36
THZY Professional Oral Irrigator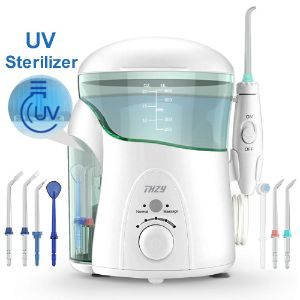 A unique UV sterilizer keeps tips clean and ready for use.
Key Features:
Seven (7) tips
IPX7 waterproof rating
600 mL reservoir
Faucet or Shower Water Flossers
Oral Breeze ShowerBreeze Water Jet Dental Irrigator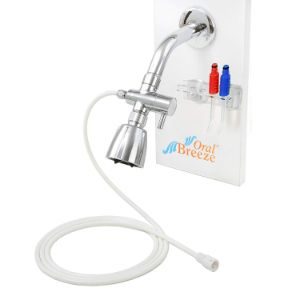 Water flossers can be messy, but with this model, it all stays in the shower.
Key Features:
Easy to keep clean
Low pressure
Made of chrome-plated brass
Countertop Water Flossers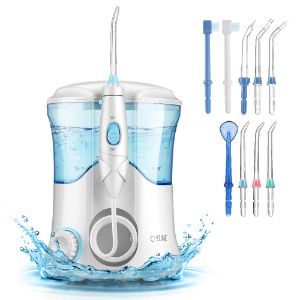 With nine tips, this model provides plenty of options to reach every corner of your mouth.
Key Features:
Includes nine (9) tips
Ten (10) pressure ratings
Rotating nozzle head
Cost: $33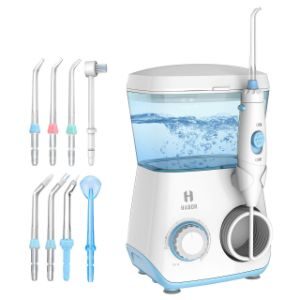 On-handle controls and quiet operation make the Habor a pleasure to add to your bathroom.
Key Features:
Ten (10) pressure settings
On-handle on/off switch
Onboard storage for tips
Cost: $37
Waterpik Electric Toothbrush & Water Flosser Combo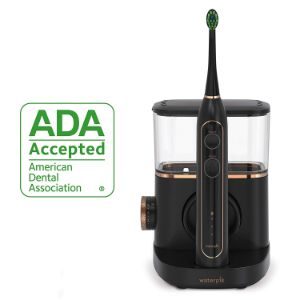 This all-in-one oral care model brushes and flosses, saving you counter space.
Key Features:
Brush and floss from a single handheld toothbrush
Includes two (2) flossing tips
Two-minute timer and 30-second pacer
Cost: $167