A bright smile and fresh breath are a norm of modern life that's not going away anytime soon. However, we're not all born with the sparkling teeth of a movie star. In truth, most movie stars probably don't start out with a gleaming smile either. Expensive whitening treatments are a common part of most dental practices. But not everyone can afford that kind of time or money. Whitening toothpaste is a great alternative that whitens and brightens teeth on a daily basis. They're found in different flavors, formulas and even colors, giving you some options in your quest to remove coffee, wine, and juice stains.
We've searched high and low for the whitening toothpastes that consistently clean, whiten, and brighten. We weighed a number of factors to make our decisions, including the flavor, expense, and effectiveness. While your personal preference weighs heavily in your decision, keep in mind that not all toothpaste is created the same. Some offer extra health boosts like fluoride or antiplaque protection while others are formulated for sensitive teeth. There's a lot of options, but we've compiled the information you need to compare and contrast so you can start whitening your smile today.
Cali White Activated Charcoal & Coconut Oil Whitening Toothpaste stood out from the crowd for its effectiveness and natural formula that's fluoride, gluten, peroxide, and paraben-free. That's a lot of freedom that also includes the freedom from yellow teeth.
The 5 Top-Rated Whitening Toothpastes
*Ratings are from Amazon at the time of publication and can change
Our Top Pick: Cali White Activated Charcoal & Coconut Oil Whitening Toothpaste
Cali White Activated Charcoal & Coconut Oil Whitening Toothpaste brings more to the table than just whitening power. A growing consciousness of the unknown effects of chemicals on human health has led many people searching for alternatives that avoid synthetic ingredients. While this toothpaste doesn't claim to be all-natural, it has a long list of ingredients from which it is free, including fluoride, sodium lauryl sulfate (SLS), gluten, peroxide, triclosan, and parabens. The coconut oil included in the formula is also organic-certified.
More importantly, this activated charcoal toothpaste creates noticeably whiter teeth within a week or two of use. Those are impressive results for any whitening toothpaste, activated charcoal or not. But cleaning power isn't the only consideration that moved this formula to the top. Cali White freshens breath with peppermint oil and cleans and polishes the surface of the tooth with baking soda. Fresh breath and smooth, white teeth—what's better than that?
Last but not least, you can't talk about an activated charcoal toothpaste without talking about color. Black isn't exactly the first color with which you'd like to cover your teeth. However, the distinct color of the charcoal doesn't stain your toothbrush, sink, or counter. Overall, it leaves everything whiter and brighter than when you started, and we love it.
Cali White Activated Charcoal & Coconut Oil Whitening Toothpaste Key Features:
Vegan
Free of parabens, fluoride, SLS, gluten, peroxide, and triclosan
Flavored with xylitol and peppermint oil
Certified organic coconut oil
Baking soda cleans but protects enamel
Our Runner Up Pick: Tom's of Maine Antiplaque and Whitening Toothpaste
Tom's of Maine Antiplaque and Whitening Toothpaste brings a simple approach to whitening that's effective while avoiding controversial additives. This formula does not contain any dyes, sweeteners, or flavors, only natural peppermint. It lacks the sweetness of many brands because Tom's of Maine leans towards including as many natural ingredients as possible. For those looking for a fluoride-free alternative, it fits that bill as well.
The main purpose of any toothpaste is to improve your oral health. This toothpaste is designed to prevent plaque while whitening teeth. With consistent use, the plaque-fighting/whitening combination brightens smiles while protecting the teeth and gums. It's not advertised as a gentle whitening toothpaste, but many users have found that it doesn't aggravate sensitive teeth. That's a definite bonus for those who want a natural-based toothpaste and struggle with the sometimes harsh effects of whitening formulas. We also love that it's a relatively inexpensive option, especially for one that's composed of a majority of natural ingredients.
Tom's of Maine Antiplaque and Whitening Toothpaste Key Features:
No artificial dyes, sweeteners, or flavors
Free of fluoride, phthalates, gluten
Whitens using diatomaceous earth
Halal and kosher certified
Best Budget Pick: Crest 3D White Whitening Toothpaste
Whitening toothpastes can come with a heavy price tag, but Crest's 3D White Whitening Toothpaste does an excellent job of attacking stains for far less than other brands. Crest uses cleaning silicas to effectively remove stains caused by coffee, tea, and wine. Though the results aren't as quick as with some of our other top picks, over a period of two or three weeks, you'll get noticeable results. In addition, it contains fluoride that both protects teeth from cavities and helps strengthen the enamel. Strong enamel further resists stains so your teeth stay whiter longer.
This toothpaste stands out for more than it's price and whitening power. Its minty option has a flavor that's far more palatable than other whitening formulas. That makes it a good option for those with a strong gag reflex. Finally, it not only whitens your teeth and keeps them white, it helps to maintain an even color amongst your teeth and crowns, a feat in which not all toothpastes performs well.
Crest 3D White Whitening Toothpaste Key Features:
Contains fluoride to prevent cavities and protect teeth
Pleasant mint flavor
Inexpensive
Best Gentle Whitening Toothpaste: Sensodyne Pronamel Gentle Whitening Toothpaste
Sensodyne Pronamel Gentle Whitening Toothpaste caters to the growing number of people with teeth too sensitive for your average whitening toothpaste. Some whitening formulas whiten but also strip the teeth of the enamel that protects them from hot, cold, and sugar. Sensodyne takes on whitening without aggravating this painful condition. It adds an anti-sensitivity ingredient called potassium nitrate into the mix that works along with fluoride to protect and build enamel rather than stripping it away. The formula also works to optimize the use of calcium and other minerals found naturally in the saliva to further strengthen and build enamel.
The best part is that you're not losing whitening power amongst all that enamel protection. In general, users notice whiter teeth within two to four weeks of use, which isn't as fast as some of our picks. That said, this toothpaste still effectively whitens. The minty flavor isn't overpowering and doesn't leave behind any unpleasant aftertaste. It definitely boosts the health of your teeth and gums with a gentle approach that gets you closer to a brighter, whiter smile.
Sensodyne Pronamel Gentle Whitening Toothpaste Key Features:
Fluoride protects from cavities and strengthens enamel
Builds enamel by optimizing minerals found in saliva
Low abrasion to limit enamel erosion
Best Activated Charcoal Whitening Toothpaste: FineVine Activated Coconut Charcoal Toothpaste
FineVine Activated Coconut Charcoal Toothpaste whitens teeth in an impressively short amount of time. But before we jump into how it performs, let's talk about its all-natural ingredients. It starts with organic coconut oil followed by activated charcoal from coconuts. The charcoal in activated charcoal toothpaste works by pulling stains out of the teeth, which this toothpaste does beautifully.
Stains aren't the only issue you have to think about when brushing your teeth. Baking soda and diatomaceous earth work together to remove plaque and food from the surface of the tooth. While these two ingredients are good at what they do, this FineVine formula can be too abrasive for those with sensitive gums or teeth. Overall, most users see noticeable results with a few days, whereas many other formulas take several weeks to whiten teeth. If you need fast results, this one is worth it.
FineVine Activated Coconut Charcoal Toothpaste Key Features:
SLS and fluoride-free
Fast whitening results
Organic coconut oil
Flavored with peppermint oil
Who Should Buy Whitening Toothpaste
Youth and beauty go hand in hand with a toothy, white grin. Our society associates health and strength with a smile that shines. However, coffee, wine, and fruit juices regularly discolor teeth. You can get whitening treatments from your dentist or use over-the-counter whitening treatments, but both of these options require extra time and effort on your part.
Whitening toothpastes, on the other hand, whiten your teeth while you brush, an activity you'd be doing anyway. You don't have to make an appointment with your dentist or set aside extra time in the evening to do an at-home treatment. Every time you clean your teeth, you're brightening your smile. They're a great option in between whitening treatments too. They also prevent the build-up of stains from everyday foods.
Another way to make your teeth look whiter is by using a self tanner on your face (we review the best self tanners in a separate post). The added contrast will make your pearly whites look even brighter.
Important Features to Consider
A whitening toothpaste should do several things well. Here's what you'll need to consider when selecting a formula:
Stain removal agent. Stain removal is a key feature of any whitening toothpaste. How the toothpaste goes about doing that varies from formula to formula. Some toothpastes contain peroxide, a common whitening agent used in in-office and at-home whitening treatments. However, peroxide can aggravate sensitive teeth so it's not for everyone. Other formulas use some sort of abrasive like baking soda or diatomaceous earth to break up stain particles and polish the surface of the teeth. The latest whitening trend is activated charcoal, which pulls stains directly from the teeth using charcoal derived from any number of sources including coconut shells and bamboo.
Activated charcoal. Activated charcoal is a newcomer to the whitening world. While there are several activated charcoal toothpaste formulas that effectively remove stains at this time, as a new product, the body of evidence that supports its use is relatively small. As with any toothpaste, look for a formula that's been approved by the American Dental Association.
All-natural ingredients. There's a growing list of ingredients that many people prefer to not put in their mouths. Some of these ingredients are controversial. Fluoride, for example, has been proven to prevent cavities and strengthen tooth enamel. However, some people prefer not to put added minerals in their mouths. There are whitening toothpastes that are fluoride, phthalate, paraben, triclosan, SLS, and gluten-free (although many may only be free of one or two of these ingredients). Rest assured that if you have concerns about ingredients, there's a formula out there for you that will whiten but skip ingredients for which you may object.
Flavor. Whitening toothpaste isn't known for its delicious flavors. In fact, they are typically harsher on your tastebuds than regular toothpaste. The flavor of most whitening toothpaste is masked with mint or coconut, though there are a few berry flavors out there too. Your best, and most successful bet, is probably a strong mint as it tends to mask the bitter flavors of whitening ingredients.
Sensitive teeth and gums. Whitening toothpaste is harder on sensitive teeth and gums than regular formulas. If you want some extra whitening power, there are formulas that skip peroxide and harsh abrasives, reducing irritation. Many whitening formulas also have remineralizing agents to build up tooth enamel.
Frequently Asked Questions
How does whitening toothpaste work?
In general, toothpaste (both whitening and regular) removes stains with mild abrasives that scrub off the offending discoloring agent. However, whitening formulas also contain chemicals or ingredients that polish teeth to further lighten their color. Some formulas also contain ingredients that are said to draw the stains out of teeth. While these claims are still being investigated, these formulas seem to perform as well as other whitening toothpastes.
Is it safe to use whitening toothpaste every day?
Whitening toothpaste is designed for everyday use. As long as it's comfortable for you, go ahead and light up your smile both morning and night. The exception may be those who have sensitive teeth as some formulas may be too abrasive or harsh, especially if they contain peroxide. You can try a formula designed for sensitive teeth or opt to use whitening toothpaste once in a while rather than every day.
How often should you use a whitening toothpaste?
Whitening toothpaste can be used every day. Again, the exception may be if you have sensitive teeth, in which case you may need a special gentle or sensitive formula that's less abrasive.
Is whitening toothpaste bad for your teeth?
Whitening toothpaste isn't necessarily bad for your teeth but they do pose more of a risk to tooth enamel than regular formulas. They contain abrasives, chemicals, and/or polishing agents that can thin enamel. Once the enamel gets work down, the dentin that lies underneath gets exposed. Tiny pores then allow hot and cold to make their way to your nerves, which causes pain. Gentle formula toothpastes, both whitening and regular, work to clog these pores with minerals and prevent sensitive teeth.
Other Whitening Toothpastes We Reviewed
In our search for the top whitening toothpaste, we reviewed 20 other products. Although they didn't make it into our top five, there are some impressive formulas that could be the right choice for you. We've included the information you need to compare and contrast your options on your way to whiter teeth.
Best Gentle Whitening Toothpaste
Colgate Sensitive Maximum Strength Whitening Toothpaste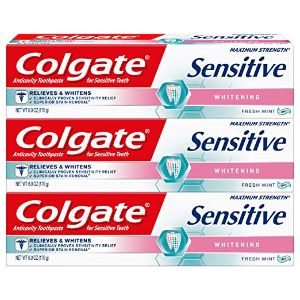 In this toothpaste, Colgate uses an anti-sensitivity agent in the maximum amount allowed by the FDA. It removes stains without removing the protective enamel on your teeth.
Key Features:
Protects teeth to reduce sensitivity
Contains fluoride
Fresh mint gel freshens breath
Cost: $11
Crest 3D White Whitening Therapy Sensitive Care Toothpaste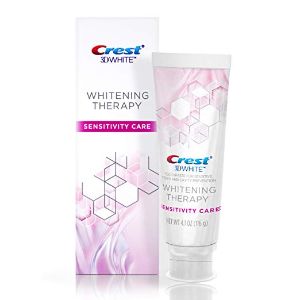 This powerful remineralizing toothpaste not only whitens but builds up the enamel and reduces sensitivity.
Key Features:
Contains fluoride
Removes surface stains
Active mineral complex remineralizes the teeth, reducing sensitivity
Cost: $6
Crest Coconut Oil White Toothpaste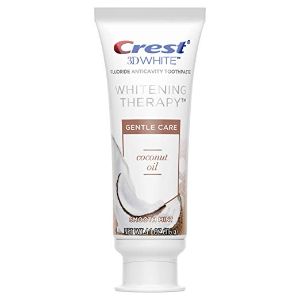 This special formula incorporates coconut oil to lift stains from the teeth while promoting remineralization to reduce sensitivity.
Key Features:
Contains fluoride to prevent cavities
Vanilla mint flavor
Remineralizes tooth surface
Cost: $18
Sensodyne Sensitive Teeth Whitening Toothpaste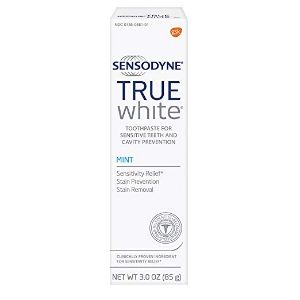 Sensodyne leads the way in gentle whitening toothpaste, and this one doesn't disappoint. We like that the low-abrasive formula cleans without increasing sensitivity.
Key Features:
Protects from cavities while protecting teeth
Low abrasion formula
Whitens in approximately three weeks
Best Activated Charcoal Whitening Toothpaste
Active WOW Activated Charcoal Whitening Toothpaste

It's hard to pass by a toothpaste made of natural ingredients, especially one that works well to whiten teeth and freshen breath.
Key Features:
Fluoride-free
Natural ingredients
Made in the USA
Cost: $15
Black Magic Activated Charcoal & Organic Coconut Oil Teeth Whitening Toothpaste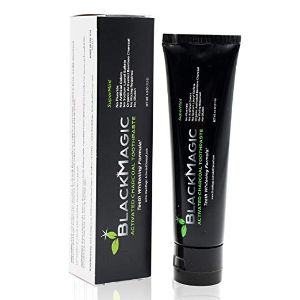 Black Magic leaves your teeth noticeably white after only a few days of brushing. We like that the organic activated charcoal comes from sustainable bamboo.
Key Features:
Free from fluoride, artificial colors, SLS, and gluten
BPA-free tube
Organic activated charcoal
Cost: $10
Dental Expert Activated Charcoal & Coconut Whitening Toothpaste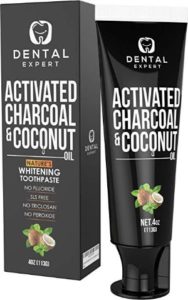 This bamboo charcoal formula whitens teeth within days of your first use. The strong mint flavor makes it an excellent choice for anyone with a strong gag reflex.
Key Features:
Fluoride, SLS, triclosan, and peroxide-free
Strong minty flavor
Excellent texture and easy squeeze tube
Cost: $10
My Magic Mud Activated Charcoal Toothpaste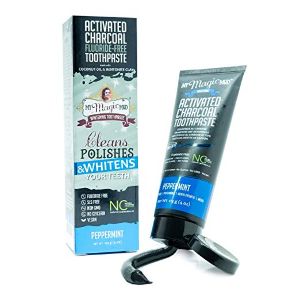 This is another formula that skips the chemicals in favor of natural ingredients like coconut oil and bentonite clay. It has an impressive whitening ability and freshens breath.
Key Features:
Features bentonite clay to bond and remove food from around the teeth
Coconut shell charcoal
Vegan; non-GMO; no additives, fluoride, gluten, SLS, glycerin, or triclosan
Best  Whitening Toothpaste with Fluoride
Arm & Hammer Advance White Extreme Whitening Toothpaste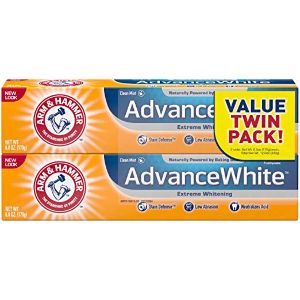 A trusted brand creates a whitening toothpaste that gets the job done while providing cavity protection.
Key Features:
Fluoride for cavity prevention
Includes baking soda for polishing and neutralizing acids
Uses stain prevention formula
Cost: $5
Colgate Total Whitening Toothpaste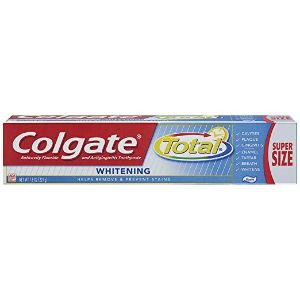 This inexpensive whitening toothpaste does a good job of whitening and removing stains.
Key Features:
Low price
Gel formula
Reduces bacteria on the teeth, tongue, cheeks, and gums
Cost: $4
Crest 3D White Brilliance Toothpaste and Whitening Gel System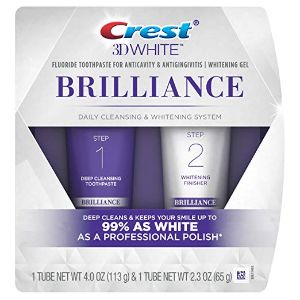 Whitening systems provide extra whitening and polishing power. Start with a good brushing then follow up with a polishing treatment.
Key Features:
Two-step deep cleansing system
Contains fluoride for cavity prevention
Noticeable results within four weeks of use
Cost: $12
Crest Pro-Health HD Toothpaste and Teeth Whitening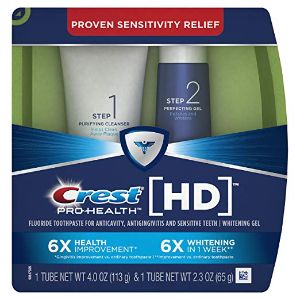 Another two-step system that whitens and polishes for a shiny, bright finish. This deep clean system not only whitens and protects from cavities but protects and prevents sensitive teeth.
Key Features:
Stannous fluoride toothpaste
Hydrogen peroxide whitening gel
Noticeable whiteness within three weeks of use
Cost: $10
Nu Skin AP24 Whitening Flouride Toothpaste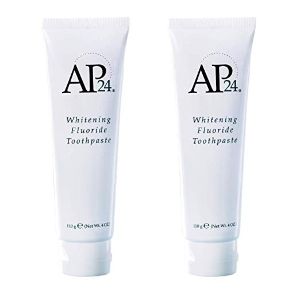 This peroxide-free formula builds up teeth while preventing cavities. The vanilla mint flavor takes a new twist on an old classic.
Key Features:
Vanilla mint flavor
Thick, creamy paste
Removes and prevents plaque build-up
Cost: $22
Opalescence Whitening Toothpaste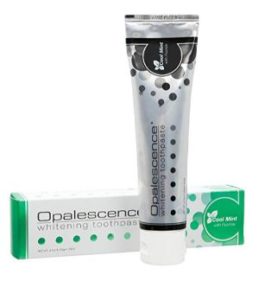 Opalescence focuses their formula on cavity prevention. Quick release fluoride increases the uptake of fluoride into the teeth.
Key Features:
Protects dentin and enamel
Fresh taste that cleanses breath
Whitens within three to four weeks
Cost: $20
Rembrandt Intense White Stain Whitening Toothpaste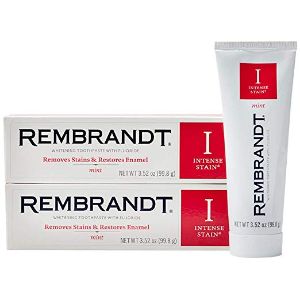 Rembrandt removes tough stains but remains gentle on teeth. It's micro-polishers do their job by preventing build-up using tetrapotassium pyrophosphate.
Key Features:
Restores enamel by remineralizing teeth
Uses micro-polishers to whiten and brighten
Work within three to four weeks
Cost: $16
Supersmile Professional Teeth Whitening Toothpaste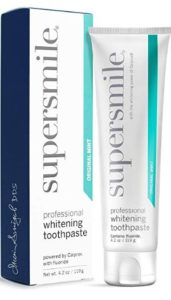 Supersmile's formula re-mineralizes enamel and prevents cavities. It works on bonded teeth, veneers, caps, dentures, and dental restorations.
Key Features:
Free from parabens, silica, SLS, bleaching agents, animal byproducts, and known allergens
Doesn't cause sensitivity issues
Uses Calprox, which dissolves the discoloring film on the teeth
Best Flouride-Free Whitening Toothpaste
Cali White Vitamin B12 Infused Whitening Toothpaste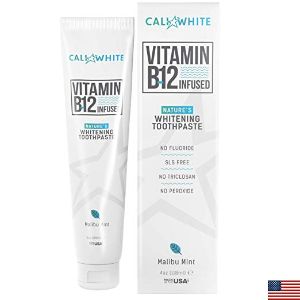 This Cali White formula gives you an extra B12 boost with every brushing. It has great freshening power that lasts for hours.
Key Features:
Vegan
Contains stevia, xylitol, calcium carbonate, peppermint oil
Free from fluoride, SLS, triclosan, and peroxide
Cost: $10
Dr. Brite Berrylicious Toothpaste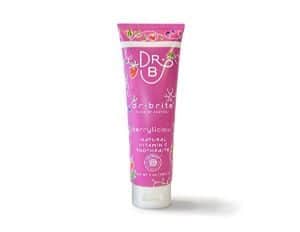 The vegan formula used to make Dr. Brite avoids antioxidants and uses non-acidic vitamin C. It's both a gentle and fluoride-free whitening option.
Key Features:
No artificial sweeteners, colors, or flavors
Contains white activated charcoal
Plant-based formula
Cost: $10
Hello Oral Care Fluoride-Free Antiplaque & Whitening Toothpaste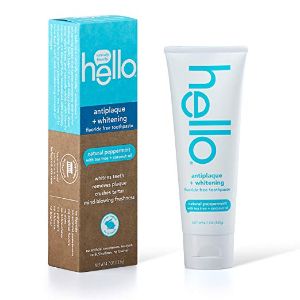 This fluoride-free option removes stains well and remains gentle on sensitive teeth and gums.
Key Features:
Free from fluoride, dye, SLS, paraben, triclosan, and gluten
Vegan
Uses peppermint and tea tree oil to freshen breath
Cost: $19
Himalaya Botanique Whitening Complete Care Toothpaste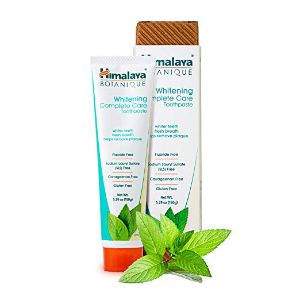 If you're looking for a non-abrasive whitening toothpaste, this one fits the bill. It even uses natural enzymes from the pineapple and papaya to remove stains.
Key Features:
Free of fluoride, carrageenan, triclosan, SLS, and gluten
Flavored with mint oil
Includes extracts from neem, pomegranate, papaya, and pineapple
Cost:  $6