Whether you get regular professional manicures or paint your own nails, nail art is a popular way to add fun designs to your nails when you want something more than a solid polish color. From polish designed with nail art in mind, complete with ultra-fine brushes to paint delicate designs, to fun holiday-themed nail art stickers like Halloween ghosts and pumpkins, snowflakes, beach themes, and so much more, the possibilities are endless. Thanks to nail art stickers, stencils, and other easy-to-use tools, you can create beautiful nail designs at home – no professional training required.
We looked at dozens of nail art sets, considering features such as ease of use, durability, range of colors and designs, and customer reviews to identify the best of the best.
Shany Nail Art Set
Meet the famous Shany Nail Art Set, the best 24-piece nail art polish set you can buy for fabulous-looking nails.
The Shany Nail Art Set stood out as a clear winner. It comes with 24 different shades, including neon shades, pearl shades, glitter polish, and matte polish, each with ultra-fine brushes to make it easy for you to create precise, stylish nail art designs. With no pre-designed stickers to limit your options, the Shany Nail Art Set is a great choice for anyone who wants to create completely unique designs, limited only by your imagination.
The 5 Top-Rated Nail Art Sets
*Ratings are from Amazon at the time of publication and can change
Our Top Pick: The Shany Nail Art Set
The Shany Nail Art Set is our clear winner, and with it, you get two dozen different shades in several finishes, including four pearl shades, four neon shades for when you need a bold look, 11 matte shades, and five glitter polishes. With a thin brush that's easy to use for creating intricate, detailed nail art designs, you can create an endless variety of patterns and designs with this set.
The polishes are fast-drying, so you don't need UV lamps or other special equipment to dry your completed nail designs. And, once they're dry, they'll last for a while, especially if you apply a top coat over your finished nail art creations. (Shany suggests using a base coat to ensure longer-lasting looks, as well.) The whole set costs less than $30, which is far less than you'd pay buying 24 different polishes individually, making it a smart buy if you create nail art designs often.
Shany Nail Art Set Key Features:
Set of 24 distinct shades
Top quality nail polish
Quick drying and durable design
No need to use specialized nail drying equipment
Comes with a thin nail brush for intricate detailing
Our Runner Up Pick: Emori Nail Art Set
Emori Nail Art Set
A nail polish set that delivers chip-resistant and long wearing nail lacquers in 50 shades.
The Emori Nail Art Set comes in second, and it contains 50 different shades of nail lacquer and three scented nail polish remover pads. Each bottle contains about 0.28 ounces of long-wearing, chip-resistant polish. The set includes a variety of colors and finishes, from glitter polish to neons, primary shades, and an endless array of variations on your favorite nail polish colors.
With three scented polish remover pads included, you can easily switch up your look or fix mistakes as you create beautiful nail art designs. The polish comes with thin brushes for easily creating lines, dots, and intricate details to complete any design. Plus, the bottles are small enough that you can easily carry a few with you in your purse, making it easy to touch up your nails anytime.
Emori Nail Art Set Key Features:
Set of 50 different colors
Thick nail lacquer
3 scented nail polish remover pads
Durable
Best Budget Pick: Joy July Nail Art Kit
Joy July Nail Art Kit
Budget-friendly option equipped with all basic nail art accessories to create wonderful nail art designs.
The Joy July Nail Art Kit takes the budget spot owing to how much you get with this reasonably priced nail art set. This set contains all the basic nail art equipment needed to create amazing designs, and the sellers offer a 100% guarantee in case you have any problems with the product. The tools are easy to use, and you can create an endless variety of designs on your own without a visit to the nail salon.
For the price, you get five dotting pens in different sizes that can be used to produce fantastic patterns, flowers, and dots. You also get a variety of brushes, including sector pen brushes, an elbow pen brush, a lace pen brush, and more, as well as 3D nail art rhinestones in 12 colors that can be used to decorate your nails. Lastly, you will get 30 pieces of foil striping tape – essentially, all the basic tools you need to perfect the nail art craft for one low price.
Joy July Nail Art Kit Key Features:
Includes most equipment needed to create nail art designs
Variety of brushes, pens, rhinestones, and more
DIY equipment
100% guarantee
Best Nail Art Powder: Holographic Chrome Nail Powder
Nail powders are a popular type of nail art, and the Holographic Chrome Nail Powder is undoubtedly a good choice. Offering a salon-grade, premium rainbow unicorn mirror-effect, it creates a classic, shimmery look with minimal skill required. You don't need to use much of it to get the look you're going for, so you can get up to 25 manicures from a single jar. With real silver, this holographic nail art powder will make your nails shine. You can play around with the base beneath the powder to achieve different holographic looks.
It's gentle on your nails and easy to apply, with instructions included for those who are new to nail art. It's backed by a lifetime warranty and satisfaction guarantee.
Holographic Chrome Nail Powder Key Features:
Produces a perfect holographic shine
Premium, salon-quality ingredients
Easy to DIY
100 % satisfaction guarantee
Best Nail Art Stickers: Makartt 3D Nail Art Stickers
Nail stickers are simple items you can use to decorate your nails, and the Makartt 3D Nail Art Stickers includes 50 sheets of cute flowers and other fun nail art designs. With a self-adhesive design, they're easy for beginners to use and instantly make your nails look like you've had a professional manicure. This collection includes black, white, and colored nail art stickers, so you can easily use them with any polish color.
Simply use tweezers to apply the stickers where you want them, and add a top coat to keep the stickers affixed to your nails for a longer-lasting look. These nail art stickers can be used with both natural and artificial nails.
Makartt 3D Nail Art Stickers Key Features:
Self-adhesive nail stickers
Contains 50 sheets of stickers in one set
Elegant and fashionable
Easy to use
Who Should Buy Nail Art
A beautiful manicure can instantly elevate any look, whether you're trying to make a great impression at a job interview or looking for fun nail designs to head to the beach or a night out on the town. Nail art is a popular way to go beyond the standard nail polish colors and create intricate, beautiful designs.
If you don't have time for a weekly trip to the nail salon, a nail art set provides the tools and supplies you need for do-it-yourself nails at home. Put your imagination to work to create simple patterns or detailed, breathtaking works of art on your nails, whether you're a nail art newbie or a seasoned pro. Nail art says a lot about your personality and having vibrant colors that match with your outfit or overall look will always make you stand out. Check out our reviews of the best lace wigs, the best hair extensions, and the best makeup kits to complete any look.
Shany Nail Art Set
Meet the famous Shany Nail Art Set, the best 24-piece nail art polish set you can buy for fabulous-looking nails.
Important Features to Consider
A proper nail art set should have some essentials. Here's what to consider when selecting a nail art set:
Colors. Nail designs are all about the colors and the tools, so if you're trying to create a particular design, you should have an idea of what colors you need before shopping. Some sets have dozens of polish colors and finishes, making these sets particularly useful for those who want to experiment with a variety of looks and designs.
Ease of use. While many nail art sets include tools designed for DIY use, some do require a bit more skill than others. Nail art stickers are typically easier to apply than hand-painted designs (especially if you're not good at using your non-dominant  hand), so keep usability and your skill level in mind while you shop. Some polishes require special drying equipment to harden the polish, as well.
Type. We've already mentioned the various types of nail art sets, including polish sets, nail art tool sets, stickers, and other options such as powders. Depending on the look you want to achieve, you might need more than one set (such as a polish set and a tool set, or a polish set and nail art stickers).
Quality. Nail art can be time-consuming to create, so quality should be a top concern when you're shopping for a nail art set. You don't want polish that's going to chip off after a day or two (who has time to recreate nail art designs every day?), so look for long-lasting, chip-resistant polish and quality brushes to create a look that lasts.
Frequently Asked Questions
What is the purpose of nail art?
Nail art decorates and enhances the look of the nails – just as hair dye can do for your hair. It can be done on both fingernails and toenails, with an endless variety of looks from bold and fun to subtle and sophisticated.
What are the different types of nail art?
Nail art can consist of carefully applied polish designed to create a patterned look or intricate details that create an entire scene (such as a winter snowflake scene or a summer beach scene) on a nail. Because not everyone is skilled with painting beautiful works of art with nail polish, there are tons of other nail art tools that aim to make it easier, such as nail art stickers, nail art powders for creating glittery, shimmery, or holographic finishes, and nail art tool sets with tools like various brushes, striping tape, and dot pens that make it easier to create the precise look you're going for. Nail stamping is another type of nail art that's growing in popularity, making it easier to apply intricate designs without mastering the precise use of a nail art brush or pen.
What things are required for nail art?
This all depends on the specific type of nail art you're creating. Nail polishes require brushes for application, and others require a base coat to be applied first for a smooth, lasting finish. Powders also need a special liquid to help them stick, although in some cases, they can be applied over freshly applied polish. Stickers are easy to use and do not require any special tools (other than perhaps a set of tweezers) since they are self-adhesive. All you have to do to use nail art stickers is prepare and clean the nail before applying them, which is something you should do regardless of the type of nail art you're using.
What are nail art brushes used for?
Nail art brushes are used to apply polish, and they vary depending on how they are used. The difference mainly lies in how they apply polish and how you can use them to paint specific designs. The right brushes can make or break your nail art design, so knowing what different sizes and types of brushes you'll need to create a certain look is a must. Larger brushes are faster for applying polish to a larger area, but to draw detailed designs, you'll need brushes with ultra-fine tips.
Other Nail Art Products We Reviewed
Shany Nail Art Set
Meet the famous Shany Nail Art Set, the best 24-piece nail art polish set you can buy for fabulous-looking nails.
We looked at 20 other nail art products. Even though they didn't make our five best nail art sets list, they're the best of the rest, and each is still a great option for creating beautiful nail art designs. The information you'll need to compare each one is included with the listing.
Nail Art Polishes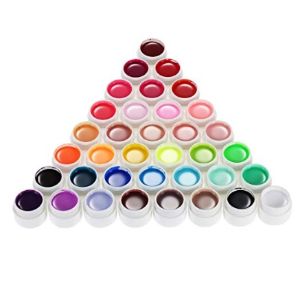 This is a set of 36 colors, ideal for creating a variety of nail art designs. The gel is smooth and easy to apply, non-toxic, and safe for the environment.
Key Features:
Should be cured using a UV lamp
Portable and lightweight
Top quality nail art gel
Cost: $24
Born Pretty Nail Art Stamping Polish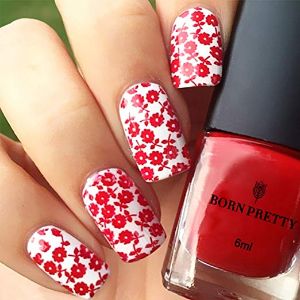 This set contains 25 different colors to come up with your best designs. The polish is long lasting when applied correctly.
Key Features:
25 colors
Long lasting
High gloss finish
Cost: $39
This set contains six colors in 6 ml bottles. They come with slim and sharp brushes that allow you to decorate your nails without the help of a professional. Note that the gel takes longer to dry and must be cured under a UV or LED lamp.
Key Features:
A set of 6 different colors
Slim, sharp brushes for perfect designs
Easy to DIY
Nail Art Powders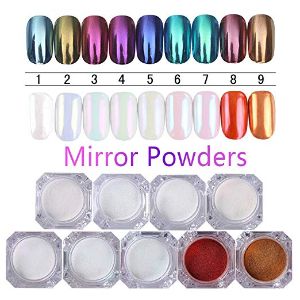 This nail powder set is capable of producing multiple effects depending on the base you apply it over. It's used with a UV top coat and UV lamp but lasts longer than typical nail glitter.
Key Features:
9 vivid colors
Multiple effects depending on base
About 1 gram of powder in each color
Cost: $14
This nail powder produces a pearlescent gloss that will create a sophisticated look. You will need UV gel polish and a UV lamp.
Key Features:
Countless combinations
Pearlescent gloss
No wipe top coat
Cost: $13
This set of 24 nail art glitter powders will give your nails a shimmery, sparkling finish.
Key Features:
24 colors
Jumbo size containers
Random colors with each order
Nail Art Stickers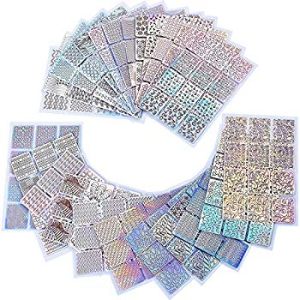 This set of 24 nail sticker sheets contains 288 individual nail stickers in 96 designs.
Key Features:
Easy to use
Works well with nail polish and acrylic nails
96 different designs
Cost: $9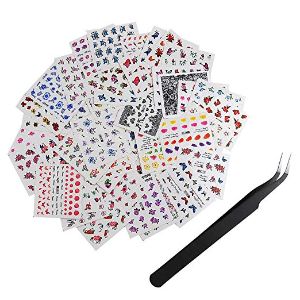 This collection of 50 nail art tattoos comes in various designs and sizes, and they can be applied in as little as 20 seconds per nail.
Key Features:
Easy to use
Long-lasting
Variety of designs
Cost: $8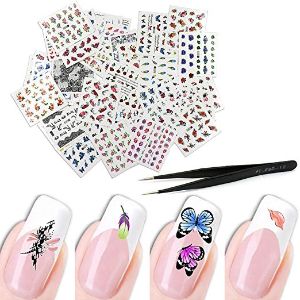 This set contains 50 sheets of assorted nail art stickers that are easy to apply and ideal for personal or professional use.
Key Features:
Easy to apply
Works with polish, UV gel, acrylics, and more
50 sheets with mixed designs
Cost: $6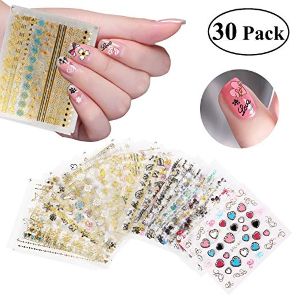 This is a set of 30 nail stickers in 18 different designs with a 3D look. Sized to fit most nails but easy to trim, they can be trimmed to fit in-between sizes if needed.
Key Features:
Peel and stick to apply
18 colorful designs
3D look
Nail Art Pens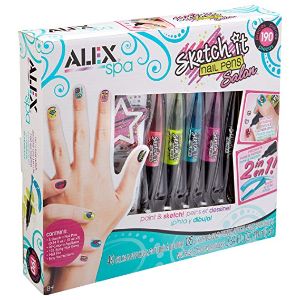 This 190-piece kit has everything you need to hone and show off your nail design skills.
Key Features:
190 piece kit
5 colors of 2 tip nail pens
5 nail pens, 135 nail gems & 49 appliques
Cost: $12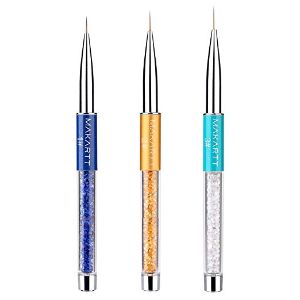 The package contains three nail liner pens in three sizes: 7mm, 9mm, and 11mm so you can easily draw fine lines on nails.
Key Features:
Easy to handle
Durable alloy, diamond, and acrylic material
Thin brush hair for precise drawing
Cost: $13
This set of nail art pens contains 16 colors for ease of use and unlimited creative expression.
Key Features:
16 colors
Durable, stretchy pen point
Easy to use
Cost: $22
These fine-tipped pens give you the ability to create professional nail art designs on your own.
Key Features:
Fine tip control
16 colors
Long-lasting and easy to wipe
Nail Art Stamping Kits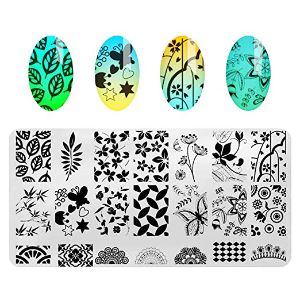 This set includes five nail stamping plates, two stampers, two scrapers, and one liquid latex tape (15ml). The stamping plates are made of durable stainless steel for repeated use.
Key Features:
Contains everything needed for nail stamping
Variety of patterns to choose from
Liquid latex tape keeps your cuticles polish-free
Cost: $10
The stamping kit contains five different plates, a stamper, and a scraper. With a variety of randomly-included designs, you'll get plenty of options to create a variety of looks.
Key Features:
Stainless steel nail art plates
Clear jelly silicone stamper
Comes with a storage bag & plate holder
Cost: $15
Born Pretty Nail Art Stamping Kit
These high-quality nail stamping plates are made using stainless steel, meaning they're durable enough that you can use them again and again. With deep and precise carving, they create an enhanced stamping effect compared to other stamping plates.
Key Features:
Stainless steel plates for durability
Deep, precise carving for higher-quality stamping effect
Includes a jelly stamper
Cost: $12
This set includes three double-sided stamping plates and a clear nail stamper and nail scraper for easy nail stamping.
Key Features:
Variety of nail templates
Clear stamper for accurate stamping
Designs fit most nail sizes
Cost: $12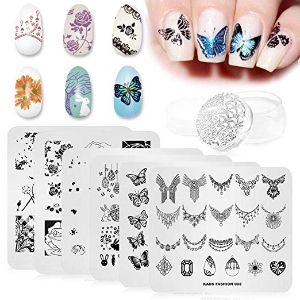 This is a set of six nail stamping plates in designs such as butterflies, flowers, and more. It's suitable for both beginners and pros.
Key Features:
Includes 6 stamping plates
Deep, precise carving for better stamping effects
Made of durable stainless steel
Cost: $13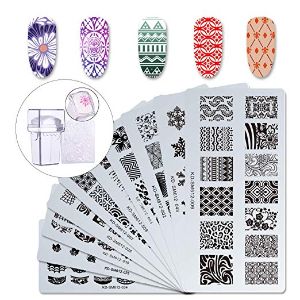 This nail art stamping template is made of reusable plastic and includes 10 plates, a stamper, and a scraper for convenient use at home or at the salon.
Key Features:
Easy to use
Best used with stamping polish
Clear silicone stamper for precise stamp placement
Cost: $13