"If you think there's no such thing as a magic wand, you've clearly never used mascara." This quote from writer and editor Payal Puri perfectly encapsulates the wondrous properties mascara offers. Mascara is a staple item in any person's makeup kit for good reason. On one hand, beauty aficionados love mascara for its ability to make their eyes look even more dramatic. On the other hand, those who prefer a more minimalist makeup look appreciate mascara's ability to instantly make their eyes pop even without any other makeup.
Whichever camp you fall into—or if you dabble in both—you're sure to agree that mascara is one beauty item that is well worth using. Well, that is, if you can find one that's well-formulated and comes with a high-quality brush. All mascara users know the frustration of using a mascara that doesn't do what it promises to do or worse; one that smudges!
You can ensure that you're always sporting lusciously long, curled, voluminous, and brilliant lashes each and every time by choosing a top-rated mascara. To save you the trouble of doing the research yourself, we reviewed dozens of mascaras on the market to find the best of the best. We looked at factors such as ease of application, the mascara's features, the quality of the wand and formula, and Amazon reviews.
From our analysis, it's clear that Vivienne Sabó Classic French Mascara Cabaret Premiere is the best mascara on the market. It not only defines and volumizes your lashes, it's also cruelty-free to boot! If you're ready to transform your eyelashes, read our reviews of the top 25 mascaras money can buy. Who knows, once you find your go-to mascara, you may no longer find a need for wearing fake eyelashes on the regular!
The 5 Top-Rated Best Mascaras
*Ratings are from Amazon at the time of publication and can change
Best Mascara Overall: Vivienne Sabó Classic French Mascara Cabaret Premier
There is no shortage of reasons why Vivienne Sabó Classic French Mascara Cabaret Premiere is our very top choice of mascaras. Encased in a gorgeous gold tube, this mascara does precisely what it promises to; provide gorgeous, voluminous, clump-free eyelashes in just one coat. The formula is lightweight, smudge-proof, and long-lasting, so it ticks a number of "must-haves" for mascaras. What's more, it's also cruelty-free, so you don't need to feel an ounce of guilt about using it.
While Vivienne Sabó may not be a household name, the brand has had no trouble quickly amassing fans thanks to the superior performance of its products, such as this mascara. More than 80% of the 5000 customers who left a review on Amazon about it gave a 4 or 5-star rating, with the product boasting an average of 4.3. Customers have been particularly blown away by its non-clumping properties, how long-lasting it is (one customer said it lasted a full 10 hours!), and how easy it is to use.
Vivienne Sabó Classic French Mascara Cabaret Premiere Key Features:
Clump-free
Lightweight
Cruelty-free
Best Volumizing Mascara: theBalm Mad Lash Full Size Duo Voluminous Mascara
If there's one thing that's clear after reviewing theBalm Mad Lash Full Size Duo Voluminous Mascara, it's that it volumizes lashes like no other. It's all thanks to its slightly curved brush and powerful volumizing formula. If you'd like to see proof of just how effective this mascara is, just take a look at the photos customers have shared in their own reviews. You'll see that this mascara gives anyone who uses it full, pronounced, and eye-catching lashes.
Customers have raved that it performs just as—if not better—than high-end brands. We can see why given that it glides along your lashes smoothly and lasts a full day without clumping. The brush is slightly curved, so it's able to give the curl you so desire. We also can't help but be taken with its cute retro packaging.
theBalm Mad Lash Full Size Duo Voluminous Mascara Key Features:
Rich black shade
Easy to layer
Curved brush
Best Budget Mascara: essence cosmetics Lash Princess False Lash Waterproof Mascara
As you'll be well aware, high-quality mascaras from big-name beauty brands can easily put a dent in your wallet. They're usually priced around the $25-35 range, making them quite the luxury beauty purchase. The thing is, there are mascaras like essence cosmetics Lash Princess False Lash Waterproof Mascara which can be bought at just a fraction of the cost that will give you practically the same results.
essence cosmetics' mascara caught our eye out of all the budget mascaras on the market because it's absolutely jam-packed with benefits. At only $4.99, we wouldn't blame you for thinking it wouldn't offer many. But this volumizing mascara is not only waterproof and long-lasting, but it's also non-clumping and certified cruelty-free by PETA. The conic shape fiber brush is particularly hard-working, as it effectively sculpts individual lashes to offer defined lashes that put falsies to shame.
essence cosmetics Lash Princess False Lash Waterproof Mascara Key Features:
Non-clumping
Certified cruelty-free by PETA
Long-lasting
Best Waterproof Mascara:
Beauty aficionados know that brand names don't have a monopoly on excellent beauty products. Case in point: Tetyana Naturals 4D Silk Fiber Eyelash Mascara. This mascara has a cult following thanks to its advanced thickening formula and non-irritating, non-toxic ingredients, among other benefits. In the words of Tetyana Naturals, this mascara allows you to "Say goodbye to spidery, flaky, and unnatural looking lashes, and say hello to dark, rich, and stunning lashes."
You'll find plenty of five-star reviews that assert that it's truly unlike most other waterproof mascaras out there. The common feedback customers have left about Tetyana Naturals 4D Silk Fiber Eyelash Mascara is that it's genuinely long-lasting and won't budge a bit—even under the most strenuous of circumstances.
Tetyana Naturals 4D Silk Fiber Eyelash Mascara Key Features:
Natural and non-toxic
Advanced thickening formula
Volume-boosting
Best Lengthening Mascara: Al'iver Twinkle Starlight Long Curl Mascara
It's easy to be completely dazzled by Al'iver Twinkle Starlight Long Curl Mascara's beautiful packaging without looking further into why its one of the top mascaras money can buy. We'll admit that the packaging is without a doubt very attractive, but it's probably the least spectacular thing about this sensational lengthening mascara!
For starters, it's advanced clump-free, lengthening formula will give you the fan-like lashes you've always dreamed of. The formula also won't dry out your lashes, despite being waterproof. It's likely due to the fact that the formula is made with gentle, hypoallergenic ingredients. In fact, it's so gentle that contact lens wearers and those with sensitive eyes won't experience any difficulties using it.
Al'iver Twinkle Starlight Long Curl Mascara Key Features:
Gentle ingredients
Gorgeous packaging
Easy to remove
Who Should Buy Mascara
If you want your eyes to pop, then mascara is an easy way to make that happen. You can use different types of mascara for a subtle and natural look, or for a bombshell, night out style. Mascara is a versatile type of makeup that will let you go from day to night by applying. Just mascara alone, with no other makeup, goes a long way for a lot of people towards making you look more alert and awake and better put together. If you add it after you apply your full face of makeup, it's the finishing touch that makes your eyes pop.
If you struggle with a depleted eyelash scenario, mascara can amplify what you already have. In fact, even those who regularly opt for a more dramatic look will appreciate the defining effect that mascara will perform even on false lashes. And for down days without the false lashes, mascara is a happy and easy middle ground.
Important Features to Consider
The formula itself: A mascara's formula will determine what type of benefits it can offer your lashes. While some are formulated to hone in on one or two benefits in particular (e.g. volumizing and lengthening), others offer a multitude of benefits to the wearer. Ultimately, the nature of the formula will depend on its ingredients and consistency. To select a formula you're happy with, pay attention to the product description to see what you can expect from each one.
The wand: Many people think that the formula is the most important part of mascara, but the wand it comes with is equally important. In fact, they rely on one another to work their magic (you can think of the formula as the fuel and the wand as the vehicle). There are a variety of mascara wands on the market that you can choose between. In addition to the classic wand, there's the curved cone, tapered cone, micro wand, and precision tip—to name but a handful! Each type works with the formula to help you achieve a certain effect with your lashes, so be sure to carefully pick the right wand for your needs.
Waterproof properties: Whether you choose a waterproof or non-waterproof (regular) mascara is one of the most important decisions you can make when purchasing mascara. Waterproof mascaras are designed to stay perfectly in place without smudging even after contact with water, tears, or sweat. On the downside, it's far harder to remove than regular mascara and will require an eye makeup remover that's formulated to tackle waterproof makeup. If you don't need waterproof properties in your mascara, just opt for a regular mascara.
Color: Another feature to keep in mind is the color of the mascara. Different colors are suitable for different hair colors, skin tones, and makeup looks. To discover which one is right for you, check out the final question and answer in our FAQ below.
Frequently Asked Questions
What does a mascara do?
Mascara is designed to help lengthen, volumize, and/or darken your eyelashes so that your eyes can "pop". While each mascara's formula offers different attributes, these three are the most common. Mascara has many uses, which is why it's long been one of the most popular makeup items for amateur and professional makeup fans alike. It can be used to make your eyes appear more pronounced, complement other elements in a full face of makeup, add a touch of glamor to a bare face or natural makeup look, and give definition to lighter colored eyelashes. The possibilities are endless, making it a truly versatile makeup tool.
Is it okay to wear mascara every day?
For most people, wearing mascara every day won't cause any substantial problems. That being said, it's important to be mindful of what issues daily use may potentially cause and how to minimize the risk of them. Whether or not daily use may cause issues to your eyes or eyelashes will depend on a number of factors ranging from your eyes' oil glands and your skincare, to your application techniques and the mascara you use.
Fortunately, there are some expert tips you can follow to help protect the health of your eyes and eyelashes. For example, always make sure that you spend the time to properly apply and take off your mascara. You should also only use a high-quality mascara that doesn't irritate your eyes (if you experience an adverse reaction to your mascara, stop using it immediately). To avoid bacteria building up, never share your mascara or use someone else's. Finally, get into the habit of replacing your mascara regularly—many experts recommend every two months.
How do you apply mascara?
Applying mascara correctly takes a bit of practice, but you'll quickly pick it up after a few goes. While beauty experts all have their own special insider tricks, here's a straightforward 3-step rundown of the most important steps:
First, remove the mascara wand from the tube, making sure to twist the wand out rather than pumping it up and down.
Next, remove any excess mascara formula on the wand's brush. You can either remove it using a makeup pad or the rim of the tube.
Finally, take the wand to the base/root of your lashes and pull upwards using a very slight wriggling motion.
What color mascara is best for me? While the most popular mascara color is without a doubt black, there are also a variety of other colors available. Black is the most universally suitable, as it looks great on people with all different eye colors, skin tones, and eye makeup looks. It is particularly recommended if you have darker hair color or darker skin tone, as other mascara colors may wash you out.
While black mascara is a safe choice that's hard to go wrong with, you may wish to give serious consideration to the second-most popular color: brown. Unlike black mascara, which tends to provide a more dramatic look, brown is known for giving a more natural one. If you want your eyes to be defined but don't want to draw too much attention to them, brown mascara is the way to go. It's also said to be most suitable for those with lighter skin color and lighter colored hair, such as blondes or lighter colored brunettes. The reason is that brown most naturally compliments the tones in your fairer skin and hair color.
Then there are other more playful mascara colors, such as blue and green. These mascaras are great for enhancing your eye color. Here are a few tips:
If you have green eyes, blue will make them particularly pop.
If you have blue eyes, try green or another color. But be sure to stay away from blue! Blue mascara next to baby blues will just drown the color out of your eyes.
If you have brown eyes, you're in luck; the (mascara) world is your oyster. Any color will look incredible against your brown eyes.
And let's not forget about clear mascara! This color-free mascara offers you all the benefits of mascara without any added color. It's best for when you simply want to better define your lashes in a more subdued way.
Other Mascaras We Reviewed
We also found 20 other high-quality mascaras that are worth trying out. Even though these didn't make our top 5 mascaras list, they're the best of the rest, and each is still a worthwhile option. The information you'll need to compare each one is included with the listing.
Volumizing Mascaras
Doucce Punk Volumizer Mascara's greatest drawcard is its unique combination of long and short fiber bristles on its brush that will at once separate, lift, and evenly coat your lashes.
Key Features:
Combination of long and short bristles
Non-flake formula
Provides a full-lash look
Cost: $16
Delivering 3x the volume in a single stroke, this deep black volumizing mascara features a vitamin-infused formula and an hourglass-shaped brush with dense molded bristles.
Key Features:
Ultra black color
Patent leather pigments
Vitamin-infused
Cost: $22
NYX Professional Makeup On The Rise Volume Liftscara Mascara
Searching for a budget buy that doesn't cut corners? NYX's mascara promises research-backed benefits. A clinical study found that 95% of participants saw instant volume and 94% saw instant lift after applying it.
Key Features:
Creates instant volume
Cruelty-free
Matte black
Cost: $6
Maybelline Great Lash Washable Mascara
No roundup of the best mascaras is complete without mentioning the most well-known mascara in the world: Maybelline Great Lash Washable Mascara. But why is it so famous? The hypoallergenic formula gives a professional-looking full-lash look in just one application, although you can choose to add more layers for even more intensity.
Key Features:
Hypoallergenic formula
Lash-building brush
Intense black color
Cost: $5
L'Oreal Paris Makeup Voluminous Extra Volume Collagen Plumping Mascara
This L'Oreal mascara boasts a 4.3 out of 5-star rating from over 1000 customers. Based on their glowing reviews, they're head over heels with its lash-plumping, collagen-infused technology that promises to deliver thicker lashes with up to 12x the impact. We don't blame them; so are we!
Key Features:
Hydra-Collagen Complex Formula
High volume
Thickening
Cost: $9
Waterproof Mascaras
JDO Mascara Waterproof Black Mascara
How does a waterproof, volumizing, and smudge-proof mascara that's made with hypoallergenic, all-natural ingredients sound? This one from JDO offers all of these features and more.
Key Features:
Non-clumping formula
Hypoallergenic
All-natural ingredients
Cost: $9
L'Oreal Paris Makeup Voluminous Original Volume Building Waterproof Mascara
Whether you choose the "Black," "Black Brown," or "Carbon Black" shade, you'll be impressed that this ophthalmologist-tested and allergy-tested waterproof mascara will help your lashes appear 4x their natural thickness.
Key Features:
Choice of 3 shades of black
Formula includes hydrating D-Panthenol and Ceramide-R
Ophthalmologist-tested and allergy-tested
Cost: $7
Glossiva 4D Silk Fiber Lash Mascara with Brush
There are many reasons you'll want to share this discovery with your equally makeup-addicted friends. Its waterproof formula will bestow you with thicker, more voluminous eyelashes, all from the convenience of a super adorable tube.
Key Features:
Lengthening
Won't flake
Easy to remove
Cost: $18
Lancome Hypnose Waterproof Black Mascara
If you're after a brand name mascara that's actually worth the cost, we strongly recommend Lancome Hypnose Waterproof Black Mascara. With its masterful Convex oversized brush and high-quality formula, it promises to last a full 24 hours and increase your lash volume up to 6 times.
Key Features:
24-hour hold
Fragrance-free
Convex oversized brush
Cost: $27
Maybelline Lash Sensational Waterproof Mascara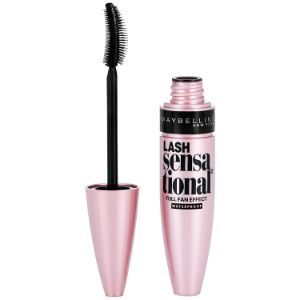 Rated 4.4 out of 5 stars from more than 9000 customers, this waterproof mascara from Maybelline is one to watch. With a choice of either "Brownish Black" or "Very Black" shades of black, this mascara's fanning brush is designed to capture every eyelash to give you ultra-glamorous lashes.
Key Features:
2 shades of black to choose from
Fanning brush
Very high rating on Amazon
Organic Mascaras
Organic Mascara by Endlessly Beautiful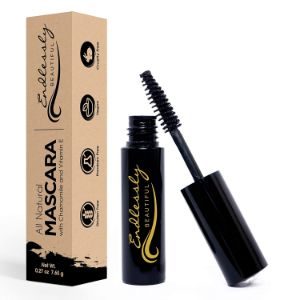 If you're conscious of only using a mascara with top-notch, ethical ingredients, you'll love this organic lengthening mascara by Endlessly Beautiful. It's completely vegan, gluten-free, paraben-free, and cruelty-free.
Key Features:
Vegan
100% cruelty-free
Paraben-free
Cost: $22
BaeBlu Organic Mascara and Lash Conditioner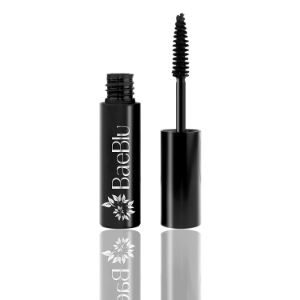 This USA-made organic mascara boasts a non-irritating, 100% natural formula that is perfect for those with sensitive eyes.
Key Features:
100% natural formula
Non-GMO ingredients
Paraben-free
Cost: $21
Verita Non-Toxic All Organic Mascara
Are you after a reliable organic and hypoallergenic mascara that gives you thicker, longer lashes? This waterproof mascara from Verita won't let you down.
Key Features:
Non-toxic
Non-irritating
Waterproof
Cost: $10
Physicians Formula Organic Wear 100% Natural Origin Mascara
Physicians Formula is a brand revered for its high-quality allergist and dermatologist recommended makeup products. This lash intensifying mascara shows why they've earned such a reputation, with its unique blend of natural ingredients that nourish and protect your lashes from harsh environmental aggressors.
Key Features:
For sensitive skin
Made with nourishing ingredients
Allergist and dermatologist recommended
Cost: $10
Avril Cosmetics Certfied Organic Mascara
According to ECOCERT certification, 98.80% of the ingredients in this long-lasting mascara are of natural origin, while 19.9% are derived from organic farming. This makes Avril's offering a top choice if you're an eco-conscious consumer who also wants their eyes to look stunning.
Key Features:
ECOCERT certified
Intense black color
Nearly 20% of ingredients from organic farming
Cost: $12
The natural ingredients in this wonder wand will help to strengthen and lengthen your lashes. You can expect all-day coverage from its non-toxic formula too, so it's got no shortage of draw cards.
Key Features:
Non-toxic ingredients
Hypoallergenic
Clump-free
Cost: $22
Clear Mascaras
Golden Rose Perfect Lashes Multi-vitamin Transparent Mascara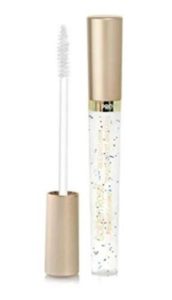 The first thing you'll notice about this clear mascara are the pretty little balls dispersed throughout the formula. They aren't just for aesthetics; these balls are actually filled with vitamin A, E, and Provitamin B5 to nourish and protect your lashes.
Key Features:
Quick-drying
Packed with vitamins
Smudge-free
Cost: $9
Zuzu Luxe Clear Mascara is a thoughtfully-made vegan offering that's formulated to curl and lengthen your lashes without clumping or smudging.
Key Features:
Vegan
Vitamin-enriched
Cruelty-free
Cost: $18
CoverGirl Professional Natural Clear Lash Mascara
This mascara shows why CoverGirl has always been a go-to for makeup lovers. The formula works to provide you with a natural makeup look by simultaneously expanding and increasing the appearance of your lashes.
Key Features:
0.34 oz
Easy to use
Provides an eye-opening effect
Cost: $15
Maybelline Great Lash Clear Washable Mascara
If you're surprised to see the beloved Great Lash mascara also comes in a clear formula, you're not the only one. We're certainly not complaining about this exciting discovery, as its gel formula delivers a gorgeous understated look to your lashes each and every time.
Key Features:
Gel formula
Can apply multiple coats
Easy to remove
Cost: $5