You may love long and silky hair but there are so few of us who actually have the patience to let it grow. Or to work with it until we have the texture we want. In fact, you may never be able to get your hair just how you like it. (As is the curse of "the grass is always greener.") And short of just putting on a wig (which can be fun, but difficult to make convincing), there are only so many options you have in that case. One of those solutions, which may offer you an "easy button" for your hair is hair extensions.
We reviewed dozens of hair extensions to identify the best of the best. We looked for hair extensions you can snap into place and take off at the end of the day and those you can sew into your hair for a more long-term solution. Whatever you want to accomplish with your hair extensions, we've found the right ones for you.
REECHO Clip in Hair Extensions
If you're looking to give hair extensions a try, the REECHO Clip in Hair Extensions is the absolute best place to start.
While researching hair extensions, we found the REECHO Clip in Hair Extensions and it was the clear winner. It will come as a simple strip that will clip into your hair with complete ease. This is a perfect hair extension for occasional use to give your hair a bit of variety and some extra thickness.
The 5 Top-Rated Hair Extensions
*Ratings are from Amazon at the time of publication and can change
Our Top Pick: REECHO Clip in Hair Extensions
The REECHO Clip in Hair Extensions are a perfect addition to your hair to give yourself the length you just don't have the patience to let happen naturally. With as many color choices they have, you'll be able to easily match your color to a T and you may even opt to try out a fun, and subtle color change.
This hairpiece comes secured on clips that add volume both in the additional hair but also in the curl that they already have styled in. Because it's synthetic hair, it will build up static, and to mitigate that, you'll need to spray some watered down conditioner on it after use. The synthetic hair fibers can withstand heat, ideally, from 220-275 degrees F, and anything over 330 is not recommended. But the real selling point for synthetic hair is the cost. If you want extensions for just occasional use, then it won't wear too quickly and if you aren't sure you'll like them, this synthetic extension piece will let you try it without a huge investment.
With an impressive number of customer reviews on Amazon, you can trust that the 4.2 star rating is legit. After all, over 4,300 people came back to Amazon to review their product. And for just starting out, the $10 price tag isn't too shabby, either.
REECHO Clip in Hair Extensions Key Features:
Wash with mild shampoo and conditioner
4 length choices
26 color options
Our Runner Up Pick: QTHAIR Human Hair Extensions Bundles
The QTHAIR Human Hair Extensions Bundles are an excellent choice for a long-term extension set. They're made with 100% unprocessed, virgin Brazilian hair and that means you can treat the hair just as you would your own. It can handle the heat of hair styling tools and the chemicals of hair dyes just as well as yours. With as much as you can do with this hair, it's a good thing they're made with such high quality, because you'll want to keep these for years – and you'll definitely be able to do so.
You can customize each of your three bundles to one of 4 different lengths, giving you an impressive 71 options for your bundle. That means you'll be able to have the layer you want or variety for your summer and winter hair cuts and styles. Or you can get all three the same length and stick with a natural and thick appearance while wearing them.
There are well over 800 customer reviews on Amazon for these hair extensions and they've awarded them an overall rating of 4.5 stars. In fact, 90% of all customer reviews and ratings on these extensions were positive. You can expect to be another one of their satisfied customers should you pick these up.
QTHAIR Human Hair Extensions Bundles Key Features:
71 sizes available
3 color choices
Double weft on each bundle
Best Budget Pick: OneDor  Curly 3/4 Full Head Synthetic Hair Extensions
The OneDor 20″ Curly 3/4 Full Head Synthetic Hair Extensions offer a fun variety you'll love to try out on your hair. This listing offers several colors, and some of those will give you an ombre coloring that will allow you to add just the hint of color into your hair without using any harsh chemicals or doing anything permanent to your hair.
Just like our top pick, this hair piece is made of a synthetic hair fiber. It has a nine-inch width, making it plenty wide enough to spread from one side of your head to the other and cover your entire hair. It has a curl already done into the hair but you can expect that to weigh down while you're wearing it and soon those curls will transform into stylish and fun beachy waves.
With nearly a thousand reviews on Amazon, and an overall rating of 4.0 stars, you can reasonably expect to be satisfied with this hair extension. And even though those numbers make it a tempting purchase, what really seals the deal is that you can get it for under $10.
OneDor Curly 3/4 Full Head Synthetic Hair Extensions Key Features:
Ombre colors available
20″ length
11 color choices
Best Human Hair Extensions: Googoo Hair Extensions Clip Ins
Googoo Hair Extensions Clip Ins
For a set of hair extensions that are just as real and human as your own, take a good look at the Googoo Hair Extensions Clip Ins.
The Googoo Hair Extensions Clip Ins will give you thick and voluminous hair that you're sure to love. And not only that, but you'll have highlight, ombre and bayalage options, as well. They come in seven pieces to make sure you can add your extensions in layers all over your head. You'll get one long, eight-inch piece, two six-inch pieces, two four-inch wide pieces, and two more two-inch wide pieces. Clips spread throughout the wefts, so they'll offer 16 clips to secure the extensions to your head quite thoroughly.
There are five sizes you can chose from with these extensions, and because they're human hair, you can cut or style them as you see fit. So picking a longer style doesn't necessarily mean you're stuck with long hair. In fact, several people will purchase hair a bit longer than their natural hair on purpose with the intent to cut and style their hair with the extensions in, making it all the more realistic and natural looking.
With just under 200 customer reviews on these extensions and an overall rating of 4.6 stars, you can be comfortable in your investment with this purchase. And at right around $70, that investment isn't too hard to swallow.
Googoo Hair Extensions Clip Ins Key Features:
100% real human hair
7 pieces, 16 total clips
6 colors available
Best Clip In Hair Extensions: My-lady Human Hair Clip in Extensions
The My-lady Human Hair Clip in Extensions uses real human hair that have their natural hair ends, which means they haven't been cut straight across and the measurement is listed as approximately two centimeters less than actuality in order to compensate for this fact. This hair comes in eight pieces and eighteen clips which means you won't have any problems getting them added into your hair securely and just how you like. In fact, the manufacturer suggests you'll be able to do it in under five minutes.
You can straighten, curl, or dye this hair without any problems, but most of the color options will include a natural-looking highlight already dyed into the hair. Each piece is double wefted, and in this case, the two wefts are constructed separately and then sewn together to give it a thicker appearance in your hair. This may be real human hair, but the manufacture still recommends no temperatures higher than 365 degrees F. But considering the extensions are made of a smooth and amenable hair, you probably wouldn't need any higher than that, anyway.
With over 800 customer reviews on Amazon and an overall rating of 4.1 stars, you can be sure that you're not buying a dud with these extensions. The reviews are full of satisfied customer photographs that show them using these for everything from a casual boost to their hair or to their very special occasions and if it's good enough for a wedding day, it's good enough for us!
My-lady Human Hair Clip in Extensions Key Features:
8 size options
Double weft
18 color choices
Who Should Buy Hair Extensions
Whether you need hair extensions or just want them, there are plenty of reasons to take a serious look at purchasing a set. Extensions will open hair styling doors that you may have never considered before. With the properly sewn in hair pieces, someone with short, curly hair can easily wear her hair long and straight. (And make no mistake if you buy hair it is yours; so never feel guilty saying "yes" when someone asks "Is that really your hair?") You can add in a bit of exciting color on your adventures, matching the mermaid theme party with turquoise highlights, or hide your hair behind the extensions and sew in a brilliant color that you could never get with your own hair.
Thinning hair is hard to reconcile with even a minor case of vanity. There are so many causes of thinning hair that it's virtually impossible to predict with any kind of certainty whether you'll deal with it in your life. Unfortunately, though, the safe bet is that you'll see some thinning as you age – with varying degrees of severity. You may not want the strain on your hair that can come with longer sewn or glued-in extensions, but clip in extensions won't strain your hair much at all and can add a great deal of the volume you're missing, making them a huge help for thinning hair.
Perhaps the original intent of extensions (and the reason behind the name) is to extend the length of your hair. You can find a set of extensions that are the same color and texture as that which you grow yourself, add them into your hair and make your hair appear longer. This will allow for countless hair style options and it doesn't require the patience of enduring the "in-between" stages while you're growing your hair out.
REECHO Clip in Hair Extensions
If you're looking to give hair extensions a try, the REECHO Clip in Hair Extensions is the absolute best place to start.
Important Features to Consider
Hair extensions should have a few important features. Here's what to consider when selecting hair extensions:
Clip in vs. taped in. For the occasional and repeated use, clip in extensions can be just what the [hair] doctor ordered. Once you clip them in, you can cut them to length (or have a professional do it for best results.) We quite like the idea of matching your hair to your mood and clip in extensions can be the way to do that. Taped in extensions are a bit more durable, meaning you'll probably be able to pull on them a bit without them giving, but as with any sticky surface, they don't excel at re-use. The tape will give a strong enough bond that you'll be able to keep them in your hair much longer than clip ins, though. Clip ins you'll put in and take out freely, no muss, no fuss. You won't shower with them in and you'll very likely not even sleep with them in. Tape ins you'll leave in for a few weeks, treating them just a bit more gently than you would your own hair. You can replace the tape to make sure you're not using them one time before they become useless, but they may never be as solid as that first installation.
Bundles and weaves. For longer term extensions, having your extensions sewn or weaved in can go a long way towards doing that. They'll last longer, but you'll have to watch the "roots" as your hair grows. Your extensions may be sewn in among your flat hair along the root, but often they will be sewn into hair that is braided and secured flush to your scalp. A mesh cap can be added, sewn into those braids and the extensions sewn onto that in order to make the weave stronger and less damaging to your hair. (Don't forget to check for online DIY tutorials before you go into your purchase blindly.) The alternative to sewing in the extensions is to use protein-bonded extensions. These are, essentially hair pieces that are secured to the root of your hair using a keratin or protein-based adhesive (glue). This will last longer and require no braiding to your scalp. Either option will prolong how much time passes before you can notice your own roots beneath the hair pieces. If your hair doesn't grow quickly, or you don't mind touch up work, then these longer term wears may be perfect for you.
Hair closures. A closure is a "cap" of sorts that will act to blend your extensions into your hair and make it a bit more discrete. This is perfect for those who can't necessarily use their hair to cover and blend on top of the extensions. You may need the closure if you are choosing an entirely different color or texture of hair or if you have thin hair. The hair closures will occasionally come with your extensions, most often with the hair bundled extensions, but you will need to purchase separately for the vast majority of extensions. You can either glue, tape or sew the closure into your hair to keep it secure; it all depends on how long-term you want your extensions. Bear in mind, though, that removing a closure can be hard on your hair and it is more likely to give a wig appearance than just extensions.
Double or single weft. Weft is a term to denote the cross bands on a weave that the thread (or hair in this case) will be woven through. With hair, just as with thread, the more wefting the thicker the overall end result. So a double weft will allow you to use fewer pieces to achieve a thicker appearance in your extensions. However, if you have thinner hair, this won't perform miracles and, if you aren't careful in application, it may leave the extensions looking out of place and obvious. In that case, more single weft extensions may be needed for the more convincing look.
Obmre and balayage. If you plan on keeping your extensions long term (whether it's in your hair or just frequently applying them), you may want to consider picking your fun colors in a Balayage or Ombre. Ombre is a blend from your natural roots color to your fun, more extreme color and a baylage will add in natural highlights just slightly away from your roots. Considering your roots will always match the top of your extensions, you won't need to replace the extensions as often and with an ombre, you'll still get that fun color. Just be careful you're not letting your hair grow out too much or your extensions will be more obvious.
Real vs. synthetic. There are certainly high quality synthetic hair extensions that will give you the appearance of real, and the quality of any extension varies so much that you may be able to find synthetic hair that is more convincing than real. However, as a general rule, real hair is more real looking and because it is actual hair, you can treat it the same as you would your hair. Most synthetic hairs will be more prone to melting or shedding because the texture isn't exactly like human hair. This means you may not be able to use a flat iron or curling iron on your synthetic hair and brushing it too much may pull out more than you'd like. Real hair will last longer and give you more options for styling, without a doubt, but you'll need to remember the biggest drawback of real hair: the price. You get what you pay for and if you're buying real human hair, especially virgin hair that has never been dyed, relaxed, or chemically treated in any way, then you'll be paying a premium for that. If you just want to pop a few extensions in for a fun night out, then synthetic may suit you just fine. You'll most often find synthetic hair will be clip ins for this reason.
Frequently Asked Questions
What are hair extensions and how do they work?
Hair extensions are, unlike a wig, hair pieces that come in rows or chunks that you install into your hair to change the appearance. You can use them to make your hair longer or to add in color or texture that your hair doesn't already have. You can even match your hair with the extensions to make your hair fuller and more voluminous. You can install them a variety of ways and they will last for a variety of length depending on your method and quality. You can clip them into your hair for a single day and reuse them later, or tape them in and keep them secure in your hair for a few weeks, or have them more professionally sewn or glued in for the hair to stay in for as much as a few months. Extensions for your hair will give a more realistic and convincing appearance than a wig (we've reviewed the best wigs in a separate post) and they will give you a lot more freedom in your styling choices. They can be real hair or synthetic and, depending on which you choose, you may even be able to style them as you would your own hair.
How long do hair extensions last for?
How long your hair extensions last depends on the type and the installation. The range of use is as varied as is the style options. If you have clip in extensions, you won't wear them for more than a day, maybe two if you're careful. Tape in hair extensions will last quite a bit longer, maybe up to four to six weeks. (Please note, though: You will need to be careful with your tape ins to allow them to last that long. If you take no extra precautions with your hair, definitely expect them to last around a month.) Hair bundles that are sewn into your hair will last much longer, indeed. In fact, the only reason they're going to come out is if you physically remove them and that makes it up to you. You can expect even with slowly growing hair to wear sewn in extensions (or weaves) for six to eight weeks at least. It's very common to have extensions sewn in for a seasonal hair style. For example, "Summer Hair" may be a shorter cut that you can get wet and won't be too heavy in the dog days of summer and a "Winter Hair" will commonly be longer.
If, however, you're curious how long the hair will last before shedding and fraying, then the answer will depend on the quality of the hair extensions you purchase. Real human hair will, of course, last longer than synthetic (and they will cost more, too). A stronger or thicker weft will result in longer term use while remaining gorgeous. You will need to complete proper maintenance on the hair, no matter what type to ensure optimal longevity.
Do hair extensions damage your real hair?
This is a tricky question to answer. Technically speaking no, the hair extensions themselves will not damage your hair. In fact, they will help you leave your hair alone, which may help the overall health of your hair. It puts a lot of stress on our hair, styling it every day and by using extensions, you maybe giving your hair the break it needs. Or at least allowing it to share the strain of brushing, hot iron, or blow drying with the extensions. Even if you don't style every day (and who has time for that), you will probably do something to it and pulling it back into a ponytail or bun, while the simplest hairstyle, can also pull and strain your hair. With extensions, you won't pull it back as often and styling will be primarily focused on the extensions. Keep in mind, though, having extensions in may make you more tempted to style and mess with your hair frequently. It's a trade-off. But at least you aren't pulling it tight into that sleek bun.
Worthy of note for long-term hair extensions: Though they are the easiest, most long-lasting they are also the ones that will be most likely to damage your hair. The strain of tightly braiding your hair so that you may sew the bundles in will encourage nerve and follicle damage which can result in hair thinning and hair loss. Removing the glue from the protein-bonding hair extensions will inevitable pull some of your hair out from the roots. (Never, ever just remove the glued in extensions without using a removal product. You can purchase a glue remover that is an absolute must when taking these extensions out.)
Can you get permanent hair extensions?
You can't really get hair extensions that are permanent. Theoretically, you can; if you have absolutely no hair grown on your head then you can have extensions glued to your scalp, but even those will pull away from your skin eventually and should any hair grow, it will force the adhesive away from your skin all the faster. No, permanent isn't a realistic goal. However, many people refer to the long-term extensions as permanent and they are often long enough term wear that it can seem permanent. In fact, the most "permanent" you can get are the hair extensions that are so thoroughly installed into your hair that you can't remove them at home or independently. You will very likely need assistance to safely take out the protein-bonded (glued) and the sewn in (weaves) extensions and that is close enough to permanent that it gets away with the term.
Other Hair Extensions We Reviewed
REECHO Clip in Hair Extensions
If you're looking to give hair extensions a try, the REECHO Clip in Hair Extensions is the absolute best place to start.
We looked at 20 other extensions for your hair. Even though they didn't make our 5 best hair extensions list, they're the best of the rest and each are still a great option for you. The information you'll need to compare each one is included with the listing.
Hair Extension Bundles
Ali Pearl 8A Brazilian Human Hair 3 Bundles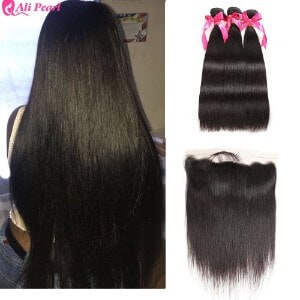 The lace front on these three bundles will make it so you can add the hair extensions wherever you want without worrying about the roots making it appear unconvincing.
Key Features:
21 length options
Lace front
100% unprocessed human hair
Cost: $120
BLY 7A Mongolian Virgin Kinky Curly Human Hair Bundles
With the included three bundles of full, curly hair, you'll be able to add the volume and texture you want all over.
Key Features:
100% human hair
27 size choices
Double weft
Cost: $125
ISEE Hair 8A Malaysian Virgin Straight Hair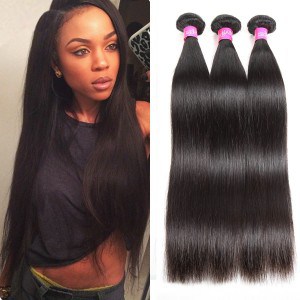 You can style this hair however you choose and with each purchase, you'll get 3 bundles of this high quality human hair.
Key Features:
100% Malaysian virgin human hair
Double weft
43 length options
Cost: $90
ISEE Hair 9A Grade Mongolian Kinky Curly Hair Extension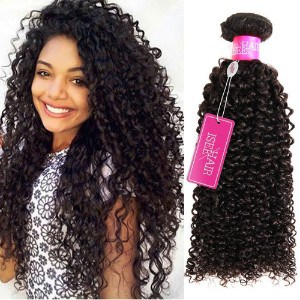 If you want to add in volume or completely change the texture of your hair, these curls can help you on your way.
Key Features:
100% Mongolian virgin hair
40 length choices
Note: Length is of hair stretched flat
Cost: $90
LONG YAO Unprocessed Virgin Human Hair Extensions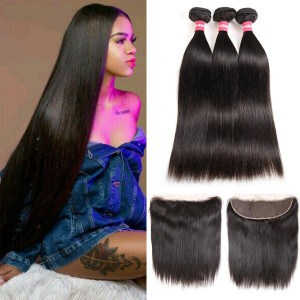 These hair extensions are an excellent option to have protein bonded into your hair for long-term use.
Key Features:
Double weft
100% Virgin Human Hair
Lace frontal closure
Hair Extension Clip In Pieces
AmazingBeauty 8A Kinkys Curly Double Weft Thick Clip in Human Hair Extensions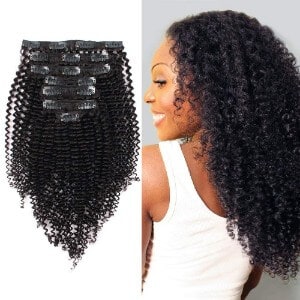 This hair extension set will allow you to add extensions all over your head with seven individual pieces.
Key Features:
100% Remy human hair
7 length options
2 color options
Cost: $85
Amygirl Clip in Hair Extensions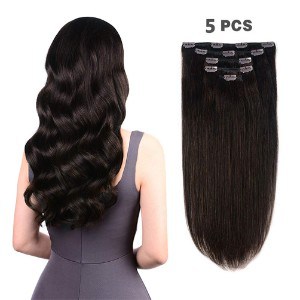 With seven separate colors, you'll be able to get just the color you want.
Key Features:
5 clip in hair pieces
100% Remy human hair
3 size options
Cost: $25
BHF Hair Human Hair Clip in Extensions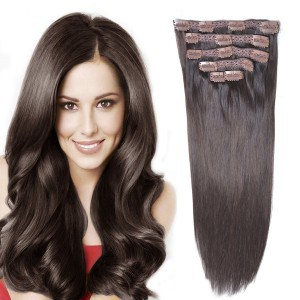 These extensions are 100% Remy human hair and can therefore be styled, washed, and dyed as you see fit.
Key Features:
4 color choices
6 piece set
4 length options
Cost: $25
Friskylov Hair Human Hair Clip in Extensions
This 100% Remy human, virgin hair has seven pieces so your new hair style will look as convincing as any other.
Key Features:
6 length options
3 color choices
Double weft
Cost: $35
Full Shine Clip In Hair Extensions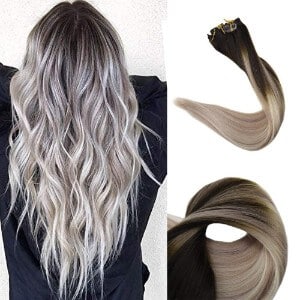 The bayalage style of these extensions allows you to have your fun colors, without dying your own hair.
Key Features:
6 length options
21 color choices
10 piece extension set
Cost: $65
Inmany Real Clip in Hair Extensions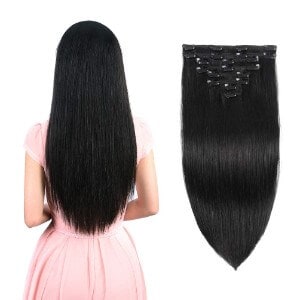 With an impressive twenty clips for this extension set, you're sure to be able to cover your whole head.
Key Features:
8 color options
12 length choices
Remy human hair
Cost: $25
Lovbite Hair Clip In Hair Extensions Human Straight Hair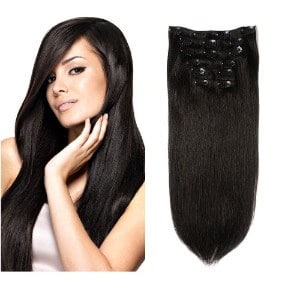 These extensions will let you have fun with your hair or match it to a T with one of its six colors available.
Key Features:
6 color choices
100% Human Hair
7 piece extension set
Cost: $55
Standard Weft Real Remy Human Hair Extensions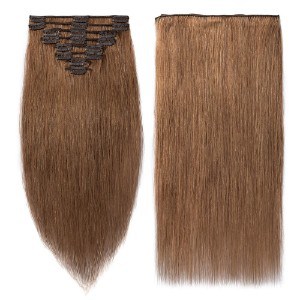 These extensions won't be going anywhere with eighteen durable, stainless steel clips.
Key Features:
10 length choices
16 colors available
100% real human hair
Cost: $25
Ugeat 16inch Clip in Hair Extensions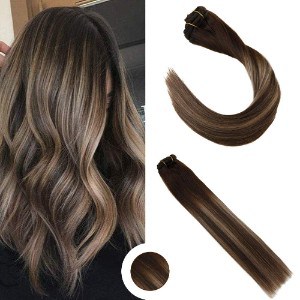 The ombre style of these extensions will give you a fun and gradual change in your color.
Key Features:
10 piece extension set
20 color choices
5 lengths available
Cost: $75
US Stock – US Seller Clip in Hair Extensions Human Hair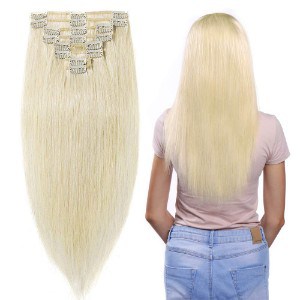 The eight pieces of this hair extension set will make sure you can customize your look however you choose.
Key Features:
13 length options
17 colors available
100% real human hair
Cost: $25
Winsky Clip in Hair Extensions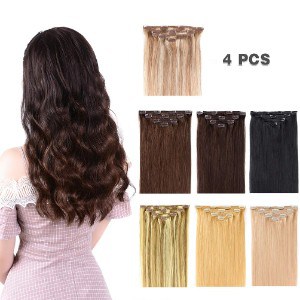 Each of these hair extension pieces is secured into your hair with strong silicon tipped clips that are comfortable for extended use.
Key Features:
7 length choices
14 colors available
4 pieces
Hair Extension Tape In Pieces
Full Shine Real Human Hair Extensions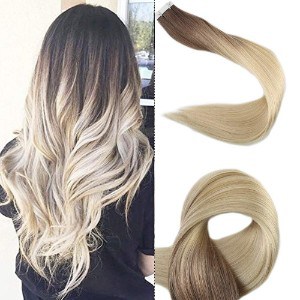 These bayalage colored extensions won't show your roots as your hair grows, making them perfect for long-term use.
Key Features:
6 length options
20 colors available
20 hair pieces in each box
Cost: $50
Googoo 50g Human Hair Extensions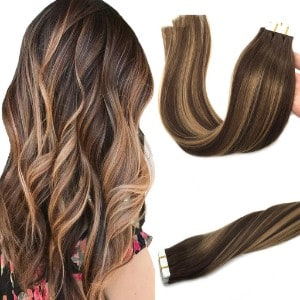 These hair extensions will tape in with ombre color already applied to add a bit of depth into your hair.
Key Features:
20 pieces in each box
6 sizes available
8 color options
Cost: $40
Moresoo Hair Tape in Hair Extensions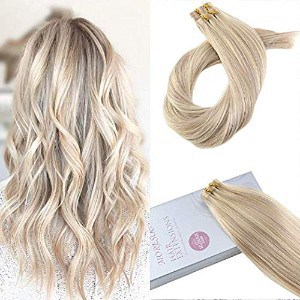 These real human hair extensions can be taped or glued in for longer use, if you so choose.
Key Features:
16 length choices
50 hair pieces in each box
11 color options
Cost: $45
Ugeat Seamless Skin Weft Tape in Hair Extensions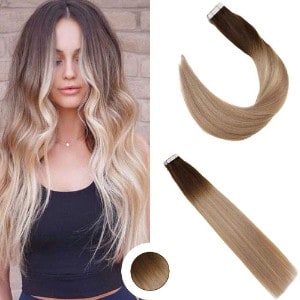 These 100% real human hair extensions come in a box of 20 pieces, so you'll have plenty to do your whole head.
Key Features:
9 size choices
32 color options
Ombre coloring
Cost: $55