Natural oils are healthy for your hair; they keep your strands smooth, silky, and shiny. But some scalps produce more oils than others, leading to oily hair that looks more greasy than healthy. If you have hair that gets oily frequently, you might benefit from a shampoo for oily hair that clarifies your scalp and rids your strands of excess oils without drying them out.
We reviewed dozens of shampoos for oily hair to find the best of the best. In our search, we considered features like conditioning ingredients, volumizing ability, the ability to slow down natural oil production, and pricing. We also considered customer reviews, especially those from customers who've used their shampoo for several uses – the true test of a good hair product!
Paul Mitchell Shampoo Two
Meet Paul Mitchell Shampoo Two, a clarifying shampoo that helps wash away oily buildup from your hair.
We've chosen Paul Mitchell Shampoo Two as our top pick, as it stood out as a clear winner for moisturization and its ability to remove excess oil buildup without leaving your hair dry or brittle.  This shampoo is perfect for deep cleaning the hair once or twice a week to slow down oil production and keep oily buildup at bay.
The 5 Top-Rated Shampoos for Oily Hair
*Ratings are from Amazon at the time of publication and can change
Best Shampoo for Oily Hair Overall: Paul Mitchell Shampoo Two
If you're looking for a shampoo for oily hair that might allow you to finally skip daily washing and put your stressed strands at ease, then Paul Mitchell Shampoo Two is probably it. This salon-quality clarifying shampoo is deep cleansing, meaning that it works deep down into your scalp and hair to remove oil and dirt buildup to restore your hair's natural look. Because it removes so much gunk from your hair and scalp, you should be able to skip at least a day or two between washes, depending on how oily your hair is.
Several customers who have bought this shampoo and used it several times say that they're noticing a significant difference in how their hair looks and feels after skipping up to four days of washing. One of the reasons this is one of the best shampoos for oily locks is because it lathers so well. Spend a couple of minutes lathering up in the shower and letting it deeply penetrate your roots to get rid of unwanted oils.
Paul Mitchell Shampoo Two Key Features:
Refreshing lemon scent
Comes in several sizes
Color-safe formula
Designed to work seamlessly with other Paul Mitchell hair products
Controls oil for days
Best Tea Tree Shampoo for Oily Hair: Maple Holistics Tea Tree Shampoo for Oily Hair
Tea tree oil shampoo can be especially helpful for people who have oily hair but also suffer from a flaky, itchy scalp due to the overproduction of oils. Maple Holistics Tea Tree Shampoo for Oily Hair is a good choice for you if you want the benefits of tea tree oil to heal and soothe your scalp without adding more oil to your already oily hair. This shampoo also contains enriching antioxidants to keep your scalp and hair feeling clean, fresh, and healthy.
If your oily hair makes your strands feel drab and limp, this shampoo could help with that problem, too. Tea tree oil shampoo like this one from Maple Holistics can encourage and stimulate hair growth to keep your locks growing in strong and thick. Tea tree oil also acts as a natural clarifying agent to deep clean your hair and remove it of all its oily buildup.
Maple Holistics Tea Tree Shampoo for Oily Hair Key Features:
Includes several vitamins for hair health
Relieves itchy scalp
Cruelty-free
BPA-free
Recyclable container
Best Budget Shampoo for Oily Hair: Maple Holistics Degrease Moisture Control Shampoo
Maple Holistics Degrease Moisture Control Shampoo is formulated to dig into your hair's excess oil and degrease it, leaving it soft, smooth, and shiny, but without the greasy look and feel. Made with botanical keratin, this shampoo builds up the strength of your locks while working its cleansing magic.
Natural ingredients like lemon oil, rosemary oil, and basil oil, work together to rejuvenate your scalp, restore it to its dandruff-free and non-itchy state, and clarify it to keep excess oil at bay. Plus, their natural properties support healthy and clean skin and hair, so your strands will look and feel more voluminous, shinier, and overall healthier – for a fraction of the price of many other shampoos on the market. 
Maple Holistics Degrease Moisture Control Shampoo Key Features:
Includes oils that can prevent hair loss
Clarifying formula
Money-back guarantee
Lightweight
Cruelty-free
Best Sulfate Free Shampoo for Oily Hair: Honeydew Natural Oily Hair Shampoo
Looking for a gentle shampoo that's best for mild oily hair? You may benefit from a sulfate-free shampoo like Honeydew Natural Oily Hair Shampoo. This shampoo doesn't contain sulfates, which strip away your hair's natural oils. However, it's still formulated to bump down the oil in other ways while maintaining the natural moisture of your strands with ingredients like rosemary and yarrow oil.
Customers who have used this product several times praise it for its ability to tone down oil and greasiness without making hair look dull or dry. Another perk customers have mentioned is that they find they don't have to wash their hair as often after using this shampoo, as it helps to thoroughly clean hair and remove buildup.
Honeydew Natural Oily Hair Shampoo Key Features:
Excellent lather
Paraben and cruelty-free
Botanical keratin for increased hair strength
Fresh, light lavender scent
Therapeutic-grade oils
Best Dandruff Shampoo for Oily Hair: Matrix BIOLAGE Scalpsync Anti-Dandruff Shampoo
Matrix BIOLAGE Scalpsync Anti-Dandruff Shampoo is focused on balancing your scalp, which in turn can leave you with healthier hair that looks voluminous and naturally shiny instead of oily or greasy. This shampoo targets dandruff by using mint leaf to soothe the scalp and keep your skin from flaking. With its calming and hydrating lather, your scalp should feel less itchy and irritated.
The deep cleanse you'll get from the rich lather of this Matrix BIOLAGE shampoo can also free up oils in your scalp and roots to give your oily hair a break from excess buildup. This formula is designed for professionals to use in salons for their clients, making it an excellent option for consumers with oily hair to get salon-quality results in their homes. 
Matrix BIOLAGE Scalpsync Anti-Dandruff Shampoo Key Features:
Refreshing and pleasant scent
Helps control frizz and flyaways
Controls visible dandruff with pyrithione zinc
Antibacterial and soothing mint leaf
Botanical-powered formula
Who Should Buy Shampoo for Oily Hair
Many hair experts agree that it's best to skip a few days in between washing your hair to let your natural oils get to work on healing your strands. People with oily hair, however, struggle to do this, as their oils can quickly turn from healing to greasifying. If you have oily hair that tends to look greasy after you just washed it the day before, then you can probably benefit from switching to a clarifying shampoo for oily hair rather than one made for all hair types.
Oily hair shampoos are designed to deep cleanse your hair without over-stripping your strands of much-needed natural oils that keep them looking shiny and healthy. These shampoos work deep into the scalp to cleanse and clarify the area while removing oily buildup that's often the cause of greasy-looking hair. With the right shampoo for oily hair, you should be able to start skipping some days in between washes without noticing as much oil building up at your roots.
Paul Mitchell Shampoo Two
Meet Paul Mitchell Shampoo Two, a clarifying shampoo that helps wash away oily buildup from your hair.
Important Features to Consider
A shampoo for oily hair should have a few important features. Here's what to consider when selecting a cleansing shampoo for oily hair:
Lightweight. Oily hair tends to fall flat and limp. A lightweight shampoo is one that will clean your hair without adding a bunch of ingredients that can weigh down your strands. You'll want to look for a shampoo with antioxidants and nutrients that moisturize and hydrate your hair but leave out stuff that can weigh it down, like silicone and parabens.
Deep-cleansing. A deep-cleansing shampoo tends to lather up well to clean deep into the roots of the hair and scalp, getting rid of oil buildup that leave your strands looking greasy. These shampoos are usually marked as "Deep Cleaning" or "Deep Cleansing."
Clarifying. A clarifying shampoo is one that's designed to rid your hair of oils and buildup as much as possible, leaving you with healthy feeling and looking locks. Clarifying shampoos are especially helpful for getting rid of the oils that build up on your scalp and prevent your hair from ever really feeling clean. 
pH balanced. pH balanced shampoos give your hair and scalp moisture without stripping away their essential natural oils. Manufacturers design them to be pH neutral for hair, leaving your strands in the best condition possible.
Natural ingredients. Shampoos with natural ingredients can be more gentle on your hair, which is what you want when you're taking away natural oils.
Micellar technology. If you find that deep-cleansing shampoos dry out your hair too much, you might want to try a shampoo with micellar technology. They offer a milder cleaning experience using micelles, which attach to your hair's oils and wash them away, giving your hair volume and cleanliness without overdrying it or your scalp.
Frequently Asked Questions
What makes shampoo for oily hair different than regular shampoo?
Regular shampoo tends to have a more generalized formula than oily hair shampoo to cater to a variety of different hair types, like color-treated or dry hair. Shampoo for oily hair specifically targets the oily buildup you get on your scalp and roots if you have oily hair. Oily hair shampoo lathers nicely and deep cleans your scalp and roots to remove excess oil buildup without completely stripping your hair of the oils it needs to maintain health and shine.
How many times a week should I wash my oily hair?
It depends on how quickly your hair becomes overrun with oil again. Shampoos for oily hair can help you skip a few days of shampooing before your hair starts looking greasy again. After switching to a shampoo for oily hair, try skipping one day in between washes and see how your hair holds up. You may need to do this for a couple of weeks to notice oil reduction. People with very oily hair may still need to wash their strands daily.
Why is my hair greasy after one day?
You probably have an oily scalp that produces oil more frequently than others. Higher oil production results in sending excess oil to your roots, which can make your hair look greasy even as soon as one day after shampooing. However, some people also suffer from greasy-looking hair because of the styling products they use or from touching their hair throughout the day. When you touch your hair, the oils from your hands and fingers transfer to your hair, which can make it look oily. Sometimes, over-washing your hair can also lead to your scalp working in overdrive to produce more oils to condition your locks.
Does oily hair need conditioner?
Most hair can benefit from the regular use of conditioner, even if it's naturally oily. Conditioner doesn't add oil to your hair, but instead, moisture and hydration to smooth your strands and keep them from getting frizzy, broken, and dull. Once you find a shampoo for oily hair that you love, consider buying the conditioner in that formula, too, which will moisturize your hair without adding unnecessary oils.
Other Shampoos for Oily Hair We Reviewed
Paul Mitchell Shampoo Two
Meet Paul Mitchell Shampoo Two, a clarifying shampoo that helps wash away oily buildup from your hair.
We looked at 20 other shampoos for oily hair. Even though they didn't make our 5 best shampoos for oily hair list, they're the best of the rest and each is still a great option for your strands . The information you'll need to compare each one is included with the listing.
Organic Shampoos for Oily Hair
Avalon Organics Clarifying Lemon Shampoo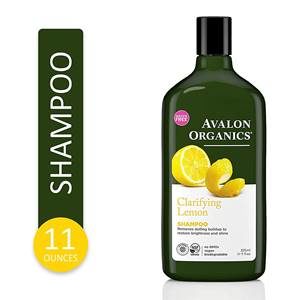 This shampoo featuring natural lemon peel oil helps to strip away excess oils from your scalp and roots while nourishing hair and giving it extra shine.
Key Features:
No synthetic colors or scents
Clarifying formula
Prevents dulling of strands
Cost: $7
Desert Essence Lemon Tea Tree Shampoo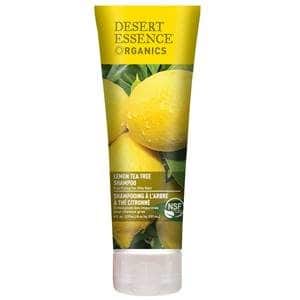 Get your best-looking hair day with this shampoo from Desert Essence Organics, which soothes the scalp, removes oil and dirt buildup, and leaves a light, refreshing scent on your strands.
Key Features:
Contains lemon tea tree oil
Easy-to-dispense container
Organic maca root extract for hair strength
Cost: $8
Hair Superfood Balancing Shampoo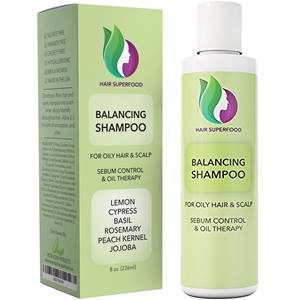 This shampoo from Hair Superfood includes jojoba, basil, rosemary, lemon, and other oils that work to penetrate your hair and scalp to efficiently get rid of excess oils.
Key Features:
Provides natural hair volume
Improves dandruff
Hypoallergenic formula
Cost: $10
Honeydew Lemon Sage Oily Hair Shampoo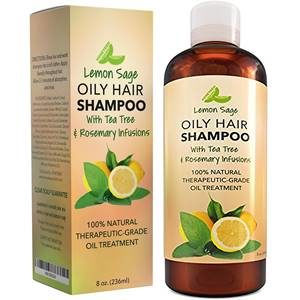 Try this natural shampoo if you have oily hair but don't want to add chemicals to your daily hair care routine to get rid of buildup.
Key Features:
Therapeutic-grade oils
Lemon sage scent
Volumizing formula
Cost: $12
Saragan Pure Activated Charcoal Shampoo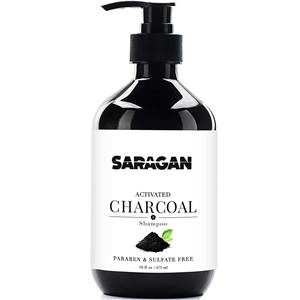 Activated charcoal shampoo like this one from Saragan can provide intense clarification to your hair to remove daily buildup from oils and dirt.
Key Features:
Safe for color-treated hair
Paraben-free
30-day guarantee
Cost: $10
Sulfate-Free Shampoos for Oily Hair
Bellisso Moroccan Argan Oil Shampoo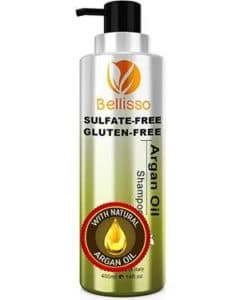 This shampoo for oily hair has natural Moroccan argan oil that smoothes your strands and repairs split ends as it removes excess oil buildup.
Key Features:
Works on all hair types
Hair-strengthening formula
Convenient pump bottle
Cost: $8
Elizabeth Parker Naturals Sulfate Free Oily Hair Shampoo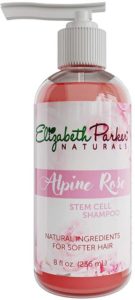 Get the benefits of alpine rose in this shampoo that's designed to naturally remove oils and replenish your hair and scalp.
Key Features:
Unique scent
pH balanced
Satisfaction guarantee
Cost: $20
Ingreendients Sulfate Free Shampoo and Conditioner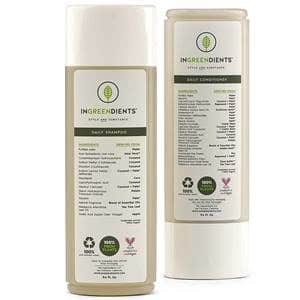 Coconut, palm, and aloe vera blend together to create this sulfate-free shampoo that's as gentle on your hair as it is efficient in controlling oil.
Key Features:
Only plant-derived ingredients
Cruelty-free
Color-safe formula
Cost: $28
L'Oréal Paris EverPure Sulfate Free Volume Shampoo  

If your hair needs a little bit more volume after washes, try this sulfate-free formula. It uses natural lotus flower botanicals to plump up your roots and strands for a full-volume, non-greasy look.
Key Features:
Beneficial for flat hair
Salt-free
Color protection formula
Cost: $6
Planative Sulfate Free Tea Tree Oil Shampoo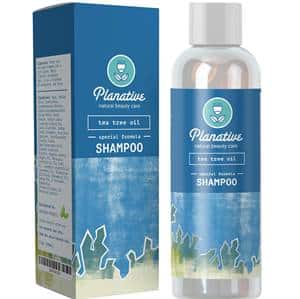 This specially formulated shampoo uses the power of tea tree oil to remove oily buildup and rosemary and other oils to stimulate hair growth and product healthy, fresh-looking hair.
Key Features:
Targets dandruff
Cruelty-free
USA-made
Cost: $10
Tea Tree Shampoos for Oily Hair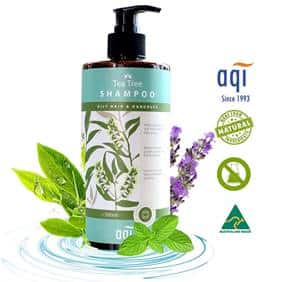 Although tea tree oil is a main ingredient in this shampoo, your oily locks will also benefit from other nourishing botanicals, like henna extract and peppermint oil.
Key Features:
Convenient pump dispenser
Safe for daily use
Produces a rich lather
Cost: $26
Australian Bodycare Tea Tree Oil Shampoo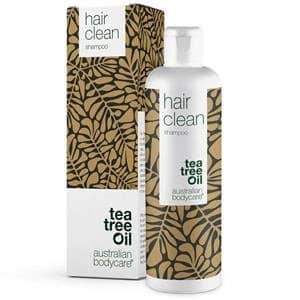 If you frequently suffer from itchy scalp due to oil production, this shampoo may give you some relief with natural tea tree oil that soothes and moisturizes.
Key Features:
Pointed applicator to get deep into roots
Controls scalp flaking
Breaks down buildup
Cost: $12
Botanic Hearth Tea Tree Shampoo and Conditioner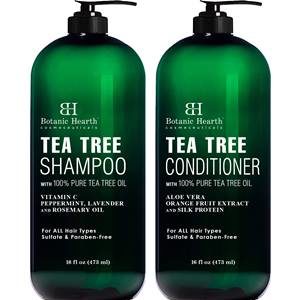 Try this shampoo-conditioner duo with tea tree oil, aloe vera, lavender oil, and other natural ingredients designed to leave your oily hair feeling and looking clean and maintained.
Key Features:
Designed for daily use
Cruelty-free
Blended with vitamins and extracts
Cost: $26

Your oily scalp and hair may benefit from using this shampoo with tea tree oil and other herbal extracts regularly to remove buildup, reduce flaking, and keep your scalp feeling like its best self.
Key Features:
Controls itchy scalp
Designed for any hair type
Deep cleans with natural ingredients
Cost: $13
teatree Tea Tree Special Shampoo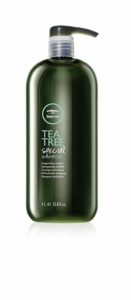 Get a comforting tingle from this tea tree oil shampoo that will make your scalp feel rejuvenates while targeting the oily buildup that collects there and on your roots.
Key Features:
Peppermint oil provides a cooling effect
Paraben-free
Requires only a small amount for a rich lather
Cost: $30
Other Shampoos for Oily Hair
Aveeno Scalp Soothing Apple Cider Vinegar Blend Shampoo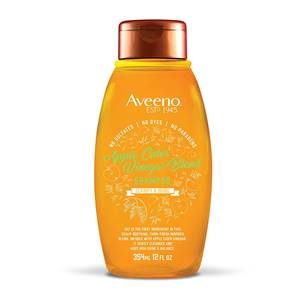 Apple cider vinegar is the perfect ingredient for giving your hair a clarifying treatment as it deep cleans and nourishes your scalp and strands. This shampoo features apple cider vinegar and oat, giving you an enriching and soothing combination.
Key Features:
Free of dyes
Shine-enhancing formula
Adds volume to thin, limp locks
Cost: $7
Klorane Shampoo with Nettle for Oily Hair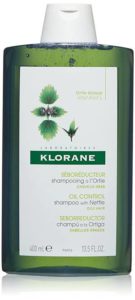 This shampoo features nettle, a plant-based ingredient that has natural properties that control oil production, to quickly remove oil buildup in your roots and on your scalp.
Key Features:
May allow you to skip a day or two of washes
Soothes scalp irritation
Gentle scent
Cost: $20
L'Oréal Paris Elvive Extraordinary Clay Rebalancing Shampoo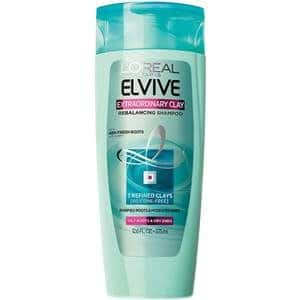 Use this shampoo to give a complete rebalance to your oily hair, especially if you suffer from an oily scalp but dry, splitting ends. 
Key Features:
May keep roots clean for up to 48 hours
Uses clay to keep hair hydrated
Silicone-free
Cost: $3
Matrix BIOLAGE Normalizing Clean Reset  

Push the reset button on your hair when you use this salon-quality shampoo from Matrix BIOLAGE that features deep cleansing lemongrass extract to dig into buildup and make your hair feel refreshed.
Key Features:
Paraben-free
Keeps hair moisturized 
Works with all hair types
Cost: $30
Zeitun Natural Shampoo For Oily Hair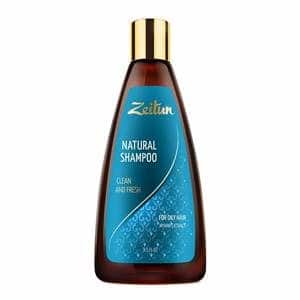 This Clean and Fresh formula includes myrhh extract to target oily buildup that can cause your locks to look greasy the day after washing.
Key Features:
Vegan formula
Adds volume and bounce to hair
Gentle cleansing
Cost: $9