From the deepest, romantic reds to the sunniest, cheery yellows, nail polish has the power to match your mood, complement an outfit, and brighten up your overall look. With virtually endless colors and finishes of nail polish on the market, it's nearly impossible not to find several shades to fall in love with. Finding a nail polish that glides on smoothly, lasts a long time without chipping, and looks beautiful on your nails, can make your nail care routine more simplified.
To introduce you to some of the best nail polish options on the market, we reviewed dozens of nail polish brands to find the cream of the crop. When searching through polishes, we considered features like price, color options, finishes, application brush, and ease of use, to help us sift through the many options.
OPI Nail Lacquer
With more than 200 shades in a variety of finishes and salon-like quality, OPI Nail Lacquer is an excellent brand to consider adding to your nail care routine.
When it came to our top pick, OPI Nail Lacquer stands out as our clear winner. This brand is a top name in nail care, and its hundreds of shade options make it fun to find just the right color to suit your mood or outfit. Using OPI Nail Lacquer, you can get as close to a salon-quality manicure in the comfort of your home.
The 5 Top-Rated Nail Polish Brands
*Ratings are from Amazon at the time of publication and can change
Best Nail Polish Brand Overall: OPI Nail Lacquer
It's tough to beat OPI Nail Lacquer without going to the salon. Even then, you might see your salon's walls stocked up with nail polish from the popular brand! One of the most important features to consider in a nail polish is how long it lasts. When you use your hands for hundreds of different tasks each day, you need your nail polish to hold up, and that's exactly what OPI Nail Lacquer does. The brand's lineup includes not just your primary polish color, but also a base coat and topcoat that can keep your manicure looking brand new for days.
You definitely won't have limited color options, either, when you choose OPI Nail Lacquer. The brand offers more than 200 shades in every color of the rainbow and beyond, giving you an excellent selection to match your outfits or mood. The OPI signature ProWide brush makes it a breeze to apply an even coat of color on your nails without needing to swipe several times. And, the colors come out vividly, so you'll only need two coats in most cases.
OPI Nail Lacquer for Women Key Features:
Up to seven days of wear
Easy to apply
Even coat application
Easy removal
Salon-like finish
Best Glitter/Shimmer Nail Polish Brand: ZOYA Pixie Dust
When plain colors just won't do, there's ZOYA Pixie Dust nail polish. This set of polishes is available in glittery deep green, purple, burgundy, and blue hues to add shimmer to your nails without making them look like you accidentally fell into a pile of confetti. Instead, you'll get just the right amount of glitter to add to your overall look for date night or a night on the town with your besties.
One perk of ZOYA Pixie Dust polish is that a little bit goes a long way. You likely won't need to apply three or four coats to get the rich color you see in photos. Instead, most customers note that just one or two coats works perfectly and the color is long-lasting through hand washes, dish-washing, and other daily tasks.
ZOYA Pixie Dust Key Features:
0.5 fluid ounces
Even coat application
Nail-strengthening formula
Formaldehyde-free
Vivid color in each coat
Best Budget Nail Polish Brand: Revlon Nail Enamel
Revlon Nail Enamel
Revlon Nail Enamel is an affordable line of polishes with over 50 colors and excellent results on your nails.
Beautifying your nails on a budget? Try Revlon Nail Enamel, which costs a fraction of what pricier nail polishes cost but still gives you the gorgeous color and shine you expect from the bottle. Revlon Nail Enamel comes in a wide range of colors and shades to suit every occasion, and even its darkest, richest colors won't leave your nails an unsightly yellow.
Revlon makes its nail polishes with a gem and mineral complex infused into its formulas that acts as a nail hardener and strengthener. That means that while you wear the polish, your nails will get a bit healthier each time and you'll have less breakage. With a smooth-gliding brush, you can get an even swipe of color with each stroke, leading to a beautifully-finished manicure at an affordable price point.
Revlon Nail Enamel Key Features:
Numerous color options
Formaldehyde and resin-free
Lasts for days without chipping
Glossy finish
Rich color in two coats
Best Matte Nail Polish Brand: SinfulColors Matte Nail Polish Collection
If you can't choose just one matte color for your manicure, mix it up with the SinfulColors Matte Nail Polish Collection, which includes five unique shades that all end up with a smooth matte finish. Add a couple of coats to your nails, let it dry thoroughly, and you'll get trendy nails that are impossible to ignore – and you don't have to go to the salon to get the look. This pack also comes with the top coat you'll need to get the finalized look.
Some customers state that they have trouble getting the nail polish not to smudge when they add another coat. However, as with any nail polishes, it's extremely important that you wait several minutes before adding a second or third coat to get the desired color.
SinfulColors Matte Nail Polish Collection Key Features:
Five shades for one price
Full color in as little as two coats
Easily-spreadable formula
No formaldehyde or DBP
0.5 fluid ounces in each bottle
Best Nourishing Nail Polish Brand: Sally Hansen Color Therapy
Sally Hansen Color Therapy might become your new go-to polish when your nails need a bit of a pick-me-up. Prolonged use of nail polish or frequent acrylic manicures can take a toll on your nails, but this formula is designed to perk them back up again to their natural health and shine. Available in several colors to make your nails look pretty while they heal, this polish includes argan oil to provide natural enrichment to your nails.
This line from Sally Hansen also strengthens the polish itself, leading to a more finished manicure without chips after just a few hours of wear. When you apply the top coat from the same collection, you can get up to 10 days out of your beautiful manicure.
Sally Hansen Color Therapy Key Features:
More than 40 colors
Argan oil for cuticle and nail nourishment
Chip-fighting formula
Smooth, satiny finish
Quick drying
Who Should Buy Nail Polish
Nail polish can add a touch of fun to your everyday style with a pop of color that complements your outfit. Whether you like to stick to nude or natural colors or go all out with bright shades of pink or orange, wearing nail polish can be an excellent way to bring out your personality a bit more than your clothing alone. You can also get creative with your nail polish by using a nail art set!
Nail polish can also add some strength to your nails. Some nail polished contain nourishing ingredients that both soothe and strengthen brittle nails, leading to a healthier nail over time. Although it's best not to wear nail polish every day, adding a nourishing polish to your nails occasionally can improve their health and appearance.
OPI Nail Lacquer
With more than 200 shades in a variety of finishes and salon-like quality, OPI Nail Lacquer is an excellent brand to consider adding to your nail care routine.
Important Features to Consider
Nail polish brands should have a few important features. Here's what to consider when selecting a nail polish brand to spruce up your nails:
Long-lasting. It can be frustrating when your beautiful new manicure flakes off after the first few hours of wearing it! A good nail polish will last for days without chipping.
Strengthening. Some nail polishes are formulated to strengthen your nails. If you're prone to brittle nails that frequently split or break, try using a nourishing formula to improve the health of your nails while you wear the polish.
Non-staining. Dark colors tend to stain nails more than lighter colors, but some nail polish formulas stain easier than others regardless of color. Check customer reviews before purchasing to see if others have had any issues with stains after wearing the polish.
Quick-drying. Quick-drying nail polish formulas make the process of painting your nails go quicker, especially if you're applying more than one coat of polish. Look for a quick-drying polish to speed up your manicures and ensure that each coat gets a secure finish.
Brush size and design. Small polish brushes can be great for polishing near the cuticles and outlines of your nails, but a larger brush can apply an even coat of color in one or two swipes.
Type of polish/finish. Nail polish is available in various types (standard, gel, powder, etc.) and finishes (gloss, metallic, pearl, glitter, etc.), so read through the description carefully to make sure you're getting the right type to complete your look.
Frequently Asked Questions
What are the different types of nail polish?
Nail polish comes in a wide range of styles and formulas. The style of nail polish refers to its finish, such as pearl, matte, glitter, chrome/metallic, or creme/cream. The formula refers to the type of polish, like standard, gel, shellac, and powder. Each one leads to a different finished look, and some nail polishes last longer than others. Gel, for example, often needs to cure with a nail lamp or dryer, which allows it to have a longer-lasting finish than most standard polishes provide.
Is it bad to wear nail polish all the time?
It's a good idea to allow your nails some rest after removing polish with your favorite nail polish remover. Keeping nail polish on all the time can dry out your nails or make them brittle, which can lead to more nail chips, splits, and breakage. Consistent nail polish use can also lead to the staining of your natural nail color, leaving them looking dull or even yellowed when you don't have nail polish on.
How do I keep my nail polish from chipping?
Good nail care is a key factor in making your nail polish look great. Be sure to prep your nails before adding polish by cleaning them, filing them down, and making sure they're dry before polishing. Then, apply a base coat, which allows nail polish to adhere better. When applying your nail polish, be sure to coat the tips of your nails, too, which keeps the polish from chipping at the tips. Also, allow each layer to dry thoroughly before applying a new one.
Should you keep nail polish in the fridge?
Some people say that storing nail polish in the fridge can help it last longer. However, unlike food, the refrigerator won't have a positive impact on the life of your nail polish. Storing nail polish in the fridge will typically make it thicker and even gooey, making it nearly impossible to apply thinly and evenly.
Other Nail Polish Brands We Reviewed
OPI Nail Lacquer
With more than 200 shades in a variety of finishes and salon-like quality, OPI Nail Lacquer is an excellent brand to consider adding to your nail care routine.
We looked at 20 other nail polish brands. Even though they didn't make our 5 best nail polish brands list, they're the best of the rest and each is still a great option for your nails. The information you'll need to compare each one is included with the listing.
Glitter Nail Polish Brands
Cirque Colors Glitter Nail Polish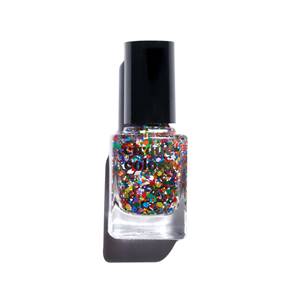 Nothing says glitter like this bottle of nail polish from Cirque Colors, which adds a rainbow of confetti to your nails. It's the perfect top coat to your favorite base color.
Key Features:
Cruelty-free
Non-toxic
Lots of glitter in each swipe
Cost: $13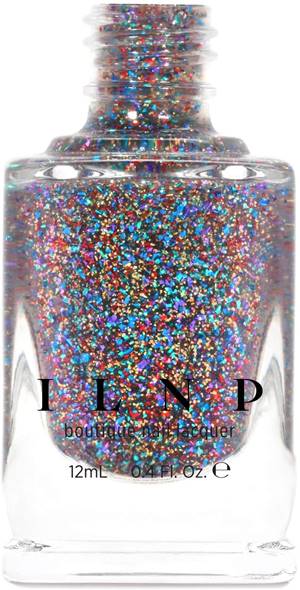 Want confetti-like nails for a party or celebration? Add a coat or two of this polish as a topcoat and watch your nails shine.
Key Features:
Vegan
Long-lasting
Money-back guarantee
Cost: $10 
Kleancolor Glitter Nail Polish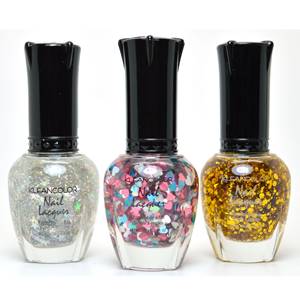 This set of glitter polishes from Kleancolor gives you a glitter for every occasion, from subtle to all-out glam.
Key Features:
Budget-friendly
Comes in a zip pouch
14-day exchange or return
Cost: $6 
Modelones Glitter Nail Polish Set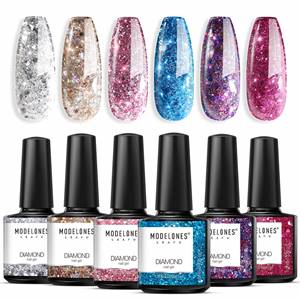 You'll get tons of shine from this set of nail polishes that gives you a color to match almost any outfit.
Key Features:
Low-odor formula
Non-toxic
Long-lasting
Cost: $25 
SHANY Cosmetics Nail Polish Set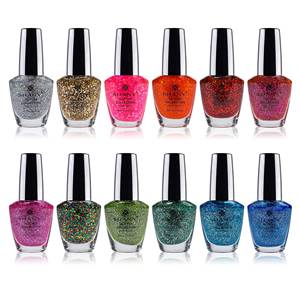 Looking for a rainbow of glitter? This set of shimmery nail polishes from SHANY Cosmetics offers just that, with beautiful glitter that's perfect for topcoat applications.
Key Features:
Comes with polish organizer
Semi-quick dry time
Cruelty-free formula
Cost: $15 
Nourishing Nail Polish Brands
786 Cosmetics Deep Nutrition Nail Treatment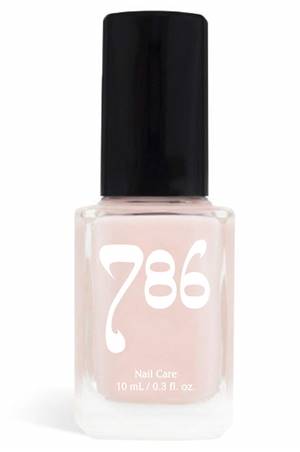 This nourishing nail polish is formulated to strengthen brittle nails as you wear it, leaving you with stronger nails over time.
Key Features:
Sheer pink color
Shows improvement in about a week
Glossy finish
Cost: $14 
Barielle 7-In-1 Elixir Nail Treatment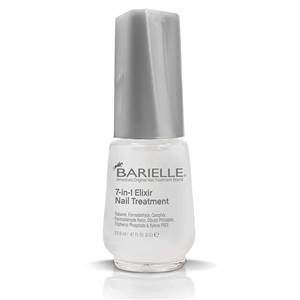 Try this moisturizing nail polish formula to breathe some life back into dull, dry, and cracked nails. 
Key Features:
Formaldehyde-free
Cruelty-free
30-day guarantee
Cost: $10 
Ellie Chase The Fix 7 in 1 Nail Treatment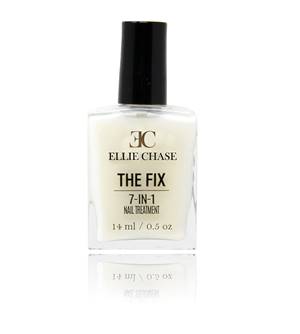 The Fix from Ellie Chase includes keratin and argan oil to both strengthen and nourish your nails without using artificial chemicals and ingredients.
Key Features:
Infused with vitamins and oils
0.5 fluid ounces
Stimulates growth
Cost: $8 
Sally Hansen Treatment Complete 7 in 1 Salon Manicure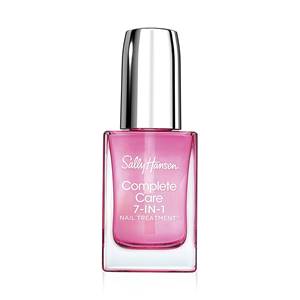 This nail polish isn't just a pretty color; it's also a 7-in-1 nail care system that strengthens, moisturizes, and protects your nails to improve their look and health.
Key Features:
Can use as a base or topcoat
Long-lasting wear
Gel-like finish
Cost: $18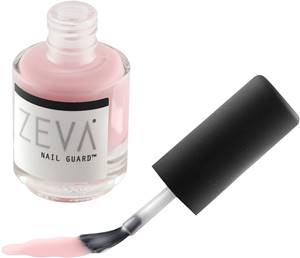 Protect your nails and restore their natural health and shine with Nail Guard by ZEVA, which strengthens nails and prevents breakage.
Key Features:
Long-lasting
Creamy finish
Vegan formula
Cost: $15 
Matte Nail Polish Brands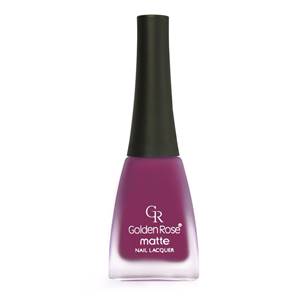 This beautiful color goes on smooth but turns to a matte finish once it dries. You can get dramatic color with as little as one coat.
Key Features:
33 colors in the lineup
Easy-glide brush
Deep color in one or two coats
Cost: $8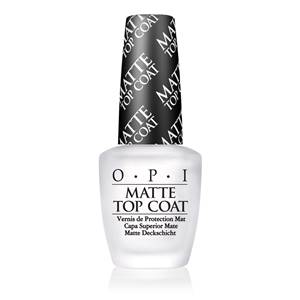 Turn virtually any manicure into a matte manicure with this topcoat from OPI, which provides a smooth, matte finish to your nails.
Key Features:
Up to seven days of wear
Helps seal color
USA-made
Cost: $9 
Revlon Transforming Effects Top Coat
Revlon's Transforming Effects Top Coat takes satiny colors and makes them smooth and matte when it dries while also protecting your manicure.
Key Features:
Works with most nail polishes
Helps to strengthen and protect nails
Keeps color intact
Cost: $5 
Sizet Mist Effect Matte Nail Polish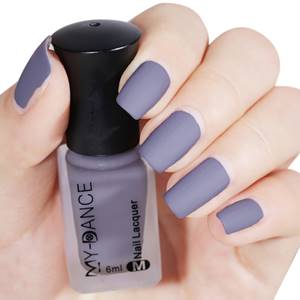 Sizet offers several beautiful shades in its Mist Effect Matte lineup that are sure to make your hands the talk of the party.
Key Features:
11 colors
Smooth finish
Rich color in two coats
Cost: $4 
The ZOYA Satin line of nail polishes has a matte-satin finish for just a hint if shine through a sleek, smooth finish.
Key Features:
Paraben and formaldehyde-free
Long-lasting
Easy-gliding brush for even coats
Cost: $10 
Pearl Nail Polish Brands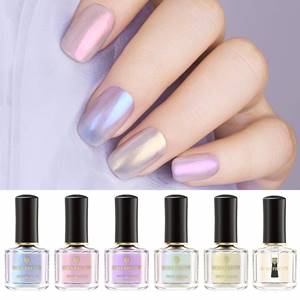 The beautiful pastels in this collection of nail polishes turn into a feminine, pearlescent finish with just the right amount of shine.
Key Features:
Low odor
Semi-transparent
Five shades plus a topcoat
Cost: $17 
Opt for Essie's pearly colors when you want a hint of holographic shine on your nails. The Pearly White shade is perfect for a basic pearlescent manicure.
Key Features:
No formaldehyde
Long-lasting with topcoat
Brush glides easily
Cost: $12 
Get three gorgeous pearl colors from Kleancolor in this collection, whose colors range from an orangy-blush to an eye-catching gold.
Key Features:
Strong color with one or two coats
Three 0.5 fluid ounce bottles
14-day refund period
Cost: $7 
OPI Nail Polish Neo-Pearl Collection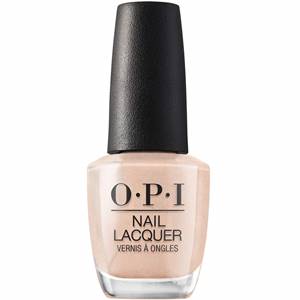 From the same brand as our top pick comes the Neo-Pearl Collection. This set from OPI has pastel shades with a pearl finish that are perfect for dressy occasions.
Key Features:
Up to seven days of wear
Shimmery finish
Even, full color with two coats
Cost: $11 
Sally Hansen Lustre Shine Nail Color
Need a high-shine pearl finish? Try this one from Sally Hansen, which mimics the luster of a real pearl. Use it on its own or as a topcoat to a base color.
Key Features:
Includes real silver particles for its pearl finish
Multi-color shine
Wide brush
Cost: $6