If you have some trouble sleeping, there a whole slew of possible causes. However, if you suspect you're just not coping well with some kind of light, then a sleep mask is probably the easiest way to improve your sleep schedule. If you're not sure what it is, even, a sleep mask is the least expensive trick, so you may want to purchase one to start. If the fix is as simple as that, you can probably save yourself a big hassle and a lot of money of it is!
We reviewed dozens of sleep masks to identify the best of the best. We looked at luxurious silk sleep masks, and sleep masks for kids. We found simple sleep masks that lie flat against your face and contoured sleep masks that won't bother your eyelashes. No matter what you need in a sleep mask, we have one for you.
If you find yourself often needing to alter your sleep schedule, or just struggle to fall asleep, consider checking out 10 Tips On How To Fall Asleep When You're Not Tired.
It was an obvious choice to pick the IMAK Compression Pain Relief Mask and Eye Pillow as our best overall sleep mask. It stood out among its peers with the multi-purpose sleep aid and pain reliever that no other sleep mask gives and the quality is unparalleled.
The 5 Top-Rated Sleep Masks
*Ratings are from Amazon at the time of publication and can change
Best Sleep Mask Overall: IMAK Compression Pain Relief Mask and Eye Pillow
The IMAK Compression Pain Relief Mask and Eye Pillow will offer comfort while blocking out the light that may distract you from sleep. The elastic band will fit nearly any head and the weight given by the ergoBeads will act as a compression – but only to the area surrounding your eye and not the eye itself. So you can get your comfort from compression without worrying about any damage the pressure is causing. The stitching will even provide a bit of contoured space for your eyelashes without forcing them one way or another.
The instructions also offer an additional use which you're likely to appreciate: pop it in the freezer for the pain relief component to the mask that you may not have considered otherwise. Not only will this particular mask block out the light and allow you to sleep without visual distraction, but it could ease the pains of a headache of swollen, tired, and puffy eyes, too. So if migraines, eye strain, or sinus pain are the biggest barrier between you and a good night's sleep, this mask is a must-have item.
Nearly 4,000 customers on Amazon felt strongly enough about this mask to come back and give it a review- and when the overall rating is 4.4 stars, that really speaks to the quality. 84% of customers gave it a positive review, and that makes it statistically likely you'll be satisfied, as well.
IMAK Compression Pain Relief Mask and Eye Pillow Key Features:
92% cotton, 8% spandex
Hand wash cold, air dry
Universal size
Best Contoured Sleep Mask: MZOO Sleep Eye Mask
MZOO Sleep Eye Mask
For a sleep mask that will allow you the best comfort in its contour design, try the MZOO Sleep Eye Mask.
The MZOO Sleep Eye Mask has an ergonomic design that is not only contoured, but it's padded, as well. This will allow you to use the sleep mask for optimal comfort and whether you sleep on your side or your back, the mask won't impede your position choice in any way. The memory foam padding acts as an additional barrier cushion and more pillow so you can press your face into the pillow for deep snuggling and never suffer for wearing the mask.
The nose and eyes are contoured to perfectly shape to your face and block out 100% of the light in your room. While other contoured masks leave spaces to ensure a safe, pressure-free contour, this mask will give you the contour you need for comfort without sacrificing the black-out of a good sleep mask.
This sleep mask has an impressive overall rating – 4.7 stars on Amazon. That alone is something worth taking note of, but that it earned such a high rating from over 7,000 customer reviews makes it all the more noteworthy.
MZOO Sleep Eye Mask Key Features:
Memory foam design
Adjustable strap
3 color options
Best Budget Sleep Mask: YIVIEW Sleep Mask Set
YIVIEW Sleep Mask Set
For a sleep mask that will have you sleeping peacefully without adding to worries on your budget, you won't want to miss YIVIEW Sleep Mask Set.
The YIVIEW Sleep Mask Set is perfect for you if you have more than one member of your household struggling to sleep. A set of three means you can share with a roommate or family member, or you can have a spare if you travel frequently, or sleep in multiple places. You won't have any nights of sleep without your mask when you have to wash them overnight when you buy this pack and that's a big win, too.
The mask itself is contoured so you won't have to worry about eyelashes being pulled or too much pressure on your eyes. The three colors will give you enough variety that you'll be able to choose based on your preferences and the stretchy elastic of the band adjusts to fit you perfectly, without pulling your hair.
Clearly there's plenty to be temped with for this sleep mask; just checking the listing on Amazon has even more to pile on. They have an overall rating of 4.5 stars with over 4,000 customer reviews, for example. The best part of these sleeping masks, though, is that you can get the set for under $10!
YIVIEW Sleep Mask Set Key Features:
2 color set options
Set of 3
Made with high-quality sponge for ultimate comfort
Best Silk Sleep Mask: Alaska Bear Natural Silk Sleep Mask
The Alaska Bear Natural Silk Sleep Mask may be simple in its design, but there's nothing simple about the way you'll sleep. You'll have a luxurious feel of silk caressing your eyes to lull you into a peaceful night's sleep without any added distraction from light or occurrences.
Not only does silk feel luxurious, but the natural fibers also don't absorb like other materials and fabrics, so you won't have to worry about your sleep mask pulling the natural, healthy oil from your skin and drying it out. You can add your eye creams and nighttime moisturizing lotions with peace of mind, your silk sleep mask won't rid you of the benefits one bit. Because of its all-natural composition, it breathes well, giving plenty of ventilation – making this a perfect mask for sensitive skin.
Just over 2,500 customer reviews on Amazon have awarded this an overall rating of 4.5 stars. We think that's enough to justify your purchase and a quick glance at the reviews will have you sold.
Alaska Bear Natural Silk Sleep Mask Key Features:
2 lightweight, adjustable straps
2 color options
Hand wash, air dry flat
Best Kids Sleep Mask: Fxaelian Cute Novelty Cartoon Animal Sleeping Sleep Mask
The Fxaelian Cute Novelty Cartoon Animal Sleeping Sleep Mask offers a variety of styles and designs to help entice your child into wearing it, and if they struggle with sleep, you're probably already convinced. After all, when your child doesn't sleep, neither do you and there's only so much of that you can handle before you start to go a little crazy. This mask may be enough to interest your child and if wearing it lets your little one have a good night's sleep, be a little happier the next day and in a better frame of mind to learn, fluffy patterns it is. We're all in.
Please note, you don't want to put a sleep mask on an especially small child; if the mask slips it can cause a choking hazard. However, if they're old enough to trust, then this sleeping mask with fun and silly faces may be the lifesaver your kid has been searching for.
This mask has an overall rating of 4.6 stars and with the wide variety of styles, we're sure you'll be able to find something to delight your child and still provide you with a quality product for purchase.
Fxaelian Cute Novelty Cartoon Animal Sleeping Sleep Mask Key Features:
Elastic band; one size fits all
25 colors, patterns, styles available
Plush and silk composition
Who Should Buy a Sleep Mask
If you work alternating shifts, there's a good chance you'll need a bit of help getting to sleep when you change from one to the other. The same goes if you have a partner or housemate on a different sleep schedule that you. For those working the graveyard shift, sometimes black-out curtains just aren't enough to keep you asleep through the high sun part of the day. Perhaps your significant other needs a nightlight to get up and go to the bathroom at night, but that light keeps you up. For people who need absolute darkness but can't get it for one reason or another, a sleep mask is a big sleep-saver.
A sleep mask can also help if you're out of your comfort zone physically, as well as emotionally. A sleep mask will help you keep your eyes closed and even if your mind is racing with emotions or worries, the closed eyes are more likely to allow you to fall asleep. (Of course, there's no guarantee of this, and it certainly won't take the place of medical treatment if you require such.) Likewise, it will act as a security blanket to your sleeping mind if you're in a different place, traveling. You'll be able to wake up slowly without the initial, groggy scare of "Where am I?"
Important Features to Consider
A sleep mask should have a few important features. Here's what to consider when selecting a sleep mask
Contoured. If you find yourself struggling with the comfort of your traditional sleep mask, you may consider a contoured one. Not only will it allow you to keep your eyes closed or open without any light penetrating it, but it will also prevent eyelashes from being bothered by the natural act of blinking. While you may not want to blink, there's still likely you will and doing so with a flat blindfold can pull out your eyelashes, or have them curling into your eyes as you blink, causing pain, or possibly infection.
Silk. There are few things that say sleep luxury like silk. Even if you can't wrap yourself in silk actually on the bed with your sheets, a silk sleep mask may have you relaxing plenty enough to get your to a deep sleep fast. (Bear in mind, a lot of people don't actually like silk sheets; it's incredibly slippery and if you toss and turn, they're bound to have you sliding all over the place. If your hair slips easily, a silk sleep mask may have similar struggles in the fit.)
Memory foam. Though they may not be as luxurious as the silk, the memory foam sleep masks may actually be the most comfortable. While the mask will inevitably be firmly secured to your head, else it falls off as you sleep, the tightness can pose discomfort, too. If the pressure from the mask and the elastic strap is performed by memory foam, it's less likely to be painful. And if you sleep o your side in the mask, you may completely forget it's on – it's that comfortable.
Fuzzy for kids. Getting kids to sleep with sleep masks can be tricky. But when you're traveling, or when they need the darkness to get to sleep, it's still a big help. Having a mask that is covered with fun designs or fuzzy material can go a long way towards making your little one a bit more comfortable wearing something new on his or her face.
Flat masks. You may consider a flat sleep mask, in comparison to the contoured mask, to be the inferior, but those flat masks still have their purpose. Beyond the cost, which is far less than the contoured masks, generally speaking, you'll also have a mask that will gently be holding your eyes closed. You may find that you're much more likely to fall asleep if your eyes are actually being held closed.
Frequently Asked Questions
What's a sleep mask and how does it work?
A sleep mask is a strip of fabric that covers your eyes for your sleep. They'll block out all extra light and prevent you from looking at other happenings in your bedroom. The idea is that if all you can see is total darkness, you're more likely to fall asleep – and faster, too. It's a simple concept but you may find it incredibly effective. There are a couple of options when it comes to style and design, the biggest distinction will be contoured to give space for your eyelashes and remove pressure on your eyes, and "flat" (or not contoured). You can find sleep masks with memory foam for added comfort and padding, and silk for more traditional luxury.
Do sleep masks improve sleep?
Eye masks can improve your sleep, but they aren't the be-all, end-all solution for all sleeping problems. If you struggle to sleep when you sleep in an area that is too well-lit, then the sleep mask may very well be the answer to your sleep problems. If your anxiety keeps your eyes open while your brain travels at a million miles a minute, it may help keep your eyes closed so you can fall asleep faster. It won't, of course, cure insomnia or replace your anxiety medication. It can't even make your breathing relaxed in the event of respiratory illness. If you're looking for a fix to a minor concern like an occasional weird schedule or a problem getting tired when it's appropriate, though, a sleep mask could help.
Bottom line? A sleep mask is not a substitute for medical intervention and if you need that to sleep, you'll still need it. But if your problems aren't too terribly serious, then the mask can probably help.
Do sleeping masks cause wrinkles?
Good news for sleep masks is that the better you sleep, the less likely you are to develop the signs of aging, right? Right and wrong. You won't see the poor effects of aging like dark circles or bags, but the creases that you develop overnight don't really go away when you can no longer see them. Over time, the creases from sleeping on the eye mask are more likely to turn into wrinkles. And that's the bad news. More good news? It's over time. A couple of nights a week will likely not hurt your skin, so as long as you're not using it every night, you're going to be fine.
And if you're particularly concerned with aging, then you may want to consider The Best Eye Creams and The Best Vitamin C Serums.
Do sleep masks damage eyelashes?
Damaged or poorly impacted eyelashes are definitely a problem you'll have to be concerned with, but one that is easily mitigated. If you only use the mask intermittently, there's a good chance you'll never need to worry about it at all. However, if you're using the sleep mask nightly, you'll want to make sure to choose a contoured mask in order to prevent long-term damage to your eyelashes. If you use a flat mask that pushed your eyes closed, you may find, over time, that your eyelashes will grow in at an odd angle. They may grow crisscrossed, or down; worst-case scenario, though, is that they begin growing inverted and that will be a big problem for your eyes and sight. You may get frequent infections and, again, the extreme case is you may have to have your eyelashes surgically removed.
Other Sleep Masks We Reviewed
We looked at 20 other sleep masks. Even though they didn't make our 5 best sleep masks list, they're the best of the rest and each is still a great option for you. The information you'll need to compare each one is included with the listing.
Contoured Sleep Masks
Bucky 40 Blinks Comfortable, Contoured
You can adjust the Velcro straps on this mask to get a perfect fit every time.
Key Features:
35 style options
Velcro closure
Hand wash, hang to dry
Cost: $10
JADOME 3D Contoured Eye Mask for Sleeping
The contoured and memory foam design allows you to sleep comfortably and the hidden nose wings will keep your nose as comfortable as the rest of your face.
Key Features:
Bonus earplugs included
1-step adjustable Velcro
Storage case for travel
Cost: $15
Joseche Sleep Headphones Bluetooth Eye Mask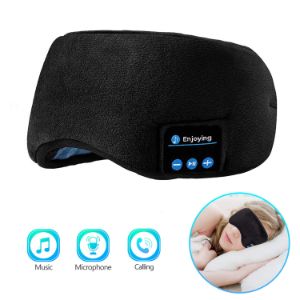 If you need more than just a black-out style mask, this Bluetooth mask will allow you to play relaxing music or even connect to your phone if you're waiting on an important call.
Key Features:
9-hour playtime
Fabric separates and is machine washable
Full charge in 2.5 hours
Cost: $25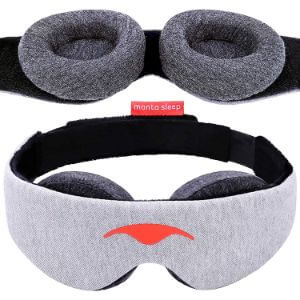 With a plush pillow to surround each of your eyes, this mask will keep your eyes from seeing any distraction – light or movement, alike.
Key Features:
Triple reinforced elastic
Adjustable eyecups
Snag-free fasteners
Cost: $30
You won't have the Velcro snapping your hair with this mask and its adjustable elastic band.
Key Features:
3 color options
Adjustable elastic strap
8.5″ adjustment range
Cost: $8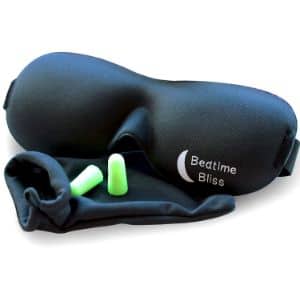 The contours of this sleeping mask accommodate not just your eyelashes, but also your nose, as well.
Key Features:
Includes bonus earplugs and carrying case
7 color options
Velcro closure
Cost: $15
Sleepfun Invisible Deep Orbit 3D Eye Mask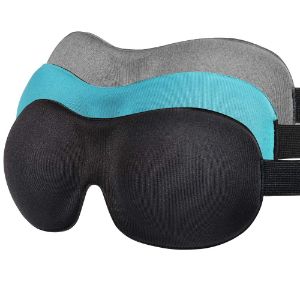 You can buy more and save with this listing of sleep masks – buy one for $7 or two for $9.
Key Features:
2 color options
2 packaging choices
Made with low-rebound memory foam
Cost: $8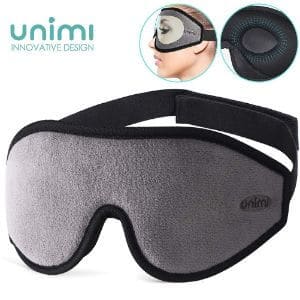 With a hidden nose contour, the comfort of this eye mask is definite – and also guaranteed with a quality and service guarantee, as well.
Key Features:
100% shading, black-out effect
2 color options
Made with memory foam design
Cost: $10
Unimi Soft Eye Mask for Sleeping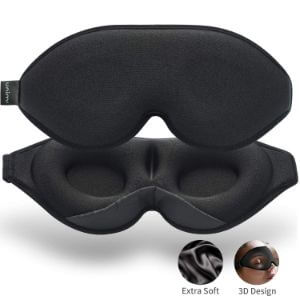 This bendable, soft design makes an ideal sleep mask for side sleepers because it will remain in place, keeping the light out, while remaining comfortable all through the night.
Key Features:
100% blackout
Made with Lycra and memory foam
60-day guarantee
Cost: $15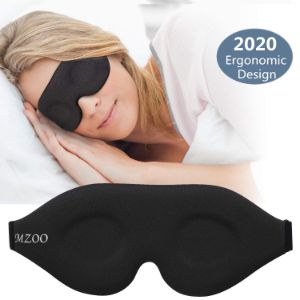 This sleep mask is contoured to your eyes and nose, allowing you to place it on and block out all light and distraction for the best night's sleep possible.
Key Features:
Adjustable elastic strap
2 color options
100% black-out
Cost: $15
Unimi 3D Sleep Mask with Breathable Hole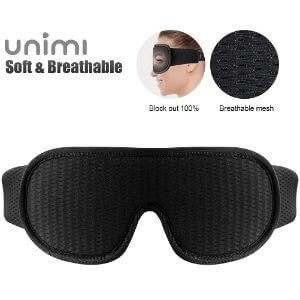 Though this looks like a flat mask from the outside, the hidden ergonomic design is contoured for maximum comfort.
Key Features:
100% black-out
2 color options
Adjustable strap
Flat Sleep Masks
FRESHME Handmade Cotton Sleep Mask Blackout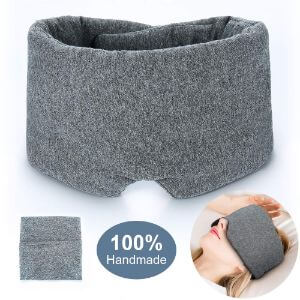 The soft cotton design of this sleep mask is as comfortable as your pillow without the pressure you may get from others.
Key Features:
100% handmade
2 colors available
Adjustable to all sizes
Cost: $25
Kimkoo Cotton Sleep Mask-Sleeping Mask
You'll be able to get a sleep mask for you and your partner in one click with this set available from Amazon.
Key Features:
Includes carrying case
Made with soft cotton
Adjustable elastic strap
Cost: $15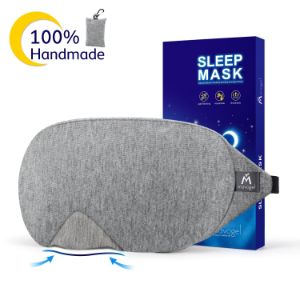 Though the mask is a flat design, the nose has a comfortable gap that will better block out light and distractions.
Key Features:
2 color options
Adjustable elastic strap
100% handmade
Cost: $10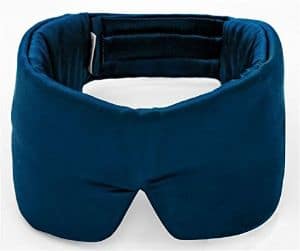 The secure clasp on this sleep mask will give you a tight fastening without pulling your hair as you toss and turn.
Key Features:
Made with synthetic and cotton fabrics
Made in USA
100% handmade
Silk Sleep Masks
J JIMOO Natural Silk Sleep Mask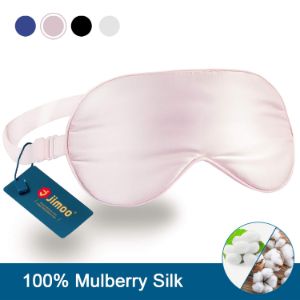 This posh sleep mask is made with 100% mulberry silk to keep you relaxing all night long.
Key Features:
7.8″W x 3.5″H
4 color options
100% satisfaction guarantee
Cost: $10
JEFlex Natural Silk Sleep Mask Blindfold
With a soft adjustable strap, this silk mask will keep your mask in place without tangling in your hair.
Key Features:
Lightweight
100% mulberry silk
8.5″W x 4.13″H
Cost: $6
Jersey Slumber 100% Silk Sleep Mask
This sleep mask boasts that it will help you increase your number of REM sleep cycles to lead to more alert waking periods.
Key Features:
100% silk
Adjustable elastic strap
8″W x 4″H
Cost: $9
LULUSILK Mulberry Silk Sleep Eye Mask
This sleep mask is entirely made of silk; not just the surface as the bulk of its competitors, but the filling as well to maximum breath-ability.
Key Features:
100% Mulberry silk
11 color options
8.3″W x 3.5″H
Cost: $10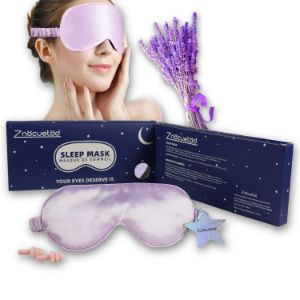 With this sleep mask, you can add a bit of relaxation scent to your night to make your sleep all the more soothing and stress-relieving.
Key Features:
3 color options
Black silk lining for optimal black-out
100% handmade
Cost: $10