You can't hide anything happening with your eyes – or can you? When you're speaking to someone, it's only polite to look them in the eye, but that means they're looking at your eyes, as well. If you're not comfortable with what they're seeing, then it may be time to invest in an eye cream. You can reverse the effects of aging (within certain limitations), and you can prevent anyone from ever seeing anything but hydrated and fresh eyes when they look at you. If you're not sure where to start, let us take the pressure off. We've done the research for you!
We reviewed dozens of eye creams to identify the best of the best. We looked at eye creams that will hydrate the skin around your eyes to prevent some effects of aging, as well as those that will act to reverse some. We found the eye creams that will protect your eyes from sun damage and those that will be so light and gentle on your skin, you won't even notice it's there. No matter what you want in an eye cream, we have the right one for you.
While you're looking for ways to improve the appearance of your eyes, you may want to consider how big an impact your eyelashes have and try The Best Eyelash Extensions.
Almost immediately, we found the Pure Biology Premium Total Eye Cream Serum, and all through our research, it remained the obvious choice as our best overall eye cream. It really is the total package – hydrating the skin around your eyes to prevent further wrinkling, while reducing the appearance of fine lines and wrinkles, too.
The 5 Top-Rated Eye Creams
*Ratings are from Amazon at the time of publication and can change
Best Eye Cream Overall: Pure Biology Premium Total Eye Cream Serum
Pure Biology Premium Total Eye Cream Serum uses an anti-aging blend that's highly effective. With a combination of the intense hydration provided by argan oil, aloe, and vitamins C and E, you'll be able to prevent future damage and with the hyaluronic acid, you'll be able to reverse the effects of aging by stimulating stronger bonds and re-firming your skin around your eyes. This means you'll see less puffiness and dark circles as well as fewer wrinkles – faster than a lot of this eye cream's competitors.
In fact, you'll see results so fast, the manufacturer boasts you'll see some of the effects in as little as thirty minutes after your first application. While those effects may not be the permanent ones you'll see with regular, long term use, they're still nice to see and especially beneficial before a big night out or an important meeting.
There are close to 3,000 customer reviews on Amazon to earn this eye cream an impressive overall rating of 4.4 stars. That's more than enough to build your confidence in the quality and with overall satisfaction of 84%, there's every reason to believe you'd be one of the thousands of customers pleased with this eye cream.
Pure Biology Premium Total Eye Cream Serum Key Features:
0.5 or 1.0 fl oz
Buy more and save
Anti-aging formula
Best Natural Eye Cream: LilyAna Naturals Eye Cream Moisturizer
The LilyAna Naturals Eye Cream Moisturizer is perfect for those who are especially conscious of the ingredients they apply to their skin. This is an eye cream with 94% natural ingredients and is certified USDA organic, as well. It is manufactured vegan-friendly and cruelty-free, so you won't have to worry that the product was ever tested on animals. There are no artificial colors or fragrances, no parabens and it's made within the USA.
The formula this eye cream utilizes will brighten and firm your skin with the exact kind of gentleness you'll need around your eyes. You can use this in both the morning and the evening and doing so will allow you to see results faster. It's light enough to be used under makeup and you'll love the natural smell, too.
Over 6,300 customers purchased this eye cream on Amazon and felt strongly enough to come back and leave a review. That certainly lends to the credibility of the overall rating of 4.2 stars and that's no small feat!
LilyAna Naturals Eye Cream Moisturizer Key Features:
Includes vitamins C and E, rosehip seed oil, and hibiscus extract
1.7 fl oz
30-day money-back guarantee
Best Budget Eye Cream: Cetaphil Hydrating Eye Gel-Cream
The Cetaphil Hydrating Eye Gel-Cream uses a formula rich with hyaluronic acid to replenish the skin around your eyes with the proper hydration necessary to maintain a vibrant appearance and high elasticity. The hyaluronic acid contained within will replenish the depleted stores that naturally occur in your skin and work to maintain strong bonds that create firm skin.
This eye cream is designed for all skin types, so whether your skin is prone to patches of dry or oil, this will still work for you. – That is especially appealing for anyone with a combination skin tone who normally struggles with what kind of cream to apply. You'll apply this gel-cream daily for the best results.
Nearly 500 customer reviews on Amazon have given this eye cream a more than respectable overall rating of 4.3 stars, and that makes it appealing on its own. But our favorite part of this eye cream is the price. You can pick it up for under $15 and if you subscribe and save, you can get it for $11!
Cetaphil Hydrating Eye Gel-Cream Key Features:
Includes hyaluronic acid
Available with night cream, also
0.5 fl oz
Best Anti-Aging Eye Cream: Neutrogena Rapid Wrinkle Repair Under Eye Cream
The Neutrogena Rapid Wrinkle Repair Under Eye Cream works so well that it boasts you will see the reversal of wrinkles in just one week! If you're wondering about how accurate that is, consider reading through a few reviews and you'll be convinced. After all, 79% of people that reviewed this left positive feedback. For Neutrogena to have discovered how to do this, you'll have to take a look at the ingredients. They use an accelerated retinol SA formula that works nearly instantly to new your skin, all through the day.
This is such a light cream that you won't be bothered putting it on daily, to be certain, but you also won't even be able to tell if you put it on and it will keep working just as effectively when you apply your makeup directly on top of it.
There are 1,200 customer reviews on Amazon that have given this eye cream an overall rating of 4.2 stars, and we think that's plenty enough to tempt you into trying it.
Neutrogena Rapid Wrinkle Repair Under Eye Cream Key Features:
0.5 fl oz
Includes retinol, hyaluronic acid, and more
Apply daily
Best Eye Cream for Sensitive Skin: Burt's Bees Eye Cream for Sensitive Skin
The Burt's Bees Eye Cream for Sensitive Skin is an ideal eye cream for those with highly sensitive skin. Not only is it formulated to be gentle around your eyes, but it's also made with 98.9% natural ingredients. (That other 1.1% is the intense wrinkle reversal that gives big results, so you'll probably be able to easily forgive it once you've given it a try.)
This eye cream is part of an entire line of skincare products from Burt's Bees that is specially created for sensitive skin, so you won't want to overlook this; because if your eyes respond well to the eye cream there's an excellent chance the rest of your face and neck will respond to the other products in this line.
Sitting on Amazon with right around 3,000 customer reviews, this eye cream is certainly top tier for sensitive eyes. And considering the overall rating with that many reviews (4.4 stars), it's easy to see why this made our top five.
Burt's Bees Eye Cream for Sensitive Skin Key Features:
Subscribe and Save for more savings
0.5 fl oz
Apply each morning and evening for best results
Who Should Buy an Eye Cream
When you look in the mirror, are you noticing an increase of wrinkles on or around your eyes? If so, an eye cream may be able to help. Your eyes are the window into your soul and laugh lines will show you've lived a happy life, as well as bags, show an exhausting one. You may not love the look of wrinkles or your aged eyes, but try to remember they show you've lived a long life. Wrinkles mean you've had adventures and seen the world – But that doesn't mean the world needs to know it by looking at you. An eye cream can reverse some of those lines and wrinkles to make your skin look rejuvenated.
In addition to wrinkles, there are a number of other benefits that an eye cream can provide you may find invaluable. An eye cream can eliminate the dark circles under your eyes and ridding your face of an unsightly discoloration is a big win. Even young individuals will struggle with these problems – a lack of sleep will always show in your eyes before any other part of your body and that means late nights partying and late nights with a sick child. There are dozens of reasons you could need an eye cream and having one on hand for the days when the sight in the mirror shocks you is nothing if not smart.
Of course, the above reasons for buying an eye cream are all to fix a problem. But why not prevent the problem from ever happening? (Or at least keep it from getting worse?) Even if you have no discoloration, wrinkles or bags (show-off), you can avoid ever getting them – or at least stave them off a while – by taking caution with a good hydrating eye cream. The more hydration you apply to your skin, particularly the eyes, as they are most susceptible to age, the better you're going to be able ti weather the effects later in life.
Important Features to Consider
An eye cream should have a few important features. Here's what to consider when selecting an eye cream:
Hydrating and tightening. There are a few key words you'll pick up on during your research into eye creams. 'Hydrating' and 'Tightening' are two such words and though they will sometimes be mentioned together, they'll typically refer to two separate functions for that eye cream. Hydrating generally refers to preventative anti-aging measures. Your skin will be less likely to wrinkle if it's properly hydrated and preventing it far easier than reversing, so a hydrating eye cream is paramount to preventing additional wrinkles. Note: Hydrating eye creams also require fewer, less rare, ingredients, which means it's cheaper, too. Prevention is easier and far less expensive. Tightening eye cream will be the more aggressive cream that attacks already set in wrinkles to lift them, firming up your skin. This is a wrinkle repair and it's going to be less "sure-fire" as wrinkles don't leave by kind suggestion. There's only so much one can do to fight gravity and aging and tightening wrinkle cream, as effective as it may be, isn't a quick fix. It will, in many cases, take significant time and financial investment to repair the laugh lines and bags beneath your eyes.
Gentle. The skin around your eyes isn't the same as the other parts of your face. Not only will the fragrances or chemicals in your eye creams run the risk of getting into your eyes, but the skin itself is also far more sensitive. You can decrease the risk of irritation by selecting an eye cream specially designed for your eyes. This will typically mean the cream is more gentle than other skin creams, but picking a cream labeled "sensitive" may mean it's even more gentle than the standard eye creams.
Vitamin C and hyaluronic acid. If you see these two ingredients listed, know that they're included as a preventative to wrinkles and to create a vibrate, well-hydrated skin. They're especially hydrating and have lasting effects that, after regular use, may reverse the aging effects time has given you.
Sunscreen. With all skin or face creams, a protection against the harmful UV rays of the sun is never something to dismiss. The sun is the number one cause of skin damage and while you may not spend a lot of your time in the sun, it doesn't necessarily take long to do damage.
Collagen. Collagen is probably something you have immediate term recognition with, and while it is known for skin tightening and anti-age effects, it's important to keep in mind that not everything you read is true. – Or in this case, it may not be the whole truth. Collagen, when applied topically, will tighten your skin. You'll feel it almost immediately and will probably see a bit of improvement right away. However, the effects are temporary. Collagen's particles are too big and will not penetrate your skin. That means you'll see surface effects, but they'll never be absorbed into your skin to help you rejuvenate your skin over time. For that, you'll need Retinol.
Retinol. Retinol is the most common ingredient that will reverse the effects of aging in a topical cream. It's a specific type of Vitamin A that will actually stimulate your body to produce more collagen itself, increasing cell turnover, and improve your skin's discoloration. It will go a long way in firming your skin with a noticeably improved elasticity. In addition, to Retinol, you'll benefit from antioxidants that help your skin repair itself. And, as always, a good and well-balanced diet will help slow the effects of aging all throughout your body.
Frequently Asked Questions
What is an eye cream and how does it work?
Eye cream is a moisturizing cream that will help improve your skin around your eyes to prevent or possibly reverse, the effects of sun and age. It will be more hydrating than a normal skin cream, but more gentle than a regular face cream, also. It will often have ingredients that make it faster to absorb into your skin, due to the close proximity to your eye and it will specifically address the needs of your skin as you get older. Not just the loss of collagen, but the damage caused by the sun and cosmetics, as well. After all, though the majority of your body has been vulnerable to sun damage, your eyes and face have seen the "wear and tear" of years of sometimes harsh cosmetics, as well. (Remember your teenage self and how poorly you applied and removed your makeup, as well as how many times you fell asleep with that makeup on – your eye skin has had a rough patch or two.) An eye cream will help repair that damage as well as protect your eyes from additional damage.
Should you put eye cream on eyelids?
As a rule, no, eye creams aren't intended for the top of your eyelids. Most will go near the eye, but around the ocular bone, rather than on top of the lid. Because products aren't completely absorbed by your body right away, you need to consider the possibility of your body heat warming the cream and causing it to travel directly into your eye. Because your eye cream will often have chemicals and nourishing elements to it, you definitely don't want those to get into your eyes and the eyelid will be a bit more dangerous than anywhere else. You also don't want to push on your lid too much because you can damage your eyes that way, so massaging the cream into your skin on the eyelid isn't a great practice. However, there are fast-absorbing creams that are safe to use on the eyelid.
You should, of course, always follow the instructions and the eye cream itself will give you more specific instructions that are applicable to your individual eye cream.
What age should you use eye cream?
As with all skincare, your eye cream treatments should follow the rule of thumb: The sooner the better. Preventing wrinkles is far easier than repairing them, so start before you ever see the first wrinkle and hydrate, hydrate, hydrate. You should use a face moisturizer daily and that moisturizer will often be safe to use around your eyes. However, for targeted and sensitive treatment, an eye cream that will increase the elasticity of your skin to prevent crow's feet or bags, you should start to use eye creams in your 20s. Don't worry if it's too late for you to start that early, though! You can see improvement on your skin by starting now, as soon as possible.
How do you take away eye bags?
Well, the eye cream you select will certainly go a long way towards getting rid of them, and there are certain ingredients that will help with that better than others. If the eye bags are caused by allergies, there won't be an any better solution than a good allergy medication. Even if allergies aren't the cause, an antihistamine does tend to eliminate swelling and puffiness, so you could still see some improvement. (But keep in mind there are a lot of side effects from antihistamines, so you won't want to take it without cause.) Beyond that, you can look for ingredients like green tea, and retinol to improve the firmness of your skin and stimulate collagen production. For a fast (but temporary) effect, a collagen eye cream can potentially firm your skin immediately.
If you're interested in preventing them before they ever start, there are a few ways to keep those bags away from your under eyes. Of course, they're not all feasible so the eye cream may be a necessity. For natural tactics to prevent or eliminate bags under one's eyes, a cool compress, plenty of sleep, allergy treatments, and a healthy diet will certainly help. All of your skin also benefits greatly from proper hydration so make sure you're drinking plenty, as well.
Other Eye Creams We Reviewed
We looked at 20 other eye creams. Even though they didn't make our 5 best eye creams list, they're the best of the rest and each is still a great option for your eyes. The information you'll need to compare each one is included with the listing.
Hydrating Eye Creams
Eau Thermale Avene Soothing Eye Contour Cream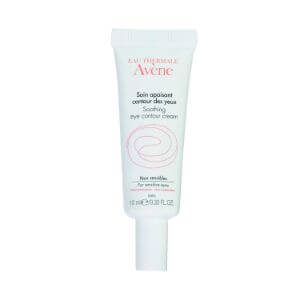 Along with soothing any eye irritation, this eye cream will tighten the bags around your eyes to make you look well-rested.
Key Features:
Apply daily
For sensitive eyes
0.33 fl oz
Cost: $30
ETUDE HOUSE Moistfull Collagen Eye Cream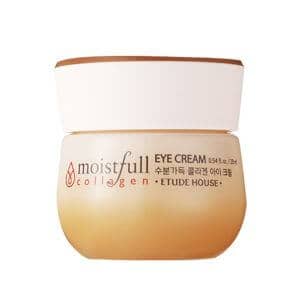 This eye cream will hydrate your skin as well as give a temporary but immediate tightening effect, as well.
Key Features:
0.98 fl oz
Apply daily
Includes collagen
Cost: $20
Image Vital C Hydrating Eye Recovery Gel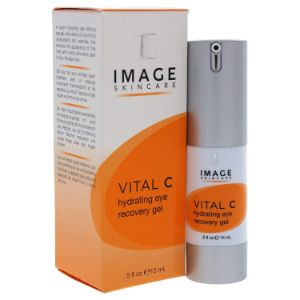 The ultra-hydrating vitamin C included with this eye cream will keep the skin around your eyes moist and clear.
Key Features:
0.5 fl oz
Paraben-free
Apply morning and evening
Cost: $50
La Roche Posay Hydraphase Intense Eyes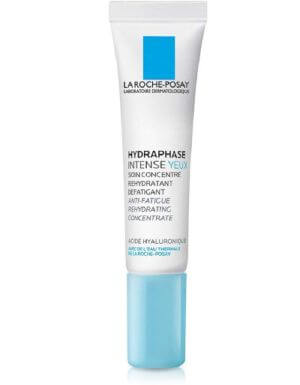 This nourishing eye cream will help you keep your youthful appearance and minimize the effects of age.
Key Features:
Includes hyaluronic acid
0.5 fl oz
Anti-fatigue formula
Cost: $35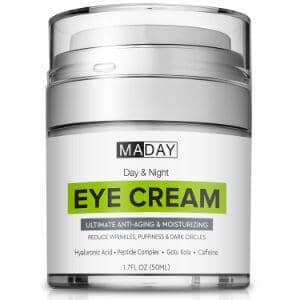 If you're interested in reducing your fine lines while preventing them with intense moisturization, this may be the eye cream for you.
Key Features:
1.7 fl oz
Includes caffeine and hyaluronic acid
Reduces puffiness and dark circles around eyes
Cost: $20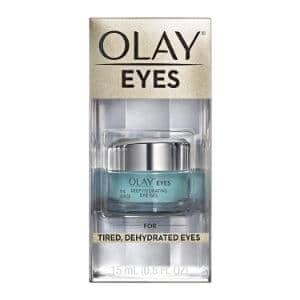 This eye cream utilizes a formula especially for the tired and dehydrated skin surrounding your eyes.
Key Features:
0.5 fl oz
Includes hyaluronic acid, vitamin B5, and cucumber extract
Apply daily
Cost: $20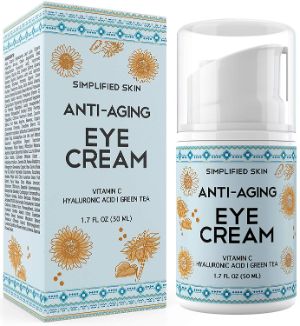 This eye cream includes so many ultra-hydrating ingredients, the skin around your eyes is sure to respond to appear more vibrant than ever.
Key Features:
Includes hyaluronic acid, green tea, vitamin C, and more
Hydrates and nourishes skin
1.7 fl oz
Wrinkle Repair Eye Creams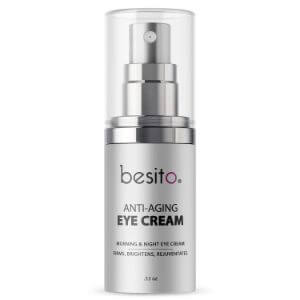 This eye cream boasts a 4.4-star rating on Amazon with nearly 700 customer reviews, so there's certainly something to be said for the results it's likely to give you.
Key Features:
Includes peptide complexes, vitamins K and E as well as aloe
0.53 fl oz
Addresses crow's feet, fine lines, and sagginess around eyes
Cost: $15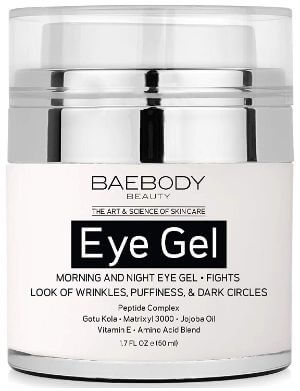 You'll be well-equipped to fight off the wrinkles that occur with age by regular use of this eye cream.
Key Features:
Apply twice daily
1.7 fl oz
Includes jojoba oil, peptide complexes, amino acid blends, and more
Cost: $25
Beauty by Earth Under Eye Cream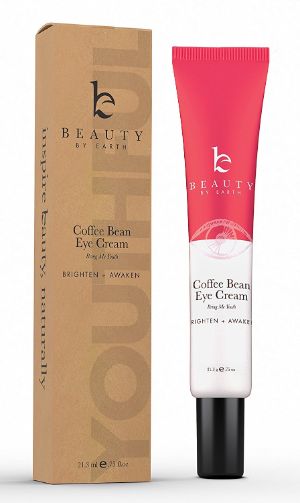 By utilizing the anti-inflammatory effects of coffee beans, aloe vera, cucumber and more, this eye cream will allow you to maintain vibrant and youthful skin around your eyes.
Key Features:
Buy more and save – 2 packaging options
Natural and organic ingredients
0.75 fl oz
Cost: $15
BeautyRx by Dr. Schultz Eye Cream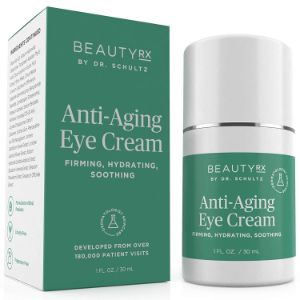 This eye cream formula was specially developed by dermatologists after visits with over 180,000 patients!
Key Features:
Reduces fine lines and wrinkles around eyes
Includes Vitamin C, green tea, hyaluronic acid, and Matrixyl 3000
1 fl oz
Cost: $35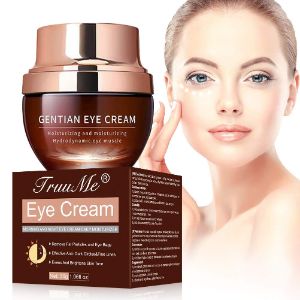 This eye cream will work to strengthen the muscle beneath the surface and tighten the appearance of the skin around your eyes, keeping your eyes youthful.
Key Features:
1.06 fl oz
Evens skin tone
Apply twice daily
Cost: $20
Coffee Eye Lift Cream by Leven Rose 100% Natural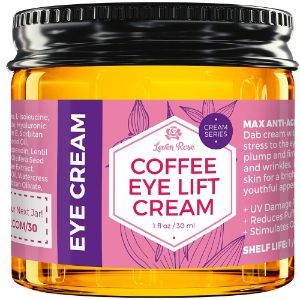 This eye cream will reverse the damage from the sun and effects of aging as well as provide an immediate tightening to your skin with the collagen boost.
Key Features:
1-year shelf life
Includes collagen, coffee, and antioxidants
1 fl oz
Cost: $25
Obagi Medical ELASTIderm Eye Cream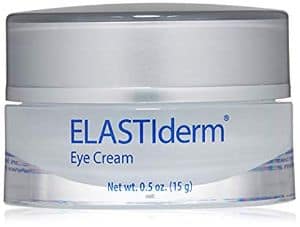 Though this eye cream is on the pricey side, those who've purchased it all seem convinced in its effectiveness.
Key Features:
Unique, proprietary blend of anti-aging ingredients
0.5 fl oz
2 packaging options available
Cost: $115
Olay Eyes by Olay Ultimate Eye Cream
With a peptide-rich formula, this eye cream will move mountains to reduce the dark circles and puffiness around your eyes.
Key Features:
Apply daily
0.4 fl oz
Fragrance-free
Cost: $25
Olay Regenerist Retinol Eye Cream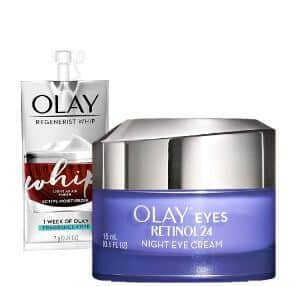 The Vitamin A-rich retinol contained within this eye cream will noticeably improve the crow's feet and wrinkles around your eyes.
Key Features:
Apply nightly
Includes retinol, Vitamin B3 and more
0.5 fl oz
Cost: $50
Queen Bee Naturals Best Eye Balm Peeper Keeper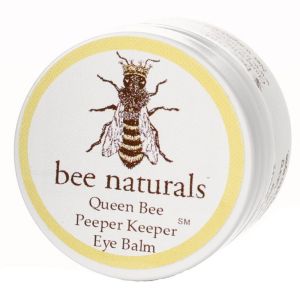 With over 10 organic nutrient oils, this is a natural eye cream that will improve your skin's appearance with daily use.
Key Features:
1.6 fl oz
100% natural ingredients
100% money-back guarantee
Cost: $20
RoC Retinol Correxion Anti-Aging Eye Cream Treatment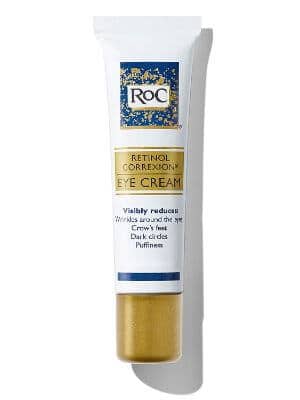 This eye cream treatment will utilize the retinol to tighten your skin and improve its elasticity, reducing the effects of aging.
Key Features:
Improves puffiness, dark circles, fine lines, and crow's feet
Includes retinol
0.5 fl oz
Cost: $20
Soothe Intense Repair Treatment Eye Cream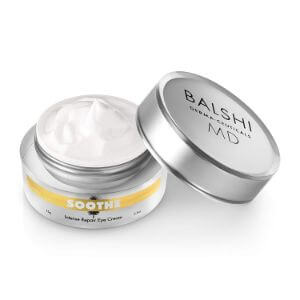 With a peptide and hyaluronic acid-rich formula, this eye cream will both reverse the effects of aging, as well as prevent future damage.
Key Features:
30-day guarantee
0.5 fl oz
Includes peptides, hyaluronic acid, caffeine, and more
Cost: $40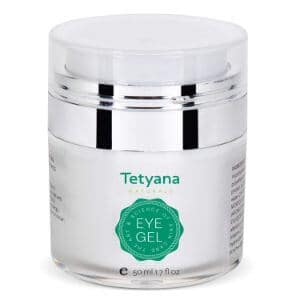 By using this eye cream in both the morning and the evening, you'll see the wrinkle reversal effect around your eyes quickly.
Key Features:
Apply twice daily
Includes allantoin, hyaluronic acid and more
1.7 fl oz
Cost: $20