A nail dryer or lamp is a must-have for the DIY nail art enthusiast. Whether you apply a new coat of nail polish every few days or use gel or acrylic nails, a nail dryer can set your polish quickly to get you on your way. Nail dryers can be especially helpful for drying multiple layers of nail polish between each coat and making your nail polish stronger for a long-lasting finish.
We reviewed dozens of nail dryers and lamps to identify the best of the best. We considered several features in our search, like price, drying power, the type of light, size and portability, and extra accessories and features.  
LKE UV-LED Nail Lamp
The LKE UV-LED Nail Lamp has close to salon-quality curing without the added cost.
The LKE UV-LED Nail Lamp is our top pick for best nail lamp. It stood out as a clear winner in our book because of its helpful LCD screen, stylish and compact design, and its ability to dry polish quickly using 21 UV LED lights. We also love that there's virtually no learning curve, so almost any nail polish enthusiast can jump right in and start using the lamp.
The 5 Top-Rated Nail Dryers and Lamps
*Ratings are from Amazon at the time of publication and can change
Best Nail Dryer/Lamp Overall: LKE UV-LED Nail Lamp
With 21 LED lights that emit UV rays and 40W power, the LKE UV-LED Nail Lamp offers a good mix of convenience, quickness, and efficiency to dry your nails. This nail dryer works with UV-compatible gel nail polish to dry your nails in as little as 30 seconds.
This dryer is compact, yet large enough to fit your full hand comfortably to dry all your nails at once. All controls sit at the top of the dryer along with an LCD screen to keep track of curing time. Its curved design also keeps all the UV rays contained on the underside to protect your eyes.
Many customers who've given this nail dryer a positive review are impressed with its ability to dry and set their nail polish as quickly as they'd expect from a salon. It's also an excellent option for curing multiple nail polish without spending a lot of time doing so. 
LKE UV-LED Nail Lamp Key Features:
30 to 99-second timers
Curved UV housing
Automatic LED lighting
Lightweight and compact
One-year warranty
Best Professional Nail Dryer: Lumcrissy Professional LED Nail Lamp
If you don't mind spending extra money to get more power and lightning-fast curing times, then the Lumcrissy Professional LED Nail Lamp is one of your best options. This 64W nail dryer has plenty of power in its 32 LED lights to dry and set your nails just like a professional salon dryer would.
A significant difference between this dryer and others is that its case is made of alloy metal to attract and dissipate the heat from the lamps. Several other lamps are made of plastic, which can cause your hands to feel uncomfortably hot underneath. Although this design tends to raise the price if a nail dryer, it could be worth it to you for a salon-like experience.
You'll get four timer functions with the Lumcrissy Professional LED Nail Lamp, from 10 seconds to 60 seconds. It also includes a convenient carrying handle so that you can easily take it with you where you need it. 
Lumcrissy Professional LED Nail Lamp Key Features:
Alloy metal case
Anti-slip feet
LCD screen
Can dry pedicures
Curing time of 45 seconds
Best Budget Nail Lamp: Topvision UV Nail Lamp
The Topvision UV Nail Lamp is a budget-friendly nail lamp that doesn't look or feel cheap. In fact, it looks like several of the higher-priced similar models. It's even as powerful as many of them with up to 48W of power. The primary difference is that it's slightly smaller than others, which could be a downfall for those with large hands.
However, you'll be hard-pressed to find many other differences, as this lamp fits within the lower end of the price spectrum for the average at-home nail dryer. It includes three timer settings, a domed shape to block UV rays from getting to your eyes, and an auto light sensor that detects when you place and remove your hands. The bottom metal plate even helps to reflect light to cure your nails quickly.
Topvision UV Nail Lamp Key Features:
Easy to clean
Two power options
Multi-angle lights
Compatible with most gel nails
Strategic light placements
Best Acrylic Nail Dryer: MelodySusie Nail Lamp and Dryer
If you use acrylic nails and want a quick way to dry the glue and polish, the MelodySusie Nail Lamp and Dryer may do the trick. It has UV LED lights to dry gel polish, too, but its low-heat and high-powered mechanics make it an excellent solution for curing a variety of nails and polishes.
The nail dryer comes with three timers for 30 seconds, 60 seconds, and 90 seconds. There are also power-saving features, like an auto shut-off when you remove your hands and a five-minute shutoff after no use, to keep its lights long-lasting.
Positive reviews mention that this dryer is versatile in its ability to dry various nail polish types while keeping the colors intact. Another bonus is that it's extremely lightweight and compact, yet still comfortably fits hands of most sizes inside.
MelodySusie Nail Lamp and Dryer Key Features:
30 lights
Detachable magnetic tray
No learning curve
LG chip for low power consumption
Comfortable hand rest
Best Gel Nail Dryer: SUNUV UV-LED Nail Dryer
When it comes to drying gel nails, you want a dryer or lamp with UV lighting that's designed to cure nails from all angles. The SUNUV UV-LED Nail Dryer does just that with its curved shape and strategically-placed UV lights that sit close to your hands to cure your manicure. There are two timer settings – 30 seconds and 60 seconds – to dry your nails how you see fit.
A stand-out feature on this nail dryer is its low-light design that's dimmer than similar models. As the domed shape helps to block the light from reaching your eyes, the dimmed lighting can further prevent harmful damage from the UV rays emitted from the dryer.
This is one of the most popular at-home nail dryers on Amazon with several happy reviewers noting how easy it is to use and how well it cures their gel polish. 
SUNUV UV-LED Nail Dryer Key Features:
Quiet 
Automatic light sensor
One-button operation
50,000 hours of lamp life
Customer satisfaction guarantee
Who Should Buy a Nail Dryer or Lamp
Have you ever waited 20 minutes or more for your nails to dry after painting them, only for you to attempt to put on your shoes and have your polish smudge? Most of us nail art enthusiasts have been there. Unlike air-drying your nails, a nail dryer or lamp can speed up the process and even set your nail polish layers so that they're stronger and last longer.
A nail dryer or lamp can take as little as ten seconds to fully dry your nails, making for a quick and convenient manicure. They're usually best for gel nail polishes that work with UV light, but some will dry a variety of nail polishes. Some even come with handy storage compartments for your nail tools, nail polish remover, and more, giving you everything you need for your manicure at your fingertips.
LKE UV-LED Nail Lamp
The LKE UV-LED Nail Lamp has close to salon-quality curing without the added cost.
Important Features to Consider
A nail dryer or lamp should do a few things well. Here's what to consider when selecting a nail dryer or lamp for your beauty routine:
Type of polish. Some nail dryers and lamps work with specific types of polish, such as UV lamps and UV polish. Check for compatibility between the two before making a purchase.
Dryer size. Nail dryers are available in a variety of shapes and sizes. Some are compact and may not be comfortable for drying five fingers at once. Others are meant only for fingernail drying, while you can use some models to dry your hands and feet at the same time. 
Cure time. You'll find that the curing time of nail dryers can vary significantly with brands and models. Higher-powered units (denoted by wattage, or W), can sometimes dry nails in seconds, but they're usually pricier. Lower-powered units are often more affordable, but they might take a couple of minutes to dry your nails. 
Storage. Storage spots on your nail lamp can be convenient for storing nail tools, makeup sets, and other beauty and care products, to keep your counter organized.   
Timer. If you know how long your nails usually take to dry, then having a nail dryer with a timer function can come in handy. They'll usually offer a few timed settings that alert you when your drying time is up.
Warranty. It's a good idea to look for a nail dryer with a warranty of at least one year, if possible. Make sure that you can return and receive a replacement of your nail dryer if anything malfunctions during that time.
Frequently Asked Questions
What is a nail dryer or nail lamp and how does it work?
Although there are different types of nail dryers and lamps, many modern ones work similarly. They use ultraviolet (UV) rays to penetrate UV-accepting nail polish to harden the polish and help them dry quicker. A nail lamp usually just uses lights to dry your nails, while a nail dryer may also include a drying function that moves air to your nails to help them dry even faster.
Do UV nail dryers work on regular polish?
Not usually. Most UV nail dryers require you to use nail polish that's specifically designed to work with UV rays for drying. Most gel nail polishes work with UV nail dryers and lamps. You'll need to check with your specific nail lamp model to see what polish it works with. You can also check the label of your nail polish to see if it's compatible with UV nail dryers. Some brands have a UV topcoat that you can apply over your existing polish to dry and set your manicure with your nail dryer.
Are nail dryers safe?
Most nail dryers use UV rays to dry nails, which are the rays we get from the sun. UV rays can damage the skin and cause premature aging. Nail dryers are regulated by the U.S. Food and Drug Administration (FDA) for this reason. However, the FDA notes that nail dryers usually don't emit enough UV rays to exceed the exposure limits in most people. Still, if exposure to UV rays is a concern for you, then you should avoid using a UV nail dryer or lamp.
Can you use a hairdryer to dry nails?
Yes, you can. Hairdryers can be a solution for quick nail drying when you don't have a nail dryer available. Just be sure to use one that has a cool setting. Not only does cool air help set your nails better than hot air, but high heat also puts the sensitive skin on your fingers at risk for burns. 
Other Nail Dryers/Lamps We Reviewed
LKE UV-LED Nail Lamp
The LKE UV-LED Nail Lamp has close to salon-quality curing without the added cost.
We looked at 20 other nail dryers and lamps. Even though they didn't make our 5 best nail dryers/lamps list, they're the best of the rest and each is still a great option for your nail routine. The information you'll need to compare each one is included with the listing.
Professional Nail Dryers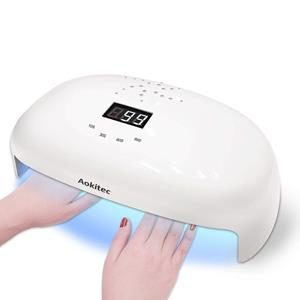 This nail dryer offers plenty of space for both hands to fit, so you can cut your drying time in half.
Key Features:
Auto-sensing lights
Four timers
Light beads have a 50,000-hour lifespan
Cost: $40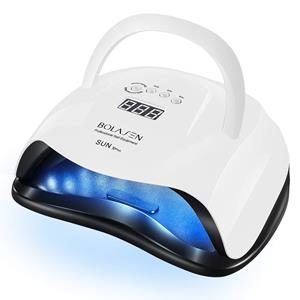 Bolasen's professional quality nail lamp has evenly distributed lights and two power levels for a speedy manicure.
Key Features:
80W of power
Low-heat mode
100% satisfaction guarantee
Cost: $29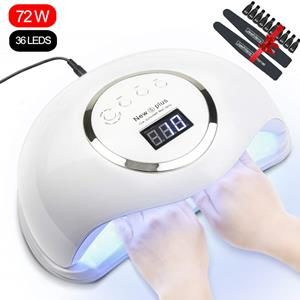 This lamp has plenty of space for both hands or feet. It works with a wide range of nail types and gels, including acrylics, press-on nails, and UV gel polish.
Key Features:
Automatically adjusts to low-power when too hot
One-year warranty
72W of power
Cost: $30
MelodySusie Nail Lamp and Dryer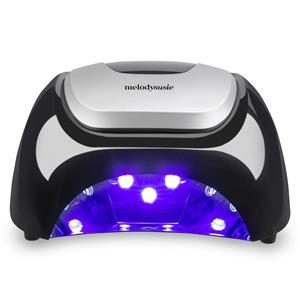 This uniquely-styled nail lamp has 27 LED bulbs and 48W of power to mimic your favorite salon's curing times.
Key Features:
Dries in as little as five seconds
Detachable base
Ventilation holes to prevent overheating
Cost: $79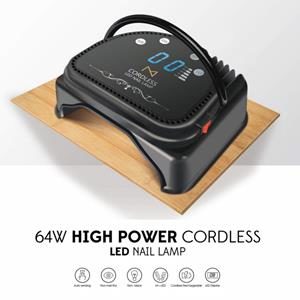 The MSHOP iBelieve has a salon-level power but includes a heat-dissipating design to prevent overheating.
Key Features:
Adjustable feet for pedicures
Cordless
Up to a five-year lifespan for lights
Cost: $120
High-Powered Nail Dryers
Brrnoo Hot and Cold Nail Dryer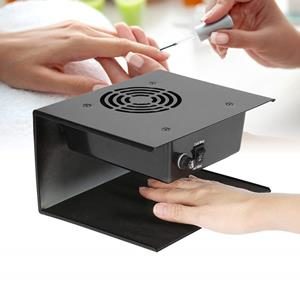 This nail dryer is one of the most powerful that you'll find outside of the salon with its 300W operation for lightning-quick curing. 
Key Features:
Hot and cold air functions
Large area for hands or feet
Durable iron material
Cost: $52
Canvalite Professional Nail Lamp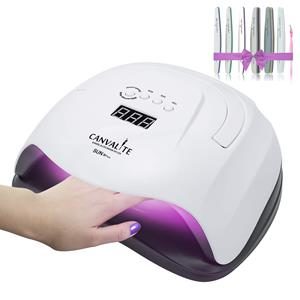 This nail lamp from Canvalite has powerful drying ability in a compact package, complete with a carrying handle to make it easy to move.
Key Features:
80W poer
Four timer settings
42 lights
Cost: $30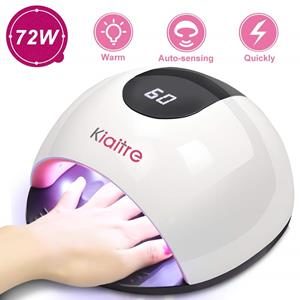 With 72W power, you can get salon-quality manicures and pedicures at home from this nail lamp, which uses 33 evenly-spaced lamps.
Key Features:
LCD screen
Up to a 120-second timer
Lifetime warranty
Cost: $30
It doesn't get much more professional than this dryer from Markartt, which offers both warm and cool air to meet the needs of your manicure.
Key Features:
Uses only air rather than UV lighting
Works on regular polish
Hand-sensing technology
Cost: $70
If you need a high-powered dryer that fits both hands to cut down on curing time, this one is a good option – and it still won't take up much space on your vanity.
Key Features:
72W
Digital display
Magnetic, detachable base
Cost: $40
Gel Nail Dryers
Evenly-spaced UV lights help to dry all your nails on one hand with concentrated power from this nail lamp.
Key Features:
USB charger
12-month warranty
60-second dry time
Cost: $16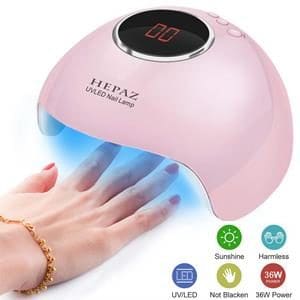 The bottom vent on this Hepaz lamp dissipates heat to prevent overheating while getting your nails dry in about 60 seconds.
Key Features:
Won't discolor nails
Auto hand sensor
Three timer settings
Cost: $16
LuxeUp Nail Gel Polish Curing Lamp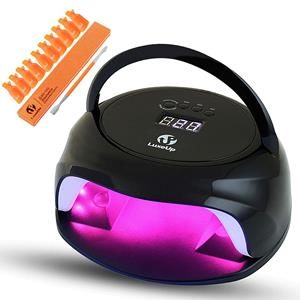 Your gel nail polish layers won't take forever to dry with this lamp, which features 85 Watts of power to get the job done quickly.
Key Features:
Sleek black design
Carrying handle
Includes a nail care tool set
Cost: $33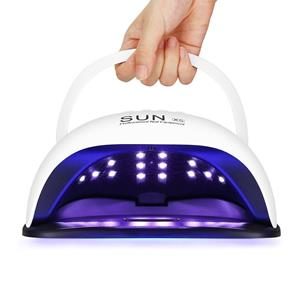 This Pavlit nail lamp has four timer settings and two power modes, so you can tailor its drying functions for each layer to create the perfect gel manicure.
Key Features:
36 LED-UV lights
Carrying handle
Detachable base
Cost: $18
You'll get several manicure accessories, like nail files and a polish holder, when you purchase this lamp that cures gel nails with UV lights.
Key Features:
Works for hands and feet
Multi-angle lights
72W
Cost: $33
Portable Nail Dryers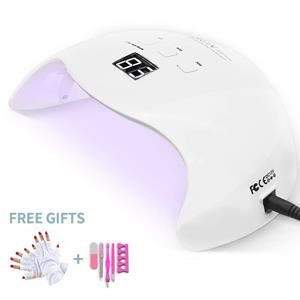 When you need a compact and lightweight nail dryer to pack in a suitcase, this modest-sized one is a good choice.
Key Features:
Gloves and nail accessories included
48W
Works for pedicures
Cost: $20
The low-profile design of this lamp by Feagar makes it easy to tuck away in a drawer when you're not using it.
Key Features:
Angled LED lights
USB adaptor
12-month warranty
Cost: $20
This KISS nail dryer includes a full kit of accessories for nail filing that tuck conveniently inside the lid. It's the perfect setup for travel.
Key Features:
12 file attachments
Compact carrying case
Rechargeable 
Cost: $25
MelodySusie Portable Air Nail Dryer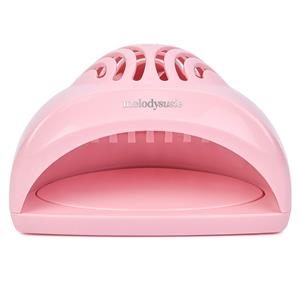 This battery-operated nail dryer needs no cord, so it's convenient to bring with you wherever you need it.
Key Features:
Dry-only design works on virtually all nails
Super compact design
Six-month warranty
Cost: $15
TOUCHBeauty Portable Nail Dryer
This dryer may be small, but its concentrated drying system makes it efficient in drying your nails with its combination fan and LED lighting.
Key Features:
Touch to activate
Non-UV
Works with hands or feet
Cost: $15