Whether your hair is dry, curly, fine, oily, or color-treated, there's a shampoo that will give you touchably soft hair. The right shampoo can prevent breakage, dandruff, and frizz while protecting your hair from harsh environmental factors. But there are more formulas on the market than there are hairstyles, which means you've got some decisions to make. Start by identifying your end goal. Do you want to enhance your curls or smooth them? Do you need to target dandruff or gently clean color-treated hair? A quality shampoo should boost your hair's best features and tame those you'd rather keep hidden.
We reviewed dozens of products to find the best of the best. We took into account how well the shampoo lathered, cleaned, and moisturized. But that wasn't enough to narrow down a good shampoo. The fragrance, ingredients, and value came into play too. Our decision came down to the formulas that were the best at what they targeted, including an overall shampoo that works for almost any hair type.
ArtNaturals Organic Argan Oil Shampoo performs beautifully even among users who struggle with dry scalp and brittle locks. For many people, it revives dry, lifeless hair. Shampoo formulas with argan oil are known for their moisturizing powers and ArtNaturals has found the magic mix that moisturizes without weighing hair down.
The 5 Top-Rated Shampoos
*Ratings are from Amazon at the time of publication and can change
Our Top Pick: ArtNaturals Organic Argan Oil Shampoo
ArtNaturals Organic Argan Oil Shampoo has an incredibly rich formula and breathes life back into dry, brittle hair. Argan oil infuses this shampoo with the fatty acids, vitamin E, and antioxidants that repair damage and nourish the scalp. It doesn't just help naturally dry hair but hair that's been damaged from heat and over styling. It manages to moisturize without weighing down your hair or leaving it greasy. In fact, it breaks apart the excess dirt and oils that collect during the day while hydrating, so your hair and scalp are perfectly balanced.
As concerns about safe ingredients grow, more and more people choose to go organic and all natural. Not only are these ingredients safer but many of them are better for your hair. This shampoo has organic ingredients that are free from sulfates and parabens. Not all sulfates are bad, but this shampoo avoids the types most commonly associated with stripping the hair of its natural oils.
A shampoo's fragrance will follow you all day, and you won't mind with this formula. It isn't overly feminine or masculine and stays with your hair until the next washing. If you're looking for a solid shampoo that will take care of your hair no matter the condition, ArtNaturals is the one. While it's not explicitly formulated for dandruff prevention, it helps there too. For many users, it's a one-stop fix for a lifetime of brittle hair problems.
ArtNaturals Organic Argan Oil Shampoo Key Features:
Sulfate and paraben-free
Hydrating argan oil
Works on all hair types
Restores hair from excessive use of styling, heat, and chemical treatments
Our Runner Up Pick: WOW Apple Cider Vinegar Shampoo
WOW Apple Cider Vinegar Shampoo comes as a set with its complementary conditioner, but on its own, it's still amazing. Vinegar is well known for it's cleansing properties. WOW encapsulates this ability in a fantastic cleansing shampoo. This shampoo removes layers of dirt and oils, especially those left behind by other hair care products. The removal of build-up adds volume to limp locks. What's the use of cleansing without hydration? WOW includes the hydration that tames flyaways and reduces frizz.
A gentle hypoallergenic formula makes it a good option for those with sensitive skin. But, it's also vegan and free of sulfates, parabens, and silicone. However, for the full effects, you'll need to read and follow the directions. The clarifying and hydrating benefits take time to work. Once you've lathered up, you've got to leave it on your hair for a full five minutes. After that, build up, dandruff, and anything else that's hanging out in your hair start coming out. Yet, it's still safe for color-treated hair. What really makes this shampoo a winner is that it removes the excess to reveal the volume and shine underneath. In as little as a week, you may not even recognize your hair.
WOW Apple Cider Vinegar Shampoo Key Features:
Uses apple cider vinegar to remove product build up
Helps remove and prevent dandruff
Protects the hair's natural moisture
Free of harmful parabens, silicones, and sulfates
Best Budget Pick: OGX Tea Tree Mint Shampoo
If you're looking for a shampoo that makes you feel like you've been to the salon but don't want to spend a fortune, OGX Tea Tree Mint Shampoo is the one for you. This formula cleanses and clarifies for rejuvenation of flat, lifeless hair. It has just the right amount of mint to tingle the scalp and your senses for a refreshing shampoo experience. Couples will appreciate that the scent isn't overly masculine or feminine so you can have one shampoo for everyone who uses the same shower.
This sulfate-free formula also hydrates thirsty locks with tea tree oil and milk proteins. The combination of clarifying properties and hydration leaves hair smooth but not weighed down. It's the kind of product that cleanses without that over stripped "squeaky" feeling. Instead, you've got volume with a soft texture. It comes in two different sizes, which gives you some options when you're first trying it out. Overall, most users find it an excellent, affordable everyday shampoo.
OGX Tea Tree Mint Shampoo Key Features:
Sulfate free
Hydrates with tea tree oil and milk proteins
Clarifying formula
Best Shampoo for Color-Treated Hair: Maple Holistics Winter Blend Limited Edition Shampoo
You can't use just any shampoo on color-treated hair. Color-safe formulas have to protect the color while repairing any of the damaging effects of the hair dye. Maple Holisitcs Winter Blend Limited Edition Shampoo protects and restores the health of color-treated hair with a unique combination of moisturizers and vitamins.
A blend of five mint oils stimulate the hair follicles while boosting circulation to the scalp. The stimulation cleanses while stimulating hair growth. All that mint gives it a scent that's enough to wake you up on the coolest of mornings. Even better is the fact that the essential mint oils provide a natural fragrance. There are no synthetic fragrances here.
A hefty dose of jojoba oil balances out the follicle stimulating and cleansing of the mint oils. Because, really, what everyone wants is soft, touchable hair. Though it falls on the pricey side, it doesn't take a lot of product to get good results. Those who are seriously looking for a formula that maintains hair color while preventing build up will be happy with this one.
Maple Holistics Winter Blend Limited Edition Shampoo Key Features:
Contains five essential oils: eucalyptus, peppermint, spearmint, bergamot, and wild mint
Hypoallergenic
Includes antiseptic and antimicrobial ingredients to reduce scalp irritation and increase circulation
Hydrates with jojoba oil
Best Anti-Dandruff Shampoo: Maple Holistics Sage Shampoo
Maple Holistics Sage Shampoo takes full advantage of essentials oils in a formula that moisturizes while taking eliminating tough dandruff. Let's start with a long list of oils. Sage, tea tree, rosemary, and peach kernel oils come together to balance hydration with the need to soothe a dandruff-covered scalp.
When it comes to dandruff control, tea tree oil is the essential ingredient. It has natural antifungal and antibacterial properties that prevent dandruff but it also soothes itchy irritated skin. Rosemary adds to the dandruff relief by slowing down the production of the oils that lead to flaky build up. Add a little peach kernel to cut back frizz and you're ready to go.
This one is another silicone, paraben, and sulfate-free formula. Maple Holistics strives to keep any harmful chemicals out of their products, and they succeed with this one. Unlike many other dandruff shampoos, it doesn't have a medicinal scent. Instead, the essential oils and herbs give it a fresh, healthy fragrance.
Maple Holistics Sage Shampoo Key Features:
Sulfate, silicone, paraben-free
Includes the following essential oils: sage oil, peach kernel oil, tea tree oil, rosemary oil
Vegan and cruelty-free
Safe for color-treated hair
Who Should Buy Shampoo
If you have hair, you're going to need shampoo. It's that simple. The more complicated question is what kind do you need? Everyone's hair is unique and different. Someone with short curly hair needs a different formula than someone with long, fine hair. If you use a lot of hair products, you'll need to have some kind of clarifying shampoo in your arsenal. These shampoos rid your hair of sticky build-up by cutting through oil and grease.
However, that might not be what you need. Determine your hair type like dry, oily, curly, thick, or fine and target your hair issues like dandruff, itchy scalp, color-treatment, or over styling. Whatever your combination is, there's a shampoo out there for you. Many manufacturers create their shampoo formulas with a complementary conditioner. While you can always mix and match, one of these pairs is a good place to start as you look for the right combination of cleansing and conditioning power.
Important Features to Consider
A shampoo should do well with the basics like cleaning and hydrating your hair.  To create and maintain the texture you want, you'll need to keep an eye on ingredients, fragrances, as well as knowing your own hair type and irritations.
Ingredients. The ingredients are the one area where you might find some controversy surrounding shampoo. Formulas may be advertised as phthalate-free, silicone-free, paraben-free, sulfate-free, and free from animal cruelty. Vegan options, organic, and all natural formulas are popular too. The kinds of ingredients you're willing to use is a personal choice. Not all sulfates are bad, for example. The ones you want to watch out for are ammonium lauryl sulfate, ammonium laureth sulfate, and sodium lauryl sulfate. Other ingredients like formaldehyde, which is used for its antibacterial properties, can be irritating to the eyes and skin. Isopropyl alcohol is another common ingredient that doesn't usually make it onto the "free" list that can irritate your scalp. Natural or organic doesn't guarantee that the shampoo won't sting your eyes or irritate your scalp either. Formulas that incorporate more natural ingredients may be less irritating and expose you to fewer chemicals.  Amongst all the harmful ingredients, there are ingredients like nut, seed, and tree oils that are incredibly healthy for your hair. Avocado and jojoba are other natural moisturizers that can give your hair a boost. It comes down to this—check ingredient lists before buying. If you object to a certain ingredient, there's most likely a formula that's already "free" of it.
Fragrance. Does fruity or minty wake you up in the morning? Or do you prefer lavender for its calming powers? Fragrance can have more influence on you than you'd like to admit. If you have sensitive skin, look for formulas with natural fragrances from oils, fruits, or nuts. If you'll be sharing your shampoo with your partner, you may want to opt for something like mint that isn't considered masculine or feminine. Other than that, pick a fragrance that you'll love to smell all day.
Cleaning power. A shampoo should be good at its job—cleaning. But not all formulas are. Some leave behind residue or fall on the other end of the spectrum and strip hair of natural oils. Clarifying shampoos are designed to break through product build-up, oil, and dirt. However, they should also include a healthy dose of moisturizers or hydrating agents because getting rid of oil and dirt can also get rid of good oils that keep your hair strong. When you're done washing your hair, it should feel clean, but not squeaky clean. Squeaky clean indicates that the hair has been stripped of natural protectants and could end up dry and brittle.
Frequently Asked Questions
How does shampoo work?
The ingredients in shampoo act as detergents that lower the surface tension of water so that it will bind to oils and dirt that build up in your hair. When the detergents are washed out, they take the oil and dirt with them.
How long do you have to leave shampoo in your hair?
The answer depends on the kind of shampoo you're using. Some hydrating, anti-dandruff, or anti-itch shampoos need to be left in the hair for three to five minutes, giving them enough time to penetrate the hair shaft and scalp. Other formulas can be lathered and washed away immediately. Check the manufacturer's instructions and be sure to follow them for the best results.
Are you supposed to use shampoo every day?
Most people don't need to shampoo every day, though there are those who do. Shampoo removes sebum, the protective oil released by the scalp. Most people produce a healthy amount of sebum that doesn't start to look greasy or oily for a few days. In that case, there's no need to shampoo every day. The thicker your hair and less oil you have, the longer you can go without washing your hair. However, if you have very fine hair that gets weighed down by small amounts of oil, you exercise every day, or you live in a hot, humid climate, you probably can't skip shampooing. You might also need to shampoo every day if your scalp is excessively oily or you have dandruff.
Can I use soap as shampoo?
Shampoo is designed to remove sebum. Soap can also remove sebum. However, sebum acts as a protective coating on the hair and scalp. If nothing is put in the place of sebum after it's been removed, the hair follicle can get damaged. Soap isn't designed to protect the hair follicle while shampoo is. So technically, yes, you can wash your hair with soap, but you'll be damaging it in the process. For the sake and longevity of your hair, any type of shampoo is probably better than soap.
Other Shampoos We Reviewed
We reviewed 20 other shampoos beyond our top picks. Even though these 20 didn't make our list of top-rated shampoos, they're still some of the best options you'll find. We've included the information you need to compare products.
Shampoo for Color-Treated Hair
BIOLAGE Colorlast Shampoo for Color Treated Hair

A low pH allows this shampoo to cleanse without stripping the dye from your hair. This unique blend supports color by maintaining depth and shine.
Key Features:
Protects hair from environmental damage
Low pH
Paraben-free
Cost: $23
LuxeOrganics Rejuvenating Argan Oil Shampoo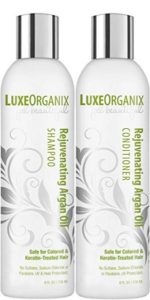 LuxeOrganics has created a formula that nourishes rather than strips color and keratin-treated hair. It can safely clean fine, color-treated hair without causing damage.
Key Features:
Free of sulfates, sodium chloride, drying alcohols, and gluten
Smooths dry, frizzy hair
Contains a UV absorber to protect the hair shaft
Cost: $34
Redken Color Extend Shampoo and Conditioner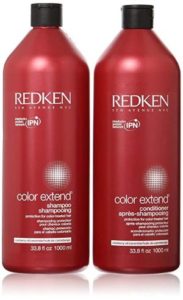 This cleansing shampoo doesn't drain the color from your hair. Instead, it protects and seals the shaft for soft hair and color that lasts.
Key Features:
Sulfate-free
Uses soy protein to strengthen the root of the hair
Sepicap seals the ends of the hair while arginine builds a healthy core
Cost: $38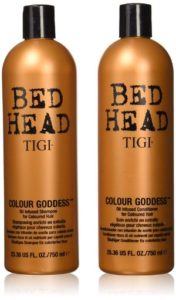 A deliciously sweet fragrance comes with this shampoo as it nourishes. A blend of oils and moisturizers creates soft hair that shines with vibrant color.
Key Features: 
Removes product build up
Strengthens hair to prevent breakage
Light moisturizers don't weigh down hair
Anti-Dandruff Shampoo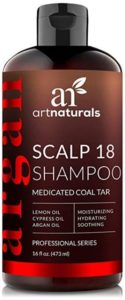 In this formula, natural ingredients like tar and coal take on dandruff. It skips harsh chemicals but still works on tough cases without drying out hair.
Key Features:
Vegan certified and cruelty-free
Free of sulfates, parabens, and phthalates
Moisturizes with argan and jojoba
Cost: $17
Head and Shoulders Clinical Strength Dandruff Shampoo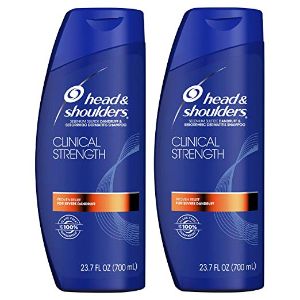 This inexpensive dandruff control shampoo doesn't mess around with fancy fragrances while getting rid of tough dandruff. It soothes a dry, flaky scalp, and treats the excess sebum that leads to dandruff in the first place.
Key Features:
Clinical strength treats dandruff and seborrheic dermatitis
Reduces redness
Relieves skin irritation
Cost: $11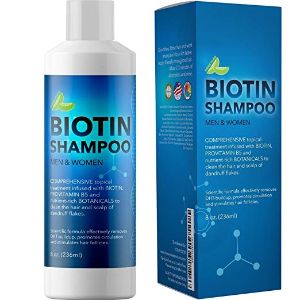 This formula takes on two common problems—dandruff and thinning hair. However, we've categorized it here because it does an incredible job at taking on dandruff and relieving an itchy scalp.
Key Features:
Sulfate, silicone, paraben-free formula
Safe for sensitive scalps and color-treated hair
Cleanses and builds hair with many natural ingredients like biotin, tea tree oil, jojoba oil, and coconut oil
Cost: $18
Neutrogena T/Gel Therapeutic Shampoo Original Formula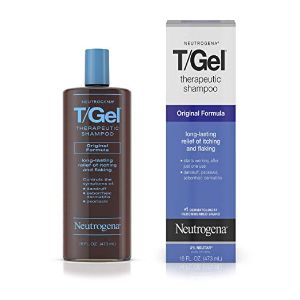 This formula treats scalp psoriasis, seborrheic dermatitis, and plain old dandruff. It uses tar extract to keep treating dandruff long after the shampoo has been washed away.
Key Features:
One to two uses a week can treat dandruff
Recognized by the National Psoriasis Foundation
Treats the scalp along with the hair
Cost: $10
Nizoral A-D Anti-Dandruff Shampoo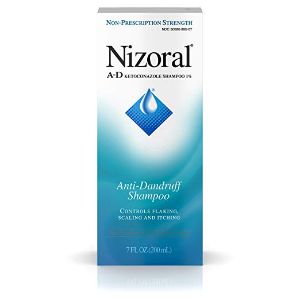 Nizoral takes care of an itchy, dry scalp while getting rid of dandruff. The key ingredient—ketoconazole—uses the hair's protein to protect against further dandruff problems.
Key Features:
Only needs to be used twice a week for effective treatment
Antifungal properties to prevent dandruff
Soothes itchy scalp
Cost: $14
Selsun Blue Moisturizing with Aloe Dandruff Shampoo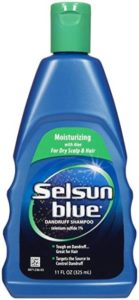 The salicylic acid in this formula cuts through the excess oil that causes dandruff. It's also an effective treatment for scalp acne.
Key Features:
Moisturizes with aloe vera
Works on color or chemically-treated hair
Uses selenium sulfide to get rid of dandruff
Moisturizing Shampoo
Maple Holistics Silk 18 Shampoo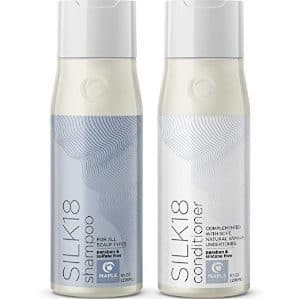 This sulfate-free formula reaches deep into the hair shaft to reduce frizz for silky smooth hair. Beyond its ability to moisturize, it's also effective against dandruff and dry scalp.
Key Features:
Includes natural ingredients like argan oil, pomegranate, hibiscus, green tea, sea buckthorn, and jojoba oil
Gentle enough for color-treated hair and sensitive scalps
sulfate and paraben-free
Cost: $20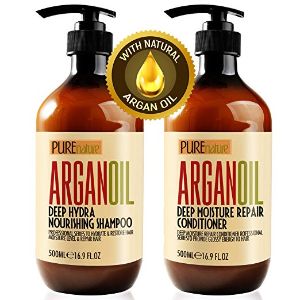 Argan oil fuels the nourishing properties of this shampoo. It's loaded with hydrating ingredients but also protects your hair from UV rays and environmental damage.
Key Features:
Free of sulfates, parabens, sodium chloride, gluten, phthalates
UV and thermal protectant
 Vitamin E and fatty acids penetrate the hair shaft for deep conditioning
Cost: $20
SheaMoisture Jamaican Black Castor Oil Shampoo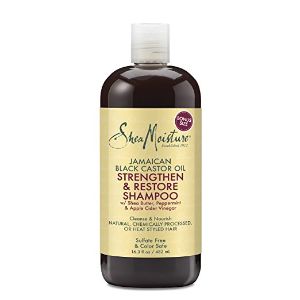 This shampoo clarifies and moisturizes so that you get a clean, soft head of hair after every wash. Shea butter penetrates deep into the hair shaft and scalp to soothe skin and reduce frizz.
Key Features:
Repairs hair and promotes grown with Jamaican black castor oil
Peppermint oil adds fragrance and an invigorating tingle
Sulfate-free and color-safe
Cost: $13

Tea tree oil creates a great shampoo that cuts through oil while stimulating the scalp. This formula cleanses but leaves the hair soft and well moisturized.
Key Features:
Refreshing minty fragrance
Tea tree oil tingles on the scalp
Lavender soothes irritated skin
Cost: $34
TIGI Bed Head Resurrection Shampoo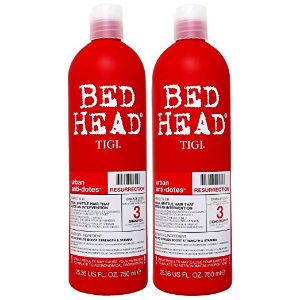 This striking shampoo is the ultimate in moisturization as it's targeted for the most damaged heads of hair.  If your hair has been damaged by styling, heat, chemical or color-treatments, this shampoo can bring it back to life.
Key Features:
Silicones to hydrate, strengthen, and protect hair from damage
Seals the hair for long-term protection
Smooths dry, frizzy, and curly hair
Shampoo for Thinning Hair
Hairgenics Pronexa Clinical Strength Hair Growth & Regrowth Therapy Shampoo With Biotin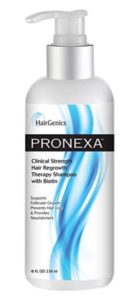 It might have a long name but it doesn't take long to feel the effects. This shampoo is packed with growth-stimulating ingredients like vitamin B5 and biotin. It also blocks DHT with saw palmetto extract to prevent hair loss.
Key Features:
DHT blocking ingredients
Moisturizes with aloe vera and seaweed extracts
Builds hair strength with biotin
Cost: $40
Maple Holistics Biotin Shampoo For Hair Loss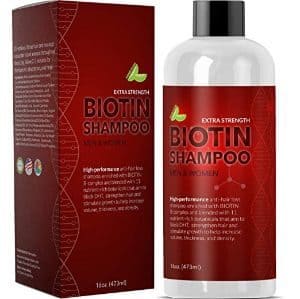 To stop thinning hair, you need a combination of retaining the hair you've got and stimulating the hair you don't. This formula works on both accounts while also soothing the scalp and getting rid of product build up.
Key Features:
 Boosts shine and volume with antioxidants
Soothes and clarifies with jojoba, zinc oil, and coconut oil
Unclogs pores and stimulates hair growth
Cost: $20
PURA D'OR Hair Thinning Therapy for Shampoo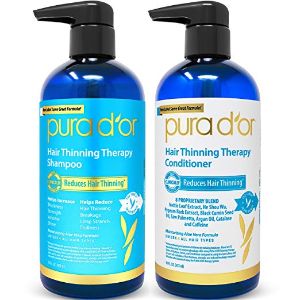 This shampoo doesn't just prevent hair loss it promotes growth. While it's getting the hair growth going, it does an amazing job at moisturizing with exotic ingredients like amla and meadowfoam oil.
Key Features:
Sulfate and paraben-free
Repairs damage and moisturizes with argan oil
Includes natural extracts from cedarwood, clary sage, hibiscus, black cumin seed oil, and tea tree oil
Cost: $35
PURA D'OR Original Gold Label Shampoo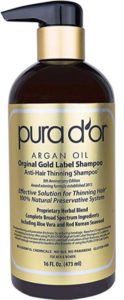 This formula works to strengthen hair and reduce breakage so you lose less of it. With plants as its base, this shampoo builds and soothes with gentle ingredients.
Key Features:
Hydrates with argan oil
Includes natural ingredients like biotin, nettle, pumpkin seed oil, black cumin seed oil
Hypoallergenic
Cost: $28

If caffeine can keep you buzzing, it can get your hair growing too. This caffeine-infused formula keeps the hair on your head while stimulating new growth.
Key Features:
Cruelty-free
Can be used in addition to or in place of regular shampoo
Reduces hair loss while stimulating growth
Cost: $57