Essential oils come from plant compounds and are most often used in aromatherapy. Supporters of essential oils cite benefits from improved mood and concentration to better looking, healthier skin from routine use. When used properly, essential oils may benefit the limbic system, especially, which can influence everything from your respiratory rate to your emotions.
We've reviewed dozens of essential oils to identify the best of the best. Because various types of essential oils are designed for different uses, we categorized our results as such. We looked for essential oils and blends in each category that include plant extracts known to aid each condition or ailment. We also took into consideration customer ratings and reviews based on personal experiences with each product.
Majestic Pure Lemon Oil
Majestic Pure Lemon Oil is a well-rounded essential oil for cleaning, polishing, aromatherapy, skincare, and more.
Our top pick is Majestic Pure Lemon Oil. Lemon oil has a wide range of benefits, such as boosting energy and supporting a healthy immune system. This lemon essential oil from Majestic Pure contains only pure oil from lemon rinds with no additives to give you a safe and streamlined oil for multiple uses. 
The 5 Top-Rated Essential Oils
*Ratings are from Amazon at the time of publication and can change
Best Essential Oil Overall: Majestic Pure Lemon Oil
When it comes do choosing an essential oil with a variety of uses, you can't go wrong with lemon oil. Majestic Pure Lemon Oil is our top pick, not only because of its many benefits but also because of its no-filler formula that gives you pure lemon essential oil in every drop. Aromatherapy enthusiasts will love its authentic lemon scent that's perfect for re-energizing you and giving the room a crisp, clean aroma.
Because this oil isn't diluted, it also can make for an excellent addition to your DIY home cleaning solutions. Just a few drops added to your favorite DIY cleaning recipes can give them extra cleaning power and a fresh scent. Majestic Pure Lemon Oil can also be combined with lotions and your favorite skincare products; just be sure to read the label for diluting instructions first.
Consistently high ratings from thousands of reviewers make it clear that this lemon oil is a winning one. Reviewers love that its smell is pleasant without being overpowering, and many believe that it's a bargain for its size.
Majestic Pure Lemon Oil Key Features:
4 fluid ounces
Refreshing, yet not overpowering, lemon scent
Can be used topically or as part of aromatherapy
Non-diluted, 100% oil
Made from cold-pressed lemon rinds
Best Essential Oil for Acne: Kaye Blanc Rosehip Seed Oil
Kate Blanc Rosehip Seed Oil
If you're looking for an oil to take care of common skin problems, Kate Blanc Rosehip Seed Oil might do the trick.
Kate Blanc Rosehip Seed Oil is one to try if you're looking for a natural approach to minimizing the appearance of acne on your face or body. Rosehip seed oil has natural anti-inflammatory properties that can benefit several skin problems, like scarring, stretch marks, and acne. This organic essential oil is certified by the USDA, and Kate Blanc backs all purchases of this oil with an authenticity guarantee.
This essential oil isn't best for aromatherapy because of its unique smell, but its anti-aging and cell-boosting properties make it an excellent choice for people who want to improve their skin and hair. Reviewers mention that the oil soaks into their skin quickly for extra smooth protection against the elements. Some also appreciate the fresh, clean feeling this essential oil leaves on their skin and hair.
Kate Blanc Rosehip Seed Oil Key Features:
365-day satisfaction guarantee
USDA Organic Certified
Great for healthy skin and hair
Not an overbearing smell
Smooth application on skin
Best Budget Essential Oil: Pure Gold Lavender Essential Oil
Essential oils can sometimes be pricey, depending on the type of oil and size of the bottle. If you want to try a popular essential oil without spending a lot of money, Pure Gold Lavender Essential Oil is a good pick. Lavender essential oil is known for its relaxing natural properties that can support your mood and sleep habits. This one from Pure Gold is 100% lavender oil packaged in an amber glass bottle for longevity.
Reviewers giving this product consistently high ratings mention everything from a beautifully strong lavender scent to an easy-to-use top dropper that allows for a restricted flow of the oil for more accurate measurements. Users enjoy using this product for aromatherapy, as an addition to skin lotions, and as part of their DIY home cleaning recipes.
Pure Gold Lavender Essential Oil Key Features:
UV-resistant amber glass bottle
Sourced and bottled in the USA
Satisfaction guarantee
Non-diluted
Easy-to-use dropper
Best Essential Oil for Colds: Healing Solutions Breathe Essential Oil Blend
Getting a good night's sleep with a cold is certainly a challenge, but Healing Solutions Breathe Essential Oil Blend may be able to help if you use it with your aromatherapy routine. This 10-mL blend includes oils that support healthy sinuses and respiration, like tea tree oil, cardamom, eucalyptus, and peppermint, with a dash of lemon for a refreshing and energizing pick-me-up.
The best uses for this essential oil blend are aromatherapy and diffusion. You can mix a few drops with lotion to rub on your chest to breathe in through the night or diffuse a few drops near your nightstand. Some of the thousands of happy reviewers of this product mention that it's even helped reduce their allergy symptoms with regular use.
Healing Solutions Breathe Essential Oil Blend Key Features:
Blend of respiratory-supporting essential oils
Appealing scent
Lasts a long time when diffused
Comes from an FDA-registered facility
Full refund if dissatisfied
Best Essential Oil for Sleep: Healing Solutions Good Sleep Essential Oil Blend
With essential oils like lavender, clary sage, and copaiba, the Healing Solutions Good Sleep Essential Oil Blend is designed to get you relaxed and ready for la-la land. This blend can support your need for a restful night's sleep without making you feel drowsy again in the morning. You only need to diffuse a couple of drops of this essential oil blend to smell it throughout your bedroom.
One of the perks of the Healing Solutions Good Sleep Essential Oil Blend is that its scent isn't overpowering in a way that will keep you awake. Instead, many reviewers mention that it smells mostly like lavender, which is perfect for putting you in a dreamy state for sleep. You can also dilute the oil with a carrier oil to place on your pulse points for an overall relaxing remedy.
Healing Solutions Good Sleep Essential Oil Blend Key Features:
Tested for purity in GC-MS laboratory
Excellent for aromatherapy and diffusing
Subdued lavender scent
Full money-back guarantee
Kosher certified
Who Should Buy Essential Oil
Essential oils simply won't work for everyone. However, those who do use them do so for a variety of reasons. Some people use essential oils strictly with an aromatherapy routine to enhance their mood, ease stress, or alleviate pain. Others prefer to use essential oils for household cleaning and sanitizing, as part of a skincare regimen, or as part of a spa or self-care routine. In other words, there are several uses for essential oils for you to experiment with.
You might enjoy using essential oils if you prefer a more holistic approach to your health care. Research shows that the natural power of plant extracts found in essential oils can have positive effects on a variety of health conditions. However, you should always check with your doctor before using essential oils to support your health or alleviate ailments. 
Majestic Pure Lemon Oil
Majestic Pure Lemon Oil is a well-rounded essential oil for cleaning, polishing, aromatherapy, skincare, and more.
Important Features to Consider
An essential oil should have a few important features. Here's what to consider when selecting an essential oil for regular use:
Quality. You'll notice that many essential oils have a lot of catch-phrases on their labels, like "pure" or "organic." Be careful about buying essential oils just because they sound good. Instead, research a little more to make sure the essential oils you buy match their descriptions. Oils labeled as organic aren't always better, but if they are, in fact, organic, then they often are better quality and better for the environment.
High percentage of oil. Some oils are diluted with a carrier oil rather than bottled at full concentration. This isn't necessarily a bad thing unless you believe you're paying for a fully-concentrated oil. You'll need to use more drops of diluted oil than fully concentrated, so if you want to have control over dilution, you'll want to buy 100% oil.
Product size. Prices can be tricky with essential oils because bottles come in several sizes, often between 5 mL to 30 mL or more. Some are even measured in fluid ounces rather than mL. Be sure to compare not just prices, but also bottle sizes when determining a good deal.
Glass bottle. Some essential oils come in plastic bottles, which can be okay if you plan to use yours quickly. However, it's best to purchase them in glass bottles (preferably blue or brown). Glass withstands chemical breakdown from oils and exposure to light that can harm the oil inside.
Frequently Asked Questions
What is essential oil and how does it work?
Essential oils are plant extracts that come from cold pressing or distillation. Plants include a variety of compounds with active ingredients that have natural effects on the human body and mind. These extracted compounds become essential oils, which are usually full concentrations of the extract that you can dilute for various purposes.
What is essential oil used for?
Essential oils have a variety of purposes depending on the plants from which they're extracted. Their most common use is aromatherapy, which is a natural treatment for emotional and physical health. However, people have also adopted essential oils for cleaning, body and bath care, home fragrance, skincare, stress and anxiety relief, and more.
Where do you rub essential oils?
It's best practice to always read the label of an essential oil before using it. In most cases, the label will instruct you on how to use the product correctly. It's generally okay to rub a very small amount of oil diluted with a carrier oil, like coconut oil, on pressure points, like your wrists and temples. You can also rub pain-alleviating oils on areas of pain, like your knees, ankles, or forehead.
Can breathing essential oils be harmful?
While ingesting essential oils can be harmful, breathing them in low concentrations is usually safe. The safest method for inhalation is through diffusion, which releases low concentrations of oils with steam. Still, you should be careful only to diffuse  essential oils in well-ventilated rooms and watch for signs of sensitivity, especially in pets and children. Be sure to read the oil's label for dilution instructions. 
Other Essential Oils We Reviewed
Majestic Pure Lemon Oil
Majestic Pure Lemon Oil is a well-rounded essential oil for cleaning, polishing, aromatherapy, skincare, and more.
We looked at 20 other essential oils. Even though they didn't make our 5 best essential oils list, they're the best of the rest and each is still a great option for you or your home. The information you'll need to compare each one is included with the listing.
Essential Oils for Anxiety
Edens Garden Anxiety Ease Essential Oil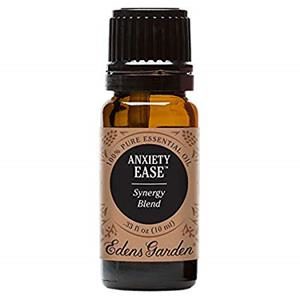 If you're having feelings of anxiety, you can use this blend by Edens Garden that includes stress-relieving oils like Ylang Ylang and Lemongrass. 
Key Features:
Synthetic ingredient free
100% pure essential oil blend
30-day money-back return policy
Cost: $12
Healing Solutions Calm Body Calm Mind

Blended with lavender, sandalwood, chamomile, and other calming essential oils, this blend from Healing Solutions also contains a hint of vanilla for a soothing scent.
Key Features:
Made with organic essential oils
10-mL bottle
Slow-flow dropper cap
Cost: $10
Hera Nature Anxiety Relief Essential Oil Blend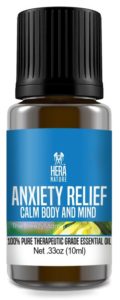 This unfiltered and undiluted anxiety relief blend from Hera Natura contains mood-lifting geranium, orange, lemongrass, and ylang ylang oils.
Key Features:
Tested for purity
GMO-free
100% money-back guarantee
Cost: $16
Nexon Botanics Anxiety Essential Oil Blend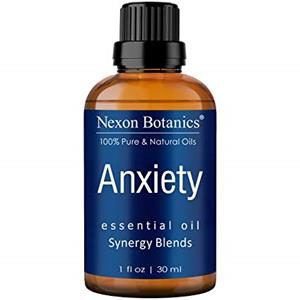 Reach for this anxiety-focused essential oil blend when you need a boost. Lavender, black spruce, and patchouli oil are just a few essential oils that'll support stress relief.
Key Features:
USA-blended
30-mL bottle
For use in aromatherapy or as a massage oil
Cost: $14
Prime Natural Anxiety Relief Essential Oil Blend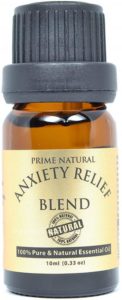 This anxiety relief essential oil blend includes five stress-relieving oils, such as cedarwood and ylang ylang, to soothe your mind through aromatherapy, diffusing, and more. 
Key Features:
10-mL amber glass bottle
No additives
Strong smell with only a few drops
Cost: $10
Essential Oils for Headaches
doTERRA PastTense Tension Blend Roll-On
doTERRA's PastTense roll-on blend is perfect for rubbing on your temples when you need some relief from headaches, especially when they're caused by tension.
Key Features:
Convenient roll-on bottle
Includes cooling wintergreen and peppermint to relieve tension
May also relieve neck pain from tension
Cost: $26
Edens Garden Head Ease Essential Oil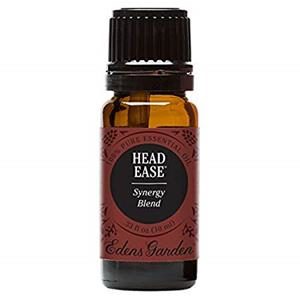 A few drops of this Edens Garden blend in the diffuser or applied topically might help to relieve the pain caused by headaches and migraines.
Key Features:
Made with ginger, rosemary, basil, and other headache-fighting oils
Woman-owned company
May support muscle relaxation
Cost: $14
Healing Solutions Head Relief Essential Oil Blend

Peppermint, sweet orange, and sweet marjoram essential oils are just a few that work together to make this calming, headache-reducing blend.
Key Features:
Includes European dropper cap
May relieve multiple types of headaches
Non-diluted
Cost: $9
Migrastil Migraine Stick Roll-On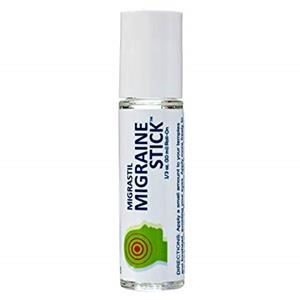 This blend is designed specifically for migraine relief and is diluted with fractionated coconut oil, which is good news for essential oil users with sensitive skin.
Key Features:
Contains lavender, peppermint, and spearmint oils
10 mL roll-on
Money-back satisfaction guarantee
Cost: $11
Plant Therapy Peppermint Organic Essential Oil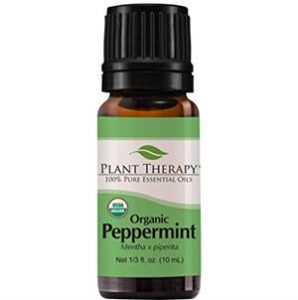 Peppermint has natural pain-relieving properties, so diffusing this organic peppermint essential oil in your home, car, or office may be just what you need to reduce your headache pain.
Key Features:
USDA Certified Organic
Non-GMO
Strong scent in only a few drops
Cost: $8
Essential Oils for Allergies
Artizen Breathe Blend Essential Oil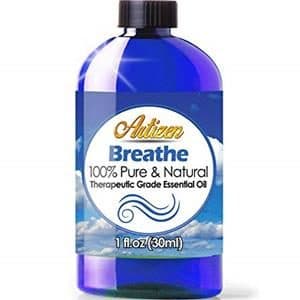 When you need relief from allergy symptoms, try Breathe from Artizen. This blend contains eucalyptus, peppermint, rosemary, and lemon to open the sinuses.
Key Features:
Undiluted
30-mL bottle
Lifetime warranty
Cost: $10
doTERRA Breathe Respiratory Blend
You can diffuse doTERRA's Breathe Respiratory Blend or apply it topically to ease seasonal or year-round allergy symptoms. 
Key Features:
Fresh, minty scent
0% synthetiucs
15-mL glass bottle
Cost: $30
This allergy-focused blend contains lemon, peppermint, eucalyptus, and rosemary and comes in a variety of bottle sizes, including a roll-on.
Key Features:
Sulfate-free
Supports healthy respiratory function
100% natural oils
Cost: $13
Tee tree oil has historical roots in healing, and it's especially well-known for its ability to support healthy skin. Skin allergy sufferers can try this oil to ease inflammation, itching, and other allergy symptoms.
Key Features:
100% vegan
May also relieve itching from bug bites
No additives
Cost: $11
Living Pure Essential Oils Respire
This blend has a crisp herbal scent from clary sage, bay laurel, and other essential oils that support the function of the respiratory system.
Key Features:
Undiluted
No additives
May break up mucus
Cost: $13
Essential Oils for Mood Support
doTERRA Citrus Bliss Invigorating Blend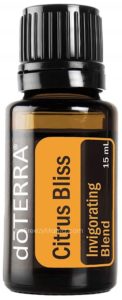 The pleasant citrus smell from this oil blend can help you feel energized all day, especially when you add a couple of drops to your wrists to inhale.
Key Features:
Includes lemon, wild orange, grapefruit, and more
Can be an excellent additive to DIY cleaners
Blended with vanilla 
Cost: $24
Fabulous Frannie Happy Essential Oil Blend

This bottle blends bergamot, ylang ylang, and grapefruit essential oils to create a calming-meets-uplifting concoction to keep you going all day.
Key Features:
Slow-flow dropper cap
100% oil
10-mL amber glass bottle
Cost: $7
Now Essential Oils Smiles for Miles Blend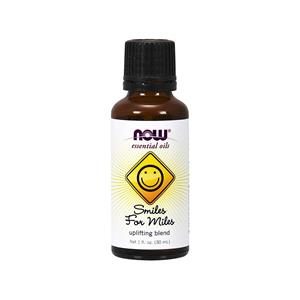 Need a mid-day pick-me-up? Smiles for Miles offers a citrusy blend meant to give you energy and boost your mood.
Key Features:
Cold-pressed oils
Undiluted
Tested for purity
Cost: $10
UpNature Fresh Essential Oil Blend Roll-On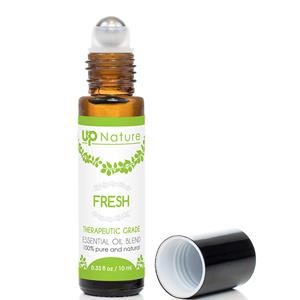 Citrus combines with vanilla to make this Fresh blend from UpNature. Roll it on your wrists and enjoy its mood-boosting benefits throughout the day.
Key Features:
Strong smell from small usage
Small and portable
100% money-back guarantee
Cost: $10
Woolzies Jasmine Essential Oil Blend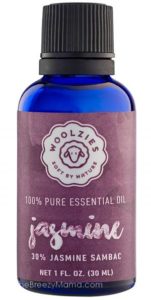 Jasmine oil has natural antidepressant properties. Use this jasmine essential oil topically or diffused to find mood balance.
Key Features:
100% vegan
Large 30-mL size
No additives
Cost: $13