If there is anything more relaxing than coming home at the end of a long, stressful, challenging day and soaking your troubles away in a luxuriously silky bubble bath, we have no idea what it is.
In so many ways, bubble baths help to erase the effects of even the worst day. Muscles relax in the warm water. Skin is rejuvenated by the oils and nutrients. Nerves are calmed by heavenly scents. And the bubbles are blissfully playful. They remind us of our childhood, a time that wasn't marked by stress, work, or pressure, but instead by freedom, fun, and joy. There is very little that a good bubble bath can't cure.
We reviewed dozens of bubble baths to identify the best of the best. We considered how they smelled, if their ingredients were organic, if they were gentle on sensitive skin, and the benefits of a bath bomb.
Beauty By Earth Bath Bombs
With its incredible scents, clean feeling on your skin, and nontoxic ingredients, this bath bomb has everything you need to create an incredible bubble bath.
Our clear winner is Beauty By Earth Bath Bombs. It stood out from the rest because of its 12 unique scents, its nontoxic ingredients, and its commitment to a green manufacturing process, to name just a few things.
The 5 Top-Rated Bubble Baths
*Ratings are from Amazon at the time of publication and can change
Our Top Pick: Beauty By Earth Bath Bombs
We loved Beauty By Earth Bath Bombs for a lot of reasons. The first is that the product is all natural. There are no harmful ingredients to mess with your skin, burn your eyes, or harm your tub. The organic products that go into this bath bomb are all non-GMO, gluten free, and vegan. Anyone can use these, even small children, (with supervision, of course) with no worry about harmful side effects.
We also loved that each of the six bath bombs in the package is designed to help you relax in a different way. Have stiff joints one day? Try the "Joint Relief" bomb. Suffer from seasonal allergies? Try the "Get Well Soon" bomb. Just looking to relax and unwind? Try the aptly named "Just Relax" bomb. No matter which you choose, each will leave your skin feeling soft and silky, and your tub without that telltale bath bomb ring that so many other products leave behind.
If those weren't enough, the packaging really puts it over the top. It's elegant and simple, with its brown box and wrapper, and colorful stickers that note the name of each bomb. Even the look of these bath bombs helps you begin to relax, and if you want to give them as a present to someone, they come ready to gift.
Beauty By Earth Bath Bombs Key Features:
Organic ingredients
Subtle yet beautiful packaging
Good for sensitive skin
Relaxing aromas
Our Runner Up Pick: Aura Cacia Aromatherapy Bubble Bath
A close second on our list of favorites was Aura Cacia Aromatherapy Bubble Bath. This bubble bath was so appealing because of the beautiful lavender scent. Lavender essential oils were used to make this bubble bath, and the aroma will start to relax you before you even get into the tub.
The large amount of bubbles is another reason to love this product. Nothing is more frustrating than when you draw yourself a bath and add the bubbles, only to have just three or four bubbles rise up and pop immediately. There are crazy amounts of bubbles in this bubble bath and they are luxurious and foamy. They last for the duration of your bath and rinse away cleanly at the end.
We also appreciated the social consciousness of the Aura Cacia company. In addition to making a great product, they are giving back to women around the world with their Positive Change Project. The Project gives grants to organizations that are working to give women a chance to transform their lives after facing almost overwhelming obstacles. When a product can make you feel good and help do good in the world, that's a great combination.
Aura Cacia Aromatherapy Bubble Bath Key Features:
Lavender scent
Foaming bubbles
No synthetic fragrances
Non-GMO-verified oils
Best Budget Pick: Honest Bubble Bath
The Honest Company was founded by actress Jessica Alba in 2011. Her goal was to promote and sell products that are free of harmful chemicals, products that are healthy for babies and children to use and wear. Honest Bubble Bath meets that criteria – and at a great price.
Their bubble bath is hypoallergenic and uses a tear-free formula. What it's made with (botanical extracts) is just as important as what it doesn't have in it. That list includes phosphates (which can cause skin irritation), synthetics dyes and fragrances, parabens, and other preservatives or harmful chemicals. It comes in four different scents: Perfectly Gentle (sweet orange vanilla), Ultra Calming (lavender), Deeply Nourishing (apricot), and Purely Simple (fragrance-free).
This product is completely safe to use on kids – but that doesn't mean they're the only ones who can use it. Adults can enjoy the frothy bubbles and great scents too!
Honest Bubble Bath Key Features:
Hypoallergenic
Four mild scents
Botanical extracts
Low price
Best Bubble Bath for Sensitive Skin: Maple Holistics Relaxing Bubble Bath
Having sensitive skin can pose a problem for people who love to take bubble baths. Fortunately, there's Maple Holistics Relaxing Bubble Bath. It's hard to imagine that a product that is "free" of so many different harmful ingredients can still smell good and nourish skin, but Maple Holistics has found the secret.
This bubble bath doesn't contain any sulfates, silicone, or parabens. It uses 100% natural essential oils, and its hypoallergenic formula has added Vitamin E and aloe vera for additional soothing and moisturizing. If that all wasn't enough, it's also cruelty-free, so it's not tested on animals. The lavender scent was added without chemicals and will help you relax even more.
We also love that they care about the environment at the same time that they're caring for your skin. They have a constant eye on sustainability, and are always evaluating and upgrading their manufacturing process to make sure that it's as friendly to the environment as it can be.
Maple Holistics Relaxing Bubble Bath Key Features:
Safe for sensitive skin
Lavender scent
Free of parabens and sulfate
Eco-friendly
Best Organic Bubble Bath: Lil' Leona I Am Happy Bubble Bath
Lil Leona I Am Happy Bubble Bath
The bubble bath for people who care as much about the product's ingredients, where they come from, and how it affects the environment as they do about having a great bath.
We found Lil' Leona I Am Happy Bubble Bath to be very appropriately named. There was nothing to frown about when we examined this product. Everything we saw – from its organic ingredients to its fragrance-free formula that is safe for sensitive skin – left us smiling and happy at the thought of bathing with this bubble bath.
There are no parabens, sulfates, phosphates, or gluten in this organic bubble bath. Instead, it's vegan and contains organic calendula and aloe vera juice extract. The end result is a bubble bath that is free of harmful ingredients, and safe for even the most sensitive of skin. If that weren't enough, it's fragrance free so that even those with a highly sensitive sense of smell can use it.
You'll see "Keep Baby Happy" on the front label, but we urge you not to let that discourage you from purchasing this product for yourself. When it's safe enough for a baby, it's safe enough for you.
Lil' Leona I Am Happy Bubble Bath Key Features:
Cruelty-free
All-natural ingredients
Money-back guarantee
Lots of bubbles
Who Should Buy Bubble Bath
Bubble baths are meant to help relax and calm. They're meant to add a little happiness. The aromas they release can help soothe nerves. If you're someone who wants a natural way to de-stress after a rough day, you should buy bubble bath.
Bubble baths can also be a lifesaver for parents. Some kids don't like to take regular baths but are thrilled with the idea of getting into a tub full of bubbles. Parents can search for bubble baths with scents their kids would like to add even more excitement to bathtime.
If you're looking for more ways to experience a little luxury at home, check out our reviews of the best foot massagers and the best massage oils.
Beauty By Earth Bath Bombs
With its incredible scents, clean feeling on your skin, and nontoxic ingredients, this bath bomb has everything you need to create an incredible bubble bath.
Important Features to Consider
Bubble bath should have a few important features. Here's what to consider when selecting a bubble bath.
Scent. There is a huge variety of scents available, and you'll want to choose one that you love.
Sensitivity. Some products are designed to make sure that they don't irritate sensitive skin. If your skin is more sensitive, choose a bubble bath that is mild, hypoallergenic, and gentle.
Organic. Some bubble baths have manmade chemicals and others are all-natural. Some are produced in more eco-friendly ways than others. Consider this when making a decision about which bubble bath is right for you.
Bubbles. It sounds ridiculous to even list "bubbles" as an important feature to consider in a bubble bath, but it definitely is. Not all bubble baths are created equal and not all of them produce a lot of bubbles. You'll want to read reviews carefully if you have strong feelings about the amount of bubbles you want in your bath.
Frequently Asked Questions
What is bubble bath and how does it work?
Bubble bath is a product that, when added to hot water in a bathtub, produces lots of foamy bubbles and releases pleasing scents to make a bath more relaxing and enjoyable.
When we prepare a bubble bath, we can see how it works. We put in some kind of soapy product under the tap while the water is running, and it releases foamy bubbles and heavenly scents. For those who really want to know why it works scientifically, here's why. Bubble bath contains something called a surfactant, which reduces the tension between liquid and solids. In the case of the bubble bath, this lack of tension combined with the pressure of the falling water allows the bubble bath to let air into soap, which is then released again in the form of bubbles.
Are bubble baths safe?
Yes, bubble baths are safe for most people. But like so many other things in life, a "less is more" thinking should be used when you're taking a bubble bath.
A short time in a hot bubble bath does help to calm our nerves. However, your skin and other more sensitive parts of your body may not react well to prolonged exposure to some of the chemicals or dyes found in bubble baths.
Dermatologists say that 20 minutes is enough time to feel the health benefits of a bath, like relaxation and calm. Any longer, and you might risk skin irritation and dryness. And if your skin irritates particularly easily or you know that your body is more sensitive, it's especially important to keep the bath time short. Use a gentler, milder soap and make sure that you use lotion as soon as you towel off to help replace the moisture you lose while you soak.
Can bubble bath be used as soap?
The short answer is yes! Bubble bath is a soap product. Just like you could use shampoo, hand soap, or even dish soap on your body, you can use bubble bath. They're all soaps and all function fundamentally the same so each can be used to clean your body.
How do I make my bubble bath really bubbly?
There are a few things that you can do to go for extra bubbles and make your bath that much more fun.
First, run the water with as much pressure as you can. If you're slowly filling the tub with the "hot" dial only partially turned, you're not getting enough pressure to agitate the soap and let the bubbles come to life. Turn on both the "hot" and "cold" dials as high as possible while still maintaining your desired temperature, and you'll see more bubbles in your bath.
Secondly, make sure you're adding the bubble bath at the right time. You should be adding it early on when there is about an inch of water and the tub is running. That gives the bubble extra time to release bubbles. Adding it too late into the tub-filling process will yield fewer bubbles.
Thirdly, add more bubble bath. Be careful not to add too much because you don't want to end up with less water to soak in so that you can accommodate the massive amount of bubbles! But if a product recommends a capful, try two to generate additional bubbles.
Other Bubble Baths We Reviewed
Beauty By Earth Bath Bombs
With its incredible scents, clean feeling on your skin, and nontoxic ingredients, this bath bomb has everything you need to create an incredible bubble bath.
We looked at 20 other bubble baths. Even though they didn't make our 5 best bubble baths list, they're the best of the rest and each is still a great option for your next bath. The information you'll need to compare each one is included with the listing.
Bath Bombs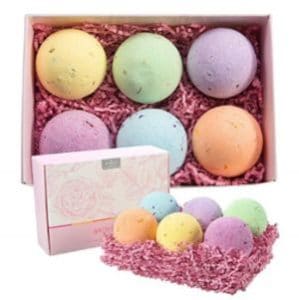 Not all bath bombs can claim to be vegan, filled with essential oils, and still produce bubbles. This one checks all three of those boxes.
Key Features:
Uses dried flowers
Vegan
Moisturizes skin
Cost: $10 (set of 6)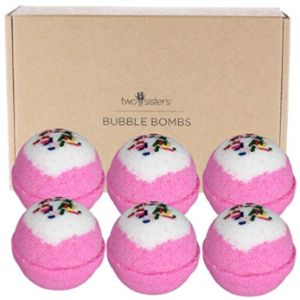 This bath bomb stood out to us because it promises huge amounts of bubbles, it's made by moms in Minnesota, and the design so cute that your kids will love throwing it into the bath. It's pretty enough to use as a gift or a party favor.
Key Features:
Size (roughly like a tennis ball)
Handmade
Cute design
Cost: $30 (set of 6)
Enjoy Your Bath Time Bath Bombs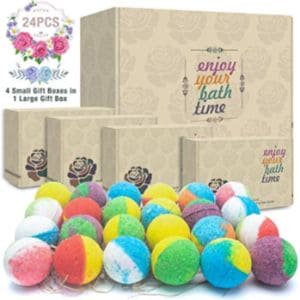 The colors are really vibrant and beautiful in this bath bomb. Because the 24 bombs included are sent boxed in four sets of six bombs in each set, you can easily gift these to several people. If you haven't already decided to keep them for yourself, that is.
Key Features:
Bright colors
Less expensive price per bomb
Contains essential oils
Cost: $25 (set of 24)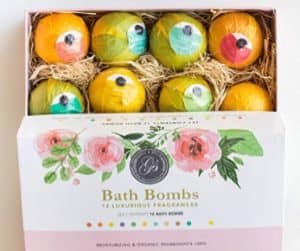 Twelve different bath bombs give off twelve uniquely simple scents as bubbles fill the tub. Each one also has sea salt to enhance the aromas.
Key Features:
Moisturizes
12 different scents
Paraben-free
Cost: $25 (set of 12)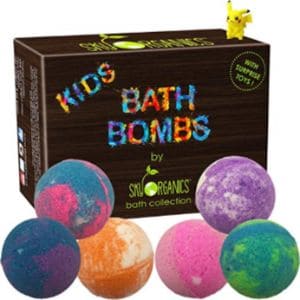 Just because it says "Kid" on the box doesn't mean adults can't get in on the bath bomb fun of these extra-large, brightly colored bath bombs, designed to give you the maximum amount of bubbles for the maximum amount of bathtime fun.
Key Features:
Contains essential oils
Free surprise toy when bath bomb melts away
Organic ingredients
Bubble Baths for Sensitive Skin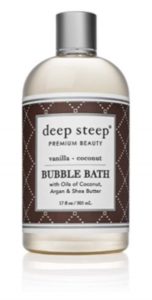 This bubble bath is cruelty-free, gluten-free, alcohol-free, and contains no sulfates or parabens. Instead, it uses ingredients like organic coconut oil and aloe vera to protect your skin as you soak.
Key Features:
Free of harsh chemicals
USDA-certified manufacturing facility
Gluten-free
Cost: $13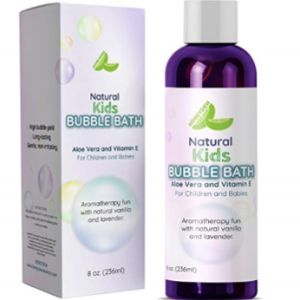 An ultra-mild formula with soothing ingredients is at the heart of this bubble bath. We found that many of the bubble bath products for sensitive skin were designed for children. However, there's no reason that adults with sensitive skin can't use them too!
Key Features:
Contains aloe vera and Vitamin E
BPA-free bottle
Made in the USA
Cost: $12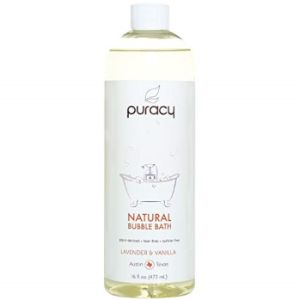 Cleansers derived from coconuts help to create a large amount of luxuriously soft bubbles to immerse yourself in while you bathe. This bubble bath is hypoallergenic, free of harsh chemicals, and smells of lavender and vanilla to help you become even more relaxed.
Key Features:
Plant-based formula
Hypoallergenic
100% money back guarantee
Cost: $14
TruKid Truly Natural Bubble Bath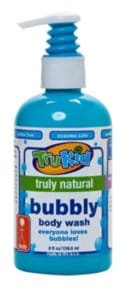 Don't bypass this bubble bath just because you're an adult and "kid" is in the title. This product has been tested and approved by both pediatricians and dermatologists. If they say it's safe for even children's sensitive skin, you know it will treat your grown-up sensitive skill well too.
Key Features:
Natural ingredients
PETA-certified
BPA-free bottle
Organic Bubble Baths
BareBaby Organics Premium Bubble Bath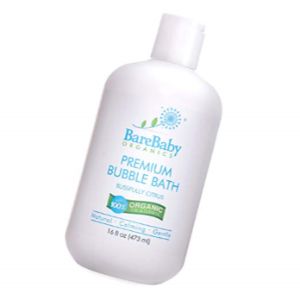 With a formula created by a chemistry professor concerned about using chemicals on his small children, BareBaby Organics Premium Bubble Bath is ahead of the competition. It uses organic aloe leaf, plant-based extracts, and essentials oils to create a product that bubbles, smells great, and is safe for your kids – and yourself.
Key Features:
Organic ingredients
Plant-based extracts
Non-toxic
Cost: $15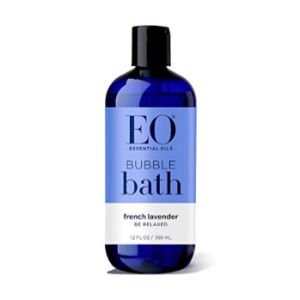 This bubble bath features therapeutic-grade essential oils that produce a beautifully fragrant scent of French lavender. Its extracts are all plant-based and specifically included in the formula because they nourish and moisturize your skin.
Key Features:
High quality essential oils
Vitamin E
GMO-, gluten-, and cruelty-free
Cost: $31 (three bottles)
Everyone Bubble Bath Sweet Orange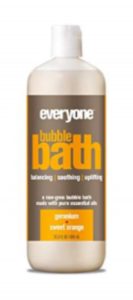 The creators of this bubble bath used organic olive oil and their own special "Yoga Soak" essential oil blend to create a silky smooth, beautifully foaming bath that will leave your skin baby soft.
Key Features:
Blend of organic ingredients
Free of synthetic fragrances
Added vitamins
Cost: $13
L'Occitane Foaming Verbena Bubble Bath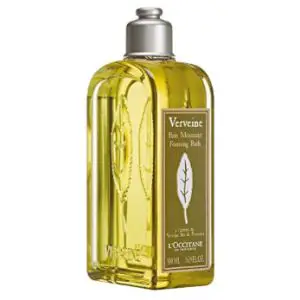 Organic verbena extract, palm oil, and coconut oil are blended together with other ingredients to create a truly silky, lightly scented bubble bath experience that you will treasure.
Key Features:
Organic extracts
Great light smell
Essential oils
Cost: $34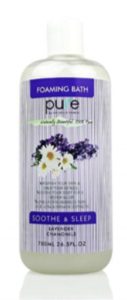 This product features 100% organic oils and extracts to create a bubble bath experience that leaves you refreshed, moisturized, and relaxed.
Key Features:
Lavender scent
Organic oils & extracts
Moisturizes
Aromatherapy Bubble Baths
Bath & Body Works Aromatherapy Bubble Bath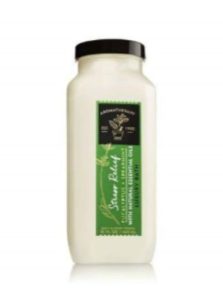 The combination of eucalyptus and spearmint in this bubble bath creates a scent that will immediately start to relax you as you breathe deeply throughout your time in the tub.
Key Features:
Eucalyptus & spearmint essential oils
Nourishing aloe
Natural ingredients
Cost: $16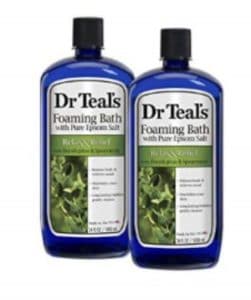 The Dr. Teal's brand of bubble baths has been easing the tensions of their customers for years. This product offers the enriching scent of spearmint and eucalyptus blended to relax your body, soothe your skin, and calm your nerves.
Key Features:
Relaxing scent
Epsom salt
Long-lasting bubbles
Cost: $17 (two bottles)
The first thing you notice about this bubble bath is the beautiful bottle that holds the soapy liquid. But the last thing you'll remember is the amazing scent combination of lavender, bee blossom honey, amber, and vanilla that come together to help you get calm in the tub and stay calm when you're finished.
Key Features:
Unique combination of light scents
Beautiful bottle
Corkscrew needed to open the bottle
Cost: $34
Mountain Falls Milk & Honey Bubble Bath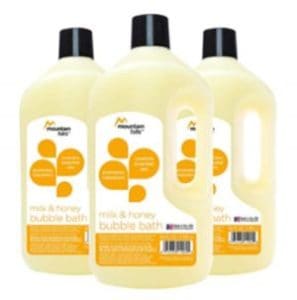 The soothing scent of milk and honey together has long been used to calm tense people. This bubble bath combines that scent with foamy, silken bubbles to create a bath experience that will leave you smelling and feeling beautiful long after bathtime is done.
Key Features:
Smooth and soothing scent
Not tested on animals
Refreshes skin
Cost: $24 (three bottles)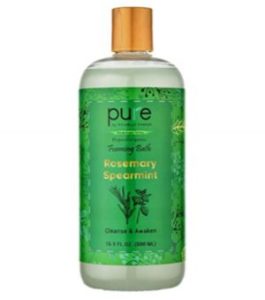 Pure Aromatherapy proves that you can have a relaxing and rich bubble bath that is beautiful scented – all without ingredients that harm your skin or the environment. It's safe for babies and anyone with sensitive skin.
Key Features:
Rosemary scent
Safe for babies
Cruelty-free
Cost: $11
Village Naturals Therapy Bubble Bath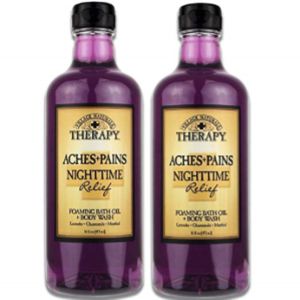 The soothing power of menthol sets this bubble bath apart and creates a unique aromatherapy experience. When it's combined with lavender and chamomile, it creates a scented foaming bath that is truly one of a kind.
Key Features:
Lavender, chamomile, and menthol scents
Therapeutic relief
Made in the USA
Cost: $23