Whenever you're traveling, a toiletry bag is a must. These handy bags help keep your makeup and other hygiene products, like shampoo and your toothbrush, safely and conveniently stored. If you use it in the bathroom, a toiletry bag is designed to hold it. While choosing a toiletry bag might seem simple, many factors go into it. From the number of compartments to the durability of the fabric, not all toiletry bags are the same.
We reviewed dozens of toiletry bags to identify the best of the best. We considered durability, size, warranty, organization, customer reviews, and color options.
After much consideration, the BOACAY Premium Hanging Travel Toiletry Bag took our top spot. This bag is made with double-stitching and metal zippers, ensuring that it holds up to lots of wear-and-tear. It comes in many different colors and has a sleek design both men and women would appreciate. Plus, it has many various pockets, which can help you stay organized.
The 5 Top-Rated Toiletry Bags
*Ratings are from Amazon at the time of publication and can change
Best Toiletry Bag Overall: BOACAY Premium Hanging Travel Toiletry Bag
Out of all the toiletry bags we reviewed, the BOACAY Premium Hanging Travel Toiletry Bag came out on top. Both men and women can use this sleek bag. It comes in many different color options, including red, pink, black, purple, gray, and more. Plus, it is incredibly durable thanks to its metal zippers and quality materials. It is made out of four different layers of materials, such as polyester, rubber, foam, and lining. All of these materials help keep the bag clean and prevent water damage, which is so prevalent in the bathroom. They even offer a 5-year warranty.
The bag is completely waterproof and can be hung from most doors or other tall objects. The rubber prevents bottles from breaking should the container be dropped, while the foam provides a little extra cushion. Perhaps most importantly, the bag dimensions are TSA approved so that you can travel easily.
The inside of the bag features several mesh compartments that are designed to keep everything in place while you're traveling and while the bag is hanging. There are also several elastic band holders for things like makeup brushes and two zipper side pockets. All the pockets help you stay organized without becoming a complicated mess.
BOACAY Premium Hanging Travel Toiletry Bag Key Features:
Made with four layers of material
Comes in many colors
5-year warranty
TSA approved
Best Men's Toiletry Bag: KOMALC Genuine Buffalo Leather Unisex Toiletry Bag
It isn't a secret that most toiletry bags are designed for women. Women, after all, tend to carry around more bathroom supplies than men. However, men need to carry around their soap and toothpaste just like everyone else, which is where the KOMALC Genuine Buffalo Leather Unisex Toiletry Bag comes in. This bag is quite masculine and is made out of real, destressed leather. It is handcrafted by experienced craftsmen and has a water-resistant interior lining. The zippers are high-end and metal, giving it a classy look while also ensuring durability. This bag is designed to stand up to heavy use.
In all honesty, this bag does not have as much storage as others. There are no mesh pockets or elastic band holders. However, that is because this bag was created mainly with men in mind, who do not usually carry around full makeup kits with them when they travel. With that said, the main pocket is large enough to hold full-sized bottles of shampoo and large, electric razors. This feature makes it easy to throw everything into your bag and go without having to purchase mini, travel-sized bottles of your favorite products.
KOMALC Genuine Buffalo Leather Unisex Toiletry Bag Key Features:
Made from real, buffalo leather
Unisex
Water-resistant lining
Large main pocket
Best Budget Toiletry Bag: Narwey Hanging Travel Toiletry Bag
The Narwey Hanging Travel Toiletry Bag is inexpensive compared to most of the competition but still performs quite well. It is made of soft and padded fabric, with reliable zippers and Velcro. The material is waterproof, which protects your bag gear from accidental spills. It comes in countless colors and patterns, from flamingos to gray flowers. Most designs are quite feminine, though there is a black and a gray option available. The bag includes many different storage compartments, most of which are made out of mesh. The gigantic pocket is big enough to hold most full-sized bottles, though some exceedingly large bottles will not fit.
A hook on the top of the bag allows you to hang it on the towel rack or over the top of a door. This feature is especially useful for those who don't stay in one hotel for very long because you don't have to unpack any of your stuff to use it. Plus, this feature also helps you save a bit of counter space. The bag itself is pretty lightweight and compact. Of course, how much the bag weighs depends mostly on how much stuff you pack it with. Reviewers had very few negative comments to say about this bag.
Narwey Hanging Travel Toiletry Bag Key Features:
Lightweight
Waterproof
Many colors and patterns available
Hook
Best Toiletry Case: Relavel Travel Makeup Case
A toiletry case is somewhat different from a toiletry bag. Firstly, cases are usually hard on the outside with many inner compartments. Bags are typically soft with zippers or mesh pockets. Secondly, cases are not always designed with handles, which means you'll have to place them in a separate bag to carry them easily.
If you think a case might be better for your situation, the Relavel Travel Makeup Train Case is the one to get. It is made of high-quality Oxford fabric and nylon lining. As the name might suggest, it is designed to carry cosmetic gear, though you could, of course, use it for whatever purpose you needed. There is enough room to store things like shampoo bottles and makeup brushes. The inner compartments can be adjusted to make bigger or broader slots depending on your needs.
This particular case does come with a carry handle, which is good because the case itself is quite large. It is designed to be lightweight and shockproof. Due to the nylon lining, it is somewhat waterproof, though it is not as waterproof as some other options. The interior is also quite spill-proof, so you don't have anything to worry about if your shampoo starts leaking mid-flight.
Relavel Travel Makeup Case Key Features:
Adjustable compartments
Two-way zipper
Waterproof and shockproof
Made of Oxford fabric
Best Extra Large Toiletry Bag: BAGSMART Toiletry Bag
Made with a water-resistant Polyester peach skin, the BAGSMART Toiletry Bag is well-padded and keeps its shape very well. The outside fabric is supple and keeps all the bottles inside protected. While this bag isn't shockproof like some other options, it is still an excellent choice for those who carry around perfume and other breakable toiletries. The inner main pockets have elastic straps to keep bottles turning upright and the middle pocket features two zippers, allowing you to fully access all your supplies even without the bag completely open. Each pouch is also translucent, so you can easily see what it inside.
With a 360-degree swivel, anti-slid hanger, this bag can hang practically anywhere, even on flat counters. The hook hides away when you aren't using it. The overall compact design of the bag takes up very little room inside your luggage and can even function as a carry-on. This bag comes in three different colors – black, pink, and blue. The black is suitable for unisex use, but the two other colors are quite feminine. The fabric is water-repellant, preventing permanent damage from spills that are common in the bathroom. The bag can also be cleaned with a soft, damp cloth.
BAGSMART Toiletry Bag Key Features:
Three colors available
An anti-slip hook can hang anywhere
Compact size
Four large pockets
Who Should Buy a Toiletry Bag
Toiletry bags are a necessity for anyone who travels regularly. These bags provide a place for you to store all the items you typically use in your bathroom, like shampoo, toothpaste, makeup, and even perfume. While you can store these items in your usual travel bag, toiletry bags have some extra benefits. Many of them are water-resistant, which means you won't have to worry about your shampoo leaking or accidental spills. Most toiletry bags also come with hangers. These hangers allow you to hang them from the bathroom door at your hotel or even the countertop.
Plus, and perhaps most importantly, these bags keep everything in one place. When you get to your destination, you can take the whole thing into the bathroom with you to prepare for your day. There are countless different toiletry bag designs available, allowing you to choose the perfect one for your situation. There are small ones that are made to hold only a few items and extra-large bags that can hold everything in your bathroom.
Important Features to Consider
A toiletry bag should have a few essential features. Here's what to consider when selecting a toiletry bag:
Water-resistant. Toiletry bags are going to be used in the bathroom, where water is commonplace. Because of this, water-resistance is a must. It prevents the bag material from wearing down due to repeated contact with moisture and keeps everything inside the bag nice and dry. Plus, water-resistance has the added benefit of making clean-up easier after your shampoo inevitably leaks everywhere.
Size. Some bags are small, while others are large. In many cases, though, bigger is not always better. Often, if you don't need to carry much with you on your travels, a smaller bag is the way to go. Their more comfortable to carry and will take up less room. However, if you need a giant bag, by all means, get one. With so many size options available, it is easy to get just the right size you need.
Aesthetics. Even though a bag's style has nothing to do with how it functions, no one wants to carry around an ugly bag. Most bags have many colors and patterns available, allowing you to get something you like.
Shockproof. We never plan on dropping our toiletry bag, but it is going to happen at least once. When it does, you don't want your items inside to break. Not only is this quite inconvenient for you, but it can also cause the inside of your bag to get quite dirty. If you break a whole makeup pallet, there is going to be makeup everywhere when you get to your destination. Getting a shockproof bag prevents this from happening. They help dissipate the force of a drop, protecting your items inside. It is difficult to find a shockproof bag, but many provide at least some amounts of padding.
Hanging. Many bags come with a hook that allows them to be attached from the top of a door. However, this is not true of all bags. If you want to hang your bag up, this is something to look for. Furthermore, not all hooks are made equal. Some bags have a hook that doesn't work correctly. Others have hooks that can hang practically anywhere.
Frequently Asked Questions
What is a toiletry bag, and what is it used for?
A toiletry bag is a travel bag that is designed to hold things you typically use in a bathroom, like shampoo and toothpaste. Usually, these bags have lots of inside pockets and are at last somewhat water-resistant.
What is in a toiletry bag?
Usually, you put toiletry items inside a toiletry bag. This category includes everything you use in the bathroom, including makeup, soap, and teeth care items. Of course, toiletry bags don't have to be used solely for toiletry items. All their inner pockets make them great for organizing other things while you're traveling, like kid's toys.
Does a toiletry bag have to be clear for air travel?
That depends on whether or not you're planning on carrying your bag on the plane. If you're using your bag as a carry-on, then it is required to be clear in most cases. If you're putting it in your main luggage bag or putting it in the cargo section of the plane, then it does not have to be clear.
What is a TSA approved toiletry bag?
Bags that are TSA approved have been checked by the agency and approved for carry-on travel. These bags meet the criteria for carry-ons and can, therefore, be taken onto the plane with you.
Other Toiletry Bags We Reviewed
We looked at 20 other toiletry bags. Even though they didn't make our five best bags for toiletry's list, they're the best of the rest and each is still a great option. The information you'll need to compare each one is included with the listing.
Best Men's Toiletry Bags
Eagle Creek Pack-It Specter Quick Trip Toiletry Organizer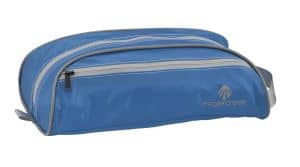 This smaller bag is perfect for shorter trips with a large, main pocket and two external mesh pockets. It is machine-washable and features a quick-grab handle.
Key Features:
Made of micro-weave
Many pockets
Machine washable
Cost: $25
IQ Travels Travel Toiletry Bag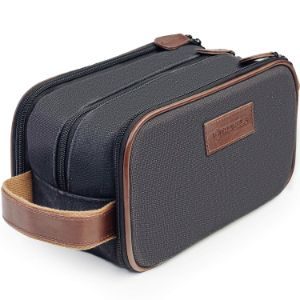 This aesthetic toiletry bag has three individual compartments and a carrying handle. It is durable and waterproof. Plus, it has a lifetime guarantee.
Key Features:
Three compartments
Lifetime Guarantee Warranty
Durable
Cost: $23
Ka Loo I Travel Toiletry Bag for Men
Made with premium vegan leather and waterproof lining, this bag has two interior pockets and an outer zippered pocket. This bag measures 10" long, which is plenty long enough for most trips.
Key Features:
Multiple pockets
Vegan leather
100% Guaranteed
Cost: $30
LVLY Toiletry Travel Bag for Men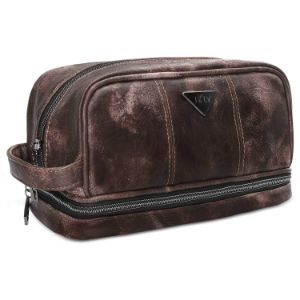 Made with high-quality leather material, this bag is both lightweight and durable. It is water-resistant, which keeps it safe in the moisture-rich environment of the bathroom.
Key Features:
12-month Guarantee
Many different pockets and compartments
Side handle
Cost: $20
Maxchange Hanging Toiletry Bag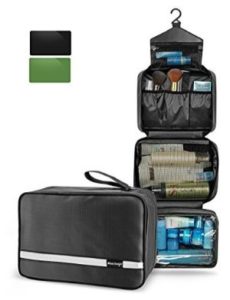 This toiletry bag is quite larger than many of the others designed for men. It has a double zipper and is made out of durable, waterproof material.
Key Features:
Leakproof nylon
Double zipper
Compact design
Cost: $14
QS. USA Toiletry Bag for Men or Women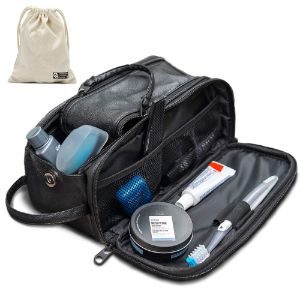 This bag features a magnetic latching system and multiple pockets. It is designed to be used by both men and women.
Key Features:
Double-zipper kit
Water-resistant
Magnetic latching
Cost: $25
Toupons Men's Travel Toiletry Organizer Bag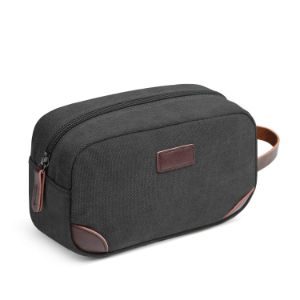 This durable bag has a 16-ounce capacity and can hold plenty of items for a short trip. There are many different colors available.
Key Features:
Handle for easy carrying
Many different colors available
16-ounce capacity
Cost: $13
Best Toiletry Cases
Beautime Large Hanging Travel Toiletry Bag
This case has a huge capacity with multiple different pockets and a hanging handle. It also has removable shoulder straps and useful layers with elastic loops.
Key Features:
Large capacity
Useful dividers
Removable shoulder straps
Cost: $26
While this bag is designed to hold makeup, it could easily hold all your other toiletries as well. It is tremendous – plenty to hold all of your makeup.
Key Features:
Metallic PU trim
Top handles
Large capacity
Cost: $20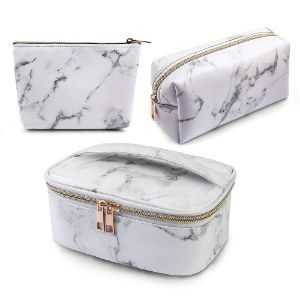 This stylish bag comes in three different styles, increasing in size. The biggest option has plenty of storage space for practically anything you need. Plus, it is made with PU leather.
Key Features:
Lots of storage space
Three different styles
Portable and lightweight
Cost: $15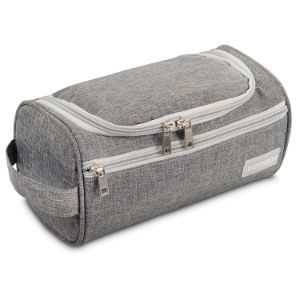 Made with Cationic Oxford cloth, this bag is exceptionally durable. It is water-resistant, and the inside of the bag is designed to handle accidental spills.
Key Features:
Organized compartments
Wide-open design
12-Month Guarantee
Cost: $11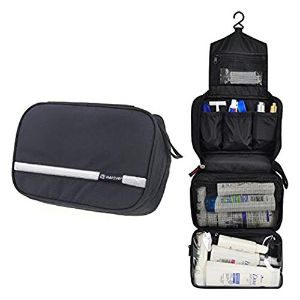 Made with high-quality materials, this case is both waterproof and scratch-resistant. It is compact but comes with many pockets to help you organize it.
Key Features:
Compact
Sturdy hanging hook
Made with Oxford Fabric
Cost: $12
Semary Leather Toiletry Men's Case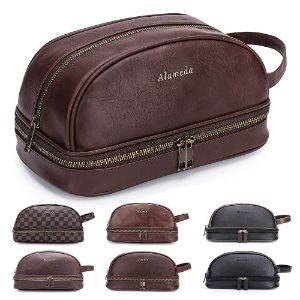 This case has plenty of room inside and is both durable and waterproof. The nylon inner lining prevents spills from damaging the bag.
Key Features:
Two separate large closure compartments
Nylon inner lining
Waterproof
Cost: $30
SONGMICS 10.1 Inch Travel Case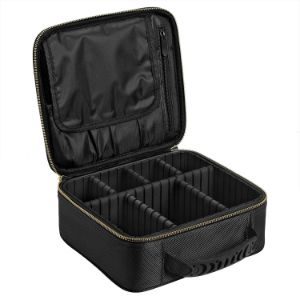 Use the removable dividers, in this case, to easily fit all your toiletries inside and stay organized. It is roomy and can fit even tall makeup brushes inside.
Key Features:
Oxford fabric
Removable dividers
ABS plastic structure
Cost: $16
Best Extra-Large Toiletry Bags
Bag & Carry Large Hanging Toiletry Cosmetic Bag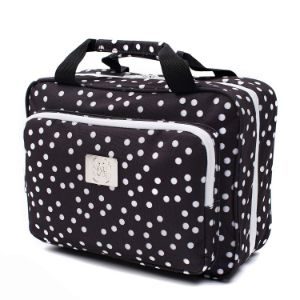 Measuring 12" by 9" by 4", this bag has plenty of room for most, even those with tons of makeup. It comes with many different interior compartments for organization.
Key Features:
Durable
Waterproof nylon lining
Steady metal hanger
Cost: $30
Ballage Extra Large Hanging Toiletry Bag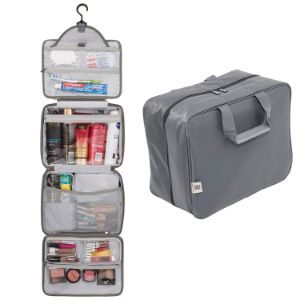 This multi-purpose bag can be hung with its heavy-duty support hanger. It measures 12" by 9" by 5.5", which is plenty big for nearly any use.
Key Features:
Adjustable storage sections
Extra-large capacity
Waterproof
Cost: $35
Buruis Extra Large Capacity Hanging Toiletry Bag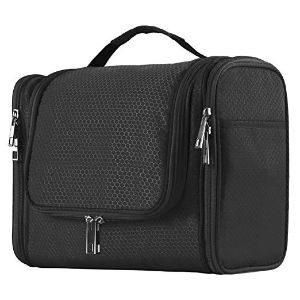 This bag comes in many different colors, from pink to blue. It features many different compartments and has ample room.
Key Features:
11" by 5.9" by 7.9"
Waterproof
Made with nylon fabric
Cost: $24
Ellis James Designs Large Travel Toiletry Bag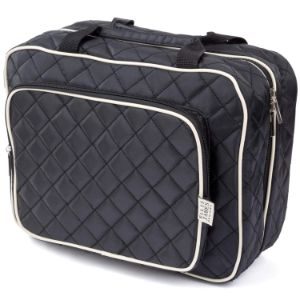 This massive bag has a water-resistant exterior, can be wiped clean and has a hygiene-friendly interior. It can fit everything from full-sized shampoos and hair dryers inside.
Key Features:
Measures 12" by 9" by 6"
Quilted exterior
Water-resistant
Cost: $37
Hipiwe Hanging Travel Toiletry Bag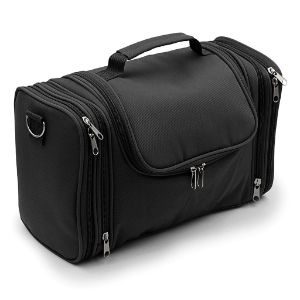 Enjoy multi-pocket storage and a huge capacity with this bag. It features water-resistant material padding for protection.
Key Features:
Shoulder strap
Metal hook for hanging
Water-resistant and shock-resistant
Cost: $19
Large Hanging Travel Toiletry Bag by SAFARI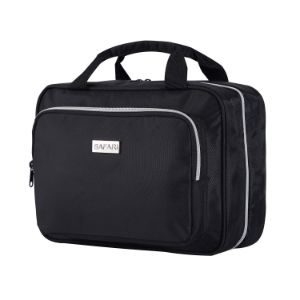 With many compartments, this bag is large enough to fit even full-sized bottles. It hangs easily from the towel rack or door, preventing the need to clutter the hotel counter.
Key Features:
100% Satisfaction Guaranteed
Five large compartments
Hangs
Cost: $25