Makeup brushes may come with an expiration dates of sorts, though you may never know when it is – but proper care and storage will undoubtedly extend their life. By protecting them, the bristles will remain intact and with proper organization to always have the right brush available for the right thing, you'll keep their function preserved. If you're not sure what kind of holder you need to keep your brushes working optimally, you won't need to give it another though; we've done all the work for you!
We reviewed dozens of makeup brush holders to identify the best of the best. We looked for makeup brush holders that offer organization for all your cosmetics and those holders that will be perfect for your brushes and only your brushes. We found the makeup brush holders best for travel and those best for your counter top. No matter what you need for your makeup brush storage options, we have the best choice for you.
If you're in the market for brushes to put in your makeup brush holder, check out your best options  in the The 25 Best Makeup Brushes. For some of the makeup you'll need these brushes for, pick the best choice for you after looking through the Best Eye Makeup and the Best Bronzers.
While comparing makeup brush holders, we nearly immediately identified the Ikee Design Acrylic Jewelry Makeup Cosmetic Storage Display Organizer as the obvious winner of our best overall spot. Not only doe sit offer options for your makeup brushes storage and organization, it offers plenty of space for even more, too.
The 5 Top-Rated Makeup Brush Holders
*Ratings are from Amazon at the time of publication and can change
Best Makeup Brush Holder Overall: Ikee Design Acrylic Jewelry Makeup Cosmetic Storage Display Organizer
The Ikee Design Acrylic Jewelry Makeup Cosmetic Storage Display Organizer has a place for everything, and that definitely includes your makeup brushes. In fact, there are a few different places you can keep all kinds of brushes. The twelve "lipstick" slots are perfect for shorter brushes that won't tip over if stored within and the bottom two drawers will allow you to store makeup or flat makeup brushes that won't misshape if stored in the dust-proof drawers.
The intended brush holder of this organizer, though, is the top, back, left two compartments that will store brushes upright and on clear display so you'll be able to see them at all times and put them where they're needed and easily accessible.
Sitting with right around 9,000 customer reviews and an overall rating of 4.5 stars on Amazon, you can be confident in this impressive makeup brush holder's quality and in your own statistically likely satisfaction.
Ikee Design Acrylic Jewelry Makeup Cosmetic Storage Display Organizer Key Features:
Made of durable acrylic
21 color and style options
Removable black mesh padding in drawers
Best Glass Makeup Brush Holder: PuTwo Makeup Organizer Vintage Make up Brush Holder
The PuTwo Makeup Organizer Vintage Make up Brush Holder has a simply but elegant look that you'll love to add to your bathroom's counter and with the included pearls, you'll have a vintage decor that is still incredibly functional, too. The pearls will hold your brushes upright and that makes it perfect for drying or for long-term storage. It can hold up to twenty-five brushes, depending on the size and space you want to give each brush.
You can clean this brush holder easily with a gentle soap and warm water, just remove the pearls beforehand, of course. The premium glass is robust enough you won't need to worry about shattering, but it lends to a delicate and feminine feel that's perfect for makeup containers.
This makeup brush container has an overall rating of 4.7 stars, given by nearly 500 customer reviews on Amazon, which means the rating is definitely one in which you can trust the accuracy. With features like these, this is a sound investment!
PuTwo Makeup Organizer Vintage Make up Brush Holder Key Features:
Includes filler pearls
3.3″W x 3.3″L x 5.1″H
Includes gift box package
Best Budget Makeup Brush Holder: iDesign Clarity Metal Tumbler Makeup Brush Holder
The iDesign Clarity Metal Tumbler Makeup Brush Holder has a straightforward and highly effective design that makes it more than just slightly tempting. It has a durable plastic design that won't easily break (and should the worst happen and it does, it won't shatter or cut anyone). In addition to the box-like plastic, the bottom is encased in a metal that prevents the holder from skidding and lifts the holder just slightly off the surface on which it rests, making it less likely to disguise water or form mildew beneath.
Should you want it, this is part of an entire matching line of bathroom storage solutions that will allow you to store more than just your makeup brushes and each piece complements the next. And, of course, it would work just as well for pens, paintbrushes, and eyeliners, too. This holder is wonderfully versatile.
On Amazon, this makeup brush holder has roughly 550 customer reviews at the time of this publication and an overall rating of 4.4 stars. That, in and of itself, is impressive, butt he best part of this brush holder has to be the cost. You can pick this up for well under $10 and that makes it a total steal!
iDesign Clarity Metal Tumbler Makeup Brush Holder Key Features:
8 coordinating pieces
Non-skid base
2.5″W x 2.5″D x 4″H
Best Makeup Brush Organizer: sanipoe 360 Rotating Makeup Organizer
The sanipoe 360 Rotating Makeup Organizer will give you plenty of options when it comes to any kind of storage, but particularly with your makeup brushes. You can adjust the four shelves to make each top layer perfect for your makeup brushes, or use them as needed – two top shelves for makeup brushes and two for lipsticks and eyeliners, maybe. The beauty of this makeup brush organizer is that it will allow so many customizable options that it is sure to be perfect for you, no matter what type of makeup and brushes you use.
The circular display will fit perfectly on most counter tops and by spinning, you can make the most efficient use of that space, revealing your entire makeup collection as you turn. The organizer needs assembled when delivered, but the assembly is so easy, you'll be able to do it on your own in less than ten minutes.
Just under 2,000 people have felt strongly enough about this organizer to come back after purchase and review it on Amazon. And considering they've ultimately given it an overall rating of 4.5 stars, that's a really good sign that you won't regret your purchase!
sanipoe 360 Rotating Makeup Organizer Key Features:
7 adjustable layers
2 color options available
Non-toxic, easily washable ABS material
Best Makeup Brush Holder for Travel: Relavel Travel Case with Adjustable Dividers for Cosmetics Makeup Brushes
The Relavel Travel Case with Adjustable Dividers for Cosmetics Makeup Brushes has six adjustable walls that allows you to configure the case's compartments however you see fit, and that mean you can store your brushes in a variety of places, as well as so much more. There are four elastic brush pockets that will store your brushes securely to keep their form and you can easily store makeup pencils or lipsticks in these compartments as well.
For the worst-case scenario where the makeup stored within this travel organizer breaks or leaks, the entire case is lined with a nylon fabric that, while not waterproof, will contain the mess some. And, likewise, not 100%, the brush storage has an extra layer of protection with the Velcro flap that secures over the brushes, keeping them separate from anything else you include in your bag.
With an overall rating of 4.5 stars on Amazon, this case is certainly appealing, but when you discover that the rating is based on well over 2,500 customer reviews and we think you'll be sold on this as the best travel makeup brush holder available!
Relavel Travel Case with Adjustable Dividers for Cosmetics Makeup Brushes Key Features:
8 color choices
2 size options
Made with high quality oxford fabric
Who Should Buy a Makeup Brush Holder
If you use makeup brushes, even just occasionally, you really should have a suitable meas to store them. In fact, if you only use them from time to time they're more likely to gather dust if left exposed, so you may want to consider finding a makeup brush holder that will protect them from that. If you have them lying flat, over time the brush will flatten, too. While that's probably going to be okay for a flat brush, like an eye shadow base brush, it will be hugely detrimental to the powder brush. They're especially helpful for travelling, too. Whether you use your brushes all the time or just occasionally, a quality travel makeup brush holder will save you the investment you spent on your brushes by allowing them to travel with you unharmed by your luggage being thrown or squashed during your trip.
If you're a makeup guru, then you'll already know you need a good system for your brush storage. And the more organized your system, the better able to use your makeup as it was intended. After all, you won't want to reach for your concealer brush and come up with your eye shadow brush. If you don't notice the mistake immediately, you'll end up ruining your brushes. For anyone that takes their brushes – or their makeup – seriously, you'll need a makeup brush holder.
Important Features to Consider
A makeup brush holder should have a few important features. Here's what to consider when selecting a holder for your makeup brushes:
Organize your brushes. If you can't recognize what brush does what and for where without close attention, then an organizer is exactly what you want. That could mean a case with a series of holes to store your brushes in a specific order, or you could store the brushes you use for each distinct style of makeup together. Maybe for summer, you have a cup of brushes that will coordinate with your more tanned, skin tone, while your fair skinned winter pallet calls for cooler colors and brushes that complement that color scheme. Just remember you will still want to clean those brushes to make sure you're maintaining healthy habits and avoiding infections.
Dust protection. This is most important for brushes that are either used infrequently or brushes that are used in a room particularly prone to dust. For example, won't want to leave your brushes completely exposed if you also use that room for air brushing or hair spray. While those little molecules in the air aren't necessarily dust, you will want to protect your brushes from them all the more. Sticky makeup brushes caught up in hair spray are almost completely ineffective and worse, they become terrible or your skin. Whether you want to make sure your makeup is put away before you spray or you pop the lid back on, you'll need to take some precautions or plan to kiss your makeup brushes goodbye.
Travel. We've touched on how difficult it can be to maintain shape of a makeup brush that is twisted, compressed, and crumpled while you're on a trip with bigger concerns. If you travel and plan to wear makeup at any point, you'll need a travel bag specifically for your makeup brushes. Just tossing them in the same pouch as the rest of your cosmetics will very likely result in squashed bristles that won't smooth over your skin as gently and if you try to use them after they've lost their shape, you'll likely see uneven makeup as the outcome.
Cosmetic storage. You will probably want to store your makeup actually with your makeup brushes. After all, you can't use one without the other, so it make sense. While you may not want to store all your cosmetics on, say, your counter, you may want to put the most used brushes and makeup pallets within the same storage to make it easier for you to get your makeup done efficiently. For example, you may want to store your face brush with your powder and highlighter, so a larger case to store each item with the appropriate brush will help.
Easy access. Of course it's nice for your brushes to be protected from dust and sorted so the bristles are shaped perfectly. However, you still want to be able to use them regularly and if you have to open a drawer, unzip a pouch, and pull the brush out for every use, you may find yourself getting annoyed. – Or worse, find yourself not wanting to bother with the proper brush and do less than you want. If you want less makeup, that's wonderful but you shouldn't let your makeup brush container determine that for you.
Frequently Asked Questions
What are makeup brush holders and how do they work?
Makeup brush holders will hold your brushes in a way that will extend their life. There are a few factor that lend to a shorter shelf life for makeup brushes and holders will address one or more of these. The most common issue is the wear and tear of lying a brush flat or pressed in close with other cosmetics. They'll lose shape and break down faster in these positions, so the easiest way to store them is so that nothing touches the bristles. Another large factor in shortening the life of your brushes is the dust collection. If you can find a way to protect the brush from dust particles in the air, you'll avoid breaking down and skin irritations, as well. A simple cup alone where you can place your brushes upright so that they won't lose form so quickly will be a big step in the right direction. A cover  of some kind over your brush holder will protect against the dust, effectively neutralizing the biggest threats to the integrity of your brush.
Even if you have your makeup set up ideally in your home, travelling is more difficult to maintain those standards. Because of this, you may want to consider purchasing a travel bag to make sure your brushes aren't destroyed when TSA tosses your bags.
How do you clean makeup brushes with soap?
There are pre-made cleaners that make it super easy to clean your makeup brushes, and even dryers to spin your brush electronically so that you have about 30 seconds invested from start to finish. However, that definitely get pricey after a while. You can make your own solution by combining dish soap and a small bit of olive oil to maintain the softness of the brush's bristles. You can swirl it in the solution and pull the soap through the brush while holding it under running water until the soap is completely removed. You could, alternatively use a textured mat that will let you skip the swirl and running water step by placing the solution directly on the brush ans rubbing the brush along the textured mat to reach all the bristles. (You'll still need to spend some time rinsing, but far less time overall.) You can wet your brush, rub it circularly over a bar of soap and then rinse – this is probably the easiest method, but it won't do any favors for your brush's lifespan. Without any added agent to keep the brush soft, it will be a stiffer brush after wash and the bristles will break and fall out faster.
Drying will be the same regardless of the cleaning method. You'll want to shake out the brush, pat them dry, then reform them while they're still damp. Hang them upside down to air dry the rest of the way. (Or go back to the idea of a brush dryer that will spin it electronically until it's dry.) You should plan to clean your brushes w often do I clean my makeup brushes every couple of weeks at most.
How often should you change your makeup brushes?
More than you do, probably. Even those brushes that are cleaned regularly need to be replaced to make sure you're not transmitting bacteria, causing irritation, developing an infection. They may also lose shape and their effectiveness will suffer in that case. Many say you should plan to change your brushes every three to six months, depending on their use. Brushes dipped in liquid have a shorter life than brushes that only touch powders, for example. You may be able to extend your use of the brushes by cleaning them regularly, and while you can probably get by without replacing them as frequently as is strictly recommended, you absolutely do need to clean them. Skipping that will not only cause the brushes to break down faster, but risk infection, irritation, and more. The truth is it's just not worth the risk; Clean them or replace them frequently.
If you're not keen on replacing them this often, you can extend the use some by cleaning more often and storing them in a protected way. If you don't use your brushes often, you can extend even further, but probably not as much as you think. You'll know when it's time to replace your makeup brush when the bristles begin falling out or the texture and feel changes to a less soft and more rigid brush. If you notice an unusual smell or they become stained, those are also good indicators on the need to replace.
How do you know if a makeup brush is good?
The easiest way to test a brush before you purchase it is the touch test. If it's soft to your skin, without any scratchy or rough feelings, then it will likely give you the effects you want. To see if it's well made, you can run it quickly across the back of your hand. If no bristles come loose or fall out then you can be reasonable assured that you won't be purchasing a weak brush. For online purchases, you're left with only other's reviews. You can go to a cosmetic stand to evaluate options and see which brush you like, but for most online makeup brushes, you'll need to take a look at the reviews. The product listing will give you information, but it will undeniably be a favorable wording; reviews will give you more candid responses to the quality and value of the brush.
Once you have your brush at home, you'll be able to play with it to test it for how hard to push into what type of makeup and how to apply it. If you get a quality brush, it's likely just a matter of learning how they're best used, but you may still find that it's not a "good" brush you wanted for what you wanted. Your makeup quality will also affect how your brushes work, so make sure you're not wasting your expensive makeup by using a less than satisfactory brush.
Other Makeup Brush Holders We Reviewed
We looked at 20 other makeup brush holders. Even though they didn't make our 5 best makeup brush holder list, they're the best of the rest and each is still a great option for your brushes. The information you'll need to compare each one is included with the listing.
Makeup Brush Holder Cup or Box
AmazonBasics Round Acrylic Cosmetic Makeup Organizer Storage
You'll be able to store bigger and smaller brushes with this series of cup-style makeup brush holders.
Key Features:
3 size options
Clear acrylic construction
2 style options
Cost: $10
Bekith Large 3 Compartment Makeup Brush and Cosmetic Holder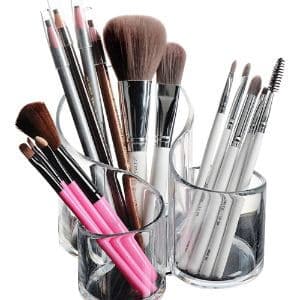 With three compartments and a sleek curved design, this makeup brush holder is perfect for counter top use.
Key Features:
Multi-purpose
Made with acrylic design
Easy clean with soap and water
Cost: $10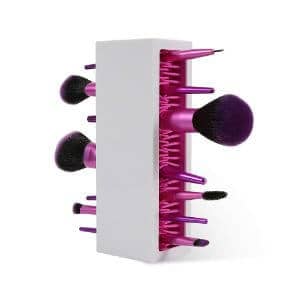 With so many silicone prongs, you can push the brush handles in to fit a variety of brushes and the design makes it perfect for drying them after cleaning, as well.
Key Features:
2 color options
Vertical or horizontal use
Large capacity
Cost: $10
Juvale 2-Pack Rose Gold Metal Wire Makeup Brush Pencil Cup Holders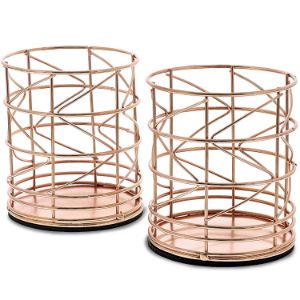 You'll get two glamorous rose gold metal cups perfect for your makeup brushes with this listing.
Key Features:
Scratch-free bottom surface
3.6″D x 4.1″H
Anti-slip bottom
Cost: $10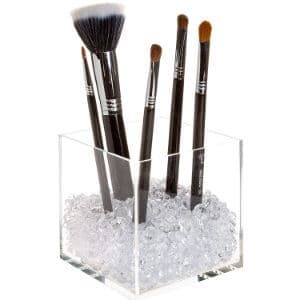 This box-style of makeup brush holder comes with two sizes of acrylic "diamonds" to hold your brushes upright to ensure proper form.
Key Features:
3 "diamond" color options
Holds up to 20 brushes
Acrylic box and "diamond" design
Cost: $20
Pahdecor Handcrafted Crystal Rotating Makeup Brush Holder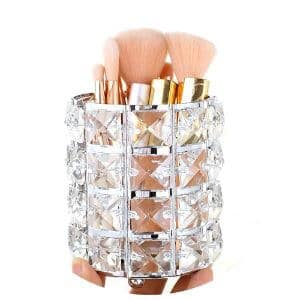 With a crystal design, you'll give your counter top a luxurious feel by placing your makeup brushes in this brush holder.
Key Features:
3 style options
2 color choices
Rolling balls on bottom
Cost: $10
Tasybox Clear Makeup Brush Holder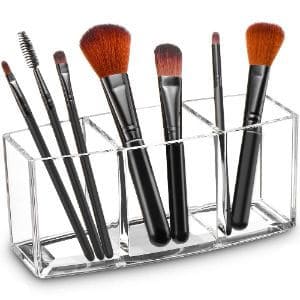 This box style of makeup brush holder is a durable acrylic construction so you won't need to worry about breaking or chipping.
Key Features:
3 compartments
2 color options
7.2″L x 2.7″W x 3.1″H
Makeup Brush Organizers
byAlegory Acrylic Makeup Beauty Brush Organizer
You can store twenty-six brushes with this holder; twenty regular brush sizes and six jumbo, for all the brushes you need.
Key Features:
2 packaging options (buy more and save!)
5″L x 2.16″W x 2.16″H
Made from single mold; seamless
Cost: $15
byAlegory Acrylic Makeup Brush Organizer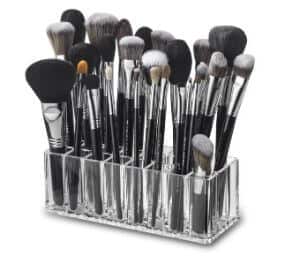 This makeup brush organizer has twenty-four compartments that will fit jumbo sized brushes, and therefore, likely more than one smaller brush in each compartment – and that will really open up your options.
Key Features:
2 color options
2 packaging options (buy more and save!)
8.6″L x 3.5″W x 3″H
Cost: $20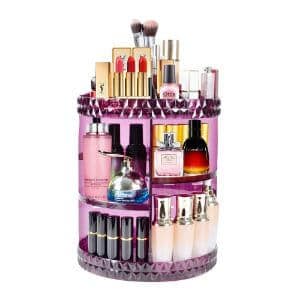 This organizer will store more than just your brushes, but it will store those, beautifully, as well.
Key Features:
2 color options
Non-toxic, ABS, washabel material
Adjustable compartments
Cost: $30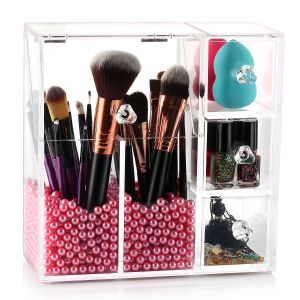 If you're concerned with your brushes collecting dust and air-born particles, this makeup brush organizer has a cover to protect them from such concerns.
Key Features:
Pearls included
3 drawers and 3 brush holder compartments
Stainless steel hinges
Cost: $30
JackCubeDesign Acrylic Bamboo Brush Holder
While this is intended for makeup brushes, you could also use this for some lipsticks and pencils to keep your makeup organized and easily found.
Key Features:
31 holes
5 hole sizes
Made with acrylic, leather, and bamboo
Cost: $25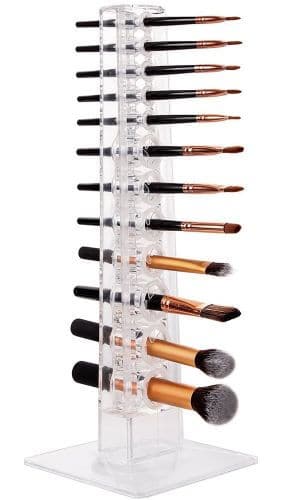 Organizing your brushes on your counter by size is a breeze with this makeup brush organizer; so you'll loose less and use more.
Key Features:
12 total holes
3 hole sizes
Acrylic construction
Cost: $20
Newslly Clear Acrylic Makeup Organizer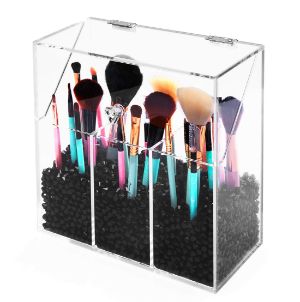 With a dust-proof cover, you'll be able to protect your brushes and the beads or pearls will keep them upright and true to form.
Key Features:
With or without beads
4 pearl/bead color options
Store up to 50 brushes
Cost: $40
Sodynee Jewelry and Cosmetic Storage 2 Piece Acrylic Makeup Organizer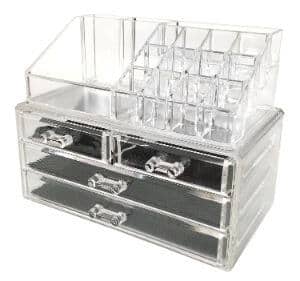 This organizer comes with two separate pieces that will allow you to organize and transport easily. Use the back compartments for your brushes, or lie them flat in the drawers below.
Key Features:
Removable mesh lining
9.5″W x 5.5″D x 7.25″H
4 color options
Cost: $15
Zhiai Jewelry and Cosmetic Boxes with Brush Holder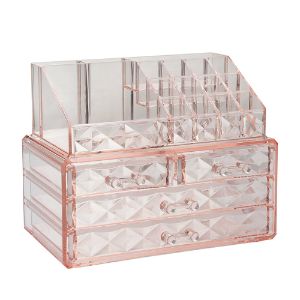 You can store your regularly used jewelry on the counter top with the makeup brushes you use most in this one convenient makeup brush organizer.
Key Features:
 9.4″W x 5.9″D x 7.3″H
Interlocking, stackable design
3-year warranty
Makeup Brush Holders for Travel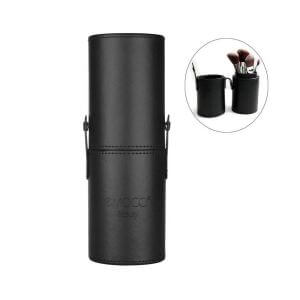 The large capacity of this makeup brush travel case will allow you to bring up to 15 brushes securely stored within it.
Key Features:
2 color options
Premium snaps lock holder closed
Made with PU leather
Cost: $10
Professional Cosmetic Case Makeup Brush Organizer
You'll be able to store plenty of brushes and much more with the thirty slots for brushes, lipsticks, or whatever else fits – and that's plenty!
Key Features:
Made with oxford nylon fabric
Detachable mesh bag
Wide handle and YKK zipper
Cost: $15
Relavel Makeup Brush Rolling Case Pouch Holder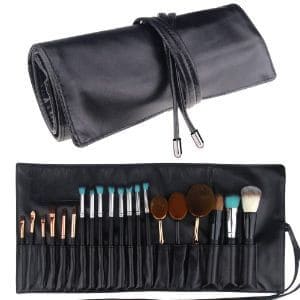 If you consider your makeup game on the level of art, then you'll want an artists rolling case to easily display and store your makeup brushes, no matter where you travel.
Key Features:
18 brush pockets
Variety of pocket sizes to accommodate several brush types
Made with high quality PU leather
Cost: $10
TANTO Makeup Brush Holder Organizer Bag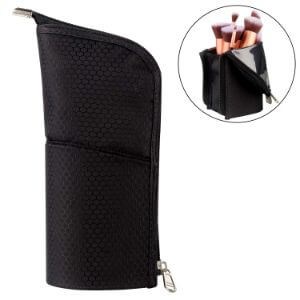 You'll be able to store your brushes securely with a zipper along the side and when you're using them, roll down the sides to create a makeup brush display.
Key Features:
SBS zipper
Waterproof, nylon material
8 elastic slots
Cost: $10