Glowing skin, defined cheekbones, crisp eyeliner—such a flawless look needs the right tools, and makeup brushes are the hammer and nails of the beauty world. They give you the power to accentuate your best features, hide the occasional blemish, and bring out your natural beauty. However, not all brushes are created equal. The bristle size, brush head density, and angle make a difference to the success (or failure) of your makeup application. Too thick, too thin, streaky—brushes give you the power to reduce or even eliminate some of your makeup pet peeves.
We've reviewed dozens of makeup brushes to find the best of the best. Of course, we looked at quality but we also searched looked for brushes that worked well for their designed purpose. Foundation brushes that leave smooth coverage, eye makeup sets that let you define, blend and smudge, and contour brushes that give your face the angles of an angel. And, we're happy to say that excellent brushes can be found in almost any price range.
Lamora Kabuki Foundation Brush
Build your makeup routine on a flawless foundation with this flat brush that feels wonderfully soft and leaves a smooth, even finish.
Throughout our research, the Lamora Kabuki Foundation Brush stood out as a clear winner. With high-quality, dense bristles, this brush can be used to blend liquid, cream, or powder cosmetics. It won't trap or absorb product like some makeup brushes, leaving a smooth, airbrushed appearance with a flawless finish.
The 5 Top-Rated Makeup Brushes
*Ratings are from Amazon at the time of publication and can change
Our Top Pick: Lamora Kabuki Foundation Brush
The Lamora Kabuki Foundation Brush brings a silky smoothness both in application and texture. Soft bristles work on sensitive skin without irritation or redness. Plus, the synthetic bristles are ideal of liquid, cream, and mineral foundations because their closed pores don't soak up much product. If you're looking for maximum coverage with minimal brush strokes, this is the brush. Even, flawless coverage takes practice but with the Lamora, even beginners can bring their skin to magazine quality.
Thankfully, its abilities are not limited to liquid foundations. The shape, size, and bristle quantity and quality create an excellent all-around brush that works for contouring, blushes, bronzers, and sheer powders. This brush, with its multiple uses, will definitely cut down on the number of tools you have in your makeup bag.
The fact that it lays makeup down beautifully gives it a huge thumbs up, but in today's society that's not enough anymore. It's also vegan-friendly and made cruelty-free. The wood handle and copper ferrule not only look classy, but they're also well weighted for ease of use. While color certainly doesn't affect performance, it's nice to have a few choices—black, hot pink, rose gold. You can coordinate it with your other brushes or make it a standout so it's easy to find.
Lamora Kabuki Foundation Brush Key Features:
Synthetic bristles
Vegan, cruelty-free
Flat, rounded head
Wood handle
Copper ferrule
Our Runner Up Pick: EcoTools Retractable Kabuki Brush
The EcoTools Retractable Kabuki Brush is another versatile brush that creates professional results and offers multiple application options. Let's start with the simple fact that it's retractable, which really just means it comes with a lid. But, oh how that lid can make a difference. As much as we'd all like to think we take pristine care of our brushes, when you're in a hurry, it's easy to toss them in your makeup bag wear bristles can be pulled, bent, or broken. And what about when traveling? This EcoTools brush is small, compact, and stays safe while in your makeup drawer/bag, is ready for touch-ups on the go, and travels easily when you fly. You can keep one at work for an afternoon touch-up when your face starts to get shiny and another in your purse so you're looking calm and collected for a night out with friends.
Beyond how handy this brush is, it's incredibly soft on sensitive skin.  Once it's loaded with product, give it a gentle tap and you're ready for a smooth, even application. With its synthetic bristles, it's an all-purpose tool for your powders, blushes, and bronzers. One of the great things about this brush is that it's a game changer for both makeup enthusiasts and those who only dabble in makeup to keep their face looking fresh. Every "makeup girl" needs a go-to brush in her purse, of course. But if you're a no-fuss kind of person, this one brush won't take up space and will give you professional results.
EcoTools Retractable Kabuki Brush Key Features:
Retractable cap
Environmentally-responsible bamboo handle
Cruelty-free synthetic bristles
Recycled aluminum ferrule
Best Budget Pick: Real Techniques Sculpting Brush
Real Techniques Sculpting Brush
Create dramatic sophistication or simply enhance the contours of your face. This brush lets you bring out your natural beauty.
If you're on a beauty budget, the Real Techniques Sculpting Brush brings excellent coverage at a fraction of the price of other brushes. As always, texture matters and these Taklon bristles bring luxury you don't normally expect on a brush at this price. Dense packing of the bristles makes it feel like you've made a splurge rather than a bargain find. The price isn't the only thing worth praising.
Let's talk about the bristles. The non-porous surface of the bristles creates ideal conditions for maximum product application with every stroke of the brush. Put those bristles at an angle and you've got a brush that lets you reach into the difficult cracks and crevices of your face—think nose creases. You can create real definition whether you're using a bronzer or liquid foundation to blend and contour your features.  The shape and bristle density let you apply foundations but they're also excellent for buffing or stippling.
The size—it's a medium, not too large not too small—also adds to the versatility. It's workable with small palettes and can spread a good amount of product in a short time. While it's not designed for fine lines, it can blend your contouring for a seamless transition between shades.
Real Techniques Sculpting Brush Key Features:
Cruelty-free Taklon bristles
Can be used with Real Techniques color-coded makeup system
Angled bristles
Best Foundation Brush: Beauty Junkees Round Kabuki Brush
The Beauty Junkees Round Kabuki Brush provides fast, flawless results. If you've ever struggled with eliminating patchy spots or streaks, this is the brush for you. To really be able to highlight your features, you have to start with a blank canvas. This Beauty Junkees brush creates the perfect canvas whether you're using a liquid or powder foundation. The synthetic bristles provide a non-porous surface so the vast majority of the product transfers to your face rather being absorbed by the bristles. It also picks up copious amounts of powder and provides even distribution across your skin. If you're in love with mineral powders, this is the brush for you.
Dual color bristles also provide an advantage. The white tips let you see exactly how much product is left on the brush, and with this brush, there's hardly any left behind. As you keep blending, it keeps applying.  Finally, there's the handle. Somehow, this handle falls in that perfect place where it's not too big, which can make application sloppy, and not too small where you're struggling to maintain a grip. After all, accuracy matters.
Beauty Junkees Round Kabuki Brush Key Features:
Dual color, synthetic bristles
Round brush head
Blends, buffs, and contours
Best Eye Brush Set: Lamora Eye Brush Set
Lamora Eye Brush Set
These brushes produce crisp lines and finely blended transitions that allow you to create versatile effects with your eye makeup.
No matter the look you're creating, with the Lamora Eye Brush Set you'll have the right tools at hand. This set includes an angled shader, blending brush, angled detailer, detailed pencil, small shader, classic shader, and precise shader. This brush set works well for both those for whom precision matters and those who like to step away from the norm every now and then to experiment with different techniques. You've got the ability to create crisp lines for a dramatic cat-eye and multiple shading options for a subtle daytime look.
The eyes are such a sensitive area that soft bristles are an absolute must. These brushes are silky smooth both in how they feel and their ability to lay down product. Don't let all that softness fool you. They're tough. Even after several cleanings, there's no shedding. Newbies and makeup addicts alike can appreciate a brush that lasts. The quality and variety of this set make it a great starter set, especially since every brush is labeled for easy identification.
Experienced artists shouldn't turn their noses up just yet. Don't let the price fool you. These brushes are an excellent supplement to an existing collection. They provide the same results are far more expensive sets, making them an excellent travel set or backup when your more expensive brushes are dirty. You may even find that you like them better!
Lamora Eye Brush Set Key Features:
7 brushes: angled shader, blending brush, angled detailer, detailed pencil, small shader, classic shader, precise shader
Vegan, cruelty-free synthetic bristles
Wood handles
Copper ferrules
Who Should Buy a Makeup Brush
If you wear makeup, you need a brush. In fact, you'll need more than one. It's that simple. However, makeup isn't all the same; you wouldn't put smokey eye shadow on your lips, for example. Creams and liquids need different brushes than powders, although we've got a few on our list that are impressive when it comes to pulling double duty. Brushes have subtle, and some not so subtle, differences like bristle density, angle, length, and even color that give you an advantage when creating your favorite looks. The key is to know what you need.
The way you wear makeup and how you like to wear it will be your best guide. Is liquid foundation your go-to product? A good foundation brush with synthetic bristles should probably be your first stop. Contouring, blending, stippling—you can find brushes specialized to each technique, which is a great route if applying makeup gives you true joy. If you're more about the end result, there are brushes that can perform multiple techniques with almost the same results as a specialty brush. Anyone who wants more from their makeup than the applicators that may (or may not) come with the product needs a makeup brush or two to enhance your looks.
Lamora Kabuki Foundation Brush
Build your makeup routine on a flawless foundation with this flat brush that feels wonderfully soft and leaves a smooth, even finish.
Important Features to Consider
A makeup brush or brush set should do several things well, which usually comes along with a few key features. Here's what to consider when selecting makeup brushes:
Bristle type. There are two bristle options—synthetic and natural. One is not necessarily better than the other, but they're each suited for different uses. Natural hair bristles work best for applying powders. They are excellent at creating even coverage. The most common types are goat, horse/pony, squirrel, sable, weasel, and chinchilla. However, there are quite a few other hair types you may find out there. Goat hair is the most common because of affordability but quality varies. Synthetic brushes are better at applying liquids and creams. Their non-porous surfaces absorb less product than natural hair so more goes on your face than stays on the brush.
Bristle size and density. The size of each individual bristle and how densely the bristles are packed into the ferrule affect how the brush is used. Small, densely packed bristles are precise in their application, making them ideal for contour and angled brushes both for the eyes and face. Larger more loosely packed (not too loose–you don't want shedding) brushes are better for the overall coverage you need with a powder.
Brush shape. The overall shape created by the bristles—angled, round, tapered—makes a big difference in the effectiveness of the brush for certain applications. Tapered brushes give you good coverage and control. Angled brushes, whether they're designed for bronzers and blush or eyeliner, provide more control and precision than either a round or tapered brush. Finally, round brushes are the best for overall coverage and evenly spreading products such as foundation or bronzer. Of course, these aren't the only shapes. Fans are out there too, but these are the basic three you're most likely to encounter.
Handle size, length, and materials. Handles may be plastic or wood. Generally speaking, wood products usually feel higher end but that doesn't necessarily mean you're getting a higher quality brush. Bamboo and cork are sustainable options that many eco-conscious brands use. What's really important is how the material feels in your hand. If you like the weight of a wood handle because it gives you more control over each brush stroke, then stick with wood. If you want to save money, plastic is your best option. Handles range from straight to tapered and ergonomic to compact in size. Handle length is a matter of personal preference but longer handles can be more difficult to manage if you're working on fine details.
Ferrule quality and materials. The ferrule is the metal piece that holds the bristles to the handle. High-quality ferrules are one seamless piece. Seams leave room for bristles to get lodge, which can then make room for corrosion. The most durable options are brass and stainless steel, but copper and aluminum are good options that cost slightly less. The ferrule should hold the bristles tight. You can check the quality by giving the bristles a tug. A good brush with a strong ferrule won't shed any bristles.
Frequently Asked Questions
What makeup brushes do you need?
The number and type of brushes you need depend on the types of makeup you use and how you apply them. However, there are a few basic brushes that should be included in your makeup bag whether you're a beginner or an experienced makeup enthusiast.
Foundation brush: We're talking about liquid and cream foundations with these brushes. They may have a round, flat, or tapered head made of synthetic bristles. The synthetic bristles don't absorb the product so you get more coverage. It might take a little experimenting to find the brush type and shape that works with your skin type and favorite brand of makeup.
Blending brush: Blending brushes create seamless results as you move from one color or shade to another. You may need more than one blending brush because you don't need the same size to blend eyeshadow as you do blush.
Powder and/or kabuki brush: These are the large fluffy brushes you see in movies. They pick up a lot of product and cover serious ground with a few brushstrokes.
Contour brush: If you want to accentuate certain features, you're going to need a good contour brush. The brush heads may be round, tapered, or angled. Some have looser bristles for soft contours while others are densely packed for precise definition.
Eyeshadow brush: Debatably the most important brush in your toolbox, an eyeshadow brush may be flat or round. But the small size and short bristles make them ideal for controlled application of eye products.
Angled eyeliner or eyeliner brush: For crisp lines, you're going to need one of these small, densely packed brushes. Angled brushes create a slightly thicker line while eyeliner brushes are perfect for the smallest of details.
How do you soften makeup brushes?
Stiff bristles can be abrasive on sensitive skin. The cause is usually a build up of product on the brush. You can soften the bristles by regularly cleaning and removing excess product and using brush shampoos to maintain the integrity of the bristles. Start by rinsing the brush under warm water for one minute. Then, use your fingers to make sure all the bristles get wet and remove any clumps of excess product. Be sure to angle the brush down so that excess water does not get into the ferrule. Gently wipe the brush in whatever shampoo or brush cleaner you've chosen and swish it in the palm of your hand until you should see pigment released from the bristles. Rinse the brush until the shampoo is completely removed. Angle your brushes downward to dry.
When should I replace my makeup brushes?
There are few signs that can indicate it's time for new brushes. The first being shedding bristles. If bristles are constantly falling out, the glue within the ferrule has probably worn out, and the brush needs to be replaced. A second telltale sign is misshapen and/or bent bristles even after washing. The precision of your application goes down incrementally when the bristles no longer hold their shape. A broken handle or ferrule is another obvious sign that your brush has seen better days. Once you've reached this stage, it's time to let it go.
How often should I wash my makeup brushes?
Most professional makeup artists wash their brushes at least once a week. While that might be too often for you, it's a good place to start. If you don't wear makeup every day, every other week will probably suffice. But make sure to do it on a regular schedule so the makeup and skin oil doesn't build up and eventually ruin your brushes.
Other Makeup Brushes We Reviewed
Lamora Kabuki Foundation Brush
Build your makeup routine on a flawless foundation with this flat brush that feels wonderfully soft and leaves a smooth, even finish.
Our search for the best brushes led to a thorough review of 20 other makeup brushes. Even though they didn't make our list of the best 5 makeup brushes, they're still some of the best options on the market. They bring a good balance of quality versus price. We've included the information you need to compare and contrast each brush on our list.
Foundation Brushes
Anne's Giverny Liquid Foundation Brush
If you're looking for a brush specifically designed for the application of liquid foundation, this is the one. A unique concave head design creates the perfect pocket for liquid foundation. Short, densely packed bristles then leave a smooth finish without streaks or patches.
Key Features: 
Concave brush head design
Soft, synthetic bristles
Matte-finish wood handle
Cost: $7
Bella and Bear Foundation Brush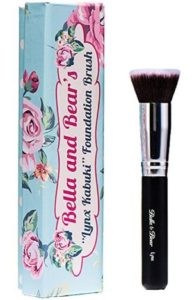 A high-density brush head and soft, synthetic bristles create a brush that lays down a smooth, even foundation. Designed for powders and liquids, this brush can be a multi-purpose tool for blushes and contouring too.
Key Features: 
Vegan-friendly, cruelty-free
Eco-friendly wood handle
Works with liquid, powder, and mineral foundations
Cost: $12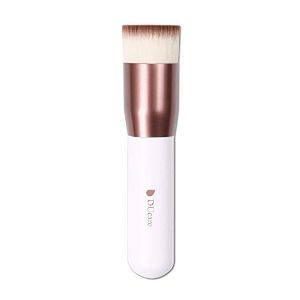 Smooth, even application is an absolute must for liquids and creams, and the DUcare Foundation Brush takes on the task with ease. The flat top works well whether you're stippling, buffing, or blending for a seamless coat of foundation.
Key Features:
Densely packed, synthetic bristles
Eco-friendly wood handle
Applies product on forehead, cheeks, nose, and chin
Cost: $8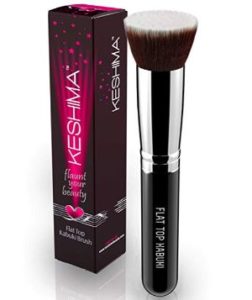 Keshima's Flat Top Kabuki Brush produces incredible results and comes in two sizes. A dense brush head makes this brush efficient at laying streak and patch-free foundation. You can use it for buffing and blending too.
Key Features:
Soft, synthetic bristles
Dual color brush head
Two sizes: regular and large
Cost: $10
Messon Kingstar Oval Foundation Brush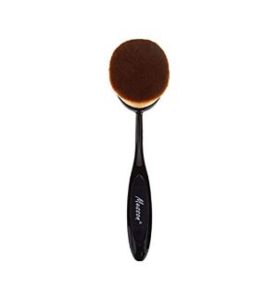 A reinforced handle graces this uniquely designed foundation brush. A head full of densely packed, synthetic bristles provides a new, easy-to-use angle from which to apply foundation. This one is large enough that your foundation will go on smooth in only a few brushstrokes.
Key Features:
Non-slip, cushioned handle
1.5-inch head width
Soft, synthetic bristles
Eye Brush Sets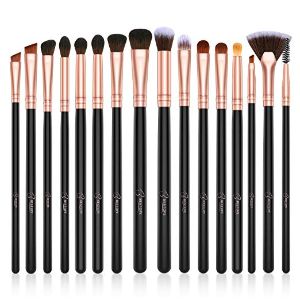 You'd be hard pressed to find an eye brush that this set doesn't include. For the price, you're getting an incredible deal for sixteen brushes that range from a fine eyeliner brush to two sizes of eye blending brushes. Whether your blending or creating dramatic definition, this set will help you do it.
Key Features:
Small to medium sized brushes of several types
Blending brushes
Soft, synthetic bristles
Cost: $11
BS-MALL Premium Makeup Brush Set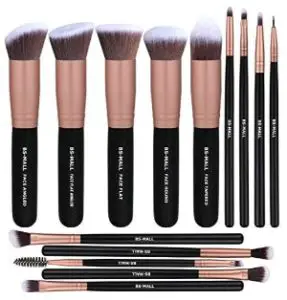 With an excellent eye brush selection that includes angled, flat, and round brush options, it's hard to pass this one by. We love the eye brush options, and who doesn't like getting foundation and contouring brushes thrown into the mix too?
Key Features:
9 eye brushes and 5 foundation/contouring brushes
Dual color, synthetic bristles
Soft texture for sensitive skin
Cost: $11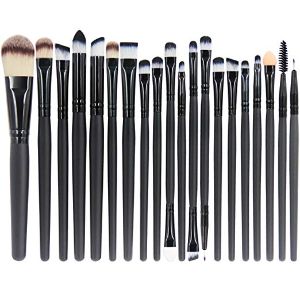 This set provides everything you need for a variety of looks and then some. While some of the brushes aren't intended for eye makeup, the vast majority are. There's everything from tapered flatheads to the smallest of eyeliner brushes. You can keep everything well blended with several different blending brushes.
Key Features:
Complete eye brush kit plus face brushes
Assembled by hand
High-density bristles
Cost: $8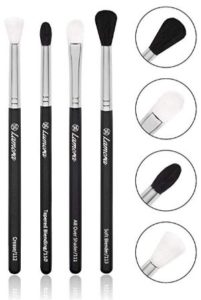 This one is far simpler than many of the other sets, but the four brushes work wonderfully for creating intricately blended eye looks. You can shade your eyelids or define your creases for extra depth. Minimalists will like the ability to shade, blend, and define with one easy set.
Key Features: 
Crease brush, tapered blending, soft blender, all over shading brush
Applies both cream and powder products
Wood handle with copper ferrule
Cost: $12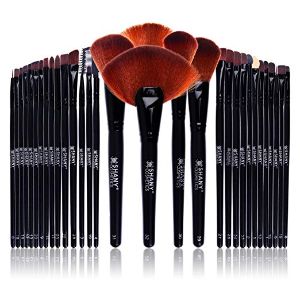 This natural bristle set has everything you need for a variety of eye techniques and beyond. Because every brush contains goat, badger, or sable bristles, it's ideal for powders of every kind. Each brush is numbered and includes instructions for use and application.
Key Features:
Includes a faux leather case
Full range of eye makeup brushes
Includes instructions for each brush
Cost: $23
Shany The Masterpiece Pro Signature Brush Set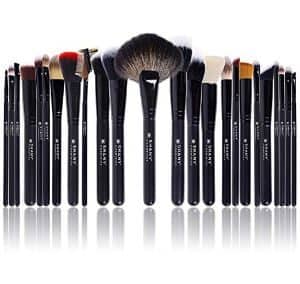 Another beautiful set by Shany that goes well beyond eye brushes, although the eye brushes are why they made our list. This set has a wonderful blend of both natural hair and synthetic bristle brushes. Fans, angled, blenders, tapered—you really can't go wrong with the variety offered in this set.
Key Features:
Includes sable, goat, badger, pony, and synthetic bristles
Oak handles
Anti-bacterial treated bristles
Contour Brushes
Beauty Junkees Angled Kabuki Brush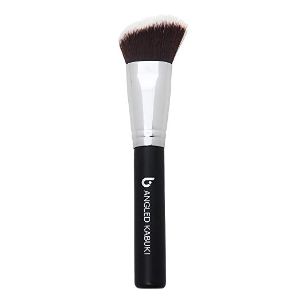 This brush blends the benefits of a contour brush with the bristle designed and density of a foundation brush. It provides better handling and precision for blushes and bronzers but without the harsh lines of a contour brush. And, if you're looking to cut down on the brushes in your collection, it works for liquid and cream foundation as well.
Key Features:
Angled  head
Use with cream, liquid, or powder
Synthetic, vegan-friendly bristles
Cost: $12
Kat Von D Shade + Light Contour Brush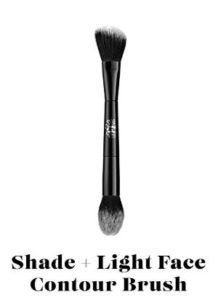 This brush is an investment but if contouring is an essential part of your beauty routine then it could be worth the high price tag. Top of the line synthetic bristles angle to give excellent control when shading the hollow of the cheeks and around the face. Plus, it's really a two for one deal because you get a blush brush too.
Key Features:
Dual brush heads
Soft, synthetic fibers
Firm bristles for enhanced control
Cost: $74
Lamora Pro Face Contour Brush Set
Are you serious about contouring? Then one brush might not be enough, which is why we couldn't let this set go. This set gives you everything you need for perfectly blended, precision contouring.
Key Features:
5 most used contour brushes in one set
Vegan-friendly, cruelty-free bristles
Wood handle with copper ferrule
Cost: $15
Sigma Beauty Angled Kabuki Brush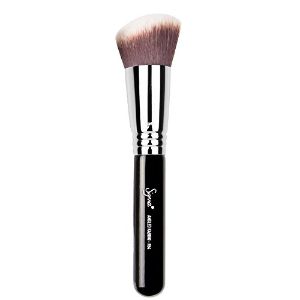 Another beautifully angled kabuki brush that gives you good control over blush and bronzer but can work for liquid foundations too. Soft, synthetic bristles don't irritate sensitive skin. It's also a good option if you want to dabble in stippling and buffing.
Key Features:
Angled head
Dual color bristles
Soft, synthetic fibers
Cost: $25
Wet n'Wild Pro Brush Line Flat Contour Brush

This is a densely packed brush head that can be used to create dramatic contours or gentle blends. Whether you want to accentuate your cheeks or slim your nose, this brush will lay the groundwork.
Key Features:
Cruelty-free
Flathead
Synthetic bristles
Blush and Bronzer Brushes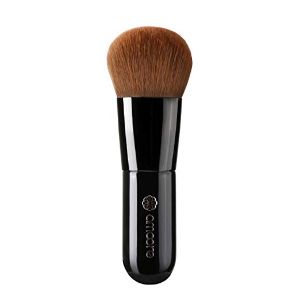 Looking for a compact blush brush? This amoore brush may be small but it beautifully spreads blush and bronzers with a stunning finish. It's perfect for a travel kit or to save space in your daily makeup collection.
Key Features: 
4-inch length from bristle tip to handle end
Densely packed, synthetic bristles
Wood handle
Cost: $5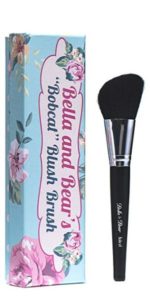 This is an angled blush brush that provides incredible control over blushes and bronzers. The luxurious dense bristles also let you double up for contouring too.
Key Features:
Angled brush head
Vegan-friendly, cruelty-free synthetic bristles
Sustainable wood handle
Cost: $10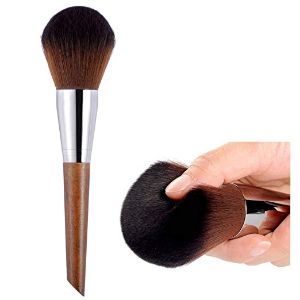 If you're looking for a large brush that's wonderfully soft and lays down a maximum amount of powder, you've found it. This kabuki brush is literally a handful. A gently tapered head and soft, synthetic bristles provide gorgeous coverage with every stroke.
Key Features:
Use with loose and compact powders
Extra large head
Cruelty-free, synthetic bristles
Cost: $12
Real Techniques Powder & Bronze Brush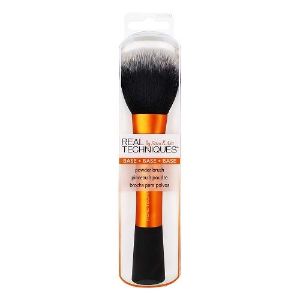 This powder and bronze brush is truly meant to dust your face. The bristle design and head shape make it ideal for powder applications that look naturally seamless. A slightly tapered head lets you direct the powder without leaving noticeable lines.
Key Features:
Cruelty-free synthetic bristles
Taklon bristles don't absorb product for maximum coverage
Can be used with Real Techniques color-coded makeup system
Cost: $9