Very few people have perfect skin, and concealer can be your secret weapon to cover up areas that foundation alone can't fix. If you feel self-conscious about puffy eyes, blotchiness, spots, blemishes, scars, or age spots, there is a concealer which can help. A small amount can be applied as part of your makeup routine, instantly disguising those problem areas. Depending on the specific product, it can either be used before or after foundation when blended gently.
A concealer should give you maximum coverage throughout the day without causing any skin reactions. They come in a range of different application types and colors, but if you are just starting out, we suggest a multi-use product. You will be Instagram ready in no time! Almost every cosmetics brand has a concealer, making it confusing to decide which one to choose. We reviewed dozens of concealers to identify the best of the best, based on Amazon reviews, coverage, cost, longevity, and other considerations.
The bareMinerals Bareskin Concealer is our Top Pick, and it stands out as a clear winner. It is a gentle product which is suitable for sensitive skin, but this doesn't mean you have to sacrifice on quality. With this innovative concealer, you will get full coverage, a soft texture, and younger-looking skin.
The 5 Top-Rated Concealers
*Ratings are from Amazon at the time of publication and can change
Our Top Pick: bareMinerals Bareskin Complete Coverage Concealer
We selected the bareMinerals Bareskin Concealer as our Top Pick because it is a product which ticks all of the boxes. This full coverage concealer is ideal for hiding dark circles, discoloration, spots, and signs of fatigue. The serum formula feels silky smooth on the skin and comes with brightening properties which will perk up a tired-looking complexion.
Apply this concealer under your foundation to problem areas, remembering only a small amount is required. The BareMinerals Bareskin Complete Coverage Concealer is packed with antioxidants and is available in 6 shades. Suitable for all ages, the delicate undereye area is catered to with the gentle formulation. To complete the look, you can complement this with the Bareskin foundation and powder from the same brand.
Most of the feedback was positive, partly due to the fact that it outperforms more expensive rivals. Those who fell in love with this concealer had purchased repeatedly, and the natural finish was seen as an advantage. On Amazon, the product currently has 4.4 stars and is priced at $20.
BareMinerals Bareskin Complete Coverage Concealer Key Features:
Targets dark circles
Full coverage
Brightens the complexion
Our Runner Up Pick: Benefit Cosmetics Boi-ing Industrial Strength Concealer
Our runner up is from a brand who excels in pretty packaging. It is the Benefit Cosmetics Boi-ing Industrial Strength Concealer and as predicted, it comes in a cute pink and black compact. This product doesn't just look good–it is designed to cover just about anything. The original creamy formula offers full coverage and a matte finish.
Boi-ing targets dark circles and blemishes within seconds. It can either be used alone or under your preferred foundation and won't crease or enhance any lines. Boi-ing is a clever product which will feel lightweight while staying put on your skin. Use your fingers, a brush, or sponge, and pop the compact in your bag for touch-ups on the go.
This is a popular product with Amazon shoppers, who have commented on the smooth application and long-lasting wear. The best results were seen when used under the eyes, as it was able to drastically reduce the appearance of dark circles. Overall, users have been impressed with the formula and it currently has a rating of 4.3 stars. At roughly $28, the price is higher than our Top Pick, but this is still an option worth investing in.
Benefit Cosmetics Boi-ing Industrial Strength Concealer Key Features:
Full coverage
Matte finish
Creamy texture
Best Budget Pick: Maybelline Instant Age Rewind Eraser Concealer

Our Best Budget Pick is the Maybelline Instant Age Rewind Eraser Concealer because it is one of the brand's best sellers. The price tag may be low but it has plenty of good qualities. For example, this concealer has a convenient micro-corrector applicator sponge, which allows it to glide evenly over your skin. Application is easy, and mess-free!
It has a concentrated formula to make dark circles disappear. The key ingredients include Haloxyl and goji berry due to their illuminating and brightening properties. All of this makes this concealer the perfect choice for tired skin. Plus, there are 12 shades to choose from which cater to every skin tone.
In addition to combatting dark circles, those looking for a product which works against puffiness and fine lines will likely find this beneficial. The reviews are in on Amazon, with over 5000 shoppers having their say. It currently comes in at 4.1 stars and users were generally amazed at the effectiveness of this concealer given the budget price. One thing is for sure, this concealer is a bargain buy which will change the way you apply concealer. It will set you back just $7.
Maybelline Instant Age Rewind Eraser Concealer Key Features:
Hides dark circles
Available in 12 shades
Buildable coverage
Best Green Concealer: L.A. Girl Pro Conceal High Definition Concealer
The L.A. Girl Pro Conceal High Definition Concealer is slightly different from our other picks, and that is because it is green! As the best green concealer we could find, this beauty is designed to counteract any redness. This should be used under your makeup, or mixed with your foundation, and the brand recommends finishing with a powder to set your look. The L.A. Girl concealer is crease-resistant and can be used on mature skin. It is suitable for common redness such as rosacea, blotchiness, and the under-eye area.
This concealer will even out your skin tone while providing natural coverage. To apply, simply use your clean fingertips or a brush. For particularly challenging dark circles, you can use this prior to a neutral-toned concealer, or blend with another shade. The brand has a range of other complementary products available.
For those who have purchased this product, it has been a success in masking all types of redness. While it is noted the green can be visible on occasion, an extra layer of foundation has been reported to help. The cost is low at just $5 and although it currently has 3.3 stars, the majority of reviews have been 5 or 4 stars.
L.A. Girl Pro Conceal High Definition Concealer Key Features:
Crease-resistant
Lightweight
Conceals redness
Best Concealer Stick: P/Y/T BEAUTY All + Nothing Concealer

After doing extensive research, we found the P/Y/T BEAUTY All + Nothing Concealer to be the best concealer stick. This is suitable for sensitive skin as it comes with a hypoallergenic formula. There are no harsh ingredients which are known to cause skin reactions, meaning no fragrances, parabens, or phthalates. The 2-in-1 stick with a brush is comfortable to hold, easy to apply, and will leave you with a long-lasting, matte finish.
The All+Nothing Concealer from P/Y/T BEAUTY will make your skin feel supple and moisturized due to its star ingredient additions. These include Shea Butter, Avocado Oil, Sunflower Oil, and Vitamin E. When applied correctly, it will cover any discoloration, dark circles, spots, and imperfections. Simply put, it's a handy product which will take you from day to night. Better yet, it can even fit neatly in your clutch if re-application is required.
The reviews on Amazon focused on the smooth application and blend-ability. The lack of harmful ingredients was commonly praised, as was the compatibility with sensitive skin. Some shoppers claimed the brush could be tricky to use, but overall, most consumers seemed pleased. It currently has 4.1 stars and costs roughly $17.
P/Y/T BEAUTY All + Nothing Concealer Key Features:
Concealer stick with brush
Hypoallergenic
Moisturizing formula
Who Should Buy Concealer
Concealer is recommended for anyone who is self-conscious about specific areas of their skin which cannot be covered with their regular foundation. This includes dark circles under the eyes, redness, fine lines, spots and blemishes, and age spots. Professional quality concealers can even cover scars, birthmarks, and tattoos!
Concealer is a product that is suitable for all ages, but you should choose a formula which is made for your individual skin type. If you don't like wearing foundation, some color-matched concealers can be enough to hide small spots, which is perfect if you are hitting the gym, or having a casual day. Other concealers work with your foundation to give you coverage that won't wear off until you are ready to remove your makeup. If you're looking for a quality foundation that's affordable, check out our review of the best drugstore foundations.
Professional makeup artists always have a hard-working concealer in their toolkit, and with so many products to choose from, there is at least one fit for every budget. A good concealer will be easy to apply and will give you long-lasting coverage.
Important Features to Consider
A concealer should have a few important features. Here's what to consider when selecting a concealer:
Formula. Different concealers cater to different skin types. Look for a formula that feels comfortable on the skin and doesn't cause irritation. Oil-free concealer is ideal for oily skin, while something fragrance-free will be gentler on sensitive skin.
Longevity. There is nothing worse than a concealer that wears off and causes creasing. Choose a product that is long-lasting for all-day wear.
Application. Your preferred method of application will determine which concealer is the right fit. Products available include compacts, sponge applicators, and liquids. Those without a dedicated tool can generally be applied with your fingertips or a brush.
Color. Concealer comes in natural shades to suit your individual skin tone. If you find a true match, you will be able to touch up your concealer as required without the need for foundation. In addition, concealer comes in various shades to counteract specific conditions. For example, green reduces redness, lavender reduces yellow, and orange reduces blue. You may like just one concealer, or use a selection for different purposes.
Price. These types of products vary dramatically in price, which means your budget will influence your purchasing decision. Prices range from $3 to $60 or more!
Frequently Asked Questions
What is concealer and how does it work?
A concealer is a beauty product which can be applied directly to any skin imperfections, making them "disappear." Concealer is available in different forms including sticks, liquids, and compacts. There are even colored varieties such as green, purple, and red. A small amount of concealer can be blended into problem areas of the skin to disguise just about anything. You can hide common concerns such as discoloration, redness, dark circles, age spots, large pores, blemishes, birthmarks, and acne scars.
What's the difference between concealer and foundation?
A concealer is generally thicker and more pigmented than a foundation. It is designed to be used on smaller areas such as spots, rather than as full-face wear. While concealer commonly matches your skin tone, it is also available in different colors to counteract specific issues. A concealer is a heavy-duty, highly targeted product, whereas your foundation covers your whole face.
Do you put on concealer before or after foundation?
This depends on the concealer. Professional makeup artists often recommended applying concealer after foundation before gently blending, as this will ensure no spots are missed. Foundation can be followed with powder if required. Alternatively, sometimes a lighter concealer is used on dark circles and if this is the case, applying prior to your foundation will be better. Similarly for a colored concealer which will likely need covering with foundation. Each product is different, and most brands will have specific instructions which will be your best guide.
Can you wear concealer alone?
While concealer is not generally used as a replacement for foundation, if you get the right color match you will be able to apply it as a standalone product. There are some foundations available which give you fuller coverage, this could be an option worth exploring if you want something for your whole face. It is important to note that some concealers can be mixed with moisturizer to give a lighter tint.
Other Concealers We Reviewed
We looked at 20 other concealers. Even though they didn't make our 5 best concealer list, they're the best of the rest and each is still a great option. The information you'll need to compare each one is included with the listing.
Full Coverage Concealer
Dermablend Quick-Fix Full Coverage Concealer
A heavy-duty concealer which will cover just about anything including acne scars and dark spots. It contains SPF30 and is suitable for sensitive skin.
Key Features:

SPF30
Fragrance-free
Full coverage
Cost: $26
DIORSKIN Forever Undercover Concealer
A professional formula with a little going a long way, this concealer will feel silky on the skin and is suitable for covering any areas of concern. It blends easily, making spot touch-ups on the go a breeze!
Key Features:
Water-resistant
Concentrated color pigments
Long-lasting
Cost: $53
L'Oréal Paris Makeup Infallible Full Wear Concealer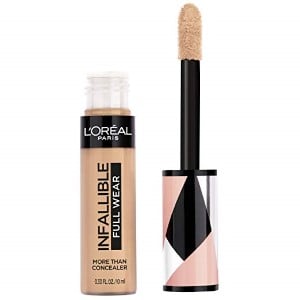 For those who want full coverage for up to 24 hours, this is the concealer for you! A multi-use choice that works hard to disguise skin irregularities, and can also be used to highlight and contour.
Key Features:
Waterproof
Creamy texture
25 shades
Cost: $11
Physicians Formula Conceal RX Physicians Strength Concealer
This concealer will cover typically difficult areas such as scars, hyperpigmentation, and birthmarks. Can be used with makeup, or as a standalone product.
Key Features:
Oil-free
Conceals scars
Buildable coverage
Cost: $7
QIBEST Professional Makeup Contour Concealer 
A long-lasting, waterproof concealer with a creamy texture. Can also be used to highlight and brighten the skin.
Key Features:
Waterproof
Matte finish
Long-lasting
Cost: $10
Tarte Double Duty Beauty Shape Tape Contour Concealer

Tarte knows their makeup, and this concealer is truly iconic. It comes with a vegan formula, a matte finish, and mango seed and shea butter for a burst of hydration.
Key Features:
Bestseller
Creamy consistency
Moisturizing
Concealer for Sensitive Skin
Maybelline Super Stay Better Skin Concealer + Corrector
This is a 2 in 1 product which works as both a concealer and corrector. After 3 weeks of use, the appearance of your skin should see an improvement.
Key Features:
Applicator sponge
Contains antioxidants
Covers dark circles
Cost: $4
Revlon PhotoReady Candid Concealer
What makes this concealer stand out are the anti-blue light, antioxidants and anti-pollution properties. It targets dark circles and puffiness without irritation.
Key Features:
Oil-free
Antioxidants
18 shades
Cost: $7
Smashbox Studio Skin 24 Hour Concealer

For a flawless finish, the Smashbox Studio Skin 24 Hour Concealer could be the one. It will give you long-lasting coverage for up to 24 hours without clogging your pores.
Key Features:
Pigmented color
Long-lasting
No nasty ingredients
Lightweight Concealers
Covergirl Smoothers Moisturizing Concealer
Ginseng, vitamin E and chamomile give this concealer the ability to hydrate while hiding fine lines, spots, and dark circles. It comes in a variety of shades and is fragrance-free and dermatologically tested.
Key Features:
Fragrance-free
Conditioning
Disguises dark circles
Cost: $5
Clarins has a tinted concealer which will give a natural finish. The product works on the delicate under-eye area, to gently cover any dark circles.
Key Features:
Easy application
Long-lasting
Revitalizing
Cost: $30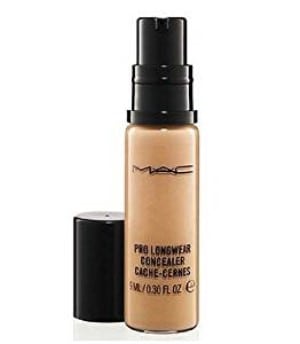 A lightweight concealer which will last the entire day. With this one, you will get a matte finish and a choice of natural colors.
Key Features:
Lasts up to 15 hours
Matte finish
Crease-resistant
Cost: $33

The Radiant Creamy Concealer from NARS illuminates the while it evens the appearance of the skin. It is a lightweight formula which allows you to build the level of coverage as required.
Key Features:
Long-wearing
Crease-resistant
Professional quality
Cost: $30
trèStiQue Conceal, Cover & Correct Crayon 2-in-1 Concealer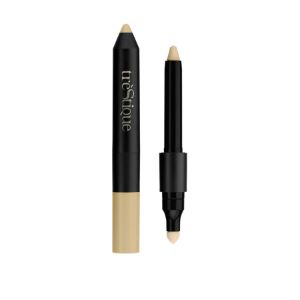 A 2 in 1 concealer with a fun crayon design and in-built applicator sponge. The cream-gel glides onto the skin and blends with minimal effort.
Key Features:
Long-lasting
Built-in sponge
Infused with coconut oil
Cost: $24
Under Cover: Tip Toe over the Line Concealer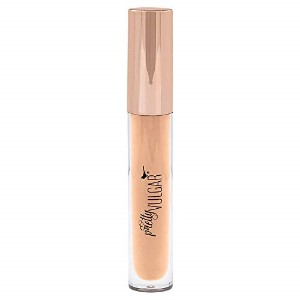 Introducing this lightweight, soft and hydrating concealer from Under Cover. It feels silky smooth and will give you medium coverage.
Key Features:
Gel serum formula
Moisturizing
Blendable
Concealer with Natural Ingredients
Au Naturale Organic Crème Concealer
Fans of natural ingredients will be delighted by the pure pigments and hydrating oils in this concealer. There are no nasty chemicals and you have a choice between 10 different shades.
Key Features:
100% natural
Cruelty-free
Made in the USA
Cost: $26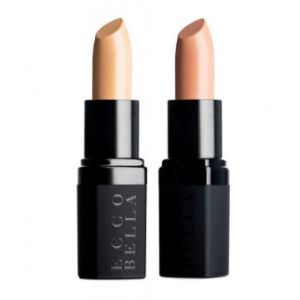 For an eco-friendly option, you may like the Ecco Bella Concealer stick. This product suits all skin types and applies smoothly without any greasy residue.
Key Features:
Nongreasy
Chemical and fragrance-free
Cruelty-free
Concealer in a Compact
Aesthetica Color Correcting Cream Concealer Palette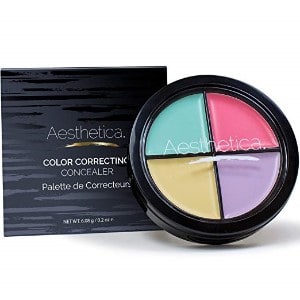 If you are looking for color correcting concealer, this palette has it all. There are four shades included with green (for red and purple areas), red (for darker areas), yellow (for purple areas), and lavender (for dull areas).
Key Features:
4 color corrective shades
Cruelty-free
Travel-friendly
Cost: $10
NYX Professional Makeup Conceal. Correct. Contour.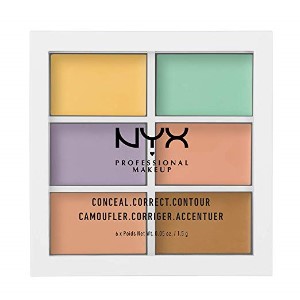 6 color correctors in one handy compact. A smooth formula which will glide over the skin to cover a range of imperfections.
Key Features:
Lightweight formula
Smooth finish
Complete coverage
Cost: $8
Sheer Cover Studio – Conceal and Brighten Highlight Trio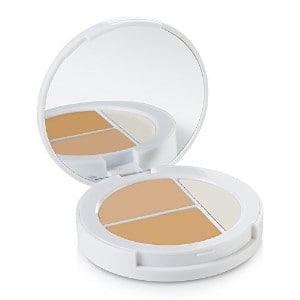 Take advantage of three products in one, including two shades of concealer and a shimmering highlighter. Disguise blemishes, hyperpigmentation, and scars with this creamy formula.
Key Features:
3 in 1
For all skin types
Highlights and brightens
Cost: $15