Keeping beauty products organized can be a pain. Even for makeup minimalists, it seems like products spread out across the bathroom counter when we're not looking. And for those with large makeup collections? It can feel like you're drowning in lipsticks, eyeshadows, brushes, and more, yet never able to find the exact product you're looking for. That's why despite the difficulty, it's so important to keep your cosmetics organized. A good cosmetic bag is a great way to keep your items together, and many have compartments and pockets to help you sort your items for even better organization.
We reviewed dozens of cosmetic bags to identify the best of the best. We looked at bags of different sizes, materials, and aesthetic styles and with various organization systems and other useful features. And, of course, we looked at plenty of reviews from real buyers to help make sure that they loved our picks as much as we think you will.
Our top pick and the clear winner is the Vera Bradley Signature Cotton Large Cosmetic Bag. The large bag has plenty of room for your various cosmetics and other beauty products with an additional external pouch to help you keep everything organized.
The 5 Top-Rated Cosmetic Bags
*Ratings are from Amazon at the time of publication and can change
Best Cosmetic Bag Overall: Vera Bradley Signature Cotton Large Cosmetic Bag
Our top pick and overall favorite cosmetic bag is the Vera Bradley Signature Cotton Large Cosmetic Bag. At 9.25″ wide, 4″ deep, and 7.5″ tall, this cosmetic bag is very spacious and provides plenty of room for your cosmetics. In addition to the main pouch, there's also a smaller external pocket that could be used to store brushes or keep small items that might get lost in the main pouch. Both the main pocket and exterior pocket feature zipper closures.
This cosmetic bag is available in a bunch of different colorful and elegant patterns, each with quilted stitching, that you can coordinate with other Vera Bradley products such as the On a Roll Makeup Brush & Pencil Case or the Heat Resistant Curling & Flat Iron Holder. The exterior is lightweight and made from 100% cotton. The main compartment features a different, complementary print that is protected by a waterproof PVC liner. The same complimentary print is featured on the inside of the front panel of the exterior pocket. The exterior pocket does not have a PVC liner.
The bag is machine washable for easy cleaning and care. It can be line dried.
Vera Bradley Signature Cotton Large Cosmetic Bag Key Features:
Large size
Exterior pocket
Waterproof PVC liner
Machine washable
Available in several prints that can be coordinated with other Vera Bradley products
Best Large Cosmetic Case: Ellis James Designs Large Travel Makeup Bag
If you have a large makeup collection or just want to be able to store both your cosmetics and other products in the same bag, you need a big bag. As far as big makeup bags go, the Ellis James Designs Large Travel Makeup Bag is hard to top.  It has a large bottom pocket with pockets along the walls to stow small items. Most of the pockets are mesh for easy visibility, but there's a zipper pocket along the back wall for discrete storage. There's also a flat flap-style top pocket that provides loops for makeup brushes and a flap to protect their bristles, plus a mesh pocket for storing flat items like makeup palettes or mirrors. The loops can also be used for other long, thin items like scissors, toothbrushes, or nail files. In total, the bag is 10.25″ wide, 7.25″ long, and 7.0″ tall. The bottom section is 5.5″ deep on its own, while the top section is 1.5″ deep.
The bag is slightly padded and water-resistant to protect your items. The material is easy to wipe clean and there's a top carry handle to make it easy and convenient to move the bag around, even when full.
The bag is available in both black and cream, each with quilted stitching on the exterior. The black bag has a cream interior and decorative piping, while the cream bag has a light gray interior and piping. The bag also coordinates with other Ellis James Designs bags, such as the Ellis James Designs Travel Jewelry Organizer, the Ellis James Designs Large Travel Toiletry Bag, and the Ellis James Designs Makeup Brush Bag.
Ellis James Designs Large Travel Makeup Bag Key Features:
Large size
Two separate sections
Lots of convenient storage features
Water-resistant, padded, and easy to clean
Coordinates with other Ellis James Designs products
Best Budget Cosmetic Bag: MRSP Small Makeup Pouch
MRSP Small Makeup Pouch
With the MRSP Small Makeup Pouch you can still have a cute, stylish cosmetic bag even on a budget.
There are lots of expensive cosmetic bags out there, but you don't actually have to shell out a lot of money to get a good quality cosmetic bag. The MRSP Small Makeup Pouch is a great little bag that does an excellent job organizing makeup or other small items.
It's made out of soft polyester and comes in a bunch of different cute, fun, and sophisticated prints. There are even licensed prints available from popular franchises like Stranger Things, The Nightmare Before Christmas, Animal Crossing: New Horizons, and The Golden Girls.
It's 8.65″ wide, 5.35″ tall, and 0.78″ deep, so it's great for smaller makeup collections, lightweight travel, or using in a purse, backpack, work bag, or gym bag. It's waterproof and has a zipper closure, as well as a small loop at one end of the zipper that makes unzipping easier and allows for hanging on a hook or something similar to help conserve counter space.
MRSP Small Makeup Pouch Key Features:
Polyester
Tons of print options
Smaller size
Waterproof
Hanging loop
Best Cosmetic Bag with Compartments: NiceEbag Double-Layer Cosmetic Train Case
If you have much of a cosmetic collection or like to take plenty of options when you travel, it can be difficult to find what you need. Even if all of your cosmetics and tools are together in a bag, you often find yourself digging through it to find exactly the right product. However, with NiceEbag Double-Layer Cosmetic Train Case, that's not a problem. This spacious bag is 10″ wide and 9″ long and has two layers.
The bottom layer is 3.2″ deep and contains 6 dividers that can be rearranged to create custom-sized compartments. It also has two zipper pockets and a removable mirror along the top flap. Two buckle straps hold the top upright so you can easily use the mirror hands-free. The top layer is 1″ deep. It has a large mesh pocket that's great for storing flat or thin items like palettes. The top layer also has three large brush pockets so you can sort and store plenty of brushes.
The bag also has a carry handle, a removable and adjustable shoulder strap, and a luggage strap that allows you to fit the cosmetic bag onto the handles of a rolling suitcase. The double-layer bag is only available in pink, but there are single layer versions, also with adjustable compartments, available in various other colors and patterns.
NiceEbag Double-Layer Cosmetic Train Case Key Features:
Two layers for storing items
Adjustable compartments
Removable mirror plus straps to hold the mirror upright
Removable and adjustable shoulder strap
Various pouches and pockets
Best Cosmetic Pouch: CHICECO Large Cosmetic Pouch
On the other hand, maybe you prefer a cosmetic bag that you can just throw everything into and go. If that's you, the CHICECO Large Cosmetic Pouch is perfect. This spacious bag is 10″ wide, 4″ deep, and 7″ tall. It has a large interior compartment, plus an inner zipper closure pocket and two additional slip pockets. The zipper pocket is great for storing items you'd like to keep discrete, while the slip pockets are perfect for keeping small items accessible at the top of the bag. The main compartment is easy to fit smaller bags within for easy, customized organization. The bag's large size also allows you to potentially store all of your travel toiletries in one bag.
The CHICECO Large Cosmetic Pouch also coordinates with the smaller CHICECO Handy Cosmetic Clutch Pouch. This smaller bag can be placed inside the CHICECO Large Cosmetic Pouch for organization or used alongside it.
In addition, the CHICECO Large Cosmetic Pouch has a simple, elegant design. Each zipper closure is gold-toned and the exterior zipper has a tab at the end for you to hold to make the bag easier to unzip. The bag is made of 1260D Oxford nylon so it's waterproof and easy to clean. The bag is available in black, magenta, dark purple, grey, and turquoise.
CHICECO Large Cosmetic Pouch Key Features:
Large size
Three inner pockets
Simple, elegant design
Waterproof and easy to clean
Available in five colors
Who Should Buy a Cosmetic Bag
Anyone who owns cosmetics can benefit from a cosmetics bag. They add a lot of conveniences in that they keep all of your cosmetics organized and together, ensuring that you can always find what you need. However, they also help make sure you know exactly what you have. This makes sure you don't end up buying something you don't actually need because you thought you'd run out or forgot you had it. Makeup can be expensive, so it doesn't take too many superfluous purchases before the cost starts to really add up. Plus, makeup expires, and using up just one item before it expires can be unlikely enough. If you have two open at once? You might as well just throw your money straight in the trash.
In addition, a cosmetic bag keeps your makeup organized and protected during travel. It helps protect your cosmetics from breaking and, when breaks or leaks do occur, ensures that your cosmetics don't get all over the other items in your suitcase or bag. Similarly, cosmetic bags serve all those same purposes when used in a purse, gym bag, work bag, backpack, or other bags.
Furthermore, cosmetic bags aren't just good for cosmetics. They can also be used for general toiletries or even storing and organizing other items like feminine hygiene products, writing utensils, bobby pins, and other hair supplies, first aid items, sunglasses, and other small items.
If you're looking for a more permanent organizer for your makeup brushes, then you may want to check out The Best Makeup Brush Holders.
Important Features to Consider
A cosmetic bag should have a few important features. Here's what to consider when selecting a cosmetic bag:
Size. First, you need to decide how big of a cosmetic bag you need. If you're looking for one to use at home, you probably need a larger bag than if you're looking for one for travel or your gym bag. The larger your collection at home, the larger the bag you need to keep it organized. Similarly, longer trips may require a larger travel cosmetics bag. On the other hand, if you're looking for a cosmetic bag for your purse, you can get away with one that just fits a few items for touch-ups. For travel, home, or the gym, you should also consider whether you want to be able to put other toiletry items in the bag as well. It's generally a good idea to get a bag a little larger than you need to leave some room for growth. However, too large of a bag can be inefficient and cumbersome.
Material. Cosmetic bags come in all kinds of materials. Most have an outer layer and a liner. The material of the outer layer can generally be whatever type of material you like, but the liner should be made of a waterproof, easy to clean material to keep spills contained and ensure that they're easy to take care of. A waterproof liner also protects the bag's contents from things that can damage them. Black liners in particular are great because they help hide stains from spills. Similarly, it's best for the out material to be easy to clean and take care of. Machine washable materials are the easiest. You also have the choice of a clear or opaque bag. Clear bags tend to only have a single layer since they're already made from easy to clean materials. Clear bags allow you to see the contents and can be better for plane travel since the TSA requires a clear bag for carry on. Opaque bags, on the other hand, provide more privacy.
Compartments. A big with multiple compartments and pockets allows you to sort your items to keep them organized and prevents your items from jostling around within the bag. Some cosmetic bags have internal or external pockets, while some have compartments within the main pouch. Some bags also have slots for brushes. Cosmetic bag sets that contain multiple bags also allow you to sort and organize your items.
Other features. Finally, many cosmetic bags have other features that you may find useful, such as mirrors, handles, shoulder straps, hangers, and various included accessories. Consider what other features you'd like from your bag to help ensure that you choose the perfect one for you.
Frequently Asked Questions
What can you do with makeup bags?
While "makeup" and "cosmetic" are in the names, there are lots of other ways to use makeup and cosmetic bags. They can be great for storing all kinds of smaller items like sunglasses, menstrual supplies, snacks, a sewing kit, a first aid kit, medications, tech items like chargers and earbuds, and more. You can use them around your home when you travel, or in purses and gym, school, or work bags. They can even be used as gift bags.
What should be in every girl's makeup bag?
Your makeup bag only needs to contain products that you like and can contain as much or as little as you like. There are some basic products that can provide a good starting point, however. Start with a base like a tinted moisturizer, BB cream, or foundation. Concealer provides more coverage where you need it without a thick, cakey layer of foundation. Blush and bronzer help add color to your face. Primer and powder will help your base and other face products last longer. Finally, mascara makes your eyes pop while lipstick does the same with your mouth.
To take your makeup bag to the next level, add in eyeshadow, eyeliner, and a brow product.
How do I organize my makeup bag for travel?
First and foremost, don't bring more items than you need to. On most trips, you probably don't need a half dozen different lipsticks and four different eyeshadow palettes. You can also minimize products by using multipurpose items, like a stain that can be used on cheeks, lids, and lips, a spray that acts as both a primer and setter, double-ended brushes, or a two-in-one highlight and contour stick. A palette with multiple face products like blush, bronzer, contour, and highlighter in one is also useful. Travel size items cut down on bulk as well. You can also place small amounts from larger bottles into smaller, travel-size containers if you can't or don't want to buy a travel-sized version.
Once you have all your necessary items assembled, pack them into your bag smartly. Place larger items at the bottom of the bag, then tuck smaller items around and on top of them to more efficiently use the space. In larger makeup bags, you can group small items by type in smaller bags to keep things together and easy to find. Palettes are best stored flat against the bottom or side of your bag.
What should I keep in my purse makeup bag?
You don't need a full face of makeup in your purse. In fact, some products, like mascara and foundation, are generally best not reapplied throughout the day or else they look thick and cakey. Instead, keep the concealer in your bag to add coverage when and where it's needed. Powder helps cut shine and can help your skin tone look more even. A pressed option is your best bet to avoid messy spills. Blotting papers also help remove oil without having to add additional makeup.
A stain is another great addition because it can be used to add color to both your lips and your cheeks without having to carry both lip color and blush. If you're wearing lip color that day, throw it in your bag for touch-ups as needed. Lip balm helps add moisture back to your lips. Eyeliner can help with touch-ups around the eye and allows you to add drama around the eyes to take a look from day to night.
Other Cosmetic Bags We Reviewed
We looked at 20 other cosmetic bags. Even though they didn't make our 5 best cosmetic bags list, they're the best of the rest and each is still a great option for you. The information you'll need to compare each one is included with the listing.
Clear Cosmetic Bags
Cambond Clear Large Iridescent Cosmetic Bag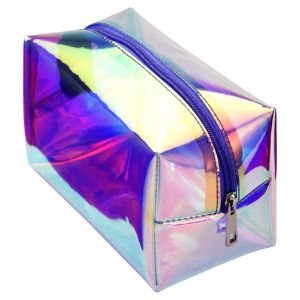 A clear makeup bag doesn't have to be boring with this iridescent, holographic cosmetic bag.
Key Features:
Waterproof and dustproof
7.1″ x 4.3″ x 4.7″
Made from 0.5mm thick TPU
Cost: $8
F-color Fashion Holographic Cosmetic Travel Bag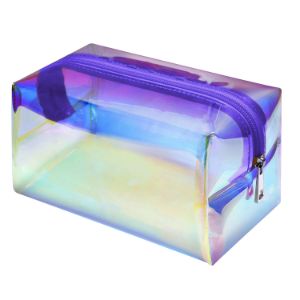 Here's a similar bag that's available in three holographic shades and three sparkly opaque shades.
Key Features:
Waterproof and easy to clean
7.1″ x 4.3″ x 4.7″
Smooth, strong stitching and durable PVC
Cost: $9
Haoguagua Heavy Duty Clear Toiletry Makeup Bag (Pink)
This is a more traditional clear cosmetic bag, but the accent zipper and handle keeps it from being boring.
Key Features:
Available in various sizes, accent colors, and pocket configurations
Hand strap for portability
Water-resistant and easy to clean
Cosmetic Bag Sets
Deanfun Unicorn Makeup Bag 3 Piece Set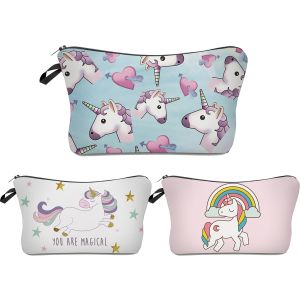 This cute makeup bag set is great for kids or just for fun-loving adults.
Key Features:
Three bags allow you to sort your items
Each bag measures 8.6″ x 5.3″ x 0.78″
Available in two unicorn sets and a flamingo set
Cost: $9
Jim Tokoy Llama Makeup Bag Set
This cosmetic bag set is another fun, adorable option, this time with llamas!
Key Features:
Three bags allow you to sort your items
Each bag measures 8.6″ x 5.3″ x 0.78″
Available in three llama and alpaca themed sets
Cost: $10
This cosmetic bag set features a larger bag that can fit full-sized products, plus a smaller bag perfect for smaller items like jewelry and lipsticks.
Key Features:
Large bag with three compartments and various pockets and pouches
Small pouch with holes and loops for organizing jewelry
Water-resistant nylon exterior and soft, waterproof TPU lining
Cosmetic Bags with Compartments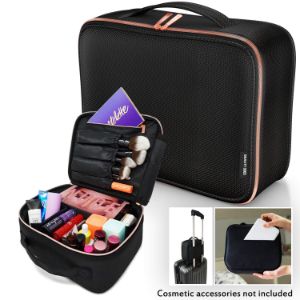 This cosmetic bag is waterproof, padded, and has reinforced crush-resistant corners to ensure that the contents stay protected.
Key Features:
Reinforced carry handle
Customizable velcro dividers
Rear flap pocket
Cost: $18
habe Mini Travel Makeup Bag with Mirror
With this little cosmetic bag, you don't have to get a huge makeup bag to get the convenience of compartments.
Key Features:
Adjustable velcro compartments
Zipper pockets and brush holders
Removable mirror
Cost: $27
Kootek 2-Layers Travel Makeup Bag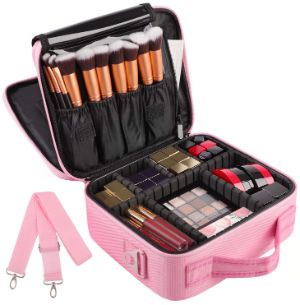 With a shoulder strap, carry handle, and luggage strap, this cosmetic bag was designed for convenient, organized travel.
Key Features:
6 adjustable dividers
Makeup brush pockets and protector
Removable mirror
Cost: $20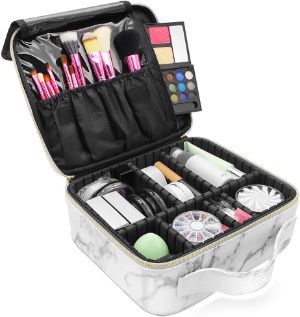 This cosmetic bag's marble pattern exterior helps it stand out in the best possible way.
Key Features:
6 adjustable dividers
Makeup brush pockets and protector
Interior zipper pocket
Cost: $20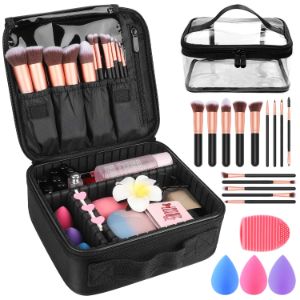 This cosmetic bag comes with a brush set, a brush cleaner, three makeup blenders, and an additional clear cosmetic and toiletry bag.
Key Features:
Great for starting a makeup collection or getting extras for travel
Waterproof and shockproof
Adjustable dividers
Cosmetic Pouches
This simple cosmetic pouch is available in tons of colors and patterns, so you're sure to find one that fits your style.
Key Features:
Convenient carry handle
Exterior zipper pocket
Internal mesh sleeve
Cost: $30
Jim Tokoy Hakuna Matata Makeup Bag
This simple cosmetics pouch is available in tons of cute, fun patterns, including dinosaurs, pineapples, koalas, and more.
Key Features:
8.6″ x 5.3″ x 0.78″
Made from soft polyester
Black liner helps hide stains from spills and leaks
Cost: $7
This marble cosmetic pouch nicely coordinates with the LKE Marble Makeup Organizer that we discussed above.
Key Features:
Waterproof PU leather
Fabric inner pockets
8.66″ x 6.3″ x 2.36″
Cost: $7
Loomiloo Cosmetic Bag for Women
This is another simple cosmetic pouch that's available in a bunch of different cute, fun prints.
Key Features:
Made from soft, durable polyester
Loop for hanging and easy unzipping
8.6″ x 5.3″ x 0.78″
Cost: $7
Yeiotsy Stylish Polka Dots Hanging Cosmetic Bag
Most of the cosmetic pouches we've talked about are fairly small, but this one is quite spacious.
Key Features:
Inner mesh pocket and pockets with loops for thin items like makeup brushes
Available in four dotted patterns
10.24″ x 7″ x 4.72″
Large Cosmetic Cases
Bag&Carry Large Hanging Travel Cosmetic Bag
This large hanging travel cosmetic bag is great for not just your cosmetics, but for all of your travel toiletries.
Key Features:
Three clear pockets, plus two opaque pouches
One opaque pouch is detachable
Hanger allows you to access contents without taking up counter space
Cost: $25
DRQ Travel Makeup Bag with Mirror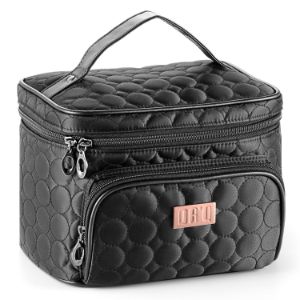 This large cosmetic bag has plenty of room for larger items in the main compartment and an exterior pocket that's great for small items.
Key Features:
Makeup brush organizer on the inside of the top
High definition mirror
8.6″ x 6.2″ x 6.2″
Cost: $16
SLEEKO Large Cosmetic Makeup Bag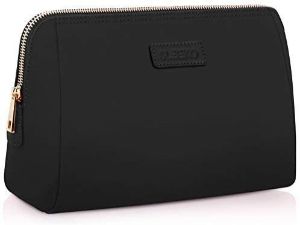 This large cosmetic bag allows you to easily through in your makeup and other toiletries and go.
Key Features:
Easy to clean oxford nylon outer material
Stylish gold hardware
10″ x 7″ x 4″
Cost: $10
SMRITI Canvas Large Makeup Bag
This simple large canvas makeup pouch is a great option with a more rugged style.
Key Features:
Durable cotton canvas with brass hardware and a leather zipper tab
Available in several colors and patterns
11.42″ x 3.74″ x 7.09″
Cost: $13