We have all been there: after a long day out in the sun, or a long winter in the house with the heat pumping, with dry and cracked lips that just do not seem to get better no matter how much water we drink. That's because sometimes you need more than a glass of water to help dry parched lips. Sometimes, you need lip balm. Lip balm, sometimes known as chap stick, is a lubricant that is applied to your lips to help heal or prevent chapping. There are all different types out on the market. Some are medicated, some are flavored, but they all try and do the same thing: help you keep your lips soft and moist.
We reviewed dozens of lip balms to try and determine which of the hundred chap stick products on the market were the best of the best. We considered ones with SPF additives, tints, and even a few flavored varieties before deciding which would make our top 25 list.
Our top pick is the beeswax based lip balm created by ArtNaturals. This all natural product offers a great range of flavors while keeping their ingredients clean and healthy. The affordable product promises soft and long lasting chap stick in an easy to carry tube. The only down side we found in this 6 pack is choosing a favorite flavor.
The 5 Top-Rated Lip Balms
*Ratings are from Amazon at the time of publication and can change
Our Top Pick: ArtNaturals Natural Lip Balm Beeswax
This multi-pack of ArtNaturals Natural Lip Balm Beeswax will last you through any dry season your lips encounter. With 6 different tropical flavors to choose from (like hibiscus blossom and eucalyptus mint) you will be hard pressed not to lick your lips in excitement. The chap stick works to alleviate dry, chapped or cracked lips and prevent future damage from occurring.
Using a formula that contains natural beeswax, jojoba, coconut and sunflower seed oils, it is a product that you can feel good about using.
ArtNaturals Natural Lip Balm Beeswax Key Features:
Flavors included: Island Coconut, Passion Pitaya, Mango Papaya, Hibiscus Blossom, Grapefruit Tonic, Eucalyptus Mint
Contains antioxidant and cleansing vitamins to heal and nourish
Can be worn alone or under lipstick
Our Runner Up Pick: USDA Organic Lip Balm by Sky Organics
With USDA Organic Lip Balm by Sky Organics you get full chap stick coverage without any harsh chemicals. Sky Organics relies on ingredients like Organic Sunflower Oil, Organic Beeswax, Organic Coconut Oil, Vitamin E, Organic Rosemary Extract, Organic Calendula and Natural Organic Flavors to nourish and protect your lips. You'll know you are getting only the best ingredients every time you swipe this on because the Sky Organics products have the highest organic rating available through the USDA.
Reviewers love that these products are cruelty free, which means they were never tested on animals, and they say it glides on smoothly without feeling waxy to soothe dry and chapped lips.
USDA Organic Lip Balm by Sky Organics Key Features:
Flavors included: Luscious Tahitian Vanilla, Tropical Coconut, Eucalyptus Mint, Cherry Bomb, Tangy Citrus, Strawberry Bliss
Safe for sensitive lips
Contains no chemicals, petroleum or petroleum derivatives, fillers, or soy
Best Budget Pick: ChapStick Lip Moisturizer and Skin Protectant
You cannot beat ChapStick Lip Moisturizer and Skin Protectant on price.  You can choose from various flavors (including an unflavored option for those who prefer their lip balm to have a more mild or less noticeable taste). Each tube includes ingredients that will protect and moisturize lips for up to 8 hours, as well as offer SPF 12 protection.
Reviewers offer consistent praise for this lip balm, a testament that the long standing brand has gotten the formula right. ChapStick makes a variety of flavors and products, as well, so it's easy to find the right formula for your lips.
ChapStick Lip Moisturizer and Skin Protectant Key Features:
3 .15 oz tubes of chap stick included
Ultra-hydrating formula with 11 moisturizing ingredients including aloe and vitamin E
Smooths and softens lips for up to 8 hours
Provides SPF 12 sun protection
Best Tinted Lip Balm: Maybelline New York Baby Lips Moisturizing Lip Balm
If you are looking for a swipe of color each time you apply your chap stick, you will want to give Maybelline New York Baby Lips Moisturizing Lip Balm a try. In addition to subtle colors like pink and peach, Maybelline's chap stick offers 8 hours of hydration in each application. Giving your pucker color and protection every time you apply. With flavors like peach, cherry and pink punch there is bound to be a flavor (and color) for every user.
This lip balm earns positive feedback from thousands of reviewers. And for just under $3 each, it's certainly worth a try if you're looking for a lip balm with a hint of color. In addition to happy, healthy lips, your lips will taste delicious, too!
Maybelline New York Baby Lips Moisturizing Lip Balm Key Features: 
Also available in Peach Kiss, Pink Punch, Peppermint, and Quenched shades
Exclusive lip renew formula moisturizes and protects lips
Provides eight-hour hydration
Best Lip Balm with SPF: Jack Black Intense Therapy Lip Balm SPF 25
A tube of Jack Black Intense Therapy Lip Balm will give you broad-spectrum UVA and UVB protection with an SPF 25. It contains green tea antioxidants and delivers long lasting coverage. You can purchase a squeeze tube of the balm in one of the 8 available flavors (natural mint and shea butter is a favorite). You can use this as protection before you go out in the sun, or to heal already chapped or damaged lips.
Many fans of this product say that the lubricant stays on well, even after eating or drinking, and that it doesn't feel thick or heavy. With a high average rating from hundreds of reviewers, it is easy to see why so many people are purchasing this $8 tube of lip balm.
Jack Black Intense Therapy Lip Balm Key Features:
Contains antioxidants, vitamin E, green tea, broad-spectrum sun protection and natural emollients
Offers sun protection
Guards against windburn and extreme temperatures
Skin conditioners and antioxidants soothe and relieve dry, chapped and irritated lips
Who Should Buy Lip Balm
Lip balm can be used by just about anyone looking to protect or repair existing damage to their lips. With the countless variations of lip balm out there, it is easy enough to find something that meets your specific needs. Whether they be for a balm that will heal the most chapped lips, or something that will make your pout even more pretty with a touch of color or shine.
While not ever lip balm comes with sun screen, many can be found with an SPF additive that can give your lips an added layer of protection from the sun. The great part of most lip balms is that they can be worn under other types of lip cover (like lip stick), letting you layer up your protection and repair as needed. You can give yourself an added layer of protection by avoiding the sun altogether. With the great self tanning products on the market today, you can keep a glowing tan while protecting yourself from the sun's harmful UV rays.
Important Features to Consider
A lip balm should do several things well. Here's what to consider when selecting a lip balm:
Flavors and smells. Not everyone enjoys wearing flavored lip balm. Sometimes the taste can interfere with the taste of foods and drinks you are consuming. Or else the smell can seem strong due to its proximity to your nose. Before purchasing a lip balm, ask yourself how you will feel about a fresh peppermint taste while you are doing something like eating a sandwich or drinking your coffee.
Tubes, tubs and sticks. Lip balm comes in many different containers. Some come in a circular tube that requires you twist the bottom to advance the product out towards your lips, others you need to squeeze onto a hard plastic applicator to apply. Some will even requite you to use your fingers to dig it out of the container and then apply it to your lips. If you are someone who works with your hands and cannot imagine having to wash your hands every time you need to apply chap stick, you may want to skip tub type products.
Tinted colors and glosses. While a little extra color can be good, it isn't for everyone. Do you want a hint of pink every time you apply your lip balm? What about sparkles? Consider the color and shine factor of the lip balm you are looking at before making a purchase.
Medicated products. If your lips are particularly chapped, you may want to consider a medicated balm. It will offer a thicker consistency with wider coverage than some of the thinner products used for protection instead of repair.
Frequently Asked Questions
What is lip balm and how does it work?
Lip balm is a lubricant that is designed for wear on your lips. It protects lips from environmental factors that can dry out lips, like wind and heat. It also keeps your lips protected from the daily wear and tear that can come with eating, drinking and spending long amounts of time indoors with forced air heating and cooling. While historically lip balms were petroleum based, these days they can be made out of products from beeswax and sunflower oils.
Which is good news for people who have allergies. Based off of the many different options out there today, everyone is sure to find a product that can meet their needs.
How does lip balm help your lips?
Lip balm helps lips by creating a protective layer between the skin on the lips and the things that your lips come in contact with like sunlight and food. The protective layer works in two parts, to separate the sensitive skin of your mouth from external factors, and to seal in naturally occurring moisture.
For people who have damaged lips, lip balms can work to restore health to the skin by releasing additional soothing and healing materials and minerals back into the skin. While lip balm works wonders when applied consistently, keeping hydrated and eating well can also help keep your lips healthy. Drinking enough water and getting enough rest in conjunction with a good lip balm product can work wonders for keeping your smile healthy and happy. A healthy lifestyle that allows for ample rest and relaxation can only help your lip balms work better!
How can I moisturize my lips over night?
After you have completed your nightly routine: brushed your teeth, washed your face and drank your final 8 ounce glass of water for the day, climb into bed and apply a layer of lip balm to  your lips. Without the added work of protecting your lips from foods and liquids for the next 8 hours, the product will be free to work its way into your lips. This will allow you to wake up with a soft and smooth smile every morning!
How often should I apply lip balm?
The short answer: as often as you need to. However the long answer is that it depends on the recommendation of the lip balm you are using and the products that are used in formulating your chap stick. Some ingredients can begin to have the opposite effect of drying out your lips if used too often. We recommend checking the instructions on the lip balm you are using and following the directions on the package. Many packages will tell you to apply as needed unless there is a reason you should limit applications.
Other Lip Balms We Reviewed
We looked at 20 other lip balms. Even though they didn't make our 5 best lip balms list, they're the best of the rest and each is still a great option for your lips. The information you'll need to compare each one is included with the listing.
Tinted Lip Balms
Burt's Bees 100% Natural Tinted Lip Balm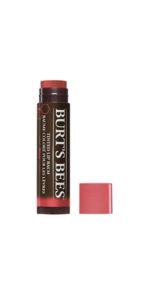 This lip balm offers a sheer pink color along with the Burt's Bees protection that has made the product such a fan favorite. The chap stick glides on smoothly and lasts all day!
Key Features: 
Contains naturally moisturizing shea butter and botanical waxes
Lasts 8 hours
Contains no parabens, phthalates, petrolatum or SLS
Cost: $9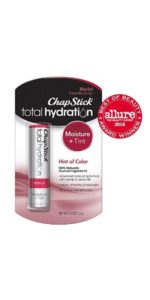 A touch of Merlot will accompany every swipe of this ChapStick brand chap stick. You can use this product knowing that you are getting the same great protection that made ChapStick a household name in the first place.
Key Features: 
Enhance your natural lip color with Total Hydration Moisture + Tint
100 percent naturally sourced ingredients
Advanced Moisturizing Formula with rosehip and jojoba oils
Cost: $5
Sky Organics Organic Tinted Lip Balm
Safe for even the most sensitive lips, this cruelty free product is perfect for anyone looking for a hint of color with their lip moisturizer. 
Key Features: 
Flavors included: Luscious Shimmer, Champagne, Plum, and Raisin Tints
Contains organic beeswax, cocoa butter, coconut oil, argan oil, and other natural ingredients
Contains no chemicals, petroleum or petroleum derivatives, fillers or soy
Cost: $12
Vaseline Lip Therapy Lip Balm Tin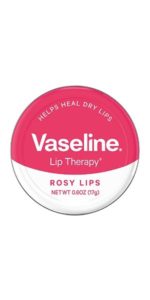 Get softer, moister lips with the lip balm tucked inside of this adorable tin. Each application will leave your lips slightly pink and healthy!
Key Features: 
Instantly softens and soothers dry lips
Locks in moisture so lips feel better over time
Relieves dry, dull and cracked lips, while locking in moisture to help them heal
Flavored Lip Balms
Burt's Bees 100% Natural Moisturizing Lip Balm Multipack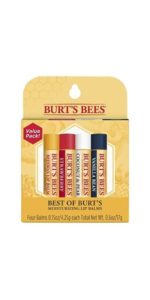 The all natural beeswax based lip balm goes on smooth leaving your lips with a light matte finish. There are several flavors to choose from, but the original hint of peppermint remains a fan favorite.
Key Features: 
Made with Beeswax, Vitamin E and a hint of peppermint oil
One swipe lasts all day
Free of parabens, phthalates, petrolatum or SLS
Cost: $8
Nature's Bees Cocoa Butter Lip Balm Tubes
This 24-pack of lip balm offers a wide variety of flavors and scents for whatever mood you may be in. The olive oil base used in the formula makes it especially great for moisturizing the driest of lips.
Key Features: 
Bulk lot pack of 24 bottom-twist tubes in 4 varieties
Natural protection from harmful free radicals
Olive Oil great for deep moisturization/anti-aging
Paraben-free, safe for use on babies & kids
Cost: $16
EOS Natural & Organic Stick Lip Balm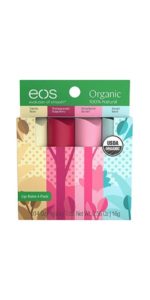 This 4-pack is made by the same company who made the most Instagramable lip balm eggs in the world. In this new formula, the balm comes in sticks but packs in those same great moisturizing ingredients.
Key Features: 
Certified Organic & 100% Natural
Contains sustainably sourced ingredients
Dermatologist tested
Hypoallergenic
Gluten-, paraben-, and petrolatum-free
Cost: $10
Lip Smacker Coffee and Tea Lip Balm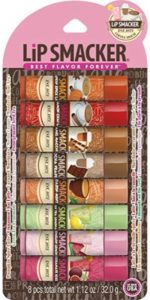 Treat your lips to a little variety! This large party pack of a variety of flavors will take your mouth to the coffee house without having to ever leave your seat.
Key Features: 
Flavors included: Caramel Macchiato, Pumpkin Spice Latte, Cinnamon Chai Latte, Mocha Frappe, Mandarin Mint Tea, Green Tea Lemonade, Watermelon Lemonade &Pomegranate Iced Tea
High gloss finish
Lip Smacker has been around since 1973
Cost: $10
Naturistick All Natural Beeswax Lip Balm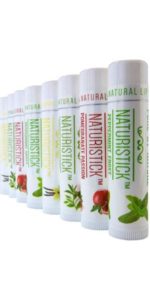 Never tested on animals, this organic chap stick offers all natural ingredients to help soothe your lips and protect them from environmental hazards. Includes 4 different flavors that even your kids will love!
Key Features:
Flavors included: Peppermint, Pomegranate, Vanilla and Green Tea (2 ea)
100% Certified Beeswax and Natural Ingredients
No Petroleum, Chemicals, Gluten, Parabens, Non-GMO
Cruelty-Free and Environmentally-Friendly Packaging ls
Satisfaction guaranteed
Cost: $10
Smith's Rosebud Trio Lip Balm Assortment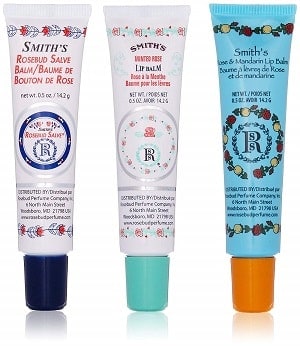 This 3-pack offers three different flavors to choose from. The liquid lip balm can be squeezed out onto the plastic applicator to be easily applied, and it goes on smooth to avoid irritating already chapped lips.
Key Features:
Flavors included: original rosebud salve, mandarin & rose and mint rose lip balm
Scented as well as flavored
Glossy without a lasting tint
Lip Balms With SPF
Blistex Medicated Lip Balm SPF 15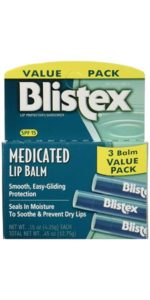 Use this lip balm to both prevent chapping and to soothe already irritated lips. For less than a dollar a tube, this value pack is a steal!
Key Features: 
Helps prevent dryness and chapping to soothe irritated lips
Helps prevent sunburn with SPF 15
3 long-lasting protectants seal in moisture to alleviate dryness and prevent reoccurance
Cost: $3
Banana Boat Sport SPF 50 Sunscreen Lip Balm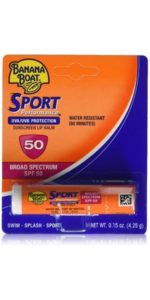 A lip balm that offers SPF 50 and will not break down over time. Apply the Coppertone formula every time you go into the sun and experience the comfort of light weight sun protection while knowing that your lips are safe from sun damage.
Key Features: 
Ultra-sheer formula
Moisturizes and protects dry lips
Sweat and water resistant
Cost: $15
Burt's Bees 100% Natural All-Weather SPF15 Moisturizing Lip Balm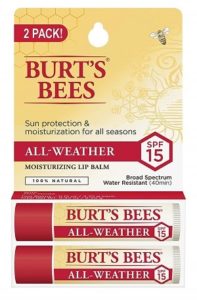 Crafted with cold New England winters in mind, this lip balm is great for the harshest of conditions (even summertime at the beach). The all-weather lip balm has an SPF of 15, giving you peace of mind whenever you are outdoors.
Key Features: 
Infused with Zinc Oxide, provides the benefits of sunscreen without leaving a white residue on your lips
Goes on with a matte finish
No parabens, phthalates, petrolatum or SLS.
Water resistant up to 40 minutes
Cost: $9
Coppertone Sport Sunscreen Lip Balm Broad Spectrum SPF 50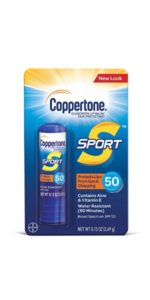 You will want to grab a tube of this SPF 50 lip balm before you head to the beach (or anywhere outside) this summer. This Coppertone chap stick will help prevent sun damage with a broad-spectrum UVA/UVB protection, as well as keep you safe from wind burn and chapping.
Key Features: 
Contains aloe and Vitamin E
Designed especially for active use
Water resistant up to 80 minutes
Cost: $4
Softlips Lip Balm Protectant SPF 20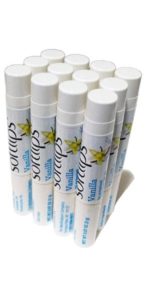 This 12-pack of vanilla flavored chap stick will go on so smooth you will forget that you are wearing it. The light-weight formula offers SPF 20 protection from the sun while living up to the "soft" lips name.
Key Features: 
Hydrates, protects and relieves dry chapped lips
Smooth glide-on formula enriched with skin conditioners
SPF 20 protects lips from sunburn
Cost: $17
This balm is designed with the outdoors in mind. Apply a layer of SPFRX before leaving the house and protect your lips from the sun, wind, cold weather and other forms of environmental lip damage.
Key Features: 
UVA & UVB protection
Cruelty-free
Organic ingredients including: organic hempseed oil, olive oil, and sunflower oil, along with natural beeswax and vitamin E.
Pleasant mango scent
Other Lip Balms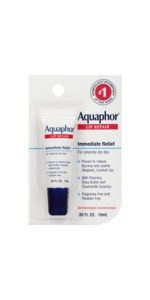 This lip balm is number one for a reason. Use this push tube style chap stick to apply lip balm to your driest, most chapped lips with confidence.
Key Features: 
Free of fragrance, dyes and perfumes
Non-flavored
Part of the trusted Aquaphor brand
Cost: $4
Dr. Dans CortiBalm Lip Balm Patented Formula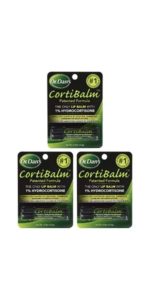 A medicated lip balm that contains 1 percent Hydrocortisone to target chapped lips. Users currently taking Accutane, undergoing chemotherapy, suffering from allergies, cold sores or sensitive skin will find this balm especially helpful.
Key Features: 
Heals lips chapped by weather, cosmetics, sunburn or medications
Reduces Inflammation caused by cold sores
#1 Dermatologist Recommended.
Blend of beeswax, petroleum jelly, mineral oil and 1% Hydrocortisone
Cost: $14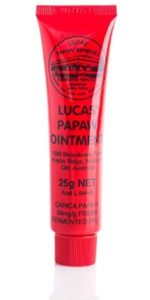 This healing balm does it all: from soothing chapped lips to aiding in the healing of burns, bites and blisters. Try this all in one product and be amazed by how many things it can do!
Key Features: 
Made in Australia from pure Australian papaws
Ingredients used aid skin in recovery
World-wide proven remedy for over 100 years
Cost: $3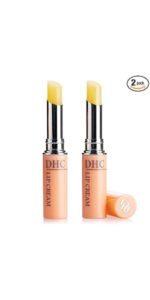 Get the 2 pack of this conditioning lip balm  and enjoy long lasting moisture. DHC uses a blend of skin softening botanicals in their formula that you are sure to love!
Key Features: 
Fights vertical lines with vitamin E
Aloe soothes and olive oil neutralizes free radicals
Can be worn under lipstick to prime or over for added gloss
Cost: $15