Eyeshadow is one of the most fun types of makeup to experiment with. It comes in tons of different colors, formulas, and finishes. Application styles are virtually limitless. But have you added red eyeshadow to your makeup kit yet? Red isn't a super popular eyeshadow color, but we think it's vastly underrated. There's a shade of red for any eye color and it works for both subtle and bold looks. And, because it's not commonly worn, wearing red eyeshadow instantly makes a confident statement.
We reviewed dozens of red eyeshadows to identify the best of the best. We looked at red eyeshadows of all different types, shades, and finishes, including both palettes and individual eyeshadows, to find red eyeshadows that are blendable, long-lasting, and easy to apply.
Our top pick and the clear winner is Haus Laboratories Glam Attack Liquid Eyeshadow in Glamour Puss. It's a long-wearing, deeply pigmented cream eyeshadow with a metallic red finish.
The 5 Top-Rated Red Eyeshadows
*Ratings are from Amazon at the time of publication and can change
Best Red Eyeshadow Overall: Haus Laboratories Glam Attack Liquid Eyeshadow – Glamour Puss
Our top pick is Haus Laboratories Glam Attack Liquid Eyeshadow in Glamour Puss. Haus Laboratories is Lady Gaga's own makeup line, and if there's anyone that knows bold, statement-making looks, it's Lady Gaga. With its vibrant color and metallic foil finish, this liquid eyeshadow can stand on its own for a quick eye makeup look. It's highly pigmented, provides opaque coverage, and comes with its own soft doe foot applicator, so it's easy to swipe on and go.
It's also highly blendable and would be great to pair with other colors of Glam Attack Liquid Eyeshadow. In comes in 13 different colors in two different finishes, so you have tons of options for mixing and matching. In particular, we suggest Chains (a metallic bronze ), Retro (a metallic nude), Biker (a shimmery gunmetal gray), Chained Ballerina (a shimmery black), or Legend (a shimmery gold).
This liquid eyeshadow is also long-lasting. It's smear and smudge-proof once dry, and it won't flake, crease, or transfer, even with hours of wear. Whatever look you decide to go with, Haus Laboratories Glam Attack Liquid Eyeshadow will continue to look great all day long. Like all Haus Laboratories products, it's also vegan and cruelty-free, so you can feel good about buying it.
Haus Laboratories Glam Attack Liquid Eyeshadow – Glamour Puss Key Features:
Highly pigmented and opaque
True red with a metallic finish
Blendable
Longwearing
Vegan and cruelty-free
Best Long Lasting Red Eyeshadow: Mehron Makeup Paradise Makeup AQ – Red
Mehron Makeup Paradise Makeup AQ in Red is not technically an eyeshadow. It is, however, a totally eye-safe face and body makeup that can be used as an eyeshadow and is loved by professional makeup artists around the world. In other words, the people whose job it is to apply makeup that looks great and will stand up to the harshest of conditions, from hot stages to movie sets to outdoor photoshoots in all sorts of weather. The Red shade is blood-red with cool undertones, but Mehron Makeup Paradise Makeup AQ is also available in a brighter red called Beach Berry. It's available in 39 different colors in total.
It's a water-activated, water-based cake makeup, which means you apply a little water to your application tool, then use the damp tool to apply the makeup to your face. You can use more or less water to get the consistency you want. Since it's water-activated, the makeup isn't waterproof on its own, but you can use Mehron's Barrier Spray to make this makeup water-resistant. Even without the spray, once applied, this makeup won't budge as long as it stays dry.
Being water-based means this cake makeup isn't as rough on your skin as others, which are frequently oil-based. This makeup also contains ingredients like aloe, chamomile, glycerin, avocado oil, and cocoa butter to soothe and nourish your skin while you wear it.
Mehron Makeup Paradise Makeup AQ – Red Key Features:
Highly pigmented and opaque
Blood-red with cool undertones
Water-based and water-activated
Soothing, nourish ingredients
Longwearing
Vegan and cruelty-free
Best Budget Red Eyeshadow: Nyx Professional Makeup Jumbo Eye Pencil – Rust
The Nyx Professional Makeup Jumbo Eye Pencil in Rust isn't just budget-friendly because it's inexpensive. It's also super versatile, filling the role of multiple products in one. You can use it as a traditional eyeliner, along your water line, to your entire lid, or as a base for other eyeshadows. You could even use it for colorful, statement-making brows. Rust is a dark red with warm undertones and a shimmery finish.
Not only that, but it's also easy to just swipe on and go. It's formulated with mineral oil and powder for smooth application without pulling or tugging. The thick, crayon-style pencil is easy to grip and keep steady. It's great for applying thicker lines than a traditional eyeliner pencil (and it contains more product). Once applied, use a smudge brush to blend it if you like or leave it for more defined edges. Rust can stand on its own or be combined with any of the other 23 available shades. We especially like it with Black Bean, Pure Gold, and Iced Mocha.
The Jumbo Eye Pencil is also a good size to throw in your bag, so it makes touch-ups easy, though fading shouldn't be an issue. It's great for festivals, concerts, and costumes, as well as everyday wear. The durable, protective plastic casing won't let this pencil break in your purse or makeup bag, but it can be sharpened with a cosmetic pencil sharpener with an opening for large pencils.
Nyx Professional Makeup Jumbo Eye Pencil – Rust Key Features:
Budget-friendly and versatile
Dark red with warm undertones
Shimmery finish
Crayon-style pencil
Smooth application
Not tested on animals
Best Matte Red Eyeshadow: Stargazer Eyeshadow – Red
Stargazer Eyeshadow in Red is a pressed powder eyeshadow in a medium orangey red with a matte finish. It goes on sheer, but can be layered for more opaque coverage. It applies evenly and, even with more layers, doesn't crease. It's also long-wearing, so you don't have to worry about your sheer eyeshadow looking like no eyeshadow after a few hours. Pairing this eyeshadow with an eyeshadow primer will help you get more opaque coverage with less shadow and make the eyeshadow even more long-wearing and crease-resistant.
In addition to Red, Stargazer Eyeshadow is also available in Deep Red, which is a darker red with blue undertones. Like Red, Deep Red has a matte finish. Stargazer Eyeshadow is available in 51 colors in total, but Stargazer also makes eyeshadows in various other formulas and finishes.
Stargazer Eyeshadow blends easily, so it's great for smokey looks. You can use it with a thin eyeliner brush for blendable eyeliner. Wet the eyeliner brush before application for more defined lines and longer wear. You can also use it as a brow powder to fill and lend color to brows. Use it with a clear mascara or brow gel to get full coverage and keep the powder in place. If it's layered over a clear mascara, Stargazer Eyeshadow can also be used to add color to your lashes.
Stargazer Eyeshadow – Red Key Features:
Pressed powder
Goes on sheer, but the color is buildable
Available in two shades of red
Long-wearing and crease-resistant
Not tested on animals, but not vegan
Best Red Eyeshadow Palette: Lime Crime Venus Eyeshadow Palette
Our favorite red eyeshadow palette is the Lime Crime Venus Eyeshadow Palette. This palette contains eight different colors that can be mixed or matched with one another or worn individually. Like all Lime Crime products, all eight eyeshadows are cruelty-free and vegan. The eyeshadows are heavily pigmented but don't fade or fall out.
The palette is inspired by both '90s grunge and Botticelli's The Birth of Venus to put a twist on the ever-popular nude palette. With a nod to red and other warm shades, the result certainly stands out from other, more generic nude palettes. At the same time, all eight colors are incredibly wearable.
Muse is the truest red and is a deep cherry color with a matte finish. Creation is a more orangey-brown brick red and also has a matte finish. Venus has a velvet matte finish and is perhaps more magenta than red, but it's definitely in the color family.
The other five colors are all excellent compliments to these three reds. Icon is a dark, earthy brown with a matte pearl finish that's perfect for defining your crease or adding a dark, smokey touch. On the other end of the spectrum is ivory, a glowy golden ivory color that is ideal for highlighting your brow bone and the inner corners of your eyes. Shell is a bubble gum pink with an opalescent finish. Rebirth is a bright coral with a matte finish. Finally, Divine is a matte, dusty toned light pink.
Lime Crime Venus Eyeshadow Palette Key Features:
Eight colors, including three reds
Heavily pigmented
Inspired by '90s grunge and Botticelli's The Birth of Venus
A nude palette with a twist
Cruelty-free and vegan
Who Should Buy a Red Eyeshadow
Eyeshadow in general draws attention to the eyes, but red eyeshadow can make a particularly bold statement. It's not a common eyeshadow color, so it automatically projects confidence when you wear it. If you haven't tried red eyeshadow yet, it's a great way to break out of a makeup rut or just try something new. If you choose the right tones, red is also very flattering to virtually all eye colors. True reds and purple-reds suit green and hazel eyes, while orange-reds flatter blue eyes.
Of course, you don't have to wear a bright, firetruck red eyeshadow. You can also use more subtle tones like burgundy, clay, and brick reds. In addition, if you commonly wear purples or oranges, red eyeshadow is a great way to expand your options while staying true to your favorite colors. Just choose a shade of red with tones of your favorite colors.
Important Features to Consider
A red eyeshadow should have a few important features. Here's what to consider when selecting a red eyeshadow:
Type. Eyeshadow comes in a variety of formulas and consistencies, including cream, loose pigment, pressed powder, pencil, and liquid eyeshadows. Pressed powder is the most common and probably the easiest to use.
Pigmentation. This refers to how deeply the color transfers from the shadow to your eyelid. Generally, more pigmentation, or color payoff, is considered better, but less can be good for creating a more subtle look. After all, you can add more color with more shadow, especially when using powders, but you can't take it away if the smallest amount of shadow delivers deep color. With that said, there's a limit to how much eyeshadow can be layered to get deeper color before things start to get messy. Using an eyeshadow primer can help you get a better color payoff. Loose pigments, as the name would suggest, tend to have excellent pigmentation. On the other hand, they can be messy and tricky to use if you're not used to them.
Shade. The word "red" may call to mind the color of stop signs, but it really describes a much larger family of shades. Reds can range from orangey rust reds to purple-y wine reds. And don't forget about pink-toned raspberry reds, either. Reds can also be light or dark across those tones. Different shades are more flattering to different eye and skin colors. Different shades also pair better with some colors than others. Think about the look you want to achieve and what shade you need for that before choosing a red eyeshadow.
Finish. Likewise, different red eyeshadows have different finishes. Some eyeshadows are matte or have a soft satin finish. Others are bolder with shimmery, glittery, or metallic finishes. Once again, think about the type of look you want to achieve before selecting your red eyeshadow.
Blendability. Even if you typically only wear a single eyeshadow color, it's nice to have the option of pairing your red eyeshadow with others. A shadow that blends easily will allow you to flawlessly transition from one color to another. Cream eyeshadows tend to blend very well.
Long-lasting. Obviously, you don't want to go through the work of applying a beautiful eye makeup look, especially for a special occasion, only for it to quickly fade. Look for an eyeshadow that will last through the day. Liquid eyeshadows tend to last for a long time once they've set, but they can set quickly, so you'll need to work fast to make sure your look is just right before it dries.
Frequently Asked Questions
Does red eyeshadow look good?
Like most makeup looks, red eyeshadow can look good if worn correctly and with confidence. Most reds look good with brown eyes, but earthy tones look especially nice. True and purple-reds bring out green eyes, while more orange reds bring out blue eyes.  Once you have a shade picked out, experiment with styles to find one that you like and that you think looks good on you.
How do you create a subtle red eyeshadow look?
If you're not brave enough for a bright, bold red, using just a light, shadowy layer of a more demur red tone is a great way to try the look without feeling like a clown. Be sure to blend it out for even more subtly. A thick line of eyeliner can cut down on the amount of visible red and take some attention away from the shadow while keeping it focused on your eye makeup. You can also work a little bit of red in with larger amounts of eyeshadow colors that you're more used to wearing.
What colors should I blend with red eyeshadow?
Cooler reds look good with other cool tones, like purple and even blue and cool greens. Warm reds look good with oranges and yellows. You can combine earthier reds with neutral browns. Don't forget metallics, either. Gold, rose gold, bronze, and copper all look great with red.
What's the best way to apply red eyeshadow?
You can apply red eyeshadow however you'd like! However, there are a few styles we particularly love. A light dusting of a lighter red creates a subtle look, while a smokey eye using a darker red makes a bold yet elegant statement. We also like smudging some red eyeshadow of any shade under our lower lash lines for a touch of color, but a whole lot of drama. You can let the eyeshadow stand on its own, or finish off the look with a bold winged eyeliner on the upper lid. False eyelashes are a great way to add even more drama to any red eyeshadow look. Mascara and even eyelash extensions can do the same to a lesser extent.
Other Red Eyeshadows We Reviewed
We looked at 20 other red eyeshadows. Even though they didn't make our 5 best red eyeshadows list, they're the best of the rest and each is still a great option for your makeup looks. The information you'll need to compare each one is included with the listing.
Long-Lasting Red Eyeshadow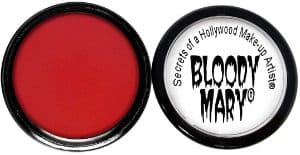 Bloody Mary supplies their long-lasting makeup to the film industry, sports superfan clubs, and even to the US Department of Defense for camo face paint, so you know it will last for you.
Key Features:
Highly pigmented true red with a matte finish
Can be used wet or dry
Doesn't feel heavy or greasy
Cost: $11
Mehron Makeup CreamBlend Stick – Really Bright Red
Made for professional performers, this red cream eyeshadow will last you for hours and hours without smudging or fading.
Key Features:
Also available in Red, a darker shade
Contains skin-nourishing vitamins and antioxidants
Deep pigment and opaque coverage
Cost: $12
Mehron Makeup Fantasy FX Cream Makeup – Red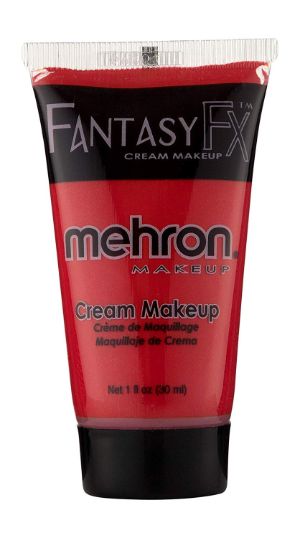 This cream makeup provides similar coverage and long-lasting wear, but with a thinner consistency.
Key Features:
Water-based
Vegan and cruelty-free
Made in the US
Cost: $7
Mehron Makeup StarBlend Cake – Red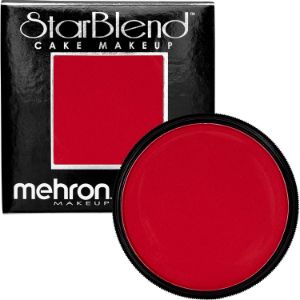 If cream eyeshadows aren't your thing, but you still want incredibly long-lasting eyeshadow, this pressed powder cake makeup is the way to go.
Key Features:
Can be used wet or dry
Resistant to sweat, fading, and streaking
Highly pigmented and opaque
Matte Red Eyeshadow
IS'MINE Single Eyeshadow Powder – Rose Red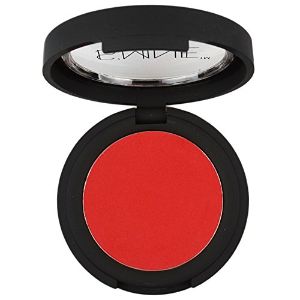 This bright red eyeshadow is long-wearing and even waterproof, so it'll stand up to whatever life throws at you.
Key Features:
Natural ingredients
Bright red with a matte finish
Highly pigmented
Cost: $5
NARS Matte Eyeshadow – Grenadines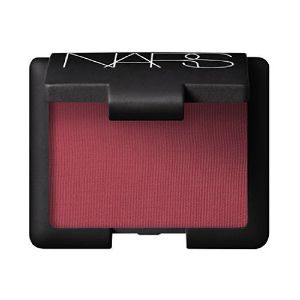 If bright reds aren't your thing, try this matte garnet red for a look that's playful, yet also elegant and refined.
Key Features:
Garnet red with a matte finish
Longwearing and crease-resistant
Goes on sheer, but can be layered for more opaque coverage
Cost: $8
SHANY Bold Effect Eye Shadow – Warning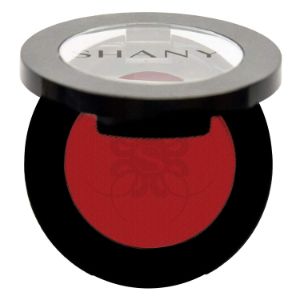 You may not have heard of Shany Cosmetics, but makeup artists certainly have; Shany is a favorite among professional makeup artists for their quality yet affordable products.
Key Features:
True to color and opaque
Blendable and can be applied wet or dry
Hypoallergenic, paraben-free, and not tested on animals
Cost: $8
Stargazer Eye Shadow – Deep Red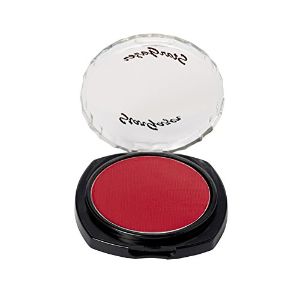 This eyeshadow is the same as our top matte eyeshadow pick, but in Deep Red, a darker red with cool undertones.
Key Features:
Goes on sheer, but the color is buildable
Long-wearing and crease-resistant
Not tested on animals, but not vegan
Red Eyeshadow Cream & Liquids
stila Shimmer & Glow Liquid Eye Shadow – Vivid Garnet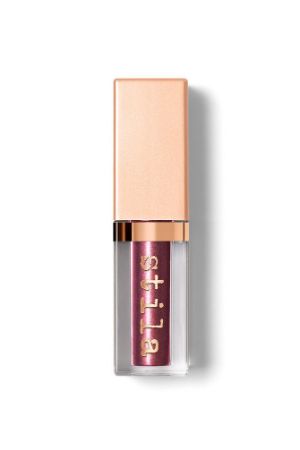 This liquid eyeshadow contains small particle pearls and a high-water concentration for a shimmery finish with tons of color.
Key Features:
Garnet red with a high-shimmer finish
Liquid formula is very blendable
Dries quickly and smoothly
Cost: $24
Touch in Sol Metallist Liquid Foil & Glitter Shadow Duo – Adelio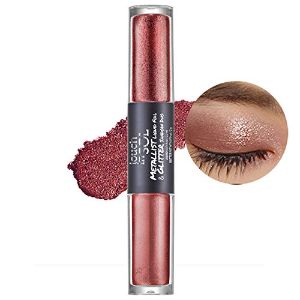 This eyeshadow duo contains one eyeshadow with a metallic foil finish and another with a glitter finish.
Key Features:
Two eyeshadows that can be worn together or separately
Sheer garnet red
Vegan and free of gluten, sulfates, parabens, and phthalates
Cost: $18
wet n wild Fantasy Makers Red Paint Pot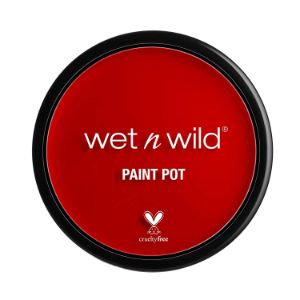 This is a rich cream eyeshadow with a vibrant, opaque color and a matte finish.
Key Features:
Easy to blend
Highly pigmented
Paraben-free and cruelty-free
Red Eyeshadow Palette
BYS Berries 2 Eyeshadow Palette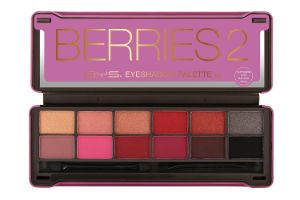 In addition to four different shades of red, this eyeshadow palette includes various neutrals and pinks.
Key Features:
Assorted matte and metallic finishes
Long-wearing
Cruelty-free
Cost: $15
DE'LANCI Flamboyance Red Eyeshadow Palette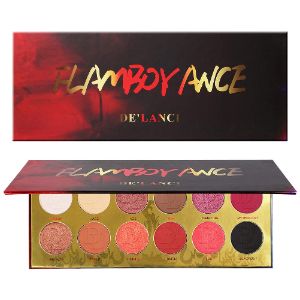 Though the shades on this eyeshadow palette tend more towards lights and neutrals, with six shimmery colors and six matte colors, it's anything but boring.
Key Features:
Blendable, highly pigmented eyeshadows
Two reds, plus black and assorted pinks and neutrals
Long-wearing, safe for sensitive skin, and waterproof
Cost: $13
DE'LANCI Nude Eyeshadow Palette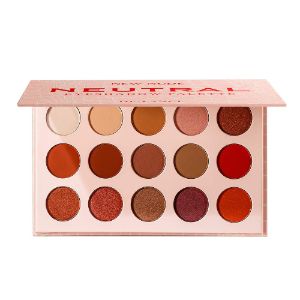 This eyeshadow palette contains a bright, firetruck red, but also 14 other colors in the same family, including oranges, purples, pinks, nudes, and browns.
Key Features:
15 different colors in shimmer, matte, and metallic finishes
Deeply pigmented and long-wearing
An excellent everyday palette
Cost: $14
Nyx Professional Makeup Ultimate Shadow Palette – Phoenix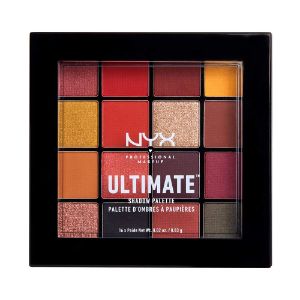 With 16 colors in total, this palette includes six reds, four pinks, two yellows, black, gold, dark purple, and even a deep olive green for a huge variety of looks in a single palette.
Key Features:
18 total colors in assorted matte, satin, shimmer, and metallic finishes
Allows for virtually unlimited eyeshadow looks
Cruelty-free
Shimmer & Glitter Red Eyeshadow
BBIA Pigments Glitter Eyeshadow – Poison Red Diamond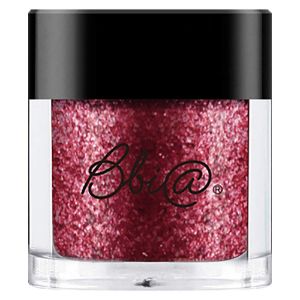 Hop on the Korean beauty trend with this gorgeous loose pigment glitter eyeshadow in various shades of red and pink.
Key Features:
Eye-safe glitter
Buildable coverage
Several shades in the red and pink color family
Cost: $12
LA Splash Cosmetics Crystallized Glitter – Bloody Mary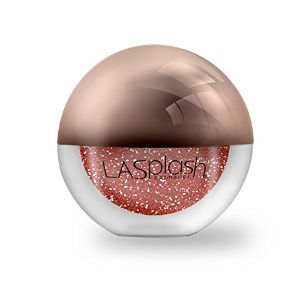 Use this fine, eye-safe loose glitter to add a touch of red sparkle to your makeup look.
Key Features:
Cosmetic-grade loose glitter
Can be used on eyes, lips, face, or body
Use alone or with other colors
Cost: $13
L'Oreal Paris Infallible 24HR Shadow – Glistening Garnet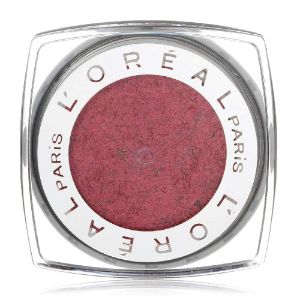 This shimmery red eyeshadow is fadeproof, smudge-proof, and waterproof to last you a full 24 hours.
Key Features:
Long-wearing
Blends well for a smokey eye or to pair with other colors
Fadeproof, smudge-proof, and waterproof
Cost: $6
Mallofusa Single Shade Baked Eye Shadow – Red Berry
This baked eyeshadow feels lightweight but provides buildable color with a shimmery, metallic finish.
Key Features:
Lasts up to eight hours
Buildable color
Lightweight
Cost: $7
Nyx Professional Makeup Face & Body Glitter – Red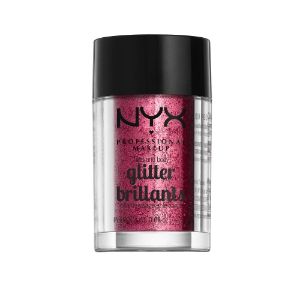 This cosmetic-grade face and body glitter comes in both a fine red glitter and chunky red heart-shaped glitter, as well as various other colors and shapes.
Key Features:
Loose glitter in various colors and shapes
Use on your face or body
Cruelty-free
Cost: $6