Getting your brows on point and your contour just so isn't easy without a good mirror to guide you. A proper makeup mirror can help you get your look perfect before you leave the house, whether you like to wear a full complement of makeup daily or lipgloss and eyeliner is more your style. Many makeup mirrors offer magnification, which can help get those fine details just right, or feature LED lights so you can see yourself more clearly, even in poor lighting.
We reviewed dozens of makeup mirrors to identify the best of the best. We examined a range of features, such as size, shape, magnification, lighting, mounting capabilities, and average customer reviews. 
After searching long and hard, we chose the Hamilton Hills Trifold Vanity Mirror as our top pick. This large mirror can be freestanding or wall-mounted. The trifold design means you can angle the sides to get a better view of your makeup from different perspectives, which is particularly useful for contouring, or trying to get your winged eyeliner perfectly even.
The 5 Top-Rated Makeup Mirrors
*Ratings are from Amazon at the time of publication and can change
Our Top Pick: Hamilton Hills Trifold Vanity Mirror
If you want a large makeup mirror that could be a statement piece on your dressing table or in your bathroom, the Hamilton Hills Trifold Vanity Mirror is an excellent choice. Measuring 30 inches by 21 inches, including the hinged side panels, this mirror is more than large enough to see yourself clearly while doing your makeup.
What makes it stand out from other mirrors on our list is the trifold design. This mirror is comprised of one large center panel and two smaller side panels. The side panels can be can set flat, angled to see the sides of your face better, or completely folded in on themselves to "close" the mirror. Trifold mirrors give you a much better view of the whole of your face, making them ideal for makeup. They also have a cool vintage aesthetic.
You can choose to use this as a freestanding mirror, or it can be wall-mounted using the included hardware. If you choose to wall-mount it, only the center panel is attached to the wall, so you can move the side panels to fit your needs. The mirrors are set on a wooden backing, that won't warp over time, unlike many cheaper options.
At roughly $120, this isn't an inexpensive makeup mirror, but it's large, sturdy, looks great, and will stand the test of time, so it's definitely worth the investment.
Hamilton Hills Trifold Vanity Mirror Key Features: 
Beveled edges
Mounting hardware included or can be freestanding
Solid wood backing helps prevent distortion
Our Runner Up Pick: Miusco Tabletop Vanity Makeup Mirror
While it's a more compact and affordable option than our top pick, the Miusco Tabletop Vanity Makeup Mirror is still one of the best options out there. Measuring roughly 10 inches by 8 inches, it's large enough to see your whole face for easy makeup application.
It might look like a fairly basic mirror, but it can be tilted up to 65 degrees upwards, and rotates clockwise a full 360 degrees, making it exceptionally versatile and easy to use, no matter where you're doing your makeup. Since it's freestanding and not too large, you can move it from one place to another without much fuss.
The stand is weighted to keep it stable and the mirror face is distortion free and optical quality, giving you a completely clear reflection of your face. We love the contemporary look of the chrome and stainless steel stand, and the beveled edges of the mirror give it a quality finish.
All this for around $35, the Miusco offers excellent value for money, as well as being a makeup mirror you can rely on.
Miusco Tabletop Vanity Makeup Mirror Key Features: 
Comes with adjustment tool to prevent stand coming loose
360-degree rotation
Sturdy and durable
Our Budget Pick: Sagler Vanity Mirror
Looking for a decent makeup mirror on a budget? The Sagler Vanity Mirror won't disappoint. Setting you back just $18, you won't have to dip into your savings and it will get the job done, as long as you're not in the market for anything fancy.
This is a double-sided mirror, which provides one side with standard 1x magnification (i.e. no magnification at all) and the other with 10x magnification, which is ideal for any fiddly tasks that require a closer look. The 360-degree swivel is smooth, but the mirror isn't so loose on its axis that it won't stay in place when you need it to.
Including the stand, this mirror measures 14 inches high, but the face of the mirror only has a diameter of six inches, which may be on the small side for some users, but you can't really argue for the price. Plus, the compact size makes it relatively portable, in case you want to take it from your bedroom to the bathroom, for instance.
It might be basic, but the Saglar Vanity Mirror has amassed over 800 reviews on Amazon, with an overall rating of 4.8 at the time of writing, which speaks to its quality.
Sagler Vanity Mirror Key Features:
1x and 10x maginfication
Six-inch diameter
Solid construction
Best Magnifying Makeup Mirror: Jerdon Wall Mount Makeup Mirror with 5x Magnification
If you use your makeup mirror for tasks that require close-up detail, such as tweezing your eyebrows, or you like to make sure your makeup is perfect in place, even under close scrutiny, a degree of magnification will really help you out. The Jerdon Wall Mount Makeup Mirror with 5x Magnification is a classic and extremely well-made double-sided magnifying makeup mirror.
One side gives you regular 1x magnification and the other gives you 5x magnification, which is strong enough that you can make sure everything's in place, without being magnified so large that you lose perspective. Since this mirror is wall mounted, it's not portable, but it is highly adjustable, so you can get it to the correct angle to work with. It sits on a rotating extension arm and also rotates where the mirror meets the arm, so it's extremely easy to position it however you want it.
Head to Amazon, and you'll see this mirror has more than 1,200 customer reviews, most of which are positive. Buyers love its solid construction, clear reflection, and ease of installation. At just $25, it's extremely reasonably priced, too.
Jerdon Wall Mount Makeup Mirror with 5x Magnification Key Features: 
Extends around 13 inches from the wall
Mounting hardware included
Double-sided with 5x magnification
Best Compact Makeup Mirror: StudioZONE ClassZ Compact Mirror
If you've ever had to do your makeup on the bus to work or just wanted to touch up your lipstick somewhere you don't have access to a full-size mirror, you'll know how useful a compact makeup mirror can be. The StudioZONE ClassZ Compact Mirror is no exception.
This sleek little compact contains two mirror faces, one with 1x magnification and the other with 10x magnification for close-up use. In measures just four inches in diameter and three-eighths of an inch thick, which makes it small enough to fit in your purse or slip into your pocket to use whenever and wherever you need it.
The outside of the mirror is made from sturdy black plastic that can take a few knocks and scrapes as you take it around with you. We like the fact that it's a subtle design that's not going to draw a lot of attention to you, if you're just trying to check your makeup while you're out and about.
With a very reasonable $10 price tag to sweeten the deal, this is our favorite compact makeup mirror on the market right now.
StudioZONE ClassZ Compact Mirror Key Features: 
One 1x magnification mirror and one 10x magnification mirror
Small and streamlined
Durable construction
Who Should Buy a Makeup Mirror?
Anyone who regularly does their own makeup should buy a makeup mirror. Sure, you might have a bathroom mirror, but bathrooms don't often have optimal lighting you doing your makeup, and you often have to lean over the sink to get up close to the mirror, which can be awkward and inconvenient.
Most makeup mirrors are portable and can be set up on a vanity, so you can sit in comfort and do your makeup at a leisurely pace. Makeup mirrors also offer additional features that make it easier to do your makeup easily, such as magnification or LED lights.
Important Features to Consider
A makeup mirror should have a few important features. Here's what to consider when selecting a makeup mirror:
Size. Makeup mirrors come in all kinds of sizes, from tiny compact mirrors to large wall-mounted or freestanding models. The size you need will depend on your specific requirements.
Magnification. Some people like to have a magnified makeup mirror, in order to make sure their makeup is completely precise, or to tweeze their eyebrows or carry out other tasks that require a closer view. You can find makeup mirrors in a range of magnifications, but 5x and 10x are common.
Lighting. You can find makeup mirrors with LED lighting around the edges, which helps to compensate for poor lighting wherever you're applying your makeup.
Weight. Although you don't want your mirror to weigh so much you need to enlist a helper to lift it with you, there's something to be said for weighty mirrors. If your mirror is too light, it won't be as stable and could tip over easily.
Image quality. Not all makeup mirrors are created equal when it comes to the quality of the reflection. Cheaper mirrors are made with poorer quality materials and less effective processes and can give you a distorted image or fail to reflect colors as they appear in real life.
Adjustability. You'll often find you need to look at yourself from different angles to get your makeup just right, so adjustability is a useful function in a makeup mirror. Look for models that can tilt, swivel, and rotate.
Frequently Asked Questions
What is a compact makeup mirror?
A compact makeup mirror is a small makeup mirror that's designed to carry around with your for on-the-go use. Most compacts feature a clamshell design, with one mirror on each half. Often one of these mirrors is magnified.
Is LED light good for makeup application?
In an ideal world, natural daylight is the best for makeup application, as you'll see your makeup as it will look when you're outdoors. However, it's not always possible to have natural light when applying your makeup, and LED light can be a decent alternative. Be sure to stick to warm white light, which emulates the color spectrum of daylight, rather than cool white light, which can wash you out and cause you to over apply your makeup.
Is magnification necessary for makeup application?
Magnification isn't necessary for makeup application, but it can be handy. Magnified mirrors are especially useful for glasses-wearers, who can't wear their glasses while applying their makeup, but aren't able to see a standard mirror very clearly. However, they can also help you get a better view to do detailed makeup more precisely.
How high do you hang a makeup mirror?
If you choose to wall-mount your makeup mirror, you'll need to know what height to hang it at. To get the best view to do your makeup, the center of the mirror should be an inch or two below eye level. The exact height for the ground will depend on how tall you are.
Other Makeup Mirrors We Reviewed
We looked at 20 other makeup mirrors. Even though they didn't make our 5 best makeup mirrors list, they're the best of the rest and each is still a great option. The information you'll need to compare each one is included with the listing.
Magnifying Makeup Mirrors
GuRun 8 Inch Two Sided Swivel Makeup Mirror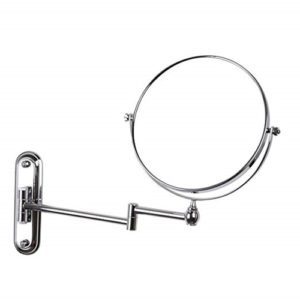 This wall-mounted two-sided makeup mirror offers standard 1x magnification on one side and 5x magnification on the other.
Key Features: 
12 inch extendable arm
Highly adjustable to various angles
Mounting hardware included
Cost: $30
Hamilton Hills 5x Magnified Premium Modern Rectangle Vanity Makeup Mirror
If you're happy to have a magnified mirror, without the option to use a non-magnified side, this sleek, adjustable model is a fine choice.
Key Features: 
5x magnification
Mirror face measures 5.25 inches by 8.5 inches
Easy to adjust
Cost: $45
Mirrorvana Cute & Curvy Double-Sided Magnifying Makeup Mirror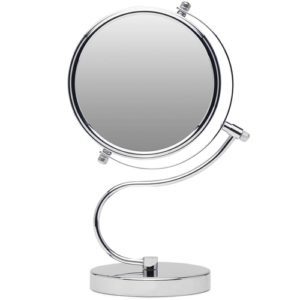 With its compact 6-inch face, this isn't the largest mirror out there, but its curved base makes it stand out from other similar options.
Key Features: 
1x magnification on one side, 10x magnification on the other
6-inch diameter
No-scratch faces
Cost: $20
Mirrorvana VISION-360 Swivel Vanity Makeup Mirror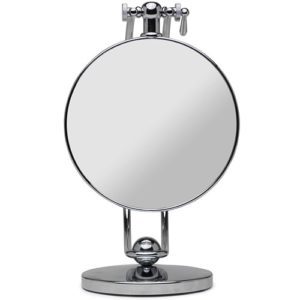 This mirror rotates 360 degrees horizontally and swings up and down vertically, making it unlike any other makeup mirror on the market.
Key Features: 
7x magnification and 1x magnification options
Locks in place once you've found the perfect angle
7-inch diameter
Cost: $20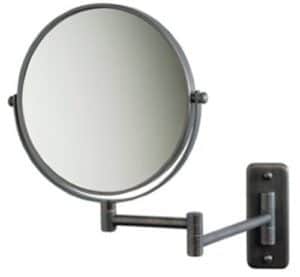 Looking for a wall-mounted makeup mirror? This one offers 7x magnification on one side and 1x magnification on the other and comes with an attractive oil rubbed bronze finish.
Key Features: 
8-inch diameter
Arm extends up to 13 inches
Can fold flat to the wall when not in use
Cost: $35
Essential Skin Solutions 15X Magnifying Mirror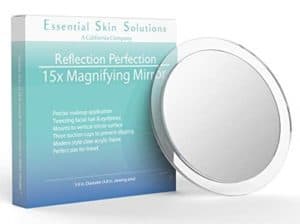 With powerful 15x magnification, this mirror is ideal for blemish removal, tweezing, and perfecting eye makeup, but isn't great for general use.
Key Features: 
Attaches to the wall with suction cups
5-inch mirror face
Acrylic frame
Compact Makeup Mirrors
Bestmemo Compact Travel Makeup Mirror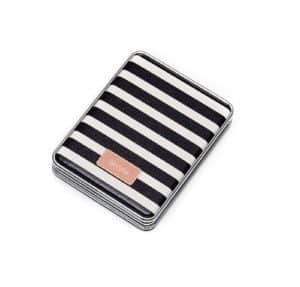 This basic compact makeup mirror has a cute, contemporary striped design and offers two mirror faces, one with magnification.
Key Features: 
1x and 2x magnification
Measures roughly 3 inches by 2.5 inches
Solid construstion
Cost: $10
BMC 5 pc Mandala Metal Folding Compact Makeup Mirrors
You might not need five compacts, but you can't go wrong for the price. You don't have to worry if you lose one or you could give the spares as gifts.
Key Features: 
Attractive mandala design
2.7-inch diameter
1x and 2x magnification
Cost: $15
Docolor Portable Folding Makeup Mirror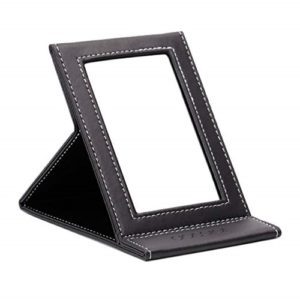 A bit different from your average compact mirror, this model can be folded into standing position, to easily do your makeup without needing one hand to hold the mirror.
Key Features: 
Faux leather case
Lightweight, slimline design
Multiple angle options
Cost: $5
Gift Square Double Compact Cosmetic Mirror
This might be a basic compact makeup mirror, but it's highly affordable and has a cute butterfly design that appeals to some buyers.
Key Features: 
Around 3-inch diameter
Two mirror faces, one magnified
Butterfly design
Cost: $2
Jinvun Silver Antique-Like Compact Mirror
While it might be a little too ornate for some, this antique-style compact makeup mirror is certainly an eye-catching choice.
Key Features:
Vintage, antique-style design
Two-sided travel mirror
Magnifying mirror on one side
LED Makeup Mirrors
Auxmir 10X Magnifying LED Lighted Makeup Mirror with Suction Base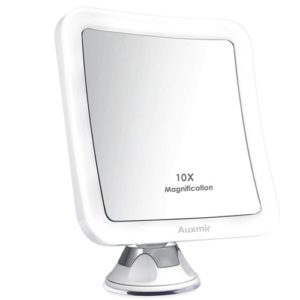 Not only does this mirror offer natural daylight LED lights, it also features 10x magnification for precise makeup every time.
Key Features: 
Suction base
360 degree swivel
LED lights replicate natural daylight
Cost: $25
Geek-House Lighted Vanity Mirror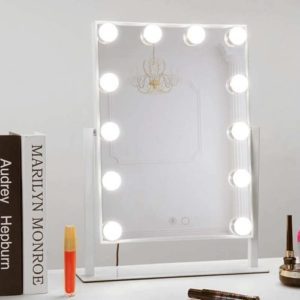 Love the glamor of old Hollywood? This makeup mirror features LED bulbs around the edges to bring out your inner movie star.
Key Features: 
Dimmable lighting
Comes with small 10x magnification spot mirror
Adjustable tilt
Cost: $100
Jerdon LED Lighted Wall Mount Makeup Mirror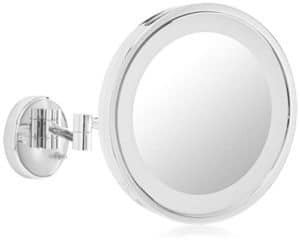 This quality wall-mounted makeup mirror features gentle LED lighting all around the edge, plus 5x magnification all over.
Key Features:
9.5-inch diameter
Chrome finish
16-inch extension arm
Cost: $65
Mirror on a Rope 10X Magnifying Lighted Makeup Mirror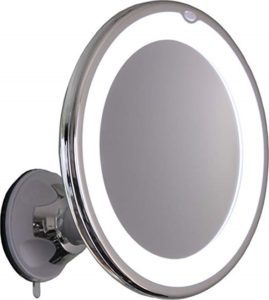 This suction mirror is ideal for attaching to existing wall-mounted mirrors to give you a lighted, magnified area for applying makeup.
Key Features: 
Powered by 3 AAA batteries
Mirror face has 5-inch diameter
Locking suction cup
Cost: $20
Miserwe Vanity Mirror with Lights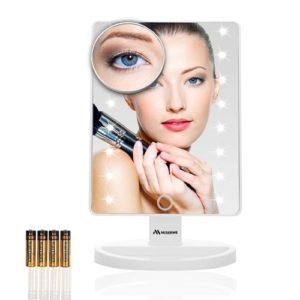 With 16 LED lights around the edge, you can trust that you'll always have the perfect lighting to get your makeup on point.
Key Features: 
180 degree rotation
4 AA batteries included
Easy one-touch operation
Cost: $20
SunplusTrade Led Magnifying Makeup Mirror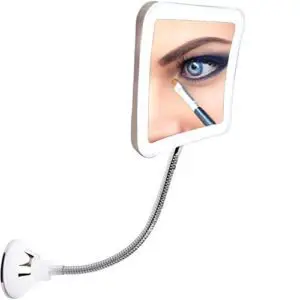 Measuring 7 inches on the diagonal and with 7x magnification, this is the ideal compact mirror to get those details perfect.
Key Features: 
LED lighted edge
Fixes in place via suction cup
Flexible gooseneck design
Other Makeup Mirrors
Ivenf Extra Large Size Vintage Oval Make-Up Mirror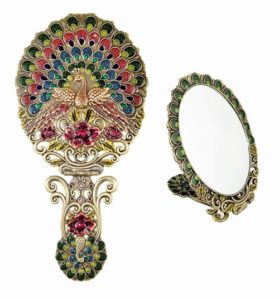 With an ornate peacock design and the ability to be used as a hand or a table mirror, this is quite different from other options available.
Key Features: 
Vintage design
Can be fixed in any acute angle
Folds for storage or travel
Cost: $15
Mirrorvana Non-Magnifying Vanity Makeup Mirror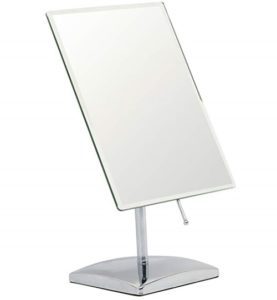 This basic, yet high quality, mirror comes on an adjustable stand and is ideal for anyone who'd rather not have magnification while doing their makeup.
Key Features: 
Measures roughly 10 inches by 7 inches
Beveled edges
Adjustable freestanding design
Cost: $25
NYX Professional Makeup Handheld Mirror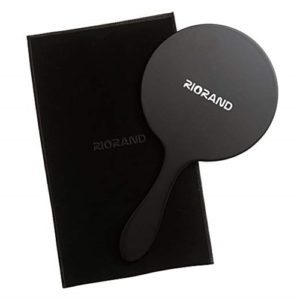 A sleek, simple handheld mirror that's great for touch-ups or for getting a closer look at your makeup once you're done applying it.
Key Features: 
Mirror face approximately 5 inches in diameter
Comes with protective velvet sleeve
Solid and durable
Cost: $15