Humidifiers are essential for a healthy home. Whether you are congested or have a hard time being comfortable in the dry winter months, a humidifier can restore the moisture within your home. When it comes to humidifiers, there is a lot to choose from. You will want to research what type of humidifier is right for you, how to choose the right size, and how much maintenance the unit requires.
We reviewed dozens of humidifiers to identify the best of the best. We considered several features including tank capacity, lights, safety, warranties, and customer feedback on performance, durability, and other factors.
Our top pick, the PurSteam Cool Mist Humidifier, is packed with features, including 11 variable mist control settings, a nightlight, and whisper-quiet operation, making it ideal for bedrooms and kids' rooms.
The 5 Top-Rated Humidifiers
*Ratings are from Amazon at the time of writing and can change
Our Top Pick: PurSteam Cool Mist Humidifier
Whisper-quiet operation makes the 2.2-liter PurSteam Cool Mist Humidifier ideal for use in bedrooms or anywhere in the home. It safely and quietly moisturizes the air so you can get the good night's rest you deserve. With 20 hours of continuous operation, you don't need to worry about waking up in the middle of the night to refill this humidifier, and with 11 variable mist control settings, you can control your environment with precision to your specific needs and comfort level.
A built-in nightlight provides ambiance, while an easy-to-adjust knob allows for precise control over the mist direction and speed. A low-water indicator lets you know when the humidifier needs more water, and it shuts off automatically when the water level gets too low or the tank is removed. With a moisture output of 350 milliliters per hour, the PurSteam Cool Mist Humidifier can make any room more comfortable in minutes.
PurSteam Cool Mist Humidifier Key Features: 
350 mL/hour moisture output
20 hours of continuous operation
11 variable mist control settings
Easy-to-adjust knob for precise mist control
Our Runner Up Pick: UCAREAIR Cool Mist Humidifier
The UCAREAIR Cool Mist Humidifier is great for smaller rooms such as a nursery or office. Use the two different mist levels – high and low – for a customized atmosphere. You can even adjust the mist direction to keep the mist flowing to the right area. And with simple, one-touch button operation, this humidifier is easy to use.
Ultrasonic technology lowers the noise level so you'll always get a good night sleep. The humidifier includes a 2L water tank that offers up to 10 hours of mist on the low setting and covers up to 200 square feet. The unit features an auto shut-off feature for safety and a red LED light indicating that the water level is low. This humidifier doesn't require a filter, so there are no costly filter replacements to buy, and it's backed by a one-year warranty.
UCAREAIR Cool Mist Humidifier Key Features:
Whisper-quiet
2-liter tank with 10 hours of mist
Auto shut off
High/low mist options
Filterless
1-year warranty
Best Budget Pick: COSSCCI Aromatherapy Essential Oil Diffuser Humidifier
If you are searching for an affordable humidifier that adds to your room decor, the COSSCCI Aromatherapy Essential Oil Diffuser Humidifier is a great choice. It not only humidifies but also diffuses your essential oils for the ultimate spa experience.
Users can easily change the color of light the humidifier emits with included remote control, making it a great choice to create ambiance or to use as a night light for a child's room. Use the timer settings to set the humidifier to run for 60, 120, or 180 minutes. A high/low button allows you to set the strength of the mist. The COSSCCI Aromatherapy Essential Oil Diffuser also features quiet operation and auto shut-off.
COSSCCI Aromatherapy Essential Oil Diffuser Humidifier Key Features:
Remote control that changes light color and time mode
10 hour run time with low mist (6 hours on high)
Timer and mist strength controls
Quiet operation
Auto shut-off
Best Ultrasonic Humidifier: Pallas 2019 Humidifier
If you need to humidify a large area of your home evenly, you will appreciate the features of the Pallas 2019 Humidifier. The unit features a 5L water tank that gives you 20 hours of continuous mist. A 360° rotating nozzle provides all over coverage for soothing relief no matter where you are in the room.
An activated carbon cotton filter cartridge filters out bacteria and negative ions from the water for a healthy mist every time. And, it runs without excess noise so you can rest with ease.
Pallas 2019 Humidifier Key Features:
Over 20 hours of mist
360-degree rotating nozzle for even room coverage
Activated carbon cotton cartridge that filters out impurities from the water
Ultrasonic; very little noise
Best Customizable Humidifier: TTLIFE Portable Humidifier
Save energy with the TTLIFE Portable Humidifier. You can choose your desired humidity level, and the unit will automatically turn on and off to maintain your desired humidity. An LED display shows the accurate, real-time humidity, allowing you to easily determine what humidity level is ideal for your family's comfort. Auto mode automatically diffuses mist to adjust humidity to the most suitable level (40% – 60% relative humidity is typically the most comfortable for most people). Or, you can use the timer to set the humidifier to run between one and 12 hours, after which it turns off automatically.
This humidifier is also a diffuser. The nozzle can rotate 360°, supplying you with warm or cool mist. With built-in Ionic Generator technology, this humidifier also purifies air, removing 99.99% of mold and bacterias. The large LED screen has touch capabilities and an included remote.
TTLIFE Portable Humidifier Key Features:
Uses little electricity
Customized humidity settings
Aromatherapy tray
Super quiet
Cool/warm mist
360-degree rotating nozzle
2-year warranty
Who Should Buy a Humidifier
There are several reasons to purchase a humidifier, but one of the most common is to ease congestion caused by colds and allergies. If you frequently suffer from dry sinuses or even dry skin, a humidifier can create a cool mist that can keep your sinuses and skin hydrated. For more options to moisturize dry skin, check out our review of the best massage oils.
Low humidity is generally experienced in the winter months, although some climates tend to be drier throughout the year. Maintaining an ideal humidity range in your environment – whether it's your bedroom, your family room, or your office – can improve your overall health.
The best way to measure the humidity in your home is by using a hygrometer. These can be purchased at your local hardware store – or you can consider buying a humidifier with a built-in humidistat so you always know the level of humidity inside your home.
When purchasing a humidifier, consider the room or area you want to use it in and choose a humidifier that can accommodate the square footage of the space. Buying a humidifier that is too large for the space can cause excess moisture, which can lead to mold and mildew. Bacteria and mold can also grow inside your humidifier if it's not cleaned properly. Choosing a humidifier that provides warm mist can minimize the bacteria that form inside the humidifier. Be sure to maintain your humidifier regularly to avoid potential issues.
Important Features to Consider
A humidifier should be able to provide you with sufficient mist to alleviate the symptoms of a cold or allergies. Here's what to consider when selecting a humidifier:
Capacity. Before purchasing a humidifier, consider the size of the room in which the unit will be placed. If the unit is too small, it will not properly humidify the room. Too large, and it could cause condensation or mold issues from too much moisture.
Filter requirements. Some humidifiers require you to change a filter after several uses. Other humidifiers are filter-less, so there are no costly filter replacements to buy. However, you should still maintain these units properly, including cleaning them regularly.
Mist options. Some humidifiers offer only cool mist, while others offer both cool and warm mist. A cool mist is more beneficial for soothing cold and sinus symptoms. A warm mist is healthier overall since the water heats to a temperature that kills bacteria and mold that can form inside the humidifier.
Warranty. All humidifiers carry different warranties, generally from 30 days to 2 years. Researching the warranty details can help protect your initial investment.
Frequently Asked Questions
What is a humidifier and how does it work?
A humidifier works by adding moisture to dry air by using an invisible mist. Different types of humidifiers include evaporative, ultrasonic, cool mist, and warm mist. The humidity of your home should always be in the 40-60% range.
Humidifying the air is also beneficial for your overall health. It is also crucial for keeping your home balanced by providing moisture for wood floors and cabinets and even preventing static electricity.
Is it good to sleep with a humidifier?
Certain climates tend to have dry air year-round, while most climates require humidifiers only in the winter. Humidifiers are useful for alleviating congestion from colds and can aid in suppressing symptoms for respiratory illnesses.
How often should you clean your humidifier?
It is recommended that you clean your humidifier every few days. Use a soft brush and a mild soap to wipe away any debris or buildup. Rinse the humidifier to remove any residue and wait for it to dry completely before refilling with fresh water. You can also use a damp cloth to clean the exterior of the humidifier as it will gather dust and dirt over time.
Which is better cool or warm mist humidifier?
Warm-mist and cool-mist humidifiers are equal when it comes to adding moisture to the air. If you are using a humidifier in a child's room, cool-mist humidifiers are typically recommended for safety.
Other Humidifiers We Reviewed
We looked at 20 other humidifiers. Even though they didn't make our 5 best humidifiers list, they're the best of the rest and each is still a great option for your home. The information you'll need to compare each one is included with the listing.
Humidifiers with Remote
LEVOIT Humidifiers for Large Room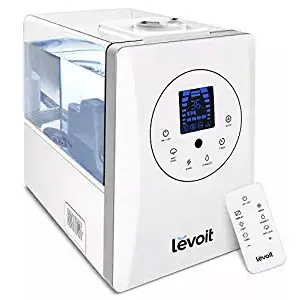 Need relief fast? This LEVOIT humidifier increasing the humidity levels 25% quicker than humidifiers only using a cool mist. With the warm mist setting, the water can be heated to a temperature that kills most bacteria in the water.
Key Features:
3 levels of warm or cool mist
Humidifies 25% faster than only using a cool mist
Displays humidity level in real time
Remote included
1.5-gallon tank
36 hours of continuous use
Cost: $70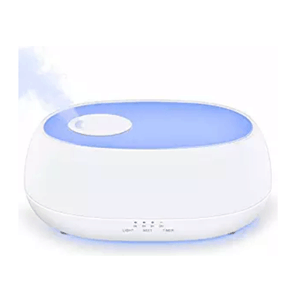 Easy to control with a touch of a button, the MADETEC cool mist humidifier will keep your small room humidified for 20 hours straight. Use cloud mode for the ultimate soothing mist.
Key Features:
1-liter tank
Rotating and removable nozzle
Auto shut-off
Low mist, high mist, cloud mode
Diffuser
Remote control
Portable Humidifiers
NovoLido Portable USB Humidifier with 7 LED Warm Lights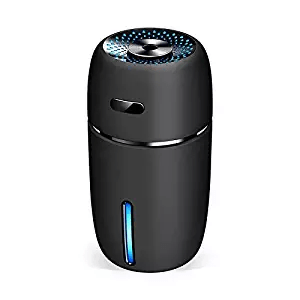 The NovoLido humidifier is great for small spaces. With its USB portability and mood-defining LED lights, you will not hesitate in adding this unit to your home decor.
Key Features:
2 mist modes
Auto shut-off
7 LED color lights
One button control
1-year warranty
Cost: $14
CACAGOO Car Diffuser Cool Mist Air Car Humidifier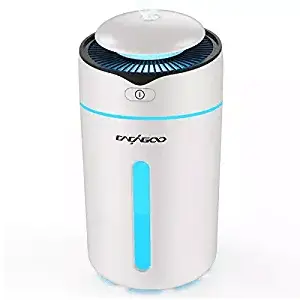 If you need a humidifier that does more than provide a soothing mist, give the CAVAGOO a whirl. Use it in your car or in a small room for just the right humidity and an impressive light show.
Key Features:
Quiet, ultrasonic operation
Water level sensor, auto powers off when water level is unsafe
20 hour run time
7 color variable LED charging light
Cost: $17
POHO Mini Cool Mist Humidifier Portable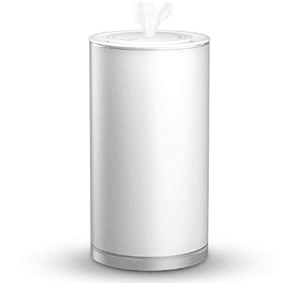 Perfect for small spaces, this humidifier will last 8 hours between refills. Made from recycled ABS+PP+Silicone, it is as durable as it is elegant.
Key Features:
Made from recycled materials
Auto shut-off
One button operation
1-year warranty
Ultrasonic Humidifiers
Safety 1st 360 Degree Cool Mist Ultrasonic Humidifier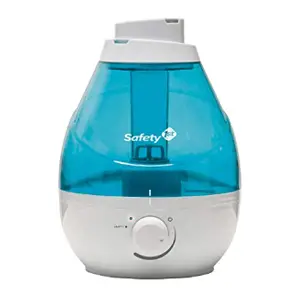 Take advantage of the low water indicator light when its time for a refill. Dual nozzles give you an even mist.
Key Features:
24 hours of cool mist (on low setting)
2 – 360-degree rotating nozzles
Auto shut-off
1-year warranty
Cost: $30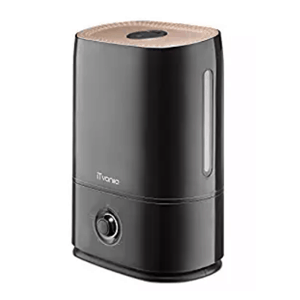 An efficient whole house humidifier, the iTvanila can last up to 40 hours on one fill. Easy to use and blends easily with your existing decor.
Key Features:
5-liter tank
Auto shut-off
Whisper quiet
1-year warranty
Cost: $40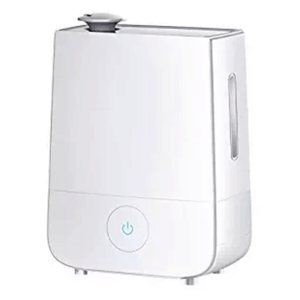 Super sleek and modern, your guests won't even realize its a humidifier. Covers 500 square feet with a run time of 13-40 hours depending on mist setting.
Key Features:
4-liter water tank (1.06 gallon)
3 misting levels
360-degree rotating nozzles
Whisper quiet
Auto shut off
Cost: $40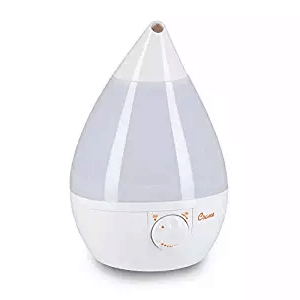 The Crane humidifier features an anti-microbial material that helps keep mold and bacteria at bay (by up to 99.96%). Great for small rooms and easy to store when not in use.
Key Features:
1-gallon tank
Whisper quiet
Anti-microbial material
Cost: $40
Ultrasonic Cool Mist Humidifier by GENIANI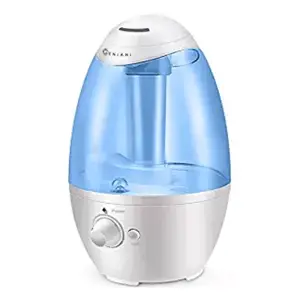 The GENIANI humidifier features a 2-year warranty. Super quiet with a run time of 12 hours on the high mist setting.
Key Features:
3-liter water tank
Night light
Auto shut off
360-degree mist nozzle
2-year warranty
Cost: $40
Homasy Humidifiers with Oil Diffuser Nozzle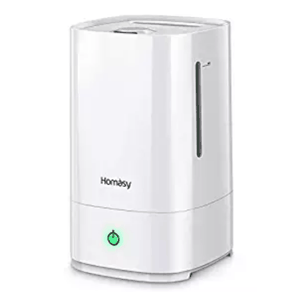 If you are tired of constantly cleaning your humidifier, try the Homasy humidifier. It features an internal base that is embedded with special materials that limit the amount of dust and stains. A stainless steel filter blocks impurities.
Key Features:
4.5-liter tank
30 hour run time on the lowest setting
3-level mist adjustment
Base and metal filter blocks bacteria
Cost: $50
FridaBaby 3-in-1 Humidifier, Diffuser, Nightlight for Nursery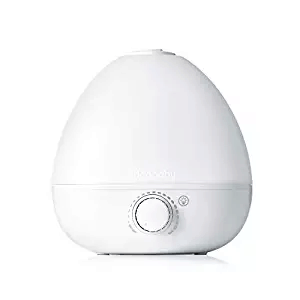 FridaBaby is a household name in the baby industry and they have added a 3-in-1 humidifier to their product line. Adjust the mist for your baby's needs, add essential oils and take advantage of the nightlight to soothe your little one to sleep.
Key Features:
Essential oil diffuser
Nightlight
Auto shut-off
Mist adjuster
Cost: $50
iTvanila Ultrasonic Cool Mist Humidifier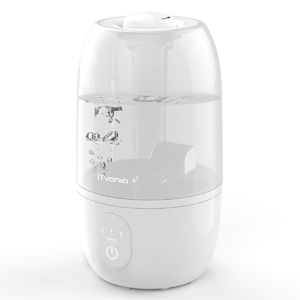 This humidifier boasts a 28-hour run time with auto shut-off for unit longevity. Use the convenient touch panel to change mist levels and turn on sleep mode.
Key Features:
2.7-liter water tank
28 hours run time
360-degree rotating nozzle
Auto shut off
2 mist levels
Touch panel
Sleep mode for ultra quiet operation
Cost: $30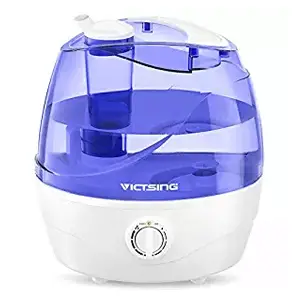 The VicTsing cool mist humidifier is great for medium size rooms with its 2-liter water tank. The LED light indicator lights up green when working properly and red when the humidifier is almost out of water.
Key Features:
Ultrasonic, super quiet operation
2-liter tank
Adjustable mist output
45 degree tilted nozzle
Low water indicator
Cost: $20
TaoTronics Cool Mist Humidifier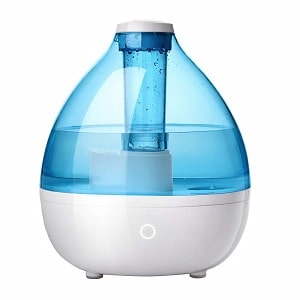 Compact in size, this 2.3-liter capacity ultrasonic humidifier offers 14 to 25 hours of continuous running time.
Key Features: 
2.3-liter capacity
45-degree tilted nozzle with 360-degree rotation
One-touch control for easy operation
Cost: $40
Everlasting Comfort Ultrasonic Cool Mist Humidifier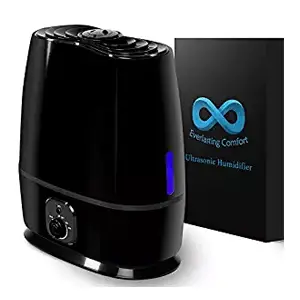 Now you can humidify your room evenly with the 360 rotating nozzle. You can even add your favorite essential oils to the tray to evenly circulate the relaxing aroma throughout your room.
Key Features:
1.6-gallon tank
Essential oil tray
360-degree rotating nozzle
Auto shut off
Cost: $60
Honeywell HCM350B Germ Free Cool Mist Humidifier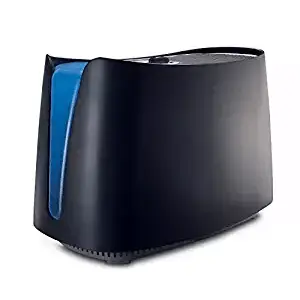 Enjoy the evaporative technology of a wicking filter that makes it virtually impossible to over-humidify and cause excess moisture. QuietCare technology will help you sleep like a baby while you are healing congestion from colds or allergies.
Key Features:
1-gallon tank
24 hours of run time
Evaporative technology, impossible to over humidify
30% quieter than competitive units
Cost: $60
Vicks Filter-Free 1.2 Gallon Cool Mist Humidifier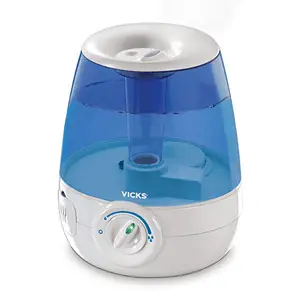 If you are suffering from a cold or allergies, this humidifier will keep you congestion free. Super quiet with a 1.2-gallon tank for up to 30 hours of soothing mist.
Key Features:
1.2-gallon tank
30 hours of soothing mist
Super quiet
Great for congestion and allergies
Whole House Humidifiers
AIRCARE MA0800 Digital Whole-House Console-Style Evaporative Humidifier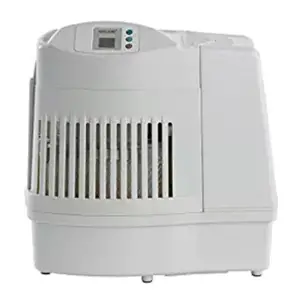 This unit is easy to move from room to room. Features a removable tank that is easy to refill.
Key Features:
Auto humidistat
Quiet nighttime setting
Auto shut-off
Easy-fill
Cost: $60
Aprilaire 700M Whole House Fan Powered Humidifier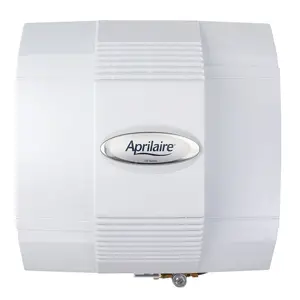 Humidify up to a 4,200 square foot home with the Aprilaire whole house humidifier. The built-in fan pulls heated air from the furnace to the humidifier.
Key Features:
Up to 4,200 square feet of coverage
Single sensor
Built-in fan
Cost: $240