Our hair and the way that we style it is something that many take pride in. Whether we enjoy curling it, straightening it, crimping it or something different, your hair is one of our most important features. Another useful styling tool is a hair diffuser. While they may look a little bit intimidating in the beginning, using a hair diffuser is actually pretty easy!
When used correctly, a hair diffuser can minimize frizz and even add definition to curly and wavy hair. Diffusers are a plastic piece that attaches to your already existing hair dryer. It helps to distribute the heat from your hairdryer more evenly.  There are a few different options when it comes to finding the best hair dryer for you. We reviewed dozens of hair diffusers to identify the best of the best. Whether you have straight or curly hair, there is a hair diffuser out there.
When researching hair diffusers, we found the Segbeauty Hair Diffuser to be the very best. From the way it evenly distributes heat across your hair to the over 100 air holes to blowdry hair sufficiently, this diffuser was the clear winner.
The 5 Top-Rated Hair Diffusers
*Ratings are from Amazon at the time of publication and can change
Our Top Pick: Segbeauty Hair Diffuser
The Segbeauty Hair Diffuser was the clear winner when it came to hair diffusers. With a large diffuser bowl, it has the ability to blow your curls all around without adding any frizz. Not only that, but it will grip hair much better than other hair diffusers with shallower bowls. This diffuser will help to not only dry your hair but define your natural curls and add waves.
It has a number of teeth to make certain of the even distribution of heat across all of your hair. With this diffuser, you can actually spin the nozzle of it in 0rder to change the air flow from your blow dryer. This actually helps to keep hair shiny without the threat of over-drying your hair. With high-heat efficiency and super strong silicone components, this hair diffuser will help to dry your hair more quickly.
This hair diffuser is tough and of salon-quality. It is one hair accessory that you will have in your beauty arsenal for a long time. It can withstand high-heat and it does not release any toxic chemicals or scents, making it environmentally friendly as well. This attachment fits blow dryers that are 1.65-1.77 inches in diameter.
Segbeauty Hair Diffuser Key Features:
Made with high, salon-quality components
Energy efficient
Large diffuser bowl with teeth
114 adjustable air holes
Our Runner Up Pick: Phoebe Hair Diffuser
The Phoebe Hair Diffuser is so lightweight that it will not add any extra weight to your blow dryer. That means no more tired arms! It will protect your hair from the unwanted frizz that so often comes with curly and wavy hair. Heat is distributed evenly by eighty-four air holes and multiple teeth. It will add a lot of volume to your hair, without drying it out too much.
This is one hair diffuser you definitely want to use for definition. It is quite a powerful diffuser, with adjustable airflow to make it all your own, suitable for your own hair needs. This diffuser adapts to over 90% of hair dryers on the market today, with most being 1.65-1.77 inches in diameter. It will not "disturb" your curls, but rather add natural body and volume to them.
You are also able to spin the nozzle of this diffuser around a full 360 degrees for even distribution of air. Many consumers have raved about the durability and the quality of this diffuser, and how wonderful it is to use on even the thickest of hair. It dries hair very quickly and safely, without having to sacrifice your style.
Phoebe Hair Diffuser Key Features:
Low noise, but strong impact
Grips made of silicone for a strong grip
Large bowl means better grip on hair
Salon-quality
Best Budget Pick: Yebeauty Hair Diffuser
Using nylon and high-quality rubber, the Yebeauty Hair Diffuser is a great hair diffuser at an inexpensive price. All components are completely and totally heat-resistant, so you do not have to worry about anything melting or any harsh chemicals being released into the air of your home. You will not have to expose your hair to harsh heat.
It distributes the heat from your hairdryer evenly while giving you the style and flair that you want for your hair. To use this diffuser, all you have to do is towel dry your hair and then add an anti-frizz serum of your choice, attach the diffuser to your hairdryer, and you will be well on your way to luxurious and beautiful curls or waves.
This diffuser works well with almost all hair dryers with a 1.7-inch to 2.6-inch nozzle. Providing a snug fit with an auto-lock and release button, it only takes the click of said button in order to attach or remove the diffuser to your hair dryer. This diffuser also boasts 3 silicone strips to protect your hair dryer's nozzle. Whip up your waves and keep your curls elegant with this economically-conscious and highly-effective diffuser attachment for your blow dryer.
Yebeauty Hair Diffuser Key Features:
Made with high-quality silicone and rubber
Large bowl
Dries hair fast
Super strong clamp mechanism
Best Diffuser For Curly Hair
One of the great things about The Curly Co.'s Diffuser is that not only will it give you voluminous and elegant curls, but it also is great for travel. It is a totally collapsible diffuser, so it will fit in any duffel bag, suitcase or purse. You can always have it with you on the go, no matter where that may be. It is perfect for camping, RV'ing and traveling in general.
It is constructed with a stretchy silicone that is made to fit almost every single hair dryer. It actually can just slide right onto the nozzle of your hairdryer. Consumers have found that this diffuser works especially well for their curly hair. It is made specifically to help define and emphasize your curls and drastically reduce the amount of frizziness that hair can have.
The diffuser also gives your curly locks a beautiful shine while you dry your hair. It distributes heat evenly, giving your hair the perfect look. This is another diffuser that works wonders on those with very thick hair and are looking to add style, definition, and waves to their hair. With over a thousand reviews, this diffuser is one of the best for curly hair.
The Curly Co.'s Diffuser Key Features:
Fits nearly all hairdryers
Perfect for travel
Provides definition and shine of curls
Salon-quality
Best Diffuser For Straight Hair
When you are not looking to gain volume or add waves, the Red by Kiss Hair Dryer Pik is the perfect solution to get the straight hair that you are looking for. Created with heavy-duty nylon material, it will last quite a long time and will be able to stand up to the heat of your at-home blowdryer.
The pik itself is uniquely designed in that it concentrates airflow to straighten hair quickly and easily. It is also helpful in detangling hair as well. This attachment will fit most any hairdryer, with some exceptions like hairdryers with specially shaped nozzles. The other wonderful thing about this attachment is that it is small enough to travel with and it is very lightweight.
This pik has a dual grip to fit all shapes and sizes of hairdryers. If you are looking for a sleek look, this attachment is great for at-home use to help straighten your hair. It is great for thick hair as well, helping to detangle and straighten your hair to perfection right in the comfort of your own home. Trips to expensive salons for pricy blowouts will definitely be a thing of the past with this hairdryer pik attachment.
Red by Kiss Hair Dryer Pik Key Features:
Fits on most hairdryers
Lightweight and easy for travel
Smooths hair in a short time
Style and detangle at the same time
Who Should Buy A Hair Diffuser
A hair diffuser is really a great multi-purpose tool when it comes to drying hair. If someone is looking to dry their hair while still maintaining it's natural style, then a hair diffuser would make a good purchase. If you have curly hair and are looking to maintain your current style, a diffuser can help you do just that.
There are various diffusers out on the market today. It really depends on the kind of hair that you have and the look that you are trying to achieve when it comes to finding the right hair diffuser for you. Hair diffusers can also give hair a natural shine and helps to not over dry hair.
There are plenty of options when it comes to choosing a diffuser for yourself. If you want to straighten, you'd want to look for a pick/comb attachment. If you are looking for bounce and curls, you will want to find a diffuser with a large bowl to distribute heat evenly.
For more top-rated hair care and styling tools, check out our reviews of the best curling irons, the best hot hair rollers, the best hair straightening brushes, and the best flat irons.
Important Features To Consider
A hair diffuser should be able to evenly distribute the heat from your blowdryer, help enhance your natural curls and waves or straighten your hair. Here is what to consider when selecting a hair diffuser.
Bowl size. Hair diffusers come in all kinds of shapes and sizes. Some have larger bowls than others. The bowl size is relevant to the amount of air that is distributed throughout the hair. Diffusers with large bowls are more for curly hair, as the air that is distributed is done so through a wide bowl, helping to give definition to curls. Using the high heat and low air setting on your blowdryer will assure a tight curl pattern and no frizziness.
Spikes/fingers. These refer to the tips that protrude from the diffuser bowl. Different diffusers have different amounts of spikes. Sometimes spikes are referred to as "fingers." The purpose of them is to hold your hair in its place while diffusing the air from the blowdryer throughout the hair.
Fit. It is integral to make certain before you purchase a diffuser to make sure that the diffuser itself is going to fit the hairdryer that you own. There are quite a few different universal diffusers out there that will fit almost any hairdryer out there. Measure the diameter of your hairdryer nozzle (in inches or centimeters, whichever is easiest for you), so then you will be able to purchase the correct diffuser for your blowdryer accordingly.
Strength. When looking for a diffuser, you may want to look for something that will withstand everyday use. You are going to want something that is going to be able to give you years of use. It is best to find a diffuser that is durable and can withstand the test of time.
Ease of use. Is the diffuser that you are thinking about purchasing easy to attach to your hairdryer? Find a hair diffuser that will be able to pop on and off with ease. That way you will not have to go through a hassle every day fighting to put a diffuser onto your hairdryer.
Frequently Asked Questions
What is a diffuser and how does it work?
A hair diffuser is an accessory that attaches to your existing hairdryer. It is meant to diffuse the hot and often harsh air from your blow dryer and "diffusing" the air throughout airholes that are built into the diffuser. It covers a wider area of hair and is often used to achieve tight, curly locks. There are different types of diffusers available for purchase. Some of them include diffusers for straight and wavy hair as well as curly hair.
Will a diffuser fit on any hairdryer?
Many hair diffusers are created to be universal, meaning that they will fit on almost any hairdryer. However, it would be a good idea to measure the diameter of the nozzle of your hairdryer to make sure the diffuser that you are planning to purchase will fit onto it. There are hairdryers on the market that do have differently shaped nozzles. Some taper into a flat shape, or an extra wide shape. In that case, you will have to search for a hair diffuser that will fit snugly onto the nozzle of your hairdryer.
Is a diffuser better for your hair?
By and far, diffusers are definitely a better way to dry your hair. With just the heat of a regular hairdryer, you are blowing air that is at a very high temperature onto your hair. Too much heat and your hair can become damaged. A diffuser is a great way to prevent such damage. Because a diffuser takes the air from your blowdryer and cools it, as well as spreading it around more evenly, there is no damage that is being done. So, most definitely, diffusers are a great styling tool for your hair. That, and it cuts down time spent drying your hair.
Is it better to air dry or diffuse curly hair?
This all depends on the type of curly hair that you have. If you have a fragile curl pattern, it may be better to air dry your hair. But if you have naturally wavy or curly hair and you want to amp up the volume, you will want to use a diffuser on your hair. Once you are finished washing your hair, you will want to towel dry it. Diffusing should be done on damp, but not soaking wet hair.
Other Hair Diffusers We Reviewed
We looked at 20 other hair diffusers. Even though they did not make our 5 best hair diffusers list, they are the best of the rest and each of them is still a great option to use on your hair. The information you will need to compare each one is included with the listing.
Universal Diffusers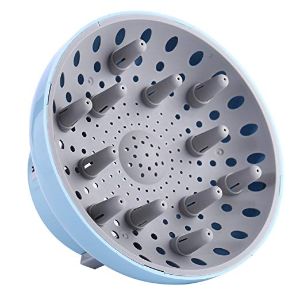 This universal diffuser adapts to over 90% of hair dryers on the market today. Features 3D massage prongs to grasp onto more hair as you dry.
Key Features:
Large 6-inch bowl
211 air holes to distribute heat evenly
Lockable buttons to keep the diffuser in place
Price: $19.00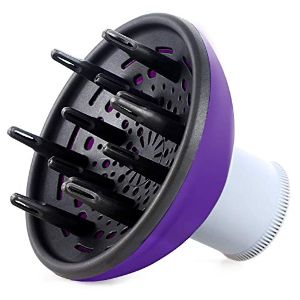 This diffuser works well on all kinds of hair types. It fits over 99% of home hairdryers.
Key Features:
Heat resistant
Adjustable air-flow spin nozzle
Large bowl
Cost: $17.00
Sdootbeauty Universal Diffuser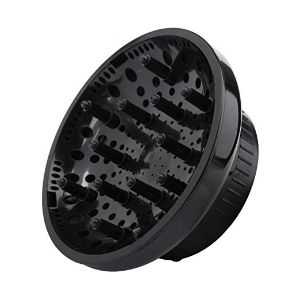 Created with high-temperature resistant nylon. It is a great choice for both curly and straight hair.
Key Features:
Adapts to 99% of hairdryer nozzles
Has 3 silicone non-slip pads to grip nozzle
Auto lock and release button
Cost: $17.00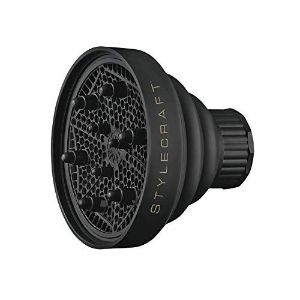 Made with durable silicone for a smart-fold design. Creates bounce and promotes volume of hair.
Key Features:
Tight-fitting grip for hairdryers
Infuser compartment allows the application of hair product to be blown directly on hair
Detachable filter
Cost: $13.00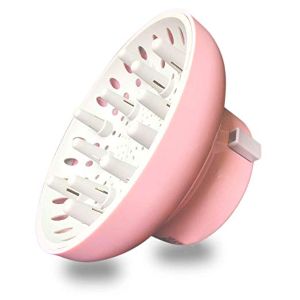 This diffuser is great for travel, as it fits most hotel's hairdryers. Even works with uneven nozzle shapes.
Key Features:
Protects hair from the concentrated heat
Large spikes for better grip
Works well on wavy/curly hair
Spike/Finger Diffusers
BaBylissPRO Nano Titanium Finger Diffuser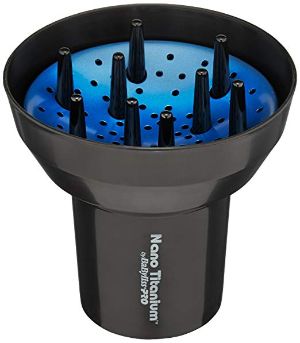 This diffuser boasts large fingers for bouncy and full-bodied curls. It is a professional quality styling tool.
Key Features:
Slides right on to most hairdryer nozzles
Far-infrared heat quick dries hair
Can be used on permed hair
Cost: $15.00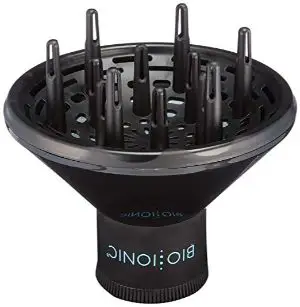 This diffuser creates beautiful curls with large spikes to hold hair in place while heat diffuses. It fits most standard hairdryers and all Bio Ionic dryers.
Key Features:
Twelve air holes makes for quicker drying time
Natural ionic technology keeps hair healthy
Lightweight
Cost: $24.00
ConairPro Prostyler Finger Diffuser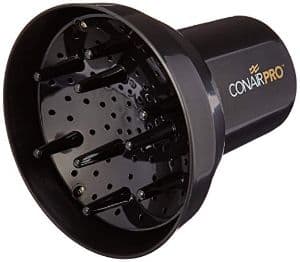 This diffuser is universal, as it will snap onto any hairdryer. Natural ions help maintain curls minus the frizz.
Key Features:
Lifts hair for quick drying
Uses nano titanium technology
Dries hair quickly
Cost: $11.00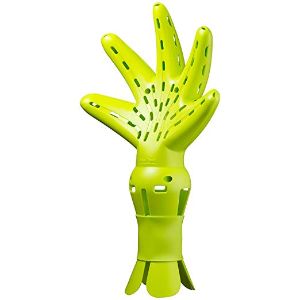 This finger diffuser has a ceramic inner core which preserves moisture and gives your hair a beautiful shine. With a 360-degree airflow, it completely surrounds your hair, thus speeding up drying time.
Key Features:
One-piece universal adapter allows for use on most hairdryers
Creates voluminous curls
Reduces frizziness
Cost: $39.00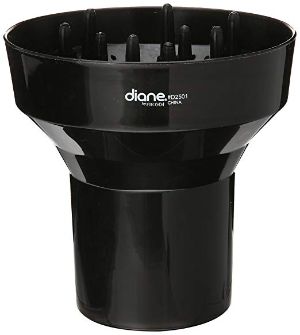 The fingers on this diffuser help to lift and separate hair for maximum air distribution. It won't disrupt your natural curls.
Key Features:
Fits most any hairdryer
Professional quality
Gentle and fast drying time
Mesh Diffusers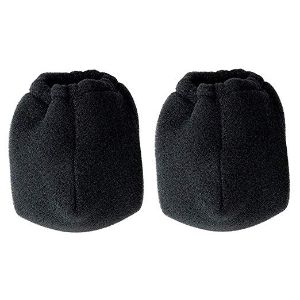 This diffuser mitt is made from lightweight foam to prevent heat damage. It fits on any hairdryer.
Key Features:
Ultra-lightweight
Great for permed hair
Travel-friendly
Cost: $9.00
Dovewill Professional Hair Dryer Sock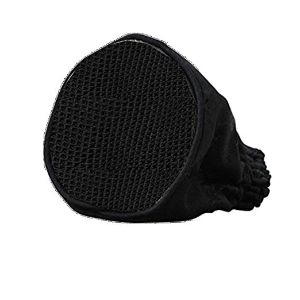 Unique shape helps diffuse air better. Will fit on any size blowdryer.
Key Features:
Made of high-quality canvas
Reduces static electricity in hair
Comes with string to keep attached to blowdryer
Cost: $9.00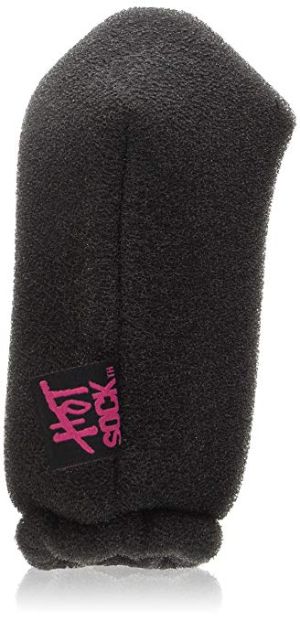 This mesh diffuser is great for use with quic-drying roller sets. It helps to keep hair looking healthy.
Key Features:
Super light, easy to travel with
Fits all hairdryers
Gives great overall diffusion
Cost: $14.00
Marianna Soft Air Dryer Mitten Diffuser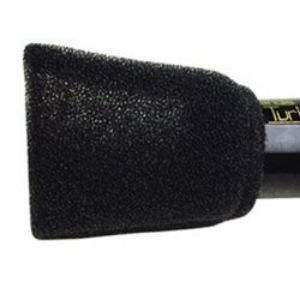 This mesh diffuser is great for travel, as it is small and stores easily. Minimizes frizz.
Key Features:
Portability
Great for straight hair
Stretches to fit any hairdryer
Cost: $10.00
M Hair Designs Curly Hair Diffuser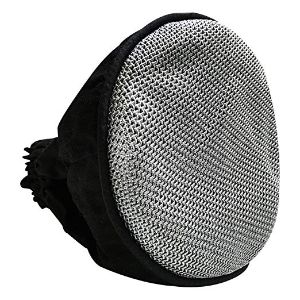 The mesh fabric in this diffuser contains titanium and silver particles which helps retain heat and diffuse it accordingly. It is great for curly hair.
Key Features:
Compact design
Helps speed up color and treatment processes
Gentle on hair
Collapsible Diffusers
Doubtless Bay Foldable Diffuser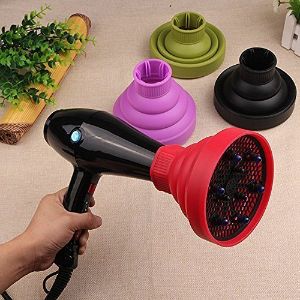 This foldable diffuser is resistant to high temperatures. It comes in four different color choices.
Key Features:
Easily washable
Easy to store
Created with high-grade silicone material
Cost: $11.00
KingKam Collapsible Silicone Diffuser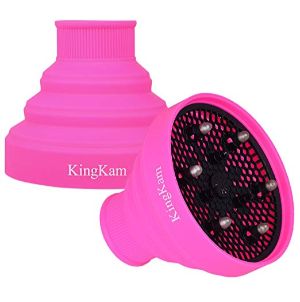 With its collapsible design, this diffuser can go anywhere with you. It distributes air evenly throughout your hair.
Key Features:
Up to 75% quicker drying time
Made of durable silicone
Professional quality
Cost: $12.00
M Hair Designs Collapsible Diffuser
With its universal design, it fits most any hairdryer. Perfect for on-the-go.
Key Features:
Dries hair evenly
Easy to spot clean
Essential oil infusion chamber
Cost: $15.00
Segbeauty Collapsible Diffuser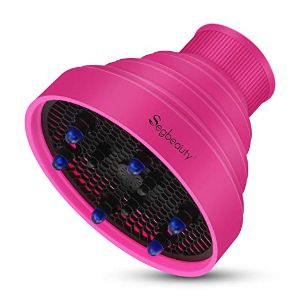 Created with cool-touch silicone, it can withstand heat up to 450 degrees. Encourages your hairs natural texture.
Key Features:
Detachable filter, easy to clean
Totally collapsible, and fits anywhere
Essential oils can be used
Cost: $17.00
SindycurlsMagic Silicone Diffuser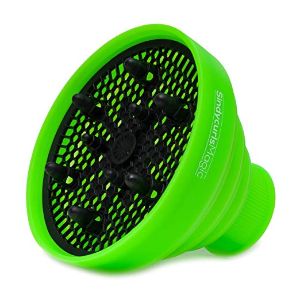 This diffuser will help add shine to your hair. Creates bouncy and fuller curls.
Key Features:
Can be used on all hair types
Creates even stream of air
Travel-friendly
Cost: $15.00