Are you on the hunt for your dream electric shaver? As an electric shaver user, you'll know that they can vary quite dramatically from product to product. If you choose the right one for you, you'll be able to look forward to years of pain-free and smooth shaves. But if you choose the wrong one, you may not only waste your money, but also end up with some battle scars.
So which electric shavers are genuinely worth considering? We reviewed dozens of electric shavers to identify the best of the best. When conducting our analysis, we considered factors such as ease of use, quality of design, cost, versatility, and Amazon customer reviews.
In the end, Panasonic Arc4 Electric Razor for Men came out on top. This wet/dry razor's ingenious design offers a 100% hassle-free shaving experience, while its reasonable price tag makes it a great choice for most budgets. If you're ready to learn more about this product, as well as the other 24 electric razors that made the cut, keep reading.
The 5 Top-Rated Best Electric Shavers
*Ratings are from Amazon at the time of publication and can change
Best Electric Shaver Overall: Panasonic Arc4 Electric Razor for Men
Panasonic Arc4 Electric Razor for Men ticks all the boxes you could want in an electric shaver, which is why it was such an easy decision to make it our #1 recommended choice. So why exactly is it worth buying? Let's start with one of the biggest reasons: the thousands of rave customer reviews its received. Nearly 4000 customers have given it an average rating of 4.5 out of 5, making it one of the most well-reviewed electric shavers on the market.
Take a look at the comments, and you'll see glowing feedback such as, "Best electric razor I've found," "I could not be happier with this shaver," and "Totally pleased with it." One customer remarked that they were so impressed by its performance that they ended up buying two of them!
So what features make it such a hit? First of all, its pivoting head with four ultra-sharp and precise 30° nanotech blades makes close shaves a complete breeze. It also offers both wet and dry shaving, an easy-to-read blue illuminated LCD display, as well as a sonic vibration cleaning mode. If that wasn't enticing enough, you'll surely be impressed by the fact that it can perform 13,000 cuts per minute! So if you're short on time (and who isn't?), you can rely on the Panasonic Arc4 Electric Razor for Men to always give you a professional-quality shave—without wasting an extra minute of your time.
Panasonic Arc4 Electric Razor for Men Key Features:
13,000 cuts per minute
30° nanotech blade
Blue illuminated LCD
Pivoting head
Best Electric Shaver with 360° Head: Braun Series 7 Electric Razor for Men
If a high level of maneuverability in an electric shaver is important to you, you'll love the Braun Series 7 Electric Razor for Men. This electric shaver comes with an innovative 360° head, making it possible to shave even the hard-to-reach parts of your face with complete ease. While this feature in itself may be enough to convince you to give it a go, this electric shaver's head is only the tip of the iceberg when it comes to its futuristic features.
Perhaps the most eye-catching one of all is its AutoSense technology. According to Braun, this technology "reads and adapts to your beard density, removing hairs in every stroke." In other words, it detects the type of hair you have and adjusts accordingly to provide you with the most optimal shave possible.
The SmartCare center is also impressive. With the press of a button, the SmartCare center not only swiftly charges the electric shaver, but also cleans and lubricates it. Other notable features of the Braun Series 7 Electric Razor for Men include its ergonomic handle, long-lasting lithium-ion battery that provides up to 3 weeks' worth of shaving, and the additional beard trimmer attachment.
Braun Series 7 Electric Razor for Men Key Features:
360° head
AutoSense technology
Up to 3 weeks of battery life
Wet and dry use
Best Budget Electric Shaver: MAX-T Rechargeable 3D Rotary Electric Shaver
If you're a bargain hunter, you'll know that budget buys can be very hit and miss. When it comes to budget electric shavers, the MAX-T Rechargeable 3D Rotary Electric Shaver is most definitely a hit. In fact, we think you'll be in as much disbelief as we were once you discover the bountiful features it offers despite its low $40 price tag. Once we discovered them, we weren't surprised to see that this product has no shortage of fans, with over 1200 customers giving it an average rating of 4.4 out of 5.
With 4-direction 3D floating heads and a hypo-allergenic double-track stainless steel blade, this electric shaver is designed to offer you residue-free close shaves. While it boasts a high-speed motor, you won't need to worry about noise. More than a few customers commented on how impressed they were by the surprisingly low level of noise it emits. One more feature we'd be remiss to not mention is its 100% washable design, which makes MAX-T Rechargeable 3D Rotary Electric Shaver practically foolproof to clean.
MAX-T Rechargeable 3D Rotary Electric Shaver Key Features:
Washable body
Low noise
4-direction flex heads
Stainless steel blade
Best Electric Shaver for Women: Panasonic Electric Shaver and Trimmer
Panasonic Electric Shaver and Trimmer
Tired of hunting for a high-quality electric shaver for women? This state-of-the-art option from Panasonic is an insider secret of sorts that has already impressed countless women.
Women on the hunt for a trusty electric shaver unfortunately don't have as wide of a variety of high-quality choices as men do. Well, have we found the perfect option if you've also found this to be true. Introducing: the Panasonic Electric Shaver and Trimmer. This electric shaver is the real deal when it comes to an electric shaver that offers women a sleek and comfortable shave, as well as 13,000 cuts per minute.
What? Already noticed that it's a men's electric shaver? We admit that it's indeed originally designed for men, but that doesn't mean women can't use it! In fact, countless women have already cottoned on, as you'll see from the many positive customer reviews they've left. For example, one woman exclaimed, "This is THE BEST purchase I have made for myself in quite a long time."
So why do we believe the Panasonic Electric Shaver and Trimmer is the best choice out there for women? This cordless electric shaver offers a super smooth shaving experience that ensures no hairs are left behind. It's all thanks to the shaver's stainless-steel floating blades, which are set at an optimal 30° angle. Women will also appreciate the ease with which they can contour this shaver around their body, due to its flexible head that pivots not only side-to-side, but also up-and-down.
(Psst…If you're a man who likes the sound of this electric shaver, of course you can purchase it too!)
Panasonic Electric Shaver and Trimmer Key Features:
30° angle stainless-steel blades
Pivoting, flexible head
100% washable
Cordless
Best 2-in-1 Electric Shaver & Trimmer: Philips Norelco Shaver 3800, S3311/85
Looking for a product with a durable electric shaver and trimmer in one but don't want to rack up a small fortune? The Philips Norelco Shaver 3800, S3311/85 is the ideal choice for you. Its nifty design features a built-in pop-up trimmer, so you can easily tackle your sideburns and mustache right before or after you've given yourself a sleek shave.
So how does the electric shaver itself fair? Well, you certainly won't be disappointed with the pro shave offered by its 5-directional pivot. What's more, you can rejoice in the fact that awkward angling will quickly become a thing of the past, as this shaver's self-sharpening ComfortCut Blades glide flawlessly over your skin's natural contours.
This option's ergonomic rubber grip also makes it all the easier to achieve a perfect shave each and every time. If you're a sucker for add ons, you're sure to particularly love that each purchase comes with a convenient charging stand as well as a travel pouch.
Philips Norelco Shaver 3800, S3311/85 Key Features:
Built-in pop-up trimmer
5-directional pivot
ComfortCut Blades
Charging stand included
Who Should Buy an Electric Shaver
Are you fed up with sporting shaving nicks and cuts? Or tired of wasting precious time trying to carefully maneuver your traditional razor to get a perfect shave?
You may want to consider buying an electric shaver. Electric shavers are designed to provide a professional-quality shave at home that's quick, easy, and convenient to perform. They also tend to be significantly safer to use than traditional razors, given that it's almost impossible to cut yourself when using a high-quality one.
It's also worth noting that electric shavers require very little skill to get the hang of, unlike some traditional razors. One more notable consideration to be mindful of is that as long as you buy a high-quality electric shaver that's built to last, you won't need to replace it for many years to come (if at all). This can make an electric shaver far more cost-effective and environmentally-friendly in the long run than other shaving options.
Looking for hair clippers instead? Be sure to check out our hair clippers buying guide.
Important Features to Consider
Electric shavers should have a few important features. Here's what to consider when selecting an electric shaver:
The head. The type of head an electric shaver has is one of the biggest factors that will define your shaving experience using it. There are two types of electric shaver heads you can choose from rotary or electric foil. If your hair grows quickly or you have thick hair, the former type may be a better choice. Whereas, if you're after a closer shave or you want to minimize the chances of irritation, the latter type may be best.
The motor. An electric shaver's motor is another feature that will substantially impact your impressions of using it. If you have thick hair and/or are looking for a quick and close shave, you'll need to make sure to opt for a product with a powerful motor. Why? A weaker motor may not be up for the task, and will eventually conk out. If your hair isn't too thick, you may be able to get away with using an electric shaver with a less powerful motor. Just keep in mind that well-designed motors are also more likely to be durable, so it will usually pay off to purchase a product with one in any case.
Noise. Another thing to keep in mind when it comes to motors is the level of sound they emit. Many options that are designed to operate with a low sound, so these are worth keeping an eye out if you or your loved ones are sensitive to noise.
Ease of cleaning. One of the most frustrating parts of shaving with any type of razor is the cleanup. That's why it's wise to opt for an electric shaver that's designed for easy, efficient, and relatively mess-free cleanups. The cleanup methods offered by electric shavers can vary quite substantially. For example, some offer sonic vibration cleaning, while others will require you to open the head to rinse it out. Be sure to check the specific cleaning instructions for each product to ensure you know how to keep it sparkling clean.
Battery life. The battery life of an electric shaver will determine not only how often you need to charge it, but also how long you need to do so. If you find regularly charging your electric shaver a pain, look for options that have long battery life and that charge quickly.
Cost. Electric shavers come in a variety of price points, so it's relatively easy to find one that suits your budget to a tee. While you can expect state-of-the-art options to have a higher price point, as our guide shows, there are many budget buys that offer a host of useful features found even in more expensive models.
Frequently Asked Questions
Which electric razor is the best?
There's no one right answer to the question,"Which electric razor is the best?" This is because the answer depends on a variety of factors, from what type of electric razor you're after, to your budget. In this guide, we've shared 25 different options to suit a range of needs, preferences, and budgets. No matter what yours are, you're bound to find your ideal electric razor if you give it a good read!
Are electric shavers worth it?
An electric shaver is worth it if you're looking for a reliable alternative to traditional razors. There are many reasons why you may find making the switch worthwhile. From the fact that electric shavers can offer a more efficient and convenient shave, to the reduced chance of nicking yourself while using one, there is no shortage of reasons why many people find electric shavers worth it.

Do electric shavers leave stubble?
Generally speaking, electric shavers will usually leave at least a bit of stubble as they aren't able to achieve as close of a shave as traditional razors can. That being said, the most advanced electric shavers on the market today are designed to provide extremely close shaves that leave behind barely visible stubble. Some are so effective at giving a close shave you may barely notice any stubble. So, if stubble is a concern to you, we recommend selecting an electric shaver that's known for its uber close shaves.
Do you need shaving cream for an electric razor?
No, you don't need to use shaving cream for an electric razor. That being said, you can choose to use shaving cream or soothing body lotion to shave if you buy a razor that's designed to support wet shaves.
Other Electric Shavers We Reviewed
We looked at 20 other electric shavers. Even though they didn't make our 5 best electric shavers list, they're the best of the rest, and are still great options. The information you need to compare each one is included with the listing.
Rotary Electric Shavers
Philips Norelco AT830/41 Shaver 4500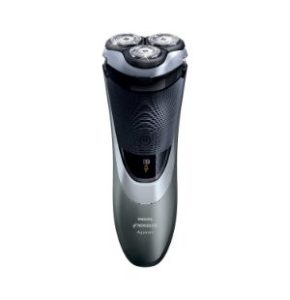 We already featured a product from Philips' Norelco line in our Top-5, so there's clearly something special about it considering that this product is also incredibly well designed and built. This versatile offering features Philips' Dual Precision shaving system, that offers a gentle, stubble-free wet or dry shave, with or without the use of shaving cream.
Key Features:
Wet and dry shave
Pop-up trimmer
Average rating of 4.4/5.0 from 4700+ customers
Cost: $81
Philips Norelco Electric Shaver 5100 Wet & Dry, S5210/81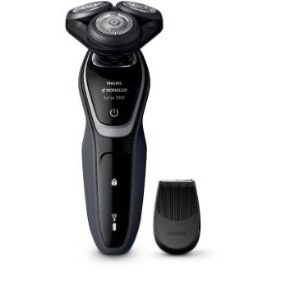 Another excellent electric shaver that offers a sublimely smooth wet and dry shaving. Along with its 5-direction flex heads, it is designed to fully charge in just one hour.
Key Features:
5-direction flex heads
Wet and dry shaving
Fully charges in just 1 hour
Cost: $75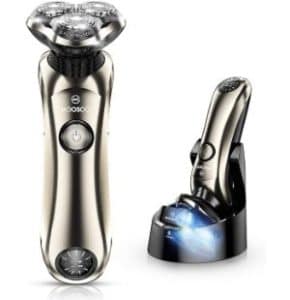 This 100% waterproof electric razor not only offers easy cleaning, but also a 3D floating heads that pivot in four different directions.
Key Features:
3D floating heads
Completely waterproof
Easy-to-clean
Cost: $70
Philips Norelco SP9820/87 Shaver 9000 Prestige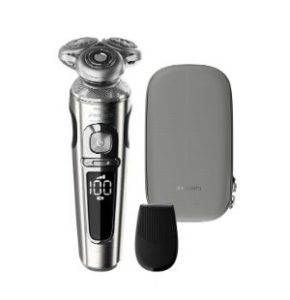 After a high-end rotary electric shaver that is overflowing with premium features? This is it. After all, not many other shavers boast a built-in sensor that detects the density of your hair 15x per second and makes adjustments accordingly. Nor do many other options offer 8-direction contouring heads as this one does.
Key Features:
8-direction contouring heads
Built-in sensor that detects hair density
Skin comfort rings
Cost: $280
HATTEKER Electric Shaver Rotary Razor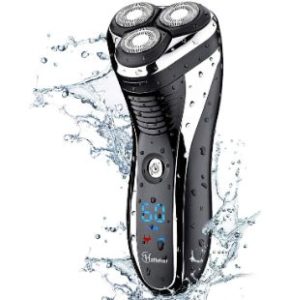 You'll be happy to read that the mindbogglingly low price tag isn't a typo—this option really is only $28! If you're suspicious about whether it holds up, just ask the 1000+ customers who gave it an average rating of 4.3 out of 5. Customers rave about the effectiveness of its 4-direction floating heads as well how easy the clean up is.
Key Features:
4-direction floating heads
Easy-to-clean
Pop-up trimmer
Cost: $28
Meeteasy Electric Leg Shaver for Women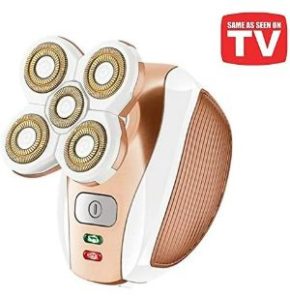 Women who are after another excellent electric shaver option will adore this lightweight, cordless option that fits completely in the palm of your hand. It's been specially designed to meet the unique shaving needs of women, and judging from the overwhelmingly positive customer feedback women have left, it shows!
Key Features:
Fits in the palm of your hand
Lightweight
Waterproof
Cost: $32
OriHea 5 in 1 Head and Face Electric Rotary Shaver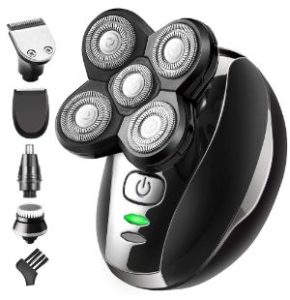 Similar to the option above, this electric shaver with 8-direction 4D floating heads fits comfortably in the palm of your hand. It uniquely includes 5 detachable attachments, including those for regular shaving, trimming and shaping facial hair, clipping nose hair, softening stubble, and face cleansing.
Key Features:
Fits in the palm of your hand
5 detachable attachments included
German blades
Cost: $37
Phisco Electric Shaver Razor for Men 2-in-1 Beard Trimmer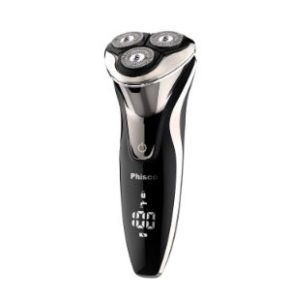 A 3D rotary shaver that impresses with its high-speed motor which goes up to 2800RPM, as well as its quick-charging lithium-iron battery.
Key Features:
High-speed motor
Quick-charging lithium-iron battery
Pop-up trimmer
Cost: $44
Venyn 4 In 1 Richor Rotatory Electric Shaver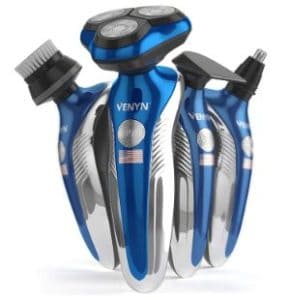 Talk about bang for your buck! Not only will you be able to get plenty of use out of the 100% stainless steel electric shaver head. But you'll also be able to keep yourself looking neat with the additional inclusion of a trimming head, beard brush, and a nose hair trimmer.
Key Features:
Shaver and trimming heads
Beard brush and nose hair trimmer
60-minute cordless runtime
Cost: $35
MAX-T 3D Waterproof Electric Razor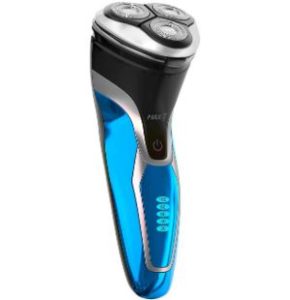 Another MAX-T electric shaver made our Top-5, so how does this one fair? Very well indeed! It features a 3D rotary razor, 4-direction floating heads, and quick 60-minute USB charging, among other drawcards.
Key Features:
4-direction floating heads
100% waterproof
60 minute USB charging
Cost: $40
Foil Electric Shavers
Braun Series 7 7865cc Electric Shaver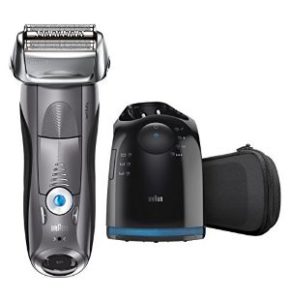 With 86% of the 1700+ customers who left a review of this electric shaver either giving it 4 or 5 stars, you can trust that it has what it takes to handle the job well. This German-made shaver offers a wide range of eye-catching features, including one-stroke shaving, five personalized shaving modes, and innovative technology that captures every hair thanks to its 10,000 micro-vibrations and autosensing motor.
Key Features:
5 personalized shaving modes
Autosensing motor
Sonic technology offering 10,000 micro-vibrations
Cost: $200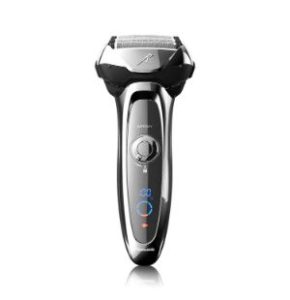 We featured the Arc4 as our #1 electric shaver recommendation, so how does the Arc5 compare? It features five—not four—ultra-sharp, precision-honed 30° Nanotech blades. It also offers 14,000 cuts per minute, compared to the Arc4's 13,000. So why didn't we feature this as our #1 product instead? The Arc4 in fact has more positive reviews overall, but at the end of the day, it's up to you to decide which one is best for you.
Key Features:
5 ultra-sharp precision-honed blades
14,000 cuts per minute
10 stage LCD screen
Cost: $120
Philips Norelco OneBlade Hybrid Electric Trimmer and Shaver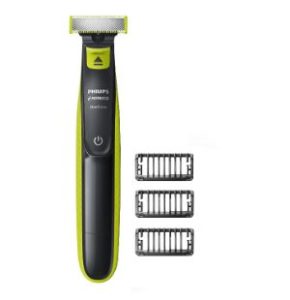 You're now familiar with the high-quality rotary electric shavers in Philips' Norelco line. So we now want to shine a light on the line's equally brilliant foil electric shaver option. Given that it's designed to trim, edge, and shave any length of hair, we believe that its a particularly strong option for anyone wanting to rock a beard or stubble. Others agree; it has a 4.4 out of 5 from whooping 11,000+ reviews.
Key Features:
Ideal for styling beards and stubble
Rechargeable
11,000+ reviews
Cost: $35
Braun Electric Razor for Men, Series 3 3000s Electric Shaver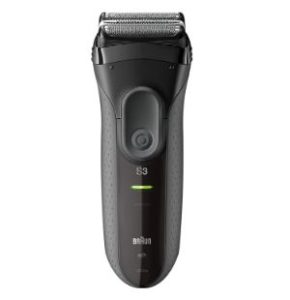 This German designed and engineered option features a specialized micro-thin precision head. It's known for not only ensuring that even hard-to-reach hairs can be shaved away, but also that as many hairs can be captured as possible in each stroke.
Key Features:
Micro-thin precision head
2x rechargeable long-life batteries included
Quick-charging
Cost: $50
Looking for an option that will make shaving your bald head a trouble-free experience? You'll appreciate that this option comes complete with one knife mesh just for shaving your hair, and another just for your beard.
Key Features:
Adjustable speed
More than 120 minutes of shaving time after a full charge
Gold titanium hypoallergenic foil
Cost: $37
Tiklean Electric Head Shaver for Bald Men Grooming Kit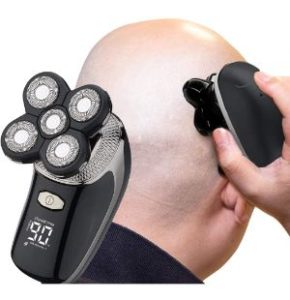 The Tiklean Electric Head Shaver for Bald Men Grooming Kit is another option that is optimized to offer easy shaving of bald heads. This completely washable option features 5D precision blades, an LED display, and fast USB charging. It also includes 5 detachable attachments to boot.
Key Features:
5 detachable attachments
Travel lock
100% washable
Cost: $40
Offering up to 13,000 cuts per minute, this cordless, 100% waterproof foil electric shaver is a top option if you're after a quick-charging wet/dry option.
Key Features:
Up to 13,000 cuts per minute
100% waterproof
Travel lock
Cost: $50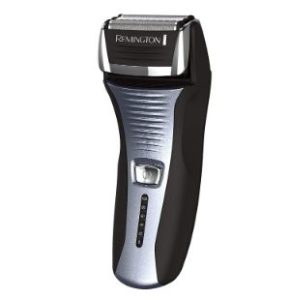 A solid budget buy that features Remington's unique Intercept Shaving Technology, which essentially pre-trims longer hairs so you can enjoy a closer shave. This electric shaver also comes complete with a pop-up trimmer.
Key Features:
Pop-up trimmer
Easy-to-clean
Pre-trims longer hairs
Cost: $42
KEMEI Professional Foil Electric Shaver

Looking for a very affordable option that is not only compact, but also ridiculously easy to use? The KEMEI Professional Foil Electric Shaver is the perfect minimalist shaver that does the job without a fuss.
Key Features:
Built-in beard trimmer
Compact size
USB charging
Cost: $30
Braun M60b Mobile Electric Shaver
If you thought that a well-made electric shaver for under $20 was too much of a task, this $17 option from Braun proves it's not. It's both washable and lightweight, making it perfect to take it along on business trips and vacations. We think everyday use may be a bit of a stretch, as its motor is relatively less powerful than the options we've showcased above.
Key Features:
Washable
Twist cap to protect the foil head
60-minute running time after a full charge
Cost: $17