If you're searching for something to store your makeup in, or you happen to be going traveling and need a place for your favorite beauty products, a makeup bag is a must. Makeup bags offer a safe place for your beauty items, protecting them from dirt and dust. There are several types of makeup bags available, from small to large, and there is something for everyone.
We reviewed dozens of makeup bags to identify the best of the best. We examined a range of features, such as size, shape, material, inner compartments, price, and average customer reviews.
After searching long and hard, we chose the MONSTINA Makeup Case as our top pick. This black makeup carry case makes it easy to keep your makeup collection organized. Adjustable dividers mean you can create your own sections to separate your products. There is also a makeup brush holder with a plastic cover to keep your brushes neat and tidy.
The 5 Top-Rated Makeup Bags
*Ratings are from Amazon at the time of publication and can change
Our Top Pick: MONSTINA Makeup Case
The MONSTINA Makeup Case is a large black, portable carry case to store all your needed cosmetics. Adjustable compartments make it easy to separate your makeup collection. You can divide your makeup according to the shape and size of your products.
The case also features a brush holder with a plastic cover to keep your makeup brushes clean, neat, and tidy. The high quality oxford cloth is a classic touch and will stay in style for years. The case itself is lightweight and easy to carry, so if you need to go traveling, you can take your makeup collection with you.
The hand strap means you can also use this case as a travel or electronics bag to store other belongings. The outside of the bag is woven, making it sturdy and strong to protect your makeup. With a size of 9.4 x 10.6 x 3.7, this makeup case is the ideal size for storing palettes and other types of product.
Priced $18.99, this case is both affordable and excellent quality, making it our top pick.
MONSTINA Makeup Case Key Features:
Easy to clean
DIY compartments
Portable
Our Runner Up Pick: Cactus Travel Makeup Case
The Cactus Travel Makeup Case is durable and water resistant. Featuring a cute cactus print, this case has a removable partition and mesh pockets for storing extra items away from the main section. The makeup case closes with a zipper, and the case as a whole is foldable.
This makeup case is washable for easy cleaning. It also dries quickly so you don't have to wait a long time to use it. The size of the case is 9.4 x 7.1 x 3.5, which is handy enough to store many products. The handle makes the case easy to carry for traveling.
This bag has a 180 day warranty so if you're not completely satisfied you can ask for your money back. With a price of $12.99, this travel makeup case makes our runner up pick due to its size, great price, and convenience. If you're looking for an affordable pick with a cute print, this case should be your choice.
Cactus Travel Makeup Case Key Features:
Brush holder
Portable
Washable
Best Budget Pick: HOYOFO Cosmetic Bag
The HOYOFO Cosmetic Bag is a cosmetic pouch featuring a cute arrow print. Made of PU leather and polyester, this cosmetic bag is easy to carry, and is light enough to be portable if you're traveling. You can place it in your backpack, bag, or luggage with ease.
The PU material is easy to wipe clean, and is wear and water resistant, protecting your belongings. You can fit your makeup in this bag, or use it to store your phone, sunglasses, keys, or other accessories. The zipper closure ensures your belongings are secured.
Measuring 7.1 x 2.8 x 4.3 inches, this makeup case is priced $7.89. With 4.3 out of 5 stars average customer rating on Amazon, this cosmetic bag is our top budget pick due to its durability, versatility, spaciousness, portability, and price.
HOYOFO Cosmetic Bag Key Features:
Lightweight
Portable
Attractive print
Best Large Makeup Bag: Large Travel Cosmetic Bag
This Large Travel Cosmetic Bag is ideal for traveling or storing your favorite beauty items at home. The train case has multi-pockets to hold varying products, making organization easy. There is one large zippered pocket at the front of the case, three large transparent zippered compartments, a detachable pouch, and a metal hanger, meaning you can place the bag (when it isn't holding heavy items) on a hook.
Measuring 12 x 9 x 4, this large cosmetic bag has two main compartments for storing your full size items, as well as the outside pocket for holding additional items when the bag is closed. This bag is made of elastic PVC, which is durable and waterproof. The inside lining is made of resilient nylon.
The cute polka dot style is attractive, and will be pleasing for many consumers. The durable material protects your belongings, while the carry handle makes the bag easy to transport. Priced around $32, this case is more expensive than others on our list, but the spacious size and design make this our top pick for large makeup bag.
Large Travel Cosmetic Bag Key Features:
Waterproof
Multiple compartments
Hanger for placing on a hook
Best Makeup Bag for Purse: Small Mini Cosmetic Bag
This Small Mini Cosmetic Bag is made from water resistant coated nylon to protect your belongings from water and spillages. The bag has one main compartment, as well as a right side pocket to hold a mirror, brushes or other items. There is also a left side pocket for holding powder and lipsticks.
This lightweight cosmetic bag is convenient to store in your purse, but is roomy enough to store several items. The zip top closure ensures your beauty products or accessories are secured in the cosmetic bag. Measuring 6.7 x 2.7 x 5.1, this mini cosmetic bag can be hand washed to retain its clean look.
Priced $8.99, this bag has 4.4 out of 5 stars average customer rating on Amazon, making it highly recommended. Available in a range of colors, including grey, black, purple, navy, and more, there is something to suit everyone.
Small Mini Cosmetic Bag Key Features:
Portable
Different compartments
Waterproof
Who Should Buy a Makeup Bag
Anyone searching for a convenient or portable way to store their makeup and beauty items should purchase a makeup bag. A makeup bag makes organizing your beauty collection easy. Without somewhere practical to store your items, you won't be able to travel with them.
Most makeup bags are travel friendly, but some are easier to carry around than others. Small makeup bags can easily fit into your purse, while larger makeup bags can store more of your belongings. Makeup bags also offer varying features, such as different shapes, aesthetics, waterproof material, and versatility.
Important Features to Consider
A makeup bag should have a few important features. Here's what to consider when selecting a makeup bag:
Size. Makeup bags come in a range of sizes, from small to large. The size you require will depend on your needs, and how many items you're intending to store.
Shape. Makeup bags tend to be rectangular, but you'll find some have different shapes, such as drawstring makeup bags. Again, the shape you choose will depend on your personal preferences.
Material. You will find makeup bags in a range of materials. Many makeup bags are made from waterproof material to protect your belongings from rain, water, and spillages. Robust material will last longer and keep your beauty items in tact.
Compartments. All sizes of makeup bag can have compartments. Having compartments helps you to separate your items, making organization easier. If you plan on traveling with your makeup, you'll probably want a makeup bag with several compartments to store different types of products or accessories.
Price. If you're on a budget, you'll probably be searching for an affordable option. Luckily, there are makeup bags for every type of budget so you'll easily find the right case for you.
Overall quality. Nobody wants a makeup bag which will fall apart after a few weeks. It's important to search for a makeup bag made of good quality. A bag which is sturdy and resilient will last you for years, and you'll be able to travel with it without worrying about it not storing your items correctly.
Practicality. Do you need a versatile makeup bag? A portable makeup bag means you can take it with you on the go or put it in your purse, backpack or luggage.
Frequently Asked Questions
What is a makeup bag?
A makeup bag keeps your cosmetics and beauty items organized and protected from spillages and additional elements. Ideally, your makeup bag should be easy to wipe clean or wash and transport your items without breaking or spilling.
Makeup bags are normally made from material and have a zipped or drawstring closing. They tend to be portable so you can easily carry them with you whether you're out on the go or going traveling.
What should I carry in my makeup bag?
You can carry whatever you desire in your makeup bag depending on its size. If your makeup bag is small enough to fit in your purse, then you may only wish to carry your beauty essentials, such as face powder, mirror, lipstick, tissues etc.
If you have a large makeup bag and are going traveling, you'll probably want to store your cosmetics, skincare, and toiletries. Some people enjoy storing accessories, keys, phone, brushes, and other essentials in their makeup bag.
Can I put my makeup bag in the washing machine?
You'll need to check the instructions before washing your makeup bag. Some makeup bags may be wipe clean only, while others are suitable for placing in the washing machine.
It's important to clean your makeup bag regularly to prevent dirt, grime, and bacteria from getting on your beauty items.
How can I clean my makeup bag?
If you're unsure how to clean your makeup bag, try hand washing it using gentle ingredients and air drying afterwards.
If you have spilled something on your makeup bag, or it has a small patch of dirt or grime, try spot cleaning it with a makeup wipe or warm water and soap.
Other Makeup Bags We Reviewed
We looked at 20 other makeup bags. Even though they didn't make our 5 best makeup bags list, they're the best of the rest and each is still a great option. The information you'll need to compare each one is included with the listing.
Large Makeup Bags
Ellis James Designs Large Makeup Bag
This portable makeup bag is quilted and padded to protect your makeup. It comes with internal pockets and 10 makeup brush holders for your tools.
Key Features:
Water resistant
Wipe clean
Large enough for makeup and hair straighteners
Cost: $31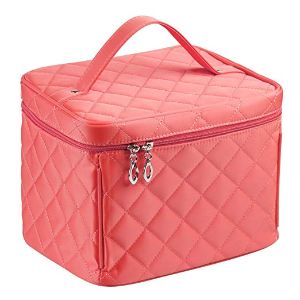 This nylon makeup bag comes in 8 colors, and is highly durable. There is one main section and separate pockets to organize your belongings.
Key Features:
Has handle for portability
Lightweight
Zipper closure for security
Cost: $15
This makeup pouch is made of nylon, is easy to clean, and is waterproof. Despite its spaciousness, it can easily fit into a backpack or luggage for travel.
Key Features:
Inner zip pocket and two slip pockets
Portable
Sturdy material
Cost: $20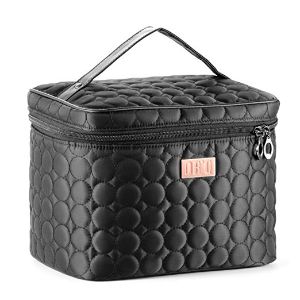 This quilted makeup bag is made from easy clean nylon fabric, and contains an inner mirror and compartments to organize your makeup and hold makeup brushes.
Key Features:
Waterproof
Handle for portability
Extra spacious to hold makeup, beauty or additional items
Cost: $17
This marble makeup bag is made of sturdy PU leather and is scratch free. The material is waterproof to protect your makeup, and there is lots of space to store all your items.
Key Features:
Lightweight
Portable
One main compartment
Drawstring Makeup Bags
Jadyn B Cinch Compact Makeup Bag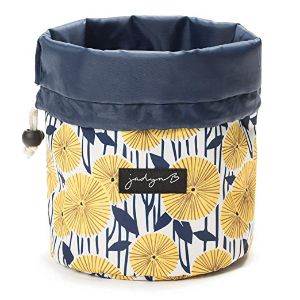 This makeup bag is made of a durable polyester material and inner nylon which is easy to clean. This drawstring makeup bag has 6 liters of storage space for your belongings.
Key Features:
Easy to close drawstring top
7 interior pockets
Can be stored flat when not using
Cost: $13
Easily lie your cosmetics down with this drawstring bag. The raised lip prevents cosmetics from rolling on the floor, while the convenient handle makes it easily portable.
Key Features:
Machine washable
Zippered storage pocket
Elastic brush holder
Cost: $39
Casper & Coal Travel Cosmetic Bag
This drawstring makeup bag is in slate grey and made from high quality canvas and nylon. There are three mesh pockets and three elastic bands to hold items in place.
Key Features:
Easily portable
Machine washable
Pack your items in style
Makeup Bags for Purses
Admirable Idea Small Makeup Bag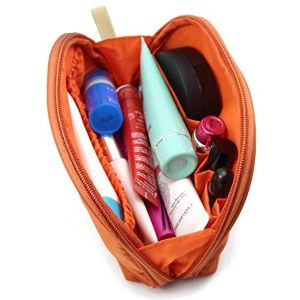 This small, compact makeup bag comes in 7 colors and is made from quality nylon fabric. There are multiple compartments in the bag to separate your items.
Key Features:
3 lipstick pockets and 2 inner pockets
Easy to clean
Portable
Cost: $8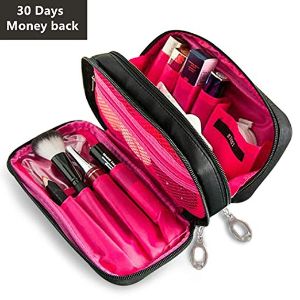 In two colors, this small makeup bag can easily be transported in your purse. The double layer bag has mesh pockets and a brush pocket.
Key Features:
Multiple pockets
Waterproof and easy to clean
30 day money back guarantee
Cost: $8
Daisy Rose Luxury Checkered Makeup Bag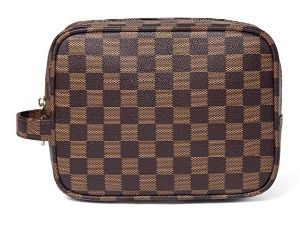 Made from vegan PU leather, this makeup bag is designed with travel in mind. Store your makeup, toiletries or other items.
Key Features:
Easy to wipe clean
Luxe brown check pattern
Portable
Cost: $23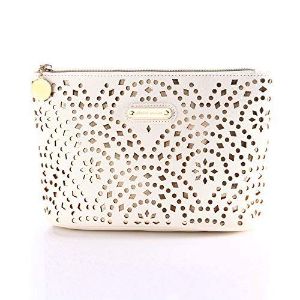 In three colors, this makeup bag is made from artificial leather which is robust and easy to wipe clean. The bag has an internal zipper pocket, and is of high quality
Key Features:
Lightweight
Portable
30 day money back guarantee
Cost: $13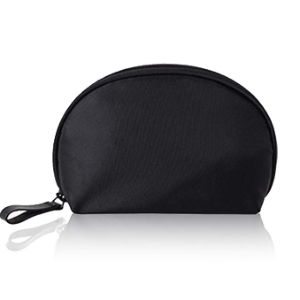 This half moon shaped small cosmetic bag comes in several colors and has a zipper closure which extends down the sides of the bag. It features several pockets to organize your items.
Key Features:
2 lipstick pockets and 2 inner pockets
Lightweight
Durable material
Makeup Bag Organizers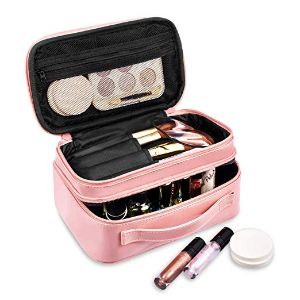 This multi-functional bag has two layers and three compartments to make organizing your beauty collection a breeze. It is made of high quality PU leather.
Key Features:
Easy to clean
Top layer has small mesh bag
Middle compartment has 4 brush slots for storing makeup brushes
Cost: $16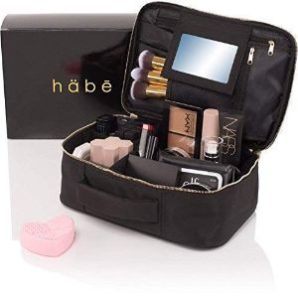 This travel makeup bag can hold three full makeup cases worth of products. The material is 100% vegan and cruelty free, while the robust design is easy to clean.
Key Features:
Adjustable dividers to make items fit
Contains zipper pockets and brush holder
Easily portable with handle
Cost: $40
Hotrose Large Space Makeup Organizer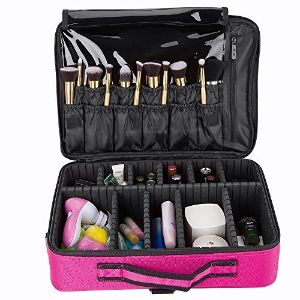 This makeup bag contains four layers, including one main compartment, a layer with 14 pockets, a layer with removable clapboard, and a layer with five elastic bands.
Key Features:
Features a handle strap for travel
High quality material
Extra spacious for your products and tools
Cost: $29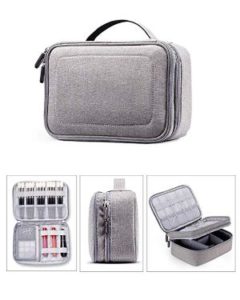 Containing three layers, this makeup bag includes adjustable dividers, net pockets, and lipstick and makeup brush holders. Shakeproof and waterproof to protect your items.
Key Features:
Lightweight
Easy to carry
Multi-functional to carry your makeup and more
Cost: $22
Beilian Toiletry and Makeup Bag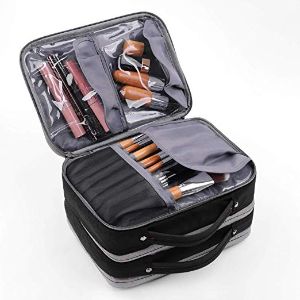 Available in three colors, this travel makeup bag has separate layers, including a removable toiletry bag to hold small beauty items. The bag is lightweight with a fully lined interior.
Key Features:
Three separate storage areas
Pockets and brush holder
Waterproof and durable
Cost: $26