When it comes to cosmetics, one item to always have in your makeup arsenal is a good nude lipstick. Nude lipsticks are a cosmetic that is used to reinforce your natural beauty. But sometimes picking out a good nude lipstick can be a bit tricky, as getting the wrong shade can wash you out. There are various types of nude lipsticks which include matte, satin, liquid and cream.
There are certain factors to use when on the hunt for a good nude lipstick. One is your skin tone. A couple of other considerations when searching include the undertones of your skin and the color of your lips. Nude lipstick is very versatile and can make your natural look pop. We have reviewed dozens of nude lipsticks to find the best of the best. In our search, we have rated each product based on finish, how well it applies, customer reviews and more.
Out of all of the nude lipsticks that we have reviewed, the clear winner is L'Oreal Paris Colour Riche Lipcolour because of it's incredibly rich and highly pigmented color. In addition to providing the color you are seeking, it also nourishes and enhances your lips.
The 5 Top-Rated Nude Lipsticks
*Ratings are from Amazon at the time of publication and can change
Our Top Pick: L'Oreal Paris Colour Riche Lipcolour
It was clear in our search for the best nude lipstick that L'Oreal Paris Colour Riche Lipcolour was the best out there. Not only does it give your lips an incredible color, but it also conditions and nourishes your lips at the same time. Ingredients like Argan Oil, vitamin E and Omega 3 keeps your lips soft and supple while wearing a perfect shade. Their Fairest Nude color can be beautiful on various skin tones.
This lipstick will not dry out your lips, as it is created with a special formula that moisturizes your lips while providing long-lasting wear. Lips will stay smooth, soft and totally hydrated when using this nude lipstick. It glides on effortlessly with its creamy formula, so applying this lipstick will be a total breeze. It will not cake up or dry up as other lipsticks can.
Many consumers have found this to be their "go-to" nude lipstick. Some people have even noted that there is a light and pleasant fragrance when the lipstick is applied. Customers have even learned that using this product has helped their chapped lips better than typical generic lip balms found in your local pharmacy. This lipstick is a total game changer.
L'Oreal Paris Colour Riche Lipcolour Key Features:
Special ingredients keep lips moisturized and hydrated
Color is perfectly pigmented
Enhances natural beauty
Long-lasting color
Our Runner Up Pick: Milani Color Statement Lipstick
Coming in with a Tropical Nude shade, Milani Color Statement Lipstick is one that will not let you down. For many types of skin tones, this may be the perfect nude lipstick for you. The company takes pride in creating high-quality products for their customers.
Once you apply this lipstick, it will stay in place, as its color is very long lasting. The best part is that even if you live in an area with a hot climate, where most makeup tends to melt, this lipstick will not fade or melt in the sun. One can feel confident wearing this lipstick anywhere, day or night. The color itself is highly pigmented and complements ones already existing natural features. Many have said that this lip color's features garner them more compliments than their more expensive department store counterparts.
Consumers also enjoy the light fragrance, which many have described as a "cotton candy" type of scent. This lipstick will even last through meals, meaning no re-applications are needed after enjoying lunch or dinner. Women have even gone swimming while wearing this lipstick and found that the lip color was in place even after getting out of the water. This lipstick is a great choice for those looking for a quality nude lip color.
Milani Color Statement Lipstick Key Features:
Long-lasting color
The nude shade is perfect for most skin complexions
Creamy formula
Moisturizes lips
Best Budget Pick: Revlon Super Lustrous Lipstick
Another great nude lipstick choice, Revlon Super Lustrous Lipstick is a wonderful choice. Do not be fooled by the low price-tag, this lipstick is a very high-quality one. The various shades of nude color are well-suited for just about anybody. With different shades like Pink Truffle, Rum Raisin and Champagne On Ice, there is something here for everyone out there.
Their formulation is non-caking and smooth, made with both vitamin E and avocado oil to give lips just the right amount of moisture. The finish of this lipstick is lightweight and well-suited for any occasion, whether it be shopping during the day with friends, or for a night out on the town. Lips will be moisturized, smooth and ready to look great.
The lip color provides a sheer-tinted and moisturizing shine, great for topping off any look. Their nude colors do feature a bit of a shimmery finish. Like many other lipsticks, this one gives off a natural look, and the wearer will not look washed out, especially with the varying types of nude shades offered. The high pigmentation in the formula gives lips a great amount of color, helping to achieve the desired look. This lip color is a great choice for anyone looking to get a great nude lip without the hefty price tag.
Revlon Super Lustrous Lipstick Key Features:
Varying shades of nude color
Made with vitamin E and avocado oil for maximum moisture
Won't cake up
Long-lasting color
Best Nude Matte Lipstick: Maybelline New York Color Sensational Matte Lipstick
Maybelline New York Color Sensational Matte Lipstick  in colors like Daringly Nude and Nude Embrace, are a great choice if you are looking for a high-quality matte lip color.  Hyper-pigmented, it goes on super smoothly and creates a natural and lovely look. It is another lipstick that is also very hydrating so there will be no dry or cracked lips when it comes to this lip color.
Applicating is easy, as, with their velvety, yet featherlight formula, one only needs one go around to apply evenly on the lips. Created with honey nectar, the finish is incredibly smooth and soft. Many consumers have found their perfect nude lipstick in this particular matte lip color. It has long staying power, so there are no needs to reapply over and over again like many other lipsticks.
The color tones are understated and make a perfect neutral color. Formulated with precious oils, lips will feel soft and creamy when wearing this lipstick. Many consumers have found that this nude lipstick is a wonderful option to go with any outfit and accessories because the color itself is very neutral and can be paired with almost everything. This product is definitely the top dog when it comes to matte nude lipstick.
Maybelline New York Color Sensational Matte Lipstick Key Features:
Super hydrating formula for soft lips
Perfectly nude color suitable to wear with almost everything
Strong staying-power
Velvety smooth application
Best Nude Liquid Lipstick: EM Cosmetics French Nude
When it comes to liquid lipsticks, the "right" nude can be hard to find. But with EM Cosmetics French Nude, consumers will find that this shade is just the right color for them. Many makeup wearers have found that this liquid lip color is actually quite a bit higher in quality than their boutique store counterparts. The formulation of the lip color itself goes on quite smoothly and does not leave behind a sticky finish.
It is light and airy, allowing for longtime, comfortable wearability. It does not dry out lips but instead leaves lips feeling moisturized for the entire day. Consumers have found the formula to be a unique one in that it is light and almost "cloud-like" in texture, with just a hint of a scent of what consumers describe as "chocolate," that gently fades away, leaving beautiful lips behind.
This lip color is air-whipped for a light and fluffy application that goes on smooth and feels almost like one does not have anything on their lips at all. With its magnetic formula, there are no cracked or dry lips when using this product, as, like others, moisturizes lips while giving them the desired shade of nude color.
EM Cosmetics French Nude Key Features:
Light and airy formula
Comfortable to wear
Moisturizing
Non-sticky finish
Who Should Buy A Nude Lipstick
Nude lipsticks are the go-to cosmetic for those who want to wear makeup that gives the wearer a more natural look. A good nude lip color can enhance one's natural beauty when the wearer does not feel like wearing bright and bold colors, but rather an understated but still gorgeous look. Some may even want it to look like they are wearing no makeup at all. Nude lipstick is all about making it look like you are wearing nothing.
Highlighting one's natural beauty is all what nude lipstick is about. If someone is looking for a great look to wear to work, or just wanting to go with a minimal look that is light and beautiful, nude lipstick is the way to go. There are quite a variety of different shades of "nude" lip color out there.
There are a whole variety of nude colors of lipstick out there. Many believe that they should purchase a lip color that looks to be flesh-toned. That is the farthest from the case. A good nude lipstick will not only complement your skin tone, but it will also bring out your natural lip color without making you look washed out.
Important Features To Consider
A nude lipstick should be able to bring out your natural beauty effortlessly. Here is what to consider when selecting a nude lipstick:
Color. Almost all nude lipsticks have just a very little bit of color in them. This is intended to help highlight your natural lip color. There is just enough color to add just a small bit of pop to your lips, while still keeping the all-natural look. The key is trying to find the right shade of nude for you. This is usually done by finding a nude lipstick that will complement your complexion. From peachy to mocha colors, there is a shade of nude lipstick out there available for everyone.
Long-term wearability. When purchasing a lipstick, you should not have to keep re-applying it every few hours. You should choose a lipstick that is long-lasting when it comes to wear. In addition to it's staying power, it should also stand up to various everyday activities, such as eating and drinking. A good nude lip color should not come off when doing everyday tasks. It should stay in place until you are ready to remove it.
Texture. When looking for a good nude lipstick, you want to take into account the feel of the lipstick and how it feels on your lips. When you apply it, it should not be sticky or gooey. It also should not feel "cakey" when applied. Look for something that makes your lips feel smooth and supple after application. That is the ideal texture to look for.
Finish. The finish of the lipstick that you ultimately choose should be smooth and soft, and should even be able to moisturize your lips while you are wearing it. It should not be chunky. You will also want to decide whether you would like a satin, matte or glossy finish. Some give off a shimmery finish, while others, like matte finishes, provide what looks like a velvet finish. Each looks different against every particular complexion. It is best to do some research when looking into perfect nude lipstick and the finish you like the best.
Frequently Asked Questions
What is nude lipstick?
Nude lipsticks are lip colors that are meant to enhance and highlight your natural beauty. They are not like bright and bold colored lipsticks. Nude lip colors are actually one of the most versatile colors in the world because they pair well with almost everything. If you are looking to achieve a look that is great for everyday wear, a nude lip color would be your best choice to go with. It even transitions effortlessly into a great night time look as well.
How do you know what lipstick is right for your skin tone?
Nude lipstick is all about finding a color that suits your complexion and subtly brings out the features of your lips. There are actually a couple of ways that you can find the right nude lip color for your skin tone. While testing on the back of your hand has been the go-to method for many, makeup artists actually say that this is not really a correct method of testing color. This is because our hands tend to be lighter in the sun than our faces. If possible, it is best to test the color on the lips. However, if that is not possible, you can check the undertones of your skin.
Undertones are the colors that peek through your skin to show it's natural hue. When testing the undertones of your skin, you are looking to see whether you have warmer or cooler undertones. To find out, you can take a look at the veins in your forearm. If your veins are more bluish, than you have cooler undertones, and would do well with a peachy or light pink nude lip color. If veins appear more greenish, caramel colored tones would do well. If your veins fall somewhere in the middle, it is considered neutral and a bit of a darker pink would look well on you.
Do you line your lips before or after lipstick?
It is best to line your lips before applying any lipstick to them. This way you are able to see exactly where you want the lip color to fill in. Beginning from the top center of your lips (which is also known as "Cupid's bow," follow the natural shape of your lips with lip liner. If you wish to amplify the shape of your lips a little bit, you can line just outside of the shape of your lips.
How do I make sure my lipstick stays on?
To make certain that your lipstick stays on, you first have to choose the color that is best suited for you. When you have found that, the next step is to look for a lipstick that is long-lasting. Before you apply lip color, use a foundation or a concealer. This will act as a base and give something the lip color can adhere to. A lip-liner ensures that your lip color stays in place. After you apply the lipstick, you can set it with translucent powder for extra staying power.
Other Nude Lipsticks We Reviewed
We looked at 20 other nude lipsticks. Even though they did not make our 5 best nude lipsticks list, they are the best of the rest and each of them are all great options. The information that you'll need to compare each one is included with the listing.
Nude Lipstick Crayons
Annabelle TwistUp Metallic Retractable Lipstick Crayon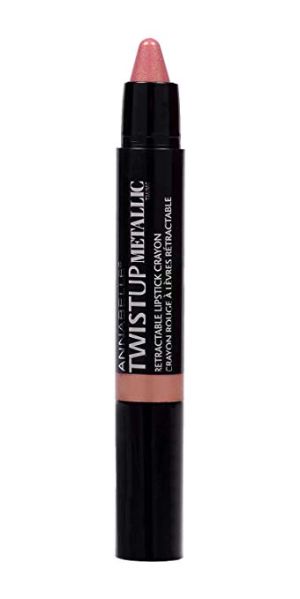 The color, Nude of Fame features rich metallic pigmentation for just the right pop of color. The creamy texture of this lip crayon will leave lips feeling fresh and hydrated.
Key Features:
Light reflecting pigments
Sharpener not needed
Creamy moisturizing texture
Cost: $9.00
Burt's Bees 100% Natural Moisturizing Gloss Lip Crayon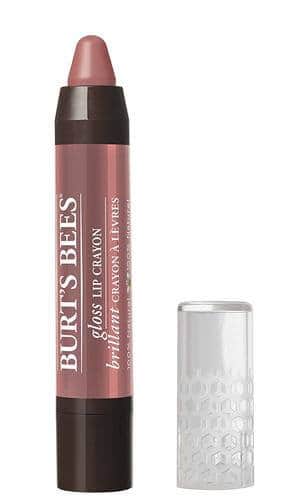 The all-natural ingredients in this lip crayon will give you the smooth texture and nude color you'll love.
Key Features:
6 color options
No added flavor or fragrance
Made with extra moisturizing Shea Butter, Jojoba Oil and Kendi Oil
Cost: $4.25
Glo Skin Beauty Cream Glaze Crayon

Enriched with mango oil and shea butter, this lip color will moisturize while providing just the right color. Provides a creamy high-shine finish.
Key Features:
Color-rich
Soft, neutral color
Electric color
Cost: $20.00
Golden Rose Creamy Matte Lipstick Crayon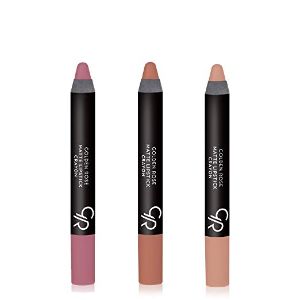 Offers precise coverage and glides on smoothly. Set contains 3 full-sized lip crayons.
Key Features:
Infused with vitamin E, keeps lips soft.
Provides rich color
Long-lasting color
Cost: $10.00
Julep It's Balm Full-Coverage Lip Crayon
Comes in a variety of nude colors such as Almond Nude and Apricot Nude. Features a semi-gloss finish.
Key Features:
Provides instant hydration and beautiful color
Vitamin C-infused improves texture and tone
Creamy application
Cost: $20.00
trèStiQue Matte Color Balm Lip Crayon
This lip color provides a creamy and lightweight finish. Infused with natural oils for ultra-moisturizing capabilities.
Key Features:
Lip crayon on one side, BB lip balm on other
Intense color
Magnetic seal, so no messing up your makeup bag
Nude Lipstick Cremes
Flower Beauty Petal Pout Lipstick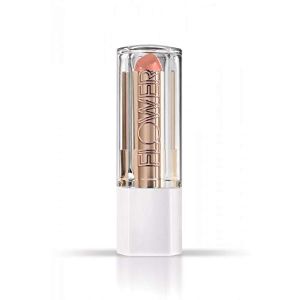 The Peachy Nude color is great for cool undertones. Applies quickly with just a single swipe.
Key Features:
Features pure color pigments
Conditions lips with antioxidant ingredients
Creamy application
Cost: $10.00
Sheer Shine Stylo Argan Oil Lipstick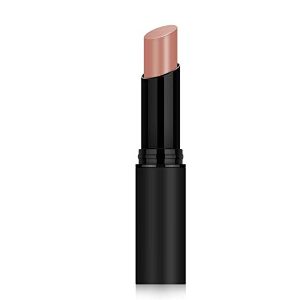 With a smooth texture, it leaves lips feeling soft with a shiny finish. Ingredients hydrate and moisturizes, while also protecting from sun exposure with SPF 25 and vitamin E.
Key Features:
Leaves lips silky and soft
Complements natural tone
Dermatologically tested
Cost: $8.00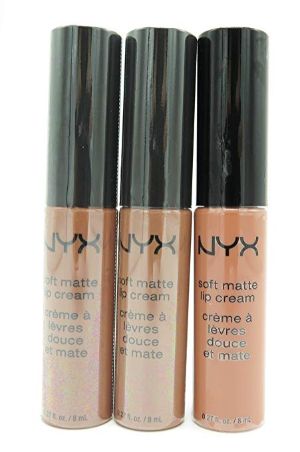 Three-pack comes with a variety of nude lip colors. Silky application.
Key Features:
Velvety matte finish
Glides on smooth
Long-lasting formula
Cost: $16.00
Too Faced La Creme Color Drenched Lip Cream

Made with power peptides to stimulate collagen. Quick, one-swipe application.
Key Features:
Contains white lotus flower extract for soft lips
High pigmentation
Collagen stimulates to provide smoother lips
Nude Long-Wear Lipstick
Bellasophy Non-Fade Matte Velvet Lipstick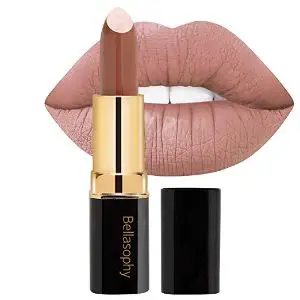 The formula gives lips a three-dimensional fullness. Provides a smooth matte finish.
Key Features:
Seals in moisture
Long-lasting, up to twelve hours
Enriched with micro-fine pigments
Cost: $13.00

The Over The Taupe nude shade is a beautiful velvety matte lip color. Full coverage will stay on throughout the entire day, no matter the activity.
Key Features:
Premium quality ingredients is made for all skin types
Gives lip a plumper look
Easy application
Cost: $7.00
COVERGIRL Outlast All-Day Moisturizing Lip Color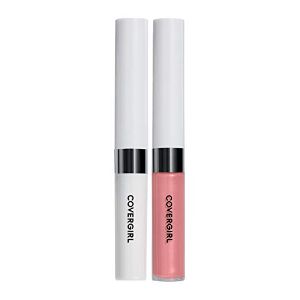 Their Nude Flush color is a perfectly pinkish color. Comes with conditioning topcoat.
Key Features:
Will not cake-up on lips
High-quality staying power with 24-hour formula
Topcoat moisturizes lips
Cost: $7.00
Rimmel Lasting Finish Lip by Kate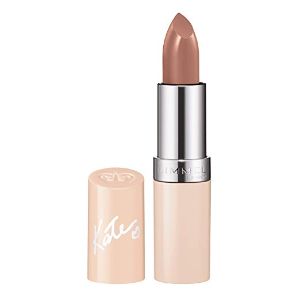 Features beautiful, barely-there shades. Up to 8 hours of long-lasting color.
Key Features:
Creamy and soft colors
Comes in a variety of nude colors
Smooth application
Cost: $6.00
Wet n Wild Megalast Liquid Catsuit Lipstick
Goes on glossy and dries to a beautiful matte finish. High pigmentation with vivid color.
Key Features:
Lightweight comfortable formula
Long-lasting formula
Will not dry out lips
Nude Satin Lipstick
By The Clique Premium Satin Nude Lipstick
Soft, smooth and satin finish. Brings out the best features of your lips.
Key Features:
Feels smooth and soft
Perfect pink nude color
Long-lasting
Cost: $21.00
e.l.f. Beautifully Bare Satin Lipstick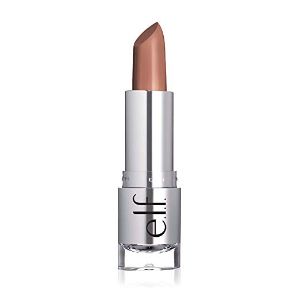 Touch of Nude color creates a beautiful natural look. Applies light and smooth.
Key Features:
Enhances natural look
Infused with shea butter
Lightweight
Cost: $8.00
Maybelline New York Color Sensational Nude Lipstick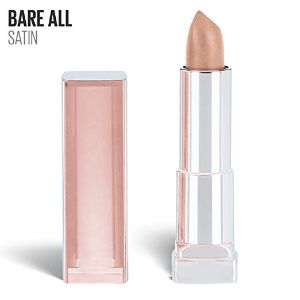 Made from precious oils, this lipstick glides on smoothly. Made for a wide range of skin tones.
Key Features:
Made with pure pigments for great color
Infused with honey nectar
Great neutral color
Cost: $5.00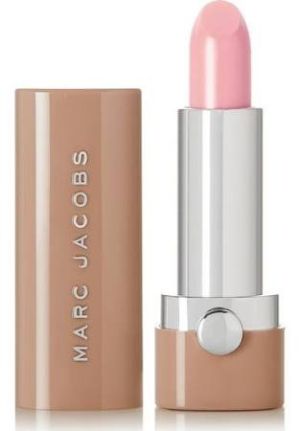 A gel formula in a sheer nude color applies quickly and dries to a satin finish. All-day comfortable wear.
Key Features:
Innovative gel dries to satin
Creamy formula
Contains myrrh extract and vitamin E for moisture
Cost: $59.00
Revlon ColorStay Ultimate Liquid Lipstick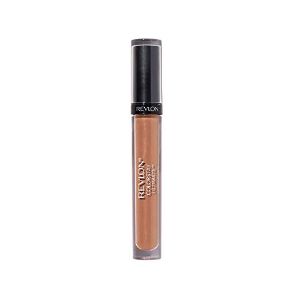 Amazing coverage with a soft satin finish. Very comfortable to wear, with no cakiness.
Key Features:
Lasts up to 24 hours
Super lightweight formula
Food-proof
Cost: $9.00