When shopping for a natural deodorant, you want to be certain that you are getting a good quality deodorant. All-natural can best be described as being made with genuine products that you can find in nature. Many deodorants on the market today contain various chemicals just to mimic the scent that they are trying to sell. With natural deodorants, the makers usually rely on things like essential oils and baking soda to create pleasant scents and to mask odor. As an added bonus, they are also more environmentally friendly.
While there are plenty of natural deodorants out there, not all of them are created equal. When it comes to choosing the best, you want to look at things like how long it lasts, the ingredients, price points, and more. We have scoured the net to find the best of the best natural deodorants on the market today. Here is what we found.
When it comes to natural deodorant, Sam's Natural Deodorant Stick stood out as the clear front-runner. Not only are they free from any harsh chemicals, but are available in seventeen different scents. For eight years, the company has been lovingly crafting their natural deodorants in the White Mountains of New Hampshire.
The 5 Top-Rated Natural Deodorants
Our Top Pick: Sam's Natural Deodorant Stick
When it comes to natural deodorants, the clear winner was definitely Sam's Natural Deodorant Stick. With seventeen amazing scents to choose from, you will be able to find one that suits you the best. It is completely cruelty-free, vegan and has no aluminum in it. It is entirely free of any harsh chemicals, so it is totally gentle on your skin. The company launched in 2011, so for over eight years, Sam's has been creating high-quality natural deodorant in the White Mountains of New Hampshire. You can't get much closer to nature than that!
While we are used to swiping and swiping on deodorant, it seems that a little goes a long way when it comes to this natural deodorant. The company says that one to two swipes is all you need to keep smelling fresh all day long. That is value! Included in this deodorant is baking soda to neutralize odors. It also contains coconut oil to fight fungal and bacterial growth, all while gently moisturizing skin. Each amazing scent is created by using natural fragrance oils, with nothing synthetic in the mix that will irritate your skin. If you want to stay fresh all day and smell great, this product is top dog.
Sam's Natural Deodorant Stick Key Features:
Made with arrowroot power to absorb wetness
Created with all-natural ingredients, with environmentally friendly packaging
A large variety of scents to choose from
Certified vegan product
Our Runner Up Pick: Underarmed Organic Deodorant
When it comes to a really great natural deodorant, Underarmed Organic Deodorant seems like a great choice for our runner up pick! Unlike commercial brand deodorants sold in stores, that are constantly clogging up your pores, this one absolutely will not. It is completely organic with no crazy chemicals or toxins in there. It is even safe for children to use, making it the best choice for any pre-teens who are just about to start puberty or are already there. Starting them off on the right foot with a natural deodorant is definitely the right way to go.
Plus, you do not have to worry about staining your clothes with deodorant anymore. This one goes on totally clear. If used daily, one stick can last up to three whole months! Imagine not having to go to the grocery store every month just to buy another stick of deodorant that doesn't really work. Another plus is that you only typically need one application to keep smelling fresh all day long. Not too many deodorants out there can boast that, with having to put on two to three applications per day. With over 2,300 positive reviews, you definitely can't go wrong with this choice.
Underarmed Organic Deodorant Key Features:
PH balanced, great for sensitive skin
Each stick is handmade in Nashville
Zero toxins
Aluminum free
Best Budget Pick: Truly's All-Natural Cream Deodorant
If you are just making your foray into the world of natural deodorants, you definitely want to give Truly's All-Natural Cream Deodorant a try! It is created with all natural ingredients, and it is inexpensive but totally effective at doing what it needs to do! This deodorant is great because you only need to apply it once, and you are good to go! No need to keep re-applying it over and over again. A little goes a long way. It only takes one pea-sized dollop applied to each underarm for all-day freshness. One container will last you quite a long time, thus making it our top budget pick!
This deodorant is totally free of any harsh chemicals and is totally safe! It is also GMO-free and completely safe for children to use. They even make a children's formula, as well! It is created using beeswax, organic powdered sugar, organic coconut oil, and baking soda. The sugar and honey in their formula combine to help prevent bacterial growth. The company even uses a BPA-free and PVC-free food-safe container to pack their deodorant in. They are very serious about being all-natural. If you are looking for a natural deodorant to try, this one is it!
Truly's All-Natural Cream Deodorant Key Features:
Moisturizing and soothing to the skin
All ingredients are organic
Will not stain clothing
Light coconut fragrance from coconut oil
Best Natural Deodorant Cream: Routine De-Odor-Cream
This amazing deodorant, Routine De-Odor-Cream was created by two sisters in Calgary, Canada. It comes in a variety of different scents, 12 in all. They even have 3 different formulas, which include vegan and one for sensitive skin, so you do not have to worry about irritation if your skin is sensitive. While many natural deodorants use baking soda in their ingredients, this company has chosen to go with an alternative for some of their formulas. They replaced baking soda with dietary magnesium, which if your body does not receive enough of, can actually make sweat smell worse.
The application process for this cream deodorant is easy! It just goes on like you would put on any other lotion. This method of application can actually reduce contamination by bacteria. You will not have to throw this deodorant out because it starts to look funky. It literally is good until the last drop. The company is environmentally friendly, and they never test on animals. Many customers have said this company's scents are not terribly overpowering, which is wonderful news for those who are sensitive to heavy scents and perfumes. This cream deodorant seems perfect if you are wanting to switch over from a deodorant stick.
Routine De-Odor-Cream's Key Features:
Totally handcrafted
Each jar lasts 3-6 months
No harmful chemicals
Environmentally friendly packaging
Best Natural Deodorant Stick: Humble All Natural Deodorant
When it comes to stick deodorant and you are looking to switch to an all-natural product, Humble All Natural Deodorant is an incredible find. This deodorant is one that will keep you feeling and smelling fresh throughout the entire day. The company uses ingredients that are completely safe and in no way harmful. It is entirely free of alcohols, parabens, and dyes. They craft this deodorant in small batches in New Mexico, so you know that you are getting a high-quality product each time that you order every single time.
The company even has the Leaping Bunny Certification and is entirely cruelty-free. At most, this deodorant has about 4-5 ingredients in it, versus store-bought deodorant. It is one of the only deodorant sticks out on the market today that has such little ingredients in it. They offer both a men's and a woman's deodorant. Their scents come from all-natural essential oils. You can be certain that you are getting a high-quality product. This deodorant is definitely a front-runner for one of the best stick deodorants out there today. You will not be disappointed with your purchase, that is one thing that is for certain when it comes to this stick deodorant.
Humble All Natural Deodorant Key Features:
Handmade in small batches
Nothing artificial, all organic
Delightful scent
Lasts for months
Who Should By A Natural Deodorant
There are quite a number of reasons that one would switch from a more commercial deodorant to an all-natural deodorant.  Many who are looking for a much more simpler kind of deodorant are apt to be on the lookout for something organic. There are a lot of chemicals that are in commercial deodorants, ones that you would find in your local big box store, or grocery store. Many people are now looking towards more natural ingredients when it comes to putting something on their bodies, like massage oils and shampoos. Natural deodorants have very little to no chemicals in them.
Very many people also have especially sensitive skin. So, most deodorants that are found in the stores, nine times out of ten can give someone with sensitive skin an issue because of all of the chemicals found in them. This is why many people are turning to a more natural alternative with natural deodorants. Organic deodorants are becoming more popular each and every day.
Important Features To Consider
Natural deodorants should be able to do several things well. Here is what to consider when selecting a natural deodorant that is a great fit for you.
Ingredients. Ingredients are the absolute number one thing to consider when it comes to choosing out a natural deodorant that is a good fit for you. You want to be able to find a deodorant that is free of chemicals like parabens, aluminum, artificial dyes, and scents. If you have especially sensitive skin, you want to steer clear of any of those.
Scent. This is most definitely an important feature to consider when it comes to looking for a new natural deodorant for yourself. Do you like something that is more lightly scented or something that is a bit muskier? It is important to look for deodorants that are created with essential oils, not scents that are made with artificial ingredients.
Ease of application. You might have a preference as to how you would like to apply your deodorant. Perhaps you prefer stick deodorant, or maybe a gel. There are even deodorant creams that are applied just like lotion is! There are plenty of options to choose from.
Creation process. Being a natural deodorant means that the creation of the product itself should be a simple one. Not one where it is being mass-produced in factories. Look for companies that pride themselves on being organic and create their product in small batches at a time.
Frequently Asked Questions
What is natural deodorant and how does it work?
Natural deodorant is a deodorant that is free of many of the chemicals that commercial brand deodorants hold. Deodorants that are natural usually have approximately 8 ingredients or less. Typically, they are made by small companies that have dedicated themselves to providing a high-quality natural product. Natural deodorant works a lot like commercial deodorants do, but do not have many of the chemicals that commercial brand deodorants have. Natural deodorants use ingredients found in nature. They are organic, and will not clog pores or sweat glands, like the brands you see sold in stores so often tend to do. Many organic/natural deodorant manufacturer's usually have special formulas that are made especially for sensitive skin.
What are the benefits of using natural deodorant?
When it comes to using a deodorant, and you want something that is chemical free, natural deodorant is the best way to go. Some of the amazing benefits of using a natural deodorant can include fewer breakouts, for example. Less ingredients mean less irritation to your skin and pores. Many natural deodorants can also produce a more pleasant scent because they are created with essential oils. An additional benefit of using a natural deodorant is that it does not leave streaks or lines behind on your clothing like regular deodorants/antiperspirants will.
Does your body have to adjust to natural deodorant?
The answer to this question is, yes, your body does have to adjust to a natural deodorant. See, certain parts of our bodies are prone to have "bacterial communities." Underneath your arms is one place that is. If you have been using antiperspirant since you started puberty, for example, then your body will most likely be dependent upon it. Your body has to begin flushing out the toxins, such as aluminum contained in regular deodorants, out of your system. Your body does this by sweating, so you may see an increase in odor, but that does not mean that a natural deodorant isn't working. Your body needs to detox and go through a transition period, and this can take up to thirty days.
Does natural deodorant really work?
Natural deodorant absolutely truly does work! So many people swear by it. Natural deodorants do not plug up your pores underneath your arm so you don't sweat. However, they do mask odor, plus they can contain natural ingredients that can absorb sweat, instead of blocking it entirely. Various naturally occurring compounds that absorb sweat include cornstarch,  arrowroot and sometimes, baking soda. Natural deodorant most definitely works. But you, as the consumer will have to find out exactly which natural deodorant will work best for you.
Other Natural Deodorants We Reviewed
We looked at 20 other natural deodorants. While they did not make our 5 best natural deodorants, they're the best of the rest and each is still a great option to look at and find what works for you. The information you'll need to compare each one is included with the listing.
Natural Deodorant Creams
Lavilin Underarm Deodorant Cream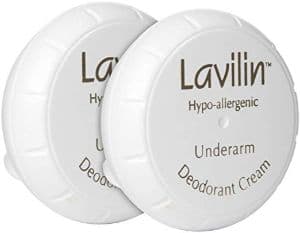 This cream deodorant is totally hypo-allergenic, making it perfect for those with sensitive skin. Totally chemical and aluminum free.
Key Features:
One application lasts for days
Herbal extracts used to eliminate bacteria
Showering doesn't reduce effectiveness
Cost: $29.00
Little Seed Farm Deodorant Cream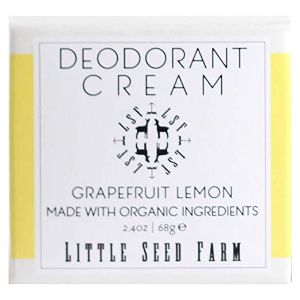 The deodorant lasts a full twenty-four hours without reapplication and completely blocks odors. Using organic arrowroot powder, this deodorant absorbs sweat, stopping it in its tracks.
Key Features:
Product comes with wooden spoon for easy application
Neutralizes body odor without irritating skin
Handmade in small batches
Cost: $12.00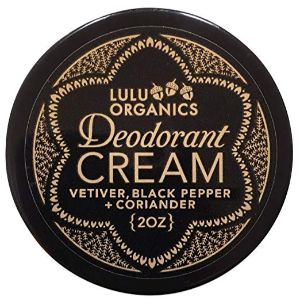 It only takes a small, dime-sized amount applied to the underarms for all-day freshness. It is gluten, aluminum and chemical free.
Key Features:
Woody scent created using essential oils
No synthetic fragrances
Never tested on animals
Cost: $15.00
Meow Meow Tweet Deodorant Cream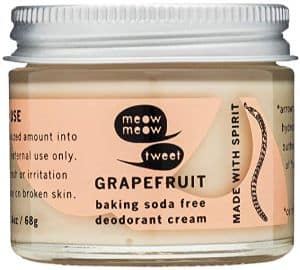 This deodorant not only neutralizes odors, but also moisturizes your skin as well. It is very easy to apply to your underarms.
Key Features:
Does not throw off your body's pH balance
Created with organic plant oils
Pleasant, citrus scent
Cost: $13.00
This deodorant is very mild, perfect for those with sensitive skin, made with only three total ingredients. While it is unscented, it will keep odors away.
Key Features:
Each jar lasts 2-3 months
Does not stain
Goes on smooth
Natural Deodorant Sticks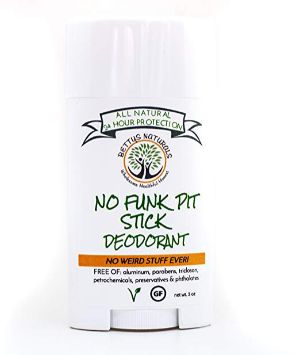 There is no sticky application process and goes on smoothly and easily. Tubes usually last up to three months.
Key Features:
Essential oils make this deodorant anti-fungal, anti-microbial and anti-bacterial
Free of anything synthetic
Great for even the most avid athletes
Cost: $12.00
Organic Island Probiotic Deodorant Stick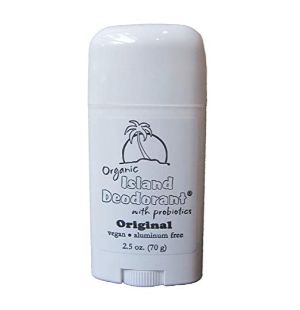 With an aluminum-free formula and the unique ingredient of probiotics, odors will be a thing of the past. It is alcohol-free with no added fragrances.
Key Features:
Good for children and teenagers alike
A couple of swipes can provide up to 48 hours of protection
Vegan
Cost: $13.00
Positive Essence Crystal Active Deodorant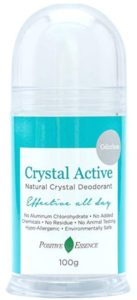 This deodorant leaves no residue behind after application. It can last up to 12 hours after application.
Key Features:
Will not clog pores
Great for those on the go
Helps even the most sensitive of skin
Cost: $10.00
Primal Life Organics Natural Deodorant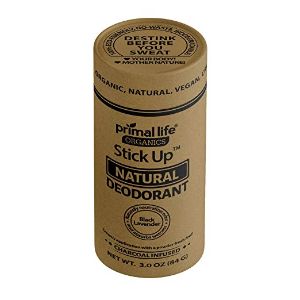 Created with hemp seed oil, magnesium, and zinc oxide, this natural stick deodorant will keep you dry and smelling fresh. Certain formulas contain activated charcoal, which actually cleanses the underarms before sweat happens.
Key Features:
Available in a variety of natural scents
Doesn't disrupt your body's natural moisture level
Comes in BPA free eco-friendly packaging
Cost: $15.00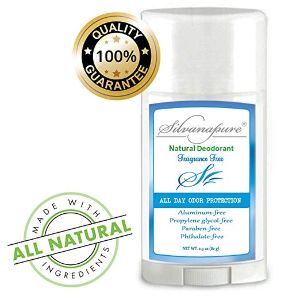 Created with pure essential oils and natural botanicals, this natural deodorant is easy on sensitive skin. It provides all-day protection, killing odors and keeping wetness away.
Key Features:
Safe for children to use
Can last up to 3 months
Natural ingredients in the formula trap odors
Natural Deodorant Roll-Ons
Alvera Aloe & Almonds Natural Deodorant

This deodorant offers a pleasant smell that isn't too overwhelming. Easy application and very effective.
Key Features:
Contains 75% aloe vera gel
Unique formulation conditions the skin
Great for sensitive skin
Cost: $18.00
Aubrey Organics Natural Deodorant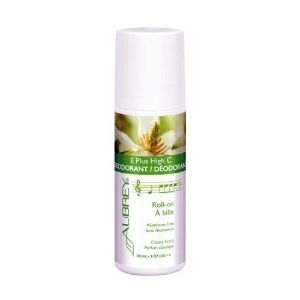 This special deodorant has organic aloe, as well as vitamin E and other natural ingredients to soothe skin. Provides high strength protection against body odor.
Key Features:
Helps maintain skin health and repair damaged skin
All natural herbal formula smells fresh
Contains vitamins that help moisturize skin
Cost: $8.00

This deodorant comes in a variety of six different pleasant scents. There is no need to worry about any greasy applications with their formula.
Key Features:
Baking soda free
Fights odors hard, but great on sensitive skin
No show formula means no stained clothes
Cost: $12.00
FoodGradeOrganic Natural Deodorant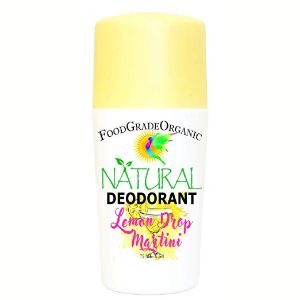 With a fresh "Lemon Drop Martini" scent, it is perfect for both men and women alike. Prevents sweating while kicking odor to the curb.
Key Features:
Created with therapeutic essential oils
Detoxifies and helps heal skin
Great for children and teens
Cost: $14.00
Silver Botanicals Silver Shield Deodorant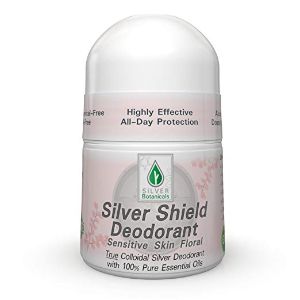 Created with only the finest natural ingredients, this deodorant formula contains true colloidal silver, as well as the finest essential oils. It is formulated to provide your skin's best pH.
Key Features:
Cost effective, as bottles are refillable
Fresh scent that is great for both women and men
Supports your body's natural detoxification process from using commercial-grade deodorant to natural.
Natural Deodorant Paste
Funkless Natural Deodorant Paste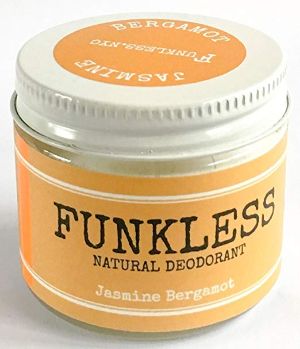 This coconut oil based formula boasts a delightful jasmine bergamot scent. Formulated in the USA, in Brooklyn, NY.
Key Features:
Free of corn, gluten, and soy
Great deodorant formulated for the whole family
Stands up to the toughest workouts
Cost: $11.00
Kaiame Naturals Deodorant Paste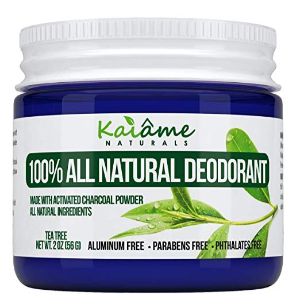 Conscientiously put together formula features ingredients that will have you feeling fresh all day long. It also contains charcoal powder to help absorb sweat.
Key Features:
Can absorb 1000 times its own weight in moisture
Draws toxins from your underarms
Protects clothing from sweat stains
Cost: $13.00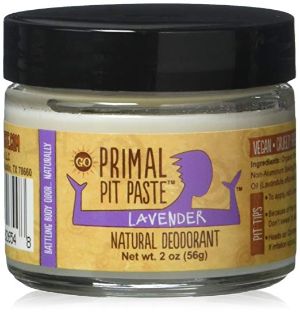 This natural deodorant paste is great for use by the entire family. There are scents to appeal to everyone's individual preferences.
Key Features:
Organic shea butter helps moisturize skin
Contains vitamin E
Made with natural food-grade ingredients
Cost: $14.00
Woohoo! Natural Deodorant Paste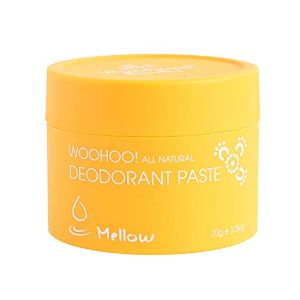 This deodorant paste is the winner "Best Natural Deodorant" of 2017 Nature & Health. It has a great scent that works for men and women.
Key Features: 
Created and made in Australia
Specially formulated to not irritate or be itchy
Includes plastic applicator spatula
Cost: $13.00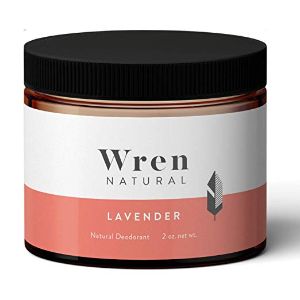 Created with cornstarch, beeswax, coconut oil, and other natural ingredients will keep you feeling fresh the whole day through. Specially formulated for sensitive skin.
Key Features:
Essential oils provide antiseptic, antibacterial and antibiotic powers
Wonderful scents leave you smelling great
Deodorant disappears within seconds of being applied
Cost: $7