Very few hair types handle air drying beautifully, and for the vast majority who struggle styling hair that isn't blown dry, a hair dryer is an absolute must-have item. There are so many different types of hair dryers, now though that it can be genuinely overwhelming to make the right choice for your hair – even if you've been styling your hair for years. If that's the case for you, then let us make your purchase a little easier by giving you the details you need to know – without any of the confusing marketing that a lot of manufacturers force down our throats.
We reviewed dozens of hair dryers to identify the best of the best. We found the ceramic blow dryers that will create a more evenly heated cylinder, preventing overheating and those that use infrared energy waves to prevent heating. We found the best hair dryers for your budget and those that will work fast. No matter what you need to get out of your hair dryer, we have the best bet for you.
If, in your search for the best way to style your hair, you're faced with a need for more than just your hair dryer, you may want to check out The Best Flat Irons. And while there are some overlaps with hot brushes and hair straightening brushes, you'll find the best of the latter with The Best Hair Straightening Brushes.
As a professional quality hair dryer, it's nearly impossible to beat the Kaleep Infrared Professional Salon Hair Dryer, and as such, it was the clear winner for our top pick spot. With the infrared function, you won't need to worry about the heat damage that other hair dryers inflict on your hair and styling will be all the easier when you won't have to worry about the cuticles of each strand fraying and breaking.
The 5 Top-Rated Hair Dryers
*Ratings are from Amazon at the time of publication and can change
Best Hair Dryer Overall: Kaleep Infrared Professional Salon Hair Dryer
The Kaleep Infrared Professional Salon Hair Dryer will keep your hair as smooth and healthy-looking as possible with the infrared function that will reduce static and frizz while drying your hair quickly. It has a professional AC motor that won't drown out the sound of the room and will keep you from damaging your hearing with regular use. (This also means that you may even be able to double the use on your pup while you're grooming him, too. – This definitely lends to the versatility of this hair dryer!)
It comes with a variety of accessories that will allow you to style while you dry, so that no matter what kind of hair or style you have or want, you can achieve it with this dryer. It has a lightweight design so you can hold it for as long as you need; longer than it will take to dry your hair, to be sure – and the ergonomic handle will remain comfortable all throughout.
Over 1,500 people have felt strongly enough about this hair dryer to come back and leave a review. And considering the overall rating is an impressive 4.7 stars, that's clearly an indication of quality.
Kaleep Infrared Professional Salon Hair Dryer Key Features:
1875 watts of power
2 heat settings
3 attachments included
Best Hair Dryer Styling Brush: NEXT BEAUTY Hot Air Brush
The NEXT BEAUTY Hot Air Brush will let you style your hair as it's drying, making it a one-stop-hair salon. The hair drying function will blow air in all directions, to add volume to your hair, and it heats up fast saving you plenty of time, too. The swivel cord will rotate a full 360-degrees so you won't get tangled up in it while you're styling your hair and the varied speed and heats will let you customize each dry as you see fit.
This hair dryer will also use plenty of negative ions with the ceramic and tourmaline barrel to keep your hair smooth and healthy while you're styling, and that goes a long way towards loving your hair dryer. The constant and consistent temperature will prevent heat damage and though you will need to towel dry your hair (as is recommended for all hair dryers), this hair dryer will give you that finalized look that you're going to love.
There are right around 250 customer reviews on Amazon for this hair dryer, earning it an overall rating of 4.5 stars. All things considered, this is a solid option for a hair drying hot air brush.
NEXT BEAUTY Hot Air Brush Key Features:
1000 watts of power
3 temperature and 2 speed settings
3-in-1 design – dryer, straightener, and volumizer
Best Budget Hair Dryer: Revlon Compact & Lightweight Hair Dryer
The Revlon Compact & Lightweight Hair Dryer has a compact design that makes it perfect for travel, but that it's lightweight is also wonderful for extended use. So if you have a lot of hair or are going for a style that takes time, this may be your best bet. The end cap is even removable so you can easily clean and maintain the dryer, making it last even longer.
The Cool Shot button on the handle of this hair dryer feels like a trigger and as you push it, a burst of cool air will release to set your hair into the style you're going for, making it all the longer-lasting. You'll be able to use this function to speed your styling and combined with the fast-drying the hair dryer will give you, you'll be on your way in no time.
Well over 4,000 customers have left an overall rating of 4.5 stars on Amazon for this hair dryer and while those are nice numbers to read, our favorite part is definitely the price tag. You can pick this up for right around $10.
Revlon Compact & Lightweight Hair Dryer Key Features:
Cool Shot button for setting hair
2 speed and heat settings
3 color options
Best Ionic Hair Dryer: Remington Damage Protection Hair Dryer
The Remington Damage Protection Hair Dryer will utilize the ionic technology in conjunction with the ceramic and tourmaline coating (three times more than the competitor!) to make sure your hair dries frizz and damage-free, every time. It also means the end result, dry hair with a healthy sheen, is achieved even faster than before.
The hair dryer comes with two attachment accessories that will let you get the style you want, no matter what that happens to be. You'll easily be able to diffuse your hair with one attachment and the concentrator will let you focus the air on one specific section at a time, making it easier to train stubborn sections individually. (Perfect if you're trying to bend a cowlick to your will.)
Think about how often you review a product you buy online and then consider how much more common it is to leave a review if the customer is displeased; you certainly have to keep it in mind when you read reviews. Unless the person is a frequent reviewer, they typically only have to be slightly displeased to leave a bad review but need to be exceptionally satisfied for a positive review. So this hair dryer's overall rating of 4.4 stars, left by over 4,000 customers is genuinely impressive.
Remington Damage Protection Hair Dryer Key Features:
1875 watts of power
2 heat settings, 3 speeds
Cool shot button to set hair
Best Fast Drying Hair Dryer: Dyson Supersonic Hair Dryer Iron
The Dyson Supersonic Hair Dryer Iron will dry your hair in a healthy way, and it will do it quickly. The digital v9 motor combines with Dyson's trademarked Air Multiplier to produce a high-velocity air to remove the moisture from your hair precisely and ultra-fast.
Any attachments that you add to this hair dryer are secured and removed easily with magnetic connections, making it a piece of cake to switch between style methods. Included with this hair dryer, you'll get the concentrator, smoothing nozzle and diffuser attachments to make each method a breeze.
You may have a bit of sticker shock on this hair dryer – it does run around $400 on Amazon. However, take a look at the rating and reviews, too. Over 1,000 customers have given it an overall 4.5-star rating and they each paid that much too. So it must be something special for customers to think it's worth the cost. After all, you get what you pay for.
Dyson Supersonic Hair Dryer Iron Key Features:
4 heat settings; 3 speeds
2 colors available
Cold Shot button to set hair
Who Should Buy a Hair Dryer
If you shower in the evening, you'll pretty much need a hair dryer, as going to bed with wet hair can be absolutely miserable. In order to avoid that, a quick blow dry will keep you from finding imaginative workarounds – you don't want to sleep with a towel on your head or on your pillow, after all, and it's just so much simpler to dry it before bed. In the morning, you'll wake to dry hair that you can style from there – whether that's pulling into a ponytail, or curling, or anything in between – dry hair is usually step one to any hair practice.
Styling your hair isn't always easy, especially if you're getting bored with the same hairstyle that you've had for years. Getting creative with your hair is virtually impossible without a blow dryer. Blow dryers often create heat, and to smooth or straighten your hair, heat will certainly help. You'll be able to heat and pull the curl from your hair or use a round brush in conjunction with heat to create a wave to better frame your face. Even if you only use your blow dryer on occasion, having one opens plenty of doors to your hair potential.
As a side note, even if your entire family is bald, you can still use a blow dryer on your wet dog, to dry an art project, or even to speed the drying of your nails. A blow dryer, even if not used daily, is always nice to have in your home.
Important Features to Consider
A hair dryer should have a few important features. Here's what to consider when selecting a hair dryer:
Ceramic. You may not like the comparison, but consider how evenly a ceramic frying pan heats compared to its other metal counterparts and you'll understand why the hair dryers with a ceramic coating are such a valuable commodity. Just as the frying pan distributes heat consistently, so, too will the blow dryer, making it less likely to overheat and damage your hair. Other high-quality heating metals include titanium, but because that's a bit less common, and often more expensive, we're big fans of ceramic in terms of function and practicality.
Infrared. While not yet the most common source of hair drying, infrared hair dryers are incredibly efficient at drying your hair. Because they use a longer wave of energy, it penetrates your hair and dries it from the inside out. It will also protect your hair from heat damage, as well as scalp burns. The even, cooler heat will help prevent frizz and adds a bit of shine. Because it's a bit faster to dry and gentler on your hair, it's ideal for delicate hair that's damaged, dry, or colored.
Hot Brush. If you're interested in styling your hair while you blow it dry, you may want to consider a hot brush. Keep in mind this isn't just a straightening brush that heats your hair – a hot brush will blow your hair dry through the bristles and allow you to use one hand to style, without using the other to hold a brush and style while you use the other to blow dry. Make sure your brush is safe to use on wet hair – otherwise it's not a hot brush so much as a straightener and won't have the same effect.  – In fact, without the wet hair functionality, using it with your wet hair may cause far more damage than you want.
Other uses. It's important to consider that a hair dryer doesn't just get used on hair. In fact, even without using it for your hair at all, you may still require a hair dryer to blow dry your pet, or your craft or woodworking. You could use it to dry a paint color so you'll know before the full 2 hours of drying whether or not the sample is going to fit your room. If nothing else, a hair dryer is nice to have for visiting family and friends from out of town.
Frequently Asked Questions
What should I put on my hair before blow drying?
You want to protect your hair from heat damage that can sometimes come with drying your hair, but you also want something that will help you style it the way you prefer it styled. Because all hair types are different and each styling option requires a slightly different product, we highly recommend talking to a hairstylist to know for certain what you're best off getting. However, as a general rule, you can pick up a lush oil that will re-hydrate your hair as it's being blown dry. The right oil will replenish the moisture your hair loses while being blown dry and it can help set in a style you love. Some of the best oils to protect your hair are Keratin, Argon, and Moroccan. (Check out The Best Keratin Treatments.) Leave-in conditioner is another excellent option that is possibly better for more oily hair, and they'll have a lot of the same oils and built-in protections to make sure your hair stays healthy, without a greasy look afterward.
Is it better to let your hair dry naturally?
You may be surprised to know that the science on this question is divided. There are pros and cons for each and the answer is also largely dependent on your hair and preferred style. For example, curly hair that you want to keep curly should be dried naturally (and with a product). If you want your straight hair smooth or your curly hair straight, then blowing it dry may help maintain that healthy shine. – As long as you're using it correctly. You can't over-dry it with too much heat, or use the hair dryer too close to your head, but if you do it properly, then the hair dryer can be your hair's best friend. The best method for your hair seems to be to allow your hair to air dry to roughly two-thirds dry and finish it off with a hair dryer, smoothing the cuticles down and giving you the style you want.
In case you were wondering why air drying isn't ideal – bacteria and mildew can grow in it if you're not careful – Yuck! It's not common, but it's definitely something worth considering when you're planning your nightly shower. Additionally, that much time wet can cause damage over time. (Likely over years.) Your hair may also get dehydrated if you go out into the cold with it wet. (Though you won't get sick like you were probably told you would as a child, it's still not great for your hair.)
Why is my hair so frizzy after blow drying?
When your hair gets frizzy, it's because it's too dry. That may seem odd, considering dry is the goal, but it just means that if your hair is frizzy after drying it, then the blow dryer you're using is over-drying your hair. That doesn't mean you can't dry your hair fully, but consider your skin – it's still dry after it's absorbed a lotion, right? Your hair is similar. You want the hair to stay hydrated so that it lies smooth and has a healthy shine. Protect your hair before you dry it by putting a product on, or by finding a quality hair dryer that won't dehydrate and frizz your hair.
How do you blow dry hair smooth?
There are a few tips that will help create a smooth style while you're blow drying and, depending on your hair, some combination of these tricks will likely give you the result you want. First, you need to find a quality hair dryer that won't overheat your hair. (You're already halfway there, reading this list!) Beyond that, you may want to find a hair treatment that will help keep your hair healthy and smooth. Start at the roots. You don't want to blow dry the tips first, because that will take longer, but also because it will ensure you're overheating your hair due to the time spent subjecting your hair to the heat. Make sure you're using a big round brush. The smaller the brush, the more difficult to smooth your hair while you dry it. And don't forget to let your hair "set" on the brush before you move onto the next portion of hair. Also, a nozzle that helps the hot air to a specific part of your hair (the cuticles), can be a big help to keep a smooth, healthy shine to your hair long after it's been dried.
Other Hair Dryers We Reviewed
We looked at 20 other eye creams. Even though they didn't make our 5 best eye creams list, they're the best of the rest and each is still a great option for your eyes. The information you'll need to compare each one is included with the listing.
Brush Hair Dryers
This hair drying brush will let you style it as it dries in order to get the exact look you love.
Key Features:
Nylon brush teeth
6 cm diameter
360-degree swivel cord
Cost: $40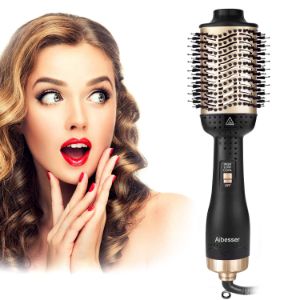 To smooth out your hair and create volume as you dry, this hot brush hair dryer is exceptional.
Key Features:
Nylon and tuft bristles for detangling
5-in-1: hot air Dryer, Straightener, Hair curler, Massage Comb, and Brush
2 color options
Cost: $45
DREAMSOULE One-Step Hair Dryer & Volumizer Blow Dryer
You can do it all (practically) with this hair dryer that styles and smooths, as well as volumizes and even straightens.
Key Features:
5-in-1: volumizes, curls, smooths, dries straightens, and waves hair
2 heat levels
Ceramic coating
Cost: $40
MHD PROFESSIONAL Ceramic Hot Air Brush Styler and Dryer
If you'd like a small wave in your hair as you dry it to make your hair styled in half the time.
Key Features:
3-in-1: dry, volumize, style
9 ft swivel cord
Soft nylon bristles
Cost: $40
Revlon One-Step Hair Dryer & Styler
You'll love the feel of this brush that will dry your hair as it moves through it just as your everyday brush does.
Key Features:
2 heat settings
2 colors available
Flexible detangling bristles
Ceramic Hair Dryers
Chic Republic Professional Ionic Hair Dryer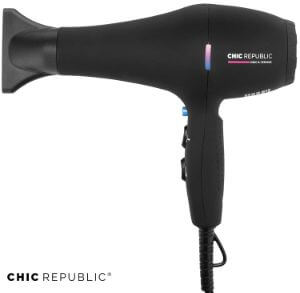 Smooth your hair with a ceramic coated hair dryer to give your hair a healthy shine.
Key Features:
2 diffuser nozzles
4 heat levels; 2 speeds
1-year warranty
Cost: $45
Conair 1875 Watt Ionic Ceramic Hair Dryer
With two attachments for optimal styling, you're sure to get your look customized just as you like it.
Key Features:
3 heat; 2 speed settings
2 color options
Ceramic and tourmaline coating
Cost: $35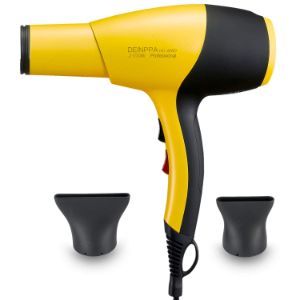 There are several options on your style with this hair dryer; with concentration and smoothing nozzles as well as two speeds and three heat settings, you're sure to get just what you want out of this.
Key Features:
8 ft power cord
2-year quality replacement
2100 watts of power
Cost: $40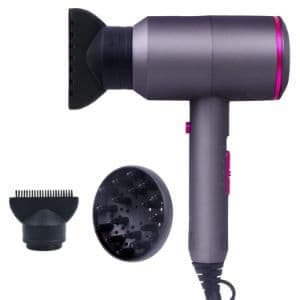 This compact hair dryer uses ionic technology to maintain a healthy and smooth hair style you're sure to love.
Key Features:
3 heat settings; 2 speeds
Cool button to set style
3 attachments; diffuser, smoothing, and style nozzles
Cost: $45
Elchim 3900 Healthy Ionic Hair Dryer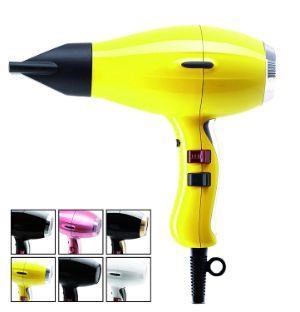 Getting the healthy sheen to your hair won't be nearly as difficult when you have this hair dryer at your disposal.
Key Features:
6 colors available
9 ft power cord
2 speed; 3 temperature settings
Cost: $200
IMMOSO Professional Ionic Salon Hair Dryer
The ergonomic handle and lightweight frame make this ceramic and tourmaline hair dryer one you'll always be comfortable using.
Key Features:
Concentrator nozzle included
2 speeds; 3 heat settings
1875 watts of power
Cost: $30
NITION Negative Ions Ceramic Hair Dryer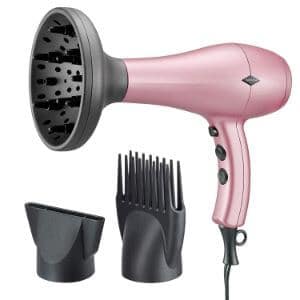 With the cool set button, you'll be able to set your look and the three heat settings and two wind speeds will allow you to get your hair just the way you like.
Key Features:
3 attachments included: straightener, concentrator, diffuser
2-year warranty
3 colors available
Cost: $40
Nozama Professional Hair Blow Dryer
The three attachments with this hair dryer (the diffuser, the smoother and the styling nozzle) will allow you to control the way your hair styles and the speed with which it dries.
Key Features:
1500-1800 watts of power
3 heat settings; 2 speeds
18-month warranty
Cost: $40
Remington Pro Hair Dryer with Pearl Ceramic Technology
The professional motor on this hair dryer allows the manufacturer to boast it dries hair with an airflow up to 40% faster than its competitors.
Key Features:
3 heat settings; 2 speeds
1875 watts of power
Pearl ceramic technology
Cost: $25
Trezoro Professional Ionic Salon Hair Dryer
This hair dryer features a built-in advanced ion generator to make sure that as your hair dries, it will prevent frizz and remove static.
Key Features:
3 heat settings; 2 speeds
2200 watts of power
Includes 2 concentrator nozzle attachments
Infrared Hair Dryers
This whole-head hair dryer will dry using infrared technology that will dry your hair fast.
Key Features:
Mode include: perm, color, hair care, and more
Temperature adjusts from 25 ℃ to 60 ℃
4 caster wheels for portability
Cost: $250
Berta Professional Salon Infrared Hair Dryer
With the consistent, constant heat provided by the infrared hair dryer, you'll be able to give your hair a healthy shine while drying and styling it.
Key Features:
Nonslip grip, ergonomic handle
3 temperature settings; 2 speeds
Low noise
Cost: $40
Revlon Damage Protection Infrared Hair Dryer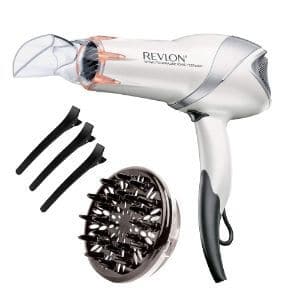 This hair dryer includes two attachments (a concentrator and diffuser) as well as the bonus gift of three hair clips to make styling your hair as you dry it a cinch.
Key Features:
2 colors available
Tourmaline, ionic technology
2 heat settings; 2 speeds
Cost: $25
Skin Research Institute Salon Dry Pro – Professional Hair Blow Dryer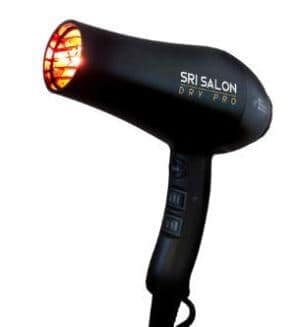 This hair dryer not only will dry your hair, but it will give it a healthy dose of red light therapy to smooth frizz and minimize damage.
Key Features:
1875 watts of power
1-year warranty
2 color options
Cost: $165
Tuenort Professional Infrared Ionic Hair Dryer
With 1875 watts of power and consistent airflow from its ceramic-coated barrel, your hair will be protected from heat damage by using this hair dryer.
Key Features:
2 speeds; 3 heat settings
Cool Burst button to set hair
6.5 ft power cord
Cost: $35