Foot spas have evolved a lot in the last few decades. Gone are the days when they were just a bucket of hot water with some scented soap. Now they are little machines, massaging and softening feet, helping them to relax and reset after supporting your body all day. Using a foot spa can help release tension in your feet and lower legs, and leave your feet feeling rejuvenated.
We reviewed dozens of foot spas to identify the best of the best. We considered features like self-heating, portability, manual or motorized massage, and if you could adjust it digitally.
When we reviewed foot spas, we were looking for a product that could do just about everything you want a good foot spa to do, and the Kendal Foot Spa with Digital Temperature Control checked every box. It stood out as our clear winner because it offers a heated, timed, massaging, and bubble-filled bath for your feet – all things you want in order to feel rejuvenated.
The 5 Top-Rated Foot Spas
*Ratings are from Amazon at the time of publication and can change.
Our Top Pick: Kendal Foot Spa with Digital Temperature Control
We chose the Kendal Foot Spa with Digital Temperature Control as our top pick because it had just enough bells and whistles without going too overboard with features you don't need. The digital control is a highlight, and allows you to change the temperature with just a touch of the button. A red light insight the bath will stay on until your selected temperature is reached. There's also an adjustable timer so that you can choose how long you want the bubble massage to run. It starts at 20 minutes and increases in ten-minute increments all the way up to 60 minutes.
We also loved that the rollers are manual and can be removed and put back in as you choose. This gives the user a lot more control than those that have electric rollers or manual rollers that can't be taken out of the spa.
Finally, there is multi-insulation protection against leaks. If you're going to be filling this up on a regular basis and using it inside your house, this is an especially important feature. Nothing ruins the relaxation experience of a great foot spa more than that foot spa springing a leak!
Kendal Foot Spa with Digital Temperature Control Key Features:
Timed bubble massage
Removable massage rollers
Digital temperature control
Multi-insulation leak protection
Our Runner Up Pick: Ovitus Foot Spa Massager
Ovitus Foot Spa Massager
The Ovitus Foot Spa Massager has the unique component of motorized Shiatu massage rollers, among other great features.
We have two words for you: Shiatsu massage. That additional feature makes the Ovitus Foot Spa Massager our runner up pick. The combination of the motorized rolling massage, the heated water, and the oxygen bubbles help the circulation in your feet and greatly aids in reducing the fatigue your feet feel at the end of a long day.
While the Shiatsu massage is our favorite extra on this product, there are a lot of other great features that also impressed us. It's more eco-friendly than other foot spas because it allows you to choose between different power wattages. So you can quickly heat up the water in the spa using a higher wattage, and then maintain that desired temperature using a lower wattage. That feature alone can save you up to 30% more energy than other spas. It's self-draining, runs quietly, and can accommodate foot sizes up to a men's 17. Many others we rated only accommodate up to a size 12.
This model is priced slightly higher than other models on our list, but the benefits are worth the extra money to give your feet the break they deserve.
Ovitus Foot Spa Massager Key Features:
Motorized Shiatsu massage
Energy efficient
Accommodates larger foot size
Self-draining
Best Budget Pick: Giantex Foot Spa Massager
It doesn't have all of the bells and whistles that some of the other spas we reviewed have, but this Giantex Foot Spa Massager holds its own against other more expensive models because it still offers a great heated massage with a few attractive perks.
One of the reasons that we loved this particular foot spa is how easy it is to use it. The Giantex's simple controls mean no more pushing a lot of buttons and hoping you're doing it right to get the temperature that you want. With this model, you just turn the control knob to the desired setting (there are three choices) and let the spa do the rest of the work. Its removable rollers make it super easy to clean, unlike more complicated spas. Its removable splash guard makes it easier to get your feet in and out of the spa.
All of these features, including infrared heating, make it the best choice for those who need to not only pay attention to their feet, but also their wallets.
Giantex Foot Spa Massager Key Features:
Affordable
Easy to use
Removable massage rollers
Infrared heating
Best Heated Foot Spa: MaxKare Foot Spa Massager
MaxKare Foot Spa Massager
The MaxKare Foot Spa Massager heats water quickly and keeps it at the temperature you want for the entire time you're using it.
The feature that sold us on the MaxKare Foot Spa Massager was the intelligence temperature control. It allows you to set your desired water temperature to anywhere between 95-118 degrees. The machine will heat the water up to that point and keep it at that temperature for the entire duration of your spa experience. No need to deal with the mess of trying to add more hot water to give you more time to relax. Instead, you can lean back and close your eyes, allowing your whole body to relax while your feet get the royal treatment.
While the temperature control option sealed the deal as Best Heated Foot Spa, there were other features that also caught our attention as we reviewed it. It offers vibrations that, when used in combination with the removable rollers, give your feet a real massage. It has a place built in where you can add epson salts or other minerals to the bath, non-slip foot pads, and a beautiful design with a turquoise and white color scheme that makes it more attractive than a lot of other foot spas on the market.
This product is FDA-certified to ensure that it's safe for you to use, and fits up to a men's size 15. A quality heated massage that is safe and easy to use makes this product a winner.
MaxKare Foot Spa Massager Key Features:
Intelligent temperature control
Built-in space for bath minerals
Non-slip rubber pads
Pretty design
Best Portable Foot Spa: Yosager Portable Foot Spa Massager
Yosager Portable Foot Spa Massager
If you're looking for a portable foot spa that functions with similar features to non-portable ones, the Yosager Portable Foot Spa is the best choice.
It's not easy to find a high-quality foot spa that is also portable. Thankfully, we found the Yosager Portable Foot Spa Massager for those times that your foot spa needs to travel with you.
Its simple design makes it easy to use and easy to carry. When you're finished, use the external drain pipe to drain the water out. Then use the handle to pick up the machine to clean it out, dry it off, and take it to wherever you want to go. It's a little smaller than some of the other foot spas that we reviewed. This one can only accommodate feet up to size men's 10. However, making it any larger would compromise the portability so we feel it's a good trade-off in this case.
One more perk on this machine that makes it easy to use as well as to carry is the temperature control unit. Water is automatically heated up to 122 degrees and kept at that temperature for the duration of your foot spa experience. No need to mess with dials or add water or worry about wattage. This machine makes a warm massage something that can happen anywhere.
Yosager Portable Foot Spa Massager Key Features:
Portability
Temperature control
External drain pipe
Removable massage rollers
Who Should Buy a Foot Spa
While we don't always look at it this way, the human foot really is an incredible machine. It holds 26 bones, 120 ligaments, and 33 joints. Those all work together to hold you up all day long. But like any piece of machinery, the foot needs maintenance in order to function properly. If you're someone who experiences foot pain, discomfort, or cramping, a great foot spa is a product you should strongly consider.
Foot spas are designed to help release the tension that the muscles absorb throughout the day. If your foot muscles are tense, the warm water and massage rollers will work together to relax, stretch, and loosen the tight muscles. Using a foot spa can soften dry, hard, cracked feet, and help to make the skin soft and pliable again.
The foot also has a lot of pressure points that, when massaged, can help to release tension in other parts of the body. If you have tight muscles in your feet, give them a soak in the warm water and, while the oxygenating bubbles are doing their work, use the massage rollers to work at those pressure points. It can help relax other muscles in your body that absorb tension and get tight.
Important Features to Consider
A foot spa should have a few very important features. Here's what to consider when selecting a foot spa:
Massage rollers. A good foot spa should have rollers in to give you the option of massaging your feet while they soak. While motorization of the rollers isn't a necessity, it's a perk and one you should look into if you don't want to constantly be doing the work yourself to get the massage.
Portability. Some foot spas are big, bulky, and designed to stay in one place, and others are lightweight, smaller, and portable. We recommend you choose one that fits your circumstances and needs. If you need to take it with you whenever you travel, either purchase a portable one for all of your needs or purchase one for home and one for the road.
Self-draining capability. Some foot spas have a system in place to help you easily drain water when you're finished, while others do not. If you have a hard time lifting a heavy container of water, make sure that you choose one that has a self-draining system in place.
Ease of use. In order to keep the machine clean and free of germs (very important as feet can pick up all kinds of dirt or bacteria), you'll need to clean it after every use. The more bells and whistles a foot spa has, the longer it will take to thoroughly clean. Consider the amount of time you have to take care of your machine and keep it clean when you're buying it.
Price. The foot spas we reviewed run anywhere from $24 to $172. That's a huge price range. Consider what you really want your machine to do – and how much your budget can handle – before you buy.
Size. Most foot spas fit up to men's size 12. Some fit up to a size 17. If anyone in your household that plans to use the spa has large feet, make sure that you check the size of the one you're interested in to make sure that it can accommodate that person.
Frequently Asked Questions
What is a foot spa and how does it work?
A foot spa is a specialized bath designed to relax and rejuvenate feet after a long day of standing, walking, or exercising. It works by heating water to a pleasant temperature to relax the feet. Then the bubbles, rollers, and jets help to massage the tension out of the foot.
How long should you use a foot spa?
There is no set time for all foot spas, but most recommend somewhere around 15-20 minutes. Check the owner's manual of your particular machine for recommendations regarding your particular model.
What are the benefits of a foot spa?
Foot spas have great benefits. First, the soothing hot water relaxes the tension in the foot. Then the jets, bubbles, and rollers help to massage the muscles, helping them to stretch back out and stop cramping.
How do you use a foot spa at home?
How you use a foot spa will depend largely on which model you choose. Fundamentally, all have basins that you must fill with water before using them. The vast majority are electric so require a working outlet.
Generally, you fill the basin with water up to the fill line. Once the water is heated by the foot spa (most have self-heating features), then you would submerge your feet in the water.
All of the extra features – how the heater works, how the jets work, how the massage feature works (if it even has one), etc. – are all specific to individual machines.
Other Foot Spas We Reviewed
We looked at 20 other foot spas. Even though they didn't make our 5 best foot spas list, they're the best of the rest and each is still a great option for your feet. The information you'll need to compare each one is included with the listing.
Foot Spas with Digital Temperature Control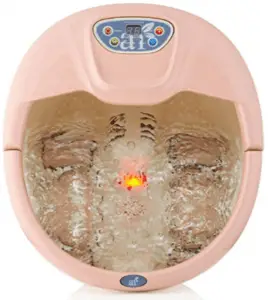 The ArtNaturals Foot Spa is one of the least expensive ones that we reviewed, but it's a good basic machine, especially if you're skeptical of the benefits of a foot spa and want to try one out for a while before really investing in one. It does have lights, bubbles, heat, and manual massage rollers, so you're still getting the spa experience, but at a fraction of the price.
Key Features:
Low price
Digital temperature display
Place to put essential oils
Cost: $30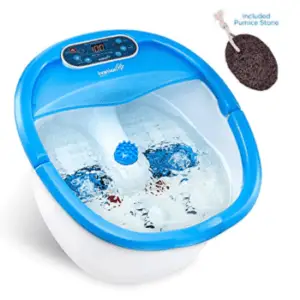 The advanced LED is a great feature on this foot spa. It allows you to set a timer so you don't spend too long in the spa, and allows you to set many of the functions at the same time. Additionally, it comes with a free pumice stone if you'd like to give yourself a pedicure after your time in the spa is done.
Key Features:
Vibrating massage
Advanced LED display
Free pumice stone
Cost: $80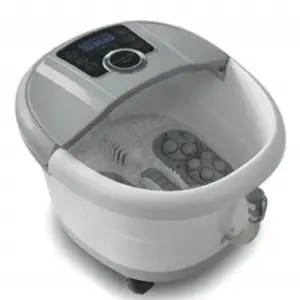 There is a one-year warranty on this multipurpose foot massager. It's four automatic massage rollers that will work together to rub the stress and ache right out of your feet. Additionally, it offers a one-year warranty.
Key Features:
Drainage tube for easy water release when finished
Heating system maintains temperature
Warranty
Cost: $80
The Prospera foot spa truly was designed to meet all the needs of your feet. It's shiatsu massage rollers, deep basin, and digital temperature and time control make it a tough act to beat. While the weight is a deterrent (it's 14 pounds), it doesn't claim to be portable, so if you're not planning on moving it out of your bathroom, this just might be the foot spa for you.
Key Features:
Shiatsu massage rollers
LED display
Heat therapy
Cost: $110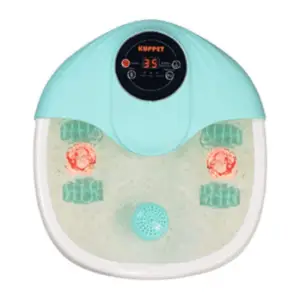 This pretty foot spa has great heat controls that get the temperature right to where you want it to be and keep it there for the duration of your soak. It's lightweight so that you can carry it around if you want or need to, and is made of heavy, durable plastic.
Key Features:
Keeps water warm
Pretty design
Lightweight
Foot Spas with All the Bells and Whistles
Binxin All in One Foot Spa Massage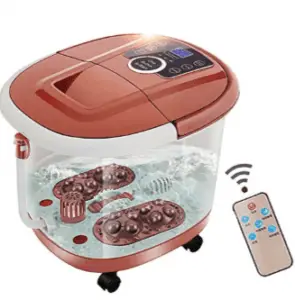 With motorized massager rollers, energy efficient setting, vibration, oxygenated bubbles, heat therapy, self-draining capabilities, and quiet operation, this foot spa has every bell and all the whistles you could possibly need to take care of your feet.
Key Features:
Quiet operation
Energy efficient
Heat therapy
Cost: $120
Carepeutic Ozone Waterfall Foot Spa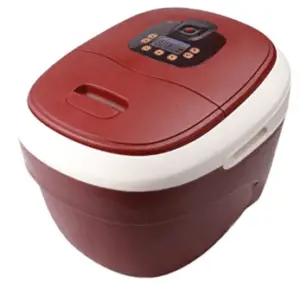 What separates this foot spa from the others is its waterfall feature designed to refresh tired feet. Use it on its own or in conjunction with the water jet surfing system for a little bit more of a massage feel.
Key Features:
Waterfall
Strong air bubble massage
Water jet surfing system
Cost: $175
Comfortology Leak-Proof Foot Spa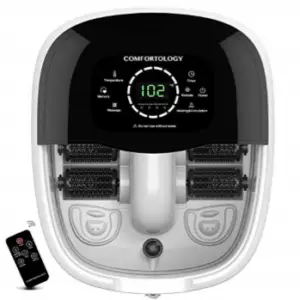 Smart technology and a promise of no leaks give this foot spa an advantage. The technology remembers your favorite settings so that you only have to push one button in order to get your perfect foot spa experience. The company is so sure you're going to love this – and it's not going to leak – that it offers a 100% money back guarantee, no questions asked.
Key Features:
Technology that heats water up 30% faster than other foot spas
No leaks
Money back guarantee
Cost: $135
This foot spa is all about the numbers: four bubbling water jets, six deep-massaging rollers, and men's size 16 (the largest shoe size it can accommodate). And the best number of all? The very affordable price.
Key Features:
Bubble jets
Blue LED light for relaxation
Combination of manual and motorized massage rollers
Cost: $70
Kendal Foot Spa with LED Display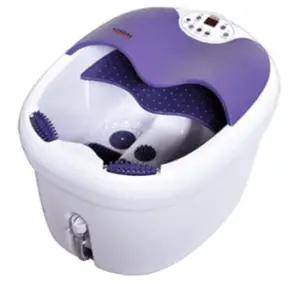 This impressive foot spa is loaded with great features, but the one that stands out the most and separates it from others in this category is the heated air dry feature. Now your wet feet don't have to get cold immediately after your spa and you won't be leaving wet footprints everywhere while trying to dry your feet with your towel. It's a luxury feature that will quickly become a necessity.
Key Features:
Heated foot air drying
Water surfing cycle
Preset massage & temperature cycles
Cost: $140
Kendal Foot Spa with Waterfall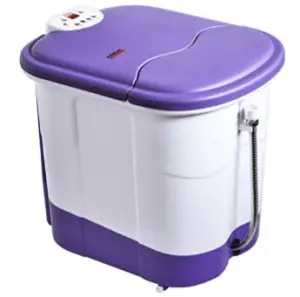 We reviewed several different Kendal-brand foot spas for this review, and what sets this one apart is the waterfall feature. Its deep tank allows you to immerse not only your feet, but also most of your calf as the waterfall feature gently massages your lower leg with smooth, rushing water.
Key Features:
Waterfall
Splash guard
Calf immersion
Portable Foot Spas
This lavender and white foot spa will brighten up any bathroom. It's not the fanciest machine out there, but it does have toe-touch control. a splash guard, and manual rollers for a quick, clean, and effective foot spa.
Key Features:
Deep basin
Toe-touch control
Splash guard
Cost: $25
HoMedics Bubble Spa Elite Footbath
If you're the kind of person who likes to multitask, this is the foot spa for you. The middle console is a removable pedicure tray, complete with a pumice stone and a pedicure brush. Give your feet the beauty treatment they need or remove it for a full basin of water if you're just in a soaking kind of mood.
Key Features:
Easy tote handle
Splash guard
Removable pedicure tray
Cost: $50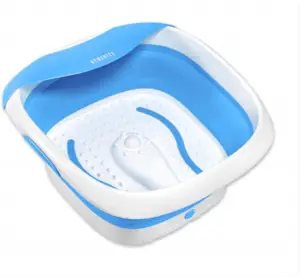 This foot spa is unique because it's completely collapsible, making it super easy to store out of the way when it's not being used. Additional things to like about it include heat-maintenance technology and vibration massage.
Key Features:
Collapsible
Safe for bath salts
Massage nodes
Cost: $40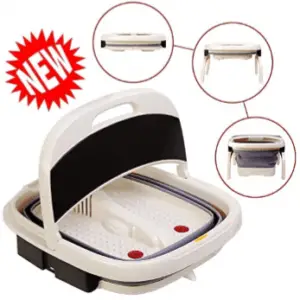 This portable foot spa is also collapsible, but doesn't fold quite as flat as others because it also has a handle on it to carry it around. It wants to be your all-in-one foot spa and care station, and it succeeds with its red light therapy, bubble wave, and electric heating.
Key Features:
Collapsible
Quiet operation
30-day guarantee
Cost: $70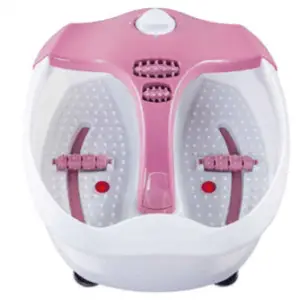 If you are worried that you're going to compromise a heated spa in favor of portability, worry no more. This foot spa was designed with special heat technology so that it heats quickly, maintains the temperature throughout the duration of your soak, and offers double overheating protection.
Key Features:
Portable
Detachable massage rollers
Double overheating protection
Vibrating Massage Foot Spas
Kendal All-in-One Foot Spa Bath Massager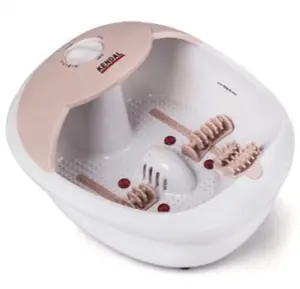 High-frequency vibration is the feature to love on this all-in-one foot spa. The vibrations promote better circulation and help to relieve fatigue.
Key Features:
Oxygen bubble massage
High-frequency vibration
Electric leakage protection
Cost: $60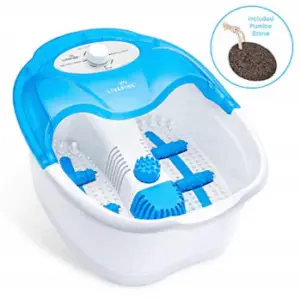 Is there a more magical combination to find in a foot spa than vibration and bubbles? This foot spa has them both in spades, and is ready to use them to take on ever the most tired of feet.
Key Features:
Intense vibrating massage
Oxgenating bubbles
Heat therapy
Cost: $60
MaxKare Foot Spa with Vibration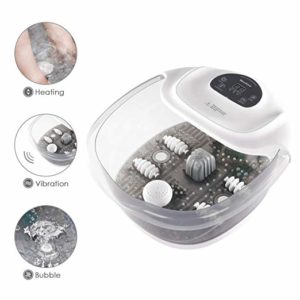 This foot spa features a three-in-one combination that is designed to take the best care of your feet: heat that relieves fatigue, bubbles that pamper them, and vibrations that make stress a distant memory. These three can work all at the same time or independently of one another.
Key Features:
Vibrating massage
Oxgenating bubbles
Fits men's feet up to size 15
Cost: $75
Wahl Therapeutic Extra Deep Foot Spa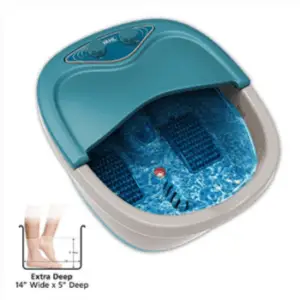 The extra deep and extra wide design of this foot spa will draw your feet in and give them extra room to stretch out and relax as the heat and vibrations melt the stress and tension away.
Key Features:
Vibrations
Bubble jets
Large size
Cost: $85