If you want to dress up as your favorite character from an anime, movie, book, TV show, or graphic novel, every detail must be just right, including the hair. Cosplay wigs help you to transform yourself from your every day appearance into the character of your choice. You might be dressing up for a convention, costume party, or just for fun—whatever the reason, a quality cosplay wig seals the deal.
We reviewed dozens of cosplay wigs to identify the best of the best. To compare these products, we looked at a range of features including wig length, color, and style, plus overall quality and average customer reviews.
Our top cosplay wig pick is the ColorGround Long Curly Cosplay Wig, which stands out for length, style, and versatility. You can choose from a wide range of realistic and fantasy colors, both in solid colors and multi-colored options.
The 5 Top-Rated Cosplay Wigs
*Ratings are from Amazon at the time of publication and can change
Best Cosplay Wig Overall: ColorGround Long Curly Cosplay Wig
Looking for a versatile wig that could work for a wide range of costumes? The ColorGround Long Curly Cosplay Wig is just what you need. You get a lot of hair for your money with this wig so lack of volume won't be an issue. The main body of the wig is complemented by two detachable ponytails. You can wear them on either side of your head, the way the wig is styled in photos, but you have the option to position them anywhere, which gives you tons of room to experiment with different styles.
We love the impressive length of the wig and the fact it comes with gorgeous bouncy curls, though it can be heat styled, so you can wear it straight if you prefer. You have a range of colors to choose from, so you should be able to find the correct hue for whatever costume you're putting together. Depending on the color you select, this wig is priced between $25 and $30, which is extremely reasonable.
ColorGround Long Curly Cosplay Wig Key Features: 
Adjustable straps help this wig fit various head sizes
Free wig cap included
Two ponytails can be positioned anywhere on the wig
Best Lace Front Cosplay Wig: Imstyle Platinum Blonde Lace Front Wig
If you want more styling choices for your cosplay wig, you have to go lace front, and the Imstyle Platinum Blonde Long Loose Curly Lace Front Wig is our favorite lace front option right now. The wig we're focusing on is the platinum blonde option, which is an excellent choice for Daenerys Targaryen cosplay, though there are several other popular characters you could portray with a long, white-blonde wig. Ypu can also choose from several other colors, including gray and pastel pink.
What's great about the lace front design is that the hairline looks more natural and you can even wear your wig up and part it wherever you choose without seeing the weave of the wig, as you would with a standard wig. The hair on this wig is 26 inches long with gorgeous bouncy curls. It's heat resistant, so you can use heat styling methods to straighten or re-curl it without damaging the hair. It costs $41, which is more expensive than many standard wigs but a good price for a lace front option.
Imstyle Platinum Blonde Lace Front Wig Key Features:
High density hair gives fluffy, bouncy look
Breathable wig cap is comfortable to wear for long periods
Easy to style
Best Budget Cosplay Wig: MapofBeauty Wavy Lolita Cosplay Wig
Sometimes a low price tag is the most important factor. If you don't have much to spend, the MapofBeauty Wavy Lolita Cosplay Wig is our recommended choice. It's not that this is a low quality wig, but it's thinner than many wigs, so isn't the best option when you need plenty of volume. It can also look slightly too shiny, though there are plenty of ways to remedy this. These factors aside, this is an attractive cosplay wig with a huge variety of color choices for just $10 to $12, depending on which color you opt for. For such a low price, it's amazing how good these wigs look on. They're also great for cutting and styling because you haven't wasted much money if you make a mistake.
As we mentioned, there are a range of colors on offer, so you should be able to find a hue that works for your costume, from bright multi-colored wigs to basic natural brown. There's a nice amount of wave and curl to these wigs, but in a relaxed manner rather than tight ringlets. Of course, you can straighten or curl your wig more, as needed, since they're made from heat-resistant synthetic fibers.
MapofBeauty Wavy Lolita Cosplay Wig Key Features: 
Hair measures 28 inches long
Choose between options with or without bangs
Nicely soft to the touch
Best Long Cosplay Wig: Linfairy Half Red and Sliver Cosplay Wig
If you're in market for a long wig to round off a female Todoroki cosplay, the Linfairy Half Red and Sliver Cosplay Wig is the one. It might not be the most versatile of long wigs out there, but it's perfect for portraying this popular anime character. That said, you could use it for a generic fantasy or futuristic costume. The bi-color half-and-half design makes it an extremely striking choice so you're bound to stand out in any crowd.
The pointed fringe design works well for an aforementioned Todoroki costume, but you can sweep it to one side to change up the style if you prefer. The overall quality is excellent and the wig has a good shine to it without looking highly synthetic. The heat-resistant hair can be curled, straightened, or blow dried, making the wig easy to style and maintain. Costing less than $20, it's a bargain, too.
Linfairy Half Red and Sliver Cosplay Wig Key Features: 
Long curly option also available in addition to this straight wig
Easy-to-adjust straps help you get a good fit
Washes well
Best Short Cosplay Wig: ColorGround Short Fluffy Anime Cosplay Wig
The ColorGround Short Fluffy Anime Cosplay Wig is available in a range of colors, including green, blonde, and red. It works for various anime characters, including Midoriya and Krishima from My Hero Academy, or even simply as a generic anime character due to the classic style. The soft and fluffy texture if the hair makes it easy to spike and style, even without a lot of product.
The inner wig cap features adjustable straps to get a proper fit for a range of head sizes. The wig is lightweight and breathable, so it's extremely easy to wear all day for conventions or similar. At just $16, this wig offers excellent value, though it's worth noting that it may need some work trimming and styling for it to look its best. Although we've focused on the fluffy anime wigs, you can find several other shirt wig styles in this listing that are well worth a closer look at.
ColorGround Short Fluffy Anime Cosplay Wig Key Features: 
Can be heat styled if needed
Washes and dries easily
Needs styling for best results
Who Should Buy a Cosplay Wig
If you're looking for a wig to round off a costume, then you should buy a cosplay wig. Cosplay wigs are cheaper than wigs designed for everyday use. You'll also find that cosplay wigs are often designed to mimic the hairstyles and hair colors of popular anime characters, since that's what many cosplayers want.
You don't need to be off to Comic Con to buy a cosplay wig, however. You can also use these wigs for all kinds of costumes, for Halloween, costume parties, and so on.
And if you'd rather have the change last longer than one event, you may want to consider The Best Red Hair Dye.
Important Features to Consider
A cosplay wig should have a few important features. Here's what to consider when selecting a cosplay wig:
Color. You want the color to be as close of a match as possible to the character you're dressing up as. Luckily, there are plenty of wig colors available so it shouldn't be too hard to find just the right shade.
Style. The style is also important to properly portray your chosen character, whether straight, curly, wavy, or layered. It may be possible to style your wig to fit your costume, however.
Length. Cosplay wigs are available in all kinds of lengths from super short pixie cuts to long, waist-length locks. Length is measured in inches, but some curly wigs give their lengths when straight, which can be misleading. You can trim your wig to the correct length if you feel comfortable doing so.
Heat-resistance. When wigs are heat resistant, you can style them with heat styling products, such as curling tongs and flat irons, which allows you to easily adjust the style.
Lace front. Lace front wigs feature a sheer lace panel at the front of the wig into which hairs are individually attached. This makes the hairline look more natural, and allows your to wear your wig in up-dos and with a variety of partings.
Frequently Asked Questions
What is a cosplay wig?
A cosplay wig is a wig designed to be used while cosplaying (which is the act of dressing up as a character from a movie, TV show, video game, or book, particularly at conventions but also in general). However, you can also use cosplay wigs for non-cosplay costumes or for occasional general wear. Cosplay wigs are usually fairly inexpensive and made from synthetic hair. They're not as durable as wigs designed for general wear.
Do you have to wear a wig for cosplay?
The point of cosplay is to look as similar to your chosen character as possible so getting the hair right is important. Usually, this means using a cosplay wig, but if your natural hair can be styled or colored to look like the character in question, you may not need a wig.
How tight should a cosplay wig fit?
A cosplay wig should fit tight enough that it won't slide around on your head but not so tight that it's uncomfortable.
How do you keep a cosplay wig on?
Many cosplay wigs come with integrated wig combs on the inside of the wig which help to keep the wig on securely. However, you'll also need to use bobby pins to keep your wig on. You poke these through the weave of your wig and into your hair or wig cap below so that your wig is effectively anchored to your head.
Other Cosplay Wigs We Reviewed
We looked at 20 other Cosplay Wigs. Even though they didn't make our 5 best cosplay wigs list, they're the best of the rest and each is still a great option. The information you'll need to compare each one is included with the listing.
Lace Front Cosplay Wigs
Imstyle Pink and Blonde Lace Front Wig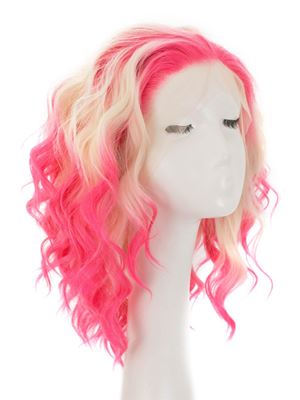 This wig combines platinum blonde and bright pink to excellent effect. The shoulder-length, loosely curled style looks contemporary.
Key Features: 
Feels soft and healthy
Matt appearance gives wig a natural look
Easy to style parting
Cost: $41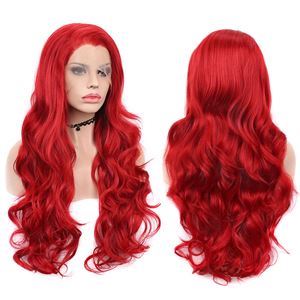 A gorgeous red wig that suits a range of costumes, including Jessica Rabbit from Who Framed Roger Rabbit and Ariel from The Little Mermaid.
Key Features: 
Measures 26 inches long
Loosely curled
Also available in pastel pink
Cost: $40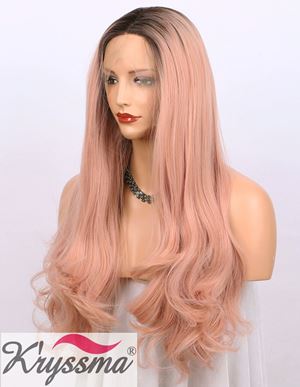 Choose from three color options featuring on-trend pastel shades. Wig comes with a center parting but this can be changed thanks to the lace front design.
Key Features: 
22 inches long
Slightly wavy at the ends
Heat-resistant
Cost: $35 to $39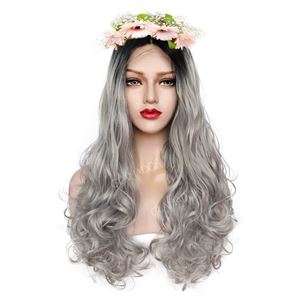 The silver-gray hue of this wig means it could work for a range of cosplay characters, depending on how you style it. Other shades are also on offer.
Key Features: 
Hairline appears natural
Adjustable strap helps with fit
Three wig combs give a stable foundation
Cost: $38 to $40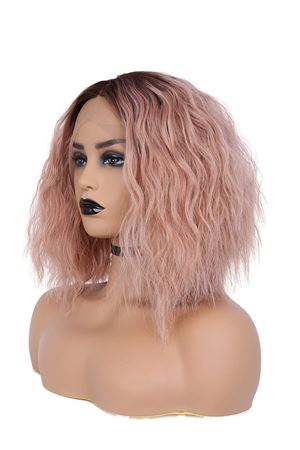 With its ombre effect and pastel pink hue, this wig is highly fashionable, not to mention versatile for cosplay.
Key Features: 
Cut in a long bob style
Slightly curly/wavy
Can be heat styled
Cost: $41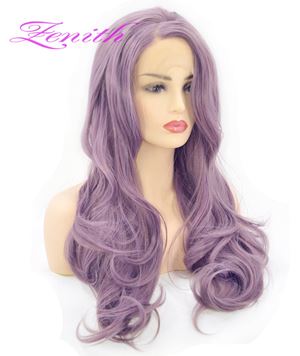 Available in both lilac purple and white blonde, this stylish lace front wig looks great and is easy to style how you want it.
Key Features: 
Wavy at ends
22 inches long
Suitable for heat styling
Long Cosplay Wigs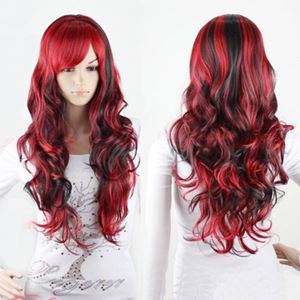 With six colors to choose from, you have plenty of options with this wig, plus it's highly affordable.
Key Features: 
Temperature resistant
Hair measures around 28 inches
Size adjustable
Cost: $11 to $14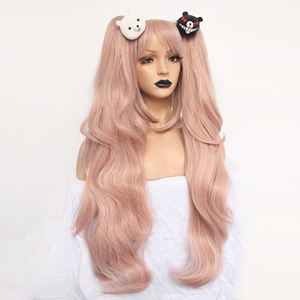 The main body of the wig is fairly short but it comes with two long ponytails that can be positioned anywhere.
Key Features: 
Ponytails measure around 26 inches
Includes two bear clips
Available in pink, light pink, and black and white
Cost: $23 to $30
Anogol Vocaloid Long Straight Wig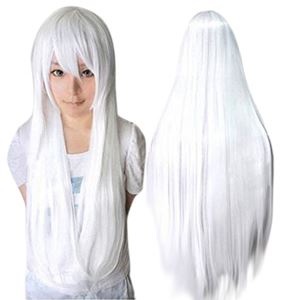 These long wigs come with bangs. They're extremely straight upon arrival but you can heat style them if you want waves or curls.
Key Features:
32 inches long
Wide range of color choices
Extra wig cap included
Cost: $13 to $15
MapofBeauty Lolita Long Curly Clip on Ponytails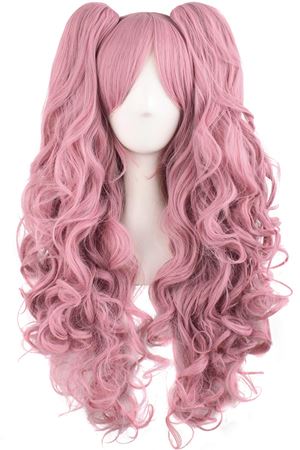 With the clip on ponytails included, this wig measures roughly 28 inches long, though will look even longer if ponytails are positioned low.
Key Features: 
Huge choice of colors
Arrives curly
Heat resistant
Cost: $16 to $23
netgo Women's Long Fluffy Curly Wavy Hair Wig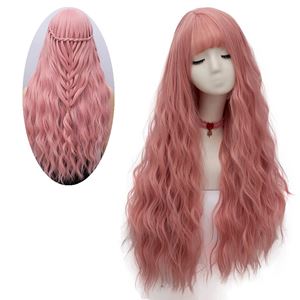 This wig arrives somewhere between wavy and curly with a full, fluffy appearance, though you can heat style it to suit your cosplay needs.
Measures 27 inches long
Many colors available
Adjustable cap
Short Cosplay Wigs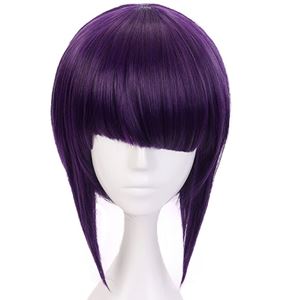 We love the angular cut of this purple wig, making it look extremely futuristic. Works well for Kyoka Jiro cosplay.
Key Features: 
Fishnet wig cap included
Lightweight and breathable
Can be heat styled
Cost: $15
ColorGround Blonde Cosplay Wig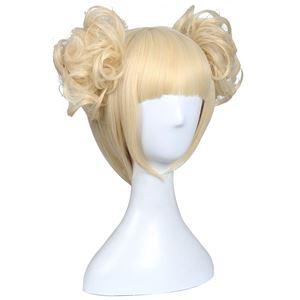 Features a short angular cut with two detachable buns so you can use this one wig for a range of distinctive styles.
Key Features: 
Available in pale blonde only
Can be heat styled
Perfect for Himiko Toga cosplay
Cost: $19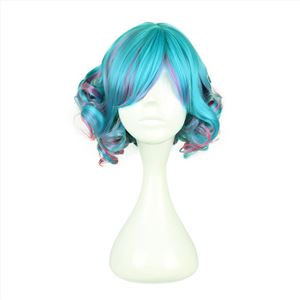 A short cosplay wig with gorgeous ringlet curls and long bangs that can be trimmed as desired.
Key Features: 
Several colors to choose from
Low maintenance
Runs a little small
Cost: $10 to $18
FantaLook Short Half Silver White Half Red Cosplay Wig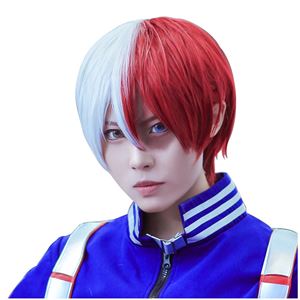 Want a wig for a classic Todoroki cosplay? Then this is the one for you. The color and style is just right to finish the look.
Key Features: 
Heat resistant
Inner cap has adjustable straps
Sleek yet full
Cost: $15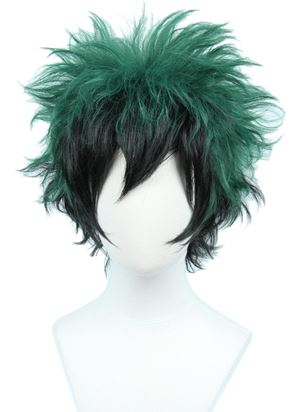 This two-tone black and green wig has a classic anime style that's ideal for cosplaying a range of characters.
Key Features: 
Easy to spike and style
Heat resistant
Perfect for Deku cosplay
Medium-Length Cosplay Wigs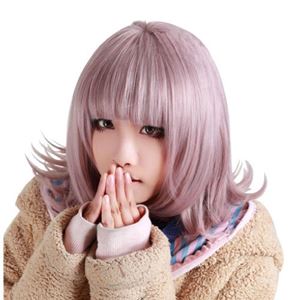 Somewhere between medium-length and short, depending on your perspective, this wig is cut into an adorable bob with blunt bangs.
Key Features:
Attractive light purple color
Suitable for heat styling
Works well for Chiaki cosplay
Cost: $17
If you want a wig featuring a straight bob style, this is an excellent choice. It's a little shiny but nothing some baby powder won't fix.
Key Features: 
Feels soft to the touch
Suited to heat styling
Several colors to choose from
Cost: $15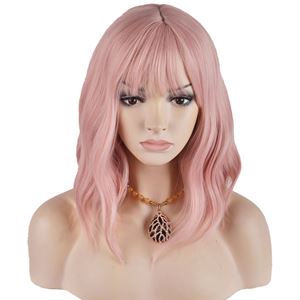 Measuring 14 inches long, this wig reaches around shoulder length on most wearers. It has a slight curl to it though can be styled differently.
Key Features: 
Huge number of colors on offer
Features long bangs
Can be heat styled
Cost: $20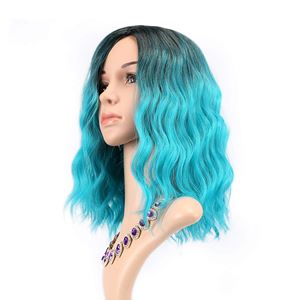 Another option that's 14 inches long and somewhere between wavy and curly. This is a versatile wig that could work for all kinds of costumes.
Key Features: 
Many colors to choose from
Some shades have bangs and others do not
Heat resistant
Cost: $14 to $20