Cocoa butter from cocoa beans has the power to create lotions that work to clear up dry, damaged skin and leave it feeling soft, smooth, and rehydrated. Cocoa butter lotion is most often used for moisturizing, but some people see its benefits in other ways, like minimizing scarring and stretch marks, reducing wrinkles and fine lines, and healing the skin to the point of giving it a more radiant appearance. Some even like to use it as part of their shaving routine to keep skin hydrated and soft after shaving.
We reviewed dozens of cocoa butter lotions to identify the best. Some of the features we considered in the process to find our top picks included creaminess, type of lotion, scent, lasting effects, and customer reviews and ratings. 
St. Ives Softening Body Lotion stood out as our clear winner. Not only does this lotion have incredible reviews from customers who use it, but it also has one of the best rich and creamy lotion textures that lasts for hours, yet absorbs into the skin quickly and doesn't leave a greasy film behind.
The 5 Top-Rated Cocoa Butter Lotions
*Ratings are from Amazon at the time of publication and can change
Best Cocoa Butter Lotion Overall: St. Ives Softening Body Lotion
St. Ives Softening Body Lotion has a virtually unbeatable texture that glides over the skin, soaks in quickly, and leaves it feeling smooth and silky, not oily. If you're looking for fast, all-day hydration that you can pop on in the morning and still feel when you get home from work, this lotion is it. St. Ives blends enriching cocoa butter with the subtly-sweet scent of vanilla bean for a perfect blend of moisture and a pleasant aroma.
The reason for this lotion's one-of-a-kind texture that makes it ideal for almost any skin type is its addition of soybean oil. The natural properties of soybean oil make it easy to apply, smoothing onto the skin with a sleek finish. A small amount goes a long way with this lotion, so although it's a bit pricier than other lotions, it'll likely last you a long time, even with daily use.
Several customers with various dry skin problems note that this lotion from St. Ives requires only a thin layer to get the job done. Another common praise for this cocoa butter lotion is that it has just enough scent to smell refreshing rather than overpowering.
St. Ives Softening Body Lotion Key Features:
Includes soybean oil from USA-sourced soybeans
No parabens
Recyclable container
Cruelty-free formula
Large 21-oz size
Best Cocoa Butter Hand & Body Lotion: Queen Helene Hand + Body Lotion
Cocoa butter lotion made just for the body is designed to leave a long-lasting layer of skin protection and moisturization. Sometimes, body lotions can feel greasy on hands because they don't absorb efficiently into the hands' thin skin. Queen Helene Hand + Body Lotion is our pick for cocoa butter lotion for the hands and body because of its lightweight feel that rubs quickly into the hands to leave them feeling soft, not oily.
Although it's a lightweight formula, this lotion doesn't skimp on moisturizing benefits. Use just a small amount to get soft, smooth skin, even when your hands feel their dryest. This lotion offers hours of protection, too, so you won't need to keep reapplying it several times each day.
Because it's for both the hands and body, you don't need to buy two separate cocoa butter lotions to get your daily smoothness fix. This lotion comes in both 16-oz and 32-oz bottles to give you the amount you need depending on how frequently you moisturize.
Queen Helene Hand + Body Lotion Key Features:
Not tested on animals
Light, sweet smell
Lightweight formula
Quick absorption
Easy-to-squeeze bottle
Best Budget Cocoa Butter Lotion: Solimo Cocoa Butter Body Lotion
Solimo Cocoa Butter Body Lotion
Solimo Cocoa Butter Body Lotion is an affordable alternative to more expensive cocoa butter lotions that offers similar benefits.
Cocoa butter lotions come in a wide range of prices to meet your budget, but Solimo Cocoa Butter Body Lotion is one of the most affordable you'll find. For a large 24.5-oz bottle, this Solimo lotion is less expensive than many that come in smaller bottles, yet several happy customers are just as pleased with its performance as they are with higher-priced similar products they've used.
In fact, some buyers compare this cocoa butter lotion to similar lotions by Vaseline, which are designed to offer maximum moisturizing and skin protection without making your skin feel oily. This lotion goes on in a thin, easy to spread layer and soaks into the skin quickly. You can expect all-day protection, too, if you have normal to slightly dry skin. Extra dry skin may need another application to keep it feeling its softest all day.
Solimo Cocoa Butter Body Lotion Key Features:
Mild scent
Made in the USA
One-year satisfaction guarantee
Tested by dermatologists, not animals
Convenient pump application
Best Cocoa Butter Body Cream: NIVEA Cocoa Butter Body Cream
With its thick, rich formula, NIVEA Cocoa Butter Body Cream has the power to leave your skin feeling soft throughout the day – and maybe even longer. NIVEA designed this cream to last up to 48 hours, thanks to its creamy texture and Deep Moisture Serum that penetrates deep into the skin to soothe each layer. Blended with Vitamin E in addition to cocoa butter, this body cream offers incredible moisturizing for almost any skin type.
This body cream is one you'll probably want to grab if you're looking for the most spa-like experience. NIVEA Cocoa Butter Body Cream is perfect for pampering yourself after a shower or bath or first thing in the morning to keep your skin feeling hydrated all day. It's contained in a convenient hand-sized tub, so you can dip your fingers in easily and apply it to the skin.
Some customers use this cream as a base for their essential oils. Add a couple of drops of your favorite essential oils to the cream, rub it into the skin, and enjoy the added benefits of aromatherapy as you go about your day.
NIVEA Cocoa Butter Body Cream Key Features:
Dermatologically tested
Up to 48 hours of moisturizing protection
Thick and long-lasting formula
Added Vitamin E
Lightly scented
Best Firming Cocoa Butter Lotion: Palmer's Cocoa Butter Firming Formula
A firming cocoa butter lotion like Palmer's Cocoa Butter Firming Formula aids in tightening up the skin while still keeping it soft, moisturized, and hydrated, to prevent fine lines and wrinkles from forming. If you're looking for another product to add to your anti-aging skin care regimen, this may be a good one to try. You can use a small amount on your face or massage it into your skin on any area you feel could benefit from some firming.
Palmer's designed this formula to help people who have just lost weight or who are pregnant or recently gave birth. With daily usage, you may see a difference in your body's loose skin as cocoa butter, mineral oil, sunflower seed oil, and other beneficial ingredients work together to firm up your skin and bring back its radiance. Some reviewers of this product have noticed even more improvement in their skin when they use it after completing their daily cleaning and exfoliating regimen. 
Palmer's Cocoa Butter Firming Formula Key Features:
Light cocoa scent
Budget-friendly price per ounce
Includes raw shea butter
Added moisture from sweet almond oil
Argan oil provides necessary antioxidants
Who Should Buy Cocoa Butter Lotion
Cocoa butter lotion is best for people with dry skin who find it difficult to stay moisturized all day. Cocoa butter lotions are typically long-lasting for all-day protection against the elements and hydration. Cocoa butter lotion can also be an excellent option for people who suffer from skin conditions like eczema, dermatitis, and psoriasis, which can cause peeling, flaking, itchiness, redness, and rashes. Additionally, lotions with cocoa butter may be beneficial for those interested in beginning an anti-aging skin care regimen.
If you have oily or combination skin, it may be best to avoid using cocoa butter lotion, as it may not soak into the skin well enough to keep it from feeling oily. Acne-prone skin also may not fare well with cocoa butter lotion, as it can clog pores easily. 
Important Features to Consider
Cocoa butter lotion should have a few important features. Here's what to consider when selecting a cocoa butter lotion for your regular care routine:
Usage. Not all cocoa butter lotions are designed for the same purpose. Some are best for use on the hands (these are usually thicker in texture and don't leave hands feeling oily), some are designed for in-shower usage, and some are meant as regular body lotions. Consider what you'll use the lotion for most and purchase accordingly.
Additives. Most cocoa butter lotions have other moisturizing ingredients added, like soybean oil and shea butter, to enhance the effects of the lotion. If you're looking strictly for a cocoa butter lotion, you should scan the ingredients list to make sure that's what it is.
Scent. On its own, cocoa butter has a sweet, nutty, long-lasting scent. Many cocoa butter lotions have other scents to make them smell more cleansing or refreshing, but if you want a lotion with minimal ingredients, look for an unscented formula.
Texture. It can be tough to gauge the texture of a cocoa butter lotion without trying it first. However, some brands note the texture on the bottle to help you decide. It's best to look for a non-greasy, long-lasting, smooth formula that absorbs quickly into the skin while leaving an all-day barrier of moisture.
Packaging. Cocoa butter lotions come in a variety of package types, like squeeze bottles, squirt bottles, and tubs. The type you should choose depends on how you want to use it. Squeeze bottles can be great for traveling, for example, while squirt bottles are convenient for quick application after showering.
Size and pricing. Pay attention to the size of the bottle or tub when you're considering prices for cocoa butter lotion. Some packages may seem like a good price until you compare them to larger bottles. The most accurate way to compare prices of lotions is to look at the cost per ounce.
Frequently Asked Questions
What is cocoa butter lotion good for?
Cocoa butter lotion has a wide range of potential benefits for a healthy skincare routine. One of its most well-known uses is to minimize the appearance of scars, wrinkles, and stretch marks, thanks to its ability to improve blood flow to the skin and boost elasticity. Cocoa butter is also found in many eczema creams because it may help heal rashes, itchiness, and discomfort caused by eczema and other skin conditions.
Is cocoa butter lotion good for your skin?
Not only is cocoa butter lotion extremely moisturizing for the skin, but it also has the power to potentially heal the symptoms associated with skin conditions. Cocoa butter is a leading choice for keeping skin smooth that's normally dry, cracked, or rough. It may even improve the skin's overall health and appearance. However, as with most skin and beauty products, it is possible for some people to have an allergy or sensitivity to cocoa butter products.
Does cocoa butter remove dark spots?
People who are prone to dark spots on their skin from things like acne or scarring may notice some lightening of their spots from regular use of cocoa butter lotion. However, cocoa butter lotion won't remove dark spots. Although it's possible that cocoa butter lotion may aid the natural healing process of dark spots, current research doesn't suggest that cocoa butter usage is a primary factor in reducing their appearance. 
Is cocoa butter lotion good for under eyes?
Cocoa butter contains a high amount of natural fat, much like shea butter, which can aid the improved appearance of the area under your eyes. Just a small amount of cocoa butter lotion can minimize fine wrinkles around the eyes and minimize dark circles that develop with age or from a lack of sleep.
Other Cocoa Butter Lotions We Reviewed
We looked at 20 other cocoa butter lotions. Even though they didn't make our 5 best cocoa butter lotions list, they're the best of the rest and each is still a great option for your care routine. The information you'll need to compare each one is included with the listing.
Cocoa Butter Body Creams
Ammerah's Naturals Cocoa Body Butter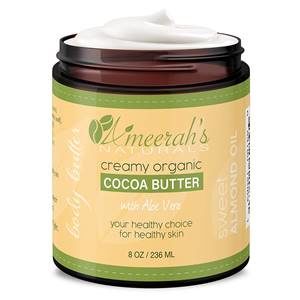 This organic cocoa butter lotion is designed to rub onto the skin smoothly while soaking deep into the skin for all-over, 24-hour protection.
Key Features:
Infused with almond oil for extra moisturization
Vegan and vegetarian-safe
Homemade formula
Cost: $17
Palmer's Cocoa Butter Formula Daily Skin Therapy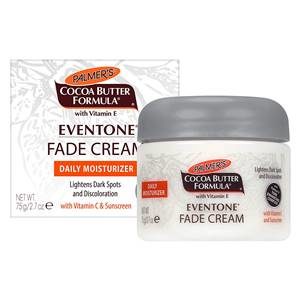 This cocoa butter lotion from Palmer's also includes Vitamin E for additional moisture and sunscreen to give your skin protection against the sun.
Key Features:
Ingredients included to aid dark spot fading
Skin-balancing and brightening formula
No animal testing
Cost: $7
Queen Helene Cocoa Butter Cream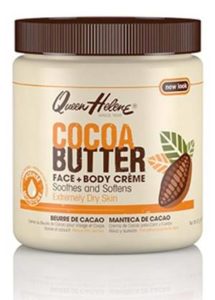 Many cocoa butter lotions are too heavy to soak into the sensitive skin of the face. But this one from Queen Helene is non-oily and quick-absorbing to bring the benefits of cocoa butter to your face to reduce wrinkles and fine lines.
Key Features:
Doesn't cause breakouts
Can also be used on the body
Natural cocoa butter scent
Cost: $17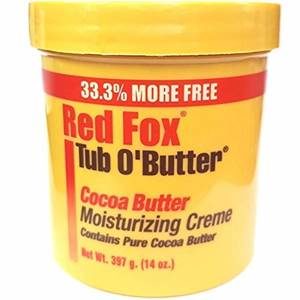 If you're looking for all-day skin moisture for very dry skin, then this lotion from Red Fox may be one of the best options. Use a small amount to rub into dry areas in the morning, and your skin will still feel soft and smooth by bedtime.
Key Features:
Made with pure, unaltered cocoa butter
10.5-oz and 14-oz sizes
Includes lanolin to lock in moisture
Cost: $19
Seven Minerals Magnesium Cocoa Butter Cream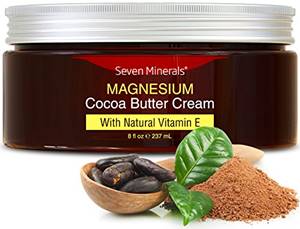 This lotion from Seven Minerals combines the pain-relieving benefits of magnesium with the skin-enhancing benefits of cocoa butter for an all-in-one solution for your body and skin.
Key Features:
May assist in soothing body cramps
Vitamin E for extra moisturizing
100% money-back guarantee
Cost: $25
Cocoa Butter Lotion for Rough, Cracked Skin
Dermasil Platinum Cocoa Butter Moisturizer Body Lotion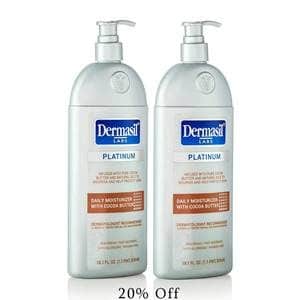 The dryest, roughest skin can benefit from a heavy-duty cocoa butter lotion formula like this one from Dermasil Labs, which comes backed by the recommendation of dermatologists.
Key Features:
Includes a carbohydrate and sugar blend for moisture
Tested by dermatologists
Quickly absorbs into the skin
Cost: $13
Gold Bond Ultimate Radiance Renewal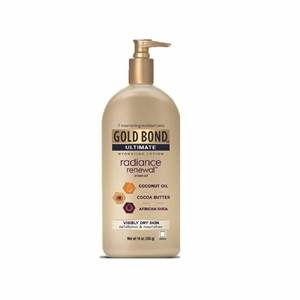 This Gold Bond focuses on keeping your skin smooth and radiant with its infusion of cocoa butter, coconut oil, and African shea butter.
Key Features:
May improve itchiness
Excellent blend for rough, cracked skin
Rich texture
Cost: $8
Gold Bond Ultimate Softening Lotion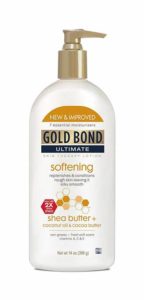 Gold Bond's Ultimate Softening Lotion combines cocoa butter with other skin-softening and soothing ingredients, like aloe and hydroxy acids, to leave even the dryest skin feeling soft.
Key Features:
Made with Vitamins A, E, and C
Shea butter added
Long-lasting hydration
Cost: $23
Palmer's Cocoa Butter Skin Perfecting Day Cream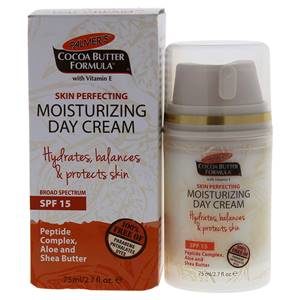 You'll get the benefits of cocoa butter and peptides for the skin with this lotion, which targets dehydrated, unbalanced skin that needs additional protection throughout the day.
Key Features:
Convenient squirt bottle
Includes broad-spectrum SPF 15 to protect against sun damage
Tested by dermatologists
Cost: $10
Vaseline Intensive Care Cocoa Radiant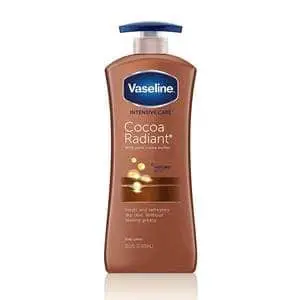 Vaseline is one of the biggest names in skincare, and the brand blends its soothing Vaseline Jelly with cocoa butter for a protective and moisturizing barrier for your skin.
Key Features:
Locking bottle top
Made with pure cocoa seed butter
Large 20.3-oz bottle
Cost: $5
Cocoa Butter Lotion for Stretch Marks
Body Merry Stretch Marks & Scars
Body Merry blends two skincare-focused ingredients – cocoa butter and shea butter – to keep skin smooth and improve natural elasticity to fight stretch marks and scars.
Key Features:
Includes a blend of vitamins and antioxidants for skin health
Non-scented
90-day guarantee
Cost: $20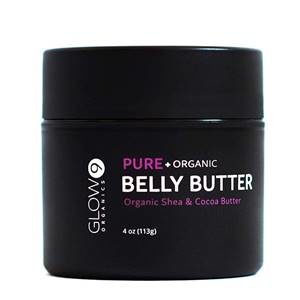 This organic cocoa butter body cream has added benefits of other oils, like grapeseed and sweet almond oil, to boost its texture, efficiency, and scent. It's formulated specifically to target the belly area's stretch marks.
Key Features:
Organic ingredients
USA-made
Lightly scented
Cost: $25
Green Goo Natural Pregnancy Stretch Mark Cream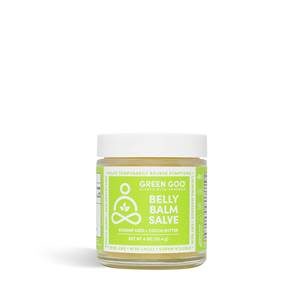 If you have sensitive skin but still want to try to prevent or reduce the appearance of stretch marks, try this formula that's gentle and soothing on your belly skin.
Key Features:
Woman-owned company
Plant-based ingredients
Blended with rosehip seed oil
Cost: $19
Palmer's Cocoa Butter Massage Lotion For Stretch Marks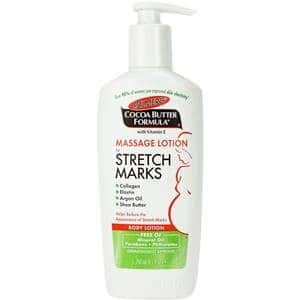 Palmer's created this product in its lineup of cocoa butter formulas to target stretch marks with the addition of skin-strengthening ingredients like collagen and argan oil.
Key Features:
Convenient pump application
Hypoallergenic
Made with Vitamin E
Cost: $5
Rise 'N Shine Unrefined Cocoa Butter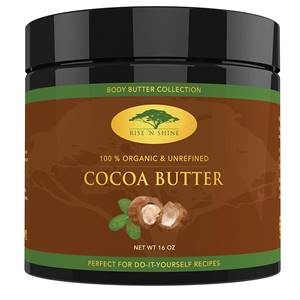 Unrefined cocoa butter like this one from Rise 'N Shine can be excellent bases for creating your own lotions. This is pure, unaltered cocoa butter that you can also use on its own as a lotion on areas where you have stretch marks or are trying to prevent them.
Key Features:
30-day guarantee
Non-grainy texture
Recyclable container
Cost: $16
Cocoa Butter Hand & Body Lotion
Alba Botanica Cocoa Butter Hawaiian Hand & Body Lotion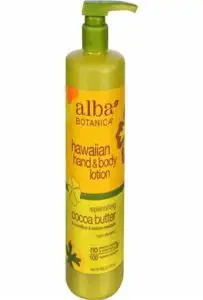 Get the soothing benefits of cocoa butter without the greasy feeling some lotions leave behind with this one made specifically for the hands and body.
Key Features:
2 size options
100%vegetarian ingredients
No parabens, phthalates, harsh sulfates, or animal testing
Cost: $4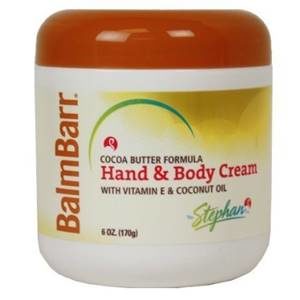 This lightweight, creamy cocoa butter infused with coconut oil and Vitamin E will keep your hands and body feeling soft all day.
Key Features:
Light texture
Thick and long-lasting
Excellent for very dry skin
Cost: $28
J.R. Watkins Natural Moisturizing Hand Cream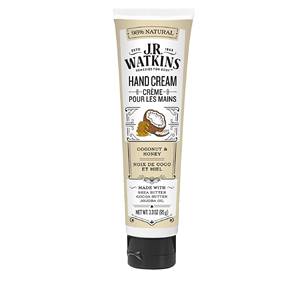 Use a little bit of this hand cream that's formulated with several moisturizing ingredients in addition to cocoa butter to leave your hands feeling soft without the oily texture you get from other similar products.
Key Features:
No animal testing
Easy-to-use squeeze bottle
Made with other hydrating ingredients, like avocado and shea butter
Cost: $5
JASON Softening Cocoa Butter Hand and Body Lotion
Hands and skin that's prone to cracking and roughness can benefit from this cocoa butter lotion from JASON, which is free from additives like parabens and phthalates that can harm your skin. 
Key Features:
Upside-down squeeze bottle
Includes aloe leaf  juice
Certified organic ingredients
Cost: $10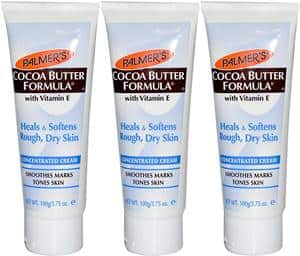 Your hands get used all day, so it's not uncommon for them to have dry, cracked skin. This Palmer's formula is safe to use on your hands – or anywhere else you need it – several times a day to get the moisture and hydration you want.
Key Features:
Concentrated for effectiveness
Infused with Vitamin E
Skin-brightening properties
Cost: $16