The pure relaxing power of a long, hot bath is pretty much unrivaled. A soothing soak in the tub is the closest most of us will ever get to a spa-level experience in our own homes, so it just makes sense to make the most out of them with bath products like bath bombs.
We reviewed dozens of bath bombs to identify the best of the best. To do so, we looked at bath bombs in a variety of sizes, colors, and scents and that create a variety of different effects. We also looked at reviews of each to see what real customers actually thought.
Our top pick and clear winner is the LifeAround2Angels Bath Bombs Gift Set. The set contains 12 unique bath bombs, each with its own fragrance, colors, and add-ins for 12 unique but equally relaxing bath experiences.
The 5 Top-Rated Bath Bombs
*Ratings are from Amazon at the time of publication and can change
Best Bath Bomb Overall: LifeAround2Angels Bath Bombs Gift Set
The LifeAround2Angels Bath Bombs Gift Set provides you with bath experiences that are truly luxurious. The set contains 12 different bath bombs, each one with its own unique color palette, scent combinations, and add-ins like glitter and dried botanicals. For example, Angel, the company's signature style, has a scent that combines patchouli, sweet nut, red berries, and vanilla and colors bath water bright blue. Lavender's scent is, as you might guess, primarily lavender but is accented with sage and basil to add extra depth to the fragrance. It turns bath water pale purple and releases dried lavender flowers to float on your bath's surface. The ten other bath bombs offer equally sophisticated blends of smells and color.
Each bath bomb is highly moisturizing without leaving skin greasy or sticky and these bath bombs are specifically formulated for dry and normal skin. Each one is 2.5 ounces and 2 inches in diameter so they provide plenty of scent, color, and moisturizing ingredients to spread throughout your tub. They all contain only natural and non-toxic ingredients and LifeAround2Angels never tests on animals, so you can be confident that these bath bombs are safe and humane.
LifeAround2Angels Bath Bombs Gift Set Key Features:
12 bath bombs with 12 different scents
Bold colors
Environmentally-friendly and cruelty-free manufacturing
Moisturizing
Best Shower Bomb: Viebeauti Shower Steamers
Being more of a shower person doesn't mean you can't still enjoy the relaxing benefits of an aromatic bath bomb while you bathe. Viebeauti Shower Steamers allow you to experience the therapeutic benefits of fragrances even if you don't time for a bath or access to a bathtub. To use these shower bombs, simply unwrap your shower bomb of choice, place it on the shower floor, and turn on the hot water to activate the shower bomb. Then wait for 60 to 90 seconds for the steam from the shower to help the fragrances to rise and move around the room, and, finally, step into the shower and feel your mind and body begin to relax.
This shower bomb set includes six shower bombs in six different scents: Eucalyptus, Vanilla, Peppermint, Lavender, Grapefruit, and Rose. Whether you're gearing up to start your day or are winding down before going to bed, these shower bombs make every shower feel like a luxury experience. The attractive packaging makes Viebeauti Shower Steamers great gifts and they're even individually wrapped so you can give some away and keep some for yourself. And once you try one, you'll definitely want to keep some for yourself.
Viebeauti Shower Steamers Key Features:
Get the benefits of a bath bomb in the shower
6 shower bombs with 6 different scents
Therapeutic fragrances
Best Budget Bath Bomb: INTEYE Organic & Natural Bath Bombs 12 Count
Let's be honest: bath bombs can get pretty pricey, especially when, like so many bath bombs, they have weak fragrance and color so you have to either use more than one or settle for a sub-par experience. Fortunately, the INTEYE Organic & Natural Bath Bombs 12 Count allows you to get 12 bath bombs, each with bold scent and color. The set includes six fragrances with two bath bombs per fragrance. They're great for gifting since the outer box contains two smaller boxes within, each of which contains six bath bombs, one of each scent. You can give them both away, keep one and give one as a gift, or just keep both. Each box also contains an insert that provides you more information on each scent combination including what fragrances make it up and what sort of mood they create.
Each one contains natural, organic moisturizers like grape seed oil, shea butter, cocoa butter, and coconut oil to leave your skin soft and supple. In fact, these bath bombs are made from 100% natural raw materials. They're also specially formulated with just the right proportion of ingredients to ensure the greatest bubbling effect, even after long-term storage.
INTEYE Organic & Natural Bath Bombs 12 Count Key Features:
12 body bombs with 6 different scents
Great for gifting
Made for 100% natural raw materials
Recipe formulated for superior bubbling
Best Bath Bomb for Kids: Two Sisters Unicorn Bubble Bath Bomb
When you have young children, bath time can be a struggle, but with the Two Sisters Unicorn Bubble Bath Bomb, it doesn't have to be. Bath bombs are already tons of fun for kids, with bright colors and their fun fizzing effect, but Two Sisters bath bombs take it to the next level. For one, these bath bombs actually contain bubble bath, so the bubbles don't end once the bath bomb is done dissolving. And speaking of which, hidden inside this bath bomb is an adorable unicorn charm necklace that will become revealed as the bath bomb dissolves, making for an awesome surprise for your child.
Two Sisters bath bombs are designed by moms for kids, so they know what's important to you. They've ensured that these bath bombs are safe for sensitive skin, gluten-free, nut-free, phthalate-free, and non-GMO. They also won't stain your bathtub, so you'll never find yourself stuck on your hands and knees or awkwardly leaning over the side of the tub trying to scrub color out of it. Well, at least not from these, anyway. And on top of all that, they're also vegan, cruelty-free, and eco-friendly, so they're not only safe for kids, they're also safe for animals and the environment. Epsom salt and extra virgin olive oil nourish your child's skin, while melatonin helps them relax for better sleep, naturally.
Finally, while this particular bath bomb is unicorn themed, Two Sisters also sells other bath bombs with cupcake, dolphin, emoji, cat, mermaid, narwhal, dog, and sloth charms.
Two Sisters Unicorn Bubble Bath Bomb Key Features:
Contains bubble bath for lasting bubbles
Surprise necklace with charm hidden inside
Made by moms
Environmentally-friendly, vegan, and cruelty-free
Best Moisturizing Bath Bomb: Rejuvelle Bath Bomb Gift Set
Rejuvelle Bath Bomb Gift Set
Use a bath bomb from the Rejuvelle Bath Bomb Gift Set for deep, long-lasting moisture that doesn't leave you greasy.
Unlike some other bath bombs, none of the bath bombs in the Rejuvelle Bath Bomb Gift Set contain heavy colors. While these colors can add a lot to your bath experience, Rejuvelle is more concerned with packing their bath bombs full of ingredients that are moisturizing for your skin and will give you the perfect level of natural fragrance, all without color to clean up after you're done with your relaxing bath.
The package contains six bath bombs, each with its own distinct scent. "Yoga Sunrise" and "Pink Energizing Grapefruit" are great for putting the pep back in your step when you're feeling run down or tired, while "Stressed Moms," "Garden of the Gods," and "Vanilla Surprise" are both excellent choices for helping you unwind before bed. "Sinus Congestion Relief" contains ingredients known to help with congestion and the other symptoms that often go with it, like headaches, so it's perfect for when you have a cold or are suffering from allergies. Then again, they're all also perfect for when you want a relaxing, aromatic bath experience.
The fragrance comes from essential oils, but these bath bombs also contain sunflower oil, shea butter, and cocoa butter for natural moisturizing. These bath bombs are made in the United States and all of the ingredients are natural, organic, and support local farmers. Even the packaging is responsible since these bath bombs come in a reusable tin.
Rejuvelle Bath Bomb Gift Set Key Features:
6 bath bombs, each with its own delightful fragrance
Deeply moisturizing thanks to sunflower oil, shea butter, and cocoa butter
Natural, organic ingredients
Come in a reusable tin
Who Should Buy a Bath Bomb
There's nothing quite like sinking into a bathtub full of hot, bubbly, fragrant water. It's almost as good as getting a fancy soaking treatment at a luxury spa. Or even better in some ways, since it's much cheaper, you aren't limited to just what a spa offers, and you don't have to deal with traffic or even leaving your home.
While adults enjoy the relaxing aspect of bath bombs, kids enjoy the fizzing effect and fun colors, which means parents love how they make bath time something kids look forward to rather than a fight. Kids will especially love the effect created by rainbow bath bombs and some bath bombs even include toys for kids to play with either in or out of the tub.
Not a bath person? The right bath bomb, like one of the ones from this list, might just convince you to choose a soak over a shower a little more often. Even showers can be taken to the next level with a shower bomb, though, by releasing fragrance as they come in contact with the stream of water from your shower head. Some can even be used as soaps, too, allowing you to carry the smell with you even after your shower ends.
Important Features to Consider
A bath bomb should have a few important features. Here's what to consider when selecting a bath bomb:
Size. Those Instagram worthy bathtubs filled with color and bubbles that you see online are generally achieved with very large bath bombs, and sometimes more than one, so if that's what you're going for, bigger is better. However, you can still get a sudsy, moisturizing, and fragrant bath from smaller bath bombs and with less to clean up after you're done. You can also cut most bath bombs into halves or even quarters if you like the bomb but don't want such a strong effect. Ultimately, however, any size of bath bomb is fine as long as you're happy with the results.
Scent. The pleasant smell is one of the most appealing parts of the experience of using a bath bomb, but you'll want to make sure that the scent comes from natural, gentle sources, especially if you have allergies or sensitive skin. In addition, certain scents can help you create just the right ambiance for your bath For example, a lavender bath bomb can help you relax before bed while an orange one can help you feel invigorated. Alternatively, choose a bath bomb that helps call to mind a specific setting: recreate the smell of a stroll through a flower garden with a bath bomb that smells like rose or jasmine, or if you're missing your beach vacation, try a coconut and sea salt scented bath bomb. Certain scents can also help you in other ways. Eucalyptus oil can help clear sinuses, while peppermint can relieve headaches.
Color. Bath bombs provide another fun and relaxing element to your bath by adding beautiful color to your tub. Choose a color that builds on the ambiance that you want, but like with scent, make sure dyes are gentle and hypoallergenic, especially if you have allergies or sensitive skin. You'll also want to read reviews to make sure that the color won't stain your skin or tub. Your bath may be relaxing, but all that stress will come back if you end up scrubbing hot pink out of your tub or having to go to work with bright blue skin.
Added elements. In order to stand out from competitors and add even more to your bath experience, many bath bombs contain additional elements like glitter or shimmer, flower petals, dried herbs, sprinkles, pieces of soap, or bath salts. Some even have surprises hidden inside like toys, jewelry, and other trinkets.
Frequently Asked Questions
What are bath bombs and how do they work?
Bath bombs pretty much all have the same two foundational ingredients: sodium bicarbonate (which is just the technical name for baking soda) and citric acid. These are the same ingredients that cause effervescent antacids like Alka-Seltzer to fizz and dissolve when you drop them in a glass of water and they do the same thing to a bath bomb when you drop it in your tub. Once a bath bomb begins to dissolve, the other things in it, like dyes, oils, bubble baths, and fragrances, to mix with the bathwater.
How long do you leave a bath bomb in?
Just leave your bath bomb in the tub until it's completely dissolved, which should take about five minutes for an average-sized bath bomb. You can get in the tub while the bath bomb is still dissolving or you can wait until it's all done. If your bath bomb takes longer to dissolve than you'd like, you can cut it into halves or quarters next time for faster results.
Do bath bombs clean you?
Some bath bombs contain surfactants, which are cleaning agents, and some don't. Obviously, the ones that don't contain cleaning agents won't clean you. Ultimately, though, using a bath bomb is more about the relaxing experience than about actually getting clean.
Do you take a shower after a bath bomb?
If the bath bomb is mild, you probably don't need to take a shower after using it unless it contains glitter or a strong color or fragrance. However, it can be hard to predict whether ingredients can be irritating or drying when left on your skin for hours, so it's generally a safe bet to rinse off in the shower. You don't need to do a deep scrub though. Plus, you'll want to rinse your tub after using a bath bomb and by showering after you can rinse yourself and your tub at the same time.
Other Bath Bombs We Reviewed
We looked at 20 other bath bombs. Even though they didn't make our 5 best bath bombs list, they're the best of the rest and each is still a great option for you. The information you'll need to compare each one is included with the listing.
Bath Bombs for Kids
Hidden inside each of these pastel bath bombs is an adorable unicorn necklace, and there's a mermaid version too!
Key Features:
Surprise unicorn necklace inside
Made from natural, vegan ingredients
Non-staining light pink and purple colors
Cost: $10
Two Sisters Bath Bombs for Kids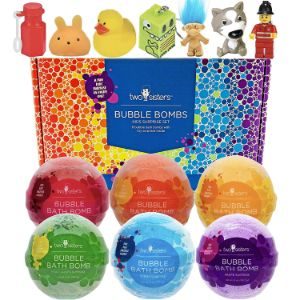 Kids will love that these bath bombs also contain bubble bath and they'll be even happier to discover the toy hidden inside.
Key Features:
Bath bomb and bubble bath in one
Surprise toy in each bomb
Kid-friendly colors and scents
Cost: $27
Two Sisters Superhero Bubble Bath Bomb for Kids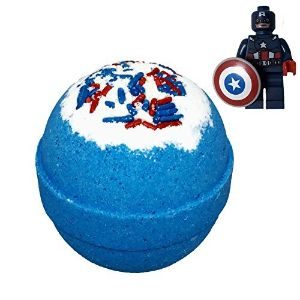 Your kid will be thrilled to discover a mini-figure of one of their favorite superheroes, like Captain America, Batman, or Wolverine, hidden inside these bath bombs.
Key Features:
Bath bomb and bubble bath in one
Superhero mini-figure in each bomb
Kid-friendly colors and scents
Bath Bombs for Relaxation
Beauty by Earth Bath Bombs Gift Set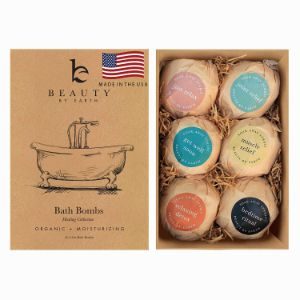 With scent combinations like "Get Well Soon," "Muscle Relief," and "Just Relax," this set has a bath bomb for handling stress from all sorts of different situations.
Key Features:
6 bath bombs, each with a unique, relaxing scent combination
All-natural ingredients
Moisturizing organic shea butter
Cost: $30
Divine Botanics Essential Oils Bath Bombs Set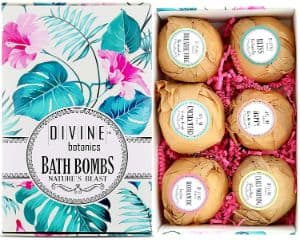 From the tropical packaging to the essential oils that provide the soothing scents, everything about these bath bombs will make you feel like you're on a relaxing vacation.
Key Features:
6 bath bombs, each with a unique scent combination from therapeutic grade essential oils
Moisturizing coconut oil and shea butter
All-natural ingredients
Cost: $19
Fleur d' Extase Set of 9 Organic Bath Bombs
Each of these bath bombs is labeled with exactly what it smells like and the mood those smells evoke, taking the guesswork out of choosing your bath bomb.
Key Features:
9 bath bombs with clearly labeled scents
Vegan and not tested on animals
No artificial colors, ethyl alcohol, DEA, phenoxyethanol, or parabens
Cost: $12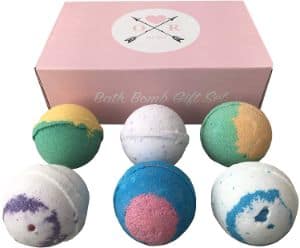 Oliver Rocket is a family-owned, US-based business that hand makes every one of these bathrooms from premium ingredients.
Key Features:
6 colorful, beautifully fragrant bath bombs
Vegan, gluten-free, and cruelty-free
Handcrafted in the United States
Cost: $18
Pure Scentum Bath Bombs Gift Set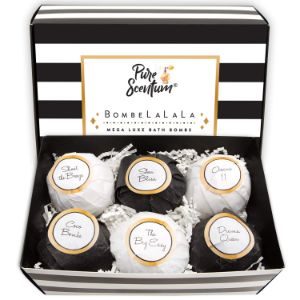 These delightful bath bombs are made without GMOs, harsh chemicals, parabens, phthalates, and SLS for a natural, relaxing bath.
Key Features:
6 unique bath bombs
Beautifully wrapped, making the set a great gift
All-natural
Moisturizing Bath Bombs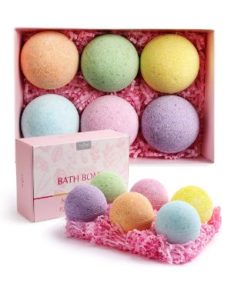 The olive oil and essential oils in these bath bombs will leave your skin moisturized and supple after your bath.
Key Features:
6 bath bombs with different scents
Soft scents that won't overwhelm you
Stain-free
Cost: $15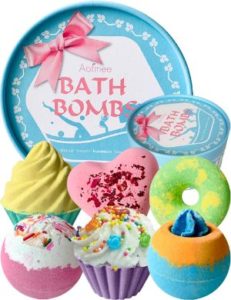 These bath bombs come in six playful, dessert-like shapes to make your bath time even sweeter.
Key Features:
6 bath bombs in different scents and shapes
Moisturizing cocoa and shea butters
Vitamins A, E, and F
Cost: $14
These moisturizing bath bombs are made with only natural and organic ingredients, such as clay coloring and essential oils.
Key Features:
8 bath bombs in different scents
Moisturizing shea butter
Natural, organic ingredients
Cost: $18
Natural Spa Bath Bombs Ultra Gift Set
These bath bombs contain a variety of relaxing and good-for-your-skin ingredients, like cocoa butter, shea butter, dead sea salt, sunflower oil, and vitamin E.
Key Features:
6 bath bombs in different scents
Each bomb is a generous 4.1 ounces
Scents from essential oils
Cost: $15
Nurture Me Organics Bulk Bath Bombs Gift Set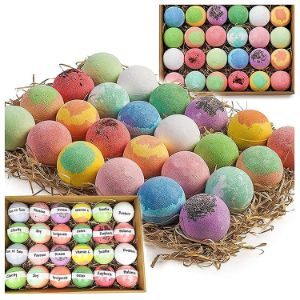 This set contains a whopping 24 large bath bombs, each 3.5 ounces, so you can take plenty of baths before you have to restock.
Key Features:
2 bath bombs in each of 12 different scents
Moisturizing shea butter and therapeutic essential oils
No parabens, sulfates, or chemicals
Cost: $33
STNTUS 7 Count Bath Bomb Gift Set
Each of these seven bath bombs has not just a different smell, but also different shapes and colors so that each bath is a unique experience.
Key Features:
Moisturizing shea butter, cocoa butter, and essential oils
Only natural, non-toxic ingredients
Lovely scents and beautiful colors
Rainbow Bath Bombs
Epiluxe Shooting Star Luxury Bath Bombs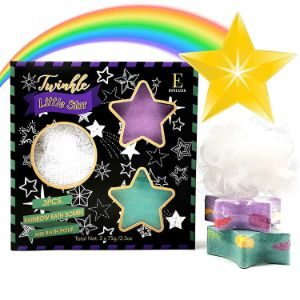 This set comes with two star-shaped bath bombs that release a surprise rainbow of color into your bath water, plus and a loofa, making it a great gift.
Key Features:
One eucalyptus-scented bath bomb and one lavender and vanilla scented bath bomb
Surprise rainbow effect
Moisturizing shea butter and jojoba oil
Cost: $12
Mineral Me Rainbow Bath Bomb Gift Set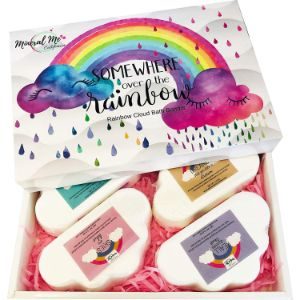 These four adorable cloud-shaped bath bombs shoot a stream of rainbow color across your bath water, so they're great for both adults and children.
Key Features:
Four cloud-shaped bath bombs, each with a different scent
Surprise rainbow effect
Natural and vegan
Cost: $20
The winky face adds another layer of cuteness to these adorable cloud-shaped bath bombs.
Key Features:
3 bath bombs
Moisturizing jojoba oil, grapeseed oil, and shea butter
Hypoallergenic and vegan
Shower Bombs
Cleverfy Menthol And Eucalyptus Shower Bombs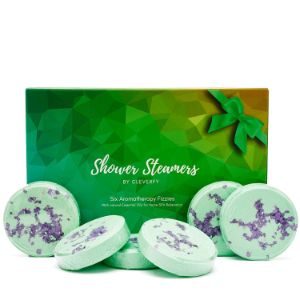 These shower steamers contain menthol and eucalyptus, which are both known to be good for clearing congestion and soothing headaches.
Key Features:
6 shower bombs
Great for using when sick
Strong scent from essential oils
Cost: $25
Cleverfy Shower Bombs Six Scent Variety Pack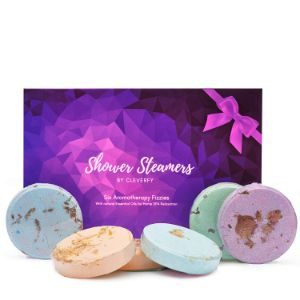 If you want more variety, each of these six showers bombs has a unique smell, so each shower with one is a different but equally relaxing experience.
Key Features:
6 shower bombs with different scents
Makes a great gift
Strong scent from essential oils
Cost: $25
Cleverfy Shower Bombs Three Scent Variety Pack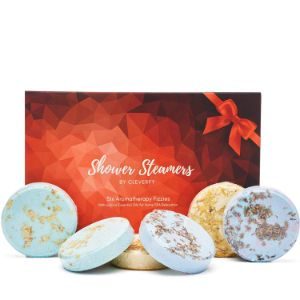 This set of shower bombs contains six shower bombs across three different scents with two shower bombs per scent.
Key Features:
6 shower bombs
3 scents
Strong scent from essential oils
Cost: $23